Talking to a guy you have a crush on can be daunting, especially if you're the one to start the conversation—hoping that you might get that first date!
The best you can do is be authentic and have a few perfect conversation starters ready to keep the chat going.
To help you navigate this, I have shared some ways to start a conversation with a guy below.
You might also like to read:
How To Start A Conversation With A Guy
Be Authentic
Being authentic while texting or talking with a guy will have him see you as you are. Be engaging and ask him a question that he can easily reply to. The rule of thumb is to avoid 'hey,' 'hi,' and 'how are you' texts.
Ask an Open-Ended Question
When you start talking to the guy, the goal is to have him text back to keep the conversation going. You can only achieve this by asking an open-ended question that will spark a meaningful conversation you can engage in for a while. Stay away from the yes and no answer questions.
Bring Up A Shared Interest
One of the best ways to keep a conversation going is by bringing up shared interests. In the first few chats, the guy will probably share what he likes to do. If there is a shared interest, bring it up and discuss it further.
Ask for a Recommendation
Keep the conversation light by asking him to recommend something you might have talked about. This can be music he likes, books he has been reading, or places he has been to. People like sharing their recommendations, and it will also make him feel important and that you value his opinion. This also creates a common ground for authentic conversations.
Ask an Unexpected Question
The conversation does not need to revolve around the two of you. You could bring up an unexpected topic from the news or blogs. You could also ask about something that happened around your area, a viral pop culture occurrence, or a tv show debate.
Ask about His Closest Relationship
If the guy has an obviously close relationship with a sibling, parent, friend, or pet, bring it up. People naturally like to talk about what they love and care for, so this will have him talking for a while. Keep the conversation going by asking follow-up questions on the same and create a deep connection.
Share a Meme or a Funny GIF
If talking about the serious stuff scares you, start the conversation light by sharing a joke, meme, or a funny GIF. These will be enough for him to get your attention and start a conversation in a calm yet interesting way. Follow this up with an open-ended question to engage him further.
Drop an Emoji
Another easy way to get a guy's attention is by sending him an unexpected emoji. Emojis sum up our feelings and are a good way of expressing what you feel for the guy. Some of the best emojis to start a conversation are the wink, smiley face, hug, high five, shy face, etc. You can ask him to use 3 emojis to describe himself.
Pick up From a Previous Conversation
If you have spoken to the guy before, start the conversation from where you left off. It is a good way of naturally continuing the conversation while creating a deeper connection. Reference something you spoke about and follow up with a question.
Be Flirty and Playful
Being playful is one of the best ways to have a guy hooked on the conversation. And, guys love this approach as it does not come across as serious or too straightforward. Keep it lightly flirty at the beginning. Role-playing can also help you relax into it.
Ask About Something You Know About Him
You will likely get a quick response if you ask a question about something you know about the guy. If you have spoken to him before or gotten information about him from a friend, spark a conversation by asking something he's shared before, like a hobby or something that you already know the answer to. Giving him compliments are great to make him feel good about himself.
🤓 You might also enjoy reading: How To Have A Glow Up Physically & Mentally
How To Start A Conversation With Your Crush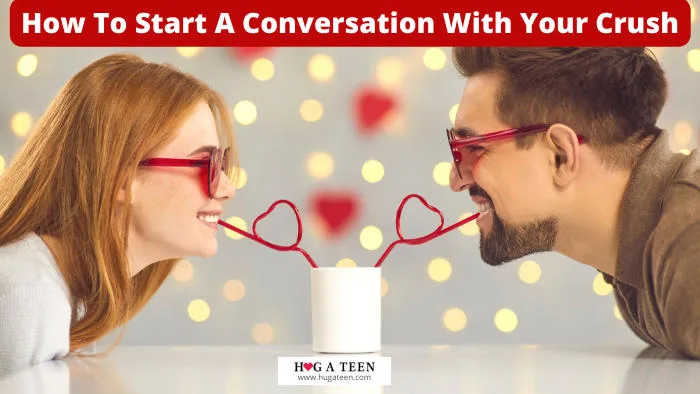 Getting a conversation going with your crush is probably one of the hardest things you will have to do, but if you want to build meaningful connections and get things off the ground, you might have to be the one to start.
The first step is to ensure they pass a vibe check. You want to be sure that they are interested in you at the very least before you announce your feelings to them. You can do this by asking an open-ended question which you can use to gauge his interest in you.
If you have a pet, send them a picture of your pet. They will likely send a love emoji and ask if they can meet the pet.
If you do not have one, share a meme of a funny quote to spark a light-hearted conversation and show your sense of humor.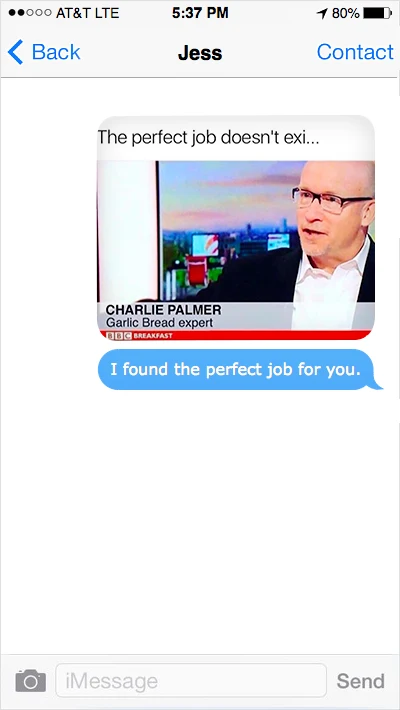 The idea is to keep the conversation as light as possible, so this is not the ideal time to bring up controversial topics. Engage him with questions about his favorite shows, his pet peeves, or anything you share an interest in.
You can be flirty but keep it minimal at the beginning. You want to let them know you are interested in them, but you do not want that to come off too strongly. Crack jokes, discuss pop culture, and discuss shared interests to keep the conversation as engaging as possible.
If you're in class together, you can text something flirty like, "I need a break from studying for this math exam. Want to distract me?"
If you know that he's interested, then you can drop him a pin and ask him to find you and share an ice cream, for example.
Here are some flirty questions to get you started.
How To Start A Conversation With A Guy Over Text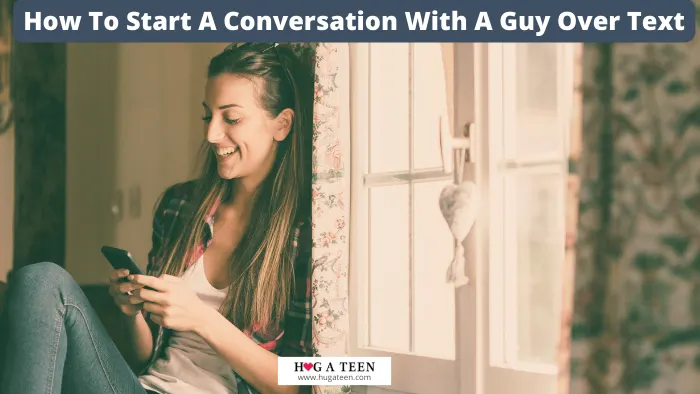 Talking to a guy over text can be advantageous if you're a bit shy and not sure of a face-to-face chat just yet. Text messages, however, can be misinterpreted, so you should be careful what you say and how you express yourself.
Starting a conversation over text can be as light as asking them about the best moment of their day or as deep as asking about an interest of his you might have learned. Whichever route you take, be sure to keep the tone light and friendly.
Keep your text as brief as possible by being as direct as possible. Nobody wants to read an entire paragraph from someone they have not spoken to before. Short texts are great conversation openers and often yield more topics of discussion between two people.
Do not get stuck in 'how are you' texts or 'yes and no' answer questions. Come up with open-ended questions that he can answer while asking more from his end.
You might not think that the time of day you text is significant, but it has a major role in how the conversation goes. You do not want to text him while he is busy at work or early in the morning while he gets ready for his day. The best time would be late afternoon or early evening.
You can be flirty on text but be sure they are up for it. Guys like to flirt, too, but it can be overwhelming if you overdo it. Mix things up to keep him hooked in the conversation while keeping things interesting.
How To Text A Guy For The First Time Examples
Hi, what was the highlight of your day at work?
Is that your dog on your profile? What is their name?
Are you doing anything fun today?
What is your weekend like?
Hey, I have been meaning to ask you something.
Hey, I have your number; wondering where I got it from.
If you were to be anywhere in the world right now, where would that be?
Do you love dogs? Which breed do you fancy the most?
I like your profile picture. Where was it taken?
The shirt you are wearing on your profile is so cool.
Not sure if you like movies. Have you watched that 'new one' that came out last week?
I see you like wine from your profile. I'm checking out a new wine bar down the street. Would you like to come with me?
I bet you survive on coffee. Would you want to try the new coffee shop in the area?
I see you like reading. Do you mind sharing your reading list with me?
I have been exploring new music. Do you mind sharing your playlists with me?
I think this is the funniest meme I have seen. (send him a funny meme)
I don't want to sound corny, but I thought this would get your attention. (share a corny joke)
I have always wanted to try rock climbing, would you like to join me sometime?
What do you have planned for the long weekend? I have a road trip planned, do you want to come?
Hey, how was your trip to the mountains? Your Instagram pictures look like you had so much fun.
I'll be in your neighborhood tomorrow. Maybe I should say hi to you.
🤓 Check out this post to find out How To Respond To "Hey Cutie!"
How To Start A Conversation On Snapchat With A Guy
The best way to start a conversation on Snapchat with a guy is by responding to their Snap story. This is a friendly and less stressful way to get a guy's attention, even if you don't care about what they posted. The trick is to ask a basic question and connect your message to a joke that can keep the conversation going.
Another way of starting a conversation with a guy on Snapchat is by sending an article. This works well if you do not have something in common to spark a conversation, but you want to get his attention. Send a fun article and ask about his thoughts on the same.
Be a little sneaky and use the low time limit on Snapchat.
You want to get the guy's attention without coming off too strong. Send them a snap of something random but set the time limit to the least possible. They will likely not get a good look at it, prompting them to ask you to send the snap again. This will spark a conversation around that.
You can be extra sneaky by sending your crush a message but make it seem like it is a group message. This can be anything about your daily life or a fun experience you had. But instead of sending it as a group message to a group, send it to your crush.
You can also approach the guy directly, as long as you have the confidence to go with that. Send them a snap or start a chat by sending an engaging message you are sure they will respond to.
🤓 You might like to read: What Does The Yellow Heart Mean On Snapchat?
How To Start A Conversation With A Guy Online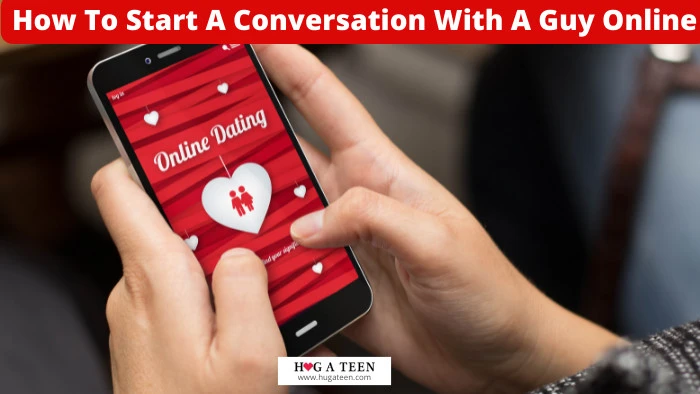 In today's social media world, you might try online dating, so you need to find ways to start engaging in conversations. The best way to do this is to ask him about something you have seen on their dating profile. This approach is open-ended, and they are likely to answer freely.
Another way to start a conversation on a dating app is by giving compliments following what you have seen online. You can compliment him on his clothes, haircut, shoes, dog, or anything else that he has posted online.
If you want to keep the conversation light, try the 'This or That' challenge. Ask him what his preferences are from a collection of things. This will help you learn about him and open up conversations about his interests.
If you find a common interest between the two of you, bring it up and have a discussion around that. Ask a question about the interest, share your views on the same, and keep the conversation going by asking follow-up questions.
You can be a little flirty by popping a pick-up line in his inbox. He will most likely find it funny and start a conversation from that or respond with his pick-up line and keep the engagement going.
How To Start A Flirty Conversation With A Guy
Flirting with a guy you like can be tricky as you want to let him know that you like him but also don't want to turn him off by coming on too strong. You need to use the right tone, go light and keep the conversations fun to keep him hooked.
Start slow to understand his vibe and learn whether it matches your own. Commenting about his beautiful eyes might be a turn-off and come out too strong for a first message, so make the message as light as possible. It can be something like, 'I think you are funny.'
Although people tend to respond when you use their name, this only really works when face to face and at the beginning of a relationship. It would be weird to keep saying his name repeatedly to get his attention once you've been on a date. When texting, it's also not recommended to write his name. It's not really how people chat over text and also comes across as formal.
If coming up with a flirty text is a struggle, find funny and flirty GIFS and memes to share with him. This type of message will let him know that you like him and will create a base for you to take your relationship further.
Here are some flirty text ideas:
"I had a dream about you last night."
"Have you watched (the latest movie) yet?"
"I really like that picture of you (with your dog/hiking/at the beach)."
"I saw you with your friends (at the mall/at the game), but I was too shy to come over and say 'Hi'!"
"I really like talking with you."
"I'm supposed to be studying/working, but I can't stop thinking about you."
"I really want to go and see the (new movie). Have you seen it yet?"
How To Start A Conversation With A Teenage Guy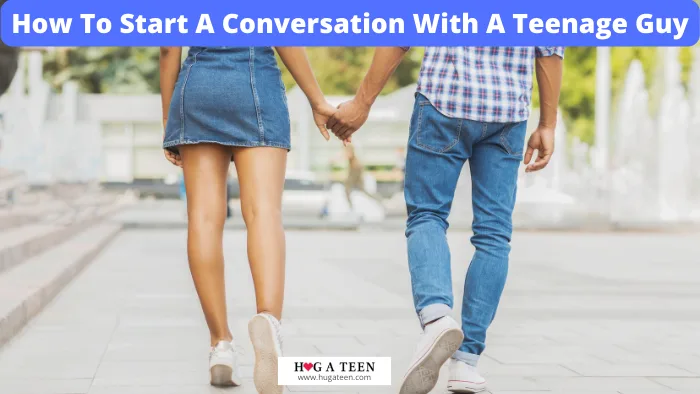 Starting a conversation with a teenage guy is similar to any guy, except that he might not be as confident or have as much experience as older guys. Most guys like it when girls approach them but keep things as light as possible and ensure you allow him to respond and take the lead as well.
Pick open-ended questions that he can answer and pose a follow-up question to you too. This will keep the conversation going on both ends.
Here are some funny first date questions to choose from.
If you are struggling with the kind of messages to send him, try compliments or asking him about their day at school. You could also ask about an interest of his you have noted or talk about popular topics as conversation starters.
Be confident whether that is on text or in real life. Be bold when talking to the guy and be as direct as possible with your question. The guy will most likely be attracted to your confidence and want to talk to you for a while.
Lastly, make sure you mirror his energy and tone. You can read this in the first few seconds of talking to him. The tone and energy he gives back to you should guide you on where the conversation heads.
If you have a crush on someone, it's best just to be yourself. If he likes you, he'll be excited to chat with you and will want to get to know you. Guys aren't always as chatty as girls, so keep the conversation going by asking him questions, sharing funny gifs, or talking about something that you know he's interested in.
You'll soon know if he isn't interested in you in the same way.
Here are some signs to look out for:
1. He never texts you first.
If you're always the one to start the conversation, then he's probably just not that into you.
2. He doesn't flirt back.
If you subtly flirt and he doesn't pick up on it by flirting back, then he probably just wants to be friends.
📢 Suggested reading: How To Make A Guy Regret Ghosting You
3. He doesn't ask you out.
Once he's confident that you like him, the next step would be to chat over the phone or go out together. If he isn't moving the relationship forward, then he might not be looking for a girlfriend.