Are you looking forward to seeing old friends from high school at your reunion next year?
High school reunions are fun events that bring together former classmates who grew up together. They usually take place once every ten years. The event typically involves catching up with old friends, sharing stories, and reminiscing over good times.
Class reunions are a great way to reconnect with old friends and catch up on each other's lives.
When Are High School Reunions?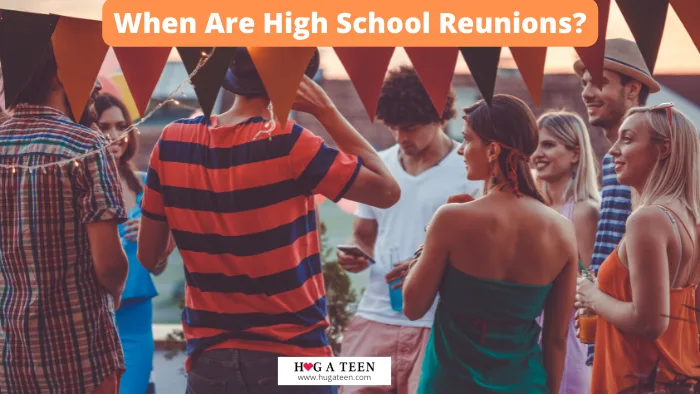 High school reunions usually happen 10 years after graduating. Some people will follow through with a reunion every 5 to 10 years after the first 10-year reunion. Typically you could expect a high school reunion after 10, 20, 25, 30, 40, and 50 years of finishing high school.
What month are most high school reunions held?
Most high school reunions are held in the summer months, from June to September. The summer months are more suitable considering some people may have kids, so it's best to hold one when it doesn't conflict with the school year. Plus, the weather conditions are conducive to travel and being outdoors.
Are there 5 year high school reunions?
There are 5-year high school reunions. Typically the first reunion is after ten years, and then 5 or 10 years after that. With social media allowing people to stay up to date with what is happening with classmates, 5-year high school reunions are not that common.
Are 10-year high school reunions a thing?
10-year high school reunions are popular in the US. Class reunions usually involve former classmates getting together at or near their old high schools. A ceremony is typically held on the anniversary of their graduation every five or ten years. Their teachers and administrators may also be invited. In addition to sharing stories about their student days, attendees catch up on what has happened since they last met.
So much can happen in a 10-year time period, so most people find it interesting to see what life has been like for their high school classmates. People will have gone through college, others will have gotten married, and others will have excelled in their careers.
What are high school reunions for?
High school reunions allow high school friends to reconnect and catch up after years have passed since their senior prom. The main goal of high school reunions is to see what classmates have been up to, what they have achieved, and what they are working on. It may also be a good time to network once you find out what your classmates are doing.
Before social media, staying in touch and up to date with classmates was hard, especially if they moved away after school.
When were high school reunions invented?
High school reunions were invented in the 1800s. It was common for graduates to visit professors and undergraduate friends at the college on Commencement Day, which was held in late September for the first hundred years. As early as 1826, the college's steward anticipated alumni guests and offered wine and a special dinner funded by the college's president. Alumni Association meetings and class reunions moved to June after graduation was moved to the month of June in 1844.
Reunions included dinner meetings where guests listened to alum speeches. Reunions grew into large festivities where families were invited to watch rival baseball games, and bands were hired to lead the classes to the playing field.
Read this fascinating account in the Dartmouth magazine of the alumni class of 1870, which held its 45th-year reunion in June 1915.
How To Plan A High School Reunion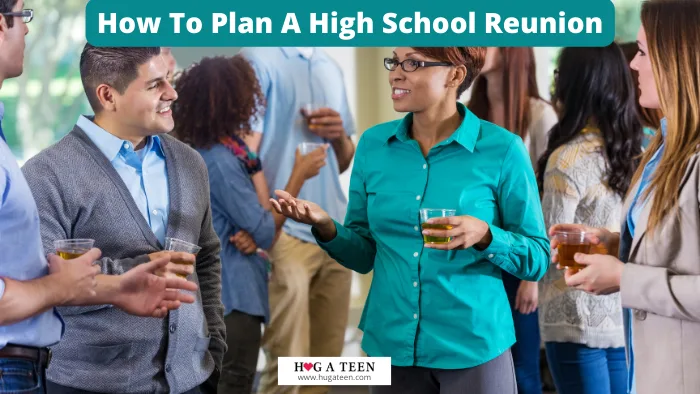 Create a Reunion Committee. The class president can lead the committee and pool the classmates from different social media platforms or the alumni contact list. You can use event planning tools to create a reunion book with an email list where event details about the upcoming reunion can be passed. There are several reunion planning tools like Classmates.com, a high school reconnection social network in the US.
Assign Roles. The best way to plan a reunion is to have everyone involved in the planning process. Delegate roles to the members and engage them fully. This will increase the chances of more people showing up, ultimately contributing to the reunion's success.
Contact your alumni office as they will be able to assist you with a list of names as well as previous reunion ideas and advice on upcoming school reunions. Use the yearbook and social media platforms like Facebook to get the contact details of classmates.
Date and Venue. Agree on a date and venue that everyone is comfortable with. Set this as early as possible to allow ample time for changes down the road if necessary. Find a venue that is easily accessible, affordable, and practical for the kind of reunion you want.
Create a Menu. Consider the members' interests in food, take note of food restrictions and create a menu that all members agree on. Get their ideas on the best meals according to the season, and do not forget drinks, appetizers, and desserts.
Agree on Decor. Come up with a decor plan for the event taking note of what the venue provides and what you would need to add. Include the members' ideas and incorporate an element of your high school in the decor. There are plenty of ways to get involved in planning your reunion. For example, you can ask your old classmates to share their experiences through photos, video clips, and even audio recordings.
Book Entertainment. What kind of entertainment would the members like? Gather ideas and agree on the best type of entertainment, whether a DJ or a live band.
Plan a Budget. Now that you have the numbers down, a venue, a menu, decor, and entertainment in place create a budget to figure out the cost per person. Choose a deadline person to collect the funds and keep the members accountable. Ticket sales, alumni donations, class gifts, or alumni association dues can be used to fund reunions.
Send Invites. Create simple e-cards with classmates' names and send invites to their email addresses. You can search Alumni Class sites and set up a Facebook page to get the word out to others you may have missed. You can send email reminders several times for RSVPs to plan accordingly.
When should you host a high school reunion?
It would be best if you hosted a high school reunion around a time when most high school classmates could avail themselves. This can be in the summer months or close to the end of the season if they are busy. The best would be early evening on a weekend or a public holiday. It is also possible to make it a daytime, family-friendly event to suit those with families.
Who plans high school reunions?
Anyone can plan a high school reunion, but mostly the class president takes the lead in planning the event, along with anyone that chooses to join the committee. The good thing with school class reunions is that all members have the same interest in the event and will most likely contribute equally to see it to fulfillment.
What happens at a high school reunion?
Former classmates hold a high school reunion to meet and reconnect after years apart. Usually, conversations with classmates revolve around previous academic life, as well as their adult experiences; where they are at in life, what they are working on, and where they hope to be in the following years.
A reunion is usually a casual event that can include dinner or finger foods. There may be music or live entertainment depending on the size of the reunion and the budget.
Where to have a class reunion?
The best place to have a class reunion is at your former school or nearby. Most people will be willing to avail themselves if the event is not too far away. Additionally, having the reunion close to the school will spark conversations about school days and their memories of the place.
Related High School Reunion Questions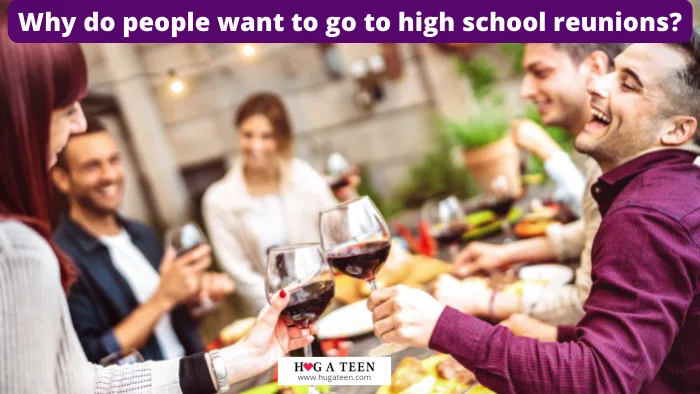 Why do people want to go to high school reunions?
People want to go to high school reunions to meet their former classmates and see how they are doing in real life. Most people in class reunion events want to evaluate the successes of their former classmates as well as gather information on where everyone has been and what they have been working on. The idea is to reconnect and rekindle friendships with former classmates. Alumni who might have had a bad experience in high school might not be interested in attending a reunion as it might bring back memories of their bad school experience.
Watch what happens in this amazing video of Stephen, who didn't have a good time at high school, and sends a lookalike to his reunion:
What do you talk about at a school reunion?
People talk about their former school experience, memories they have with their former classmates, how they have progressed in life, goals they have achieved, and what they are working on. People will reminisce about school days as well as talk about their advancement in education, family life, current relationships, careers, and real-life challenges.
What should I wear to a school reunion?
You should wear a casual outfit unless the invite indicates otherwise. Most school events are casual events at the school or an informal restaurant or bar. Wear something that you feel good in as well as comfortable. Comfortable shoes are a must as you'll probably be standing for most of the evening.
Do spouses go to high school reunions?
Spouses can attend high school reunions, especially if the reunion is open to other people. Some reunions ask the members to bring their spouses in the invites, while others leave it open for members to decide if they want to bring their spouses or not. Although some spouses enjoy meeting their partner's classmates, others prefer not to join so that the alumni can chat freely and reminisce with old friends without worrying that their spouse might be bored.
Do people hook up at high school reunions?
It is not uncommon for people to hook up at high school reunions, especially all-school all-class reunion events. Hook-ups at high school reunions sometimes grow into committed relationships, considering that people are in a much better space to date seriously and create lasting relationships.