A common greeting people use, even if you don't know them well, is "How's It Going?"
Sometimes this question is merely a formality (i.e., being polite), and there's no real expectation other than a simple response like "Fine, thanks."
People generally don't have time to listen to a long explanation about how things are going unless you know them well and they're genuinely interested in catching up on your news.
So what are other accepted responses, especially if you're day isn't going well? Let's explore some possible ways to respond to How It's Going below:
You might also like to read:
How To Respond To How It's Going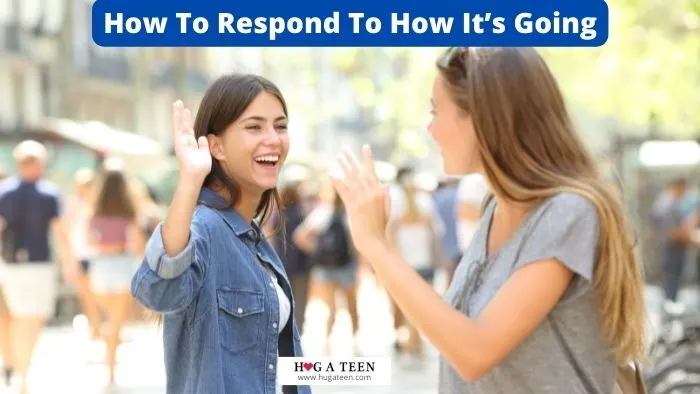 When people ask a simple question like "How's it going?" or "How's your day?" it's best to use simple, straightforward answers.
A typical response could be:
I am fine.
I am doing good.
I am well, thank you.
I am just fine.
Everything is fine.
I am holding up well.
I am doing great.
You can add a 'thanks' or 'thank you' at the end to make it a more suitable response. Even though people aren't expecting complex answers, it's still nice to have a polite conversation.
Fine thanks.
Good, thanks.
I'm well, thank you.
Just fine, thanks.
Everything is fine.
I am holding up well.
Great, thanks.
To give an even more polite response, you would also ask them how they're doing and expect a similar answer in return.
Fine, thanks, and you?
Good, how're you?
I'm well, thanks, you?
Just fine, thanks. How are you?
Great, thanks. And you?
If things aren't going great, you can give a slightly less optimistic but still general answer to their question:
Not bad, keeping up.
It could be worse.
Everything is okay.
I'm managing.
I am trying.
Not bad at all.
Teenagers might give an even more vague answer, like the following blanket response examples:
Fine.
Meh.
Cool.
Great.
Good.
All good.
Amazing.
Blessed.
Why?
Easy
Quite tough
All good.
Why are you asking?
How's what going?
Why do you ask?
If you want to give a more detailed response than "Fine," then you could refer to a commonly known event that you can use to compare with your situation:
Not as bad as the storms that were reported.
At least I am not in Ukraine.
I cannot compare it to the heat wave happening.
It has been as hectic as the traffic in the city.
Another way to add more detail is to highlight how your day has been going:
I am doing great so far.
I have done so much today.
Today has been a struggle.
I made progress on the project today.
I have survived today.
I hope to have a better day tomorrow.
Everything went well today.
When someone you know well, like friends, family, or even a close colleague, asks you how you're doing, you might want to spark a meaningful two-way conversation from this genuine question.
Here are some interesting answers:
I am glad you asked; I have some news to share with you. Do you have some time to talk?
Thank you for asking. I need some help with this thing that I have been working on. Can I share about it?
Thank you for asking. So, I went back to school, or I got a new job or anything new in your life.
I have kept a positive mindset, and everything seems to be improving. Thank you for asking.
Thank you for asking. I need someone to talk to about everything that has been going on in my life.
I have been trying, but things have not been falling into place. Do you mind if I spoke to you about it?
Everything has been okay. Let us talk about how things have been for you since we last spoke.
It has been stressful, but I have managed to stay afloat. This project has been taking a lot from me.
I have been taking it a day at a time. How has it been for you?
Watch this video which explores some common responses to "How's It Going?" in the US:
Best Answers To "How's Your Day Going"
Answers If Your Day Is Going Well
My day was off to a great start. I have accomplished so much already.
My day is shaping up great; everything is going according to plan.
I am feeling optimistic about how today will turn out.
I am happy it is going great. It is a productive day.
Everything is going quite well.
Today has been great. I have made such progress.
I am grateful the day has turned out great so far.
Today has been fantastic. I am happy with the progress thus far.
Things are flowing so well today; I'm grateful.
My day is productive, and I feel good about everything I have done today.
My day is going well; things seem to be going really well.
Answers If Your Day Is Going Okay
It could be better, but I'm keeping a positive mindset.
It's just okay, but I know it will get better eventually.
It is not as exciting as I thought it would be, but nothing is wrong.
Not bad, but the day is young and can get better.
It's neither here nor there, but I'm hoping it gets better.
It is going okay, but I'm looking forward to it being more productive.
I could do better, but the day is young.
It did not start as exciting as usual, but it is nothing I can't handle.
Everything is okay, but I was looking forward to more productivity.
It is not over yet; I still have a few hours to make it great.
Things could be better, but isn't this how it is usually?
Answers If Your Day Is Going Badly
Please note that these responses are generally only appropriate for close friends or family, a school counselor, or a supervisor at work. If you're truly having a bad day, it's a good idea to speak to someone who cares, has time to listen, and can assist. Truthful answers to people you hardly know can be awkward.
I am struggling today.
I am having a hard time catching up with this project.
My day started off rough, and I am struggling to stay afloat.
My day is not good at all; nothing seems to be working.
I am stressed and can't cope today.
I am feeling anxious today. I need a break.
My day is not good at all, and I need to talk to someone.
My day has been messed up; I don't know where to start.
I am having such a bad day; I need help dealing with things.
Today has been stressful, and work has not made it better.
Today has been challenging, but I am trying.
I am trying to stay sane; everything seems to be falling apart.
Watch this video which shows how mostly you won't even get an answer to the question "How's It Going?"
How To Answer How Was Your Day Text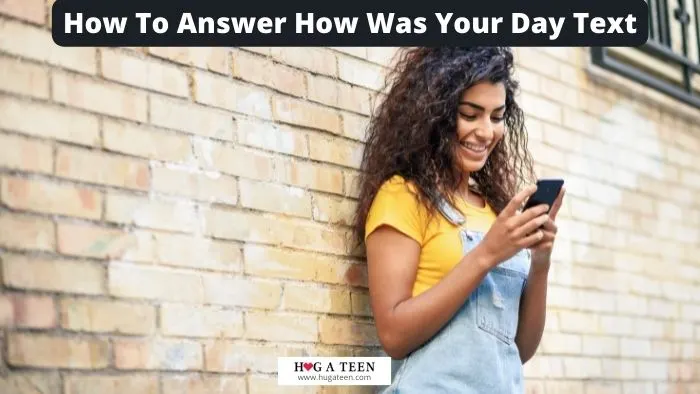 This type of response keeps it short and to the point while remaining positive, whether your day was good or not so great. Remember to take note of your favorite responses.
Great! How about yours?
I survived the day.
My day was great; everything went well.
Pretty good.
It was busy as usual.
It was good, and I did most of the things I wanted to do.
It was really good, thank you for asking.
Same old routine, but everything went well.
My day was good, do you want to hear about what happened?
My day was okay, how about yours?
Uh not great, but hopefully tomorrow will be better.
I tried, and I'll try again tomorrow.
Not so bad.
I can't complain. Thank you for checking up on me.
This is so sweet of you to ask; my day was great.
Funny Answers To "How's It Going"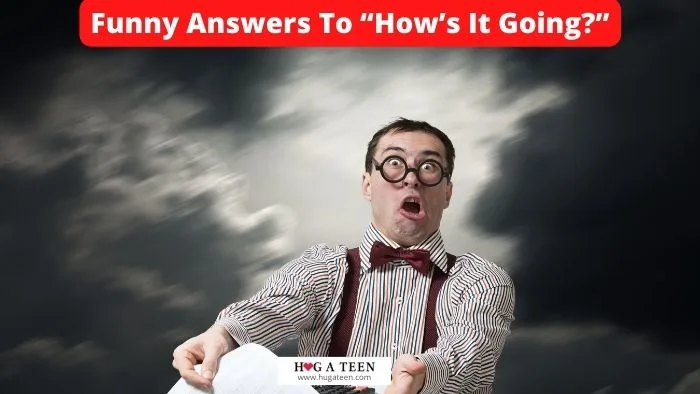 If you don't want to be too serious, then you can use one of these fun answers:
It's going.
Compared to the weather, my day seems to be going well.
My work contract forbids me to complain, so I'll say it is going great.
I am ready for a nap.
It is as just as fine as an expensive bottle of wine.
I hear good things, but it's not smart to believe rumors.
I could ask the earth to swallow me, but it doesn't listen.
It is going as it likes, bumpy and rough.
I'm sinking and trying to stay afloat.
How To Respond To "Hey How's It Going" On Bumble
There is never a perfect answer, but having a few generic responses ready is always helpful.
Everything is going well.
I am doing great
All seems to be okay.
I am doing great, how about you?
Thank you for asking. How is it going for you?
Thank you, I am doing alright.
Everything is going great. How are things on your end?
It's going well. How is it on your side?
I am well, thanks. How about you?
Things could be better, but I am trying.
❤️ Suggested Reading: Signs He Likes You But Is Playing It Cool
How To Respond To "How's It Going" On Tinder
Just because you're communicating on Tinder doesn't mean you have to give a provocative answer. You can respond like you're having a normal conversation:
It's going fine, and you?
Great, how is it going with you?
Fine, how about you?
So far, so good. How is it for you?
Nice, how is your day going for you?
Pretty well, how about you?
It's been great; I'm happy, how about you?
Busy, is it easy on your end?
Pretty cool, how about you?
Everything seems great, is it the same for you?
All good. How is it going on your end?
In conclusion, I'm sure you'll find several examples of how to respond to someone when he asks you how your day went. This quick guide will help you answer his question without sounding like a robot. Just remember to smile and say something positive.