Planning a road trip can be stressful enough, but traveling with teens and tweens can be even trickier unless you plan ahead.
Family time is important during adolescence, and although teens might seem distant, they do like to be included as well.
I share some helpful car trip activities and trip tips to help you plan your next family road trip. Keep them relaxed, engaged, comfortable, well-fed, and entertained.
Here are some things to do on a car trip for a teenager.
Car Trip Activities
During a long car trip, even screen time can get boring. With the endless "Are we there yet?" question or deep sighs, it's vital to keep your teenager engaged.
There are several fun things to do on a car trip with a teenager to keep them entertained.
1. Road Trip Travel Games for Tweens and Teens
You might have played 'Eye Spy' many times when your kids were smaller, but you'll have to find some more engaging travel games to keep your teens interested.
Luckily there is a wide range of fun games for kids to choose from.
Here are some of the road trip games you can play with your teenager.
Name That Song – Take turns singing the lyrics to a song, then the other can guess the song's lyrics.
Would You Rather? – Have far-fetched questions like would you rather have the power of invisibility or power of flight. Here's a weird 'Would You Rather' question: "Would you rather have an extra toe or an extra finger?"
Memory Test – Here is how it works; the first person says a word that starts with the letter A. The second person says a word that begins with B but also has to repeat the word mentioned by the first person. The game continues through the whole alphabet.
Trivia Questions – Prepare trivia questions before the trip.
The Animal Name Game involves having one person mention an animal. The following person then names an animal whose letter starts with the last letter of the previous animal mentioned. For example: Cheetah, hyena, antelope.
Categories – Choose a category and have others mention things that fall under the category. It could be names of cities or movies.
The License Plate Game involves spotting tags from all 50 states. The family member with the most points at the end of the trip wins. Here's another variation on the license plate game.
🤓 If you'd like more ideas for fun road trip games, I've listed Games that you can play in the car.
2. Podcasts and Audiobooks for Tweens and Teens
True crime stories and stories on pop culture are great podcasts that might interest your tweens and teens.
It's good to determine where your kid's interests lie before putting one on.
Interestingly, podcasts may serve as a springboard to great conversations with your kid if that's what you are looking for.
Some podcasts that your kid may like include; My Favorite Murder, Stuff You Should Know, Teen Girl Talk, and The Mortified Podcast.
Audiobooks are a great distraction for your tween. Make sure to download an audiobook that matches your kid's interests.
3. Travel Toys for Tweens and Teens
Your tween or teen is not too old for toys. If you have a long car trip, you will need toys that your child will enjoy playing with again and again.
There are plenty of toys to choose from that will keep them occupied the entire trip.
Fidget toys are great for long car rides.
Your teen might want to learn how to solve a Rubik's cube. Toys like the Rubik's cube are bound to keep your kid entertained throughout the road trip.
Mad Libs is a great word game where you write in missing words to create funny stories that will keep your teen laughing.
Adult coloring books are a great way to relax during a long trip
Get your teens to pack their favorite toys and games before you begin your car trip.
4. Cheap Surprise Gifts for Tweens and Teens
If you want to earn bonus points with your kid, surprise them with gifts on your trip.
We always try to get everyone one gift they need, one gift that they will love, and one gift that's just silly or fun.
Be sure to make these gifts affordable, fun, and compact.
Here are some gift ideas that our teens have loved in the past:
With their changing taste in needs, it's rather challenging to pick out a specific gift.
Do some research first and identify what your teen currently likes.
A gift card that they can spend on their holiday may come in handy too.
5. Road Trip Snacks for Tweens and Teens
The appetite of a teenager is understandable given their rapidly growing bodies.
Therefore, it's best not to let them get hungry and have plenty of snacks available unless you want them to get grumpy.
Carry enough snacks to last them the entire car trip and make stops at their favorite restaurants or fast-food chains.
Do not forget the drinks too. Fluids are road trip essentials that we often overlook, but you don't want your teens to get dehydrated.
These tips may seem obvious, but it also prevents your kid from getting restless.
We found these reusable snack bags very useful to pack their favorite snacks.
Some snack ideas include:
6. Road Trip Movies for Tweens and Teens
Teens and tweens love movies, and letting them watch during a car trip goes a long way in passing the time.
A car with a backseat entertainment system is a bonus as your kids can each watch a movie that they enjoy.
Unlike young kids who would pretty much enjoy any content that you show them, tweens and teens may tend to be choosy.
Find something that fascinates them and keeps them on the edge of their seats.
You can also download your kid's favorite movie or tv show and have them watch it on their smartphone or tablet.
7. Mobile Games for Tweens and Teens
Mobile games provide much-needed amusement for your kids. Though it's advisable not to let your kid play games the whole trip, a little bit won't hurt.
Make arrangements before leaving on the amount of game time they're allowed.
The road trip travel app is an app that contains instructions for a variety of go-to games. With games designed for all ages, it's a sure way to keep your teenager busy.
Have your kid play creative mobile games such as Rory's Story Cubes that use imagination to craft spellbinding stories.
Other favorable mobile games like the Virtual Fidget Spinner are sure to provide your kid with hours of entertainment.
8. Drawing and Coloring for Tweens and Teens
The longer the car trip, the more you will need fun activities to keep your kids occupied.
Coloring books are classic entertainment for all ages.
Nowadays, you can find coloring books designed for tweens and teens that are fun and inspirational.
Buy some fabulous inexpensive coloring books, colored pencils, or color markers.
These road trip activities are not just for kids; teenagers find them entertaining too.
If you're brave enough, you can even buy some window crayons because teens love writing all kinds of silly things on the car window.
9. Road Trip Journal for Tweens and Teens
A journal proves to be an excellent companion for your teenage kid as it's a perfect way to document events.
Let your kids journalize maps, information sheets, and postcards to keep them busy throughout the journey.
Your teen might even love to start a bullet journal.
Let your kid make a note of places you have been and fun moments that you wouldn't want to forget.
It will be fantastic to find out how much information will be gathered at the end of the trip.
Here are some more fun things to do in the car:

Car Trip Tips
A road trip with teenagers can be more challenging than with smaller kids, as teens have their own opinions and ideas.
Having some road trip tips on keeping your teen involved and engaged will go a long way in making that car trip successful.
Here are top useful car trip tips:
1. Include Your Teen in the Road Trip Planning Process
Teenagers do not like feeling left out. If you are looking for a successful car trip with teens, it's vital to include them in the planning process.
Let your kids suggest what they are looking forward to and implement them.
2. Ensure Your Car Has Enough Space
Your teenage kids are not as young or small as they used to be. There's a need to have extra space in the car with their growing bodies.
Tweens and teens value their personal space, so if they have to be squeezed in with their siblings, you might have some very grumpy kids.
You might consider renting a bigger car and make sure to organize things in such a way to make it easy to load and unload any essential road trip items.
3. Air Conditioning & Heating
Depending on whether you're going on a summer or winter road trip, check that your car's air conditioning is working, as having hot and bothered teens in your car will lead to very grumpy travel companions.
4. Pack A USB Phone Charger
In a world where technology plays a massive role in our day-to-day activities, phones are essential for a car trip. Google maps and streaming music are just a few uses of a phone. Your phone's batteries are bound to get drained on a long car trip, so pack a USB phone charger.
5. Download Media Before You Go
Making long car trips means there's the possibility of going through areas that do not have network connectivity.
Therefore, make sure to download enough media to last you the entire trip.
This includes music, movies, games, podcasts, and audiobooks.
If you don't have a lot of storage on your device you can get a portable hard drive to download all your media onto.
6. Consider Getting Unlimited Cell-Phone Data
A car trip involving teens means phone usage is at a high.
Your teens might be nagging you for more data for streaming music or sharing photos on social media.
Therefore before leaving for the trip, you might want to switch to an unlimited data plan.
7. Pack Headphones or Earphones
Considering that your teen is bound to listen to music, podcasts, and audiobooks, headphones and earphones become a necessity.
Good quality noise-canceling headphones are useful when everyone is listening to something else or if someone else is having a snooze.
8. Take Regular Road Trip Breaks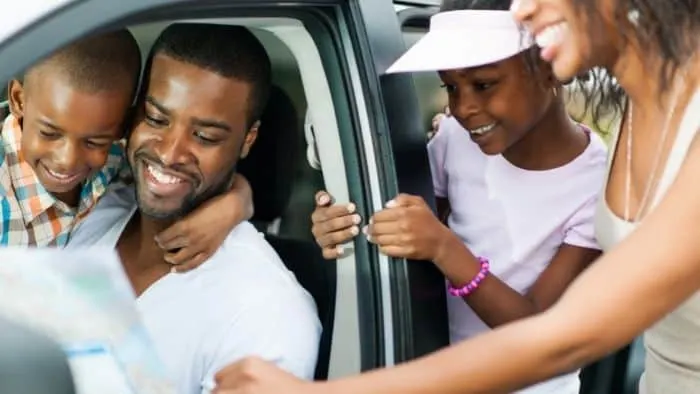 The general rule dictates that one needs to take a 15-minute break every two hours. Taking regular breaks is essential for the driver and a healthy and necessary distraction for your teenager.
The break gives everyone a chance to stretch those tired legs and prevent lower back pains from driving a long distance.
Try to plan ahead and give your teen some options of where they would like to stop next.
This will provide you with the opportunity to look at the map together and discuss the route ahead as well, keeping your teen involved.
9. Find Tourist Attractions and Landmarks On Route
Encourage your teenager to interact with the surroundings by watching for specific landmarks found along the way.
Use google maps to locate the different tourist attractions along your route, and don't forget to document them.
Checking out other people's social media posts on these attractions will give your teen something to research and report back on.
10. Give Teens A Small Budget for Stops
Allow your kids to make purchases to avoid arguments while also teaching them the importance of budgeting.
This budget gives them the much-needed independence that they crave.
11. Prepare for Motion Sickness
When your kid reads a magazine while driving, the inner ears will sense motion, but the eyes and the body won't.
This unawareness is how conflicting information is sent to the brain resulting in motion sickness.
Have with you motion sickness medication like Dramamine just in case.
12. Reward Good Behavior
Let your kids know that a lack of complaints or arguments will result in a treat at a convenience store or a stopover of their choice.
Although parents always notice and comment on bad behavior, regularly noticing good behavior is a better way to encourage and facilitate a successful road trip.
You might even allow older teens a chance behind the wheel to test their driving skills if it's safe to do so.
13. Let Your Teens Drive (Age Appropriate)
It would be fun to give your age-appropriate teen a shift behind the wheel.
But be sure to check the learner permit laws first in the state you pass through.
Watch this video for some road trip hacks:
What Should a Teen or Tween Pack for a Car Trip?
There are several things that teenagers can't leave behind when going on a road trip.
The most obvious things are electronics. Some of your teen's needs for a car trip are headphones, phone chargers, fun toys, and games.
Chewing gum and deodorant might be helpful as well.
If mom hasn't done so already, be sure to add snacks and water to keep you hydrated.
Can You Drive 12 Hours a Day?
Driving for 12 hours straight is incredibly tiring. Generally, it's best not to drive more than 8 hours straight.
Some people have been known to fall asleep while behind the wheel.
To complete a 12 hour trip in one go, you should have more than one driver.
It would help if you also had a backup plan in case you do need to stop and sleep.
What Can You Do On a Road Trip Without a Phone?
There are plenty of fun things you can do without a phone.
You can do any of the following:
Talk to each other
Have a sing-along
Play games
Play cards
Read books – if you don't get car sick
Take photos with a camera
Things To Do On A Car Trip Summary
Car trips with your teenage kids lead to making memories and forming stronger bonds.
It's the perfect opportunity to try to engage and have a heart-to-heart talk with your teenager.
Surprisingly it might get them to open up on things you were unaware of before.
Give your teenager a road trip packing list and let them add any special items to make their journey more comfortable.
A car trip with teens can turn into one of the most epic road trips if you plan ahead, organize a road trip activity pack that's easily accessible, have plenty of snacks on hand, and try to go with the flow.
Documenting these memories will go a long way in reliving your best summer road trip moments later in life.