When it comes to celebrating the birthday of the man you love, a simple gift and a card might not cut it. Your boyfriend deserves something truly special, a gesture that shows just how much you care about him.
That's where romantic surprises come in – a way to make his day unforgettable and let him know how much he means to you.
Whether you're celebrating a milestone or just want to show your affection, these ideas for romantic surprises are sure to make your boyfriend's birthday a day he will cherish forever.
Read on to get gift ideas and romantic surprises for your boyfriends' birthday.
Romantic Surprises For Boyfriend's Birthday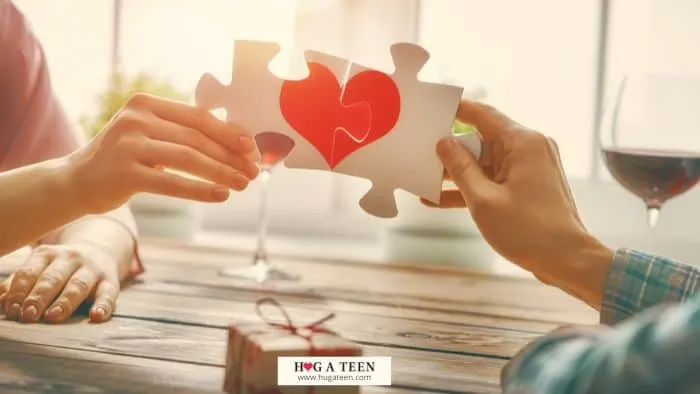 1. Romantic dinner
For your boyfriend's birthday, you can surprise him with a romantic candlelit dinner or date at his favorite restaurant. Put on a fancy dress and nice shoes and ask your boyfriend to ditch the jeans and sneakers and try to make an effort to look nice.
2. Heart-shaped sticky notes
It will be a time-consuming cute surprise, but it will be worth it. On sticky notes (you get heart-shaped ones), write birthday wishes and lovely messages or all the reasons you love him and why you find him adorable. Paste them in different places where he'll find them throughout the day.
❤️ If you need some help coming up with cute notes, then have a look at our Cute Notes For Boyfriend post.
3. Romantic getaway
If you have the time and budget to accommodate it, you can arrange a romantic getaway to a place where you can spend time alone. It can be camping or a cabin stay in a different town.
4. Movie night
Buy movie tickets to watch his favorite movie, even if it's a movie you don't like or enjoy. The fact that you would be willing to go out of your way to make time and spend money on something only he likes will warm his heart and surprise him.
5. Game night
Many guys love games; they spend hours on end playing them. Organize a game night where he plays with you for a change instead of his friends. You can also play board and card games. Ensure you have enough snacks and drinks; you can purchase his favorites.
6. Surprise birthday party
Ask your mutual friends to help you organize an epic birthday party he will never forget. You can create your own decorations that match the party if you plan to throw a themed birthday party. Make sure there's enough food, drinks and of course the cake.
❤️ Suggested reading: Cute Pranks To Do On Your Boyfriend
7. Thoughtful gift
When purchasing a gift, please put some thought into it; don't buy something in a rush; take your time and factor in your boyfriend's likes and needs. The gift should be meaningful and clearly show that you made an effort when picking it out. DIY gifts are also great and allow you to add a personal touch.
8. Scavenger hunt
It might not seem like a romantic activity, but treasure hunts are a lot of fun if done right. Plan a scavenger hunt with clues that can lead to a treasure which can be a gift or his birthday party. It can also be a photo scavenger hunt made up of your photos.
9. Romantic picnic
Another romantic birthday surprise is a picnic. Picnics allow you to spend time outdoors in nature, which is not to say you can't organize them indoors. Set everything up on the preferred, then send your boyfriend a text to meet you at the site. You can even try and squeeze in a sunset viewing or stargazing.
❤️ Suggested reading: Picnic Date Ideas (Romantic Ideas for Couples)
10. Go to the gym
Most guys love working out and exercising, and if your boyfriend likes spending a lot of time in the gym, you can book a couples session and surprise him on his birthday, making it a special occasion.
11. Live music
Everyone enjoys a good tune now and then, and nothing does justice to music like a live music show. You can get tickets to watch his favorite musician or band at their concert. If no concerts occur in your area, you can attend a musical or watch a play together.
12. Couples massage
You can organize a couples massage session, a full day of pampering, and surprise your boyfriend if you want a relaxed happy birthday. It gives you time to relax and bond together.
13. Recreate your first date
First dates always stay with someone even if they don't turn out as planned. It might be hard to copy every detail as it was on that day, but you can try to recreate it by doing things or going to the places you went on the first date to re-live the memory.
❤️ You might also enjoy reading these Happy Birthday Paragraph For Boyfriend
Romantic Gifts For Boyfriend's Birthday
1. Customized Shaving kit
If your boyfriend has gotten to a stage where he has started shaving, you can get him a shaving kit with all the stuff he needs. You can get him a customized box with his name, birth date, and a special message engraved for storing the shaving stuff.
2. Clothing
Items of clothing are also great presents so long as you get your boyfriend that matches his style and his favorite colors. Clothing offers you several options: jackets, graphic t-shirts, hoodies, socks, boxers, joggers, and others.
3. Jewelry
Another thoughtful, romantic birthday gift option is jewelry. They hold sentimental value and can be customized to include an engraved personal message. You can get him a gold/silver chain, a men's bracelet, or wrist watch.
4. Favorite snacks
Everyone has stuff they consider their favorites, and it's no exception when it comes to snacks. Since you know what snacks your boyfriend enjoys, you can put together a gift hamper with his favorites. Add a bottle or several of his favorite drinks s well.
5. Body products
Gone are the days when guys stopped caring about their physical appearance and overall self-care. If you don't already know, try to find out his favorite brands of personal care products and make a hamper with them. You can also include one or more luxury brand products.
6. Phone Accessories
If you can afford it, you can go ahead and get your boyfriend a new phone, but if you can't, or if the one he has is in perfect working condition, you can get him phone accessories that are slightly more affordable than a brand new phone.
7. Leather bag
A bag is a practical and thoughtful use since he can use it a lot. A book bag is excellent for everyday use in school or work, or a duffel bag for travel.
❤️You might also enjoy these Sweet 'Thinking About You' Messages For Him
Romantic Homemade Gift Ideas For Boyfriend's Birthday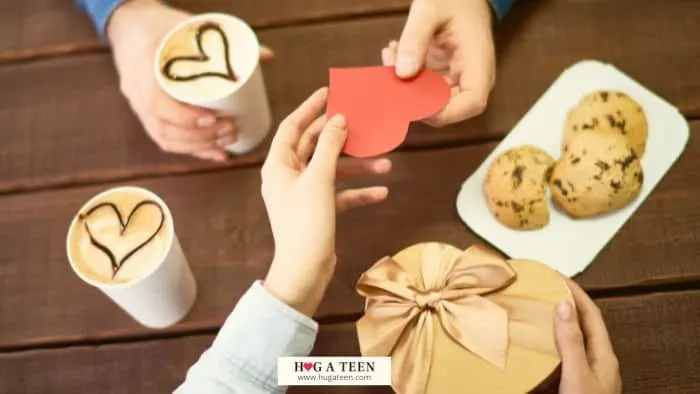 1. Matching bracelets
Most DIY bracelets are easy to make and don't require hard-to-find materials. All you need is a few strings and beads. You can get ideas and several bracelet-making designs online that you can use to make your matching bracelets.
2. Playlist
Romantic gift ideas don't need to cost a lot the thought and time that goes into creating one also counts. Make a list of your boyfriend's favorite songs and artists, and make a playlist. Add other songs that hold some meaning to both of you, like the first song you danced to or a song you heard on your first date.
3. DIY card
Make a cute DIY card with a sweet loving message for your boyfriend. Let your creative juices flow during the creation process, and check online for more ideas.
4. Date jar ideas
Thanks to your date jar gift, going on dates will never be boring again. On small pieces of paper, write down endless ideas, things, and places you can go to for dates and put them inside a jar. You can also write down the ideas on popsicle sticks.
5. Candy jar
Another great jar idea is the candy jar gift. All you will need is assorted pieces of candies or chocolates put inside a jar accompanied by a lovely DIY card. Apart from his favorite sweets, you can include other types you feel he should try.
6. "Open when" letters
'Open when' letters are the easiest homemade gift ideas that only need a pen and paper. The good thing about these letters is that there is no limit to how many you can write for your boyfriend. Some great ideas for the letters are "open when you are sick," "open when you feel sad," and "open when you can't sleep or when you are hungry.
❤️You might also enjoy these Birthday Letters For Boyfriend: Ultimate Guide With Examples
7. First-year scrapbook
During the first year of a relationship, a lot happens and takes place. From the first date, the first "I love you" message, all the photos and selfies you take together, all the fun things you do, or any challenges you triumph. All these contribute to a memorable first year together and romantic time spent together; you can document these events in a book, making it a great timeless gift and his favorite book.
8. Text message scrapbook
You can also make a scrapbook made from your printed-out text messages. Keep it sweet and romantic by choosing only the best and lovely texts. Avoid any sad texts or messages you send each other while fighting.
9. Write him a love letter
Write him a deep and emotional love letter telling him how much he means to you. You can leave it under his pillow, in his bag or jacket pocket, or even mail it to him.
❤️ Suggested reading: Best Emotional Love Letters For Him That Make Him Cry
Romantic Birthday Ideas For Boyfriend At Home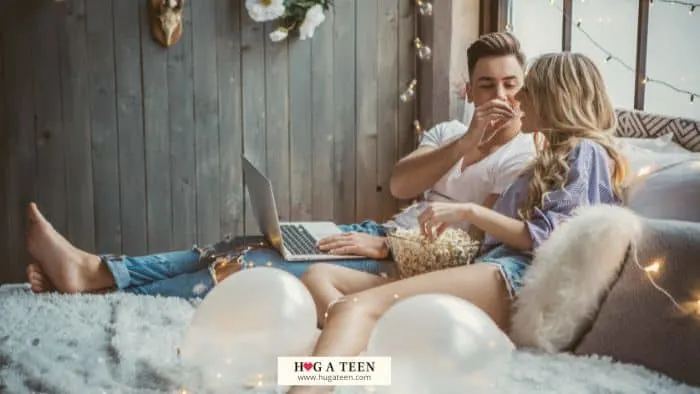 1. Movie marathon
Cozy up in bed with plenty of snacks and drinks and have a movie marathon of his favorite movies.
2. Cooking together
Since you will be indoors and you both have to eat at some point, you can cook together. You can cook his favorite meal or something else that is not complicated; the idea is to spend romantic time together. If you're both up to it, you can try a new recipe or bake something.
3. Indoor picnic
Picnics are not meant for the outdoors; even indoors, they work pretty well. You need a little space to create by moving some furniture around. Spread the picnic blanket on the floor and set up everything as you would for an outdoor picnic. Include birthday decorative items and a birthday cake.
4. Invite friends and family
Some people are not into big gatherings or surprise parties; if your boyfriend is like this, you can organize a small intimate birthday party with close friends and family members. Serve some of his favorite delicious meals, including a cake, and have gift-giving and special message sessions.
5. Have a chef over
If you don't feel like cooking or ordering takeout, you can hire a budget-friendly chef to come over and cook you meals you have wanted to try out for a while. Please don't limit yourself when it comes to the decor because it's at home; make an effort to create a romantic night with the setup, including fine china, a bottle of wine, and candles, dress well, and try and keep it fancy.
Creative Birthday Surprise Ideas For Boyfriend
1. Food kit
Add a little spice and sauce to your boyfriend's meals by making a food kit with his favorite condiments and spices.
2. Jar of love
To make this gift, you will need a jar with a lid and different colored pieces of paper. Write down the different reasons why you love him on different colored paper. You can use different colored paper to indicate various ideas, ranging from reasons why I love you, fond memories, lyrics, quotes, or poems.
3. Video with birthday wishes
Rally his friends and members of his family to create videos of birthday messages and wishes for him. Compile all of them together into one. If you have the know-how, add his favorite tracks to play in the background while the videos run.
4. Five Senses gift hamper
Create a perfect gift hamper that has gifts touching on the five senses that is touch, smell, taste, sight, and sound. For touch, it can be a voucher for a massage or a haircut. When it comes to gifts that fall under the sense of smell, you can get him candles or colognes, and for the taste, you can get him candy or a restaurant gift card. For sound, you can compile a playlist and movie tickets for sight.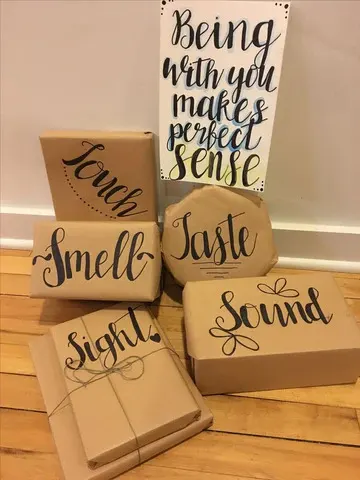 5. Dream car drive
Book a surprise drive in the car of his dreams. Whether you hire an exotic car for a day or let him drive a supercar on a racetrack, he will surely love this creative birthday surprise.
6. Virtual Reality experience
If you're looking for a great way to celebrate your boyfriend's birthday, consider taking his gaming experience up a notch by arranging a visit to a venue that provides virtual reality experiences.
There are plenty of options to choose from, such as immersive play zones, VR arcades, and even multiplayer VR escape rooms. If he's into technology and gaming, he'll love this idea.
7. Make a fun bet with your boyfriend
Fun challenges can add some excitement to your relationship. Making a fun bet with your boyfriend on his birthday is an excellent way to enjoy some quality time together and have some fun.
Whether you win or lose the challenges, you can agree on suitable rewards or consequences for your partner to keep things interesting.
❤️ Here are some fun bet ideas to make with your boyfriend to get you started.
Simple Birthday Surprise For Boyfriend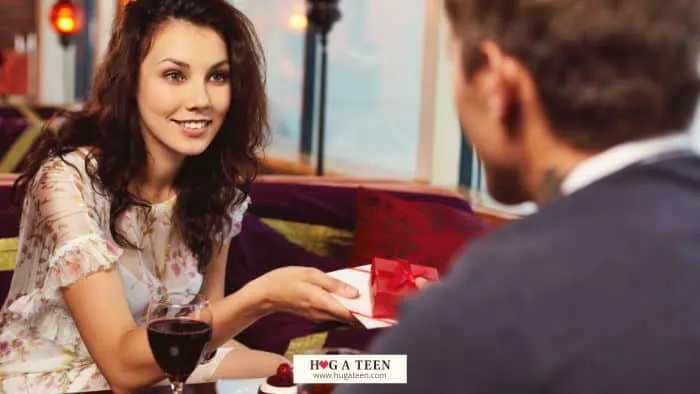 1. Cooking his favorite meal
For his birthday, you don't have to be extravagant or go overboard; keep in mind it's the thought that counts and spending quality time together.
2. View the sunset or sunrise
The sunset or sunrise is always beautiful, especially if you're lucky enough to catch the sun just as it rises or sets. You can find a place to watch the sunset or sunrise together for your boyfriend's birthday. As you wait for the sun to do its thing, you can spend quality time talking, bonding, and enjoying being in each other's company.
❤️ You might also enjoy reading these Cute Good Morning Paragraphs For Him
3. Ice cream bar
If he has a sweet tooth then he'll love this sweet treat. Set up an ice cream bar or buffet with different flavors of ice cream, which you can combine with the birthday cake.
4. Hiking
It might not seem like a romantic birthday surprise, but if you both like outdoor adventure, you can slate a hiking session during day time on your boyfriend's birthday. It does not have to be intense but a simple hike that allows you time to relax and enjoy each other company.
5. Bonfire
You can have a bonfire either in his backyard or yours. To make the birthday celebration more fun and merrier, you can invite your friends over to tell stories and jokes and to sing him a happy birthday.
How To Surprise My Boyfriend For No Reason
1. Washing his car
It might get messy, and you will most likely be exhausted once you're done, but it's sure to be a lovely surprise and make your boyfriend happy. So if your boyfriend's car is dirty, wash it for him as a surprise.
2. Baking
You can bake your boyfriend's favorite cake or sweet treat and deliver it to him.
3. Plan a beach date
You can surprise your boyfriend with a lovely beach date if it's something you don't usually do.
4. Breakfast in bed
Breakfast dates are not standard; you can also go on that one or serve him breakfast in bed.
5. Double date
Every couple has that couple they are in sync with and connect with. Go on a double date with his best friend or a favorite person who can bring along his girlfriend.
6. Play video games
Not all girls love video games. If you are not an expert, try brushing up on your gaming skills and expertise and surprise your boyfriend by telling him you will play video games with him.