It's time to spread some love and make your guy feel extra special with our article on "Thinking About You" messages for him.
We know how it feels to have your crush or boyfriend on your mind constantly, and we've got just the right words to express those sweet thoughts.
Whether you're a teenager in a budding romance or just looking to surprise your guy, these relaxed and heartfelt love messages will make him swoon and keep that teenage love story going strong.
Get ready to send some serious love vibes!
'Thinking About You' Messages For Him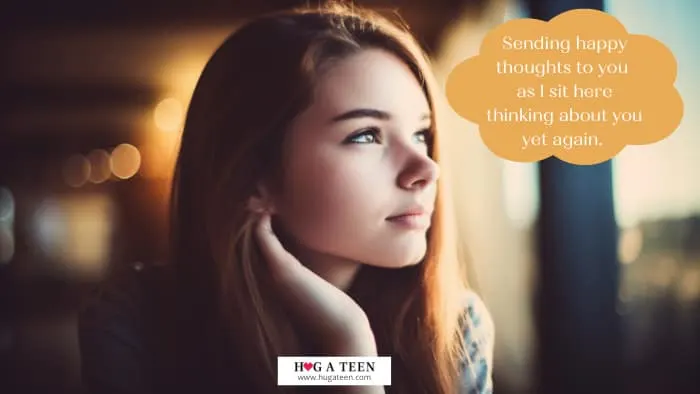 Hey you! Just wanted to let you know that you're constantly on my mind. Can't help but smile every time I think of you. 😊❤️
Guess what? You're officially my favorite distraction. Couldn't stop thinking about you today. Sending you loads of love and hugs! 🤗💕
Hey babe! Just a quick message to say you're the sweetest thought in my head right now. Thinking of you makes my day brighter. 😘✨
Hey cutie! Just wanted to remind you that you're my favorite person to think about. Hope you're having an awesome day! 💖
Hey there, my mind's official VIP! You're on constant replay in my thoughts, and I can't help but grin like a goofball. Sending you lots of love and positive vibes! 😄💕
Thinking of you gives me a familiar feeling I couldn't put into words. Until I realized it was love. 💖
Hey, guess what? My brain keeps shouting 'Warning: Excessive Thoughts of Boyfriend Detected!' It's a cute emergency, and you're to blame. 😄🚨
Thought I should let you know that you've achieved '24/7 Occupancy' status in my mind. Congrats! Rent is due in the form of hugs and kisses. 😜💕
Just a heads-up: My brain's current playlist consists of 99% thoughts about you. Looks like I'm suffering from a severe case of 'Boyfriend Fever.' Doctor's orders: More cuddles! 😂🎵
Breaking news: The International Association of Thought Process has declared you as the official mascot of my mind. Congrats on this prestigious honor! 🎉😄
Thinking of you always makes my day. I hope this message makes yours great too!✨
The time we spend together is precious to me, and I cherish every second of it.
Whenever I think about you, I am filled with joy. You are in my thoughts and prayers wherever you are.
I have never expected to be loved like this. My life is better every day with you.
You are in my thoughts in whatever I do. It doesn't change whether I am with you or whether we're far apart. My heart is filled with love for you.
As long as I live, I want to you feel that I love you unconditionally because not a day passes when I don't think of you.
Sending happy thoughts to you as I sit here thinking about you yet again. 😊
Just wanted to let you know that I'm thinking about you and appreciate you very much.
You are important to me, which is why I can't help but think about you. Whenever I think of you, all my fears fade away.
It doesn't matter if I don't get to stare into your eyes. I still think about you, and it warms my heart each time.
It may sound crazy, but you are the one I think about more than myself. I guess that's how love works. There will always be a place in my heart and mind for you every day.
As long as I have the thought of you in my head, there is no time to be sad or feel bored. I don't mind thinking about you all day.
Your presence in my life is one of the greatest gifts I have ever received. My blessings are doubled when I count you among them.
Being reminded of all the wonderful things you do in my life gives me joy and a grateful feeling.
It's important to me that you know I am thinking of you. You need to know how much joy you brought into my life and how beautiful it has been since you came.
My appreciation for having you in my life is intensified when I think of you and all your wonderful qualities.
I always keep you in my thoughts. It means a lot to me, baby, that you are in my life.
❤️ You might also enjoy reading Cheesy & Cute Notes For Boyfriend
'Thinking About You' Quotes For Him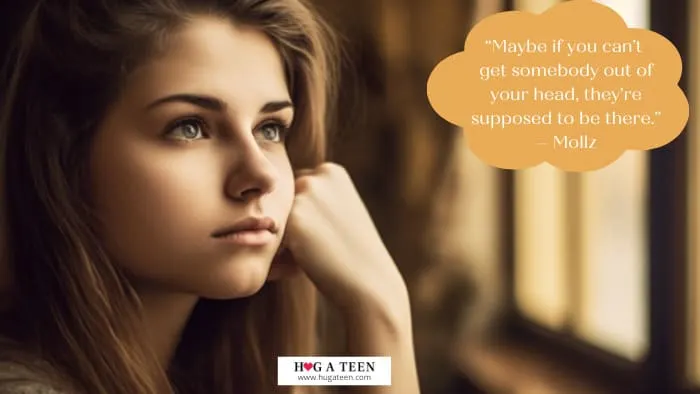 "Somewhere someone is thinking of you. Someone is calling you an angel. This person is using celestial colors to paint your image. Someone is making you into a vision so beautiful that it can only live in the mind." – Henry Rollins
"That's how you know you love someone, I guess when you can't experience anything without wishing the other person were there to see it, too." – Kaui Hart Hemmings
"Maybe if you can't get somebody out of your head, they're supposed to be there." – Mollz
"I've been thinking about you constantly since I left, wondering why the journey I'm on seemed to have led through you. I know my journey's not over yet, and that life is a winding path, but I can only hope it somehow circles back to the place I belong. That's how I think of it now. I belong with you." – Nicholas Sparks
"Thinking of You is easy. I do it every day. Missing you is the heartache that never goes away." – Michael Pryce
"Words fall short whenever I want to tell you how special you are to me, but all I can say is that my world is full of smiles whenever I think of you." – Natalie Anderson
I have tried so many times to think of a new way to say it, and it is still I love you. – Zelda Fitzgerald
"He is my soul mate, my fresh air, the reason I look forward to getting up every morning." – Tabitha Suzuma
"I'm thinking of you, that's all I do, all the time. You're always the first and the last thing on this heart of mine. No matter where I go, or what I do, I'm thinking of you." – Dierks Bentley
"No matter where I went, I always knew my way back to you. You are my compass star." – Diana Peterfreund
"In case you ever foolishly forget: I am never not thinking of you." – Virginia Woolf
"Absence is to love as wind is to fire. It extinguishes the small and kindles the great." – Roger de Bussy-Rabutin
"She knew she loved him when 'home' went from being a place to being a person."
– E. Leventhal
"I'm thinking of you, that's all I do, all the time. You're always the first and the last thing on this heart of mine. No matter where I go, or what I do, I'm thinking of you." – Dierks Bentley
"If I had a rose for every time I thought of you, I'd be picking roses for a lifetime." – Dylan McNair
"If you live to be a hundred, I want to live to be a hundred minus one day so I never have to live without you." – A.A. Milne
"So, here I am, all by myself, thinking of you – no one else. There's a feeling inside and as hard as I try, it just won't go away." – Angel Hema
"A day without you is like a day without sunshine. A life without you is like a life without music. You are the sunshine on my face and the music in my heart." – Alfiya Shaliheen
"Do you know I never ever feel bored, never ever feel lonely, because you are always in my thoughts, morning, afternoon and night." – Mitch Cuento
"Thinking of You is easy – I do it every day. Missing you is the heartache, that never goes away." – Michael Pryce
"If I have a single flower for every time I think about you, I could walk forever in my garden." – Claudia Adrienne Grandi
"I can go days without talking to you, months without seeing you, but not a second goes by that I'm not thinking about you." – Anurag Prakash Ray
"Where else would any sane man want to be, but in your eyes, your heart, and your arms, a sea of passion ever moving, beating like my heart when I think of you." – Greg Mendoza
"When I think of you, I think of kindness, wisdom, and love. Thanks for being you." – Sam Crow
❤️ You might also enjoy reading these Happy Birthday Paragraph For Boyfriend
Funny 'Thinking Of You' Quotes For Him
"As a man in a relationship, you have a choice: You can be right, or you can be happy." -Ralphie May
"At the touch of love, everyone becomes a poet." – Plato
"Love can change a person the way a parent can change a baby — awkwardly, and often with a great deal of mess." — Lemony Snicket
"Love is like an hourglass, with the heart filling up as the brain empties." – Jules Renard
"Love is a lot like a backache: it doesn't show up on X-rays, but you know it's there." – George Burns
"There are only three things women need in life: food, water, and compliments."
– Chris Rock
"If love is the answer, could you rephrase the question?" – Lily Tomlin
"If you love them in the morning with their eyes full of crust; if you love them at night with their hair full of rollers, chances are, you're in love." – Miles Davis
"Love is being stupid together." -Paul Valery
"A guy knows he's in love when he loses interest in his car for a couple of days."
– Tim Allen
"The happiest marriage I can picture would be the union of a deaf man to a blind woman." – Samuel Taylor Coleridge
"People who throw kisses are hopelessly lazy." – Bob Hope
"A successful relationship requires falling in love many times, always with the same person." – Mignon McLaughlin
"Whatever you may look like, marry a man your own age – as your beauty fades, so will his eyesight." – Phyllis Diller
❤️ You might also enjoy reading these Funny Birthday Wishes For Boyfriend – Short, Witty & Memes
Sweet 'Thinking Of You' Text Messages For Him
Sending sweet messages to your favorite person is a surefire way to brighten his day and let him know he's on your mind. Choose your favorite sweet love messages or good morning messages to brighten his day.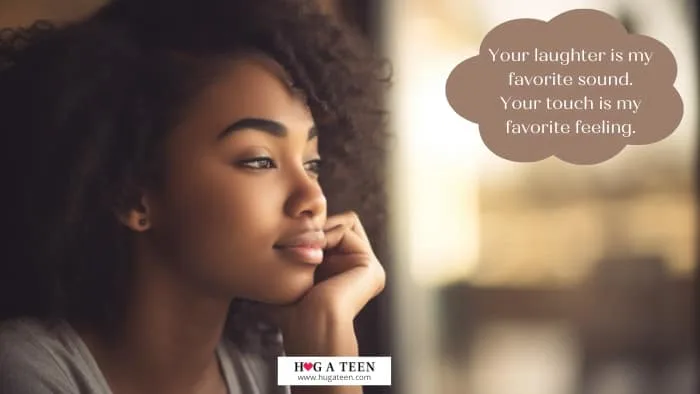 You've been running around in my head all day. You must be exhausted by now. There is no one I love more than you, sweetheart.
Whenever I see your name on my phone screen, I still get excited. I hope it's you every time I hear it buzz.
Among the things I enjoy doing is thinking of you.
They can have you from 9 to 5, but you're mine forever.
There is nothing strange about not forgetting to think about you. In the same way that air cannot be forgotten, my thoughts about you cannot be forgotten either.
As long as you are in my heart, I will always be filled with your thoughts.
Your laughter is my favorite sound. Your touch is my favorite feeling.
Whenever I think of it, I want to hug you forever and ever.
There are just a lot of thoughts running through my head. The majority of that is you. It's impossible not to think about you all day long since you are everything to me.
Whenever I think of you, my heart races. You have such power over me, and I'm not complaining. I love you so much.
I am always thinking about you and wishing you the best in the days to come. You are my love, and nothing can change that.
My thoughts are always focused on you. Because I can't imagine my day without you.
Every day, I can't help but think of you. It is certain that the world will see happiness in my smile if I am able to be with you for the rest of my life.
A few thoughts came to mind when I woke up. The first thought that comes to mind is you. My thoughts are always directed toward you for no particular reason.
Good morning, baby. I never stopped thinking about you throughout the night. Thanks for inspiring and motivating me. Your love means the world to me.
You are one of the most beautiful things that ever happened to me. And it's important that you know how much that means to me.
Life is far from perfect. But if I have you in my mind every single day, It will ease my worries and make life's struggles easier to bear.
My mind is currently consumed with a person you can't possibly guess. Fine, I'll reveal it. It's you.
I thought about all the things you've done in my life and realized what a blessing you are.
I've got a lot going on today. I'm busy expressing gratitude to all my lucky stars for having you as a part of me. My baby, I love you so much.
Cute 'Thinking Of You Messages' For Him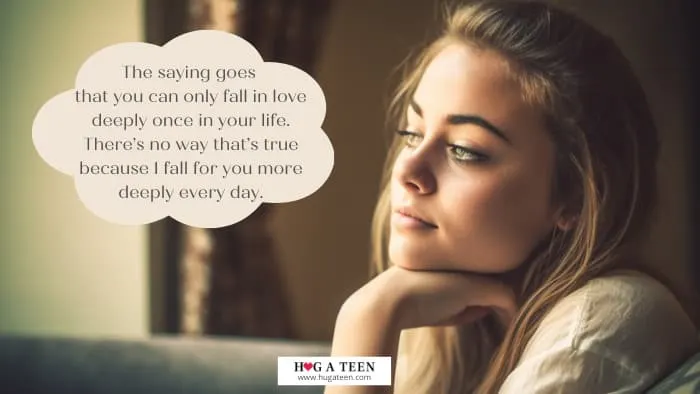 Dear handsome, good morning! My mind can't stop thinking about you. It's so hard to describe how perfect you are. Your eyes bring color to my world, and your smile brightens up my day.
The thought of not having you by my side would make me feel desperate. Even when my words fail, you always have the right thing to say. As always, today is even better than yesterday! Knowing that I have you makes all the worries fade away.
Guess what the perfect crime is for us? Stealing. You steal my heart, and I will steal yours.
I try not to be sad when we're not together. I focus on thinking of you because that makes me look forward to the day we'll be together again. I love you with all my heart.
The saying goes that you can only fall in love deeply once in your life. There's no way that's true because I fall for you more deeply every day.
It's always rewarding to think of you at the end of the day.
My heart is missing, and I couldn't find it. Have you accidentally taken it with you?
I always think of you during those intervals between seconds, whatever they're called.
Too much smiling has caused wrinkles to form on my face. Please don't be such a sweetheart! I am completely smitten.
It is you that I think about first thing in the morning, and I don't regret that at all.
Whenever I miss you the most, I hold the pillow tight until I fall asleep, pretending it is you.
Thoughts of you give me a feeling that I've never had before. My gut tells me that it's love since it feels good.
Everything you do, and everything you are, from the warmth of your smile to the sweetness of the words you say, makes me think of you every single day. Baby, I adore you.
Falling in love with me is better than falling from the sky or from a tree!
Every day, I think about how my world was enriched by your confidence and determination the moment you came into my life. Every action you take makes my life better, which makes me the luckiest girl in the world.
When someone holds a special place in your heart, thinking about that person comes naturally. That is exactly why your thoughts never leave my mind.
I think about how you brought sweetness to my life. And it's not about the chocolates you give me. It's about the sweet gestures that make you the sweetest boyfriend in the world.
Romantic 'Thinking Of You' Messages For Him
When love fills your heart and thoughts of him consume your mind, there's no better way to express your deep affection than through romantic love messages. These romantic messages are perfect for letting him know just how much he means to you.
Whenever I feel confused, and life seems meaningless, I think of you. In times of loneliness, I cannot imagine life without you. You bring color back to my life whenever the world turns black and white. The joy you bring to my life each and every day makes me whole.
I wonder if you think about me the way I think about you. Because I can no longer imagine life without you. And you are a part of the air I breathe. I love you always!
Do you know what makes me so sure that this love will last forever? It's because a vision of us as an old couple comes to mind whenever I think of you.
How have you been, my love? I hope you are not feeling uneasy because, honestly, I've been thinking about you all day. And I'm afraid I might not be able to stop this habit.
Thinking of you is something I will never get tired of. Because I have all the reasons to thank God for giving me such a beautiful person like you. I love you so much, baby!
Thinking about you the moment I wake up is as important as exercise and as filling as a hearty breakfast. It's a morning essential I can't live without.
It is only your thoughts that can keep me awake at night. But the moment I fall asleep, I end up dreaming of you. And when it happens, I don't want to wake up. You are my dream and my reality.
When the situation won't allow us to be together physically, I rest in the thought that I keep you in my thoughts all day. That way, we will be together in spirit.
You are always on my mind when I do anything. You consume all of my thoughts, whether I'm sleeping, eating, or walking. You are such a beautiful person, and I love you so much. Having you constantly on my mind makes me love you more than ever before.
It is hard to explain why I am constantly thinking about you, but I wanted to let you know that every second of this life, I thank God for you.
The thoughts of you calm my senses. It takes me to a different world, and in that world, it's just you and me.
You will never cease to be in my thoughts as long as the world exists. I am committed to keeping this beautiful promise until the last day of our existence. My thoughts are always with you, baby.
When I don't feel okay, the only thing that can pick up my mood is the thought that I have you in my life. When I am reminded of that, I instantly feel better. That's what your mere existence can do to me.
Whenever I think about you, I smile because every moment we have shared together brings back happy memories.
If you ever get stuck in a situation where you don't know what to do, or you can't move forward, remember that there is someone out there thinking of you and silently cheering you on. That's me, my love.
The funny thing about the love I feel for you is that I wouldn't mind thinking of you 24 hours a day, seven days a week. I'm not obsessive. You just happen to be as important as the air I breathe.
I always wonder if you think about me the same I do, but even if not, nothing will ever change the way I allow your thoughts to linger in my head. After all, that's where I get my daily motivation.
❤️You might also enjoy these Birthday Letters For Boyfriend: Ultimate Guide With Examples
'Thinking Of You' Quotes For Him Long Distance
Missing your long-distance guy? We've got you covered with a collection of heartwarming and relatable "Thinking Of You" quotes for him. Whether you're separated by miles or time zones, these light-hearted quotes will capture your feelings perfectly. Get ready to express your love and make him feel cherished, even from afar. Let the countdown to your reunion begin!
"I fell in love with her when we were together, then fell deeper in love in the years we were apart." – Nicholas Sparks, Dear John
"Distance unites missing beats of two hearts in love." – Munia Khan
"I found that I missed him the more he was absent from my life, and the more I missed him, the more I loved him." – Donna Lynn Hope
"Distance means so little, when someone means so much." – Tom McNeal
"There are no goodbyes for us. Wherever you are, you will always be in my heart." – Mahatma Gandhi
"The pain of parting is nothing to the joy of meeting again." – Charles Dickens, Nicholas Nickleby
"I exist in two places, here and where you are." – Margaret Atwood
"They say that time heals all wounds but all it's done so far is give me more time to think about how much I miss you." – Elizabeth Wilder
"Love will travel as far as you let it. It has no limits." – Dee King
"No matter where I am, no matter where I go, your heart is my northern light, I will always find my way home." – Michael Kilby
"Forget the miles, forget them. You'll be there and I'll be here, and it'll just be long distance. And that'll be okay because quite frankly I'm crazy about you." – Going the Distance
"Once trust is built, distance cannot kill it. Time and space alone cannot destroy authentic connection." – Vironika Tugaleva
"Absence makes the heart grow fonder, but it sure makes the rest of you lonely." – Charles M. Schulz
"The one good thing about not seeing you is that I can write you letters." – Svetlana Alliluyeva
"It's been a year and 3 months since we've kissed, and I rather have the ghost of his mouth on my lips than kiss anyone else." – Alishah Khan
"In true love the smallest distance is too great and the greatest distance can be bridged." – Hans Nouwens
"I love no one but you, I have discovered, but you are far away and I am here alone. Then this is my life and maybe, however unlikely, I'll find my way back there. Or maybe, one day, I'll settle for second best. And on that same day, hell will freeze over, the sun will burn out and the stars will fall from the sky." – Lemony Snicket
"My heart is your home, wherever in the world you are – you will always have a place to stay." – K.A. Hill
"I think about you constantly, whether it's with my mind or my heart." – Terri Guillemets
"I close my eyes, thinking that there is nothing like an embrace after an absence, nothing like fitting my face into the curve of his shoulder and filling my lungs with the scent of him." – Jodi Picoult
❤️ You might also enjoy reading Cute Goodnight Paragraphs & Texts For Him
Final Thoughts
Sending "Thinking Of You" text messages to him can be an incredible gift that has the power to make his heart warm and create a lasting impact. Whether he's your favorite person, a true friend, or the love of your life, these sweet, romantic, and heartfelt messages have the ability to brighten even the dullest moments.
During difficult times and rough patches in life, a quick message filled with true love and appreciation can be the light that guides you through. Cherish those special moments and remember that true friends and true love messages are like stars in the night sky, illuminating your beautiful journey.
So, don't hesitate to express your deepest appreciation and let him know that he's the reason you feel like the luckiest person alive. Embrace the roller coaster ride of life together, knowing that you have a single soul by your side.
With these sweet text messages, you have the opportunity to make his entire life better, even in the most odd and challenging times. So go ahead, send those lovely messages, and let your special person know that they have had a positive and incredible impact on your life.
May every message be a warm embrace that helps him sleep at night, and may your bond be a precious gift that brings joy and happiness.