The growth of facial hair is a notable change during puberty, and it's a big deal for boys.
Unfortunately, some boys cannot grow facial hair until their late teens or early twenties.
Lack of an adolescent beard can negatively impact self-esteem since most teens want to appear mature like their peers.
This post discusses some tips to show you how to grow a beard as a teenager.
How To Grow Beard Faster For Teenagers
Teenagers with little or no facial hair can use the following tips to increase or stimulate the growth of beard hairs.
Wash And Clean Your Face Regularly To Grow A Beard As A Teenager
Cleaning your face is among the most effective and cheapest ways to stimulate beard and mustache growth.
When you don't regularly wash your face, dirt builds up and blocks the hair follicles.
Regular washing helps remove the dirt, unclogs the hair follicles, and speeds up facial hair growth.
Clean your face twice daily for good results. You can use regular soap or a cleaning gel.
🤓 Find out more: Best Face Wash For Teen Boys
Exfoliate Dead Skin Cells To Grow A Beard As A Teenager
Exfoliation removes dead skin cells usually found on the top layer of your skin.
You can use an exfoliating scrub to get rid of the dead skin cells. When you have clean skin facial hair can grow at a faster rate.
Ensure that the exfoliating scrub you purchase is designed to be used by men and is suitable for your skin type (sensitive, dry, oily, or combination).
Experts recommend exfoliating two to three times per week, depending on your skin type.
Moisturize Your Skin to Grow A Beard As A Teenager
Aside from exfoliating and cleansing your face, you need to moisturize your skin to remove scaly and dry skin.
Moisturizing will speed up facial hair growth and make your facial skin clear and smooth.
When choosing moisturizers, pick one containing eucalyptus, as it effectively removes dry patches from your skin. Additionally, eucalyptus keeps your face moisturized and hydrated for longer than other moisturizers that don't have eucalyptus as an ingredient.
There are more products that you can use to moisturize your skin:
Creams (or gels) contain ingredients like occlusives to form a layer on your skin and prevent moisture loss.
Serums have active ingredients, like hyaluronic acid, that moisturizes your skin. Serums are great if you're a teen with dry skin. Remember to wet your face before applying serum if you live in a dry climate.
Natural skin care products include olive oil, honey, aloe vera, sunflower oil, and oatmeal milk. Many of these natural ingredients are included in several skin care products, so look for products that contain them.
Korean sheet masks are dipped in skin-hydrating ingredients and placed on the skin for several minutes (usually kept between 15-25 minutes and should not exceed 30 minutes).
Avoid Ingrown Hair To Grow A Beard As A Teenager
Ingrown hair is a condition where tweezed or shaved hair grows back into the skin.
The area with ingrown hair will typically have small bumps and inflammation and sometimes feels itchy—this is known as beard itch.
Ingrown hair makes your beard uneven and prevents you from growing a full beard.
However, you can avoid ingrown hair by regularly cleaning, moisturizing, and exfoliating your face.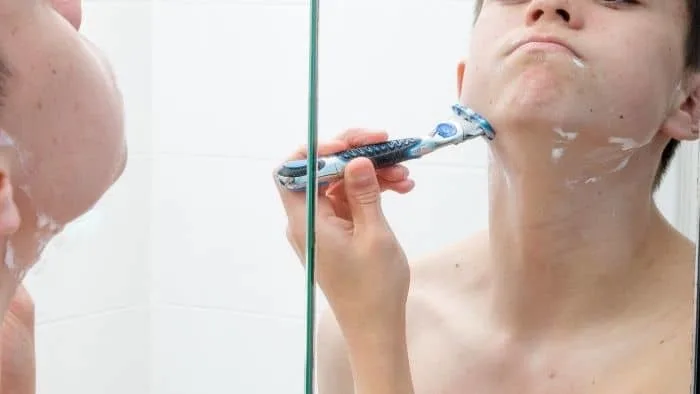 You should shave correctly to prevent ingrown hairs (also avoids razor burn):
Use warm water and/or shaving cream/gel to soften hair
Use a sharp razor every time you shave
Avoid shaving too close to the skin
Avoid pulling skin tight to get a closer shave
Don't shave against the direction of hair growth
Rinse the razor blades after each stroke
🤓 Suggested reading: How To Teach A Kid To Shave – Tips & Tools For Boys & Girls
Use Growth Stimulants to Grow A Beard As A Teenager
If you don't see any notable improvement in beard growth after trying several methods, you can use growth stimulants and various topical medications.
One of the most common and effective beard growth medications is Minoxidil.
Minoxidil is a vasodilator that opens blood vessels near the hair follicles, thereby increasing blood flow to the hair follicles.
When more blood flows towards the hair follicles, they can access a wider variety of nutrients vital for facial hair growth.
Better blood flow to hair follicles means that beard growth gets stimulated, and you're more likely to have a fuller and healthier beard.
Minoxidil topical is an approved drug and over-the-counter medication in the US or the UK.
However, make sure you speak to a dermatologist to understand how to apply and use it properly.
Minoxidil does come with some possible side effects like redness and a burning sensation.
Below is the most popular Minoxidil product currently available:
Take Essential Vitamins And Minerals To Grow A Beard As A Teenager
A lack of essential vitamins and minerals can play a role in your delayed facial hair growth.
Therefore, ensure that you eat foods that contain essential vitamins like B6, B1, and B12.
These vitamins remove free radicals from the body, thus keeping the hair follicles healthy.
This way, they stimulate beard and mustache hair growth.
Further, these vitamins and minerals boost blood circulation in the body, ensuring hair follicles are well-nourished.
The supplement below includes the full spectrum of vitamins and minerals for hair growth and health: collagen, MCT oil, aloe vera, ginseng, MSM, B-Complex, Vitamin E, and 10,000 mcg Biotin.
You might also like to read: Best Vitamins For Teen Boys
Eat Enough Protein To Grow A Beard As A Teenager
Another way to improve beard growth is by eating enough protein in your diet.
Proteins contain an amino acid called D-Aspartic acid that plays an essential role in the production of testosterone, a major contributing factor in stimulating beard growth.
Having low testosterone can negatively affect beard growth.
Foods that contain D-Aspartic acid include:
Asparagus
Avocados
Chicken Breast
Nectarines
Oysters
Eggs
Red meat
You can also take a D-Aspartic acid supplement:
Eat A Balanced Diet To Grow A Beard As A Teenager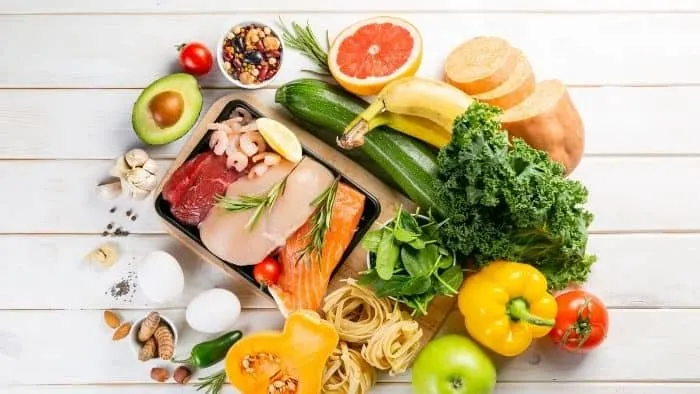 You shouldn't only focus on foods and supplements rich in nutrients that boost beard growth.
A healthy beard requires foods rich in all vital nutrients.
Therefore, ensure your diet is balanced to get proper nutrition to grow a full beard.
Ensure your diet consists of essential vitamins and minerals such as B vitamins (important for beard growth), vitamin D, proteins, iron, zinc, and plenty of vegetables and fruits.
Get A Face Massage To Grow A Beard As A Teenager
You can boost beard growth by including face massages into your beard care routine.
Massage improves blood circulation in the area underneath the skin, which increases blood flow to the hair follicles.
Increased blood flow memes that the hair follicles gain nutrients, and more facial hair is likely to grow.
You can use castor and coconut oil for the massage to get great results.
You can also use beard oil that promotes growth:
Get Sleep And Rest To Grow A Beard As A Teenager
You need adequate rest for the body to produce hormones like testosterone that can increase beard growth.
The amount of testosterone naturally produced by your body gets reduced when you don't get enough high-quality sleep.
Another vital hormone, Melatonin, is usually produced at night.
Hair follicles contain melatonin receptors, suggesting that this hormone plays a role in the hair growth cycle.
"In humans melatonin has diurnal variations. The hormone secretion increases soon after the onset of darkness, peaks in the middle of the night, between 2 and 4 a.m., and gradually falls during the second half of the night. This circadian rhythm of secretion plays an important role in its hormonal activity." (study).
Therefore, you need at least eight hours of sleep at night to ensure that you produce enough melatonin.
Topical melatonin medications are available, but you need to talk to a health professional before using them.
Get Exercise To Grow A Beard As A Teenager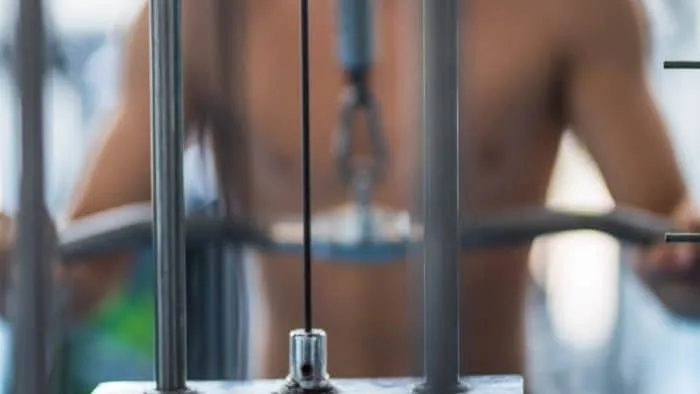 Many teenagers don't know that exercising is an effective way to increase beard growth.
Workouts improve blood circulation, which means the hair follicles get supplied with all the nutrients necessary to grow a healthy beard.
Resistance exercises such as lunges, squat thrusts, sit-ups, pushups, and chin-ups play a crucial role in increasing testosterone levels in your body. Testosterone is one of the main hormones that promote facial hair growth.
Exercise reduces stress and lowers cortisol levels in the bloodstream, thus preventing sebum overproduction and clogged pores.
Exercising cleanses pores and removes dead skin cells, oils, and chemicals that accumulate over time.
You might enjoy these articles: Is Creatine Safe For Teens? & What Is The Average Bench Press For A 16 Year Old?
Reduce Stress To Grow A Beard As A Teenager
You might not know it, but stress can inhibit beard growth.
Many things can cause stress, for instance, poor grades or simply the inability to grow a beard.
Stress triggers the increase of the stress hormone cortisol, which interferes with testosterone production, hence negatively impacting hair growth.
Another effect of stress is that it reduces blood circulation, meaning the hair follicles will not access essential vitamins and other vital nutrients for facial hair growth.
In addition, stress may lead to skin conditions such as acne, which usually hinders beard growth.
You can reduce stress and anxiety by exercising regularly and practicing yoga.
Getting plenty of sleep and rest is another excellent way to deal with stress.
Avoid Smoking And Alcohol To Grow A Beard As A Teenager
Using drugs such as alcohol and cigarettes might be why you're having difficulty growing a beard.
The consumption of Alcohol can prevent proper beard growth because it:
Dehydrates the body, which leaves your hair and follicles less healthy.
Directly damages the Leydig cells that produce and secrete testosterone.
Increases the production of cortisol, the stress hormone that reduces testosterone synthesis and even blocks it.
Replacing harmful drugs with water and fruits will put your body in the best state to grow a healthy beard.
Find out more: Can You Buy Non Alcoholic Beer Under 21?
Raise Testosterone Levels To Speed Up Beard Growth As A Teenager
During teenage years, boys' bodies produce higher testosterone levels, which brings about notable changes such as an increase in muscle mass and the development of a deep voice.
Testosterone is also a significant driver of beard growth.
If you don't produce high enough testosterone levels, it hinders beard growth.
The following activities can help you increase testosterone levels:
Doing resistance exercises like pushups, chin-ups, and lifting weights
Eating a balanced diet consisting of fat, carbohydrates, and proteins
Reduce stress by practicing yoga, getting enough rest and sleep, and exercising
Eating foods rich in essential vitamins and minerals
Getting vitamin D
Taking testosterone supplements
Commonly used supplements used to raise testosterone levels include:
The popular supplement below uses ingredients like Horny Goat, Tongkat Ali, Wild Yam, and other powerful herbs to support male wellbeing inside out, providing incredible health benefits.
Microneedling To Encourage Beard Growth As A Teenager
Microneedling is a medical procedure that involves piercing the skin with tiny sterilized needles (needle size can be less than 1 millimeter to a few millimeters in length).
Creating small wounds in the skin is thought to regenerate the health of hair follicles.
Microneedling stimulates facial hair growth by boosting nutrient-rich blood flow to the area, stimulating stem cells, and inducing activation of growth factors.
It also assists in hair growth because it increases collagen and keratin production in the skin.
Microneedling may also promote the absorption of products used to treat your hair loss, such as Minoxidil.
So when you combine microneedling with Minoxidil medication, you'll see better results.
You can try microneedling at home by using a dermaroller:
Watch the video below to see example beard growth timeline using Minoxidil for one year:
Home Remedies To Grow A Teenage Beard Faster
You can use the following home remedies to grow your beard faster:
Not trimming your beard
You should avoid trimming your beard until it is at least four weeks old. This strategy will enable you to develop a full beard within a short time. Trimming the beard while growing may affect it and lead to a patchy beard.
Clean your beard regularly
Regularly washing your face will enable the facial hair to grow quickly. Washing removes dirt and dead skin cells that can hinder proper beard growth. Don't forget to moisturize after you clean your beard.
Lemon and cinnamon mixture
Lemon and cinnamon have properties that improve blood flow, thus providing hair follicles with the nutrients necessary for beard growth. Grind cinnamon and mix it with several tablespoons of lemon. Apply the lemon-cinnamon mixture and leave it for half an hour, then rinse with cold water. Do this twice per week.
Coconut oil massage
Coconut oil improves beard growth due to the presence of lauric acid. It also nourishes the skin due to vitamin K and E, so your beard becomes softer and grows better. Massage your beard with coconut oil and leave it there for a quarter an hour. Do the massage three times per week. If possible, you can mix the coconut oil with rosemary oil.
Amla oil
Amla oil is a herbal hair medication that can speed up beard growth. The oil gets rid of flaky skin and regulates the pH of hair follicles, thus providing a perfect condition for healthy facial hair growth. Apply the alma oil on your beard, leave it for about 25 minutes and then rinse it with cold water.

Stages of Beard Growth in Teenagers
1. Upper Lip Corner Hair
Typically, hair first appears on the upper lip when a boy hits puberty. Next, it appears on various face areas in this order: sideburns, chin, cheek, and lastly, on the neck.
2. Pencil Mustache
A pencil mustache refers to the thin line of hair on the upper lip (resembling a pencil). You can start styling this pencil shape mustache after around two weeks of facial hair growth and then achieve full size in about a month.
3. Stubble Beard
The stubble usually starts becoming visible two weeks from beard growth in teens. Exfoliate regularly to improve beard growth at this stage. Also, use a moisturizing cream to prevent moisture loss.
4. Growth of thicker beard
A teen's beard starts to become thick after approximately 4-8 months of growth. You need to groom your full-grown beard using beard oil, cream, or balm.
👉 You might also enjoy reading: What Are Teenage Beard Growth Stages?
Beard Growth Myths
Here are some common myths about beards:
I can make a beard grow faster by shaving
It is not possible to increase beard growth rate by shaving. The hair that grows after shaving usually feels thick because it's rough.
A beard being itchy is normal
An itchy beard is not the norm. Beards usually become itchy because of dandruff, dirt, and dry skin. Proper beard care will eliminate this problem.
Beard oils make beards grow
Beard oils cannot help if there are no hair follicles underneath the skin. However, if you have a patchy beard because of issues like dry skin and a poor diet, beard oil will help improve beard growth.
My beard will become full if I leave it for 8 weeks
Growth will slow if you stop grooming, especially if your beard is unhealthy. If you have decided to grow a full beard, always use beard care products such as beard oil, an exfoliating scrub, beard brush, moisturizer, and a clean towel. These products will help you grow a healthy beard.
Hair can grow on patches that have no hair
Facial hair can only grow in areas with roots (hair follicles). If there are no hair follicles, hair won't grow in that area.
Conclusion
As you can see, growing a full beard as a teenager is not an impossible feat.
Your goal is to take care of your face and beard by regularly cleaning, moisturizing, and exfoliating.
You can also adopt practices such as eating a healthy diet, getting plenty of sleep, avoiding smoking and drinking alcohol, as well as engaging in regular exercise.
If these tips don't work, you might want to consider visiting a dermatologist to see what medications they can prescribe to boost your beard growth.