Teenagers can be incredibly concerned about what they look like. The type of haircut that a teenage boy wears directly affects his image and style.
There are many different haircuts and styles to choose from, whether you're a 14-year-old from middle school or a young man entering college.
However, it can be difficult to find the ideal haircut for their face shape, their hair's texture or curl pattern, styling capabilities, time constraints, as well as the length they want.
Long and medium haircuts are definitely on-trend, although short haircuts will always remain popular due to them being so practical and easy to manage. You can determine what type of haircut and styling technique is best by considering their lifestyle, interests, and preferences.
This gallery offers a range of haircuts and hairstyles for teens who are starting high school as well as those who are already in college. Various medium-length haircuts, hairstyles for teenage boys with thick, thin, curly, straight hair are featured with updated versions of comb-overs, quiffs, crop-tops, shags, and more.
Always remember to consider your teenage son's school rules before agreeing to a particular hairstyle.
Note that not all of the pictures are of teenage boys. The images are only provided for inspiration.
You might also want to read:
Short Haircuts For Teen Boys
Although it often appears practical and smart, short hair need not be a conservative choice.
Military haircuts have been very popular since Roman times. Its popularity has been attributed to its clean, masculine appearance.
In essence, short haircuts are the best choice when they just want to look good without putting too much effort into their hair.
But short hair doesn't mean they have limited options. There are several types of short haircuts, ranging from a few millimeters to a couple of inches.
Crew Cut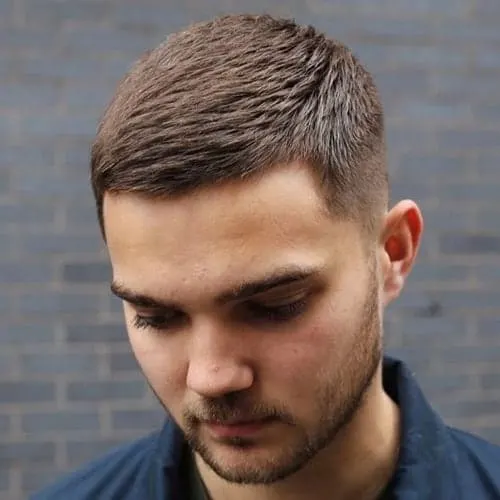 Crew cuts are among the most popular choices when it comes to boys' haircuts. Several decades ago, it was made famous by college rowing teams.
This shortcut suits athletic and active teenage boys, but it can be easily adapted to fit any style.
Being low-maintenance is another obvious but significant benefit of this cool hairstyle. Another advantage is the way it enhances facial features.
The sides are faded and the hair on top is slightly longer. A crew-cut hairstyle offers a masculine and athletic cut that's perfect for active teens. With its fresh look and stylish appearance, it's a good haircut for school and for summer.
Changing up your hairstyle can be as simple as sweeping it to the sides or combing it down. The popularity of crew cuts in barbershops and hair salons worldwide means they will not have a hard time looking for a stylist who can give them a crew cut they'll love.
Ivy League Haircut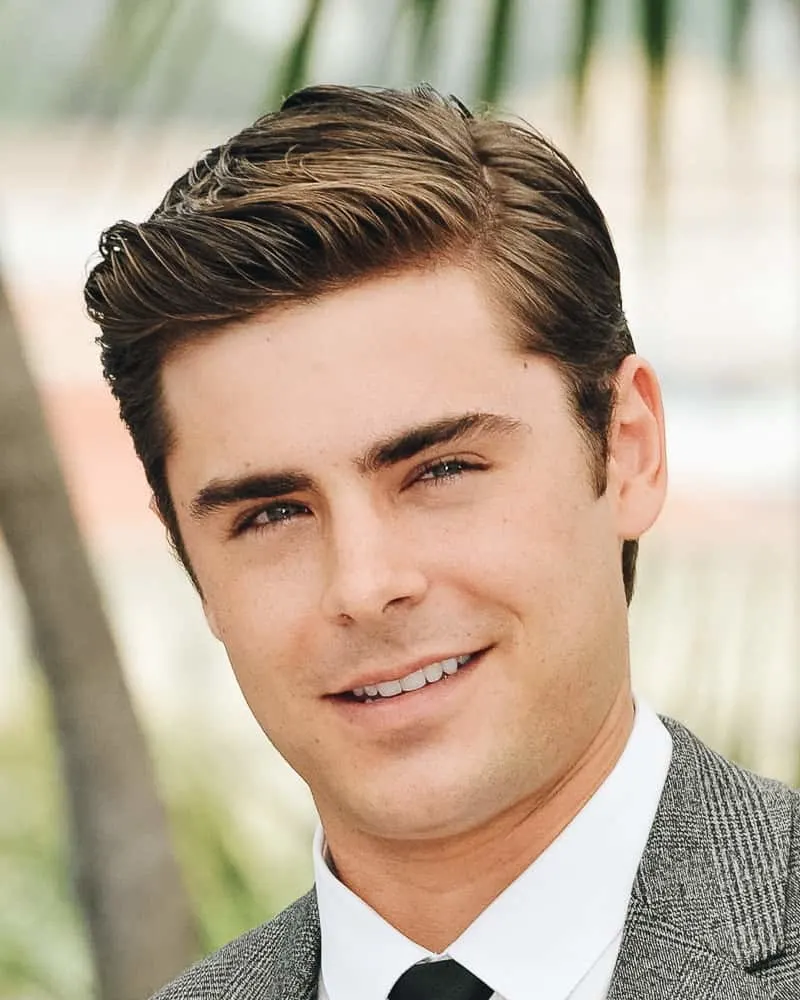 The crew cut is a popular choice for boys, and the Ivy League is a more stylish version. The Ivy League hairstyle is a longer crew cut that features a fringed side-swept design, which offers a stylish variation to the look.
A popular hairstyle among college-bound teenage boys, the Ivy League haircut is also called the Harvard or Princeton cut.
Though this kind of retro vibe might not appeal to all teenage boys, he can spice up the look by adding texture with sculpting foam and texturizing clay.
Short and Spiky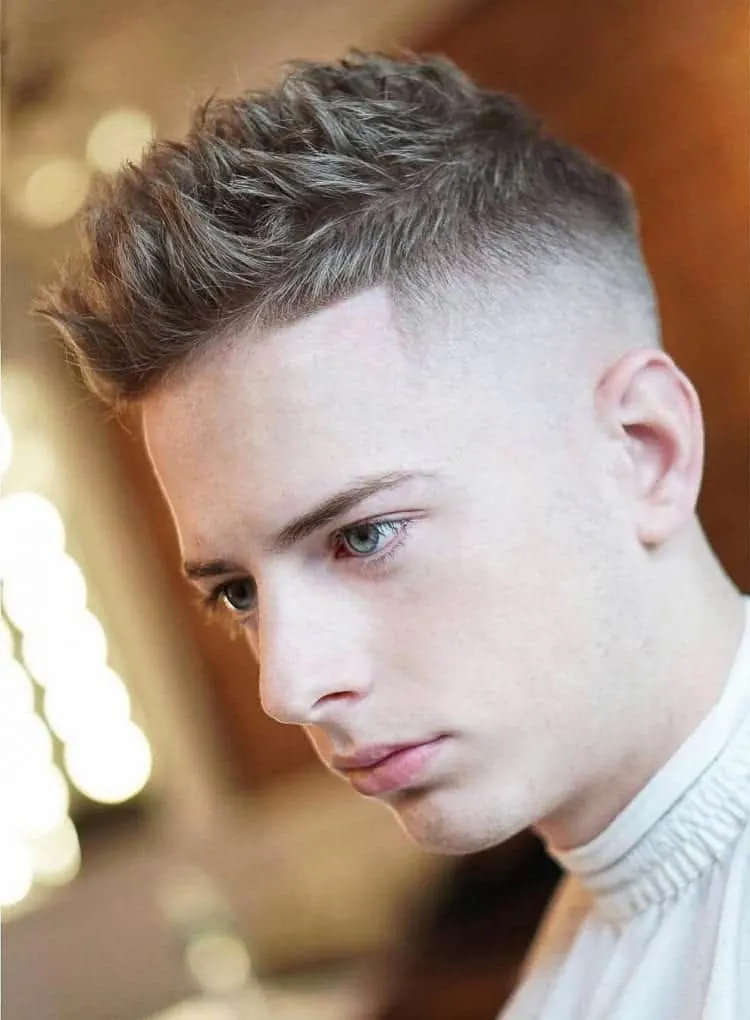 The short boy haircut above is an excellent example of how you can add a different element to give them a unique look. There is some length in the hair along the hairline in this one to make it more appealing.
To give the hair volume and texture, styling is done at the top of the hair. This haircut would require minimal styling.
Buzz Cut
Buzz cuts are clipped close to the forehead, requiring little maintenance, making them an attractive haircut for teenage guys without much time to devote to routine hair care.
When getting a buzz cut, it's important to consider the shape of your face; ovals and rectangles ideally work. This haircut is best suited to teen boys with sharp features like a chiseled jawline and high cheekbones.
Similarly designed styles include the high, tight, and side-swept crew cut styles.
High and Tight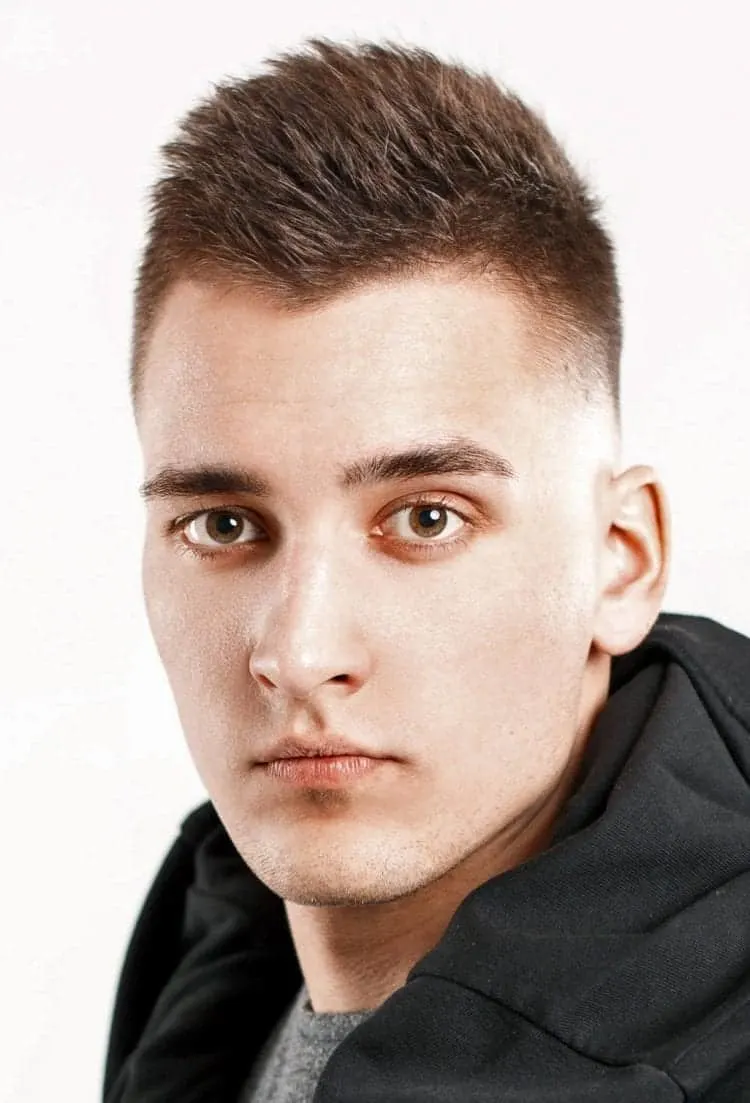 Despite being a milder version of a butch cut or buzz cut, this is still a short, basic haircut.
This haircut features a longer top and a shorter back and sides. Hairstyles with this shape are popular among teen boys who desire a strong, noticeable look.
This hairstyle for teenage boys works great on every hair type and is especially loved because it doesn't require a lot of maintenance.
Faux Hawk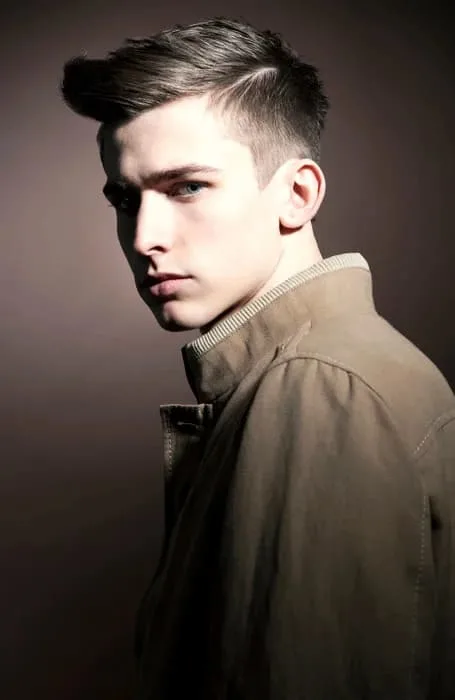 This alternative to the mohawk with shaved sides is also known as a faux hawk fade or fohawk.
It is short around the sides and back and gradually gets longer as it draws towards the middle of the head. This haircut requires a styling gel to keep it in the middle.
This is a perfect haircut for teen guys who have a long face, high cheekbones, and strong chins. It's a great option for guys who want the edgy, punk vibe of a mohawk without the commitment or danger of a school dress code infraction.
Caesar Cut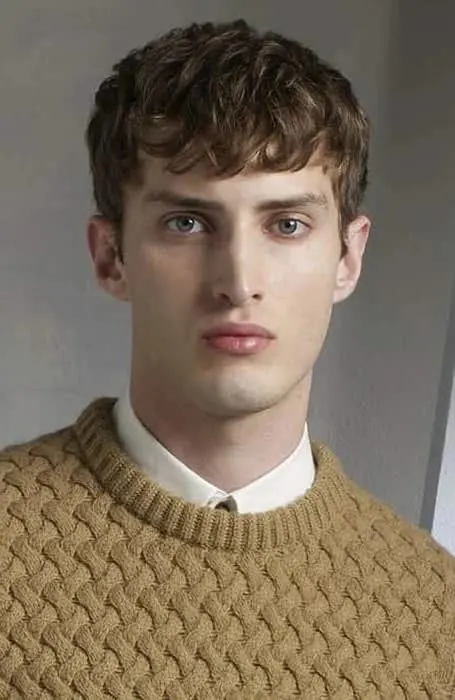 For guys who enjoy short hair, a Caesar cut is a classic and timeless choice. This hairstyle dates back to the time of Julius Caesar
The hairstyle features even styling at the sides, back, and top, as well as straight-cut bangs.
This hairstyle can be made for any type of hair texture, including curly or straight hair. The Caesar cut is unique in its uniform length, which varies from half an inch to three inches on the head.
A short, no-fuss cut is perfect for teen boys who are always on the move.
Buzz Cut With Shaved Design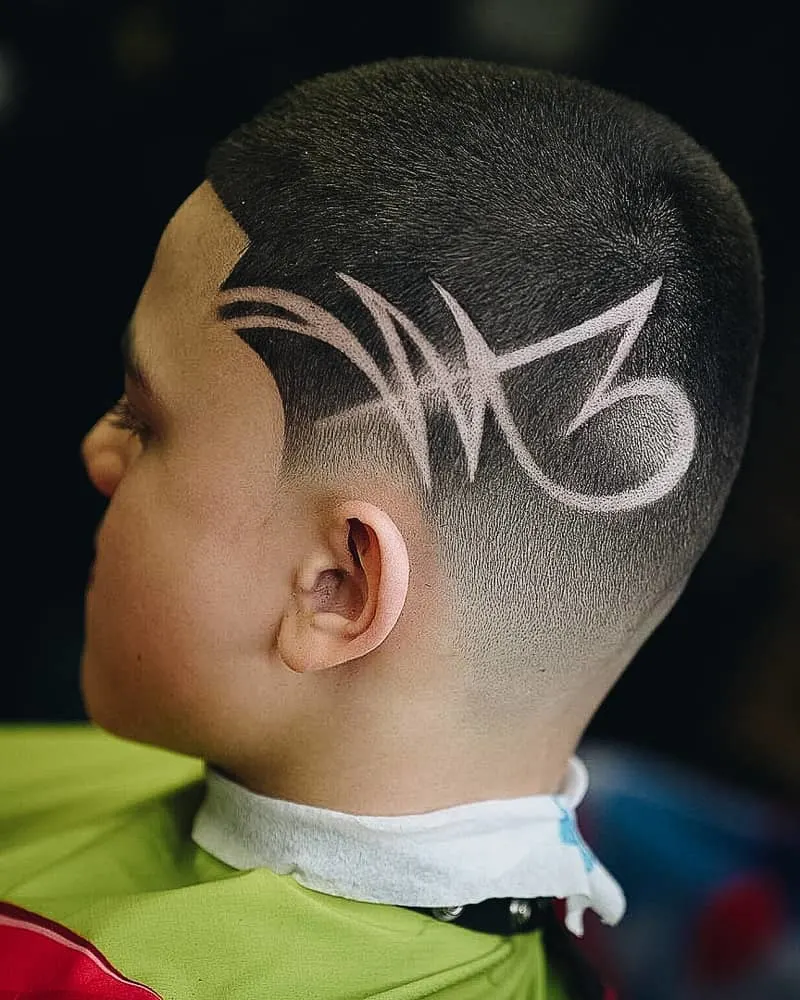 This haircut is a trendy and over-the-top haircut for teen boys who are willing to show a daring look.
A talented barber can create this very sophisticated and edgy buzz cut if he is artistic enough.
The downside is that it takes more time and effort to maintain. Also, note that some schools might not allow any shaven lines in school, so perhaps a nice idea over the holidays instead.
Undercut and Wet Top Look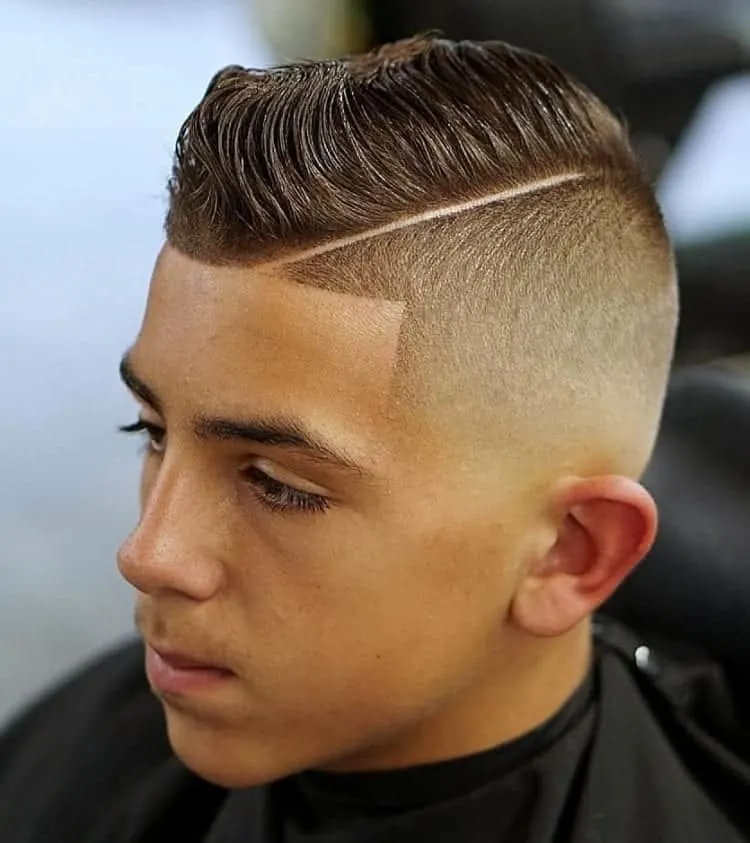 The wet look has been around for many generations.
The simplest way to achieve this consistency of shine-to-hold ratio is by applying hair gel.
This haircut, when paired with an undercut or fade on the sides, will make any teenage guy look fresh and cool!
Military Style Haircut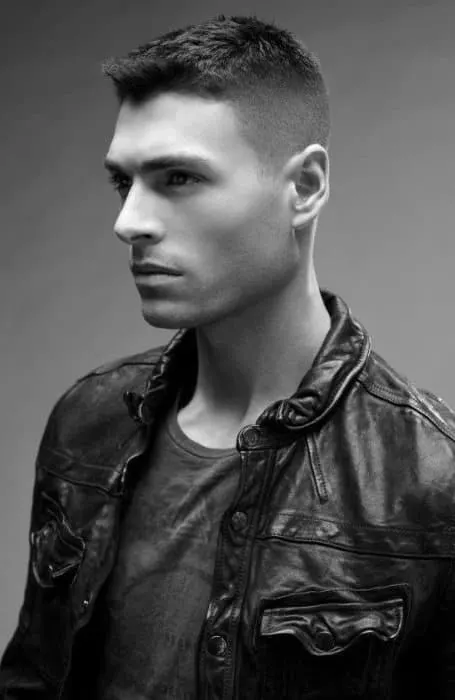 Several aspects of the life of the traditionally styled gentleman were influenced by the military.
Military haircuts vary greatly in style, but they are generally short and have a clean appearance.
With longer hair on top of the head and shorter, shaved sides, they can create an interesting contrast while keeping a low-maintenance look that does not require much styling effort.
Clean, traditional, and masculine. The next time your teen boy visits their barber, perhaps suggest a military haircut to them.
Teen Boy Hairstyles For Long Hair
Although many people think long hair takes a lot of time and energy to style, in reality, there are a variety of easy-to-style and easy-to-keep hairstyles out there. Being patient and making a commitment to growing long hair is the only real challenge.
As they move through the process there will be awkward stages, but they'll also get to try out different looks.
A great look for your hair may require a lot of time and effort, but in the end, it can be totally worth it.
Here are some great ideas for long-length cool hairstyles for teenage boys.
Low Fade Half-Ponytail
Half-ponytails provide quick lift and flair to naturally long hair, while low fades add style and elegance.
Use a wide-toothed comb to backcomb a section of the hair at the front and add volume to the hair naturally.
This easy-to-pull-off hairstyle will need a volumizing serum, wide-toothed comb, and hairband.
You might also like to read: How To Grow A Beard As A Teenager (15 Actionable Tips)
Rat-tail
This unusual cross between a mullet and a ponytail is called a rat tail. It is based on a section of naturally hanging hair at the back of the head that resembles a tail.
Having had a brief decline in popularity in the 1980s, the fashion trend has reemerged in recent years. Teen boys who are fans of manga and anime may have noticed that some of their favorite characters sport rat-tails and may find this haircut cool and interesting.
To get this look, they'll have to grow out your hair. Let the hairstylist know that they'd like the top and sides trimmed. Leave one strand of hair untouched in the back. The hair should be in the middle of your head and the hair surrounding it needs to be cut short. This cut can be modified according to their personal preference.
Cornrows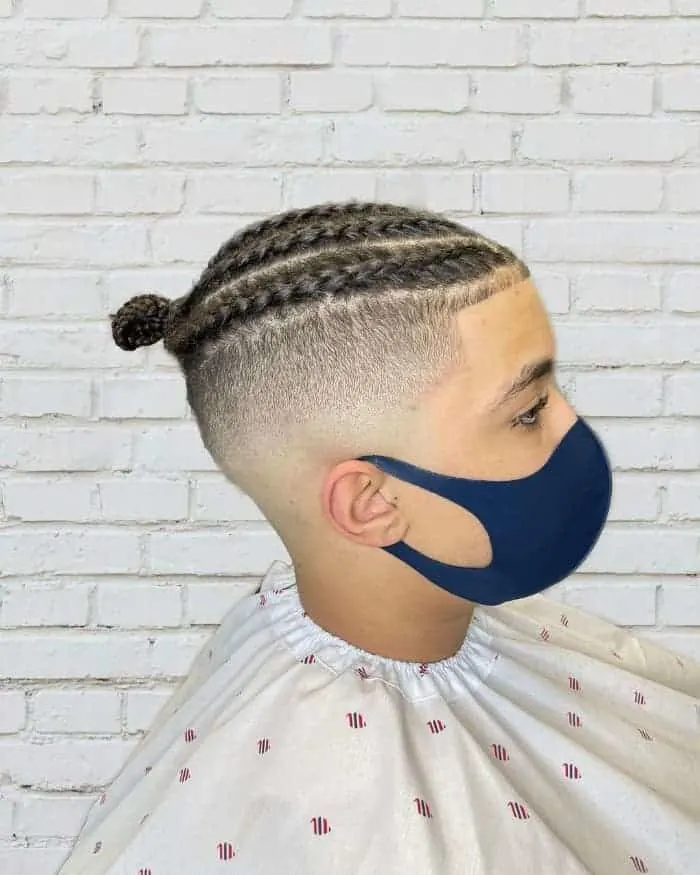 Cornrows have been a popular African braiding style for black men and can be a fun style for a teen boy who prefers something a little different.
Hair slicked back in cornrows is a low-maintenance style that can be left for a fairly long time. Therefore, the cornrow hairstyle is both versatile and comfortable.
You should create rows of braids that run from the forehead to the back and lie close to the scalp. Although they are normally straight, you can create different designs by building patterns on the scalp.
Man Bun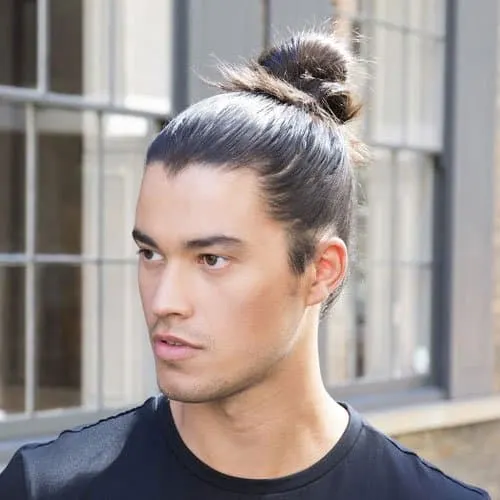 Man buns are a popular choice among older teen guys with long hair. It can sometimes be difficult to style and manage long hair, and a bun can be a great, easy hairstyle.
A man bun is simply a bun tied by a band or the extra hairs wrapped around the base. It doesn't matter whether your man bun is neat or messy, it will always look rugged and charming.
There are plenty of variations on the standard bun style that can help them get more out of their hair. They will stay on top of the trends with this ultra hipster hair as long as they keep it looking fresh.
Ponytail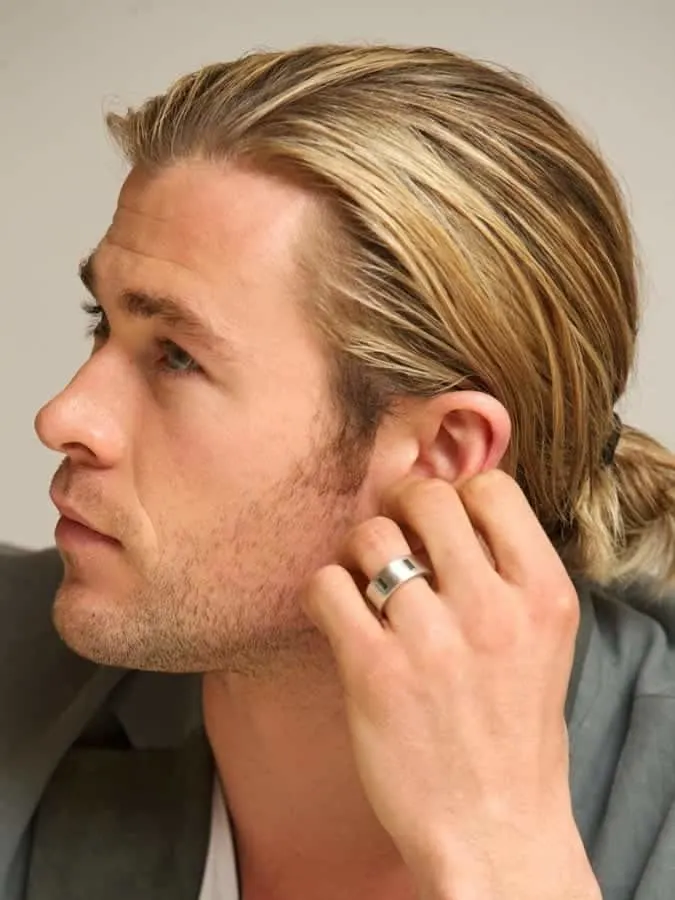 Another way to style long hair is to put it in a ponytail.
Just like the man bun, a ponytail can be worn high on top of the head or low on the neck.
A ponytail is an easy hairstyle, that's quick to pull off. Just get some hair elastics and he's good to go.
Medium Length Haircuts For Teenage Guys
Hairstyles for teens with medium length should are suitable for everyone. Their versatility makes straight hair look flawless, curly hair look tamed, and wavy hair look leveled up.
These days, teenage guys' medium-length hairstyles are favored for their volume and flow, which makes them popular and trendy.
These haircuts for teenage guys range from medium short to medium-long, which provides greater styling flexibility than short or long hair.
When it comes to new haircuts for medium-length that complement the latest trends, here are some ideas you should consider.
Wings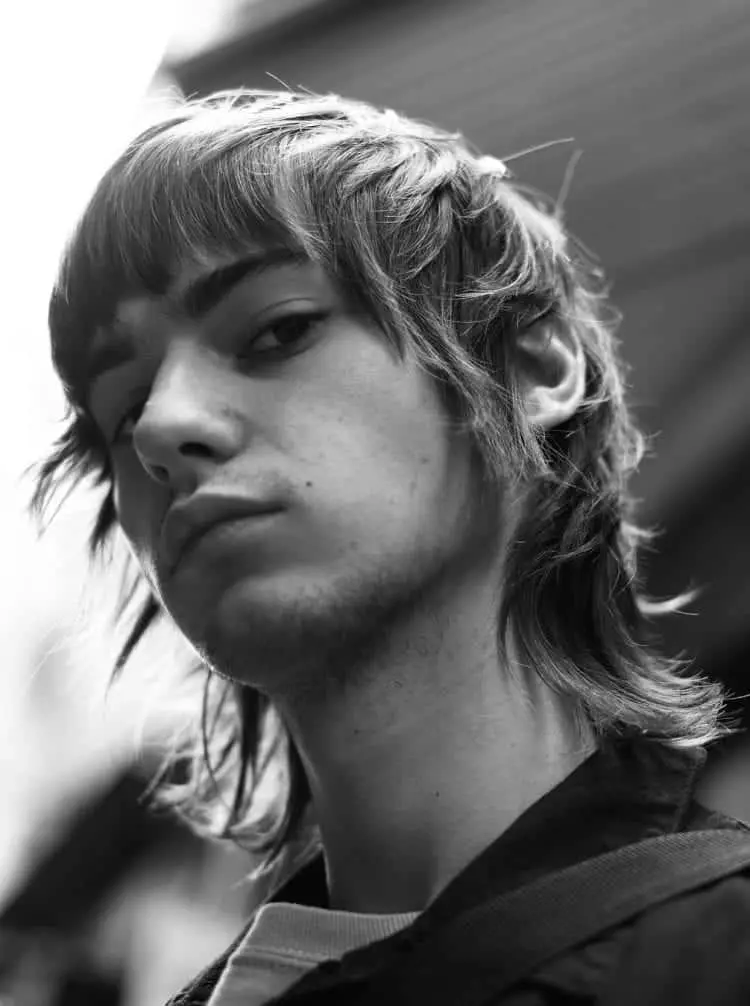 Keeping their hair long requires some maintenance, but if they enjoy having long hair, this style is worth investing in.
For this cut, they need to have hair ear-length on the sides. If they prefer longer hair, they can still do so. Having the barber use a razor to cut the ends is best.
Keep the style in place using hair gel or wax. The best results can be achieved if they have naturally wavy hair, but it can also work with teen boys with straight hair.
Side Hanging Fringe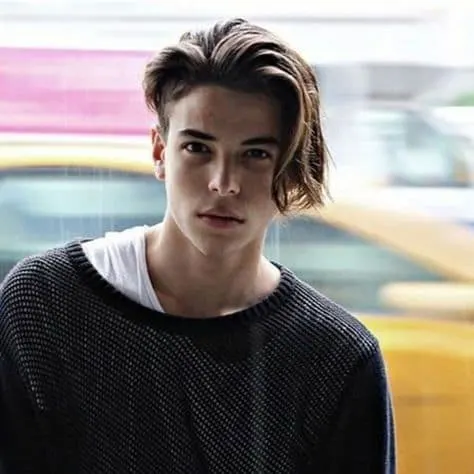 This haircut would suit a teen boy with straight hair very well.
Cut their hair longer on the side that they want to hang to the side of their face.
If they want a little more hang on your hair, you can incorporate a side part or make it a side-swept undercut.
Be sure to cut your hair a suitable length so that it doesn't hang down too far.
Surfer Style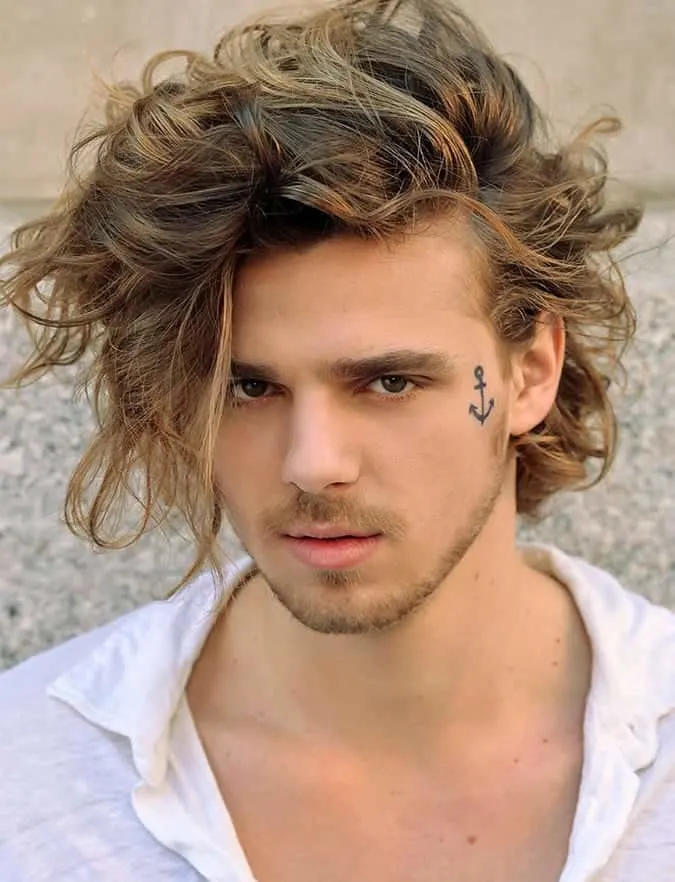 Featuring a medium-length shag style inspired by surfers, this medium-length cut fits wonderful with the summertime.
The hair is short enough to require little maintenance, but there is enough to style. Rather than using a clipper or scissors, this cut is made with a razor, similar to a classic shag. The length of their hair can be cut short or long, depending on how they like it.
They can style their hair a bit up and away from your face to achieve the surfer look. This shag with a messy fringe will look great on a teen boy with a natural texture.
Messy Fringe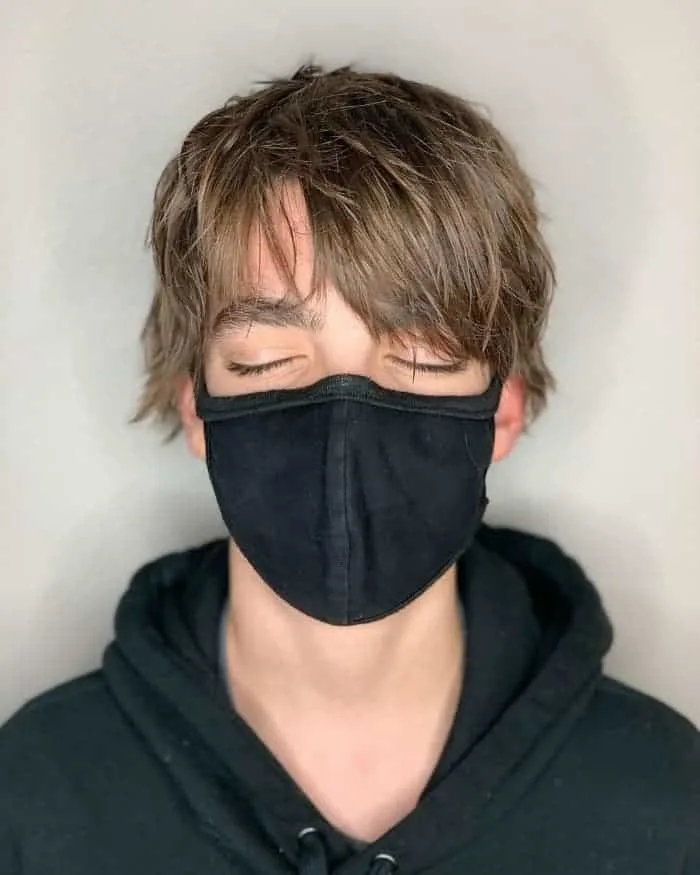 Adding a messy fringe to straight hair creates a carefree take on a casual and timeless style for teenage boys.
Teenage guys with long faces look good with messy haircuts that fall far below the brows. This haircut also suits teen boys with other facial shapes.
Their hair on top ranges from short to long, so all they need to do is let their bangs grow and have them fall across their forehead naturally.
If your medium hair has a natural texture, you can tousle the hair with or without products.
Those who are entering college will adore this teen boy haircut since it is ideal for all kinds of occasions: from school and work to casual outings.
Curtain Middle Part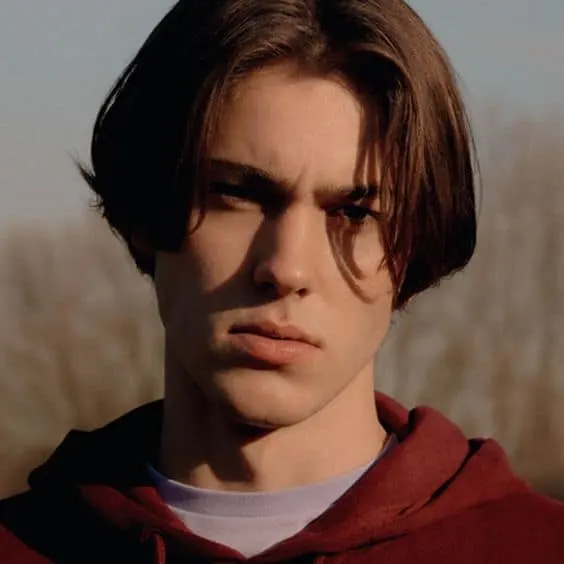 It has become increasingly popular among teenage boys with straight hair to style their hair with a curtain middle part.
The process is straightforward since they only have to part their hair down the middle and brush each side in opposite directions.
Ideally, their hair should reach their ears, but not lower. Once the hair has grown past the ears, it does not have the same curtain effect.
This classic and laidback haircut is ideal for teens who want to look stylish yet have an easy to manager hairstyle.
Bro Flow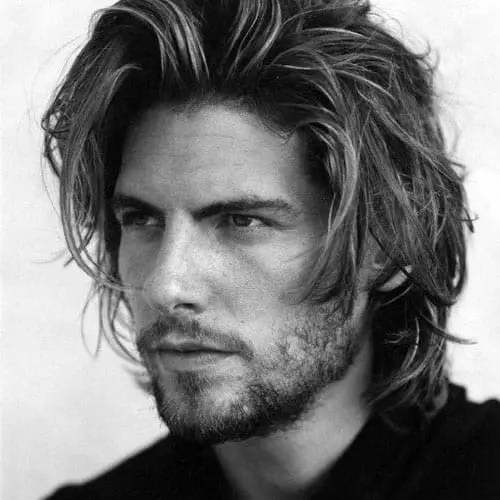 The best thing about teen boys with layered hair is they can do all the coolest hairstyles. Layers are also helpful if they have thick hair that must be thinned out for easy styling.
The stylist will be able to help them define layering and determine the appropriate haircut. Whatever length your teenage boys prefer, there are plenty of layered haircuts to choose from.
Teen boys who are either in between short and long hair can rock the bro flow hairstyle. With its natural volume and movement, this cut is suitable for all hair types, whether they are curly, wavy, or straight.
Stylish and effortlessly cool, medium-length hairstyles like the bro flow are a great choice for teenage guys.
Wavy Shag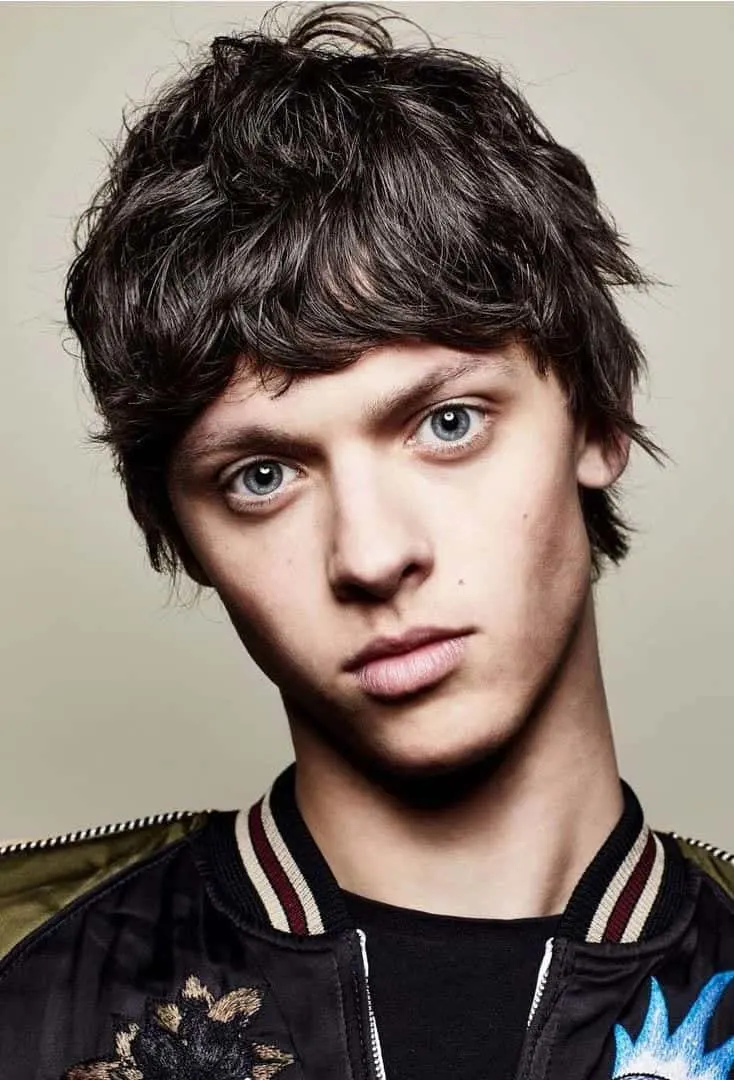 Although the straight shag reigns supreme among prep boys, the wavy shag is best suited for the casual teen.
Although it's not ideal for boys with straight hair, it is perfect for teen guys with thick, wavy hair.
It may be necessary to use gel or mousse to style the hair, depending on how unpredictable it is.
Stylish and sensational, this haircut will appeal to many teenage boys.
Modern Cowlick
Many people have cowlicks, where a section of hair seems to lie at an angle that's in the opposite direction as the rest of the hair on their head.
In order to style your bangs upwards and to the side, you will need to grow your hair long enough. Combed-over hair should fall down your forehead.
The cowlicks might be difficult to style, but this modern haircut can add some cool flair to a teenage boy's hairstyle.
Blowback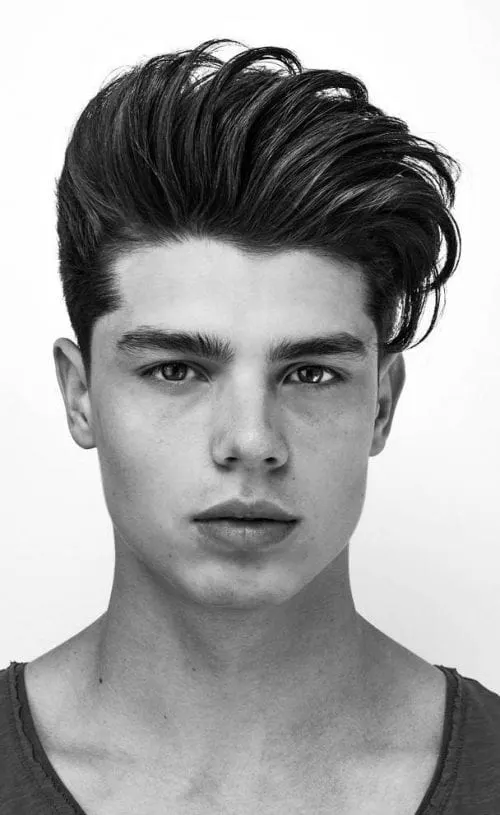 The blowback is one of the most iconic hairstyles for guys. It became famous in the 1950s thanks to stars like Elvis and James Dean, and it still looks as cool and stylish as it did back then.
The blowback suits almost every face shape, just like other volumized hairstyles like the quiff and pompadour.
The classic style can be given a fresh twist by adding a taper fade.
Straight Shag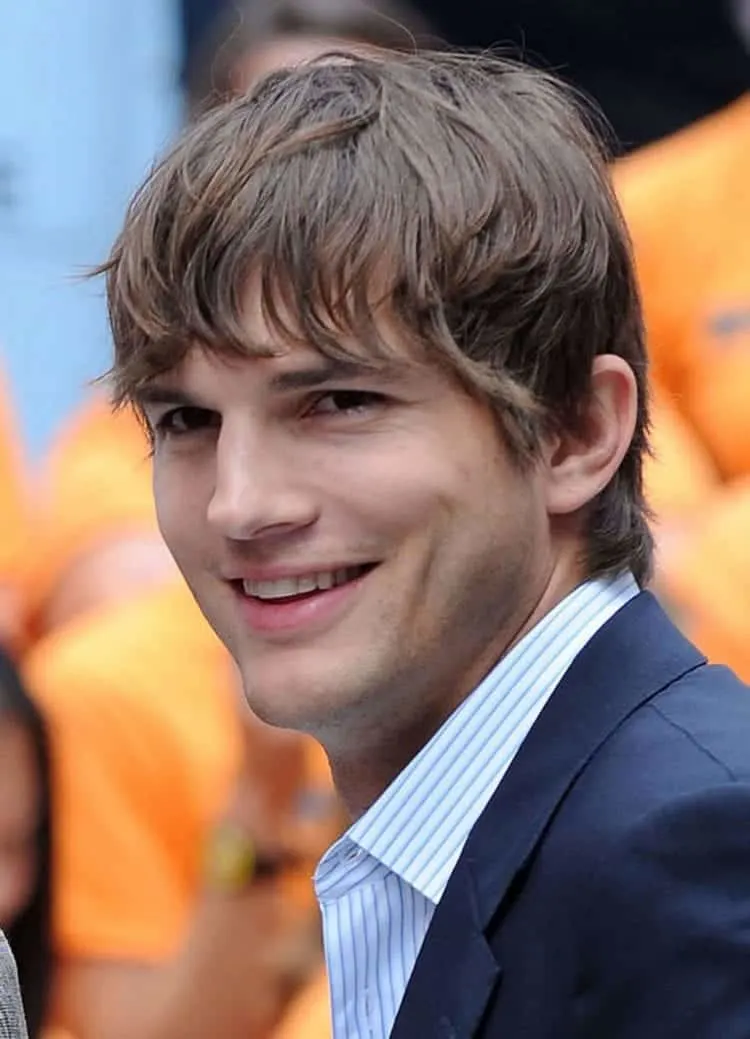 Straight shag haircuts have become one of the most fashionable haircuts for boys.
In some cases, it may only require a brush and some mousse, depending on what kind of hair they have. It may be necessary to use a flat iron if they do not have naturally straight hair.
A style like this usually suits boys with naturally straight hair, a long face, round cheeks, and a high forehead.
For the straight shag, they can ask their stylist if he or she is familiar with the shag cut, and ask for a layered haircut.
Teenage Boy Haircuts For Curly Hair
Teens who have curly hair understand the struggle. In most cases, this hair type can be messy and hard to manage, and some may believe that it's easier to just have it shaved off.
Although natural curly hair poses several challenges, there are haircuts for curly hair that can also improve the appearance of the hair by adding fullness and length.
These curly hairstyles for teen guys will allow them to embrace all their mane's uniquely wavy features.
Messy Curls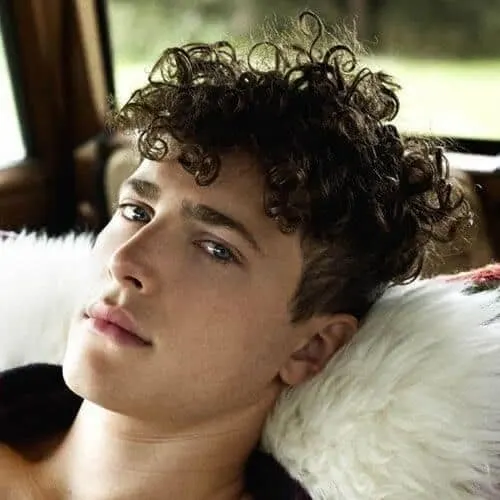 A character in a popular television series revived the curly hair trend for teen boys. Many teen boys wanted to try this hairstyle. This is good news for teen guys with curly hair.
This is the hairstyle they should embrace if they have wild curls. Although they can still cut the sides short, everything else can stay loose.
They can purposefully loosen the curls and spread everything out on top. Hairstyles like this one look better when the sides are slightly longer and not a tight fade.
Short Choppy Curls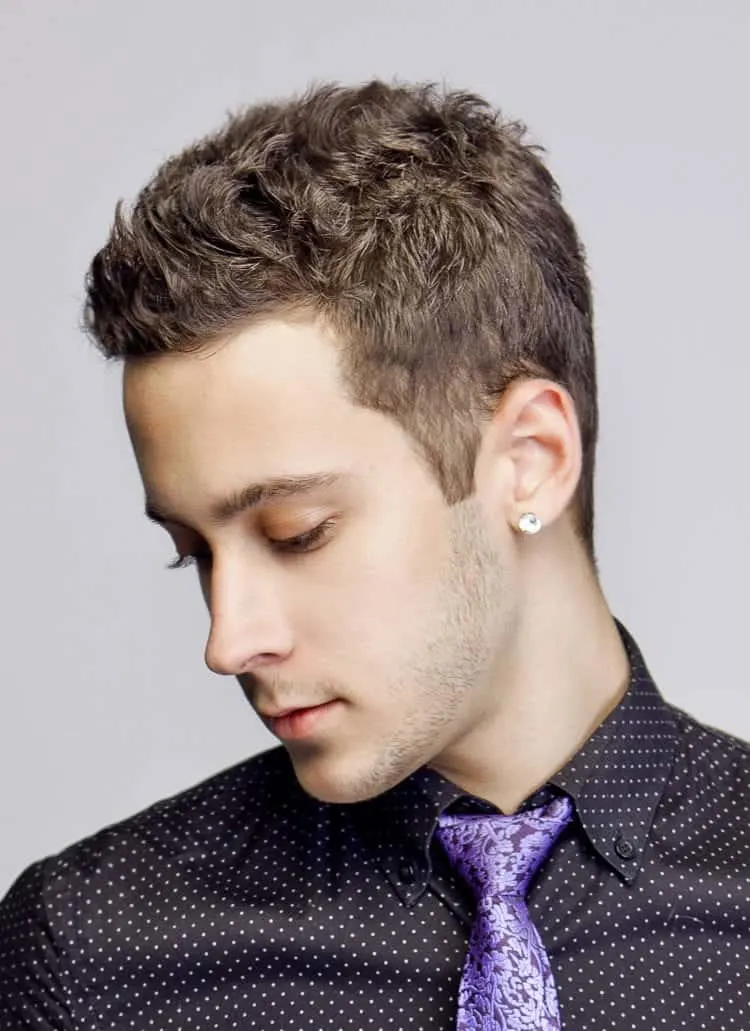 If you want your teen boys to have a haircut that will tame their curls, this is the one for them.
This hairstyle features curls that are short and close to the head, and the result is short spikes, which add a lot of texture to the hair.
The extra-short style turns the curls into a unified tousled style. So if your teen wants a clean look for his naturally curly hair, this is a go-to haircut.
Curly Slicked Back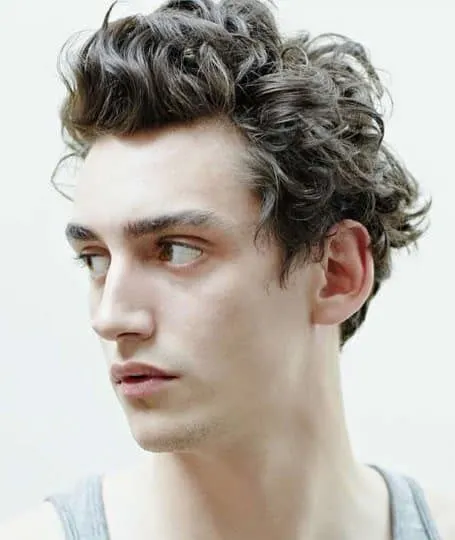 Slicked-back curls are undoubtedly the most attention-grabbing statement hairstyle for teen boys with curly hair.
The best product to use for their hair, whether matte or glossy, is one that will complement their hair's natural texture.
Additionally, they should be mindful of their hair length and ensure that the slicked-back style will flatter their face shape.
Teen boys with long curls will be able to experiment more when slicking back their hair since they can alter the way the curls sit as well as how they part their hair.
Curly Hair Fade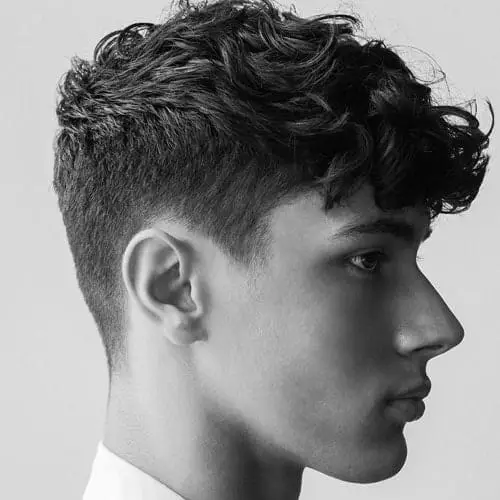 There are a few differences between the curly hair fade and the undercut.
These haircuts are low-maintenance in the sense that they do not require you to do anything with your back or sides.
Undercuts are generally cut high and all one length, while fades get longer as they go upwards. In addition, guys can opt for low, mid, high, drop, or skin fades. Depending on the type of fade chosen, the length and style of the cut will vary.
If they want a more conservative look, a low fade with curls may be the best choice. Teens can choose from a variety of styles of taper fade haircuts depending on their style preferences.
A curly fade is one of the most versatile haircuts out there and can be worn by virtually any face type.
Light Side Part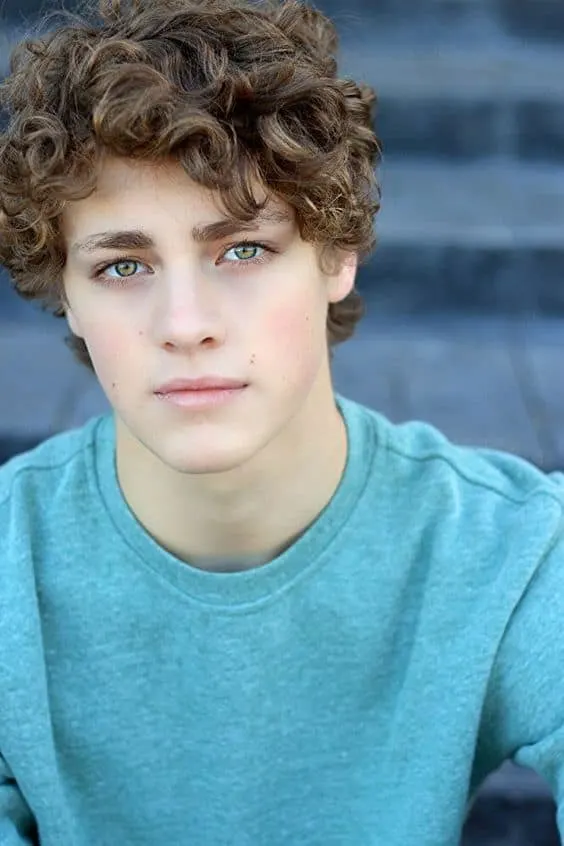 The way this side part looks on curly hair is much more natural than for straight hair! Teen boys can easily pull this light side part hairstyle off if they have curly hair more than coiled hair.
They just need to pick one side of their hair and move it to the opposite side. Here's an example of how you can achieve this look.
Curly Fringe
This take on curls calls for a lot of thickness. Teen boys who want to go for this stylish hairstyle will need a light coat of hairspray to set everything in place after styling their hair with a shiny pomade.
This style is characterized by curls descending, giving it a sense of motion. This hairstyle stands out from the rest owing to its dramatic swoop and tousled hair.
Curly Man Bun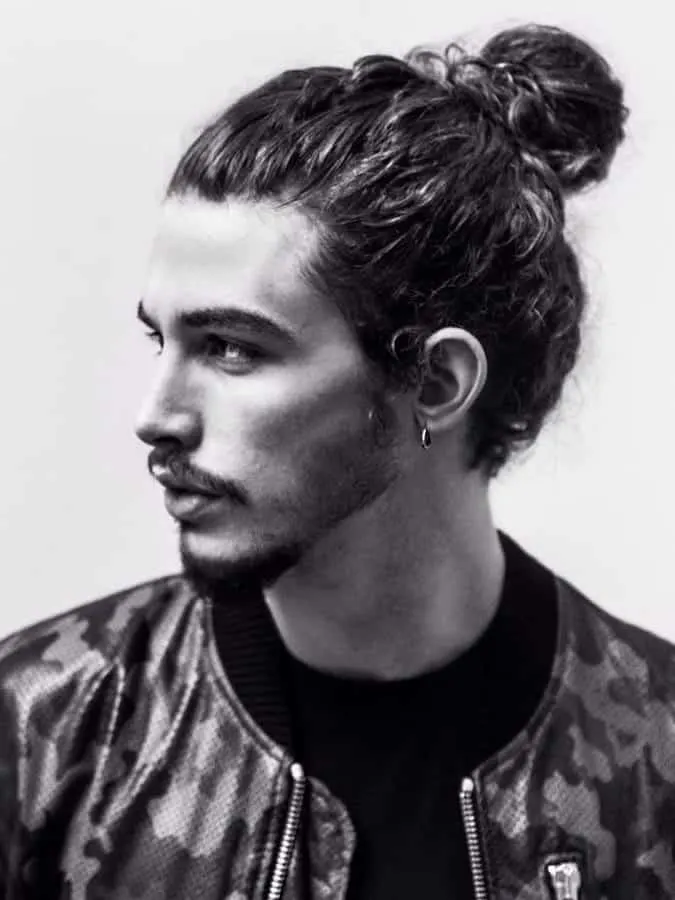 Curly hair can be tamed easily and stylishly by putting it all up in a man bun.
This hairstyle appeals to us because of the curly hair's distinctive texture and appearance.
Teen guys can still look stylish and neat even with long curly hair thanks to this trendy hairstyle.
Curly Pompadour
The pompadour is a timeless hairstyle, and curls make this hairstyle even more glamorous.
An already full and thick pompadour will be enhanced by curls. It is important to keep the natural waves in place to ensure that the pompadour works best with the curls.
Teen guys can make the most of their natural hair type with a redefined pompadour.
Rocker Locks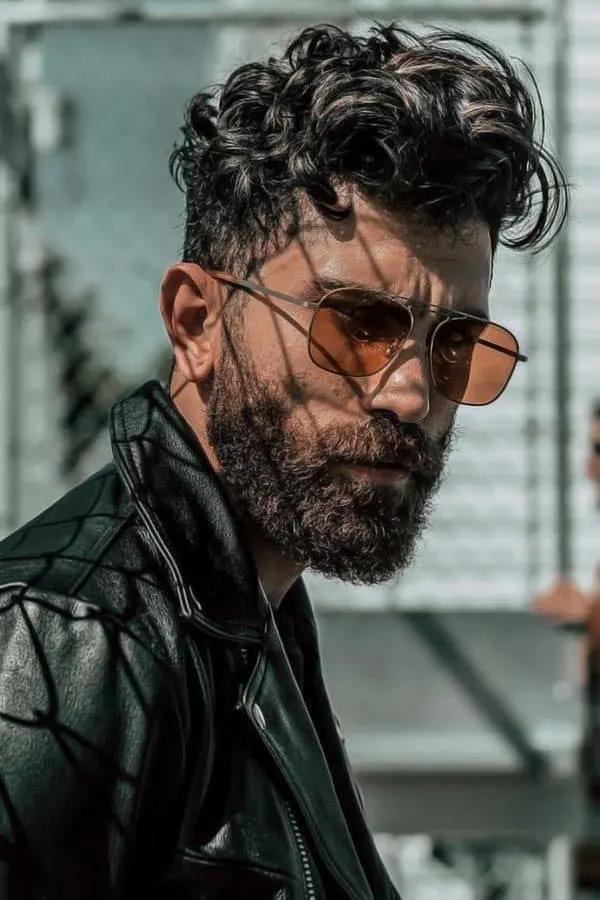 In most cases, teen guys' haircuts reflect their personalities. For those who love to show off their rocker side, rocker locks are a great choice.
To achieve a rocker lock, simply shave the sides and nape while leaving the top stripe long. The layers in their curly hair will give it depth.
Curly Top with Sharp Low Fade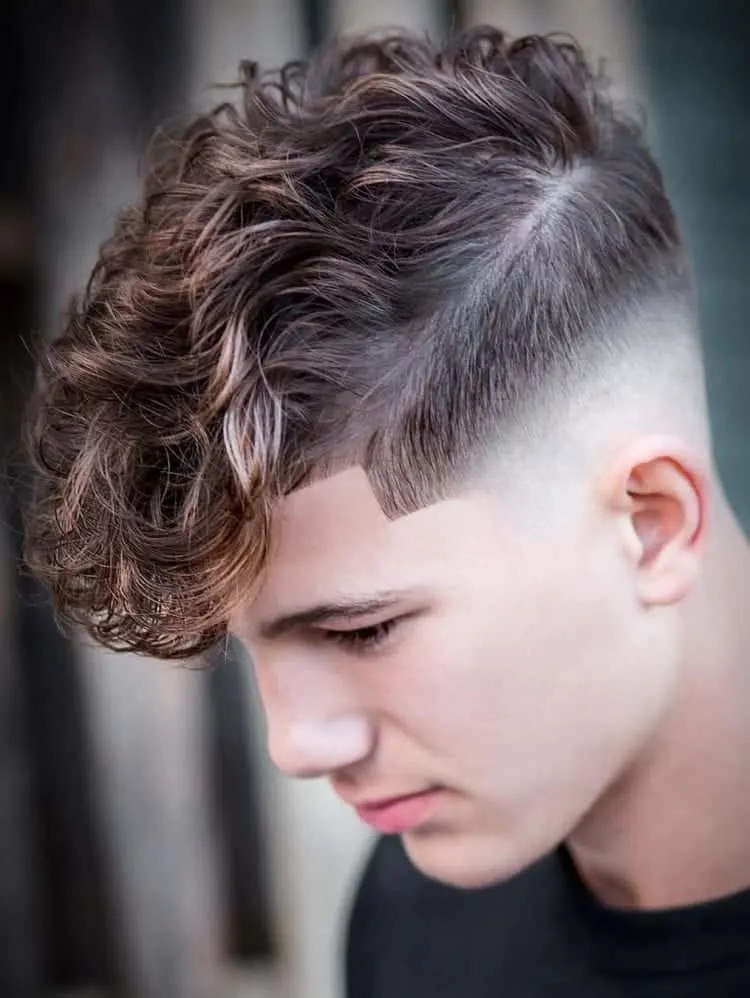 This playful look is achieved by leaving the curls on top longer. He can even add a sharp low fade ending just below the curls.
When those curls get in the way, they can use this for a later man bun.
An edgy look that's clean and still youthful for teenage boys wanting to express themselves.
Haircuts For Teen Guys With Wavy Hair
Teenage boys with wavy hair can achieve a stylish look that suits their natural texture.
In spite of long and medium-length locks being difficult, the trick to growing out waves is keeping them moisturized and conditioned and using the right amount of product.
Rather than fighting against their natural texture, we compiled a collection of stylish looks teenage boys will love.
Here are some wavy hairstyle ideas for teen guys who prefer a cool style but don't want to go over the top.
Natural Wavy Hair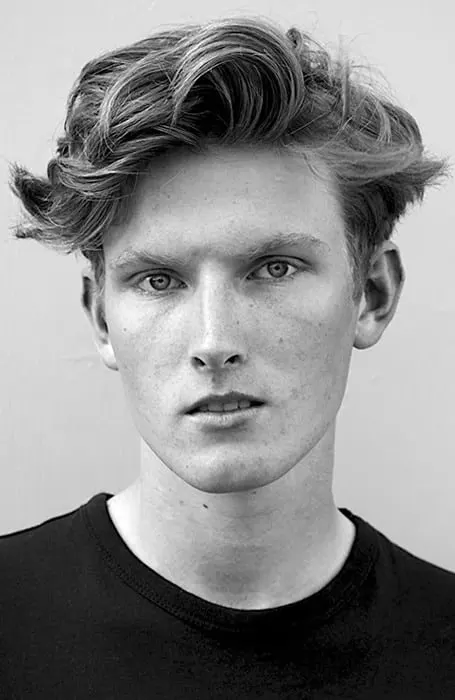 From short to shoulder-length, waves look great on hair of any length.
When your teen boy has curly hair, it's best to wear a style that complements the wave pattern they have. This will ensure that their haircut is natural and frames them well.
Hair with waves can create a relaxed and effortless look when they are cut properly. Keeping your waves defined and moisturized is also important to prevent the frizzy birds' nest appearance.
Pomades or styling creams can add a slightly wet finish to your hair and help prevent it from drying out.
Classic Front Tousle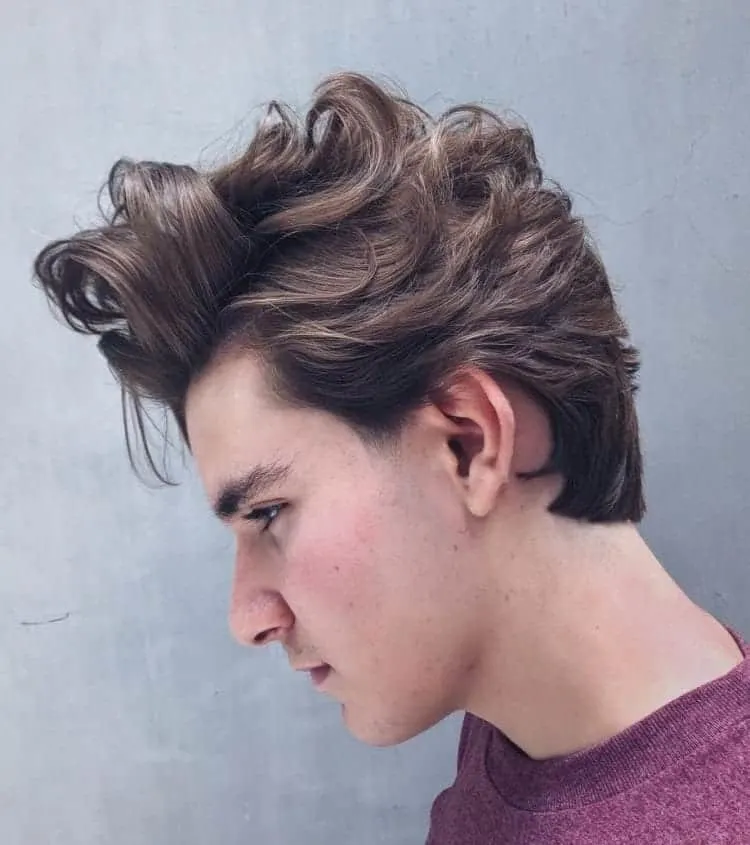 Teenage guys with naturally wavy hair are perfect for this style.
In order to properly define the tousle, the front is styled using pomade or hair wax. As for the rest of the hair, it is simply combed in a classic style.
Because this look includes some volume on the forehead, it is best styled with damp hair.
Medium Length Wavy Undercut
For teenage boys with wavy hair, the medium-length wavy undercut is one of the favorites because of how good it looks!
This haircut involves buzzing the sides somewhat short and leaving as much hair as possible on top.
To complete the undercut look, let the hair hang slightly over the buzzed sides. You can refer to the model in the picture above for inspiration.
A hairstyle like this will do wonders for teens with thick hair too!
Quiff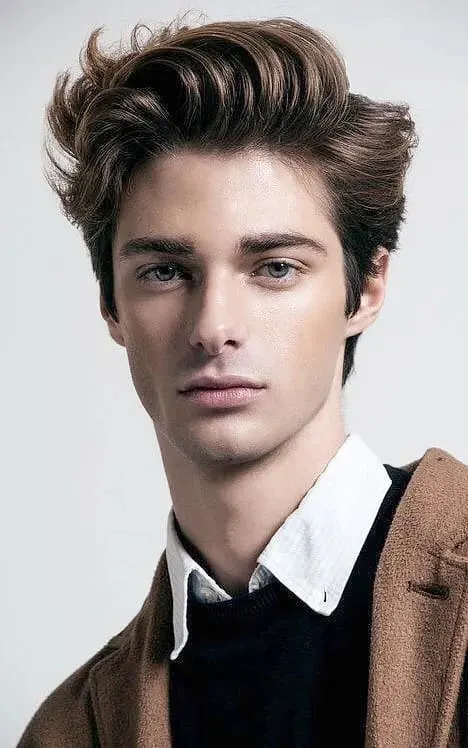 Quiffs remain one of the most popular hairstyles for guys. It gives the same lifting effect as a pompadour that flatters every face shape more subtly.
It looks amazing on any hair length but is most commonly seen on short and medium hair.
Side-parted quiffs have a more casual feel than classic quiffs, so teen guys can put their own twist on this style.
Slicked Back Pompadour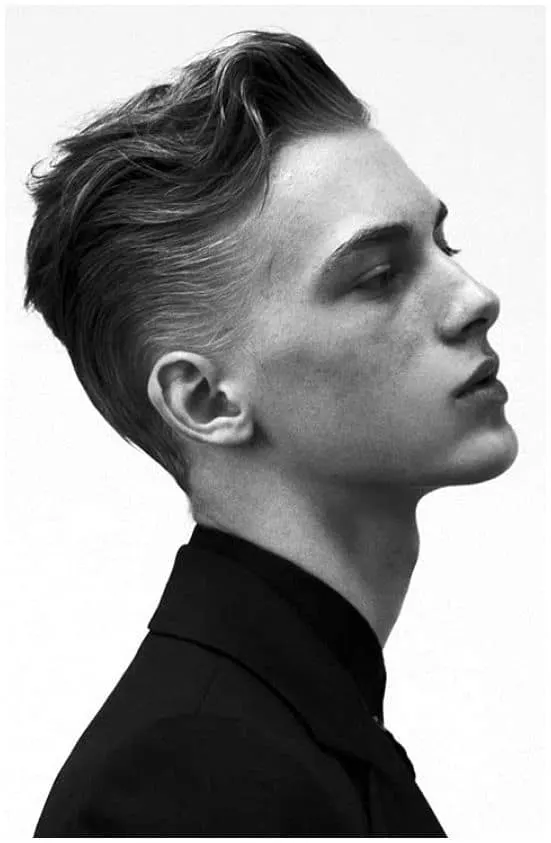 Often when you slick your hair back, you deprive yourself of volume because of maintenance.
On the other hand, the pompadour lets you keep your front high and slick everything back. The hair should be cut just enough so that there is no excess hair at the back of the neck.
Teen boys can create the ultimate hairstyle by combining a slicked-back look and a quiff… the slicked-back pompadour.
Messy Hairstyles For Teenage Boys
Messy hairstyles on teenage boys have the unique capability to look as if they aren't putting any effort into their appearance, at the same time as being well-maintained.
There is a huge difference between just gotten out of bed hair and messy hair created by using styling products.
It doesn't matter what type of hair you have or what shape your face is, messy hairstyles are for everyone.
A messy hairstyle even gives you a new look every day, so it's the perfect option for someone who likes to switch up their look often.
Teen boys are sure to get some attention with these laidback styles, and they'll never go through another bad hair day!
Messy Straight Hair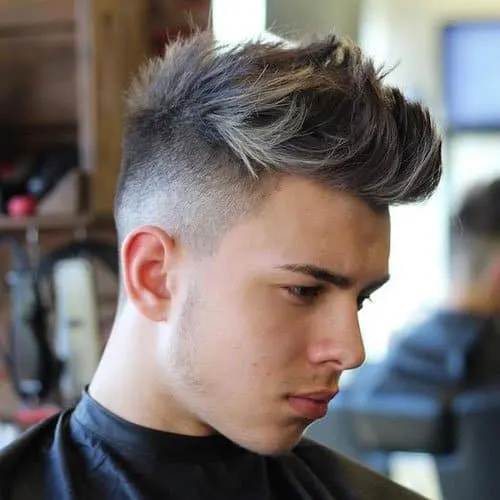 Straight-haired guys are incredibly fortunate because all the best hairstyles can be achieved with their hair.
They can always try using any hair product they prefer to achieve the look they want.
Straight messy hairstyles are a classic look for teen boys seeking an edgy style with a touch of class.
It's easy to coordinate straight messy hair with a variety of short and longer styles, including the comb-over, quiff, and spikes.
The hairstyle looks good on every teen guy so whether they're heading to college or just want to look cool and stylish, it's appropriate.
Messy Faux Hawk
Creating a hard-edge and rock star-inspired hairstyle for teenagers doesn't necessarily mean shaving the sides, as this method works equally well.
Make a style statement and turn heads with a messy fauxhawk. With a longer mop on top, a tapered or low fade haircut works perfectly for this hairstyle.
The curls can be worked through with a texturizing product.
For someone looking to switch things up or try something new, this is a youthful and fresh look.
Messy Comb Over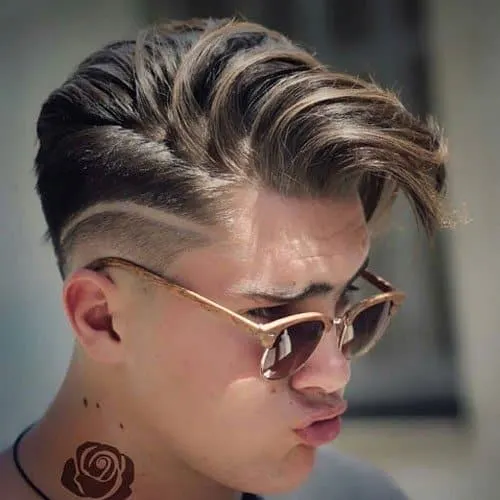 Teen guys who frequently run their hands through their hair will enjoy getting messy comb-overs. This style is also available in many variations.
Depending on the length of their hair on top and the style they prefer, teen boys can opt for a short or long comb-over and a taper, fade, or undercut on the sides.
The longer the length, the more styling options they'll have.
As an alternative to setting every hair in place with a blow dryer, pomade, and brush, try a classic comb-over and then use hair clay or wax to tousle your hair and move it to one side.
Bed Head Hairstyle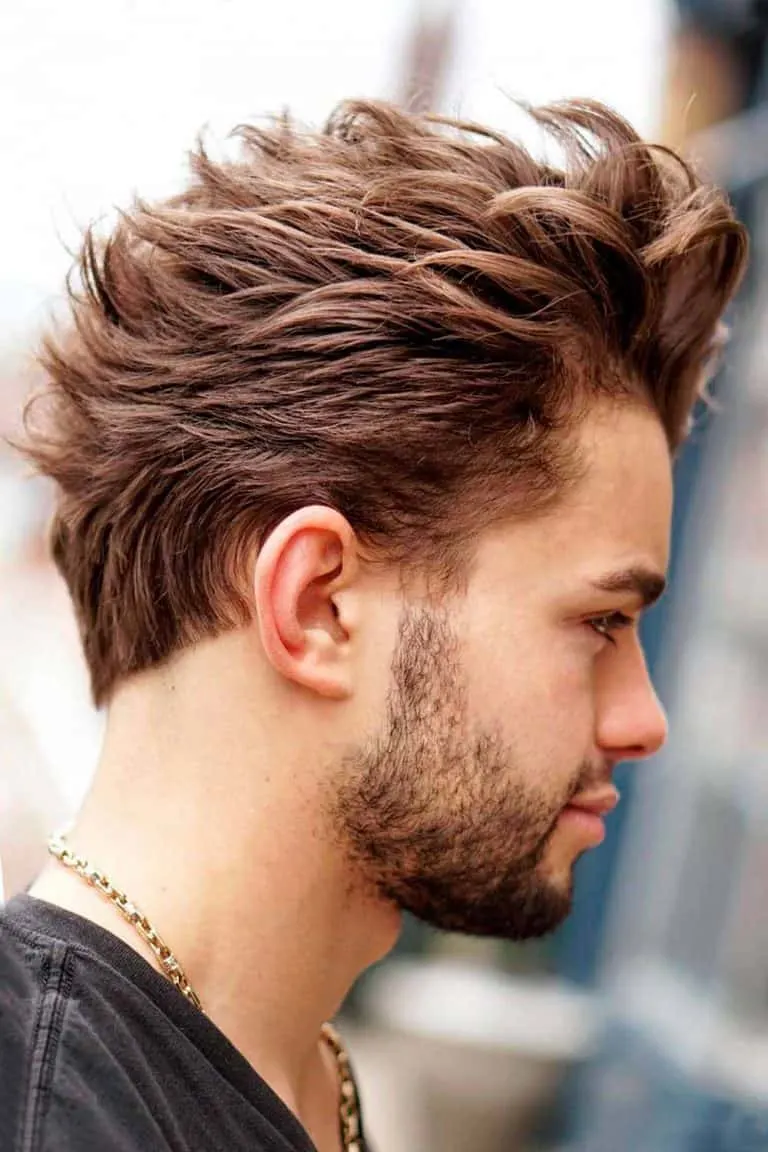 The bedhead hairstyle is a classic messy hairstyle. However, that does not mean teen boys should leave the house without sprucing up their hair a little at the very least.
Straight and wavy hair types are best suited for this hairstyle. Put a little volumizing powder on the roots of your hair and work up to the ends. Run a small amount of low-hold pomade through the ends of your hair; don't overdo it, as it could ruin the effortless look.
Teenage guys can now look as though they've just stumbled out of bed with this low-maintenance and cool 'do'.
Messy Soft Side Part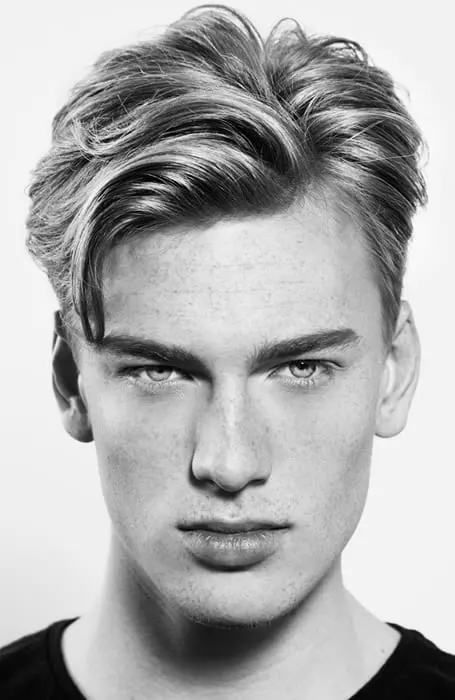 It is now possible to create a stylish look with this effortless and relaxed haircut. There are endless possibilities in what you can do with this hairstyle.
Creating a part of their hairline is the first step; however, do not make it too conspicuous, as its messiness is what adds to its appeal.
A light-hold gel or pomade gives this teen guys' cut a nice texture, depending on their preference.
Teenage boys can now allow their fringe to hang forward and create a laidback look that will complete any outfit.
Messy Pompadour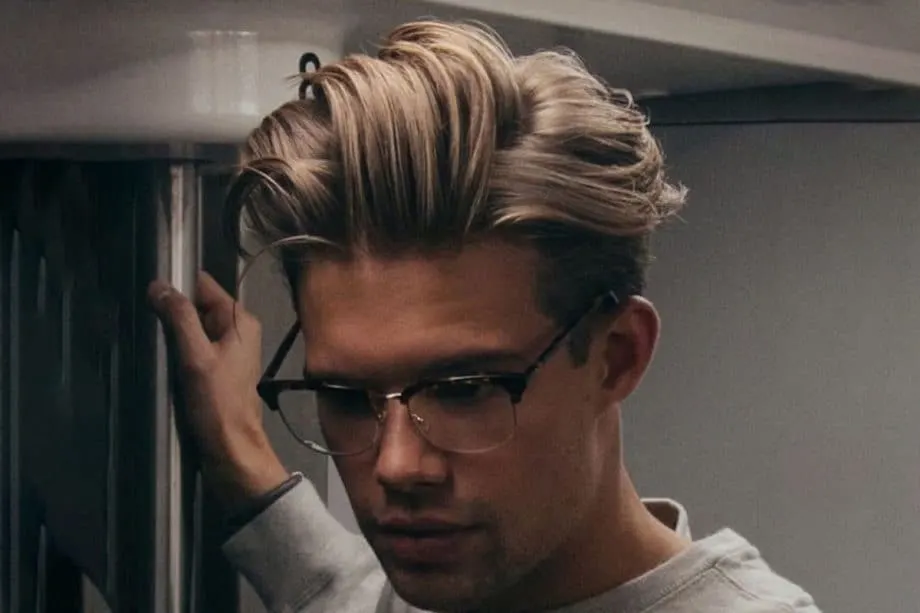 As a hairstyle, the pompadour traditionally requires every hair to be positioned perfectly. Pompadours require precision, so a messy pompadour is reserved for rebellious rock star types.
The messy pompadour is equally stylish as the classic pomp and also exhibits certain traits of both. In other words, invest in a hairdryer and use it to boost the hair's natural volume and lift before using a styling product to achieve the desired effect.
If they want to achieve better movement in the hair, you should consider a liquid-based styling product such as gel or wax.
Messy Crew Cut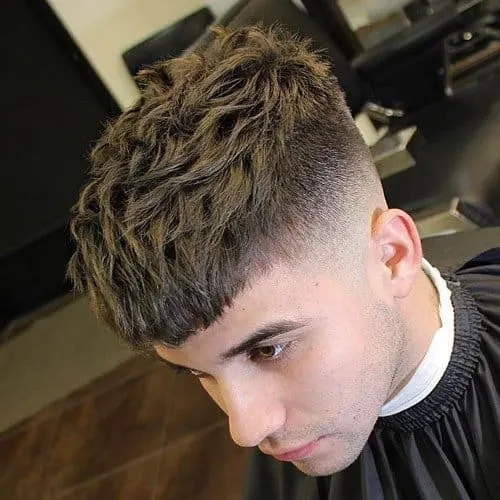 A messy crew cut can be styled in different ways, but they are all quick, clean, short haircuts that are easy to pull off and easy to maintain.
Even with messy hair, teen boys can keep it sporty – mostly swept to one side – or pull all their hair forward, make their bangs choppy, and mess up the top.
Messy Hairstyle For Thick Hair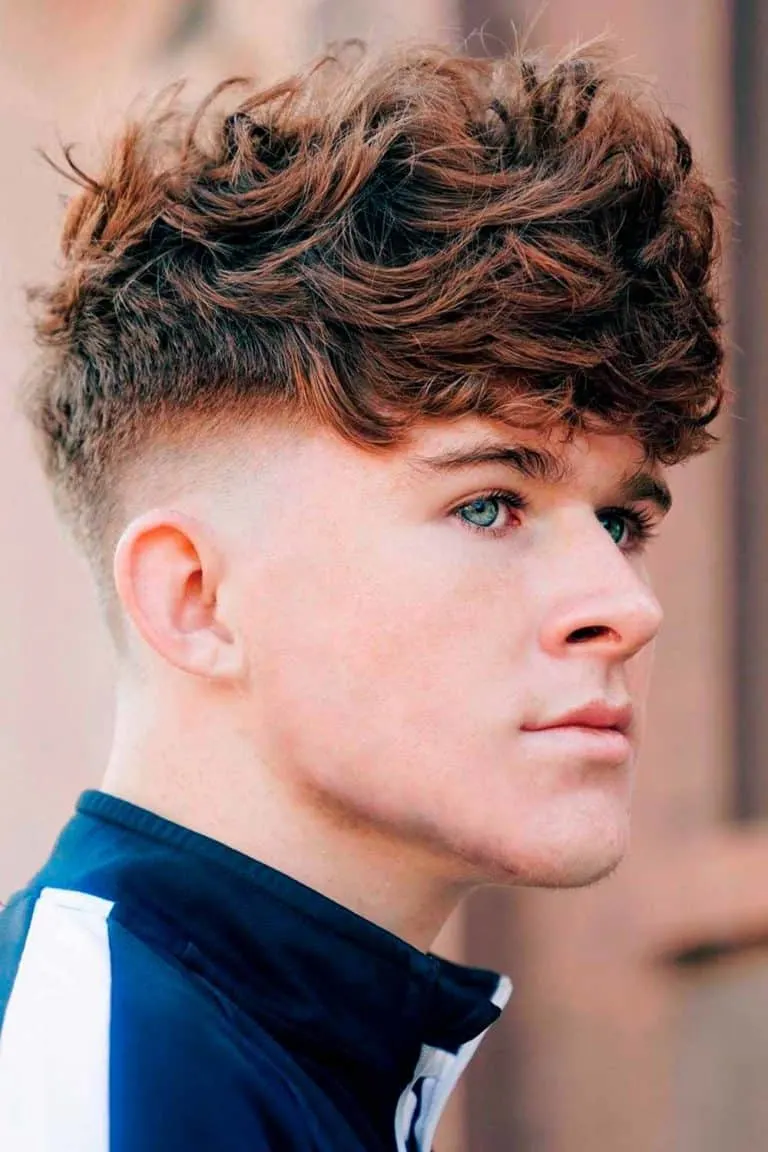 Messy male hairstyles are also suitable for guys with thick hair. But if they want their hair to be easy to style, get a textured haircut.
A messy haircut becomes laid-back and carefree after it has been stripped of its weight and bulk.
You might like to read: How Long To Leave Hair Dye In?
Messy Blowout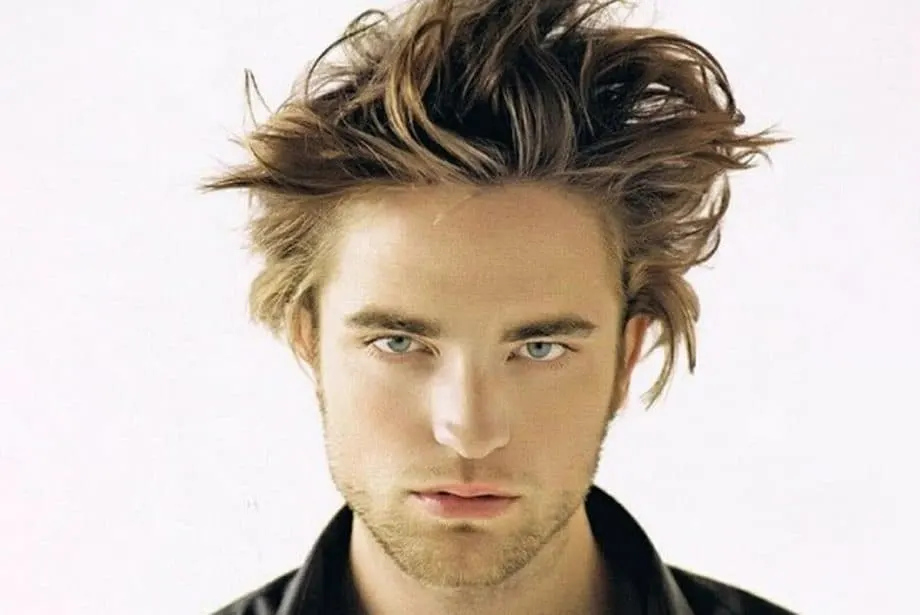 Having blowout hair is already messy in itself, but there are always ways to make it even messier for teen boys who want a more edgy style.
The goal of a messy blowout hairstyle is to make it appear that their hair was blown out, while still retaining the appearance that the hair is supposed to look like that.
A messy blowout hairstyle requires a good length of hair, around medium-length. Teen guys can style messy blowouts by working some medium or light hold styling product through their hair and using a hairdryer to finish off.
Messy Fringe
It's the perfect look for a day at school, a soccer match, or just a day at the park.
For teen guys to achieve this look, all they need is some mattifying product to add a bit of texture to their bangs. Angular-looking hairstyles can be pulled to the side, or more traditional ones can be left in the middle.
If they want to present a low-maintenance look, this is a great cut to reduce a large forehead.
I hope that these haircut and hairstyle suggestions have given you some inspiration for your teenage son's next haircut. It's always best to show your hairdresser a photo of what you want, to ensure that they get it right.