Although important for all ages, breakfast is especially essential for teens. Getting adequate nutrition is vital for growth, development, and academic performance.
Research has shown that our diet as teens greatly influences our mental and physical well-being in adulthood.
However, breakfast tends to be skipped on busy mornings. It is now common for kids and teens to miss breakfast regularly.
The best way to encourage teens to eat breakfast is to choose delicious, appealing, attractive, and healthy breakfast options.
For breakfast ideas for teens, check out these healthy breakfast recipes.
Sweet Breakfast Ideas
Dark Chocolate Quinoa Breakfast Bowl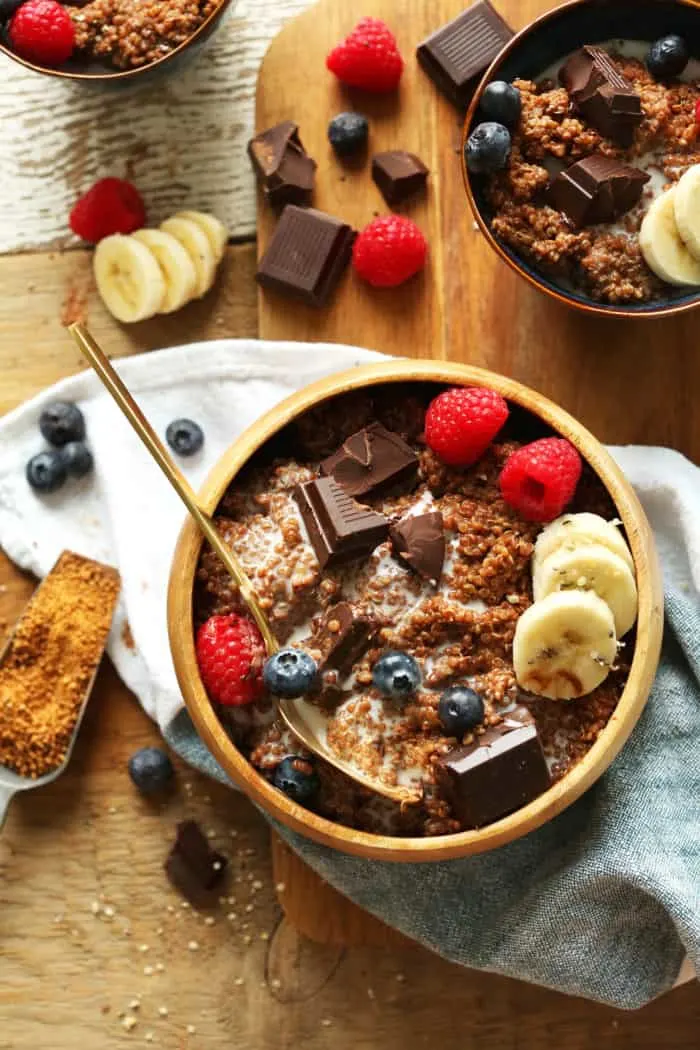 The average cup of cooked beans contains approximately 8 grams of protein, 5 grams of fiber, and loads of iron and magnesium! This healthy breakfast idea is an excellent way to start the day.
With maple syrup as the natural sweetener and cocoa powder as an antioxidant booster, this breakfast bowl is nutrient-rich and naturally sweetened.
The perfect toppings for this teen breakfast idea are fresh fruit and a square of dark chocolate.
Crispy Grain-Free Waffles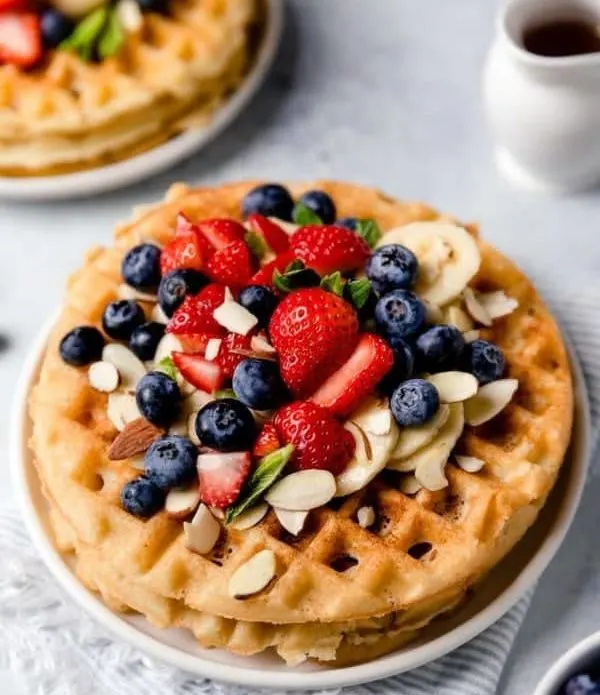 These gluten-free waffles also don't contain dairy or eggs. While they're baking, the scent of vanilla and almond is truly intoxicating; unmistakably waffle.
The convenience of having a stash of homemade waffles available means that you can say goodbye to those boxed waffles and hello to homemade waffles whenever you want it – breakfast, lunch, or dinner.
Homemade Raspberry Breakfast Bars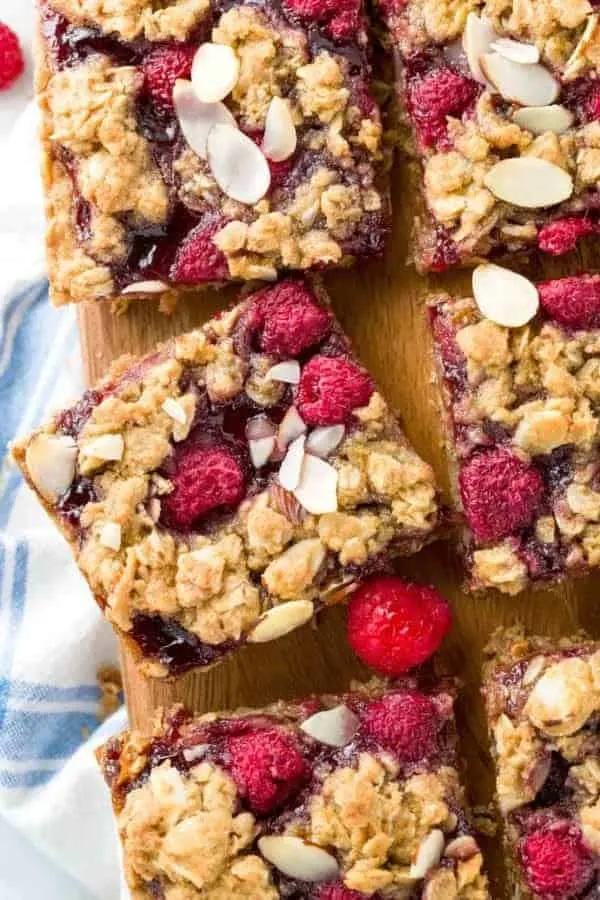 Having raspberry breakfast bars on hand is the best way to start your day! A quick and easy breakfast that's ready to go is essential during the weekday rush.
Rich in fiber and layered with ripe raspberries, these wholesome snacks are packed with nutrition, these snacks are just what you need to get your day started!
Raspberries, jam, and oats are combined in these vegan-friendly baked bars. This makes them an ideal portable snack so you can grab them whenever your teen needs a quick bite.
Healthier 'Dutch Baby' with Berries and Yoghurt
Despite the name, Dutch Babies are actually from America. It's derived from a mixture of pancakes, Yorkshire puddings, and popovers.
A typical version uses egg, butter, flour, milk, sugar, and a selection of toppings. However, since this is a healthier breakfast recipe for teens, you can replace the butter with a little spray oil, and you can use an alternative sweetener instead of sugar.
You can substitute jam, cream, or melted chocolate, for a simple option such as vanilla yogurt and fresh fruit, such as blackberries, strawberries, and blueberries. You're going to love this delicious and guilt-free version.
Healthy Baked Oatmeal Protein Muffins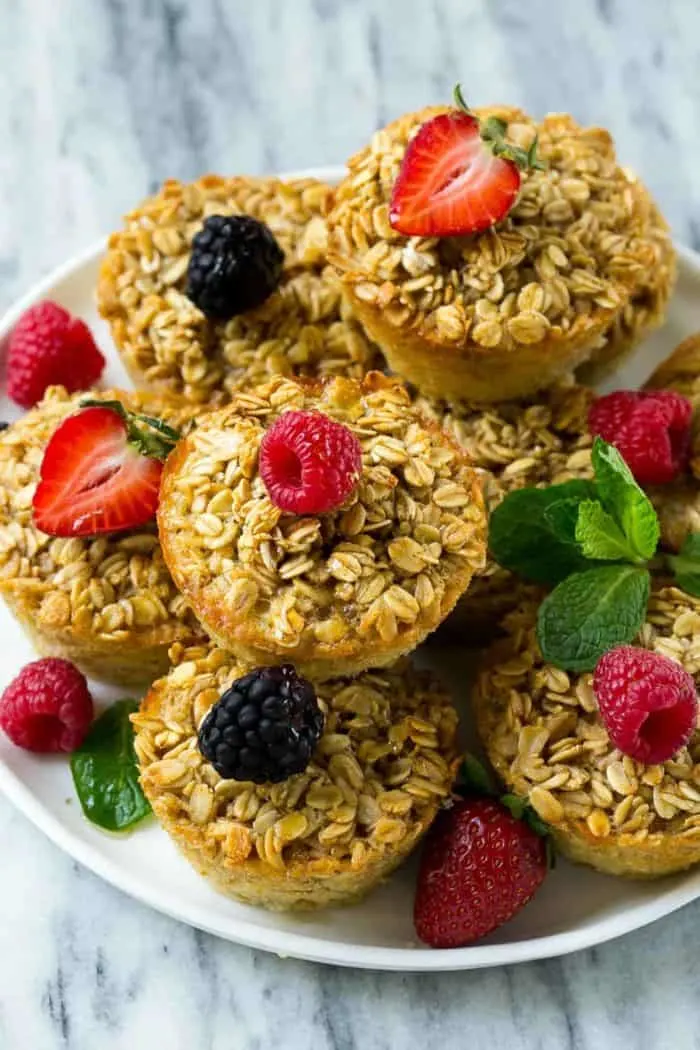 A healthy alternative to flour, oatmeal contains a higher level of protein, fewer carbohydrates, and more soluble fiber.
Oatmeal takes longer for the body to digest, which prevents sugar levels from spiking and increases insulin production. In addition to controlling blood pressure, oatmeal also lowers cholesterol.
This oatmeal protein muffins recipe allows you to start the day without skipping meals. Their texture and taste are both excellent. One of the easiest on-the-go breakfasts for teens.
Mini Pancake Banana Cereal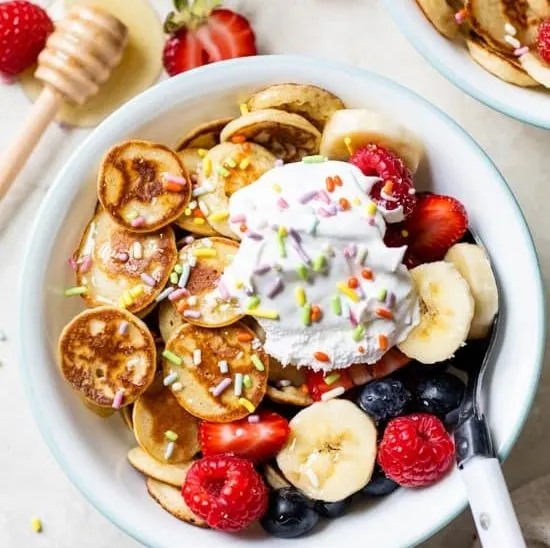 Pancake cereal is the latest trend with teens. It's basically mini pancakes eaten as cereal.
Bananas are a simple way to add nutrients and fiber to pancakes. Top them with fruit and they become even healthier.
Almond Butter Toast With Bananas & Coconut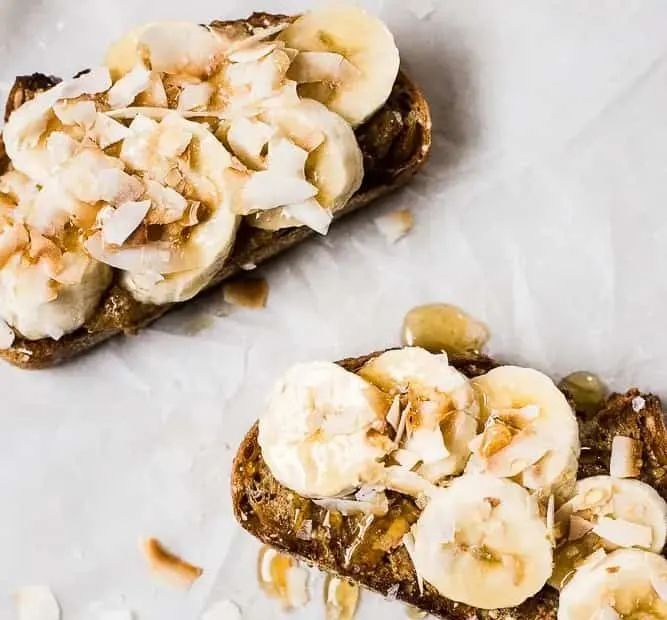 With a protein-packed layer of almond butter, thick slices of ripe banana, shaved coconut, honey, and salt, this toast is the perfect breakfast. It's an easy way to ingest a good amount of nutrients.
The process is so simple. In less than 10 minutes, you can serve your teens a complete, healthy breakfast.
Strawberry Cream Cheese Breakfast Pastries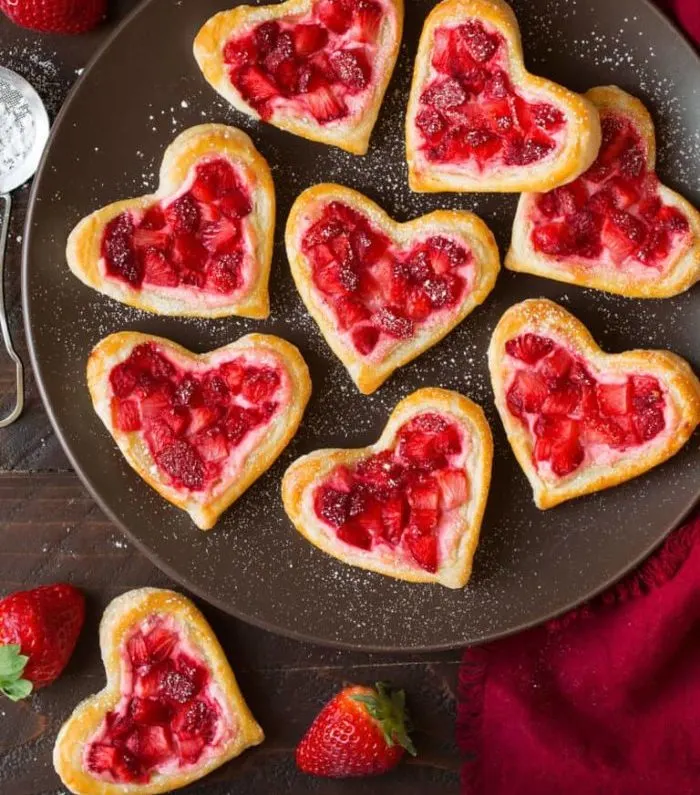 Flaky puff pastry topped with a cream cheese filling, sweetened cream cheese, and fresh strawberries.
This is mildly sweet compared to conventional pastries. You can add some granulated sugar to the cream cheese mixture and dust the finished pastries with more powdered sugar if you need them a little sweeter.
Yummy pastry recipe with just the right amount of sweetness!
Yogurt Parfait
Low in calories, healthy, and delicious, these yogurt parfaits are perfect for breakfast or as a snack! Y
ou can start by layering your favorite yogurt into your cup or bowl. A popular yogurt parfait recipe calls for vanilla yogurt, which is sweet and creamy.
Granola is the next layer! It adds a sweet, crunchy texture to it.
This yogurt parfait is then topped with fresh berries to add sweetness and bring out the luscious berry flavor in every bite.
To add a little sweetness, drizzle honey over top.
Fruit and Oatmeal Breakfast Bowl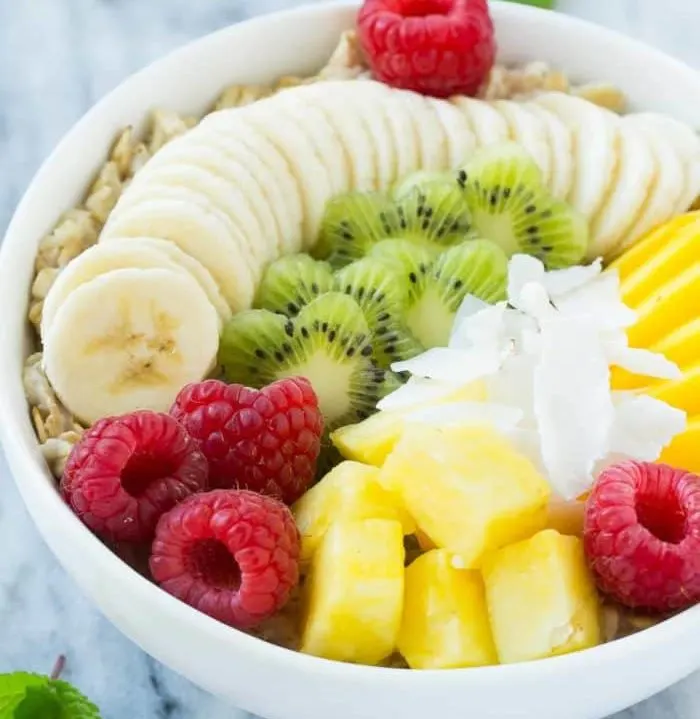 The perfect way to start the day with healthy carbohydrates is with oatmeal topped with colorful fruit and coconut flakes.
A healthy, dairy-free breakfast bowl made with fruit and oats is definitely a treat you can enjoy.
Breakfast Yogurt Pops with Fruit and Granola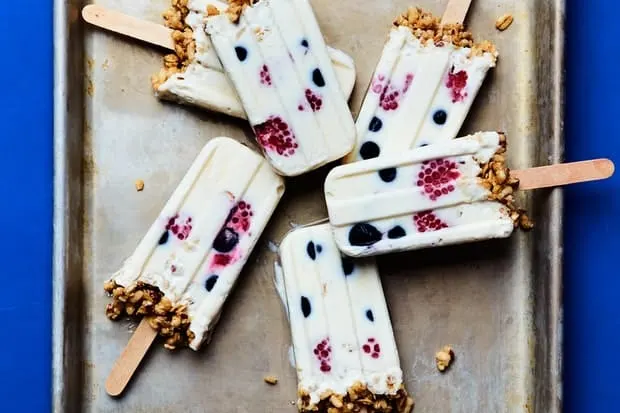 The pops are filled with protein, low in sugar, and definitely fun to eat.
There is almost no restriction as to what fruit (or fruits) you can use here as long as they freeze well. These healthy ice pops can be stored for up to three months.
Ensure that the ice pops are solid before transferring to an airtight container.
It will be fun for both teens and grown-ups to make these delicious treats!
Carrot Cake Breakfast Cookies
These carrot cake breakfast cookies are hearty, delicious, chewy, and with just the right texture.
Garnished with walnuts and carrots, these cookies are made even more appetizing.
You're going to love this breakfast cookie recipe because it's made naturally sweet, dairy-free, vegan-based, and without refined sugar.
Basic Vegan French Toast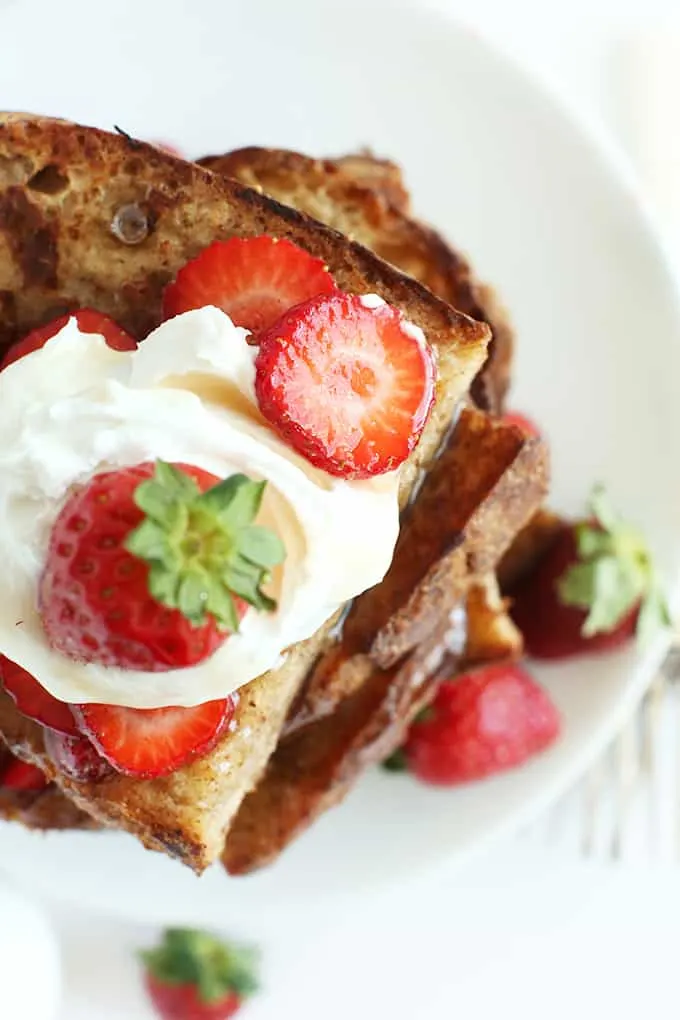 French toast that is simple, perfectly sweet, and completely vegan. This breakfast toast is filling, delicious, light, cinnamony, tender with a subtle bite, and wholesome with all the toppings you like.
This is a basic french toast recipe that you can customize with any flavors you like.
Chocolate Peanut Butter Banana Shake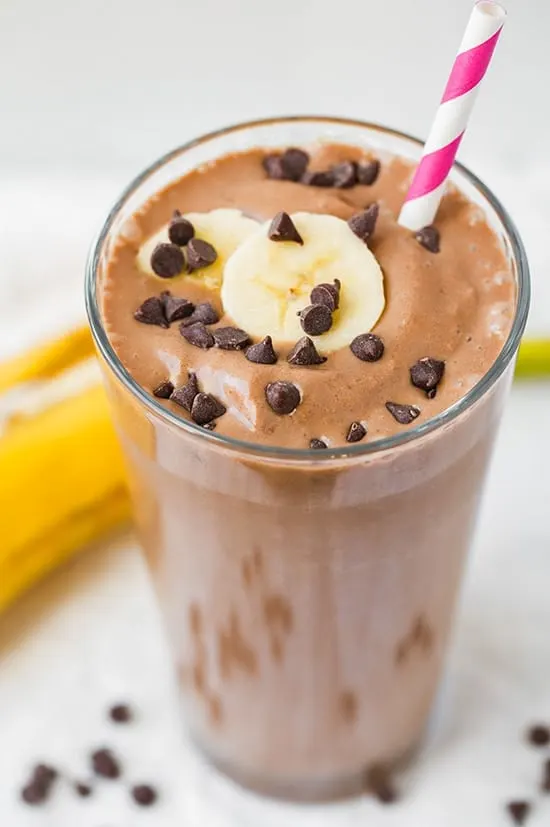 The combination of banana, peanut butter, and chocolate makes this a decadent morning treat.
The sweetness of this smoothie comes from ripe bananas, so make sure you use ripe bananas.
For a slightly sweeter smoothie, you can add a little honey or cut back on cocoa powder.
Enjoy this nutrient-dense, creamy smoothie!
Strawberry Mango Smoothie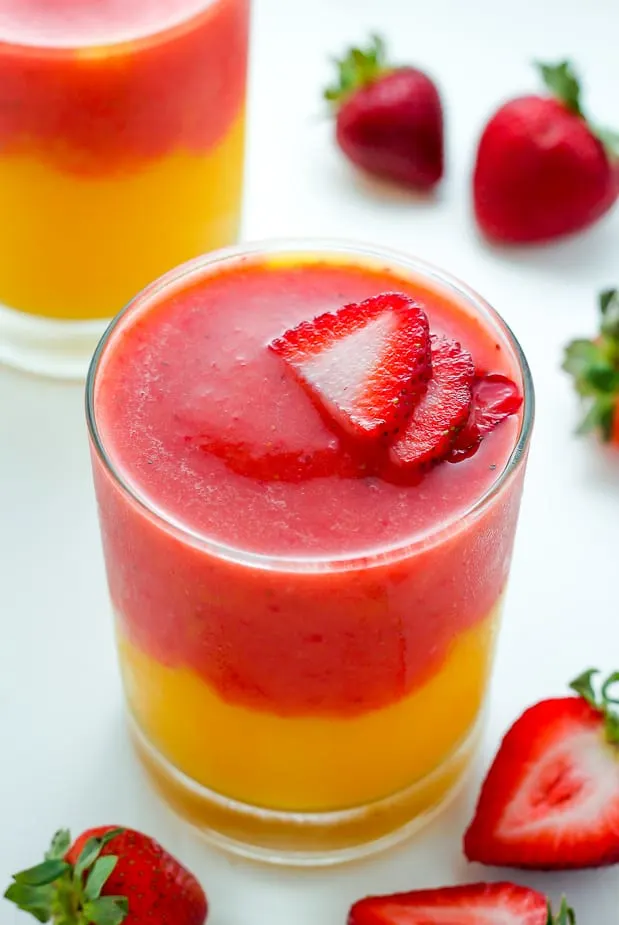 Strawberry, mango, and freshly-squeezed orange juice make up this refreshing drink. Adding a little citrus and fresh fruit to this flavorful mango strawberry smoothie recipe creates a refreshing flavor.
The smoothie base can be lightly sweetened by adding a teaspoon of sugar or honey, or it can be left as-is for a healthier delicious drink.
Savory Breakfast Options
Bacon, Burger & Fries – Paleo Breakfast Bake
Bacon, burger, and french fries deconstructed into a Paleo breakfast bake. Made with sweet potatoes, crispy bacon, ground beef sautéed with onions and mushrooms, spinach, and perfectly cooked eggs, you've got a mouth-watering meal baked to perfection.
Yummy, nutrient-rich, filling, Whole30-compatible, and perfect for every time of day. It holds up well as leftovers, so you can reheat it until it is warm at lunchtime.
This breakfast bake is superior to a regular old burger and fries. You can prepare it the night before and bake the eggs into it the next morning!
Egg Muffin Breakfast Meal Prep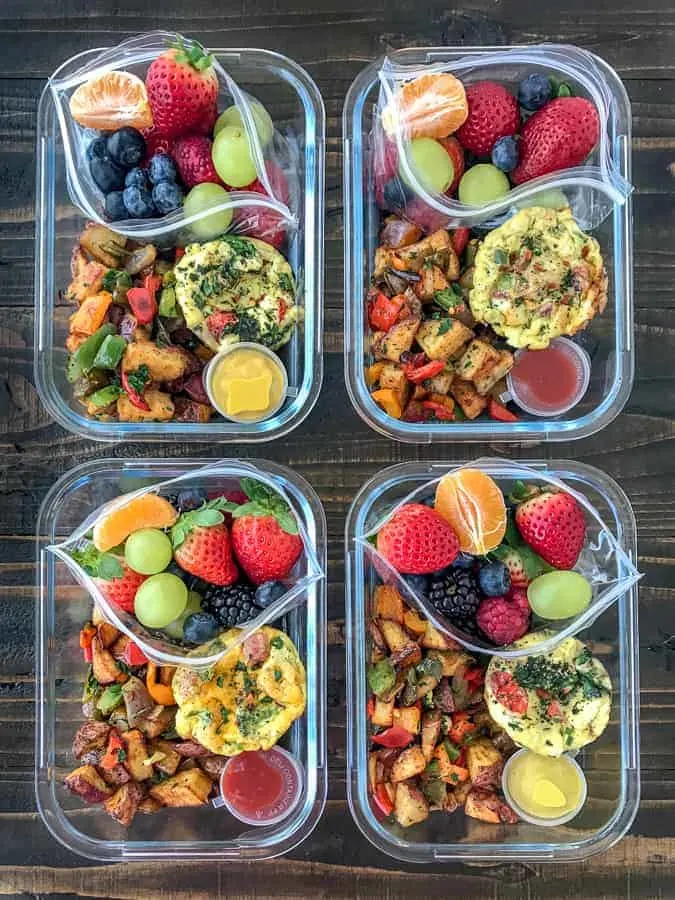 Breakfast potatoes, egg muffins, and mixed fruit make up the recipe for this meal prep.
With ham, cheese, spinach, tomatoes, bacon, and peppers, you can prepare three types of egg muffins in advance!
Try using Chipotle cheese—teens love it! Find out: What Type Of Cheese Does Chipotle Use?
On another baking sheet pan, potatoes, peppers, and onions are roasted together to make breakfast potatoes.
Low Carb Breakfast Burritos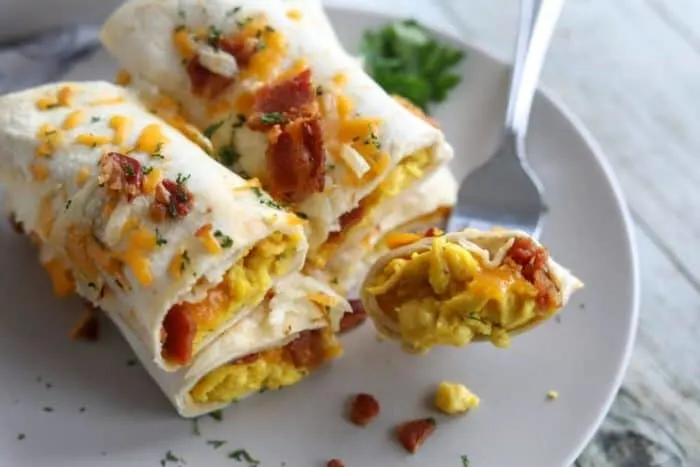 Burritos can be made more low carb by choosing the right tortilla brand and filling them with healthy ingredients.
As tortillas typically contain wheat and are not strictly keto, this recipe makes a tasty low-carb breakfast, and the filling is high in fat, so you are sure to stay full throughout the day!
Gluten-Free, Low Carb & Keto Cheese Puffs
Low-carb cheese puffs are a delightful alternative to the original. There is a difference in softness and puffiness.
Gluten-free and keto cheese puffs are pure cheesy bliss with only 0.3g of net carbs per serving. Delicious and easy to make!
Egg & Avocado Pancake Breakfast Wraps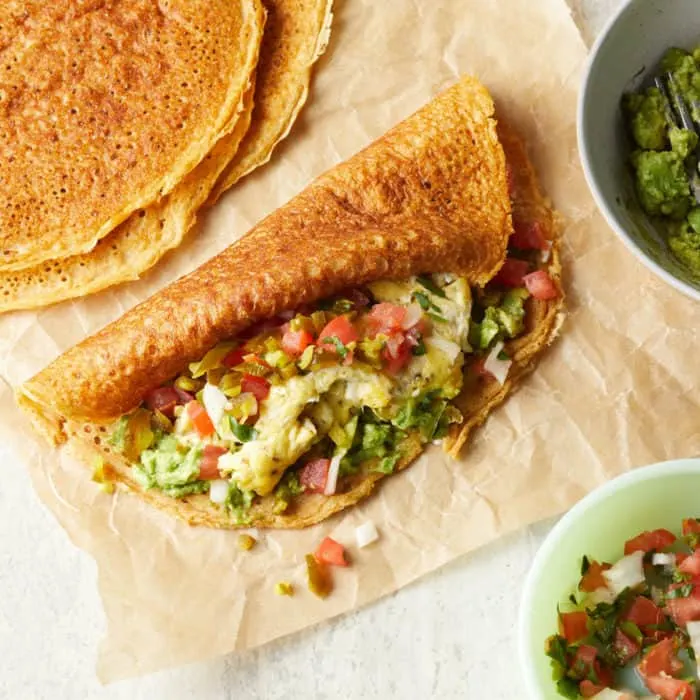 Easy to make and loaded with healthy ingredients, this breakfast wrap is a combination of crepe and pancake.
This pancake rolls up scrambled eggs, avocado, and salsa to get you going on a busy morning.
For easier preparation, you can freeze the extra pancakes for up to 1 month or refrigerate them for up to 2 days.
Breakfast Pizza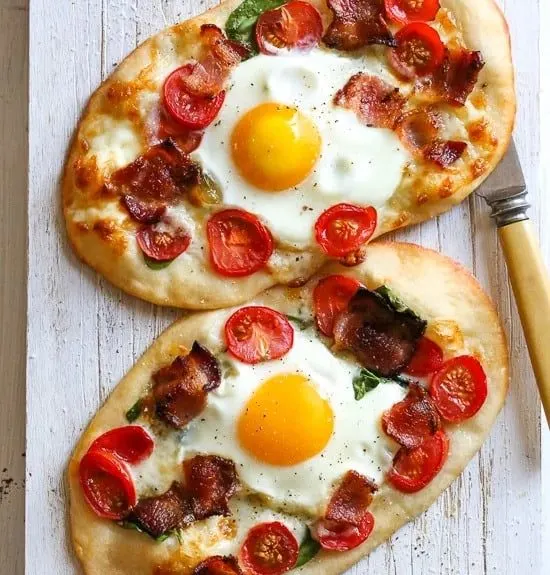 Packed with protein and vegetables, this pizza is a healthier alternative to traditional pizza!
From start to finish, this bacon, egg, tomato, spinach, and cheese breakfast pizza take under 30 minutes from scratch to make!
You can also add ham, sausage, or just vegetables like bell peppers, mushrooms, & onions for a meat-free option, and experiment with various cheese combinations.
Breakfast Grain Bowl Mix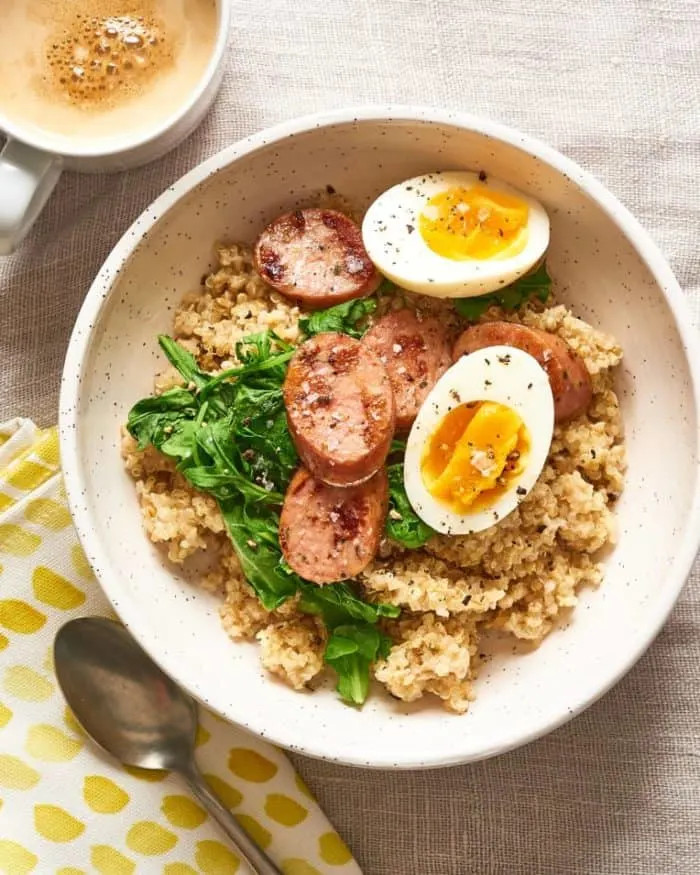 With quinoa and steel-cut oats and zings of ginger and lemon, this breakfast grain bowl has all the basics you want.
A simple base allows for easy sweetening/spicing (with brown sugar and chopped fruit) or savory toppings.
The savory option includes roasted tomatoes, cooked greens, fried egg; avocado, bacon crumbles, greek yogurt, and soft-boiled eggs.
You can add yogurt, honey, mango, and fresh raspberries; brown sugar, and sliced stone fruit if you're in for a sweet treat.
Breakfast Scramble with Italian Sausage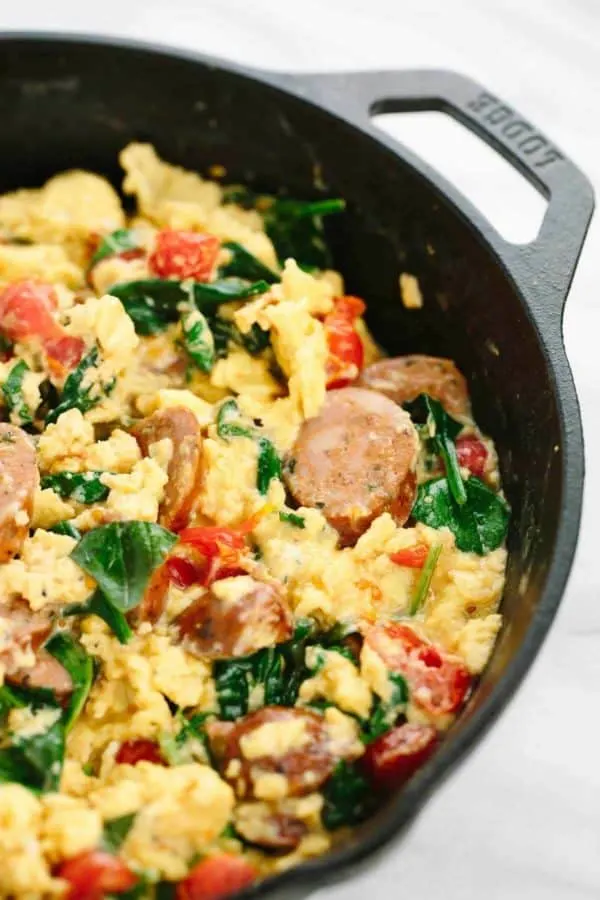 All it takes is a few simple ingredients to make a delicious breakfast scramble to start your day off right.
The main ingredients are eggs, sausage, vegetables, and cheese. Using leftover ingredients from your fridge is also a great idea.
Just enough cooking is done so that the baby kale, spinach, and basil wilt gently.
The combination of sweet tomatoes, sausage, and fluffy eggs gives these greens a delicious, juicy texture.
Twice Baked Breakfast Potatoes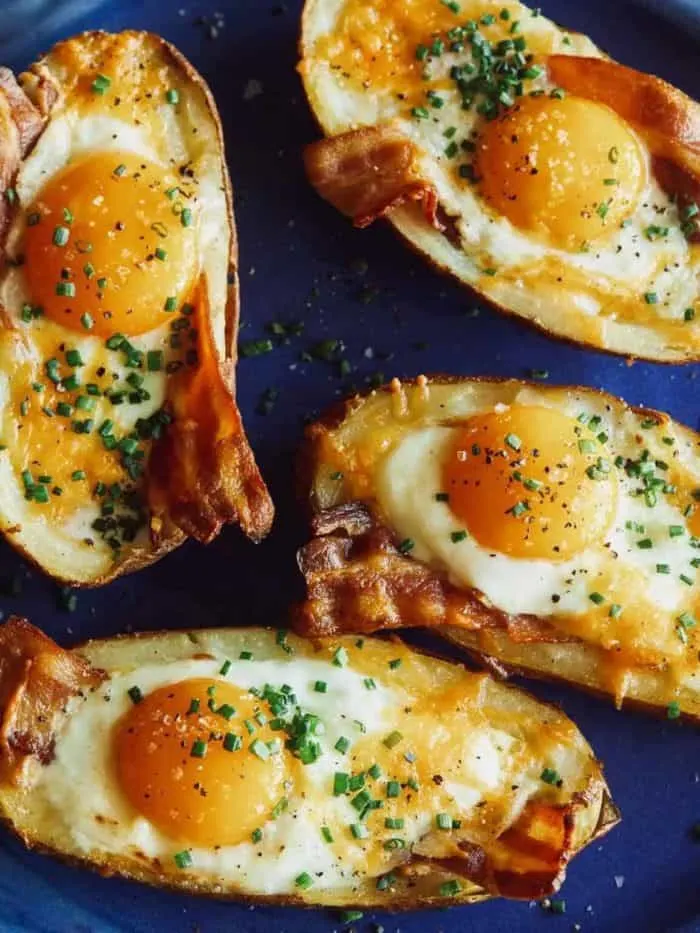 Eggs with sun-dried tomatoes, bacon, and melted cheese stuffed inside a hollowed baked potato. There's nothing better than these twice-baked breakfast potatoes!
For a quick meal, bake the potatoes, slices them in half, scoop out the bottoms, and level them ahead of time.
The mashed potato filling and the bacon can also be made ahead of time.
Cheesy Bacon And Egg Hash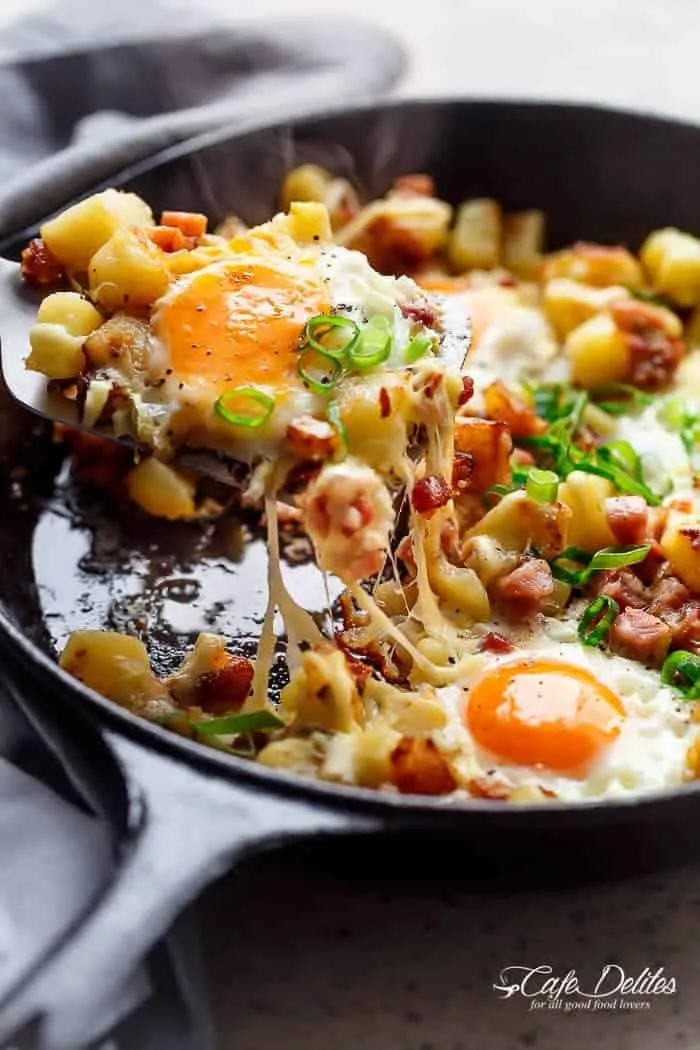 There is no better way to cook eggs, potatoes, bacon, and cheese than with this breakfast skillet!
Made up of golden potatoes, fried or baked, crispy bacon, scallions for a layer of flavor, and melted mozzarella cheese!
This loaded cheesy bacon and egg hash recipe is the best breakfast you will ever eat!
Breakfast Fried Rice
This dish is not only the perfect excuse to make rice leftovers for dinner—but it's also the perfect way to use any leftovers you have in the fridge.
No matter what kind of fried rice you make, use low-sodium soy sauce.
Taking the time to prepare not just the rice but also the entire fried rice mixture in advance will be very helpful.
All you need to do is reheat and add egg the next morning for the best teen breakfast idea.
Eggs Benedict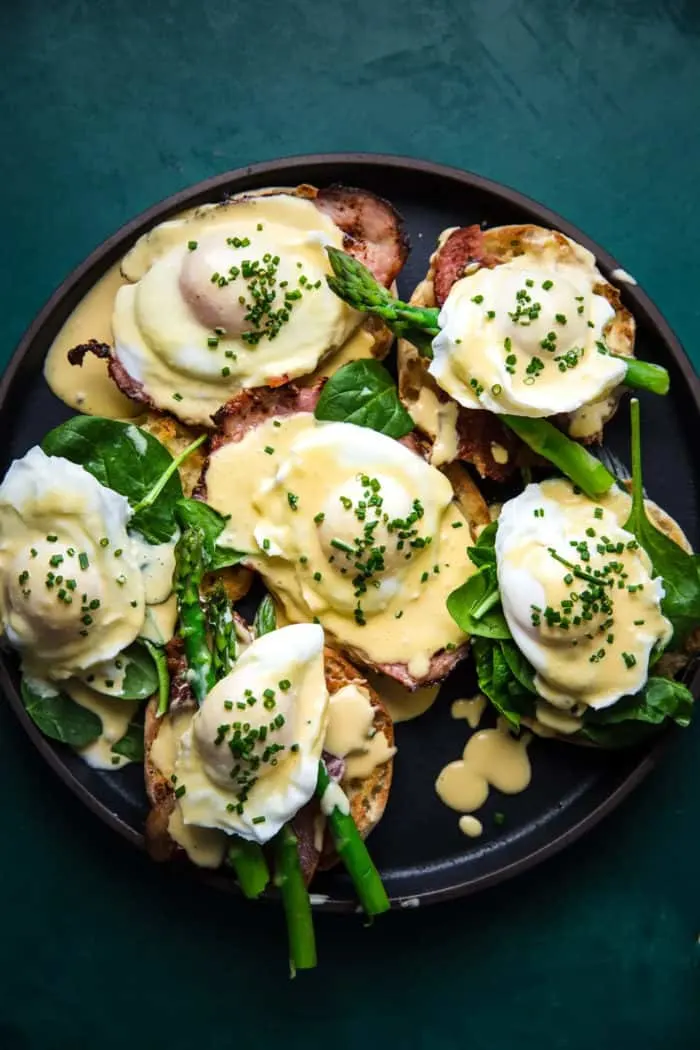 Quite possibly the most appealing kind of egg is the perfectly poached one, one with just-set whites and a yolk that spills out.
Although not the easiest breakfast idea for teens, the combination of the English muffin, runny yolk, bacon, and hollandaise sauce makes this a breakfast-to-die-for.
California-Style Breakfast Sandwich
With only a few ingredients, you can make a great bagel breakfast sandwich in minutes.
Avocados, onions, and sprouts come together to make a tasty and healthy breakfast that's packed with nutrients.
I hope you've enjoyed and drooled over these yummy breakfast ideas for teens. Let them choose their favorite and teach them how to make it so hopefully, they'll be preparing their own breakfast soon.