Now that you've planned the Sweetest 16th birthday party for your teen, it's time to think of gifts. You'll probably also get asked by friends and family what gifts she'd like.
Apart from the obvious gifts like driving lessons, or if you're super generous, a car, there are some other awesome sweet 16 gift ideas that your teen would love receiving.
I share my top 21 gift ideas for your Sweet 16 that you can share with your guests as well.
Hopefully, you'll find a few options that you haven't thought of before.
You might also enjoy: Sweet 16 Party Ideas
Books For Sweet 16 Birthday Gift
As a parent, handing over the keys is an emotional rite of passage, and the Driving Book will help parents sleep better knowing that their teens have it on hand.
New drivers have so much to learn about the practical aspects of driving that can only be learned through experience. This book has a lot of useful information that you wouldn't normally get from a driving school or taking the regular driving test.
Karen Gravelle helps teenagers deal with the challenges of starting out as drivers. She explains such topics as changing tires, negotiating rights with parents, what to do if stopped by a police officer; what to do if you're in an accident, and driving in bad weather.
Gifting Tip: a great gift to receive from grandparents
This book provides teens with an excellent starting point for planning active action based on what they want and are interested in.
Covey offers a simple framework for teens to:
improve self-image
build friendships
resist peer pressure
accomplish their goals
and appreciate their parents
He also assists teens with dealing with social media and cyberbullying, two of the modern challenges.
Teenagers love this book because it is filled with cartoons, clever ideas, and great quotes. The author also includes incredible stories from real teens around the world.
You might want to read my full book review of the 7 Habits Of Highly Effective Teens.
Gifting Tip: a great gift to receive from an uncle
Rachel Hollis is a working mom of four who uses her platform to empower and embolden women worldwide. Her unfiltered honesty and staunch inclusivity have made her a two-time #1 New York Times bestselling author and one of the most sought-after motivational speakers.
She highlights that many women define themselves by how other people see them, instead of learning how to own who they are and what they want. Hollis identifies the excuses you should let go of, the behaviors you should adopt, and the skills you need to develop to become confident and believe in yourself.
Gifting Tip: a great gift to receive from an aunt
Funny Sweet 16 Gift Ideas
This hysterically funny gag gift will have your teen in stitches.
Gifting Tip: a great gift to receive from a teasing brother
Two pairs of socks that read "Now That I'm 16 I Officially Know Everything!"
These socks were a super cute addition to any 16 year old's gift bag. Cute, comfy, and funny too.
Gifting Tip: a great gift to add to a gift bag.
These premium natural soy candles smell amazing and have a surprise gift inside. The ring values between $15 to $5000, but obviously it's supposed to be a fun original gift, and not necessarily about the ring value.
Burn this candle and fill the air with the smell of cake batter, vanilla, and warm sugar. Once the wick of your candle burns low enough you can uncover your ring. There should be a code attached to the ring to let you know the value, but it should be about the surprise.
Jewelry Gift Ideas For Sweet 16 Girls
I found this past, present, and future bracelet which is a reminder of the passage of time to commemorate this special birthday.
It has three interlocking circles: a muted, oxidized ring that represents the past; a sterling silver ring wrapped with a band of silver wire that captures the present; and a shimmering, gold-filled ring representing the future.
This bracelet offers a constant reminder to live in the moment. Included is a card explaining the bracelet's symbolism. Handmade in Nashville, Tennessee.
Make it a set! They also offer matching earrings and necklace.
Gift Tip: this symbolic bracelet would make a great gift from a godmother.
I love a personalized gift and these block letters monogram necklaces from Anthropology are absolutely gorgeous.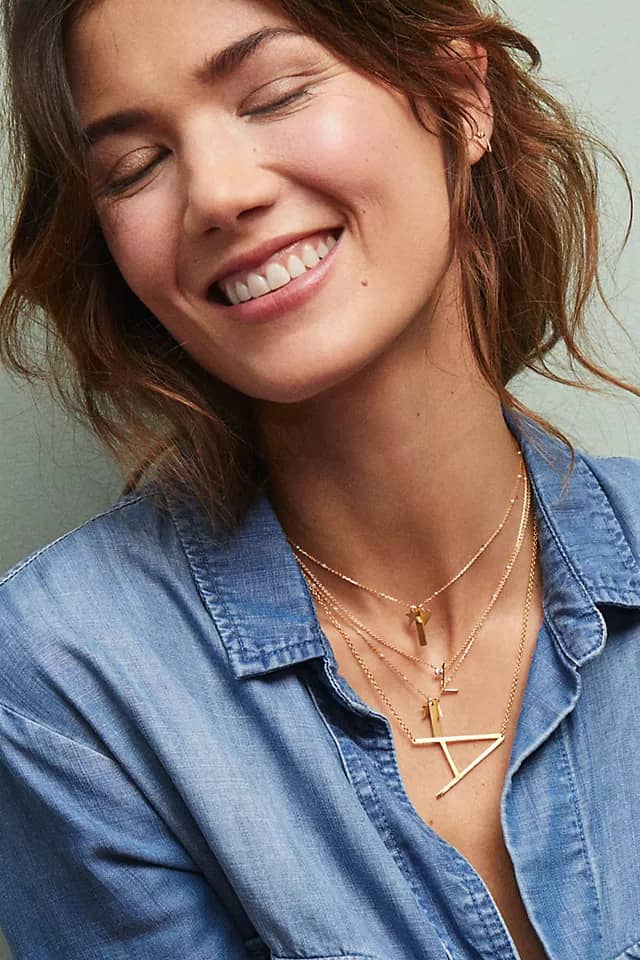 For a more chunky look, they also have the Chain Link Monogram Necklace, or for a much more dainty look, they offer the Maya Brenner 14k Gold Asymmetrical Monogram Necklace.
All these monogram necklaces would make a very special 16th birthday gift.
Gift Tip: this personalized necklace would make a great gift from mom & dad or from a special friend.
I was drawn to this bangle because of its inspirational message written on the inside of the bracelet, and the reviews saying that it is really great quality for the price.
There are several messages to choose from. I personally really like the "Kind Heart, Fierce Mind, Brave Spirit" message.
Gift Tip: this mantra bangle would make a great gift from a sister.
Make-up Gift Ideas For Sweet 16 Birthday
Most teen girl loves to play with makeup and what better than to have this amazing kit to start with. This is a best-selling makeup kit for teens as it includes 98 shimmer eye shadows and 70 pastel eye shimmers, as well as lipgloss and brushes.
Gift Tip: combine with a lipgloss kit so that she can complete her look.
This tri-fold light-up mirror has 3 magnifying modes, 180-degree rotation, and an adjustable LED light.
Perfect for the teen that loves to play with makeup.
Gift Tip: combine with makeup kit so that she can perfect her makeup skills.
Skip the expensive stores and buy online. You can choose several of your favorite colors or get this best-selling pack of 3 lip gloss kit (Angel Food Cake, Creme Brulee & Madeleine).
Exclusive Sweet 16 Gift Ideas
Now that your girl is growing up she'll need a grown-up purse. These cute Michael Kors bags have a single adjustable cross-over body strap, which makes them a safe option as well.
Choose from several different colors.
Gift Tip: as this gift is more expensive it would probably make a great gift from a godmother or parents 😉

If your teen has a pet she'll definitely love these personalized illustrated products from FurbabyPrints.com
Whether it's a fleece blanket or a custom phone case, every pet lover will adore these personalized gifts.
Just send in a photo of her or her pet (or both) and the artists will handle the rest.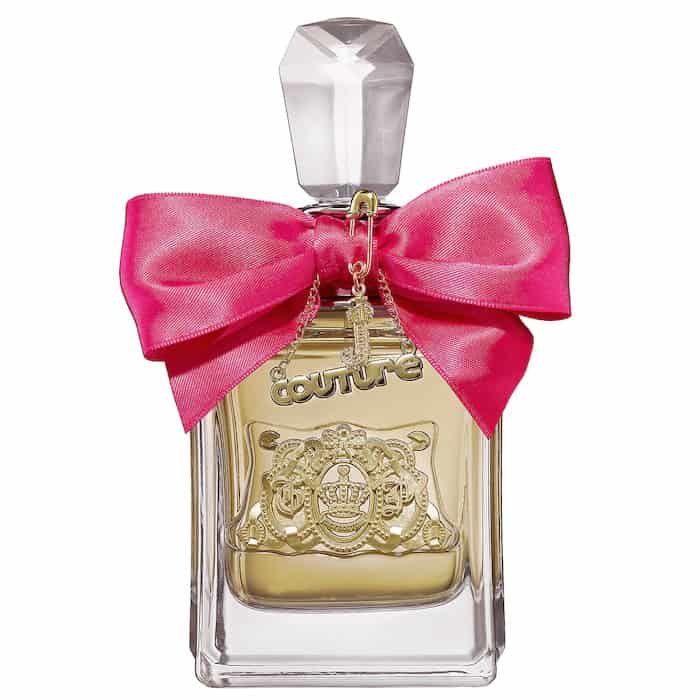 Now that your little girl is not so little anymore, it might be fun for her to start finding a signature scent.
When searching for a great perfume for teens, the Viva La Juicy perfume came out tops. It has a soft sweet floral scent with the warmth of the vanilla and jasmine that's intoxicating.
Tech Gift Ideas For Your Sixteen-Year-Old Teen
Every teen is into selfies so what better gift than to help her get that perfect selfie with a clip-on smartphone selfie light ring.
Yes, that's a mouth full, but your teen will love you for helping her step up her selfie game.
I chose this instant camera over the Polaroid camera purely because this camera is much easier to use, and it comes with 40 sheets of film.
If your teen would like to use this at her party, then this camera is ready to go.
The polaroid camera will take a bit of time to learn but is otherwise also a very good instant camera.
These little portable printers are super retro and allow you to print your favorite pics anywhere. Simply connect it to any mobile device and print your photos immediately.
This set includes 60 sheets of printer paper so she can start printing right away.
A great addition to the Fujiflim Insta Mini Camera is a cute mini photo album. These come in several adorable colors, so choose whichever you think is her favorite.
Room Decor Sweet 16 Gift Ideas
All teens love chatting and texting with their friends at night, and now they can charge their phones & other devices from their lamp. How cool is that! Plus the light is dimmable as well.
Every girl loves fairy lights and photos of their friends. Why not combine the two with this super cute and useful photo clip string light.
Depending on her room decor color scheme, these gorgeous black & gold throw pillows could seriously upgrade her room with a more sophisticated but still fun look.
There are several options to choose from but these stood out to me as the perfect Sweet 16 room decor upgrade.
This hammock chair is super cute and comfy and even has a pocket for her favorite book or mobile phone.
I hope that my list of sweet 16 gift ideas has inspired and enabled you to find the perfect gift for your teen.