Net Nanny has existed for nearly a decade, making it one of the older parental control software providers on the market.
In our Net Nanny review, we discuss how it delivers the best mix of web filtering, location tracking, and app management on both Android and iOS devices. It also works on Amazon Kindle Fire tablets, on Windows and Mac, and on Chrome OS devices that support Google Play.
This app is a bit more pricey but also one of the better options on the market for keeping tabs on your children's social media behavior.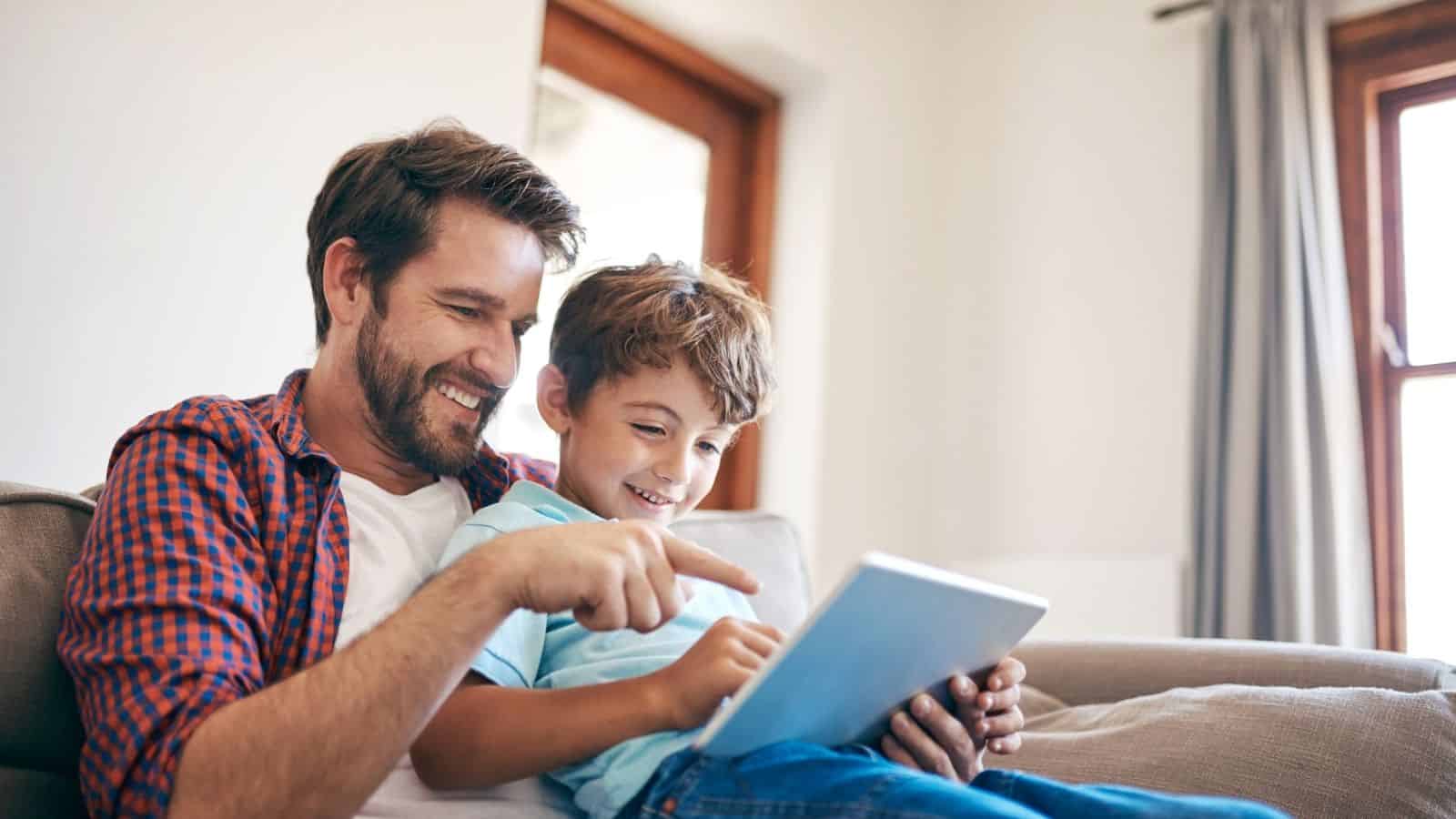 How does Net Nanny work?
Parents can use Net Nanny to monitor their children's online activity. It can block inappropriate content in real-time and provides options to block, warn or allow users to view websites.
As a parent, you create settings to customize each child's profile.
Net Nanny does not simply block a list of websites but will analyze each website and decide if it is appropriate based on your settings.
Families can use Net Nanny to protect users from pornography, online predators, cyberbullying, and other threats that compromise online safety.
Net Nanny Options
Single Device package – $39.99/Year
For Windows desktops or laptops (PC or Mac)
Protect one desktop with all Net Nany Features
Family Protection Passes for 5 devices – $54.99/Year
For PC, Mac & Mobile
Android, iOS, and Kindle Fire available
Family Protection Passes for 20 devices – $89.99/Year
For multiple devices and device types including Android, Kindle Fire, and iOS devices
To see how to install Net Nanny, adjust the setting and how the website blocker works, watch this video:
Net Nanny Features
Parent Dashboard
Family Feed
Parental Controls
Parent Dashboard
With the Net Nanny Parent Dashboard, you can:
Access the Parent Dashboard from any device with a web browser and Internet access
View the Net Nanny Family Feed to see what your family is doing online
View and change content filtering settings
Manage whitelisted and blacklisted websites
View the locations of mobile devices running Net Nanny
See the blocked and alerted website reports
Manage and view your kids' screen time
Instantly turn off and resume Internet access
Review your kids' online searches
View and manage your kids' mobile apps
Enable social media protection
See reports of mobile device app usage
Family Feed
You can view your child's online activity in the Family Feed.
It presents an ongoing, social-style feed of your children's activities including their screen time, social activity, searches, and app installations, so you can instantly keep tabs on what everyone is up to.
You can access the Family Feed on your desktop or laptop Parent Dashboard or on-the-go via the Parent App on your iOS or Android device. No matter how you access it, you'll receive important notifications that can help you take parenting to a whole new level.
You'll be able to see how much screen time they've used each day, the location of each child with the family map and the ability to set screen time allowances for each day of the week.
You can also increase or decrease the daily allocation of screen time your child can have and have the ability to turn off the Internet if you choose.
With the Family Feed, you can:
Get instant alerts if your child views porn, drugs, weapons, suicide and other inappropriate content.
Block, allow or view apps that your child uses or downloads
Track your child's Internet searches in real-time.
Receive updates of your child's whereabouts
Monitor YouTube usage, like video names, video length, view date, and you can even review the video with a direct link to each viewed video.
Get advise on any Apps that you child might want to use.
Parental Controls
Parental control software can help keep kids safe from dangerous or inappropriate online content that may not be safe for them to view.
Parental controls include:
Website blocker & filtering of adult content
Social media protection
YouTube monitoring and management
Screen time management
Location tracker
Website Blocker
Net Nanny gives you the option of blocking websites individually. You can also create lists of allowed and blocked websites for each user on your account. Parents can choose from 14 different categories to allow, alert or block for each child.
In addition, its web filtering technology can also analyze every webpage your child visits in real-time. The filter then instantly determines if the content on that webpage is safe for your child to view, based on the category guidelines and website restrictions that you pre-determine in your settings.
Internet Filter
Many whitelists (a list of websites with acceptable content) and blacklists (a list of websites that should be blocked due to adult or inappropriate content) can become obsolete since there are countless new websites added to the Internet every day. Net Nanny's advanced adult content filter checks each page as it is loaded in real-time, so you can protect your family's online activity instantly. Net Nanny still also allows parents to create a blacklist of sites you do not want your kids to be able to visit.
Filtering Options :
Sexual Content
Gambling
Weapons
Hate Sites
All Adult Content
Search Engine Safe Search
Drugs
Violence, Death, Gore
Suicide
PLUS Customizable Filtering
Block Pornography
Their adult content blocker can:
Keep out pornographic or mature websites
Filter pornography in real-time
Allow access to approved websites or category content types
Instantly allow or block websites based on your preferences
Send alerts when inappropriate activity is detected
Alerts and Reporting
You can be alerted if a restricted website is attempted to be accessed. By viewing Net Nanny's usage alerts and reports of your family's online activity, you can take action if inappropriate websites are accessed and address them with your child. Visibility to online searches can help parents identify any red flag terms that may be related to cyberbullying, self-harm, risky behavior, and even suicide.
The Net Nanny Family Feed gives you an overview of their latest online searches and notifications, including:
Alerts about blocked or warned content including the website names, category of content, and date and time the site was accessed
App summary reports of the mobile apps your kids are using the most
Information about daily screen time usage
Search history details including the search term and search engine used
Social Media Protection
Block Apps
Net Nanny allows you to block mobile apps. You'll also receive alerts when new apps are installed on your child's Android devices and be able to review a history of their app use in the Net Nanny Family Feed.
If you're unsure about an app, you can view a short description on the App Advisor, and know immediately if it's safe for your child to use or not.
Social Networks Monitored
Net Nanny does just block unwanted services, instead, Net Nanny can apply Artificial Intelligence to determine if the content is safe and appropriate for your child. This tool lets parents manage kid's Social Medial in 2 important ways:
Parents can choose to block, protect or allow Social Media services
Setting an App or Service to "Block" will completely block Apps and Websites related to the respective service.
Setting an App or Service to 'Allow' will completely allow the App and Websites associated with this service without any content filtering applied.
When an App or Service is to "Protect" Net Nanny will apply the same content filtering restrictions that detect and block specific categories of web content to the respective Social Media service.
Example: If Content Filtering settings are set to block Pornography, Violence, or other specific content filtering categories. These categories of content are detected and blocked within the Social Media services that are protected with Social Media Protection.
Social Media services that support protection are listed at the top of this screen. Other Social Media Apps and Services are listed below.
Apps and services that do not support protection can still be blocked and managed by parents.
Some Social Media services go to great lengths to use proprietary encryption and prohibit monitoring or protection. These services cannot be filtered and protected by Net Nanny content filtering technologies. To help parents that are concerned about the unprotected services, Net Nanny can instead fully block unsupported Social Media Apps and Services.
Facebook
Twitter
Instagram
YouTube
Pinterest
Google+
Tumblr
YouTube Monitoring
Monitor YouTube usage, like video names, video length, view date, and you can even review the video with a direct link to each viewed video. Combining YouTube reports with Net Nanny alerts can instantly inform parents of dangerous or questionable YouTube content.
Parents can create schedules and set limits to manage when kids can access YouTube or other content. You can block YouTube, Apply Content Filtering rules, create schedules and get alerts.
Screen Time Management
Balance screen time and downtime by scheduling the hours of the day your children can access the Internet.
Net Nanny lets parents see the daily total of each child's screen time and see how their devices are being used. Parents can manage daily screen time, create schedules or curfews for when kids use their devices, and easily adjust the allotted time allowances for each day.
From your phone or any Internet-enabled device, you can turn off your child's access to the Internet on their device.
Track Location
GPS location tracking allows you to track your child's location via their cell phone or tablet. You can see their location on the Net Nanny Family Overview Map.
With Net Nanny's location tracking feature, you can:
View your child's location in real-time
See past locations visited by your child
Track all children's locations associated with your account
View locations by address or on the Net Nanny Family Overview Map
Frequently Asked Questions:
Does Net Nanny have a free version?
No, Net Nanny doesn't offer a free trial or a free version.
Can my child uninstall Net Nanny?
Net Nanny for Android has built-in removal prevention. Removal of the Net Nanny app or any other app is username/password protected and requires a Net Nanny Administrator password before allowing the application to be uninstalled.
What does pause mean on Net Nanny?
When a Net Nanny user exceeds their allocated screen time or their device is paused the Windows computer will stop all access to the Internet and immediately minimize any windows that are open.
Pros and Cons
Negatives:
It doesn't monitor calls or conventional text messages.
If you want to block apps on iOS, you'll have to choose from a pre-configured list of apps – whereas on Android devices you can block any app you'd like.
Net Nanny also doesn't offer a panic button feature.
The process for setting up custom filters is complicated, which may prohibit tech-averse parents from getting the full control that they need.
Does not offer geofencing
No customer service offered on weekends.
Positives:
Net Nanny is a little more affordable than some competitors.
A good option to monitor social media thanks to its broad social media features and dynamic filtering. Parents have the option to either block, protect or allow Social Media services.
Great location tracker that allows parents to see where their children are in real-time.
Parent dashboard and Family Feed allow parents to track all children's online activity in one place.