There are many gifts for piano players to choose from. This list includes gifts for students, teachers, and beginners, as well as some great Christmas and piano-themed gift ideas for the piano player in your life. Keep reading to find that perfect gift idea below.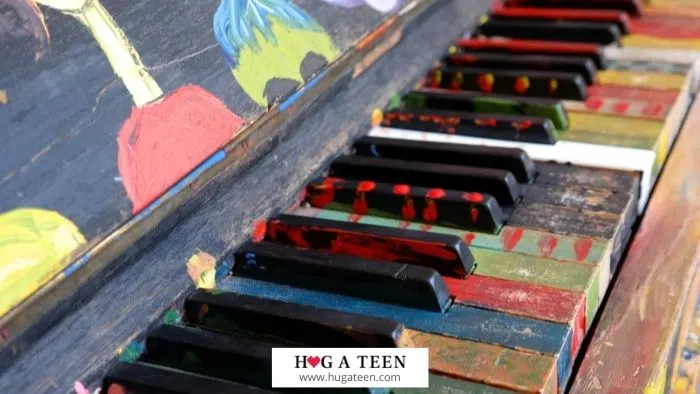 Gifts For Piano Players
1. Piano Classics
A collection of the world's most popular music. This collection from the great composers is intended for both students and teachers. Over 100 works, including Schubert's "Moment Musical," Chopin's "Minute Waltz," Beethoven's "Rondo a Capriccio," and many more. In spiralbound edition.
2. Piano Music Note Blanket
Music-loving friends or family members will appreciate these blankets with amazing music notes design. Throw blankets made from premium flannel fleece are warm and cozy, making them great year-round choices. It is lightweight and portable, making it perfect for travel and backpacking.
3. The Jazz Piano Book By Mark Levine
This is generally regarded as the best jazz piano bible, a mandatory purchase for any aspiring pianist. The book gives jazz enthusiasts the skills to become great jazz musicians. It was written by jazz legend Mark Levine. In this 300+ page book, you'll find everything from musical theory to examples. They'll never run out of activities!
4. Piano Night Light
Any piano enthusiast would appreciate a 3D illusion night lamp in their piano-themed bedroom.
5. Harry Potter Sheet Music
Following the completion of the Harry Potter film series, Alfred Music and Warner Bros. collaborated on an easy piano arrangement of the music from the eight movies. Featuring 37 of the best Harry Potter soundtrack songs, this series is sure to get your kid excited about playing.
Gifts For Piano Teachers
6. Piano Keepsake Tabletop Ornament
This is an ideal gift for any occasion or situation for the pianist in your life. If you want to show someone how much you appreciate them, this elegant piano ornament will make them feel special.
7. Piano Care Kit
Maintain your piano's concert-quality appearance by keeping it streak and residue-free using this premium piano care kit. It provides complete piano cleaning to keep your beautiful piano free from fingerprints, dust, and smudges, and ready for the next student.
8. Piano Keys Skinny Necktie
Wearing this trendy white tie that features black music notes will surely get compliments for your piano teacher at a concert or even on Sunday morning at mass.
9. Eat Sleep Piano-Two Tone Mug
Is this the daily life of a pianist in a nutshell? Why not print it on a mug?
Gifts For Piano Students
10. Music Whiteboard
It makes a great teaching tool for musicians, music schools, and music teachers. Students will learn how to read notes and music on this whiteboard.
11. Music Sheet File Paper Documents Storage
Sheet music folders and file organizers are ideal for storing sheet music and documents in their music studio, office, home, or school, allowing you to reduce the clutter. Musicians and piano players would love this practical gift that can be used to safely store large amounts of paper. It can stand up to years of repeated use—a great gift for Christmas, Thanksgiving, or someone's birthday.
12. Adjustable Piano Stool
Piano benches are often fixed in height, making them unsuitable for many younger players. The long-term importance of maintaining a proper posture and hand position for musical development cannot be overstated. Students can especially benefit from this adjustable bench. A solid hardwood bench that is both comfortable and offers a good value for money. It has an extra storage compartment beneath the seat that can accommodate several music books and piano accessories.
13. Piano Keys Handbag
Unique and practical, this bag is perfect for students, teachers, and musicians. This bag is ideal for carrying student piano books, a piano lesson bag for a piano teacher, a gift bag, or a grocery shopping bag.
14. Electronic Keyboard
An electric keyboard is an ideal gift, even if the recipient already owns a traditional piano, since it can be plugged into a computer to write/record or perform other functions that a piano cannot offer. The super kit comes with a keyboard stand with a sturdy design and an adjustable height to accommodate keyboard piano players of all ages. Several extras are included in this electric keyboard super kit, including a padded seat that easily folds and has a thick cushioned seat for hours of comfortable playing.
You might also enjoy reading How To Say "Thank You" For An Unexpected Gift
Gifts For Someone Learning The Piano
15. Digital Piano
Do you have a loved one learning to play the piano on an acoustic piano and then practicing their lessons at home? The sound, feel and reaction of a digital piano are very similar to the acoustic variety. When you have one in your house, it can be an excellent opportunity to practice and encourage creativity and a love of music in the family.
16. Piano Book
There is no better way to play the piano than with piano books full of popular tunes. Their target audience isn't too advanced, probably in the first few grades, to ensure fun while learning while keeping them interested in playing in between exam pieces. These books make for a nice gift for teenage beginner players.
Piano Recital Gift Ideas
17. Calico Critters Grand Piano Concert Set
The Grand Piano Concert Set includes Lionel the Lion pianist and a grand piano with accessories. Lion the pianist has specially designed hands for touching the keys. Wearing a stylish tuxedo, he looks flawless for his recital. This set comes with both a stool and a music score. It is a thoughtful gift to a young pianist in recognition of their recital.
18. Piano Keyboard Necklace
A wonderful gift you can give a pianist would be something she can wear to her recital to match the formal attire. This item could also be a commemorative gift to mark a milestone for the pianist.
19. LEGO Ideas Grand Piano
Enjoy building a sophisticated LEGO grand piano that you can actually play! It includes authentic details like the propped-open top lid and fallboard with hammer action on each key and a moving pedal. When the motor is turned on, you are ready to play beautiful music – choose user play on the LEGO Powered Up app to play the notes yourself or set it to autoplay and just listen. You can give it as a special birthday present to a musician, piano player, or hobbyist as part of a LEGO building set collection.
20. Piano Pop-Up Card
Your piano player will be pleasantly surprised when they open this card to find a 3D popup. You can use this card as a decoration throughout the year because it has such good quality. You can customize the interior as you wish for a personal touch. Perfect as a congratulatory card for a well-done recital.
21. Piano Cuff Inspirational Jewelry
Give that stylish pianist in your life a unique and fun gift with this gorgeous piano cuff bracelet. This lead-free pewter wrist cuff features a piano key design and is suitable for both women and men. Great for adding a touch of creativity to their look. This pewter cuff is a perfect fit for a small to medium man's wrist, however, you can squeeze this bracelet to fit smaller wrists as well.
Piano Accessories Gifts
22. Metal Sheet Music Book Clip
This sheet music clip is perfect for keeping their sheet music open while they play. Reading and learning can be done hands-free with this ideal gift for your piano student on their next piano practice. It would also make a great gift idea for a pianist who loves to perform in front of an audience! It will keep their sheet music open and their audience amazed with their piano performance.
23. Music Light Stand
This stunning LED music light stand is ideal for viewing sheet music on a dark stage or while practicing at night. There are three brightness levels to choose from for each color: Low, Medium, and High. Choosing different colors and brightness levels lets them customize their light pattern. Piano and keyboard players benefit from this practical light which protects their vision and reduces eye fatigue.
25. USB MIDI Controller Keyboard
Even if their keyboard doesn't have a MIDI connection, a USB MIDI keyboard lets you access your virtual instruments on your computer. The MIDI controller is like a keyboard that transmits data and controls your music production in DAWS. Different styles are available, from small, portable ones to larger ones with 49 keys or more.
Piano Themed Gifts
26. Piano Mouse Pad
This is a great gift idea for those who enjoy all things piano-related. Piano teachers and students will love this thoughtful gift.
27. Piano Music Box
This would be a perfect gift for your special pianist girl. Keep their accessories organized with this cute and creative music jewelry box.
28. Piano Socks
Any piano enthusiast will surely appreciate a pair of socks with a piano design. This is not just a novelty gift but also a way to show their piano pride.
29. Piano Bamboo Cheese Board/Tool Set
This might be one of the most original gifts for that music lover you know. A cheese fork, knife, and corkscrew reside within this bamboo board, which opens like a grand piano lid. Great for a romantic evening or something to bring a touch of excitement to your next house party.
Christmas Gifts For Piano Players
30. Retro Style Piano T-Shirt
Are you looking for a way to make your pianist smile? Gift them this cute retro t-shirt that they can wear during piano practice to low-key tell the world that they are a piano lover.
31. Keyboard Gig Bag
The piano player in your life will need a carry bag or case if they regularly transport their instrument. Keyboard gig bags protect their keyboard from damage while in transit. Make sure the dimensions of the instrument match those of the case.
32. Mechanical Metronome
Any musician needs this piece of equipment. When you play any type of music, keeping time is essential, and a metronome can assist you in doing so. As a necessity in any music room, metronomes make great Christmas gifts for pianists and musicians of all types.
33. Piano Table Runner
This simple yet elegant table runner will impress music lovers and pianists alike.
34. Upright Piano Tree Ornament
You can use it as a Christmas tree ornament or as a year-round decoration. This beautiful and detailed piece of art includes several lines of sheet music with tiny notes.
Piano Student Gifts Under $5
35. Piano Keyboard Stickers
This handy sticker pack is an excellent gift for students just starting on the piano. Multi-color piano note stickers help you learn the notes and note placements of all of the keys on the piano!
36. Musical Piano Pencils
These cute pencils with piano and music note designs will make a lovely gift for students or stocking stuffers. They're useful for making notes in their piano books, or just as a reminder of how much they love music.
These super sarcastic sticky notes are great for musicians with a sense of humor.
Whichever gift you choose be sure to match it to their needs and personality.