If you have ever attended a graduation ceremony or seen it in a video, you may have noticed the colored ropes draped over the graduates' necks.
These twisted ropes are known as honor cords. They come in different colors depending on the graduates' academic achievements in specific disciplines and the societies and organizations they were part of.
This post will discuss the meanings of different color honor cords and look at some ways you can earn honor cords in high school.
🎓 You might also like to know: What Side Does The Tassel Go On?
What Cords Can You Get For High School Graduation?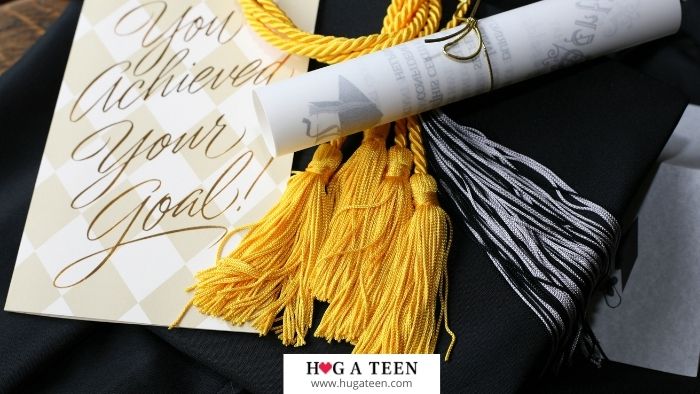 In recognition of their achievements, honors graduates, Cum Laude students, the top 5% and 10% of graduating classes, and students in organizations, clubs, and honor societies wear a graduation cord during graduation ceremonies.
High school students who excel in academics are awarded Latin cords upon graduation. These graduation honor cords are the Summa Cum Laude, Magna Cum Laude, and Cum Laude. These cords indicate that a student passed with a high GPA and can be mentioned on the graduate's resumes.
Three Latin Graduation Cords Variations:
Summa Cum Laude – This is the highest honor you can receive as a student, and it shows you were among the best students in your year academically. In Latin, the phrase "Summa Cum Laude" means "With the highest honor." To attain this honor, you need to have a GPA of 3.9, which means you need to get As in all your classes.
Magna Cum Laude – It's the second level of honors at a high school graduation, and to qualify for it, you need a GPA of 3.75. "Magna Cum Laude" means "With great honor" in Latin.
Cum Laude – The phrase "Cum Laude" means "with praise" in Latin, and the honor is given to students with a GPA of 3.5. It's the lowest of the three Latin cords, indicating that a student has a few Bs in their transcripts. Nonetheless, it is still an honor to be proud of.
🎓 If you're looking for high school graduation gift suggestions, then you might like to read: High School Graduation Gift: How Much Money Should I Give? As well as find Creative Ways To Give Money To A Teenager.
What GPA Do You Need To Get A Cord At Graduation?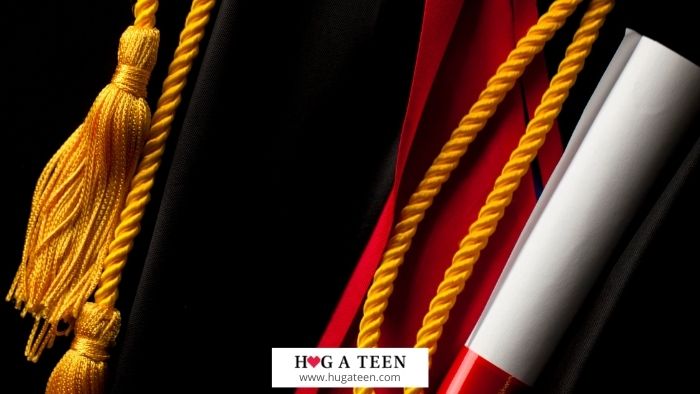 Latin graduation cords are based on a student's overall GPA. The most prestigious Latin cord is the Summa Cum Laude which requires students to have a GPA of 3.9. It is the honor bestowed upon students who got their highest grades in all their classes. Students who graduate Summa Cum Laude usually get more opportunities when applying to join top colleges and seeking employment.
The second level of honors is the Magna Cum laude. To attain this honor, students need to have a cumulative GPA of 3.75. It indicates that students who get this honor performed well in most of their subjects.
The lowest Latin graduation cord is the Cum Laude, and students get it when they have a GPA of 3.5. It shows that a student's academic performance was outstanding. Although it is the lowest of the three academic-based graduation cords, it still indicates academic excellence.
How To Earn Honor Cords In High School
Here are some ways you can earn honor cords in high school:
Extracurricular Activities
Engaging in extracurricular activities is an excellent way for students in high school to get graduation honor cords. All you need to do is join the various clubs or societies in your schools, such as the Key Club and a couple of community service programs.
Academics or National Honor Societies
Achieving academic excellence is another way to get graduation cords. You should embrace practices such as joining study groups and consulting your teachers to get the best grades. You can also get graduation cords by joining National Honor Societies like Cum Laude Society and National Spanish Honor Society.
Service
You can get a high school graduation cord through service. This is a great method for students who love volunteering. Note that some organizations will need you to achieve a certain number of hours to qualify.
🎓 Interesting reading: How Old Are You When You Graduate High School?
High School Graduation Cords Meaning
Graduation cords symbolize excellence in academics, hard work, leadership skills, community service, and participation in extracurricular activities.
Latin graduation cords are based on the overall GPA of students who performed exceptionally.
The Summa Cum Laude is the highest honor, and it's given to students who performed outstandingly in all the subjects, while the second-highest academic honor is the Magna Cum Laude which requires students to get a GPA of 3.75. The lowest academic award is the Cum Laude, which indicates that a student did well in most of their classes.
Remember, not all students receive cords for academic excellence. Other high school honor cords are given for participating in extracurricular activities such as community service. To qualify for honor cords, students need to attain a certain number of hours in some community service organizations.
Another way to get honor cords is to join clubs like the student council and societies like the Tri-M Music Honor Society and the National Latin Honor Society. Honor cords usually have tassels at one end, and they're made of twisted strands of various colors. Some cords have extra decorations representing the different clubs and societies that graduates were part of.
What GPA Do You Need To Get A Gold Cord?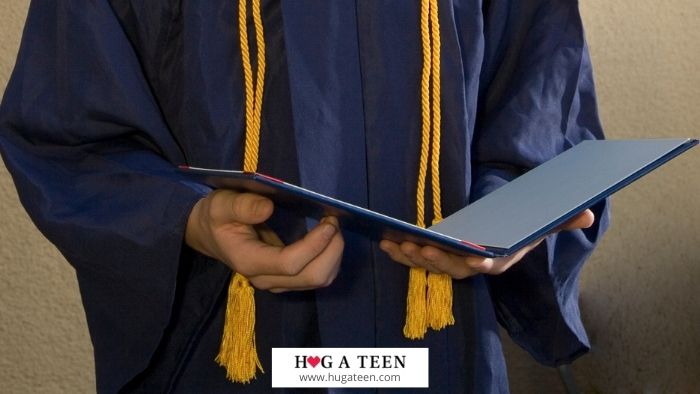 You need a GPA of at least 3.9 to get a gold cord. This color cord is usually given to students who perform exceptionally well in academics in most schools. You can also get a gold card if you are a member of The National Honor Society.
Graduation Cord Color Meaning
Graduation cords come in many different colors. Here are the colors and what they stand for.
What Do The Gold Cords Mean At High School Graduation?
Gold cords are some of the most notable at graduation ceremonies. They symbolize high honors and usually indicate that the student was a member of the National Honor Society or has a high GPA. This color honor cord is generally used to mark out students who had an outstanding academic performance.
What Does A Black Graduation Cord Mean?
Black honor cords indicate excellent leadership skills in students. They are usually used to show that a student did well in corporate-level disciplines such as business, accounting, and economics. The classic black color cord represents prestige, power, and authority.
What Does A Red Cord Mean At High School Graduation?
The red graduation cord shows that a graduate was a member of a couple of societies or organizations. Since the student is part of many societies, the red color is mixed with other organizations' colors. The American Student Government Association and the International Thespian Society are some organizations that use this cord.
What Does The Silver Cord Mean In High School Graduation?
Silver and hunter green cords are for excellence in business. Silver or sometimes gray represents students in medical sciences and can also be used to represent those in physics, business management, and agriculture. This color symbolizes hope, kindness, sensitivity, and elegance and indicates participation in community service in some schools.
What Does A Purple Cord Mean At Graduation High School?
Purple and white cords are for excellence in career and technical education and students of the National Technical Honor Society. Purple and gold cords are for excellence in Latin, while green and purple or worn by members of the Science National Honor Society.
At the collegiate level, purple cords are usually worn by dentistry and law students. It is also used to represent architecture and urban planning graduates. Another use of the purple cord is to showcase members of societies like the National Honor Society and Kappa Delta Pi.
Maroon Cord Meaning
Maroon graduation cords are typically given to recipients of forestry and theology degrees. Universities like Boston College and the University of Chicago use it as an official color. They also represent membership in honor societies such as Delta Epsilon Sigma, Omega Chi Epsilon, and Alpha Sigma Lambda.
What Is The Blue Cord For High School Graduation?
Royal blue cords represent various disciplines but are primarily used for social sciences like leadership studies and community service. University societies like Alpha Kappa Mu, ASGA, and Phi Kappa Pi also use it. Navy blue cords are used to represent philosophy graduates.
What Is The White Cord For High School Graduation?
White graduation cords are worn by students in the AIG (Academically and Intellectually Gifted) program, as well as arts and humanities graduates. White cords are also braided with other colors and worn by members of societies like the French National Honor Society and the National Technical Honor Society.
At the collegiate level, white cords are worn by Sigma Theta Tau and Alpha Kappa Mu. The color white is a symbol of spirituality, purity, and possibility.
Orange Honors Cord Color Meaning
Engineering graduates and Tau Beta Pi society members wear orange graduation cords. This color cord is also given to graduates of many homeschooling programs. The color orange is a symbol of a creative spirit and individuality.
Turquoise Graduation Cord Meaning
Turquoise graduation cords are typically worn by performing arts and public administration graduates. Also, students in societies like Alpha Kappa Delta and Zeta Tau Alpha wear turquoise cords at graduation ceremonies. The color turquoise is associated with serenity, balance, and energy.
Forest Green Honor Cords
Forest green is typically used to showcase general sciences and biology graduates. At the University level, forest green color cords represent medicine graduates. At times, medicine graduates use silver cords. The green color symbolizes rebirth, growth, and hope.
How Many Cords Can You Get For High School Graduation?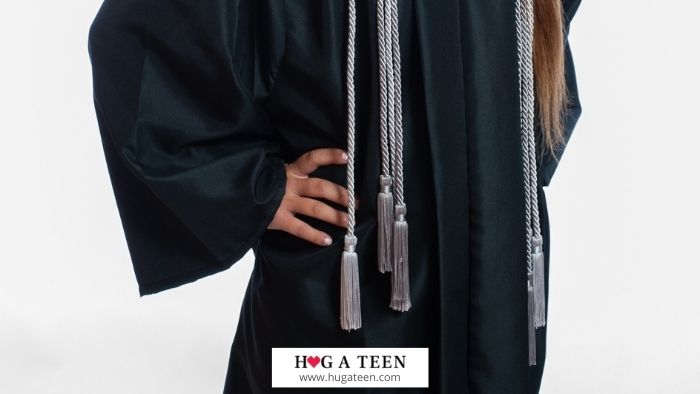 You can wear several cords at your high school graduation, depending on your school achievements. There are various ways to earn graduation cords. If you excel academically (getting a GPA of 3.5 and above), you will get one of the three Latin cords; Summa Cum Laude, Magna Cum Laude, and Cum Laude.
You can also receive honor cords for being a member of academic honor societies such as the National English Honor Society, Spanish Honor Society, Tri-M Music Honor Society, and the National Society of High School Scholars (NSHSS).
Another way to earn cords is to serve the community. There are many community programs that high school students can join, and they have their own policies on the number of hours a student should do to receive an honor cord.
As you can see, the number of cords you can get when graduating depends on your achievements.
Do You Have To Buy Cords For Graduation?
Most high schools will hand out Latin cords for academic achievement, and some organizations may hand out honor cords to students. However, sometimes you may have to buy cords yourself for your graduation. Many third-party sellers and vendors sell graduation cords online, so you can order the colors that represent your organization and academic achievements in school. Some companies will not allow you to buy unless you are a high school official.
Related High School Graduation Cord Questions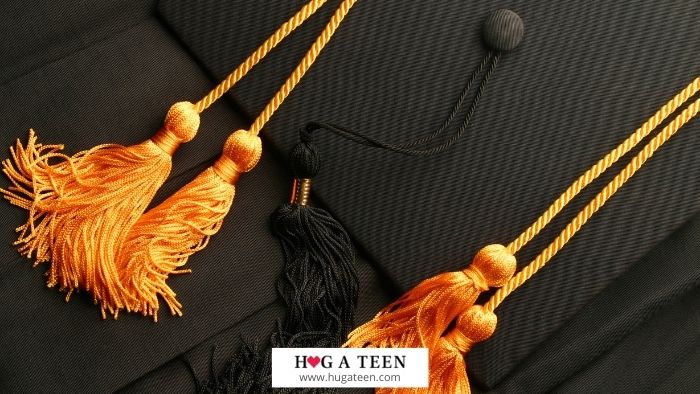 What Does A Red White And Blue Graduation Cord Mean?
White, red, and blue graduation cords represent military service graduates or patriotic organizations like Junior Reserve Officer Training Corps (JROTC) and Reserve Officer Training Corps (ROTC). A cord with these colors is also used to symbolize SALUTE National Honor Society members.
What Clubs Give Graduation Cords High School?
Most high school honor societies give graduation cords to students. These clubs can include the National Honor Society (Gold) for academics, the National Speech and Debate Association (Red and Grey), and the International Thespian Society (Red) for theater. Other clubs may include the Distributive Education Clubs of America, Rho Kappa (Blue and White) for social studies, the National Eagle Scout Association, and the Japanese National Honor Society.
High schools offer different clubs you could join, so find out what your school eligibility requirements are on wearing the honor cord. Strive to qualify by either scoring a high GPA or fulfilling the required hours of community service.
Do You Get Cords For AP Classes?
Most schools do not give cords for AP classes since Advanced Placement classes aim to help you graduate. In most high schools in the United States, graduating students get Latin cords for getting high GPAs and honor cords for engaging in extracurricular activities such as membership in organizations.
However, some schools do offer AP Scholars (Advanced Placement Scholars) a graduation cord (Light Blue/Silver Cord) if they made a level 3 or higher on three or more Advanced Placement exams.
The college board will determine this, so ask your school counselor what the GPA academic requirements are and the minimum requirements or service hours needed for club honor cords.
What Are The Top Three Graduates Called?
The top three students are usually grouped according to their academic performance during high school graduation. Those with the highest GPA scores are Summa Cum Laude, those with the second-highest scores are Magna Cum Laude, and those with the third-highest scores in the class are Cum Laude.
The top student in a graduating class is called the Valedictorian. The student with the second-highest grade point average is named the Salutatorian. If two students have the same GPA, students may either be declared Co-Valedictorian, or schools may look at other aspects of their high school careers, like credits earned, leadership, or extracurricular activities, to break the tie.
The Salutatorian will usually give the opening speech (salutation) at their graduation ceremony, while the Valedictorian will give the closing address (valediction).
Watch this video below explaining Valedictorian, Salutatorian, and Class Rank:
Wearing honor cords in high school and college represents the hard work and discipline of students. There are different color cords that students can wear for academic as well as extracurricular activities. Remember that cord colors can vary greatly by school, however, these guidelines can be used for the more common honor graduation cords.