I love making my own rings and earrings. With all of my DIY jewelry pieces, and my love for finding vintage, costume, and store-bought jewelry, I definitely needed a jewelry box!
Having a passion for crafting, I was determined to make my own jewelry box. So I searched for DIY jewelry box ideas.
Perhaps you have an old, maybe even vintage, wooden jewelry box lying around collecting dust. A little paint can transform an old jewelry box into something you'll be happy to display.
I'll show you how to make a simple, easy & pretty jewelry box with just a few materials you can find at home.
Whether you are making it for yourself, a friend, or anyone you love, get started today.
DIY Ring Box
With this DIY tutorial, you can turn any box into a jewelry box. DIY ring boxes are fantastic for creating a truly unique ring box that's both functional and stunning!
Follow the simple sewing tutorial and stick down your velvet tubes snugly into your box, and you just made yourself a new jewelry box!
Materials needed:
Cotton batting:
Glue gun:
Velvet material:
DIY Epoxy Jewelry Box
If you're constantly misplacing your jewelry, then investing in a jewelry box is definitely something to look into.
I really like how this tutorial incorporates a photograph to make it even more personal.
She recommends using the Easy Cast Epoxy as it's less smelly than other options.
This would make a lovely gift idea for a friend or loved one!
Materials needed:
Epoxy:
Watch the video below to see how easy it is to cast the epoxy lid.
DIY Marbled Jewelry Box
It's possible to upcycle a vintage cigar box into several different items, including a jewelry box, since they're a great size.
Although we like to decorate items both inside and out as often as possible, we were impressed with this tutorial which kept the outside classy and simple and shows you how to add a marbling effect to the inside of the box.
Materials needed:
Marble paper:
Foam roller:
Easy DIY Painted Jewelry Box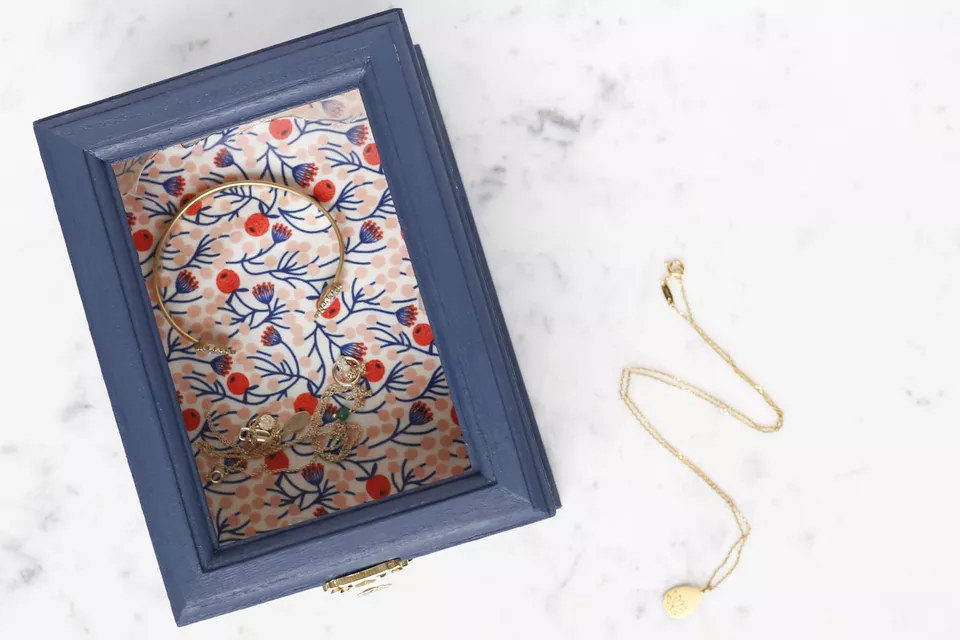 You can turn old jewelry boxes into something new with a tiny bit of effort and some creativity.
It only takes a little paint and possibly some new fabric on the inside to make them look new. It can be personalized in any design you want, making it a great gift idea as well.
Peel & stick shelf liner:
DIY Mini Trinket Boxes
These DIY Mini Trinket Boxes turned out so cute! These are the perfect size to hold small jewelry pieces.
It would also make a fun craft idea for kids because they are so easy to decorate. These are adorable gift ideas!
Materials needed:
Paper mache boxes:
Glass flower nobs:
DIY Jewelry Chest
You can transform a dull chest of drawers into something stylish with this easy DIY tutorial. It only takes a little effort, a little patience, and some basic materials to get started.
Materials needed:
Chest Drawer Organizer:
Acrylic Paint:
DIY Mod Podge Wooden Jewelry Boxes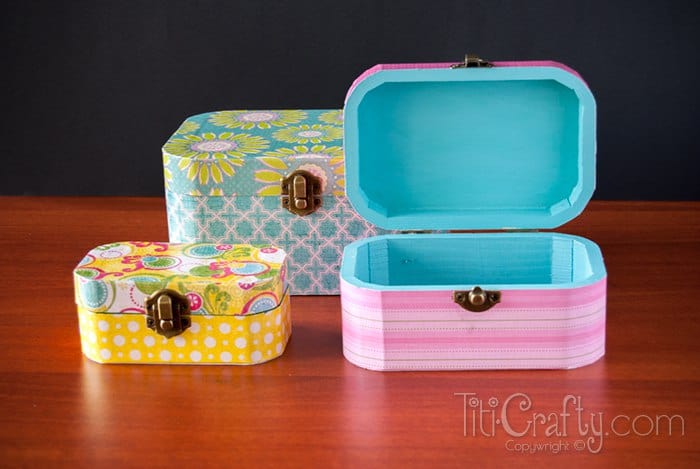 Simply follow the instructions to make these pretty wooden jewelry boxes. Get yourself some Mod Podge and some crafting paper and paint, and you're ready to upgrade your worn-out jewelry box!
DIY Vintage Rose Jewelry Box
I really love this DIY concept. The beautiful black and white rose adds a real whimsical and romantic feel to it.
You could replace the rose with anything you like, maybe a geometric design or you can even use a photo.
DIY Crystal Geode Jewelry Box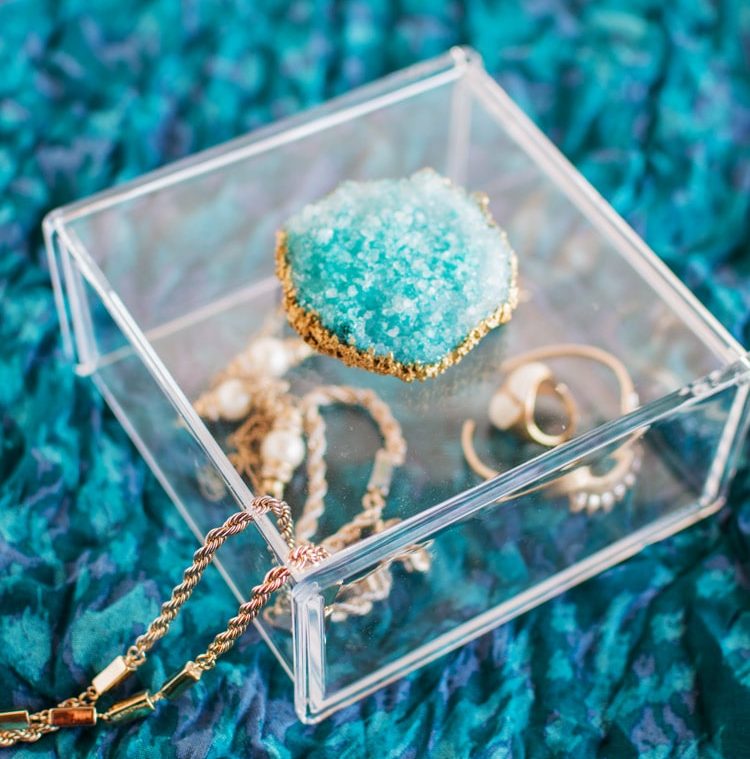 If you're drawn to gems and crystals then you'll love this easy DIY. Here's how you can make your own DIY crystal geode using borax, to decorate any jewelry box. It's so much fun and looks amazing!
Materials needed:
Clear acrylic box with lid:
Gold enamel paint:
DIY Cigar Box Jewelry Box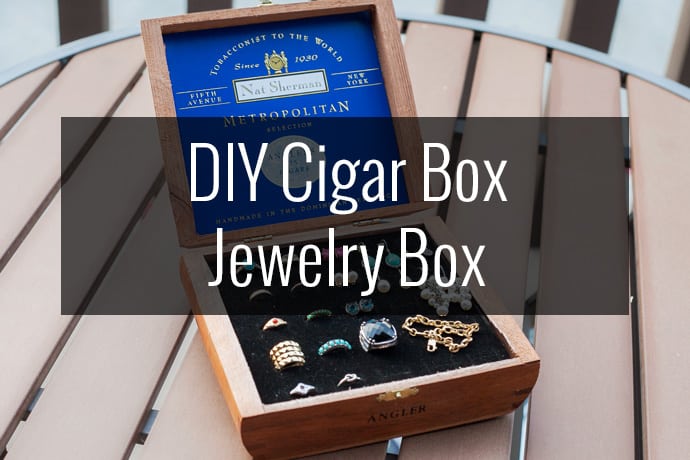 Here's another fabulous DIY idea for anyone interested in making your own jewelry box.
Old cigar boxes can be recycled into very cool jewelry displays. This is a great idea and I really like how the jewelry box turned out.
Materials needed:
Vintage Cigar Boxes:
Foam Pads:
DIY Recycled Jewelry Box
One of the many things you can make out of tissue paper rolls is this DIY jewelry box.
The tutorial turned out to be great fun, so I'm sharing it with you as well. This one is decorated in a simple vintage look, but you can decorate the box however you like.
DIY Leather Handle Jewelry Box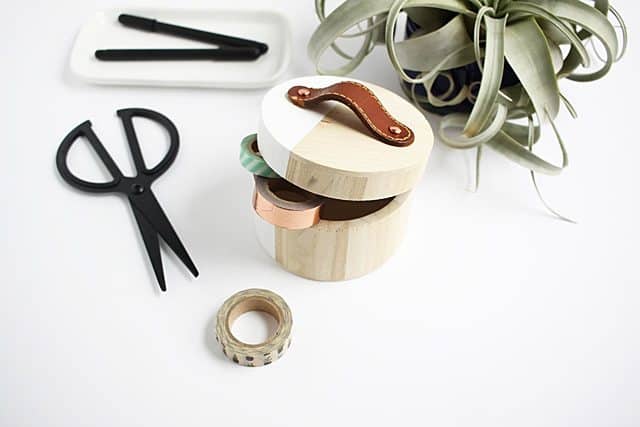 Made from up-cycled leather, this modern handmade jewelry box makes a beautiful yet simple jewelry box for gifting or keeping! I love the combination of wood and leather textures together!
DIY Double Quilled Jewelry Box
In case you want to try quilling for the first time, this is a good project to try. This traditional double-decker jewelry box can be made in multi-color shades or just one. I think this would make great gifts. It's so cute!
Materials needed:
Quilling Paper:
Slotted Quilling Tool:
DIY Decoupage Jewelry Box
You can easily make this decoupage box, and it takes very little time.
The feminine and romantic design of the box makes it an excellent gift idea for any woman in your life.
A handcrafted gift is always more personal than a store-bought one.
DIY Clay & Bracelet Jewelry Boxes
Repurpose any old bangles and create these gorgeous clay lids to make your own jewelry containers.
The colors are stunning, and I love the pink and white marbling!
Working with oven-bake clay is much easier to work with than you think. This DIY is not to be missed!
Materials needed:
Oven bake clay in various colors.
DIY Book Jewelry Box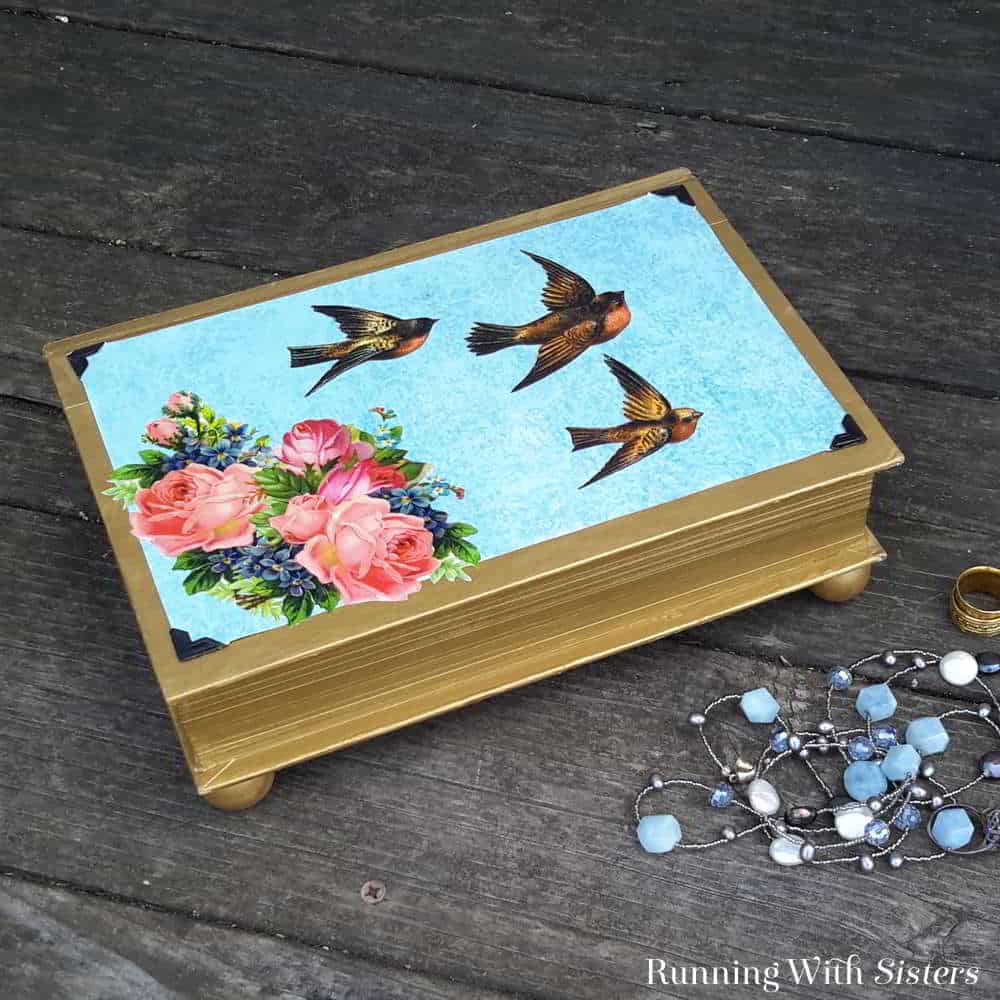 How about hollowing out a book to make a hiding place for treasures?
We've found a great tutorial on how to do that! Using this step-by-step guide, you'll learn how to cut and paint the pages, as well as embellish the front and back covers.
DIY Floral Ring Box
One of those great quick-and-easy DIY ring boxes, this tutorial is both functional and dazzling!
A shimmery finish looks fabulous, and the floral paper gives it an added feminine touch.
I love how she uses foam rollers as jewelry dividers – genius!
Materials needed:
Glitter paper:
Foam rollers:
DIY Jewelry Box From Chocolate Box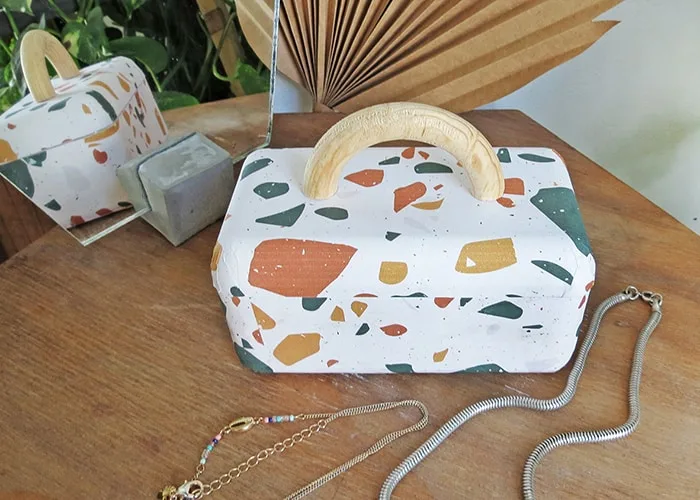 If you recognize the shape of this box, then you're probably a fan of Ferror Roche. Once you've enjoyed these amazing chocolates, don't waste the box, and rather use it to make this gorgeous jewelry container.
You don't have to spend a lot of money to make this jewelry box. It is easy to make using your choice of colorful paper, some glue, and a wooden handle. Just open the tutorial and follow the steps.
It's a DIY project that's easy and affordable.
DIY Record Player Jewelry Box
Here's a super cute DIY to turn an old box into a cool modern record player-inspired jewelry box.
Check out this DIY tutorial and be inspired to give your jewelry box a makeover of your own.
Wooden Jewelry Box
Making a wooden jewelry box from scratch can be a challenging project, but if you have the right tools, this tutorial gives you step-by-step instructions to follow.
Use this DIY tutorial to make a stunning jewelry box anyone would be proud to own.