Life has its ups and downs, and teens are no exception. Inspirational quotes, positive affirmations, and words of encouragement can go a long way to make life bearable when we are stressed and under pressure.
Here are some inspirational quotes for teens that you can share with them to make each day a little lighter, a little happier, and a little more tolerable.
Inspirational Quotes For Teen Girls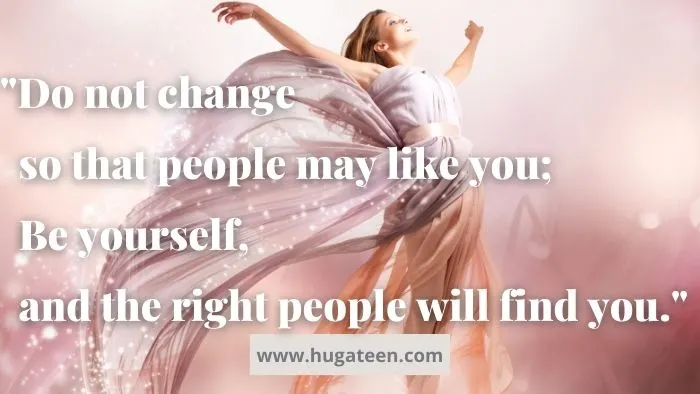 You were given this life because you are strong enough to live it.
Do not change so that people may like you, be yourself, and the right people will find you.
You are not here to be average; you are here to be awesome.
You are a beautiful girl that can do amazing things.
Young people willing to push hard to make something happen are among the most powerful forces in the world.
Be who you are and say what you feel because those who mind do not matter, and those who matter don't mind.
The future belongs to those who believe in the beauty of their dreams.
Happiness and confidence are the prettiest things you can wear.
The voices of girls are important.
If you cannot do great things, do small things in a great way.
The difference between winning and losing is not quitting.
Be your biggest fan.
Do not allow your mind to focus on what you do not have but on what you have already.
In the end, everything will be just fine, and if it is not, then it is not the end.
Be a student of the world, not a judge.
Do not trade your authenticity for approval; the right people will love the real you.
Do not take advice from someone that has never been in your situation.
Inspirational Quotes For Teen Boys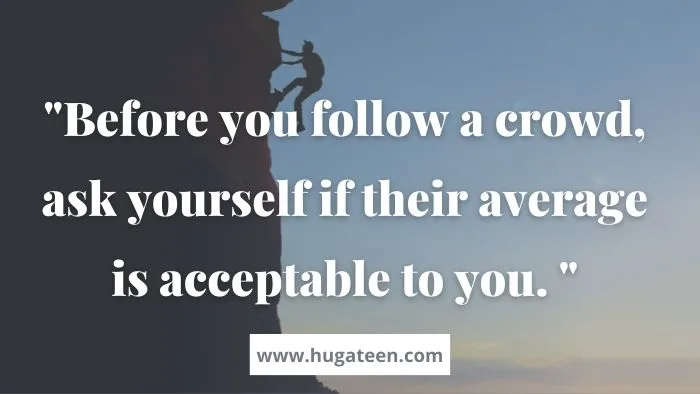 Don't let the behavior of others destroy your inner peace.
It is easy to stand in a crowd, but standing alone takes courage.
Protect your time and feed your inner life; these are the greatest gifts you can give yourself.
Ask yourself what makes you come alive and do exactly that.
Do not focus on being perfect; focus on getting better.
Before you follow a crowd, ask yourself if their average is acceptable to you.
Anyone can be what they want to be; know yourself and what you are good at.
There is a thin line between enjoying your youth and messing up your future.
Growth starts when you realize no one cares about you and your mistakes.
The ultimate form of freedom is not caring about what others think of you.
The more something threatens your identity, the more you will avoid it.
The smarter you get, the less attention you give to things that are not worth your reaction.
Forgive your past self, be strict with your present self and be flexible with your future self.
When you are young, you want to be rich; when you are rich, you want to be young.
The best teacher in life is that which scares you and is uncomfortable to take on.
❤️ Suggested reading: Heart Touching Birthday Quotes For Son
Words Of Encouragement For Teens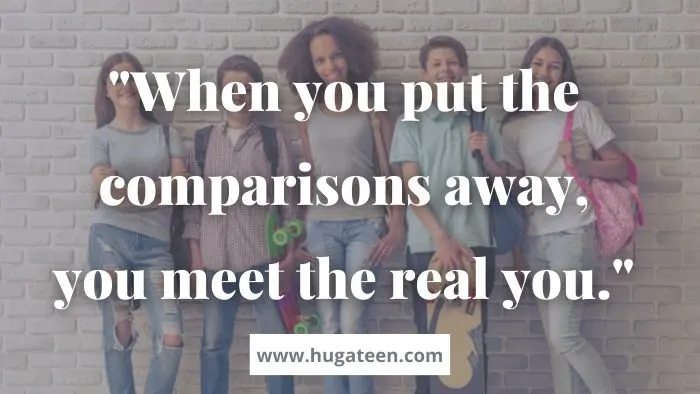 When teens feel stressed out by the daily pressures forced upon them, motivational quotes and positive affirmations can be extremely useful.
You grow into what you are destined to be every day.
A life spent making mistakes is not only more honorable but more useful than a life spent doing nothing. – George Bernard Shaw
There are no wrong turns. Only paths we didn't know we were meant to walk.
You are allowed to change your mind about things as you learn.
Have an open mind and heart to learn and grow.
Success is the ability to go from one failure to another with no loss of enthusiasm. – Winston Churchill
You know when it is time to rest and when it is time to work.
You can accomplish what you want at your pace.
You always know what is best for you, even when it is unclear at first.
You take up space, and you are important.
Falling and failing are signs of genuine growth.
You can make mistakes and still deserve love from yourself and others.
You are growing into the best version of yourself, even if you do not always see it.
When you put the comparisons away, you meet the real you.
It is normal to feel uneasy and uncertain about things, as these are present in seasons of growth.
You stand up for what you believe in and protect your values for your greater good.
Everyone has their own pace, do not be in competition with anybody than yourself.
Give yourself the space to process your emotions, big or small.
Inspirational Quotes For Youth Leaders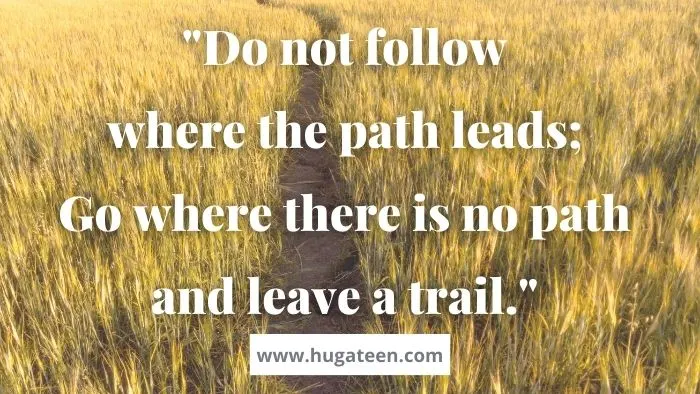 Here are some positive quotes and inspiring ideas for youth leaders to use.
If your actions inspire others to do more, learn more and become more, you are a leader.
Do not follow where the path leads; go where there is no path and leave a trail.
Let us not pray to be sheltered from dangers but to be fearless when facing them. – Rabindranath Tagore
A leader instills hope for success in their people, empowering people to accomplish their goals.
Learning as a leader never stops; there is always something new to learn.
As a leader, your aim should be to help those doing poorly and those doing well to do even better.
Your greatest fear will lead to your greatest discoveries.
Talk to be heard but also to be seen.
Persistence is a great substitute for talent.
Believe in yourself because you are the only one that knows you better than anyone else.
Developing a good work ethic is key; apply yourself to whatever you do, as that work ethic will reflect in everything you do in life.
Your mindset is the doorway to both happiness and success.
Everything, negative and positive, is an opportunity to rise to your best self.
Have a positive, upbeat attitude, and your mind will start to look at things differently.
Failure and success work together in balance like darkness and light.
Leadership is defined by results, not attributes.
Only I can change my life. No one can do it for me. – Carol Burnett
❤️ You may also like to read these funny Parenting a Teenager quotes.
Inspirational Quotes For Teenage Daughter From Mother
Here are some of my favorite quotes to share with your daughter.
You are beautiful, you are valuable, and you are enough.
The stories we should tell our daughters should be about strong women with real flaws.
You will always be my baby girl, no matter how old you get.
If I could give you three things, it would be the confidence to know your self-worth, the strength to choose your dreams, and the ability to know how deeply loved you are.
Never dull your shine for somebody else.
People will forget what you said and did, but they will never forget how you made them feel.
Seek to be the first-rate version of yourself instead of a second-rate version of somebody else.
The most attractive thing you can have as a woman is confidence.
The most effective way to do it is to do it.
Be grateful for what you have while you work for what you want.
You only live once, but if you do it right, once is enough.
It will never be too late to be who you want to be.
I do not want you to be like me, but the best version of yourself.
Inspirational Quotes For Teenage Son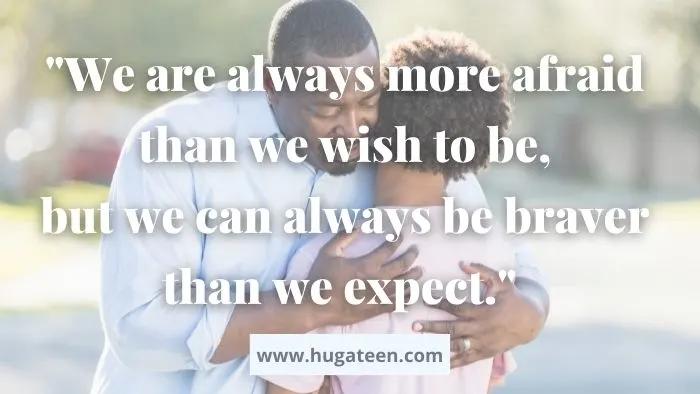 You might want to share some of these teenage quotes with your son when times are hard.
The world will try to break you, but you are stronger than you know.
You must be different to be irreplaceable.
Growth can be painful, but nothing is as painful as staying stuck where you do not belong.
If your heart is wise, my heart will be glad indeed.
It is not flesh and blood but the heart that makes us fathers and sons.
Be strong, my son; look for love and kindness in others.
We are always more afraid than we wish to be, but we can always be braver than we expect. – Robert Jordan
Forgive yourself when you make mistakes, and enjoy the journey with all its ups and downs.
The years will rush by, and soon enough, I'll look at a young man capable of changing the world.
A mother's love does not make her son more independent; it makes him stronger.
You are in charge of the choice you make, and it is life-changing to make good, thoughtful choices.
Be more concerned with your character than your reputation because your character is what you really are, while your reputation is merely what others think you are. – John Wooden
Inspirational Quotes For Troubled Youth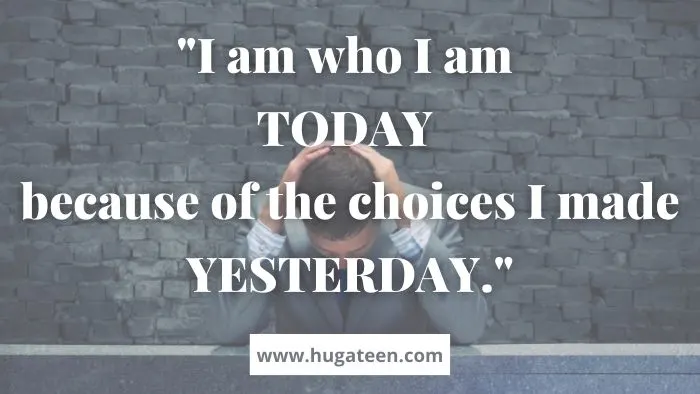 Everyone you admire was once a beginner that made mistakes and kept trying.
I am who I am today because of the choices I made yesterday. – Eleanor Roosevelt
Judge nothing, you will be happy. Forgive everything, and you will be happier. Love everything, and you will be the happiest. – Sri Chinmoy
There is no such thing as a life without problems; hope for a life full of good problems.
If you are making mistakes, you are out there doing something great.
Improvement is the thousands of tiny failures, for it is in failing terribly that we succeed incredibly.
Keep your head up high; the sad days will not last.
It hurts to let go, but sometimes it hurts more to hold onto something you don't need.
Do not compare yourself to others, as there is no comparison between the sun and the moon; they shine when it is their time.
Be patient with yourself; everything is coming together beautifully.
Strength comes from overcoming the things you once thought you couldn't overcome.
It is okay to live a life others do not understand; you are unique.
Difficult roads lead to beautiful destinations.
Inspirational Quotes For Depressed Teenagers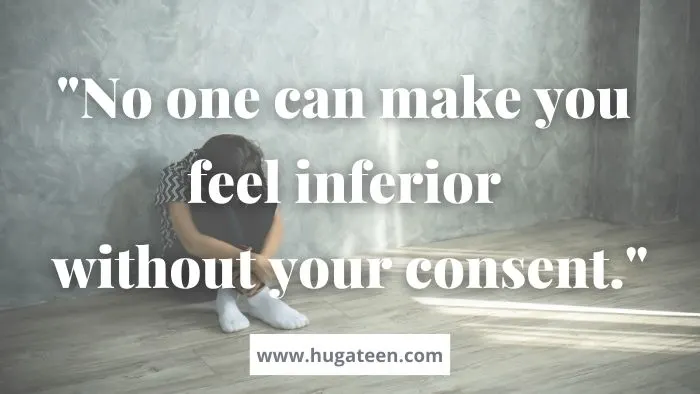 Scars speak louder than the swords that caused them, but they remain reminders of what we survived.
No one can make you feel inferior without your consent. – Eleanor Roosevelt
You are allowed to feel messed up and out of direction; it does not mean you are defective.
We may encounter many defeats, but we must not be defeated. – Maya Angelou
Be strong in knowing you have overcome 100 percent of your battles to get here.
Worrying does not empty tomorrow's sorrows but empties the strengths of today.
Do not underestimate yourself; you know more than you can speak.
Stop doubting yourself; you are strong, and you have everything to show for it.
You are allowed to scream and cry but do not give up.
If you want to conquer the anxiety of life, live in the moment and live in each breath.
If you can make it through the night, there's a brighter day. – Tupac Shakur
The sky is full of stars, and there is enough room for all of them to shine.
One day you will look back and be grateful for the hard days you had to go through.
The hard moments bring out the strongest parts of us.
You are braver than you believe, stronger than you seem, and smarter than you think.
Forgive yourself for making a mistake the first time, and learn from it the second time.
A new day comes in the morning, with a fresh start to do and become better.
However bad life may seem, there is always something you can do and succeed at. While there's life, there is hope. ― Stephen Hawking
❤️ These Inspirational Teenage Breakup Quotes can help uplift you after a breakup.
Funny Teenage Inspirational Quotes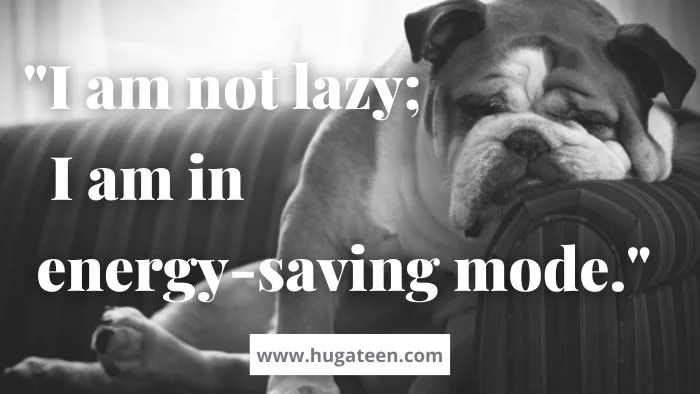 I am not lazy; I am in energy-saving mode.
Homework means 'half of my energy wasted on random knowledge.'
Friends knock, but best friends walk into the house and start eating.
I am not sure what is tighter; my jeans or our friendship.
My room was clean until I had to decide what to wear.
Being called weird is a limited edition; people don't see that often.
If you want breakfast in bed, sleep in the kitchen.
Follow your heart but carry your brain with you.
A misty morning signifies frizzy hair, not a cloudy day.
You do not need alcohol to make bad decisions.
The ocean made me salty, but I'm trying to change that.
Why is there a light in the refrigerator if we were not meant to have midnight snacks?
If you cannot say anything nice, don't say anything at all, that is why I'm quiet around people.
Life is what happens when your phone is charging.
It is easier to ask for forgiveness than to ask for permission.
Inspirational Quotes For A Teenage Girl's Bedroom Wall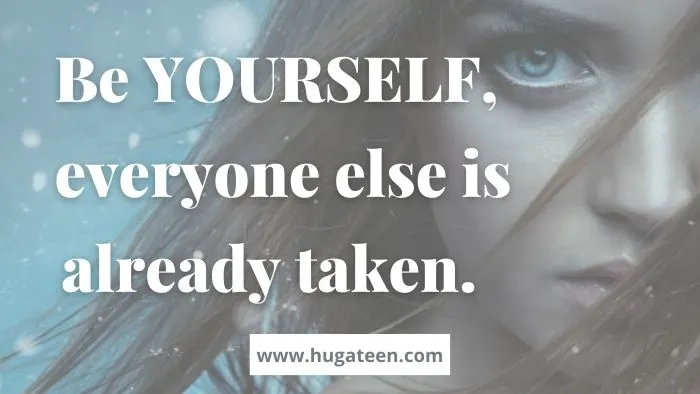 You are a strong girl; never forget that.
She believed she could, and so she did.
You are a diamond that nobody can break.
Be your own kind of beautiful.
Keep shining; the world needs your light.
Life is too short to worry about.
I am enough; I am strong; I am blessed.
She needed a hero, so she became one.
You are stronger and braver than you think.
When it rains, look for rainbows; when it gets dark, look for the stars.
Believe in yourself, and magic will happen.
You were born to be real and not perfect.
Believe in yourself; you can do it.
I don't chase; I attract; whatever belongs to me will find me.
I am living in my truth and purpose.
The world is a beautiful place with me in it.
Laugh as much as you breathe and love as much as you live.
Keep your head up; otherwise, your crown falls and breaks.
Be the girl that knows peace is her responsibility.
Be yourself, everyone else is already taken.
Once you become fearless, life becomes limitless.
Inspirational Quotes For Teenage Girls' Birthday
Your new year is your best year yet.
The moment in between what you once were and who you are now becoming is where the dance of life really takes place. – Barbara De Angelis
Seasons come and go; learn to understand the dynamics of each.
Many know the right things, but only a few do the right things.
You know where you belong; show up there in your fullest self.
Be brave, be bold, and be the person you want to see others become.
You are amazing and always will be; never settle for less than you deserve.
A new age gives you the opportunity to have a fresh start.
Birthdays are beyond cakes and candles; they are a fresh opportunity to grow.
As you start a new year, may everything fall into place as you wish it to.
Make wise decisions and stay on top of your aspirations; your new age is here to watch you blossom.
You are young and full of life; take this new age as an opportunity to become more.
The coming years are wild and bumpy, but you have everything in you to make them worthwhile.
Inspirational Quotes For Christian Youth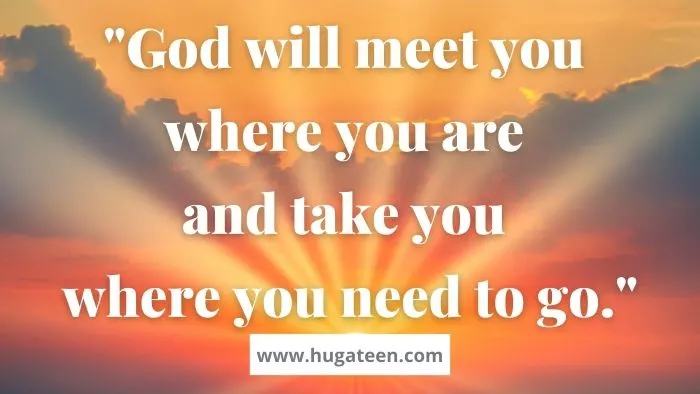 True faith is not holding anything back and putting every hope in God's promises.
What you are is God's gift to you and what you become is your gift to God.
Faith knows where to take questions that are hard to answer.
Prayer is the true definition of friendship with God.
Remember that some of God's greatest gifts are unanswered prayers.
Forgive the inexcusable because God has forgiven the inexcusable in you.
What God has for you goes beyond anything you can imagine.
Faith is believing what you do not see, while its reward is seeing what you believe.
God will meet you where you are and take you where you need to go.
The hardest yet fundamental part of faith is patience.
If we fight with faith, we are armed with faith.
Your greatest concern should not be whether God is on our side but whether you are on God's side.
The Lord accepts what the world neglects.
God never promised it would be easy, but He promised he was going to be there.
❤️ You might also like to read these Good Bible Versus for Teens and Bible Verses For Teenage Breakups.
Inspirational Quotes For Teenage Girl Athletes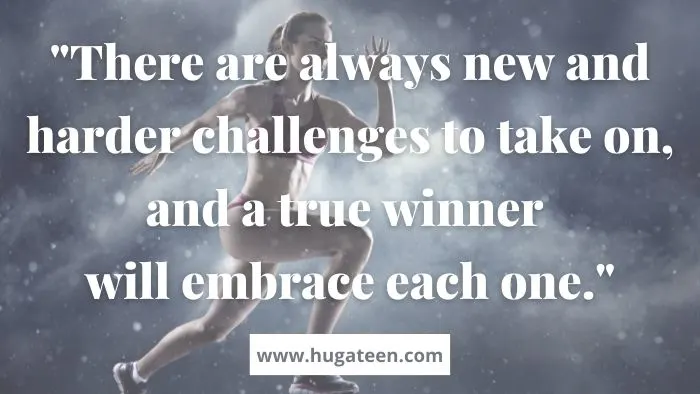 There is no substitute for hard work, you might get beat, but you will never lose.
There are always new and harder challenges to take on, and a true winner will embrace each one.
Rather regret the risks that did not work than the chances you did not take.
There will always be enough reasons why you cannot do something, but your goal should always be to look for reasons why you should do things.
Start with some type of goal, then work backward, paying attention to what you need to do to get there.
We can always push ourselves more, and we always have more to give.
Believe in the impossible because no one will do it for you.
You cannot always be the best; you have to remember that everyone has their flaws.
Overpower, overtake and overcome; do not give up.
If you persevere long enough and do the right things long enough, the right things will happen.
You control your wins and losses in equal measure.
You have to take risks to achieve something in life.
The only person that can tell you you cannot win is you, and you do not have to listen to yourself.
All the physical does come from what the mind tells it to do.
Training has no direction without goals.
The feeling of satisfaction comes from the obstacles we overcome.
📢 You might also enjoy reading: Inspiring Track And Field Motivational Quotes
Famous Inspirational Quotes For Teens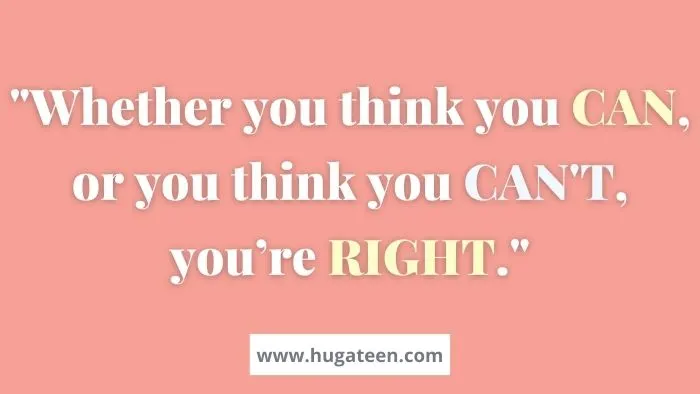 With confidence, you win before you start.
Whether you think you can, or you think you can't, you're right. – Henry Ford
You must not allow people's limited perceptions to define you.
Be careful not to listen to anyone that tells you what you can and can't be in life.
Be true to yourself; everyone else can adjust.
Do one thing every day that scares you. – Eleanor Roosevelt
Do not compromise, even if it hurts to be yourself.
Youth comes but once in a lifetime. – Henry Wadsworth Longfellow
Keep true to the dreams of your youth. – Friedrich Schiller
The greatest things in life come with chances of great loss.
Everything in life is a process.
Tough times never last, but tough people do.
Believe you can & you are already halfway there.
The future belongs to those who believe in the beauty of their dreams.
The best way to predict the future is to create it.
It is the ability to resist failure that leads to greater success.
We become what we repeatedly do.
An old dog can learn new tricks; you are never too old to learn.
Quiet people have the loudest minds. – Stephen Hawking
Find something you're passionate about and keep tremendously interested in it. – Julia Child
Inspirational Quotes About Teenage Life
Never sacrifice your family, your heart, or your dignity.
You are free to make a choice, but you are not free from the consequences of your choices.
Hard days are important as that's when champions are made.
You will always pass failure on your way to success.
It takes courage to grow up and become who you are.
There is always something you can do to succeed in life.
A positive attitude will take you further than most things in life.
Your goal should not be to be an average adult; there is more beyond average.
Life moves pretty fast. If you don't stop and look around once in a while, you could miss it.
Your body image should not matter beyond what is in your heart.
No season lasts; soak in the days and live them one at a time.
You do not have to understand everything that is happening to you; it is okay to be confused.
Life has seasons, and this season is about discovering yourself, so be kind to yourself and embrace the journey.