Our children learn from what we say, how we say it, and what we do. Luckily, the bible is an excellent resource for parenting advice and guidelines on raising children and being a good parent.
If you are looking for bible verses from which you can draw some inspiration, these bible verses about parenting might be useful to your parenting journey.
🙏 You might also enjoy:
Bible Verses About Parenting Responsibilities
1. Deuteronomy 11:18-21
"Fix these words of mine in your hearts and minds; tie them as reminders on your hands and bind them on your foreheads. Teach them to your children, speaking about them when you sit at home and when you walk along the road, when you lie down and when you get up. Write them on the doorposts of your houses and on your gates, so that as long as the heavens are above the earth, your days and those of your children may be multiplied in the land that the LORD swore to give your fathers."
2. 2 Corinthians 12:14
"Here for this third time, I am ready to come to you, and I will not be a burden to you; for I do not seek what is yours, but you; for children are not responsible to save up for their parents, but parents for their children."
3. Colossians 3:21
"Fathers, do not exasperate your children so that they will not lose heart."
4. Peter 5:2-3
"Be shepherds of God's flock that is under your care, watching over them – not because you must, but because you are willing, as God wants you to be; not pursuing dishonest gain, but eager to serve; not lording it over those entrusted to you, but being examples to the flock."
"Train up a child in the way he should go, even when he is old he will not depart from it."
❤️ Suggested reading: Heart Touching Birthday Quotes For Son
Bible Verses About Parenting With Love
6. Colossians 3:21
"Fathers provoke not your children to anger, lest they be discouraged."
7. Psalm 103:13
"As a father shows compassion to his children, so the Lord shows compassion to those who fear him."
8. Proverbs 1:8-9
"Hear, my son, your father's instruction, and forsake not your mother's teaching, for they are a graceful garland for your head and pendants for your neck."
9. Luke 6:38
"Give, and you will receive. Your gift will return to you in full."
Bible Verses About Parents Love For Child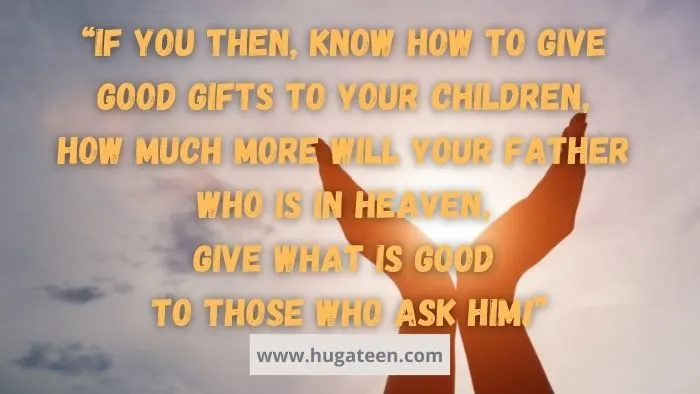 10. 1 John 3:1-2
"See how great a love the Father has bestowed on us, that we would be called children of God; and such we are. For this reason, the world does not know us because it did not know Him. Beloved, now we are children of God, and it has not appeared as yet what we will be. We know that when He appears, we will be like Him because we will see Him just as He is."
11. Proverbs 13:24
"He who withholds his rod hates his son, But he who loves him disciplines him diligently."
12. Matthew 7:11
"If you then, being evil, know how to give good gifts to your children, how much more will your Father who is in heaven give what is good to those who ask Him!"
Bible Verses About Parents Being Wrong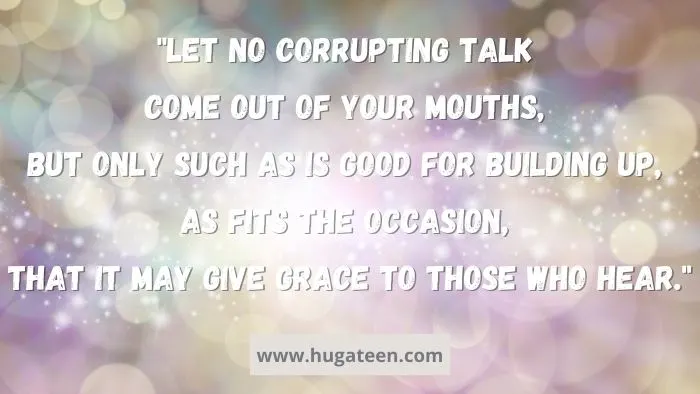 13. Proverbs 29:15
"The rod and reproof give wisdom, But a child who gets his own way brings shame to his mother."
14. Colossians 3:25
"For he who does wrong will receive the consequences of the wrong which he has done, and that without partiality."
15. Numbers 14:18
"The Lord is slow to anger and abundant in lovingkindness, forgiving iniquity and transgression; but He will by no means clear the guilty, visiting the iniquity of the fathers on the children to the third and the fourth generations."
16. Ezekiel 18:20
"The person who sins will die. The son will not bear the punishment for the father's iniquity, nor will the father bear the punishment for the son's iniquity; the righteousness of the righteous will be upon himself, and the wickedness of the wicked will be upon himself."
17. Ephesians 4:29
"Let no corrupting talk come out of your mouths, but only such as is good for building up, as fits the occasion, that it may give grace to those who hear."
Bible Verses About Raising Children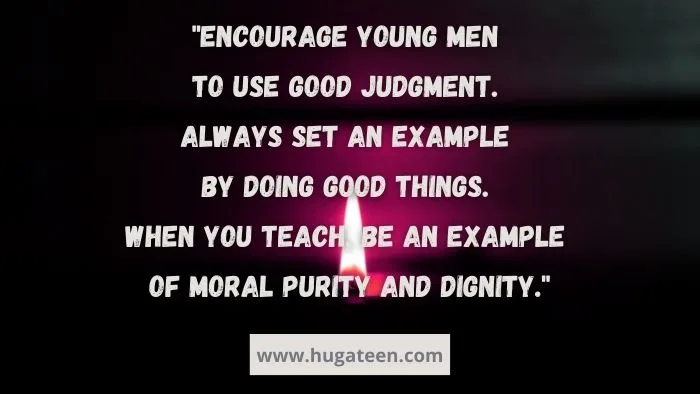 18. Psalm 127:3-5
"Behold, children are a heritage from the Lord, the fruit of the womb a reward. Like arrows in the hand of a warrior are the children of one's youth. Blessed is the man who fills his quiver with them!"
19. Deuteronomy 6:6-7
"These words I am commanding you today must be kept in mind, and you must teach them to your children and speak of them as you sit in your house, as you walk along the road, as you lie down, and as you get up."
20. Proverbs 12:1
"The one who loves discipline loves knowledge, but the one who hates reproof is stupid."
21. Titus 2:6-7
"Encourage young men to use good judgment. Always set an example by doing good things. When you teach, be an example of moral purity and dignity."
Bible Verses About Being A Single Parent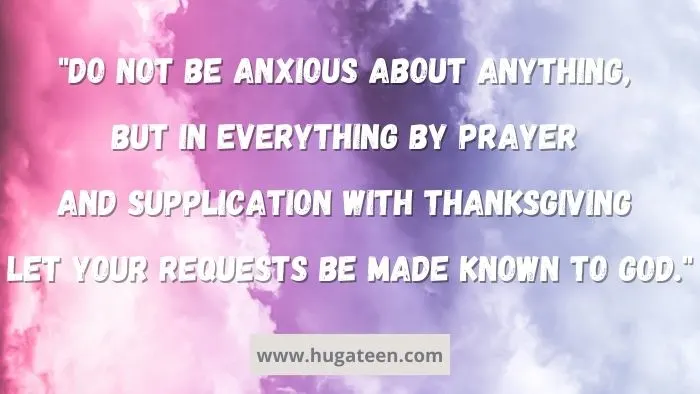 22. Isaiah 30:21
"Whether you turn to the right or to the left, your ears will hear a voice behind you, saying, 'This is the way; walk in it."
23. Philippians 4:12-13
"I know what it is to be in need, and I know what it is to have plenty. I have learned the secret of being content in any and every situation, whether well fed or hungry, whether living in plenty or in want. I can do all this through him who gives me strength."
24. Philippians 4:6
"Do not be anxious about anything, but in everything by prayer and supplication with thanksgiving let your requests be made known to God."
Bible Verses About Protecting Your Child
25. Matthew 18:10
"See that you do not despise one of these little ones. For I tell you that their angels in heaven always see the face of my Father in heaven."
26. Psalm 91:11
"For he will command his angels concerning you to guard you in all your ways."
27. Colossians 3:21
"Fathers, do not embitter your children, or they will become discouraged."
🙏 You might also find these Bible verses for teenage breakups useful.
Bible Verses About Mother's Responsibility
28. Proverbs 31:26-31
"She speaks with wisdom, and faithful instruction is on her tongue. She watches over the affairs of her household and does not eat the bread of idleness. Her children arise and call her blessed; her husband also, and he praises her: "Many women do noble things, but you surpass them all." Charm is deceptive, and beauty is fleeting, but a woman who fears the LORD is to be praised."
29. Isaiah 49:15
"Can a mother forget her nursing child? Can she feel no love for the child she has borne?"
30. Proverbs 31:26
"She opens her mouth with wisdom, and the teaching of kindness is on her tongue."
31. Deuteronomy 4:9
"Only be careful, and watch yourselves closely so that you do not forget the things your eyes have seen or let them fade from your heart as long as you live. Teach them to your children and to their children after them."
Bible Verses From Parents To Son
32. Deuteronomy 4:9
"Only give heed to yourself and keep your soul diligently, so that you do not forget the things which your eyes have seen and they do not depart from your heart all the days of your life; but make them known to your sons and your grandsons."
33. Deuteronomy 11:19
"You shall teach them to your sons, talking of them when you sit in your house and when you walk along the road and when you lie down and when you rise up."
34. Joel 1:3
"Tell your sons about it, and let your sons tell their sons, and their sons the next generation."
35. Proverbs 19:18
"Discipline your son while there is hope, And do not desire his death."
Bible Verses About Parenting And Discipline
36. Hebrews 12:11
"No discipline seems pleasant at the time, but painful. Later on, however, it produces a harvest of righteousness and peace for those who have been trained by it."
37. Proverbs 29:17
"Correct your son, and he will give you comfort; he will also delight your soul."
38. Ephesians 6:4
"Fathers, do not provoke your children to anger but bring them up in the discipline and instruction of the Lord."
Bible Verses On How To Parent
39. Proverbs 1:8-9
"Listen, my son, to your father's instruction and do not forsake your mother's teaching. They are a garland to grace your head and a chain to adorn your neck."
40. Timothy 3:15-16
"And how from childhood you have been acquainted with the sacred writings, which are able to make you wise for salvation through faith in Christ Jesus. All Scripture is God-breathed and is useful for teaching, rebuking, correcting and training in righteousness."
41. Colossians 3:13
"Bear with one another and, if one has a complaint against another, forgive each other; as the Lord has forgiven you, so you also must forgive."
Bible Verses About Loving Your Kids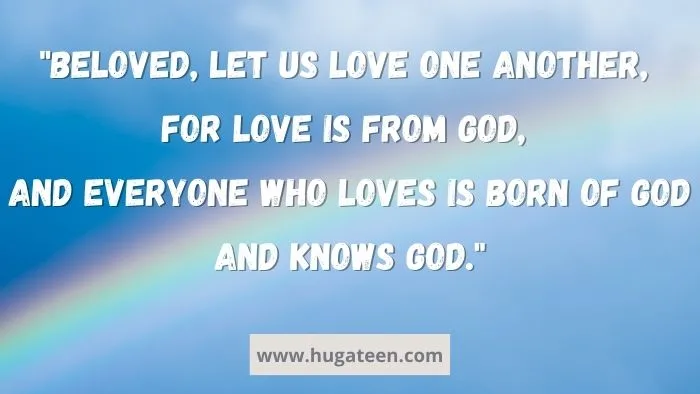 42 1 John 4:7
"Beloved, let us love one another, for love is from God, and everyone who loves is born of God and knows God."
43. 1 John 5:1
"Whoever believes that Jesus is the Christ is born of God, and whoever loves the Father loves the child born of Him."
44. Malachi 4:6
"He will restore the hearts of the fathers to their children and the hearts of the children to their fathers so that I will not come and smite the land with a curse."
Bible Verses About Parents Listening To Their Child
45. Ecclesiastes 7:22
"Do not pay attention to every word people say, or you may hear your servant cursing you—for you know in your heart that many times you yourself have cursed others."
46. Proverbs 1:5
"Let the wise hear and increase in learning, and the one who understands obtain guidance."
Bible Verses About Parents Leading By Example
47. Titus 2:6-8
"In everything set them an example by doing what is good. In your teaching show integrity, seriousness and soundness of speech that cannot be condemned, so that those who oppose you may be ashamed because they have nothing bad to say about us."
48. John 13:14-15
"If I then, your Lord and Teacher, have washed your feet, you also ought to wash one another's feet. For I have given you an example, so that you will do as I have done to you."
49. Philippians 3:17
"Join together in following my example, brothers and sisters, and just as you have us as a model, keep your eyes on those who live as we do."
50. 1 Peter 2:12
"Live such good lives among the pagans that, though they accuse you of doing wrong, they may see your good deeds and glorify God on the day he visits us."
Download Free Printable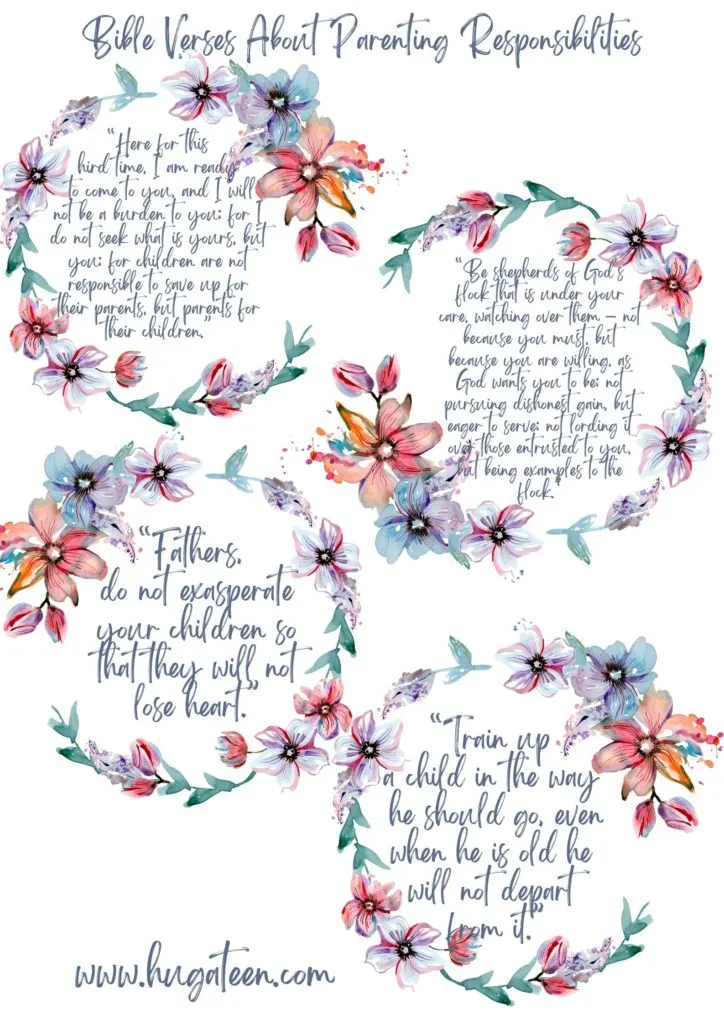 Download these Bible Verses About Parenting to print at home.
Bible Verses Questions
What Does The Bible Say About Positive Parenting?
Many Bible verses have advice for parents and highlight the importance of bringing up your children correctly. There are clear instructions in the Bible about parenting your kids and the values you need to instill in them. For example, what Jesus Christ asks his disciples to do applies to you as a parent.
The most significant message that parents can get from the Bible is to make Jesus the Lord of their life. That includes listening to his commands to lead others, love others as you love yourself, and live in a manner that shows the fruits of the Holy Spirit.
As you grow spiritually as a parent, you transform, which trickles down to your children. You teach from the point of learning and practicing. Positive parenting is emphasized in the Bible, with multiple verses talking about the importance of parental discipline. Regardless of your parenting style, there are many basic lessons on each aspect of parenting that we can use.
What Does The Bible Say About Caring For Family?
The Bible emphasizes the responsibility of parents in taking care of the family. It delves deep into why it is vital to provide for your children and not the other way around. It also talks about how those that do not provide for their families are denied the faith.
In many verses, the Bible talks about parents being given a responsibility to raise their children in righteous ways, as the Bible states. Those who love God should show the same love to their brothers and sisters, which means the family and friends units in real-life situations.
What Does The Bible Say About Being A Good Mother?
The Bible talks about how to be a good mother in stories. One is about Jochebed, Moses's mother, who hid him in a basket, protecting him from Pharaoh, who was killing baby boys.
Another Bible story that teaches about a good mother is that of Hannah, the mother of Samuel. Hannah cried to God for a son, and when God blessed him with one, she gave him up as a sacrifice. God rewarded him by giving her more children.
From these stories, the Bible teaches about the sacrificial love that a mother has. And, we cannot forget God's love that He gave his son to save the world from sin. God calls on mothers to be women of strength, courage, and wisdom. She should trust in God at all times and teach her children about His saving grace.