Your new pair of Hey Dudes are comfortable to wear without socks, but is it okay to wear socks if you want to?
If you are wondering whether wearing Hey Dudes with socks is recommended, read on and find answers to questions about wearing socks with your Hey Dudes.
Do You Wear Socks With Hey Dudes Shoes?
Hey Dude shoes are comfortable enough to wear without socks. However, if you want to wear socks, then from a fashion point of view, it is best to wear non-visible or low-cut socks, especially when wearing shorts.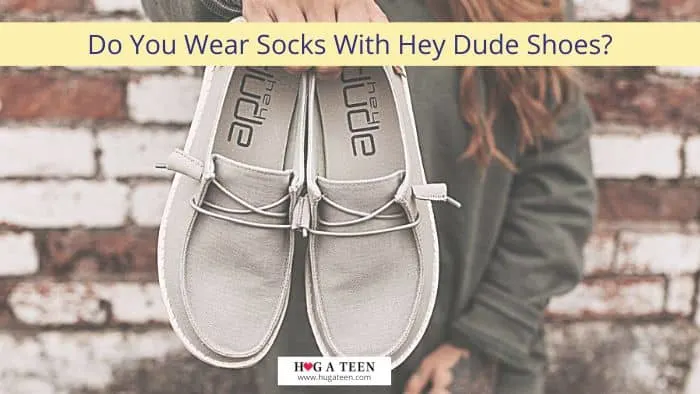 There are various things that you need to keep in mind when deciding whether or not to wear your Hey dudes with socks:
If it's cold outside, you might want to wear a pair of socks, as Hey Dudes are very lightweight and breathable, allowing air to circulate. This is great for Summer but perhaps a bit chilly in Winter. Although, there are new styles with faux fur lining for toasty feet.
Hey Dude shoes are made with breathable material that won't make your feet sweaty or smelly. However, if you have very sweaty feet, you should probably wear socks. There are several no-show styles of socks that you can wear to absorb the sweat and still look fashionable. See our recommendations below.
Wearing socks will make your shoes easier to keep clean. The socks will absorb sweat and dirt, and you can easily wash your socks daily.
If you're wearing long trousers, you can wear socks with your Hey Dudes, as nobody will see them anyway.
You need to consider if you are comfortable without socks on. Hey Dude shoes are made with a flexible footbed with a soft cushioned insole. This makes the shoes sturdy and firm while still comfortable to wear plainly. However, you might find wearing socks more comfortable, so doing so is absolutely fine.
Wearing socks provides an extra layer of protection for your feet which can help prevent blisters or bunions.
Canvas shoes are made with lightweight material. So even if you choose to wear them with socks, you will still be comfortable moving around without any extra weight on your feet. In other words, you can wear socks of your own free will, not because you need to.
Hey Dude shoes are made with loose-fitting material that contains elastic bands in the place of shoelaces. So even if you opt to wear socks with them, you won't feel as though you are constricted or as if your feet are too tight. The idea is to wear your shoes how best you feel comfortable in them, socks or not.
Hey Dude shoes can be said to be 'sweat-proof.' The breathable material used to make them will enable you to have your shoes on all day and not sweat. The cotton material is also absorbent so you will remain sweat-free and dry. That is not to say that you cannot wear socks with your Hey Dude shoes. That is entirely up to you.
📢 Suggested Read: How To Wear Hey Dude Shoes (Tips & Outfit Suggestions)
Why Are Hey Dudes Comfortable Without Socks?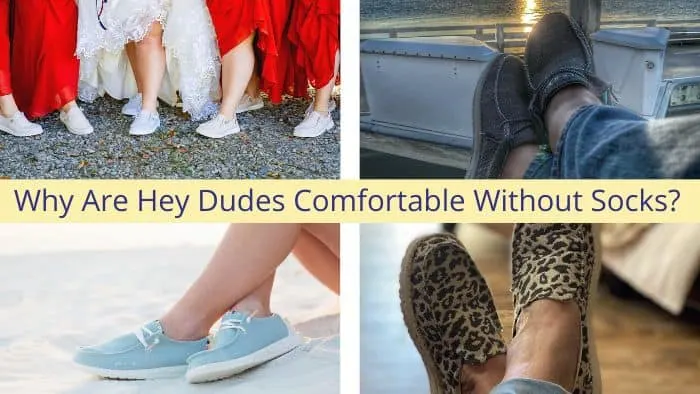 Integrated Memory Foam Insole
Wearing a pair of shoes like Hey Dudes without socks can be comfortable because they have a well-cushioned insole made of memory foam. This allows the insole to mold to your foot, making them extremely comfortable with or without socks.
Breathable Cotton Upper
The upper material uses flex and fold technology from soft cotton canvas with a light cotton lining for breathability, keeping your feet comfortable and aerated all day. Some styles have polyester or chambray-blend upper with a cushioned ankle and a faux fur lining for extra warmth and maximum comfort.
No-Tie Laces
Another quality that keeps these shoes comfortable without socks is that they use an easy-on system featuring no-tie adjustable elastic laces, which keep them snug around your feet.
📢 Suggested Read: How To Tighten Hey Dude Shoes (Six Ways Explained)
Lightweight
Hey Dude shoes weigh about as much as a pair of socks, i.e., about 5 ounces, making them the lightest shoes you've ever worn. The sole is made with EVA foam, with a lightweight memory foam midsole and a textile upper. All these characteristics make them comfortable shoes to wear barefoot.
Foam Lining
The closure of Hey Dude shoes usually has a foam lining that hugs your ankles gently. The closure provides you with comfort even if you wear your shoes without a pair of socks on. The soft material lining keeps your feet cool, preventing them from sweating too much.
Adjustable Fit
Hey Dudes are loose-fitting. This attribute helps flexibility because your feet are not too tightly confined to one space. The lace-up closure is added to help you adjust how loose or how tight you want your Hey Dude shoes to be.
There are elastic bands fixed around the sides and the heels that help grip your feet. This enables your Hey Dude shoes to be tight enough that you can walk in them even without socks on.
Single Unit Construction
The shoe is also constructed and sewn together as one unit, so there is no loose tongue that could bother you if it moves around.
Removable Insoles
The removable insoles allow you to wash them frequently, keeping them fresh and odorless.
Why Wear Hey Dudes With Socks?
Avoid Bad Odor From Sweat
You can wear Hey Dude shoes with socks if your feet are prone to sweating as you move about your day.
Having sweaty feet can be unpleasant, especially when you wear your Hey Dude shoes without socks. Without socks, your sweat will be absorbed by the shoes, which can create a bad odor. But, with cotton socks, you can rest assured of sweat absorption, keeping your feet and shoes fresh and comfortable.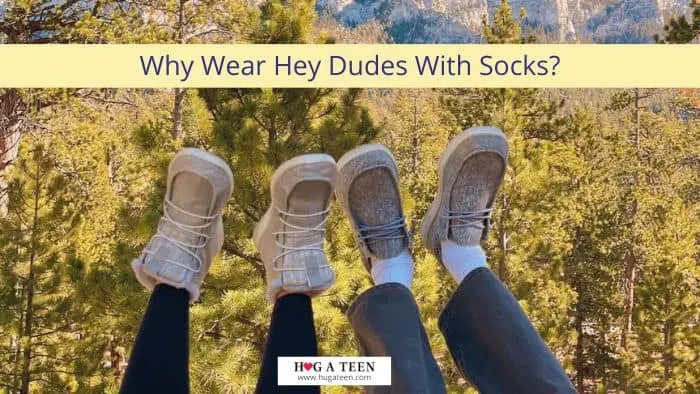 Hygienic
It is hygienic to wear your Hey Dude shoes with socks because you can wash socks numerous times, as opposed to washing your shoes every day. So even if your feet sweat, you can change them and wear a clean, fresh pair, keeping your feet and shoes clean in the process.
The main problem with wearing footwear without socks is that it can increase the risk of a foot infection if you don't keep them clean. Wearing socks will help prevent the growth of bacteria and fungi because of sweat, and you can remain hygienic.
Prevent Blisters
Wearing socks with your Hey Dude shoes will prevent your feet from blisters. Socks act as a barrier between your feet and your canvas shoes, preventing friction.
Formal Dress Code
Wearing socks is sometimes considered a decent form of dressing. According to social norms, when attending formal meetings, you are supposed to wear socks with your shoes. It is even considered that you are stylish when you match your shoes with your socks.
Warmth
Wearing your Hey Dude shoes with a pair of socks will keep your feet warm, especially when it is Winter or rainy season. Even so, you will need to wear a fresh pair every day.
Cleanliness
Wearing socks with your Hey Dude shoes will keep the inside of your shoes clean. Socks will absorb all the dirt that may be on your feet, and you will not need to wash your Hey Dude shoes every single day. You will just need to change your socks.
Best Socks to Wear With Hey Dudes
To choose the best socks for Hey Dudes, you need to know the features you should consider when purchasing them. The best socks should be made from high-quality materials, absorbent materials, and of the right size.
Here are some of the best options on the market.
Best socks to wear with Hey Dudes for men
Jormatt Genuine Men's No Show Socks
We really liked these Jormatt genuine men's no-show socks. They look great with our favorite pair of loafers. These socks are comfortable and durable. They are made of 80% cotton, 17% polyester, and 3% spandex and are machine washable. You can wear them with any shoe style, including sneakers, loafers, and Hey Dudes.
They are stretchy and not too thick or too thin. They also contain a slip-resistant feature that helps prevent slips and grips to your feet. Our only complaint was that we wish they came in more sizes. However, if you're looking for a stylish sock that feels great, these are worth checking out.
Best Cotton No-Show Socks For Men
Material:80% Combed Cotton+17%Polyester+3%Spandex.

Breathable

Invisible Socks

Non-Slip

SIZE: Fit Men shoe size 6-10/Women shoe size 7-11

Include 8 pairs of cotton socks

Machine wash with cold water.
Adidas Men's Superlite Super No Show Socks
The Adidas Men's Supersonic Ultra No Show Socks are great. We especially like the fact that they contain a mesh ventilation top and have a moisture-wicking yarn to keep your feet dry from sweat.
These socks are made of 94% polyester, 4% natural latex rubber, and 2% spandex. They are lightweight and durable. Plus, they are a pull-on style and come in various sizes. However, if you prefer thicker socks, then you might want to consider buying a pair of those instead.
These socks are very comfortable, and we think they look pretty cool. They are cut at or just above the shoe line, so there is no gap between your sock and your shoes. You won't feel any discomfort wearing these socks, either.
Best No-Show Athletic Socks
97% Polyester, 3% Spandex.

No slip.

Super lightweight.

Arch compression.

Mesh ventilation.

Reinforced toe for extra durability.
Sixdaysox No Show Cotton Socks for Men
They are thin, low cut, and are made of 75% cotton, 22% Chinlon, and 3% spandex together with anti-slip silicone at the heels. They are made with breathable material and are super absorbent.
We really liked these Sixdaysox no-show cotton socks for men. We think they look great and feel comfortable.
These are good quality socks that stay up all day long. And they are super soft and comfy. You'll definitely notice the difference between wearing regular socks and these ones.
You can wash these socks in the machine, but hand washing is recommended.
Overall, we thought these were a great purchase. We'd recommend checking them out if you're interested in getting some new socks to wear with your Hey Dudes.
Best Thick Low Cut Cotton Socks
75% cotton,22% Chinlon, and 3% spandex.

No show and non-slip.

Moisture-wicking and breathable.

30 days refund or a free replacement.
Best socks to wear with Hey Dudes for women
Wisvoo Women's Nylon socks
These socks are very thin, lightweight, and comfortable. They are also anti-slip, meaning they won't slip off your feet.
These cotton socks are ideal for wearing with Hey Dudes or any other slip-on shoes.
With cotton fiber blending with spandex, these socks are breathable, sweat-absorbing, stretchy, and soft to provide you with a comfortable fit all day.
These invisible socks are thin and can be worn during the Spring and Summer seasons.
We think that these nylon socks are worth checking out. They provide excellent value for the price.
Best Ultra Low Cut Socks For Women
Cotton, Spandex, Nylon.

Real No Show Socks – 0.67"/1.7cm wide front.

Breathable.

Sweat absorbing.

Double Anti-slip grippers.

US women's shoe sizes 6-10.

Satisfaction Guarantee.
Eedor No Show Socks for Women
We were impressed with the comfort of these socks, which are made of cotton and spandex. We think they look great and feel comfortable.
They stay in place without being too tight or too loose. We really liked the silicone grippers on the heel of the socks. They make walking easier and prevent slipping.
These socks are available in four different colors: black, grey, white, and beige.
Best Cotton Low Cut Socks
Cotton 80%, Spandex 20%

Elastic band plus silicon grips for a non-slip experience.

True No Show

Socks for women size 5-10.

Not Too Thick & Not Too Thin.

3 Sizes: US women's shoe sizes 5-6.5 (8.5″-9.05″), 7-7.5 (9.25″-9.38″), and 8-10 (9.5″-10.2″).

If you are in between sizes, order the slightly larger size.
BERING No Show Women's Socks
BERING No Show women's socks are great because they provide a comfortable fit, look good, and are made of high-quality materials. We especially like the fact that they have three non-slip silicone grips in the back.
These no show socks are perfect for those who prefer a low-profile type of shoe like Hey Dudes. You won't notice them when wearing flats, loafers, sneakers, and other low-rise styles.
They come in grey, white, black, or beige and do not fade or shrink after washing.
You can count on these no-show socks to last through multiple washing cycles and wearings.
Made from a blend of cotton, polyester, and spandex, they're also very comfortable and affordable.
Best Non Slip Silicone Grips
80% Cotton, 15% Polyester, 5% Spandex

Breathability and durability.

T

hree non-slip silicone grips.

Flat toe seam.

Reinforced toe and heel areas.
By the way, if you don't have no-show socks on hand, you can try this sock hack which uses a regular sock and changes it into a low-cut sock:
Unisex Socks For Hey Dudes
Leotruny Unisex Thick Cushion Athletic Cotton socks
These socks have a Non-stick silicone feature. These cushion socks are low-cut with a flat liner, protecting your feet from too much friction from the shoes.
We've had our hands on these thick cushion no-show athletic cotton socks for quite a while now, and we absolutely love them! We think they're great for men and women alike. They're unique, stylish, and comfortable.
These thick cushion no-show athletic socks are made of 85% cotton, 13.5% polyester, and 1.5% spandex. They feature five silicone bands at the heel to keep them securely fastened.
They're uniquely designed with a cushioned lining for more comfort.
We really enjoy wearing these thick cushion no-show socks. They're super comfy, stylish, and functional.
Best Thick No-Show Unisex Socks
85% Cotton, 13.5% Polyester, 1.5% Spandex

5 silicone bands.

Thick cushion socks.

Low-cut socks.

Size: Fit women shoe size 5-8.5 / women shoe size 9-11.5(men shoe size 7-9)/ Men shoe size 9.5-12

6 pairs(12 socks) assorted in Leotruny pack.
Hey Dude Sock Trick
A trick to wear Hey Dude with socks is to use no-show socks with stretchy fabric. Instead of wearing the socks on your feet, you place them over the insoles of your shoes.
First, take the insoles of your Hey dudes. Then place the socks over the insole, making sure that the opening of the socks is facing downwards. Pull it tightly, so it stays put, then put the insoles back into your Hey Dude shoes.
This trick allows the socks to absorb any sweat or dirt while keeping your insoles clean and odor free. You can easily wash your socks and keep your shoes fresh and clean. Pretty ingenious hack if ever I saw one!
Watch how the Hey Dude sock trick is done in the video below: #heydudeshoes #heydude #lifehacks #shoes #socks #nomorestinkyfeet
Related Hey Dude Questions
Is it better to wear socks or no socks with shoes?
It is better to wear your shoes with socks on. Socks will enable you to prevent your shoes from having bacteria and fungi which cause odor. By keeping your feet clean, your shoes will remain cleaner for longer as well.
What happens if you don't wear socks?
If you do not wear socks with your shoes, the sweat from your feet will be absorbed by your shoes instead of your socks. Not wearing a pair of socks can spoil the inside of your Hey Dudes with dirt and sweat stains. Socks are much easier to wash, and you can wear a new clean pair of socks daily.
If you don't wear socks and you don't wash your shoes regularly, you may develop athlete's foot, ringworms, and fungal infections.
How often should you change your socks?
You should change your socks every day. Your feet are bound to sweat regardless of how long you walk with your socks on. If your feet sweat a lot naturally, you will need to change your socks daily and, sometimes, twice a day. Otherwise, changing your socks every day is enough to keep your feet fresh.
Hey Dudes integrated memory foam insole makes these shoes super comfortable and offers that cloud-like feeling like you're walking on air whether you wear them with socks or not. The cotton canvas upper, together with the cotton interior of Hey Dudes, make them breathable. These are some of the best materials to let the flow of air in and out of your shoes freely. The choice of whether to wear them with or without socks is up to you.