Do you have a crush on someone? If you're looking for a fun way to get your crush's attention, then check out these cute names to call your boyfriend/girlfriend. They may seem silly, but they work! And they're guaranteed to make your crush smile.
I'm going to share with you 250 cute names to call your crush. These will help you get their attention without being cringy.
❤️ You might be interested in reading about these psychological facts about crushes.
Cute Names To Call Your Crush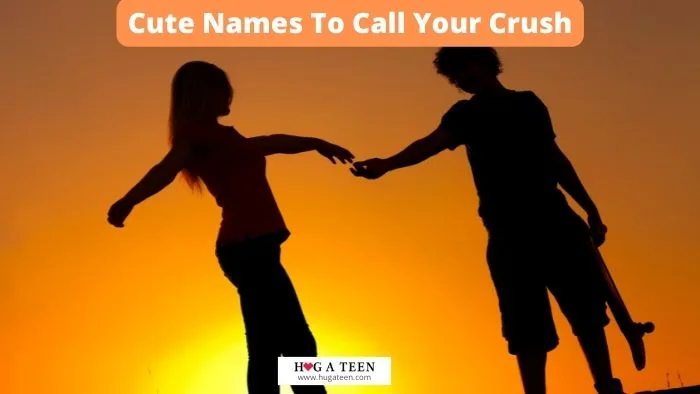 Searching for adorable and charming names to call your crush? Look no further! Expressing your affection with cute nicknames for your crush can make your bond even sweeter. Whether you're looking for cute names for your crush boy or cute names for your crush girl, our list is packed with delightful options. From lovable animal-inspired names to heartwarming terms of endearment, you'll find the perfect cute nickname to make your crush feel special and cherished. Let's dive into the cuteness overload!
1. Happy Pill
If they are the cure to your sadness.
2. Sugar
A nickname that totally describes her sweetness.
3. Smiley Face
No matter how stressful the day, their smile improves everything.
4. Heart Throb
In this nickname, he positively plays with your heartstrings.
5. Fave
Fave refers to a favorite thing or person
6. My Sunshine
A person who brightens up your life and brings you happiness every day.
7. Good-Looking
Exactly how you want to describe his head-turning looks.
8. Prince Charming
It only takes one look for him to make me feel like a princess.
9. Mr. Right
It takes one person to complete your life forever
10. Gummi bear
Call them gummi bears, so they'll know that your life is sweeter because of them.
11. Angel Face
Someone who gives you a taste of heaven on earth.
12. Teddy Bear
This is a fun name for your crush, especially if he's hot and cuddly.
13. Precious
Make someone feel valuable by calling them precious.
14. Love Bug
A cute nickname for your crush, girl, or girlfriend.
15. Cutie/Cutie Pie
The nickname lets them know you think they're cute.
❤️Check out this article to see How To Respond to "Hey Cutie."
Names To Call Your Crush Girl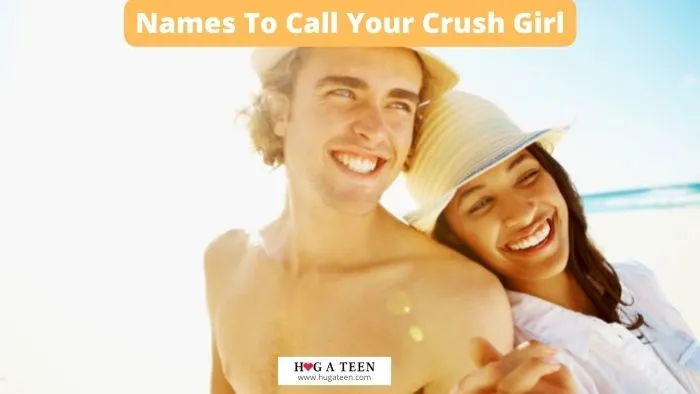 Looking for the perfect nickname for your crush girl? We've got you covered! Finding the right name to call your crush girl can be a sweet and endearing way to express your feelings. Whether you're looking for cute, playful, or romantic nicknames for your crush girl, our list has a variety of options to choose from. Discover the best name for your crush girl and let the sparks fly!
16. Beautiful
It is a huge compliment to be called beautiful.
17. Pretty
When you simply couldn't take your eyes off her.
18. Queen
Put her on a pedestal because she's your queen.
19. Gorgeous
She's gorgeous from all angles.
20. Hot Cake
Everyone wants a piece of her, but you only want her for yourself.
21. Fireworks
She makes your heart explode.
22. Juliet
You are her Romeo.
23. Dreamgirl
For the girl you've always dreamt of.
24. Heaven
If an angel is an understatement.
25. Dumpling
Cute and cuddly.
26. Baby Doll
She's a doll-faced charmer, and you want her to be your baby.
27. Destiny
The connection is so strong you think you are destined to meet.
❤️ You might also enjoy reading: How To Get A Girlfriend In Middle School
Cute Names To Call Your Crush Boy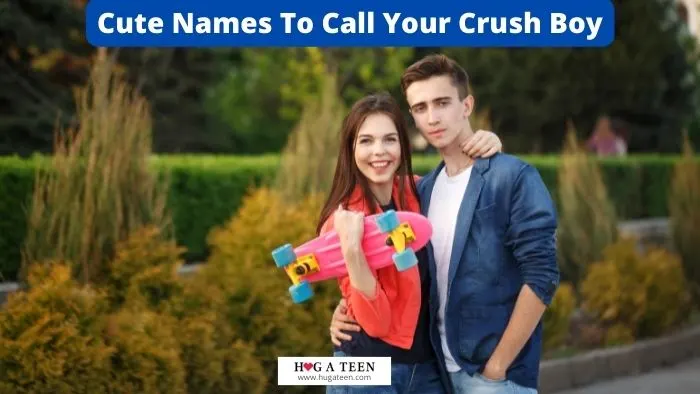 Looking for adorable and cute names to call your crush? Finding the perfect cute name for crush boy can add an extra layer of sweetness to your connection. Whether you're wondering what to call your boy crush or searching for cute names that will make his heart melt, our list has got you covered.
67. Booboo Bear
Another playful nickname to call your crush boy.
68. Candy Crush
A popular name can be a nickname too.
69. Champ
If he is on his way to becoming a champion in your eyes.
70. Bro
Bro is a great nickname for a crush or someone you are in a "situationship" with.
71. Chief
For your almost perfect and confident crush.
72. Drogo
For Game of Thrones fans, this nickname perfectly fits any Khaleesi.
73. Baby Face
Who would resist staring? Give them this nickname.
74. Ace
Simply the best.
75. Baby Boy
Classic nickname. It never lost its cuteness.
76. First Love
We all have our firsts. Give this nickname to the one who holds the record.
❤️You might enjoy reading these hilariously cheesy and super cute notes for boyfriends.
Unique Nicknames For Boy Crush With Meaning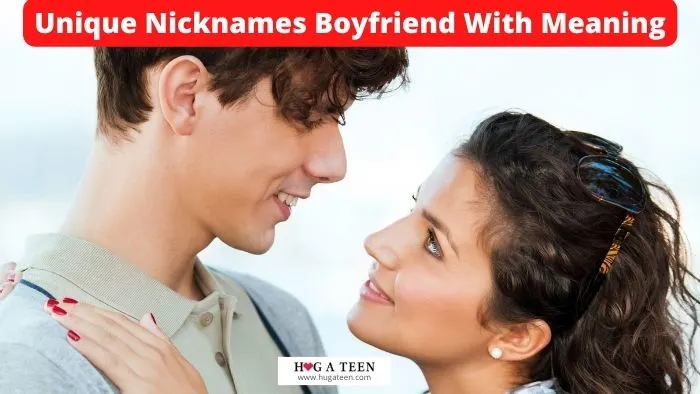 Finding a nickname for crush boy with meaning can be a thoughtful way to show your affection and create a deeper connection. Our list of cute crush nicknames for boys combines creativity and sentimentality to help you find the perfect name.
28. Honey
It's the perfect name for a cutie.
29. Stud Muffin
Comedy star Lily Tomlin came up with this sexy nickname!
30. Mister Man
Make him feel like the man of the house.
31. Captain
Because he takes take of your relation-SHIP.
32. Other Half
With this sweet, sentimental nickname, you can show your boyfriend you're committed to him forever.
33. McDreamy
While we can't all date Dr. Shepherd from Grey's Anatomy, by calling your boyfriend this cute name, we'll be one step closer to our dream of dating him!
34. Mr. Big
You could take a hint from Carrie Bradshaw and name your perfect guy after hers!
35. Iron Man
Your guy's favorite billionaire metal superhero or a Black Sabbath song might be a good choice.
36. Wookie
This cute name will only make sense to true Star Wars fans.
37. Meatball
Because this guy is the meatball to your spaghetti.
38. Bubba
It's okay to use nicknames just because they sound cute.
39. Love
It's what you feel for him.
❤️Check out these Emotional Love Letters For Him That Make Him Cry
40. Cowboy
This is for a man who is always there to protect you.
41. My Everything
If he means the world to you.
42. My Man
This is how you say he's yours.
❤️Check out First Date Ideas For Teens.
Contact Names For Crush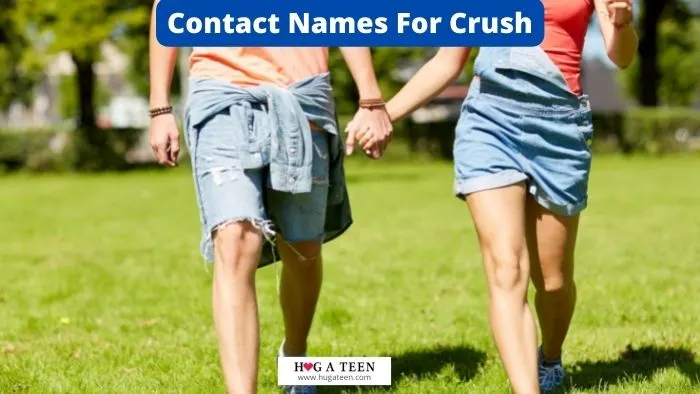 Choosing the right contact name for your crush can add excitement and personalization to your messaging experience. Whether you're looking for creative crush contact names, unique ideas to make your crush stand out in your phonebook, or simply seeking inspiration to make your heart skip a beat, our list has got you covered.
Let's find the perfect contact name for your crush and make your heart flutter every time you see it in your contacts list!
43. Pancakes
He's not just fluffy; he's also sweet.
44. Princess
You are her prince.
45. Dollface
An accurate description of her pretty face.
46. Precious
Diamonds, gold, and other valuable minerals cannot even compare.
47. Gum drop
For the attractive, fit, yet chubby.
48. Lucky charm
You're feeling lucky because of this person.
49. Beautiful
You must have a beautiful crush. Why don't you remind her whenever you call her?
50. Dimples
A heartwarming smile makes her dimples appear.
51. Baby Face
If your boo is unbelievably attractive, you might like this nickname.
52. Tinder Babe
Honestly, you might already have them saved under this name.
Code Names For Your Crush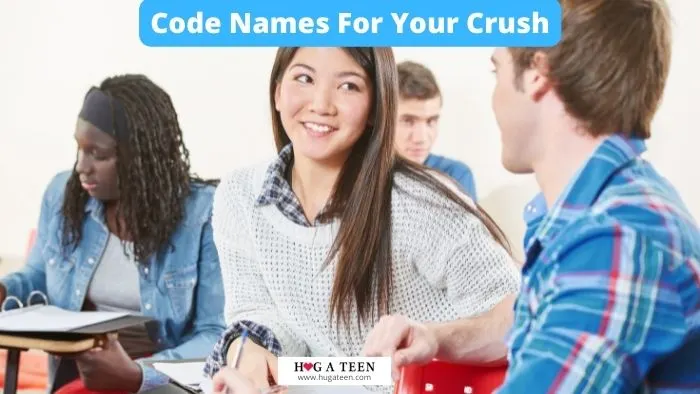 Looking for secret code names for your crush? We've got you covered! Code names add intrigue and excitement to your conversations. Whether you're looking for code names for crush boy or girl, our list is packed with options that will keep your feelings under wraps while maintaining a sense of playfulness. Find clever and memorable secret code name options on our list. Let the covert communication begin!
53. Midnight
The look in his eyes reminds you of midnight.
54. Razor
For a guy who is mighty sharp.
55. Tiger
When you feel protected when he is around.
56. Night Owl
An ideal nickname for guys who never sleep at night.
57. Thunder
A guy with a thundering, hard-to-ignore presence.
58. Hulk
An ideal name for a muscular man.
59. Venus
The Roman goddess of love and beauty, Venus, makes a bold yet romantic nickname for your crush.
60. Adonis
A great nickname for a man with a great physique.
61. Hercules
Is your crush handsome and muscular like Hercules? Here's a nickname you might like.
62. Brown Eyes
The best nicknames for brown-eyed guys.
63. Candy
If your crush is as sweet as candy.
64. Einstein
This is a nickname for extremely intelligent guys.
65. Shakespeare
The name guys call their crushes who aren't familiar with poetry or literature.
66. Midas
It's the perfect nickname for a business-savvy crush.
Flirty Names To Call Your Crush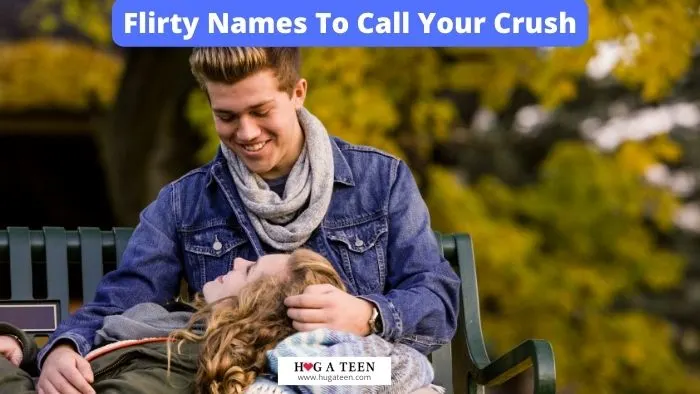 Finding the perfect flirty names to call your crush girl can add a playful and alluring element to your connection. Whether you're searching for flirty names to call your crush boy or girl, our list is filled with enticing options that will make their heart skip a beat. Get ready to turn up the heat with these flirty nicknames for your crush. Let the fun and flirtation begin!
77. Honey Bun
The cuter alternative to Sweetie.
78. Hottie
Are they too hot to handle? This nickname suits them well.
79. Hot Stuff
You want her to know she's hot and sexy.
80. Goddess
When you think her beauty has reached the ultimate level.
81. Sugar lips
Manifesting a kiss from this person soon? Settle for a nickname for now.
❤️ Discover what is the average age for a first kiss?
82. Sweet Cheeks
For someone with rosy and chubby cheeks.
83. Snuggle bunny
When you want to flirt but you want to sound cute.
84. Snuggly
Their cuteness and comfort make you feel at home.
85. Kitten
Literally a pet name.
86. Sexy
Effortlessly classic.
87. Playboy
It's your turn to be his bunny now.
88. Hunk
Definitely not an overused term. It has to fit the subject tho.
89. Lover Boy
An adorable nickname for romantics.
90. Macho Man
Your crush needs to have muscles, abs, a toned body, and a strong aura.
91. Naughty Boy
Try to be flirty. This type of nickname might help you.
Names For Your Crush On Snapchat
If you've finally discovered how to ask a girl for her Snapchat, it's time to choose a cute name for your crush. Here are some ideas to get you started.
92. Doll Face
She's got a pretty face that resembles Barbie.
93. Buttercup
A cute and subtle romantic expression.
94. Pumpkin
Another American term of endearment similar to 'sweetheart' and 'darling.'
95. Bae
He's your bae, boo, baby.
96. Cheeky Monkey
For the mischievous and playful.
97. Giggles
For a funny person, this is such an adorable nickname.
98. Dream Lover
To our dream guys and girls.
99. Sprinkles
For the potential "sprinkles to your cupcake."
100. Muffin
Sweets and baked goodies are always a good idea.
101. Shy guy
There's always that one shy guy we like.
102. Sporty
The athletic crush.
103. Perfect
No one is. But this person is perfect in our eyes.
❤️You might enjoy reading Flirty Questions To Ask Your Crush (while texting!)
Secret Names To Call Your Crush
Discover our list of secret names to call your crush, allowing you to express your feelings without them knowing. These covert nicknames add an extra layer of intimacy and excitement to your interactions. This list of secret nicknames for your crush is filled with hidden gems that will make your heart flutter. Keep your special bond undercover with these secret names and let the secret love unfold!
104. Dreamboat
Dreamboat is used to describe a romantically desirable person.
105. Baby Cakes
Baby + cake = sweet terms to use for your crush.
106. Boss
A little bro-y? Yes. But if done right, it can be the perfect flirty in.
107. Ninja
He's probably got the moves
108. Soul Mate
A cute name to claim that you are destined to meet.
109. Smile Machine
The person who never fails to smile contagiously.
110. Smarty
We all have that one smart crush.
111. Happiness
What other name to call someone who makes you happy?
112. Baby Boo
Call him baby and keep it a secret.
113. Marshmallow
He will never know you compared him to a fluffy, sweet treat.
114. Superman
That crush who never fails to save the day.
115. Baby Bear
Cheesy but cute, and it's okay.
116. Drop-Dead Gorgeous
Before using this nickname, remember to pick up your jaw off the floor.
117. Bad Boy
You don't mean this literally. This is just flirty and cute.
118. Cutie Patootie
Call him the cheesiest nickname you want; yes, it's a secret.
119. Cheerleader
If she motivates you.
120. Hero
Use this term if you don't want to use the popular characters.
121. My boo
When he is your baby boo.
Good Nicknames For Your Crush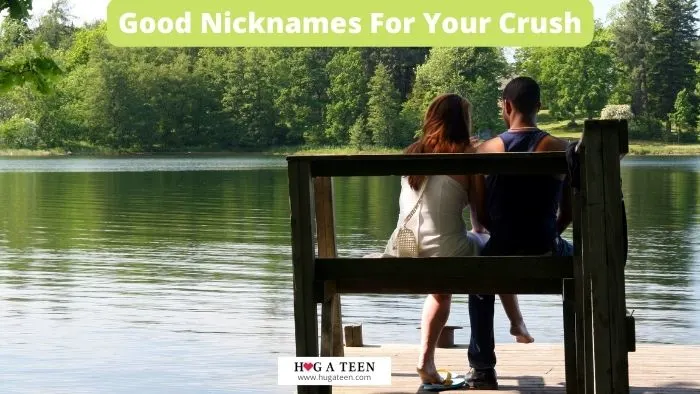 122. Squishy
A bit cartoonish but a cute nickname to call your crush.
123. Jellybean
Give this nickname a try if your guy is a pure sugary delight.
124. Baby Boy (or Baby Girl)
Take it from Beyoncé.
125. Booboo Bear
For those times when you're genuinely infatuated.
126. Blue Eyes
More like describing the first thing you liked about this person.
127. Genie
Seeing this person is like having your wishes granted.
128. Sparkle
Sparks fly when this person is around.
129. Honey Bunny
One of those cute nicknames that shows your affection and fondness.
Funny Names To Call Your Crush
130. Crush
Get straight to the point.
131. Baby Boo
When baby sounds serious, add the second word to make it sound cute.
132. Daddy
Not the paternal thing tho.
133. Fuzzy Bear
You can basically add anything to the word bear to make it sound funny.
134. Fruit Loops
Suppose you call him your favorite food's name.
135. Hot Chocolate
Lowkey telling your crush he's hot.
136. Mr. Fluffy
We all love anything fluffy.
137. Mochi
The cuteness of mochi should not be overlooked.
138. BB
BB is the cutest way to say baby.
139. Robin Hood
Because not all heroes wear capes.
140. Baby Rabbit
If you think the nickname baby bear is overused.
141. QT
QT is Cutie. This generation loves making short nicknames shorter.
Watch this funny video of ways to make your crush smile:
Cute Nicknames In Different Languages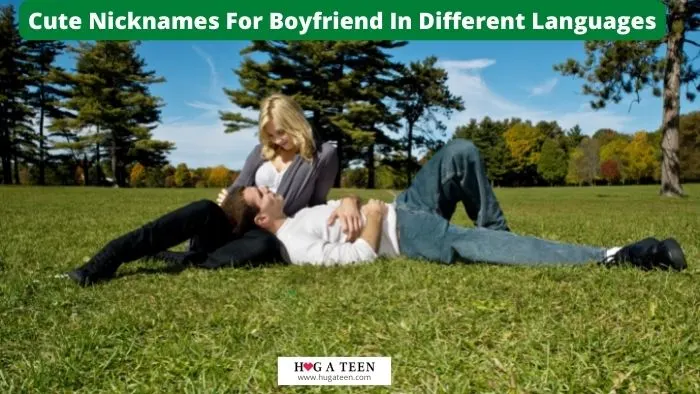 Wondering what to call your crush in a different language? Have a look at our list of cute nicknames for your boyfriend or crush in a different language.
142. Gözlerim – "my eyes."
The Turkish term "my eyes" can also refer to someone you care about.
143. Nefesim – "my breath."
In Turkish, this term means "my breath."
144. Aşkım – "my love."
"My Love" in Turkish.
145. Cielo – "Sky"
In Spanish, Cielo is a way to show affection.
146. Guapo
"Handsome" in Spanish.
147. Amorzinho
"Sweetheart" in Portuguese.
148. Cariño
"Honey" in Spanish.
149. Ke aloha
"Beloved" in Hawaiian.
150. Chang noi
"Little elephant" in Thai.
151. Rodnoy
"Soul mate" in Russian.
152. Elskede
"Beloved" In Danish.
153. Knuddelbärchen
"Cuddle bear" in German.
Cute Nicknames For Boyfriend In Different Languages
154. ハニー (hanii)
"Honey" in Japanese.
155. ダーリン (darin)
"Darling" in Japanese.
156. 오빠 (oppa)
It refers to "older brother" but is also used as "honey" by Korean women to their boyfriends and husbands.
157. 애인 (aein)
"Sweetheart" In Korean.
158. Sötis / sötnot
"Sweetie" in Swedish.
159. Älskling
"Darling" in Swedish .
160. Amor
"Love" in Spanish.
161. Corazón
"Heart" in Spanish.
162. คนดี (khon dii)
"My love" in Thai. This term can be used with either a male or female.
163. หวานใจ (wǎan jai)
"Sweetheart" In Thai.
164. Жизнь моя (zhizn moya)
"My life" in Russian.
165. Душа моя (dusha moya)
"My soul" in Russian.
166. Ku'uipo
"Sweetheart" in Hawaiian.
167. E ku'u aloha / Ko`u aloha
"My love" in Hawaiian.
168. Bébi
"Baby" in Hungarian.
169. Édesem
"My sweet" in Hungarian.
170. Kedvesem / drágám
"My dear" in Hungarian.
171. Kærasti / kærasta
"Darling" in Icelandic. Kærasti if it's a man or kærasta if it's a woman.
172. Elskan (mín)
"My love" in Icelandic.
173. Fofinho
Let your boyfriend know he is "cute" in Portuguese.
174. Querido / querida
"Dear" in Portuguese. Querido when talking to a male or querida when talking to a female.
175. Kasih
The term kasih means "love" in Indonesian.
176. Sayangku
"My dear" in Indonesian.
177. Misio
A Polish term of endearment that means "teddy bear."
178. Kochanie
Kochanie means "honey" in Polish.
Cute Names To Call Your Girlfriend In Different Languages
179. 자기야 (jagiya)
"Baby" in Korean.
180. 내사랑 (nae sarang)
"My love" in Korean.
181. 여보 (yeobo)
"Darling" or "honey" in Korean.
182. Media Naranja
It literally means "half an orange," meaning "my better half."
183. Chuchuzinho
The Portuguese word "pumpkin" is a literal translation of the word "squash."
184. Liybimaya
The Russian term for "my love."
185. Kopela mou'
The Greek term for My Girl.
186. Mi Cielo
"My Sky" in Spanish.
187. Buah Hatiku
Literally, "fruit of my heart" in Indonesian.
188. Habibi Albi
The Arabic term for "love of my heart."
189. Cara Mia
"Beloved" in Italian.
190. Principessa
"Princess" in Italian.
191. Canim
Turkish term for "my life."
192. Koukla mou
The Greek term for my doll.
193. Mi reina
"My queen" in Spanish.
194. Mi corazón
"My heart" in Spanish.
Cute Names To Call Your Crush In French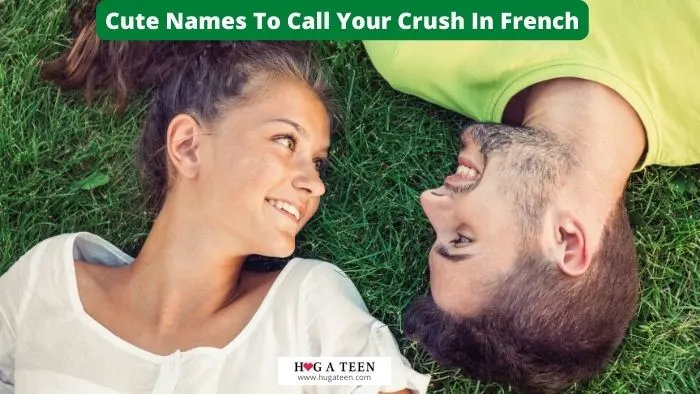 195. Mon Chou
It refers to a French cream puff called chou chantilly or chou à la crème.
196. Ma chérie (F), mon chéri (M)
My darling.
197. Mon chaton (M)
The term means My kitten.
198. Mon bijou
"My jewel" in French.
199. Ma choupinette (F)
It is derived from the words chou and choupine, both of which mean cute.
200. Ma belle (F)
It means "My pretty," as mentioned in the Beatles song "Michelle, ma belle."
201. Ma Belle / Mon Beau
It means "My Beautiful."
202. Mon Nounours
"My Teddy Bear," or plushy in French.
203. Ma Douce (F)
The term means "My sweet."
204. Mon lapin
"My rabbit."
205. Mon Lapinou
"My bunny"
206. Mon sucre d'orge
My barley sugar, candy cane.
207. Mon Beau
This term refers to "My handsome."
208. Ma coccinelles
This means "My ladybug."
209. Mon papillon
"My butterfly."
210. Ma douce
"My sweet."
211. Mon étoile
"My star."
212. Mon destin
"My destiny."
213. L'amour de ma vie
"Love of my life" in French.
214. Mon Roméo
"My Romeo"
215. Mon rayon de soleil
"My ray of sunshine."
Cute Names To Call Your Crush Boy In Spanish
216. Bonito
The word is used to describe a guy who is "pretty" and "attractive."
217. Chulo
"Cutie."
218. (Mi) Angelito
This means "Angel" in Spanish" A sweet pet name for a caring guy.
219. Caramelo
Someone sweet as candy gets this Spanish nickname.
220. Chiquito
Although it means "little one," it is used in a different context, indicating something cute."
221. Cariño
The name signifies care in Spanish. There are several ways to translate it, including "dear" or "darling."
222. (Mi) Corazón
This term means "my heart," a sweet way to express love or admiration.
223. Papi Chulo
It is used to describe a romantic partner or any man a person finds confident, attractive, sexy, and well-dressed as a term of endearment.
224. Querido
This word could be translated into "beloved." It is used to describe someone you adore.
225. Cuatro Ojos
"Four eyes" is a Spanish nickname for a guy who wears glasses.
226. Güero
The term could be used to describe guys with very light skin or light hair.
227. El mío
Usually used in Venezuela to refer to a friend.
228. Lindo
Lindo – a masculine version of the term adorable.
229. (Mi) Tesoro
Refers to someone you'd like to keep as a treasure.
230. Maravilloso
The best term to use for a fantastic person.
231. (Mi) Hombre
The name translates as "my man."
232. Peluche (pehlucheh)
The term translates to a plush animal—a nickname you can use for someone cute and huggable.
233. Trozo de pan (trohthoh deh pahn)
You're talking about someone who is good and innocent, as well as attractive.
234. To bueno/ta buena (teeo booenoh/ teeah booenah)
This Spanish slang term means someone who is lovely
235. (Mi) corazón (kohrathon)
This term refers to someone you love and consider vital in your life and means "heart" in Spanish.
236. Papi
A literal translation of this word is "dad," but it has nothing to do with our parents in a romantic sense.
237. Cario
It is a lovely way to say "honey" to someone.
238. Mi cielo
It means the same as baby or baby but has a different connotation.
239. Corazón
The word is highly adaptable; you can call a friend by this name.
240. Bello
It means handsome, and it's a nice nickname for your crush.
Cute Names To Call Your Crush In German
241. Sonnenschein (sonenʃin)
"Sunshine."
242. Knuddelbär (knuddlbaer)
"Huggybear."
243. Dornröschen (dornroeschen)
Sleeping Beauty's German equivalent.
244. Bienchen (bi:nchen)
It means that you are as sweet as a little bee.
245. Märchenprinz (märchenprinz)
The equivalent of prince charming in German.
246. Honigschnitte (honikʃnitte)
Sweet as honey.
247. Grinsebär (grinseber)
Someone that resembles a smile of a honey bear.
248. Mausi (mauzi)
Means "little mouse" – you are described as sweet and tiny.
249. Schnecke (ʃneke)
A snail is called a Schnecke in Germany, and strangely, it is considered an endearment.
250. Bärchen (little bear)
Catchy and cute German nickname that means bear
251. Liebling (darling)
"Liebeling" is the closest thing German has to the English word "darling." Therefore, your Liebling could be considered your favorite person.
252. Süsse or Süsser (sweetie)
This woman's boyfriend would call her "Süsse," while she could call him "Süsser," since "süss" is technically an adjective in German.
253. Engel (Angel)
Engel is commonly used to nickname women, but men in same-sex relationships can also use it.
254. Schatz (treasure)
It doesn't take an end-of-the-rainbow trip to find Schatz, which is a word that means treasure. A German term of endearment, "Schatz," is by far the most common. Bae = Schatzi.
255. Perle (pearl)
Perle means pearl in German. It's a nickname you won't hear all over Germany: It's a favorite in the Ruhr Valley, the country's industrial hub.