Many people are looking forward to taking a post-pandemic vacation with their families.
However, not everyone in your family or even in the states that you're looking to travel to might be vaccinated yet.
And many families might need to consider the cost of travel after some very difficult months.
After these many months of lockdown, social distancing, and Covid regulations, we all need to get out of the house and enjoy some family time together this summer. Having a change of scenery and enjoying quality time with your family can still be done without traveling far or spending a fortune.
We share our top 3 safe family vacation ideas with you here.
1. Plan a Staycation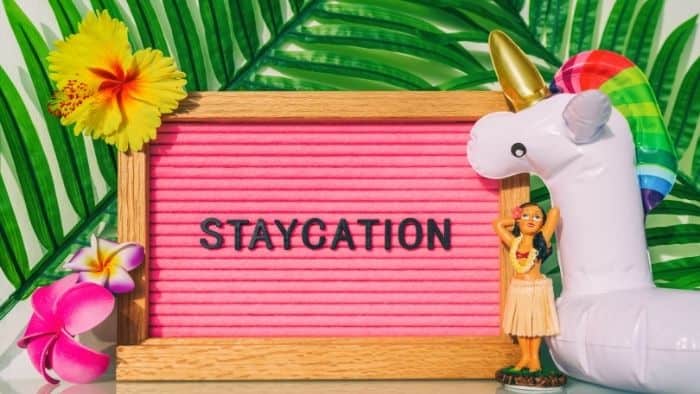 It might not sound all that exciting as jetting off somewhere, but we've managed to make staycations loads of fun in the past.
Get everyone in the family to come up with a list of things to do and places that they'd like to visit.
Grab a map of your neighboring areas and consider small towns that you've heard of but never yet visited.
Depending on your children's ages there are always fun new areas to explore. You can do day trips or short 1 or 2 night stays nearby.
You can schedule in to see new parks, nearby amusement parks, aquariums, zoos, or even museums.
Including a Yes Day for your kids is another awesome staycation idea. Here your kids get to choose several activities that the whole family has to do together. Read more on how to plan a Yes Day here.
Remember that you can have a lot of fun at home as well.
If the weather is awesome, you can invite a few friends over and plan some fun activities in your backyard.
Check out our Swimming Pool Game and Fun Outdoor Games for some exciting ideas to keep your teens busy all day.
And for quieter evenings why not get some super fun board games to play with friends and family.
How about a backyard campout with the kids!
Don't forget to order lots of yummy food and snacks to bring the summer vacation vibes to your home.
2. Social Distance Outdoors
Why not go camping or book a log cabin or beach bungalow where you'll spend most of your time outdoors.
It's great when you get the best of both worlds – that summer vacation feeling, but without all the crowds.
We absolutely love camping and hiking in the mountains. I personally do prefer a cabin as it makes cooking and storing food so much easier.
There are so many stunning places to discover and explore new areas and hiking routes.
3. Roadtrip Visiting Family or Close Friends
Holidays are always more fun when you spend them with family and friends. Everyone in the family enjoys catching up with old friends.
Combining a road trip where you visit family and friends allows you to enjoy some social contact but also keeps you safe from large crowds at popular holiday destinations.
Consider each family member so that everyone gets the opportunity to spend time with someone their age or that they really enjoy seeing.
You could even rent an RV and add some extra destinations to your road trip.
Resources For Safe Travel
There are plenty of resources to help you keep your family safe this summer holiday. The CDC has guidelines for travel in the U.S.
The Mayo Clinic tracks state vaccination rates and you can find out where outbreaks are happening. and the AARP has the latest mask requirements by state.
Key Takeaways For Safe Vacation Ideas
A well-planned staycation filled with trips to restaurants, parks, and museums is a safe way to have fun and relax.
You can also have fun in your own backyard with a campout, outdoor games, swimming pool games, and board games to round off the evening.
Camping at a state park or booking a mountain cabin can include family-fun activities such as hiking, swimming, and exploring the outdoors.
Roadtrips to visit family and friends are a great way to socialize and stay safe.