Whether you really love drawing flowers, or you've always wanted to learn how to draw flowers, I share some fun and easy flower drawing tutorials with you here.
I've selected simple and easy-to-draw flowers, as well as some flower drawings that are a bit more difficult.
These flower drawing tutorials will guide you step-by-step on how to draw that perfect flower.
Choose your favorite and let's get started!
How To Get Better At Drawing Flowers
Use The Right Pencil
You're going to make a lot of mistakes so you should start playing around with different pencils to find one that is easy to erase.
Softer pencils like 2B will give you darker lines but as you don't need to press as hard to make the lines, it is easier to erase. No matter how lightly you use a hard pencil (i.e., 6H), you still can't erase it as easily as a soft pencil.
The best advice is to start sketching with a softer pencil like a 2B or even HB, as it will be easier to erase.
Outline First
When you first start learning how to draw various flowers, you will notice that many tutorials start with an outline. Some might start with a circle or a tube shape. These lines are just guidelines, to be erased later, but they create the size and shape of the flower.
Use Different Size Pencils & Pens
Pencils come in different hardness and pens come in different shapes and sizes as well. Play around with different nib thicknesses.
Once you're happy with the outline of your flower, you can use the thicker pens to go over the outlines, and the thinner pens to add details and for shading as well.
Shading
You can use fine liners to create shading in your flowers. The closer the lines are together, the darker the shaded areas will look.
Find Inspiration
There are many great artists that you can follow to get inspiration, especially on Pinterest and YouTube. Or you can go outside and look for a flower that catches your eye and you would like to draw.
Being inspired to get creative is one of the first steps to get the creative juices flowing.
Follow Tutorials
Everyone has different ways that they draw flowers. It's therefore great to follow different tutorials as each one might teach you something new. You can follow written tutorials as well as video tutorials.
Practice
Just like anything in life, if you want to learn to be good at something you have to do it over and over again until it gets easier.
Have Fun
Last but not least, you should be having fun. Drawing should bring joy. Although it can be frustrating in the beginning, you should also find a sense of inner peace and enjoyment while practicing drawing flowers.
Supplies You Will Need For Drawing Flowers
The first step every artist takes is to make sure they have all the supplies they need. Having the right tools will make flower drawing easier and more enjoyable.
You will need the following simple supplies:
Paper
Sketchbooks are better than loose sheets of paper, as you can keep everything together and track your progress.
I would recommend Canson mixed media sketchbook. They come in several sizes and can be used for sketching, drawing, and watercolor.
Alternatively, the Arteza hardbound sketchbook is a more sophisticated option.
Pencils
You will want to get several different sketch pencils with varying hardness.
Arteza offers a great sketch pencil set consisting of 12 pre-sharpened professional quality sketch pencils.
The graphite hardness varies in degrees and includes 6B, 5B, 4B, 3B, 2B, B, HB, F, H, 2H, 3H, and 4H.
This range is ideal for fine detail illustrations, journaling, photorealistic drawings, sketching, blending, shading, smudging, and adding texture.
If you don't want to keep sharpening your pencil while you draw, mechanical pencils are best.
Nicrpo offers a great 6 piece metal pencil set with lead refills.
Pens
Pens are available in all sizes and shapes. Choose from a few different nib thicknesses from fine to bold to get the right nib thickness for the style that you are trying to achieve.
This quick-drying fine liner drawing pen set comes in 8 assorted tip sizes. These pens don't bleed, fade or smear. They are sunproof and water-resistant as well.
A Good Eraser
Even professionals make mistakes, so it's important to have a clean eraser that you can use to eliminate errors or lightly erase pencil markings before retracing them with your pen.
Now that you have all the necessary tools, you're ready to draw a flower!
How To Draw A Lotus Flower
Lotus flowers have long been used as symbols of beauty, purity, and grace, from classic paintings to modern art.
Unlike most other plants, lotus flowers consist of a center pod with large petals spread outwards.
Begin by drawing some oval shapes, add several pointed petals, and finish by coloring them in your favorite color.
How To Draw Hydrangeas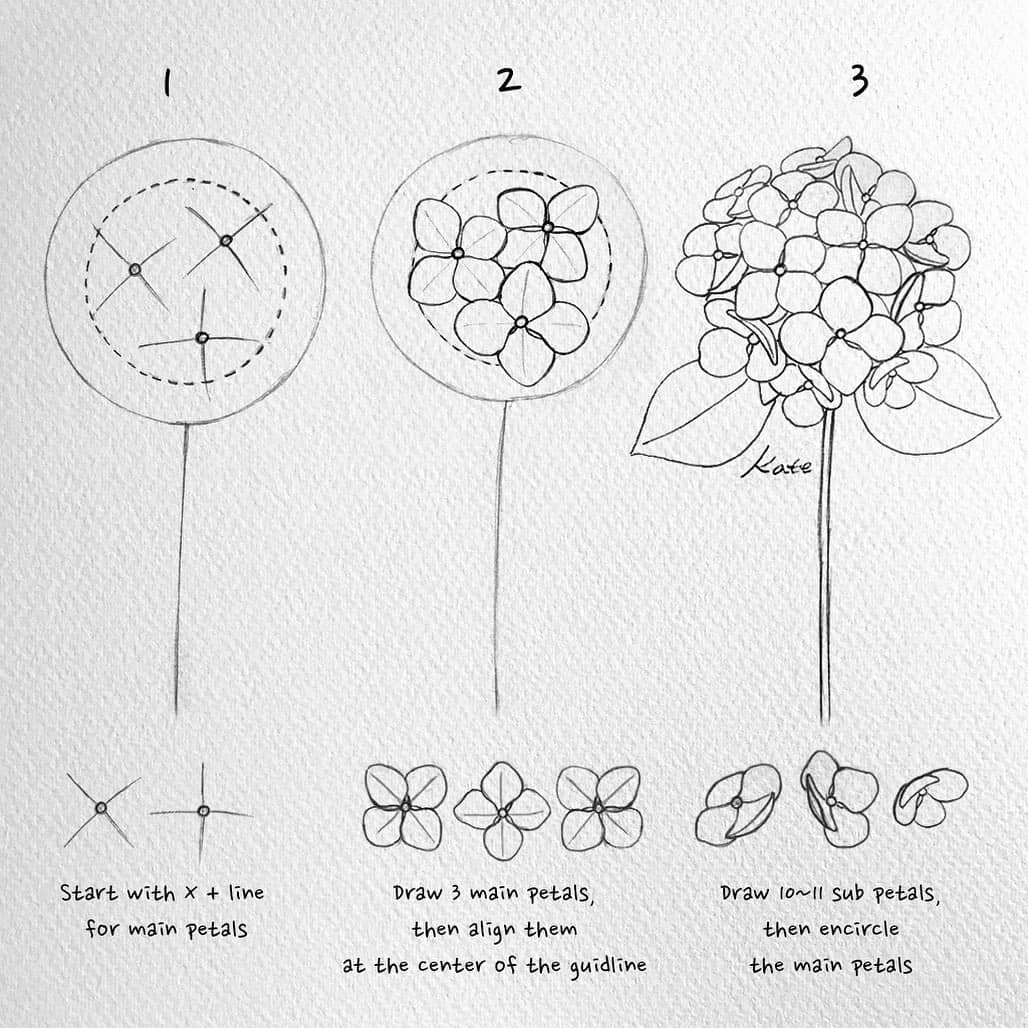 Hydrangeas are vibrant and showy, from tiny baby blues to rich burgundies and purples.
The traditional blue mophead hydrangea has always been my favorite, and I thought you might be interested in seeing how to draw it by following the step-by-step guide.
In the above tutorial, Kate shows you how to draw hydrangea petals from different angles. Drawing them is much easier if they are broken down into smaller, step-by-step processes.
How To Draw A Rose
Whether you just love roses for their beauty and aroma, or if you want to present your partner with a romantic symbol of love, learning how to draw roses can be challenging.
Rose petals wrap around each other, making them a bit trickier to draw than simpler flowers like daisies.
Drawing a rose from above is probably the hardest, so I chose to share a tutorial on how to draw a rose from the side, as it is a bit easier to master.
How To Draw The Flower of Life
The Flower of Life is made up of evenly-spaced, overlapping circles often referred to as sacred geometry. It represents creation and unity and is believed to be the blueprint for everything that exists in the universe.
It's best to use a compass to create the overlapping circles in perfect symmetry.
Follow the tutorial above or watch this video which shows you how to draw the perfect Flower of Life:
How To Draw A Lily Flower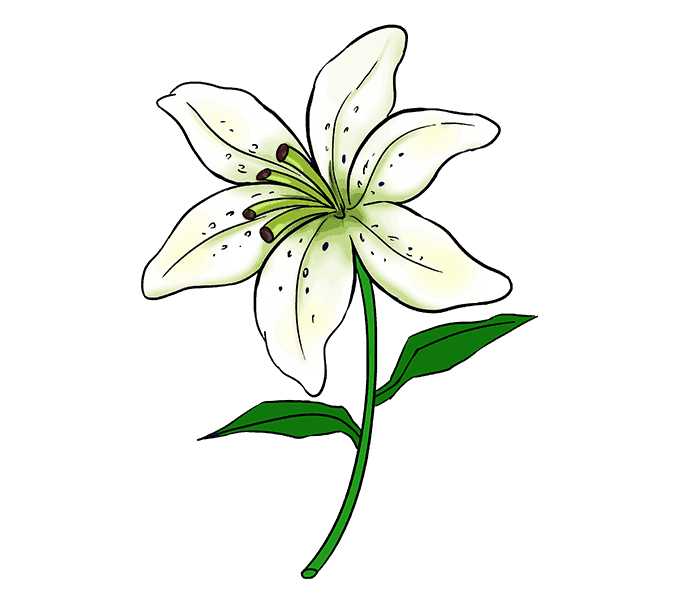 Symbols of purity, these flowers bloom in an array of striking colors, including white, yellow, pink, red, and orange.
You can find out what the different colors of lily flowers mean and symbolize on FlowerAura.
Follow the step-by-step tutorial to easily draw this gorgeous flower.
How To Draw A Flower Wreath
Customizing birthday cards and gift tags with flower wreaths is an easy way to make gifts more special.
This tutorial by Archer And Olive will show you how to draw pretty wreaths.
Drawing these wreaths is quite easy and therefore suitable for beginners.
How To Draw A Hibiscus Flower
Brightly colored, showy Hibiscus flowers add a tropical feel to any flower arrangement.
But did you know that these ornamental flowers have several uses as well? According to Wikipedia, different Hibiscus flowers can be used to make paper and rope, as well as tea, and as a souring ingredient for several local dishes in the Philippines.
Various varieties grow in the Philippines, and their juice is also mixed with soap to make a bubbling solution which children use to blow bubbles.
How about drawing a hibiscus flower? The Supercoloring tutorial will show you how with easy-to-follow steps.
How To Draw A Daisy Flower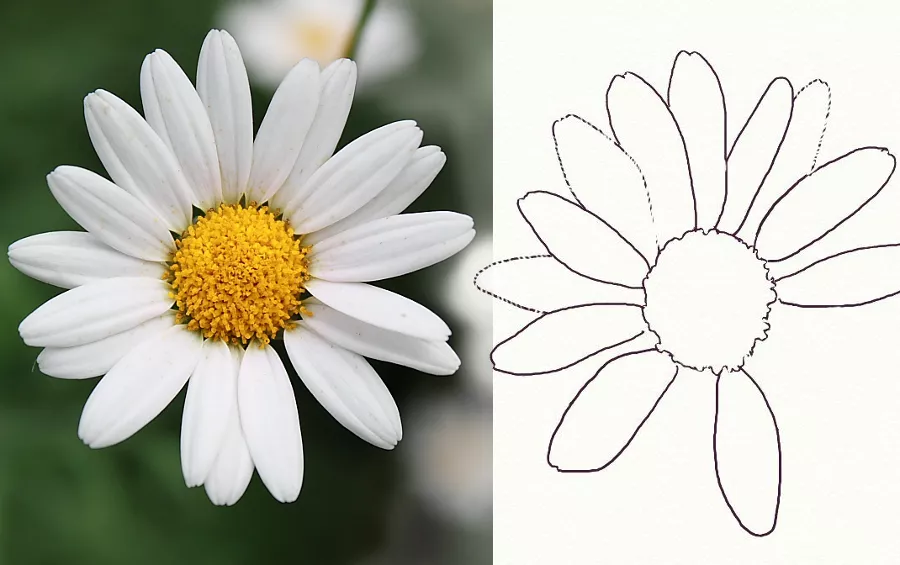 Daisy flowers are one of our favorite flowers to draw, and I often doodle them with a simple circle and overlapping oval leaves.
A good reference photo is always very useful in making your daisy drawing looking a little more realistic.
The above tutorial shows you how to observe your photo and copy the shapes of the petals.
Don't forget to add shading and small details. Add some dots to the center of the daisies to give them more texture. Shade the petals and leaves with fine lines at the centers and the tips.
How To Draw A Poppy Flower
Showy poppies stand out by their bold red color and can be seen miles away due to their clustered growth. You can also find poppies in white, pink, yellow, orange, or blue.
Poppies are colorful flowers often used to commemorate soldiers who died during World War One.
You will learn how to create a simple poppy using mostly curved lines and simple effects in this easy drawing tutorial.
How To Draw A Flower Crown
You've probably made a daisy chain at some point by stringing stems of flowers together and using it as a flower crown or necklace.
Flower crowns or wreaths go back to ancient Egypt where victorious warriors were given wreaths of olive leaves to wear.
Today flower crowns are popular with brides and at music festivals.
Follow the easy step-by-step tutorial for drawing and coloring a flower crown.
How To Draw A Dead Rose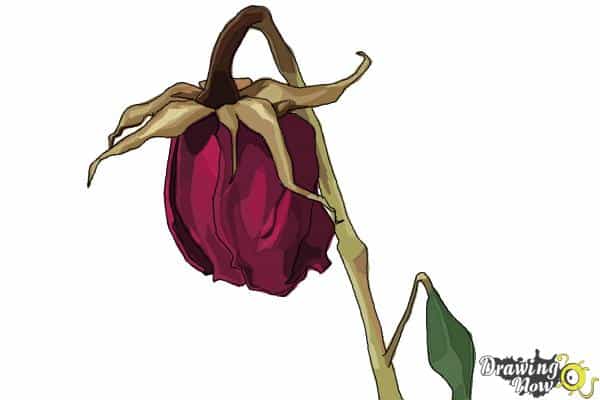 We all love a beautiful red rose as it represents love and romance. In contrast, a dying, or wilted rose can indicate the loss of hope, love, or even death.
You might recall the enchanted rose in Beauty and the Beast, where it symbolizes the Beast's dying hope for love; if the rose dies before he finds his one true love, then he'll stay the Beast forever.
If you've been curious to know how to draw a dying rose, then check out this tutorial and follow the steps.
How To Draw A Flower Bouquet
When drawing a flower bouquet you will need to draw and group several different flowers. It's best to choose flowers in varying sizes to add more depth and interest to your drawing.
As with any drawing, it's best to start with outlining your flowers lightly so that you can erase and move them around as needed.
Krista shows you how to draw an Autumn Flower Bouquet with step-by-step instructions and many hints and tips on how to make your flower bouquet beautiful and realistic.
How To Draw An Iris Flower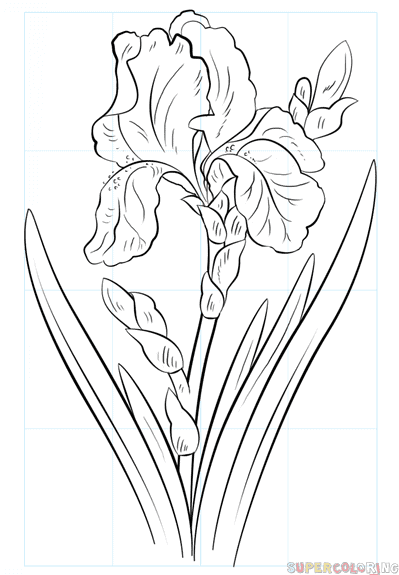 Irises can be quite tricky to draw as the petals of each flower differ significantly.
This tutorial will teach you how to draw an iris using guidelines to ensure you achieve the correct proportions.
Remember to sketch the outlines softly and then start working on creating the different shaped petals and blossoms. Once you're happy with your sketch, use pens of varying thickness to complete your Iris drawing.
How To Draw A Peony
Peonies are known for their large petals and vibrant blossoms.
Traditionally, the peony is the flower of choice for the celebration of the twelfth wedding anniversary. A peony can symbolize wealth, honor, romance, prosperity, good fortune, or a happy marriage.
If you've always wanted to learn how to draw this beautiful flower, then follow this easy, step-by-step guide which makes it easy for you to draw.
How To Draw A Magnolia Flower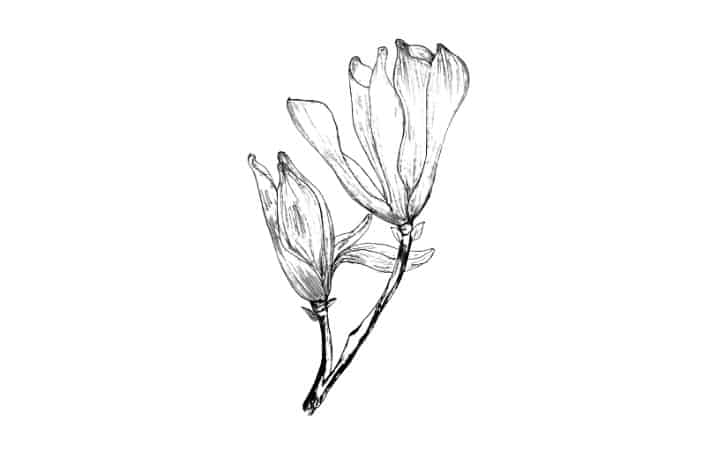 Magnolias are flowering trees that are native to North and South America, Asia, and the Himalayas. The flowers of the magnolia have a strong sweet scent and are seen as a symbol of feminine beauty and purity.
I love this tutorial as the step-by-step drawing guide makes it is easy and fun to learn.
How To Draw A Carnation
Carnations are beautiful flowers but can be more difficult to draw due to the shape of the petals.
Follow these steps to learn how to draw this stunning flower.
Don't forget to use the right tools and practice your shading to create a more realistic look.
How To Draw A Jasmine Flower
The Jasmine flower is shaped like a star, which is an easy shape to draw as an outline for your flower.
Notice how the petals are wavy and irregular in shape. Adding prominent stamens gives your drawing the classic jasmine flower look.
You can follow the tutorial above or watch this quick video showing you how to draw a jasmine flower.
How To Draw Flowers In A Vase
There is something classic about drawing flowers in a vase.
It may appear simple, but the artwork must incorporate many drawing techniques to achieve a realistic rendering.
This guide shows you how to use these techniques to draw flowers in vases.
How To Draw Cherry Blossoms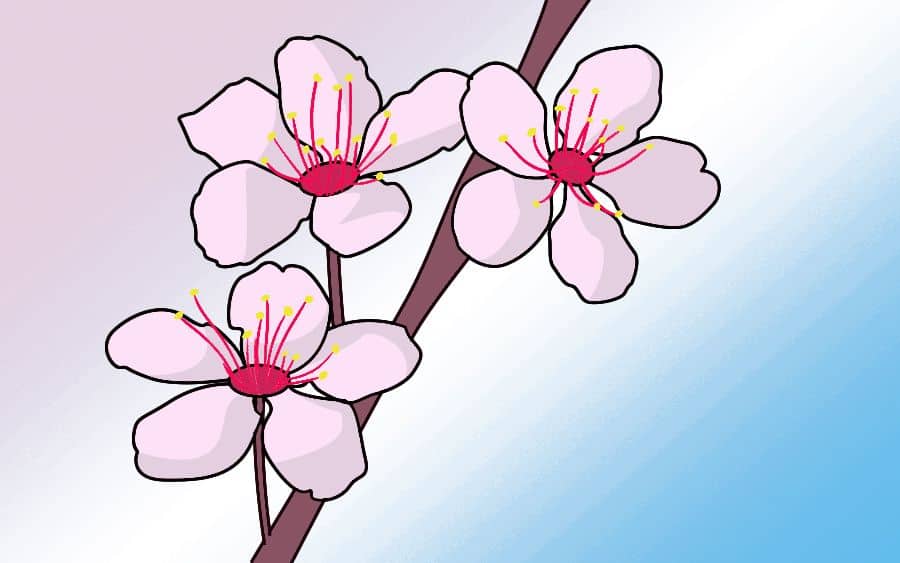 Japanese culture is associated with cherry blossoms, which are called sakura.
The cherry blossom appears in ancient and modern artwork and tended gardens across the country are full of cherry trees. T
The tutorial above is a helpful and detailed guide to drawing cherry blossoms.
How To Draw A Butterfly On A Flower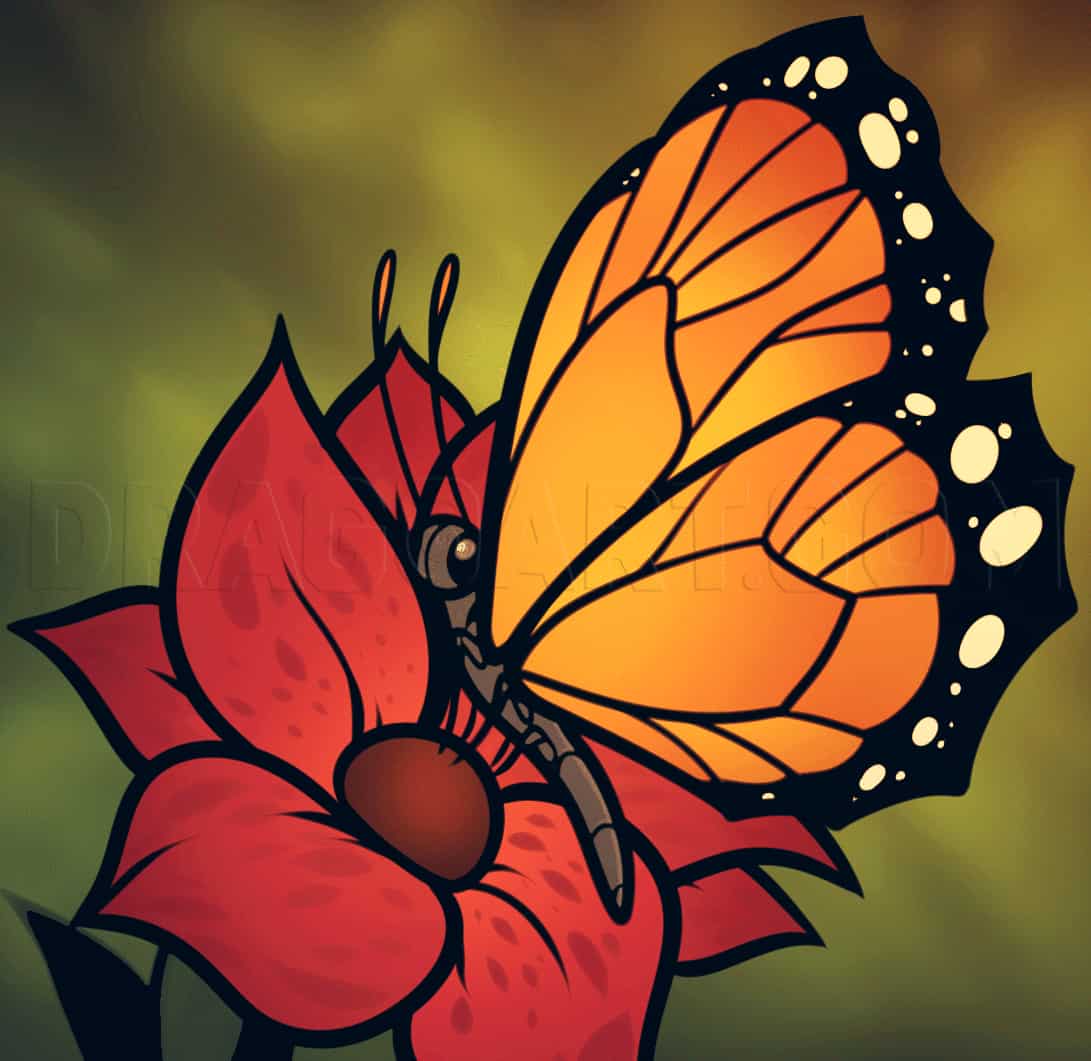 Here's something slightly different, however, a butterfly drawing lesson is a fun addition to flower drawing tutorials.
Simple instructions are given for drawing the butterfly in the flowers.
Remember to sketch it out first with a pencil and then fill in the lines with a pen once you're happy with your drawing.
Tips On How To Shade Flowers
I found this amazing video tutorial on how to shade flowers.
First, he shows you how to think of leaves and petals as 3d shapes, and shows you how to draw these.
Next, he shows how to visualize and draw the curvature of the petals. This includes drawing curved lines to show the orientation of the natural shape of the leaf.
Lastly, he shows you how to draw areas of light and areas of shadow.
Tips On How To Draw Flower Doodles
I also found this inspirational video where she shows you how to doodle simple flowers. These are great for a bullet diary or just to add something beautiful to your notebooks.
This is more for inspiration than a step-by-step guide, but it really shows you what you can achieve by practicing.
She doodles several flowers quickly and easily and adds some simple shading as well to create more detail and interest.
I hope you've enjoyed these tutorials and have created some beautiful flower drawings yourself.