Are you looking for a fun summer activity to do with your daughter?
Why not get creative together and embellish your shoes.
Adding your style to shoes by decorating them with your own designs is such fun!
You can create unique looking shoes without much expense with these DIY shoe decorating ideas & tutorials.
We found some fun projects to makeover plain sneakers, tennis shoes, flip flops, and even a few high heels for mom.
Scan the ideas and start planning your next shoe projects for a more exciting and different look!
DIY Glitter Shoes
Everyone deserves a pair of sparkly shoes.
Glitter comes in a variety of colors and shapes, which makes it a great decorative element.
It's so easy and inexpensive to make glitter sneakers, and the results are stunning!
DIY Polka Dot Shoes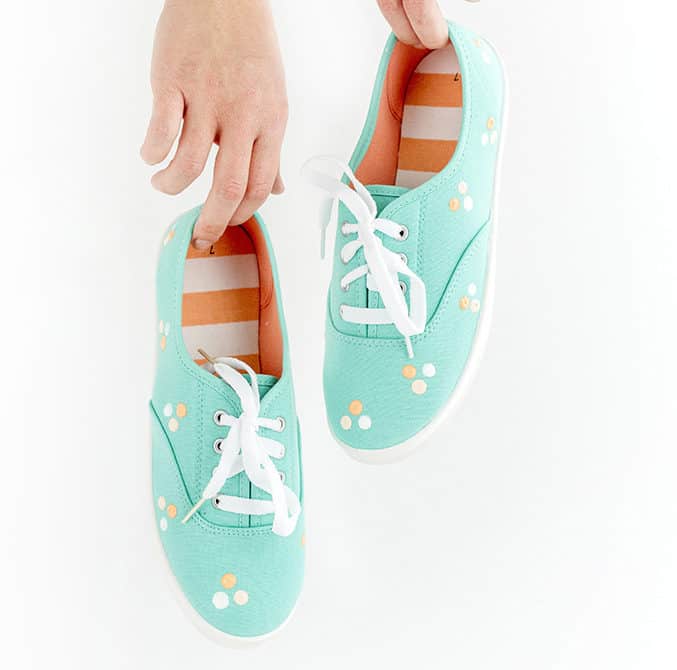 Are flats and slip-ons also your thing? I definitely like to wear shoes that are both comfortable and stylish.
This DIY shoes design with contrasting colors and loads of polka dots is absolutely adorable.
DIY Watercolor Shoes
It's just amazing how the colors blend together to create a beautiful work of art.
It's wonderful to come up with your own shoe designs, adding your own flair and style!
DIY Pom Pom Sandals
Bring some whimsy to your wardrobe! It's all about the pom-poms right now! Pom-poms are typically found on hats, socks, dresses, and even pillows. Why not rock some on your sandals too?
Bright colors are waiting for you! Adding color to your wardrobe can be affordable and a great way to add some personality.
Check out our DIY pom-pom earrings tutorial to match your new shoes.


DIY Hand Painted Summer Sneakers
Did you ever draw on the sole of your sneakers, bored during class, to pass the time in middle school?
These simple DIY sneakers were a lot of fun to make. They will be one of a kind, and you can wear them all season long!
DIY Fabric Covered Shoes
What fun projects have you done with Mod Podge recently?
If you have old shoes that you no longer wear, what about covering them with fabric? This simple DIY shoe makeover project will only take an hour to complete.
Looking forward to seeing how your shoes turn out!
DIY Shoe Clips
A pair of shoe clips can instantly dress up a pair of shoes, whether they're pumps or flats.
I'm sure your girls will love clips on their shoes too! A little glue will do the trick!
Check out How Long Does Super Glue Take To Dry? before starting this DIY project.
DIY Gold-Toe Flats
These gold-tipped flats make an excellent fashion statement! You can easily transform cheap ballet flats into high-end-looking gold tip shoes with this style hack.
We're so in love with these gold tip baby DIYs! Metallic spray paint, painter's tape, and a pair of shoes are all you need to complete this do it yourself shoe design.
DIY Hydro Dip Sneakers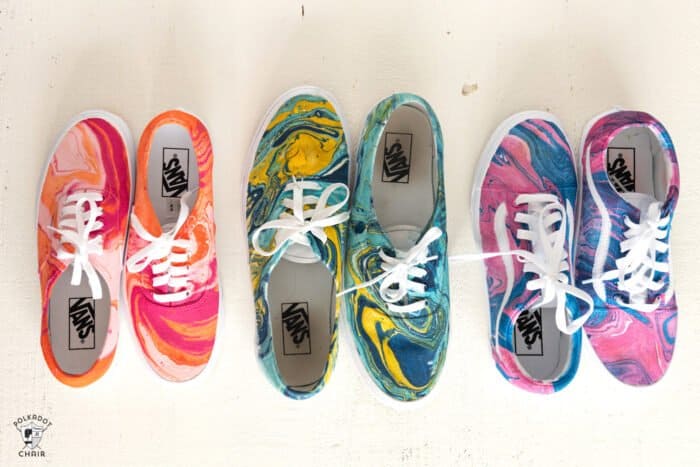 Learn how to hydro dip shoes with this DIY! The latest trend is hydro dipping, and here is how you can do it at home.
You'll end up with a beautiful design, and it's super easy. It's definitely worth a try!
DIY Painted Plaid Shoes
Make your old shoes look brand new with this DIY.
A few simple materials are required for this easy and simple project.
I like how straightforward and cool it is! I'm sure you'll love the results too.
DIY Paint Galaxy Shoes
You should try these hand-painted galaxy shoes if you are interested in DIY fashion.
It takes just a few materials to make these awesome galaxy shoes. You'll be amazed at the results!
The galaxy shoe design can be entirely personalized to you to add your flair and style.
DIY Embellished Loafers
It is easy to personalize shoes and make them unique by embellishing them.
Make any pair of old loafers or sneakers look new with this DIY shoe decorating project.
DIY Pineapple Shoes
Here's another fun DIY for you to try. This DIY Pineapple Canvas shoe project is so cute, they'll make you feel like you're ready for summer.
DIY Watermelon Shoes
Summer is not complete without watermelons! The sight of Watermelon print makes me feel like warmer weather is on its way! How cute are they?
Making them takes about 15 minutes, then you're showing off your love for summer's finest!


DIY Floral Embroidered Shoes
That looks like such a fun DIY shoe design! You can buy a simple pair of canvas shoes and add some embroidered florals to them to make them more personalized! Stunning results!
DIY Ombre Painted Sneakers
You can use any color you want! My favorite kind of shoes is colorful and unique to express my personality.
Create an easy ombre effect on your simple white sneakers with a shade of your choice.
Get your hands on some acrylic paint at your local craft store and get painting!
DIY Studded Flats
In this DIY Studded Flats tutorial, you'll see how to turn plain flats into a pair of sparkling shoes without spending a fortune.
Adding DIY stud details to your go-to black ballet flats will give them a rock 'n' roll edge.
DIY Christmas Lights Inspired Sneakers
The adorable Christmas light sneakers will make you look festive from head to toe. For family and friends who can't have enough of Christmas, you can even make them as a fun handmade gift!
DIY Fabric Covered Pumps
With this DIY project, you can make a pair of old high-heeled shoes look brand new.
Why is this so great? Decorating your own shoes will give you a pair that is unique, one-of-a-kind, and no one else will have the same shoes. Only you!
DIY Painted Ice Scream Sprinkles Shoes
Here's a super cute pair of shoes you'll love. Creating summer sprinkle shoes seems like a perfect summer activity considering summer would not be complete without ice cream.
DIY Fabric Flip Flops
We all have some old flip-flops that could do with a bit of a make-over.
These cute fabric flip-flops caught my eye and I had to try them. Super fun for mom and daughter to do together.
DIY Pom Pom Flip Flops
Are you obsessed with pom poms? This is a great DIY that keeps you up to date without going broke. The results are absolutely stunning!


DIY Floral Sneakers
You're going to love this DIY! A simple project with endless possibilities, and a cute end result.
Floral prints make the shoes stylish, yet still casual.
DIY Rainbow Tie-Dye Shoes
You will create colorful sneakers out of your plain white sneakers with this DIY! Create a seasonal sneak, or have your shoes painted in your favorite colors.
DIY Elastic Shoes
Are you tired of tying shoelaces? With this DIY, you'll be able to transform your old shoes into easy slip-on shoes! It's so easy to make and looks so stylish!
DIY Dot Patterned Shoes
Need a new look for your plain canvas sneakers? Put your white sneakers in a dotted pattern.
Make your own dotted shoes with impressive detail and unique designs using stencils!
DIY Lace Slip-on Sneakers
Using these simple steps, you can turn any dull, monochrome pair of shoes into something unique and stylish.
You will be able to save a lot of time and money by using things you already have in your home.
Even I could create this cute DIY myself, and it is so easy to do. This is a must-try!
DIY Stenciled Sneakers
Make a statement with these DIY stencil sneakers. They stand out thanks to the metallic gold paint.
Changing the design of your canvas sneakers is possible with any stencil.
Get creative! Have fun! It's easier than you think!


DIY Faux Painted Oxford Shoes
Are Oxford shoes your thing? It's time for another DIY project!
You can customize these shoes in so many ways and experiment with different colors. The results are fantastic!
DIY Striped Loafers
I really like how this DIY Striped Loafer turned out!
All you need is some tape and paint, and you're good to go.
Put a little punch in your stripes with some black or white patterns.
DIY Flamingo Shoes
An easy and inexpensive way to refashion your worn-out shoes is by painting on some super cute flamingoes.
The perfect summer DIY for kids of all ages is these super fun DIY Flamingo shoes!
There will never be two identical pairs.
DIY Red Saddle Shoes
These DIYs are adorable, and they'd brighten up any outfit! Saddle shoes have always been on my wish list!
Adding those heart details was such a nice touch.
DIY Patch Patterned Sneakers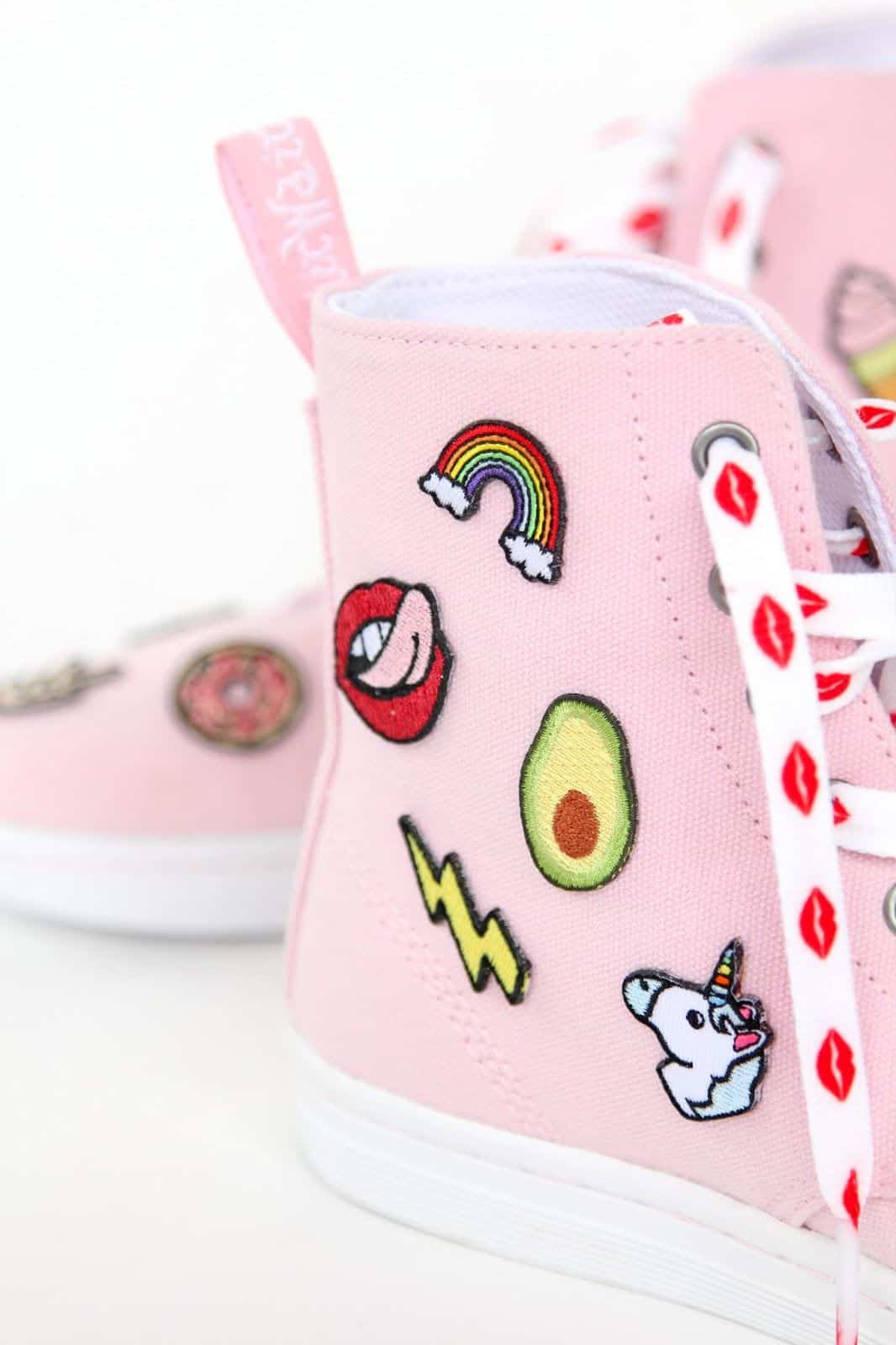 Your sneaker game is going to get a serious upgrade thanks to today's project! Look at how cute they are!
Time to start collecting super cute patches as this DIY is not going away any time soon.


DIY Abstract Paint Splatter Shoes
This DIY just looks so refreshing with its pastel colors! Splashing paint around is so much fun!
If you're looking for a fun form of self-expression you should definitely try out this DIY.
DIY Heart Detail Flats

Date night? There are times when we just need a fashionable pair of flats. My favorite aspect of this DIY shoe project is that it looks simple and elegant. What a cute heart detail!