Thanksgiving is a time to take stock of our materialistic impulses while we express our gratitude to our family at the dinner table. We then throw all that out the window and run to the store to buy useless junk the next day.
It's easy to make fun of people who cannot see the irony in this when we see crazy shoppers fighting over things they don't really need.
If you see Black Friday as a bit of a joke, then these puns, quotes, and dad jokes perfectly sum up the craziness and absurdity of the day.
📢 You might also enjoy reading:
Black Friday Puns
1. Black Friday is a great time to visit the tire store.
They always have a blowout!
2. The boat shop had a massive discount on all their stock this Black Friday.
It was the biggest sail event they'd ever had.
3. How do you describe an amazing Black Friday deal with free cake?
A sweet deal.
4. I had a great time at the Geology Museum on Black Friday!
There were so many terrific shales. It rocked!
5. On Black Friday, I bought a new vacuum cleaner.
It sucks.
6. I will spend a thousand dollars on a computer this Black Friday.
It's going to be grand!
7. What did the tired Black Friday clothing shopper say?
I'm overall this!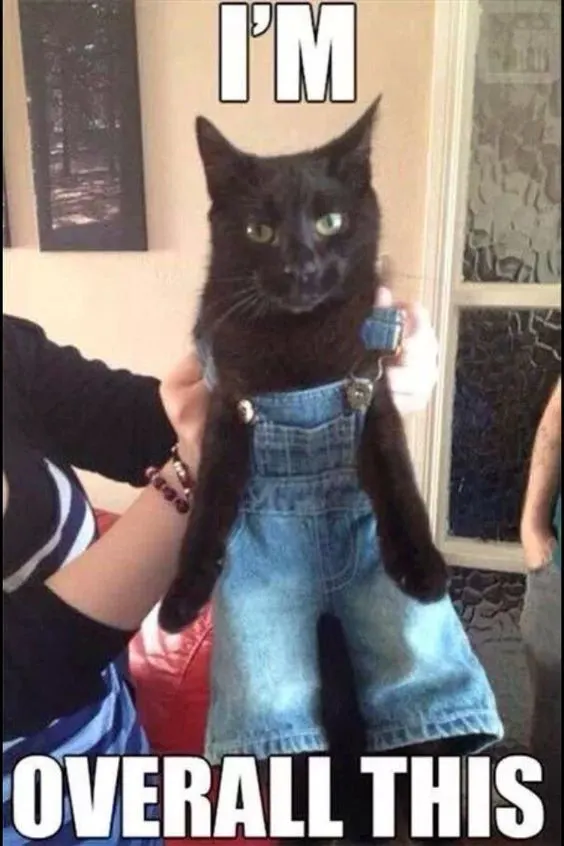 8. Why does Humpty Dumpty not participate in Black Friday?
He's broke.
9. When Black Friday falls on Friday the 13th, what happens?
Prices get slashed!
10. Why do cops love going to Black Friday early?
So they can beat the crowd.
11. What do you call someone who gets run over at a Black Friday sale?
A Walmartyr.

Black Friday Quotes
Keep Calm Black Friday is coming.
Wishing a happy Thanksgiving to someone I'd stomp to death on Black Friday.
I was too lazy to go out shopping today, so to make it feel like Black Friday, I went ahead and punched a few family members.
Without Black Friday, life would be meaningless.
Black Friday: Because only in America do people trample others for sales one day after being thankful for what they already have.
Know any rich people who shop on Black Friday?
All the money saved up for Black Friday.
Black Friday! Let the insanity begin.
Shortest horror story: sold out.
Black Friday makes impossible things possible.
Black Friday special! Stay home and save 100%.
It's the day we've all been waiting for.
I was made for this day!
Whoever said money couldn't buy happiness simply didn't know where to go shopping.
Black Friday is two days away. Today is apocalypse Wednesday at the grocery store.
Make it a rocking Friday by shopping without stopping. Happy Black Friday.
I hope you will only get surprised by the amazing deal on Black Friday and not your credit card bill.
Gear up because it's Black Friday.
May your wallet still be full after shopping for everything you want. Happy Black Friday.
Fridays are always great, but Black Fridays are the best.
Countdown to Black Friday.
Shop like a champion.
Buckle up. Black Friday is not for sissies.
Buying happiness for everyone is what I love about Black Friday.
Black Friday shoppers, be warned! It's only for the fit and healthy.
I live for Black Friday.
I shop; therefore, I am.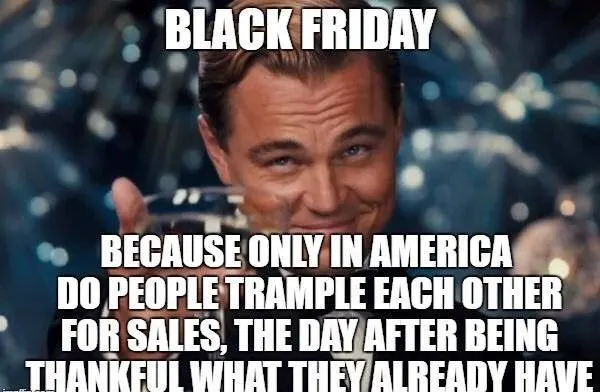 Black Friday Funny Quotes
I can't wait for Black Friday. Oh, I don't buy anything. I just enjoy watching people push and shove each other.
Cheers! to the people working as security on Black Friday.
The first rule of Black Friday, there are no rules.
Black Friday is the only day people spend their hard-earned money on things they don't need.
Here's to hoping Black Friday doesn't turn into Black and Blue Saturday.
Black Friday should be for bills, too. I want to get 30% off my electricity bill if I pay it on Black Friday.
Maybe I'll catch a relationship on sale come Black Friday.
Peace is not an option when shopping on Black Friday.
Cheers! to all the people out there who do their Black Friday shopping online.
Black Friday? Thanks, but no thanks. Only criminals tell you to come out at 4 am for a three-dollar DVD player.
You can always find something you need on Black Friday.
My version of Black Friday is deleting all the people on my phone who sent me a mass Thanksgiving text.
I don't care if Mondays are blue, Tuesdays gray, and Wednesdays too; Thursday, I don't care about you. It's Friday. I'm in love.
Smile. It's Black Friday. Let the shopping begin.
Do you mean to tell me that people trample each other for sales exactly one day after being thankful for what they already had?
Consider how fat you got on Thanksgiving when buying clothes on Black Friday.
My dear Monday, I want to break up; I'm looking forward to Tuesday and dreaming of Friday. Sincerely it's not me; it's you.
Do you know what rhymes with today? Shopping.
There's just one legitimate synonym for Black Friday, boom, chakalaka.
It's so nice to see you again, Friday. My apologies for having seen me with Monday, Tuesday, Wednesday, and Thursday. However, I swear I was thinking of you the whole time.
May you get rewarded with the best deals and have a fun-filled and thrilling Black Friday.
"Don't even front like you love your family, America, or God, if you don't have a detailed and rehearsed Black Friday tactical shopping plan" – Rob Delaney.
Everyone knows about Black Friday and Cyber Monday. Now help me spread the word about Giving Tuesday!" – Bill Gates.
I should give up shopping, but I am not a quitter.
Black Friday deals are a scam. You should be mad at them for overcharging you 364 days a year.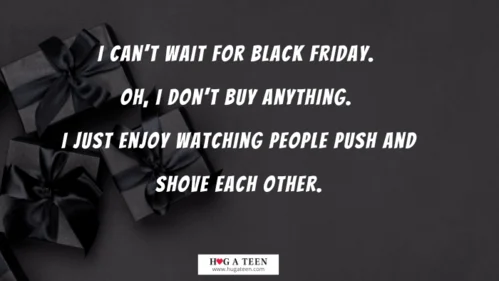 Black Friday Jokes
What is the day after Black Friday called? Broke Saturday.
What do Black Friday shoppers and the Thanksgiving turkey have in common? They know what it's like to be jammed into a small place and stuffed. – Humoropedia.
I approximated the Black Friday experience at home by hurling myself into a wall several times and then ordering online. – Kumail Nanjiani.
Black Friday: Because only in America do people trample each other for sales exactly one day after being thankful for what they already have!
Shopping is cheaper than a psychiatrist.
How many people got tramped this Black Friday? Not enough.
Nothing says "I care" like a Christmas present someone had to throw an elbow for.
Two corporate chains opened on either side of a small local shop and put up huge signs proclaiming they had the BIGGEST SALES. So the local shop owner placed a larger sign above his entrance in between them, which read "MAIN ENTRANCE."
Black Friday Dad Jokes
I hope your Black Friday injuries are not too severe that you can't click a mouse on Cyber Monday.
Why do ghosts like Black Friday? They're bargain haunters.
Why was Friday a happy day? Because the next day was a sadder day.
So you can make it early to Black Friday but can't make it to church on Sunday?
If you're going shopping on Black Friday, be a decent human being and turn your phone horizontally before recording any fights.
Carry on, and I am just here for Black Friday violence.
Look at all these sales I don't care about.
It's only a matter of time before the security camera at Walmart on Black Friday becomes a hit reality show.
Whatever you came for, I just bought it.
Black Friday loading.
What if I told you that if you spend more than 8 minutes to save $1, you're working for less than minimum wage?
Let's go shopping, they said, everyone is watching football.
Black Friday, what? I am not afraid of you.
I haven't been this excited about Friday since last Friday.
It's Friday. Time to make stories for Monday.
Who needs sleep? It's Black Friday.
Happy Black Friday, shop till you drop.
My wife went to Black Friday and had a black-and-blue weekend.
With all the spending on Black Friday, you'd better pay your electricity bill first, or next Friday will be black too.
My wife's Black Friday shopping leads to my Blue Saturday bill paying.
What did Nala tell Simba after seeing a herd of women on Black Friday? "You gotta Mufasa!"
Why do people go clothes shopping on Black Friday? Because they can't fit into their clothes after Thanksgiving dinner.
What's the quickest way for a man to find his wife when out Black Friday shopping? He just needs to talk to an attractive woman.. because his wife always magically appears when he starts talking to a beautiful woman.
My dad has the best trick to save an absolute fortune on Black Friday…he totally ignores it!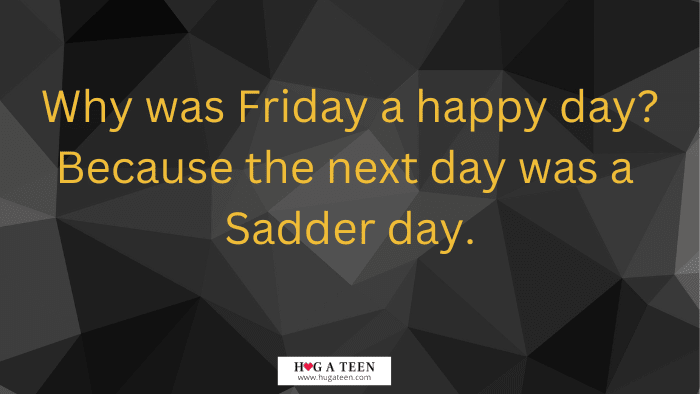 Black Friday Captions
Men go shopping to buy what they want; women go shopping to find out what they want.
Happiness is not money but shopping.
When in doubt, shop it out.
Out of my way, it's Black Friday.
I've been shopping my whole life and still have nothing to wear.
Shopping was never so comfortable. Happy Black Friday.
Only on Black Friday will I be a morning person!
Coffee and shopping are two of my favorite things.
I don't know about you, but I shop Monday through Thursday as well.
Wouldn't it be nice if retail therapy was covered by health insurance?
Shopping rule number one, shop it today; it might be gone tomorrow.
Friday is not a day for work, it's a day for shopping, and Black Friday is for crazy shopping.
Did some damage today at the mall – sorry, bank account.
Black Friday shopping is my kind of workout.
It's time to indulge in some shopping fun. Happy Black Friday.
Deals that make you go crazy, happy Black Friday.
Silly girls, Black Friday, is for amateurs; real women shop all the time.
Shop in the name of love.
The quickest way to know a woman is to go shopping with her.
Shopping is my cardio.
I have enough clothes and shoes; I don't need to go shopping," said no woman, ever!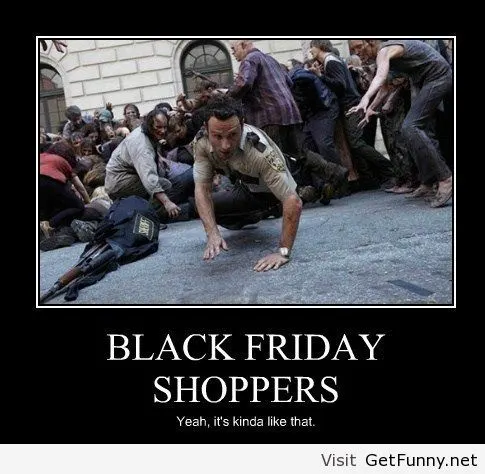 Black Friday Instagram Captions
Don't resist Black Friday's urge to shop without control.
In my eyes, Black Friday is the most anticipated day of the year.
Don't think about it, just shop for it.
Shopping is always a good idea.
Black is always beautiful, and so is Black Friday.
Shopping is an art; I am an artist. Respect, please.
Waiting to make it a memorable Black Friday for all our shoppers.
Black Friday sale photo dump.
We aim to make it a memorable Black Friday for you.
We are unable to resist the magic of Black Friday.
Because I bought it on sale, it's like I actually made money.
Black Friday makes so many things possible, like expensive clothes.
Work hard so you can shop hard.
I love shopping bags as they are full of happiness.
Let us all get stress free because it is Black Friday.
The only B S I need is bags and shoes.
Nothing haunts us like things we didn't buy.
Shopping spree goals.
It is time to indulge in some shopping fun. Happy Black Friday.
Life would have been so meaningless without Black Friday.
Black Friday is all about fulfilling your shopping desires.
Black Friday is all about buying happiness for everyone.
POV: Checking out all my Black Friday finds.
Each day is a page in your fashion story.
Related Black Friday Questions
Why is it called Black Friday?
Black Friday traditionally marks the start of the Christmas shopping season in the United States.
The earliest known use of the term "Black Friday" to describe the day after Thanksgiving appeared in the November 1951 issue of the magazine 'Factory Management and Maintenance.' The article referred to factory workers calling in sick the following Friday to have four consecutive days off.
During the same time period, police in two major cities – Philadelphia and Rochester – began using the phrases "Black Friday" and "Black Saturday" to describe the crowds and congestion they had to deal with during Christmas shopping.
Retail stores used the phrase to advertise their special deals to go hand in hand with the holiday shopping season as a marketing strategy.
In the years that followed, some retailers objected to the use of the term because of its derogatory connotations. As an alternative explanation, they proposed that retailers traditionally lose money for most of the year (being in the red), making up for the loss during the holiday season (being in the Black).
According to this theory, "Black Friday" is the beginning of the holiday season, when retailers begin turning a profit.
Is Black Friday Sale only one day?
Black Friday falls on the Friday after Thanksgiving. However, because of how important the holiday shopping season has become to retailers, there are now four official shopping days around Black Friday. These include Black Friday, Small Business Saturday, Cyber Monday, and Giving Tuesday.
Each day offers unique deals and promotions. However, if you're interested in getting the biggest discounts, you should probably focus on Black Friday.
During Black Friday, the biggest discount usually comes from retailers offering doorbuster specials. These deals typically last just 24 hours and are offered on specific items. Many shoppers line up outside stores hours before the shops open to score the best deals.
Small Business Saturday is another opportunity to save money. On this day, you can visit local shops instead of big box stores. Shop owners may give away free gifts or host special events.
Cyber Monday is the Monday following Thanksgiving Day. This is the day when you can buy electronics, clothing, furniture, appliances, and other goods online. Some retailers offer deep discounts on products sold on Cyber Monday.
Giving Tuesday is a new holiday created by a nonprofit organization called GlobalGiving.org. This day was designed to encourage people to support charities and nonprofits through donations.
How Much Can You Save on Black Friday?
There are many variables involved in finding the best deals on Black Friday, including where you live, what store you visit, and whether you wait until the last minute.
You'll find that the average price drops between 20% and 40%. But be sure to shop around and compare prices at multiple locations to make sure you're saving the most money.
According to Omnisend's research, the most popular discounts that retailers offer in their email campaigns are the following: 30% discount (16%) 50% discount (14%) 25% discount (13%) 20% discount (13%) 40% discount (9%).
A solid rule of thumb is to look for sales on new products, especially bigger ticket items. These tend to be discounted more heavily.
Cyber Monday is a better day for tech deals and small gifts. You'll also see slightly better prices online.
Does mail run on Black Friday?
While Black Friday is a big event for Americans, and increasingly around the world, it is not a federal holiday. This means that the U.S. Postal Service offices will remain open, and mail will be delivered as usual.
Black Friday deliveries will still be made by FedEx and UPS, with a few exceptions.