Scavenger hunts are a great way to include a little friendly competition during the holiday season.
Plan a fun activity for the entire family during Thanksgiving by creating a clue list with a variety of Thanksgiving-themed items they need to find and activities they will need to accomplish to determine the winner.
In this article, you will find a collection of different ideas and activities to include in your Thanksgiving Scavenger hunt with FREE PDF downloads.
🦃 Thanksgiving posts you might like to read:
Thanksgiving Scavenger Hunt for Adults & Kids
Thanksgiving Scavenger hunts can be done in several different ways.
As it is a time of gratitude, one fun alternative version is to focus on what you're grateful for.
Instead of simply finding Thanksgiving-themed items, you can ask everyone to take photos of things they're grateful for.
A photo scavenger hunt is great for teens as they get to use technology.
Gratitude Thanksgiving Scavenger Hunt
Here's a list of several things you can take photos of for a Gratitude Thanksgiving Scavenger Hunt:
Your favorite Thanksgiving dessert.
Three things in nature you are thankful for.
Something in your home that you are grateful for.
A person you're grateful for.
Something that makes you happy.
Something useful that you use every day.
Something that makes a lovely sound.
Something that someone else will enjoy.
Something that smells good.
Something that you love about yourself.
Your favorite place to spend alone time.
Your favorite animal/pet.
Someone that makes you laugh out loud.
Your favorite book.
A gift that you recently received.
A person or place that makes you feel safe.
Your favorite way/app to stay in touch with your friends.
Your favorite item of clothing.
A hobby you really enjoy.
Thanksgiving Alphabet Scavenger Hunt
Another fun idea is to play Alphabet Scavenger Hunt, where you print an Alphabet card and have everyone fill in one thing per letter they're grateful for.
I have created useful Scavenger Hunt printables that you can download. Have a look at all the ways to play below, and then choose which Scavenger hunt game you wish to print at the end of this post.
🦃 Suggested read: 305 Things To Be Grateful For – 2022 Ultimate Gratitude List
Thanksgiving Scavenger Hunt Items
Colorful fall leaf.
Pumpkin spice latte.
Turkey leg.
Pumpkin.
Dirty dishes.
Cranberries.
Fall napkin.
Mashed potatoes
A tree with no leaves.
Thanksgiving wreath.
Something red.
Something orange.
Something yellow.
Squirrel.
Acorns.
Something flavored with pumpkin – candle, dessert.
Snowman.
Candy corn.
A napping person.
An oven.
Family picture.
A mailbox.
Scarf, gloves, and a hat.
Blanket.
A pile of leaves.
Yarns.
Gourd.
Moss.
Pilgrim's hat.
Pumpkin pie.
A gravy boat.
Homemade Thanksgiving decorations.
Football.
Stuffing.
Cookies.
Place card.
Whipped cream.
Green beans.
An object that rhymes with the word turkey.
Feather.
Bark.
Something that smells good.
Thanksgiving Scavenger Hunt Ideas & Activities
For older teens or adults, you might prefer to get them to complete several activities rather than simply finding items from a list.
Below you'll find some great ideas to get you started.
Perform one random act of kindness for a neighbor.
Make a stack of 4 pine corns.
Write four things you are thankful for.
Make as many words as you can from pumpkin pie.
Send Mom and Dad a "thank you" text or write a thank you note.
Jump in a pile of leaves.
Find a Thanksgiving card.
Arrange acorns to spell thanks.
Join a turkey bowl. https://en.wikipedia.org/wiki/Turkey_Bowl
Find an orange, yellow or brown car.
Find a football or football game on tv.
Take a picture of a Black Friday line.
Do an act of service for someone not in your group.
Thanksgiving Treasure Hunt
A treasure hunt is similar to a Scavenger hunt, except there is only one thing to find. Clues are given that lead you closer to the final treasure.
You can choose as many items or places where you wish to place clues, depending on the length of time you want them to play the game. Five to eight stops are usually recommended to keep it fun but not too long.
Decide where you want to hide your clues, and then make a riddle that will help them guess where the next clue can be found.
Clues can be simple if it's a treasure hunt for kids or more difficult if you include teens and adults.
Thanksgiving Scavenger Hunt Clues
Here are some great clues you can print on clue cards or even stick on paper bags for everyone to find.
You can even include a task in each bag that needs to be completed before they can move on to the next clue.
Thanksgiving is a day of thanks, a time to celebrate and eat, so today, we share our gratitude. Though some tasks you must complete. Just follow the clues, and you will not fail. Your first clue will take you to the place where you get your mail. – Mailbox
A thing to be grateful for in our life is electricity to cook our yummy pumpkin pie. After you've eaten all you can, it's time to take a nap and lie. – Bed
When our family gathers for dinner, we will show gratitude, but first, you'll need to complete another task. Where your family stores all the food. – Pantry
Who doesn't love sleeping in a warm bed and having a roof over your head? This next clue may be a little tough. Find it where you cook very hot stuff.
Thanksgiving is giving thanks, as everybody knows. But if you want to get a clue, you should go to where you keep your clothes. – Cupboard
Count your many blessings; you have so many to choose from. To celebrate those blessings go to where you put your shoes on. – Mudroom
Thanksgiving means a dinner as delicious as can be. To complete your next task, go to where your reflection you can see. – Mirror
With so much gratitude that no blessing should be overlooked. To find your next clue go to where the turkey will get cooked. – Oven
Playing outside can make any day great, whether it's morning or late. When it's time to head inside. You know what to do, wash your hands, and find your next clue. – Basin
Happy Thanksgiving to everyone, no matter where they are. Just one clue away from the end of the road. Find the next where you might wash a load. – Laundry
Thanksgiving Scavenger Hunt Riddles
What's the best thing to put into pumpkin pie? Your teeth.
If April showers bring May flowers, what do mayflowers bring? Pilgrims.
What was the pumpkin's favorite sport? Squash.
What would you get if you crossed a turkey with an octopus? Enough drumsticks for Thanksgiving.
What smells the best on Thanksgiving? Your nose.
Why did the turkey cross the road? It was the chicken's day off.
What's the key to a great thanksgiving dinner? The turkey.
What sound does a turkey's phone make? Wing wing.
When the farmer saw the green pumpkin, what did he say? Why orange, you orange?
What key can't open doors because it has legs? A turkey.
Thanksgiving Scavenger Hunt PDF Printable
Nature-themed Scavenger Hunt For Small Kids
A scavenger hunt list that has nature-themed items ideal for kids. You can have the kids participate in the outdoor hunt under supervision, ensuring their safety.
Friendsgiving Scavenger Hunt
Here's another Thanksgiving game of scavenger hunt that kids can play with their friends. You can keep your kids busy by having them participate in a hunt. You include the neighborhood kids and their friends to keep it more fun.
Thanksgiving Game Bundle
A variety of thanksgiving games printable files that include several download items. These files have a great selection of downloads that will take you from the dinner table to an array of different games that you can enjoy with your guest and extended family.
Gratitude Thanksgiving Photo Scavenger Hunt
Thanksgiving fun with detailed instructions. Suppose you are looking for a way to shed some dinner calories. Print out this scavenger list that will have you take photos of the things you're grateful for.
Scavenger Hunt List
A scavenger hunt list can be used for games involving the whole family. These PDF files can be printed and distributed to all family members for a fun scavenger hunt.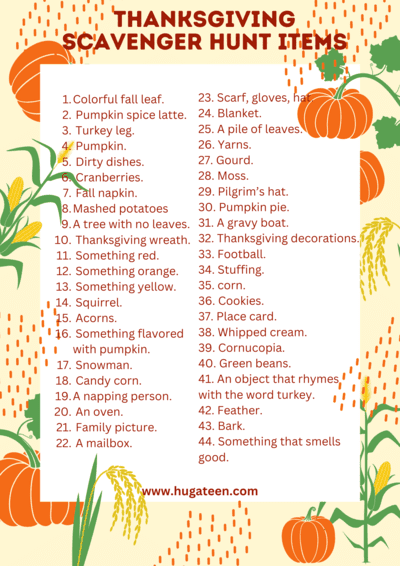 Related Thanksgiving Scavenger Hunt Questions
How long should a scavenger hunt be?
A scavenger hunt can take 10-20 minutes. The hunt can go on longer than the time limit if the search is not limited to your home but stretches to other places like the nearest park and other areas in your neighborhood.
Other reasons that might make the game take longer are the number of activities that need to be done or items found and whether the players will work individually or in teams.
How are scavenger hunt winners determined?
Scavenger hunt winners are determined by the total points accumulated. After you are done with the hunt, you re-group at the starting point. You tally points depending on what a player or team has found, and the activities completed successfully. The winner is the person or team with the most points.
How do you end a scavenger hunt?
You end a scavenger hunt when everyone who was playing has gone back to the starting point or endpoint of the hunt. You verify if activities have been accomplished and items found by referring to the scavenger hunt list initially distributed before the hunt started.
What is a good prize for a scavenger hunt?
A good prize for a scavenger hunt can be a gift card, cool game, money, or some fun overstocked items. Depending on the age of the players' the prizes can be different. You can also include fun prizes like toys, stickers, and sweet treats.
If you have many kids playing, it's nice to have several prizes. You could award prizes to the top three if they had to find items.
If they had to complete tasks, you could award prizes for the most creative, funniest photo, the best act of kindness, and the best teamwork.