Being a mother can be the hardest and the most rewarding thing you will ever do. It's not always easy being a mom, especially when you have teenage daughters growing up faster than you'd like.
Sometimes you just need a little inspiration from someone else. In this article, I'm going to share with you some quotes about raising a teenage girl, as well as inspirational quotes for teen daughters from a mother.
These will help you get through tough times and make sure you stay motivated to keep being the best mom you can be.
I hope these 'Mother Of A Teenage Daughter Quotes' inspire you as much as they inspired me!
Mother Of A Teenage Daughter Quotes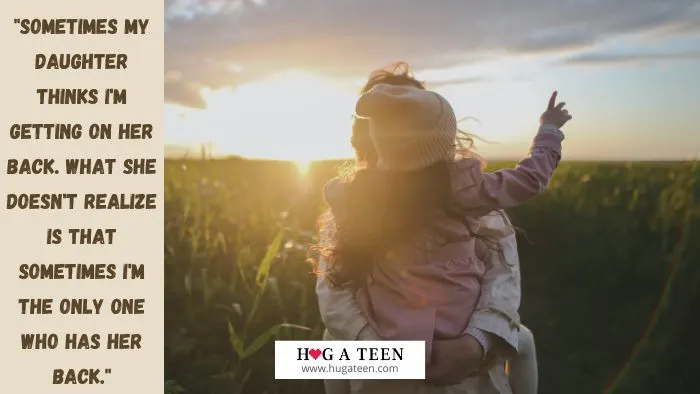 The mother-daughter relationship can be beautiful as well as trying and will go through ups and downs as your daughter grows. Here are some quotes to remind you of the wonderful times.
1. "A mother. When you're a child, she walks ahead of you, showing you the way. When you're a teenager, she walks behind you to be there when you need her. When you're adults, she walks alongside you, so that you can enjoy life together as two friends."
2. "The love of a daughter makes life worth living. It makes my heart full, and I just keep on." – AJ Winners
3. "My daughter is the most important thing in my life. It is for her alone I'm fighting." -Artelia Moore Cox
4. "Sometimes my daughter thinks I'm getting on her back. What she doesn't realize is that sometimes I'm the only one who has her back.
5. "So, after much observation, I realized that our daughters needed the same things we lacked in our younger years…wisdom. Without wisdom, we continue to blunder through life repeating the same mistakes." – Laura Alexander
❤️ Suggested reading: How To Teach Your Teen Daughter To Use A Tampon
6. "Let me love you a little more before you're not little anymore."
"7. "By the time a woman realizes her mother was right, she has a daughter who thinks she's wrong."
8. "A mother is the only person in the world, who can turn a daughter's worries and fears into happiness."
9. "A daughter evokes happy memories from the past, joy from the present, and hope for the future."
10. "If you ever feel like giving up, just remember there is a little girl watching who wants to be just like you."
11. It's not easy parenting a teen girl. It "s not easy being a teen girl either. You're not alone if you find parenting your teenage daughter a challenge." -Sarah Booker
12. "The only thing better than having you as a daughter is my grandchildren having you as their mother.
13. "What I wanted most for my daughter was that she be able to soar confidently in her own sky, wherever that might be, and if there was space for me as well, I would, indeed, have reaped what I had tried to sow." – Helen Claes
14. "My daughter is the most important thing in my life. It is for her alone I'm fighting." – Artelia Moore Cox
15. "Life doesn't come with a manual. It comes with a mother."
16. "Daughters are just little girls who grow up to be your best friend."
17. "Of all the haunting moments of motherhood, few rank with hearing your own words come out of your daughter's mouth." – Victoria Secunda
18. "Mother and daughter never truly part, maybe in distance but never in heart."
19. "Because my mother couldn't change my present, I decided to change my daughter's future." – Manal al-Sharif
20. "A mom is a daughter's 'first' friend. And, through life, becomes her best friend." – Vicki Reece
21. "Daughters can sometimes be too serious; teach them to laugh and not take life too seriously." — Catherine Pulsifer
22. "I hope that my daughter grows up empowered and doesn't define herself by the way she looks but by qualities that make her an intelligent, strong and responsible woman." – Isaiah Mustafa
23. "A mother's love for her daughter is FOREVER."
24. "A mother is not a person to lean on but a person to make leaning unnecessary."
25. "My daughter is my biggest achievement. She is a little star and my life has changed so much for the better since she came along." – Denise Van Outen
❤️ You might also like to read these short four-word inspirational quotes.
Raising Teenage Daughter Quotes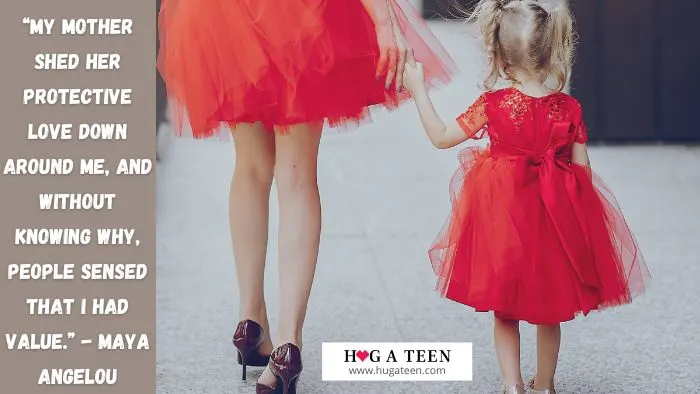 26. "Welcome to being the parent of a teenager. Prepare for large amounts of eye-rolling, emotional outbursts, and thoughts of running away. And that's just the parents!"
27. "When you're a teenager, 'No' is a complete sentence."
28. "My mother shed her protective love down around me, and without knowing why, people sensed that I had value." – Maya Angelou
29. "It is a gift when a daughter understands a mother's love for her child, but sometimes we just need to tell it like it is. "Dear Teenagers: We may annoy you, lecture you, embarrass you, drive you crazy, and even make you hate us some days. But NO ONE will ever love you like we do." – Moms of Teens Everywhere
30. "We mothers have a wonderfully precious and truly powerful role to play in the future self-images of our daughters. The model of our own empowerment gives our daughters permission to be powerful." – Melia Keeton-Digby
31. "Imagination is something that sits up with dad and mom the first time their teenager stays out late."
32. "Whatever emotional state you're in while parenting conveys more to your child than the content of what you're doing with them, no matter how perfect your intervention looks "on paper." In other words, to paraphrase Marshall McLuhan, "your emotional state is the message." – Michael Y. Simon The Approximate Parent: Discovering the Strategies that Work for Your Teenager
33. "There were times when, in middle school and junior high, I didn't have a lot of friends. But my mom was always my friend. Always." -Taylor Swift
34. "Raising teenagers is like trying to wrestle slippery pigs with your hands tied behind your back."
35. "As kids reach adolescence, they need more than ever for us to watch over them. Adolescence is not about letting go, it's about hanging on during a very bumpy ride." – Ron Taffel
36. "The relationship between parents and children, but especially between mothers and daughters, is tremendously powerful, scarcely to be comprehended in any rational way." – Joyce Carol Oates
37. "The main problem with teenagers is that they are just like their parents were at their age."
38. "Conscious parenting is not about being perfect; it's about being aware. Aware of what your kids need from you to reach more of their full potential." – Alex Urbina, The Inspirational Parent: The Magical Ingredients For Effective Parenting
39. "I desire to have a life filled with positive energy and satisfaction of living authentically in my purpose. That's what I also want for my daughter, and that is what I want for you." – Keya Briscoe
40. "Bringing up a daughter is like growing a flower. If you do your job well, she blooms. And then she leaves."
41. "There are times when you are mad at me, and sometimes I am mad at you. But we still enjoy being a perfect mother-daughter pair because we would really go crazy without each other."
42. "One of the secrets to staying close with your daughter as she grows up, we learned, is simply finding ways to continue to have a good time together even when her desire to be with her peers begins to eclipse her interest in being with her family." – SuEllen Hamkins,
43. "Throughout her childhood, I kept thinking about what I could teach my little daughter. It's obvious that I did a good job because now that she's grown up, I'm considering what I can learn from her."
44. "Dear teenage daughter, if you don't hate me at least once in your life, I'm probably not doing my job right."
45. "What's important for my daughter to know is that… if you are fortunate to have the opportunity, it is your duty to make sure other people have those opportunities as well." – Kamala Harris
46. "Of all the things a mother achieves in life, a daughter is her biggest accomplishment."
47. "A loving and careful mother both recognizes and even protects her daughter's autonomy and also helps her dance out confidently onto a wider stage." – Rachel Billington
48. "Mothering is a mysterious task. First, you create an intimate, all-consuming attachment with your daughter. Then you spend the rest of your life learning to let her go." – Judy Ford
49. "Mothers are the most dynamic and influential force on the development of a young woman's journey to being herself." – Hillary L. McBride
50. "A daughter is God's way of saying "thought you could use a lifelong friend."
❤️ You might also like to read these Heart Touching I Miss You Mom Quotes From Daughter
Inspirational Quotes For Teenage Daughter From Mother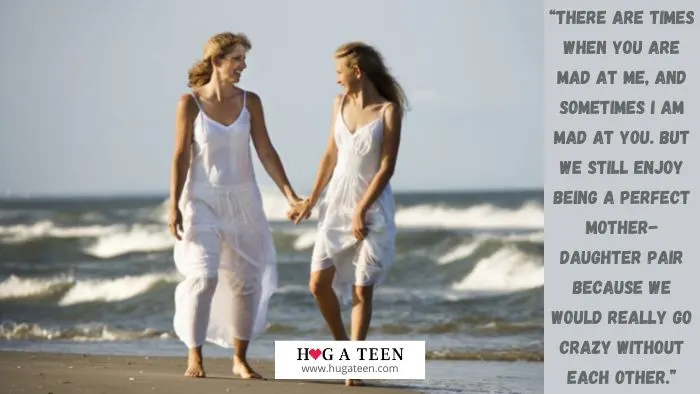 Enjoy these inspirational mother-daughter quotes:
51. "It is only when we truly know and understand that we have a limited time on Earth and that we have no way of knowing when our time is up that we will begin to live each day to the fullest as if it were the only one we had." – Elisabeth Kubler-Ross.
52. "The more a daughter knows the details of her mother's life, the stronger the daughter." – Anita Diamant
53. "Life is tough, my darling, but so are you."
54. "A daughter is a miracle that never ceases to be miraculous… full of beauty and forever beautiful, loving and caring and truly amazing." – Deanna Beisser
55. "The love between a mother and a daughter knows no distance."
56. "Who can describe the transports of a beam truly parental on beholding a daughter shoot up like some fair and modest flower, and acquire, day after day, fresh beauty and growing sweetness, so as to fill every eye with pleasure and every heart with admiration?" – George Fordyce
57. "My greatest wish for you would be to be able to see yourself through my eyes."
58. "I hope you believe in yourself as much as I belive in you."
59. "Daughter – A beautiful creation by God placed in the arms of a woman to raise, love, nurture, and treasure as a friend."
60. "A daughter is chiseled to chisel the world." – Karishma Gajipara
61. "Teach your daughters to worry less about fitting into glass slippers and more about shattering glass ceilings."
62. "A daughter is a bundle of firsts that excite and delight, giggles that come from deep inside and are always contagious, everything wonderful and precious, and your love for her knows no bounds." – Barbara Cage
63. "Good daughters make good mothers." – Abigail G. Whittlesey
64. "I want my daughter to grow up to be a strong woman. I just need to be able to live with her in the meantime."
65. "There is no limit to what we, as women, can accomplish" – Michelle Obama
66. "You are capable of amazing things."
67. "You really have to love yourself to get anything done in this world." – Lucille Ball
68. "Our daughters are the most precious of our treasures, the dearest possessions of our homes, and the objects of our most watchful love." – Margaret E. Sangster
69. "Strong women raise strong women."
70. "…love as powerful as your mother's for you leaves its own mark." – J.K. Rowling
71. "A mother and a daughter always share a special bond, which is engraved on their hearts."
72. "Mothers and daughters share a connection. A mother is the daughter's spine, supporting her from the inside out, and a daughter is the mother's blood, making her strong."
73. "A mother's love for her daughter is the only love that can't be changed, and this love knows no bounds. It grows with every passing day and never fades."
74. "Mom and daughter: Two people, one heart."
75. "A mother who radiates self-love and self-acceptance actually vaccinates her daughter against low self-esteem." – Naomi Wolf
Mother To Teenage Daughter Quotes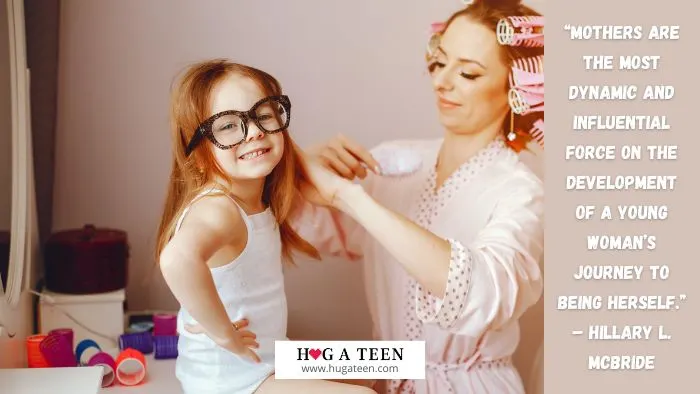 76. "Patience, my daughter, learn patience, and life will be easier." – Catherine Pulsifer
77. "The best place to cry is in a mother's arms." – Jodi Picoult
78. "To my daughter, I am so happy that we are friends. The time that we spend together is the best time I have ever had."
79. "You may have grown up from being a sweet little girl to a beautiful young woman, but you will always be the loving daughter you have always been."
80. "Words are not enough to express the unconditional love that exists between a mother and a daughter." – Caitlin Houston
81. "You are always enough. Don't believe anyone who tells you otherwise."
82. "A daughter is a miracle that never ceases to be miraculous."
83. "I always thought I would guide you into becoming the woman I wanted you to become. However, being your mom has taught me so many things and helped me become the person I am today. I love you."
84. "While a daughter may grow out of your lap, she will never grow out of your heart."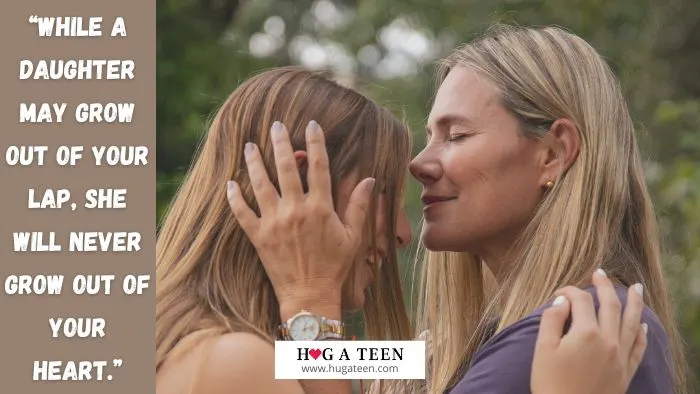 85. "Mother-daughter love can never be changed, and only this love has no limits. It grows with every passing day and never fades."
86. "You are worthy. You deserve love, happiness, and respect."
87. "Dear daughter, never forget that I love you. Life is full of both hard times and good times. Learn from everything you can. Be the woman I know you're capable of becoming. Mom"
88. "No matter your age, you will always need your mom."
89. "If I could give my daughter three things, it would be the confidence to always know her self-worth, the strength to chase her dreams, and the ability to know how truly, deeply loved she is."
90. "Know yourself, love yourself, be yourself."
91. "Beautiful girl, you can do amazing things."
92. "Your mother will always accept you no matter how many times you broke her heart."
93. "Do not compare yourself to others; it is a waste of time and energy. You are unique and have gifts to share with the world."
94. "Always be a first-rate version of YOURSELF, instead of a second-rate version of somebody else." – Judy Garland
95. "You may have grown up from being a cute little girl to a beautiful young woman, but you will forever be the loving daughter that you've always been."
96. "Stop worrying about pleasing other people and stick to what you believe in."
97. "No matter where you go in life or who you grow up to be, I'll always be right here, standing behind you… encouraging you to live your dreams."
98. "In my life, you are the sun that never fades and the moon that never wanes. Shine on, my child. I love you."
99. "My dearest daughter… don't let anyone take you for granted; always hold your head up high. Never stop believing in yourself, just go forth and aim for the skies. "
100. "At the end of the day, don't forget that you're a person, don't forget you're a mother, don't forget you're a wife, don't forget you're a daughter." – Indra Nooyi