Our moms are often the most important people in our lives. Mothers give us life, look after us, teach us, and are always there when we need them. We're so lucky and grateful to have our mother in our life, but sometimes putting together words to describe them can seem challenging.
Words To Describe A Mom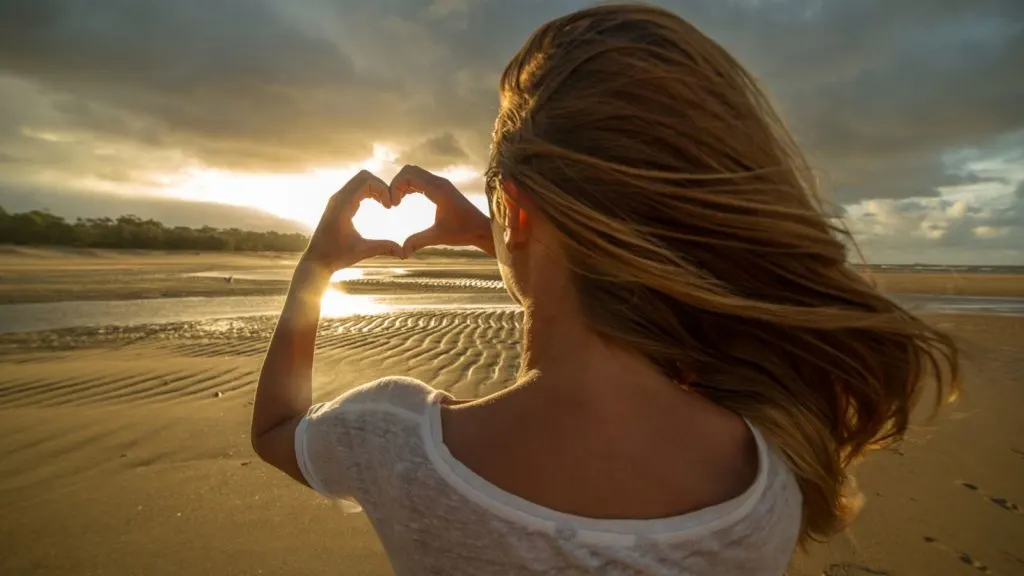 There are so many different words to describe a mom. When asking kids which words they would choose to describe their mother, they will all use different words and phrases.
You might hear words like nurturing, loving, caring or kind. Whether you're looking for words to describe or thank your mom on her birthday or Mother's day we have several lists that can help you.
If you are looking for unique and heartwarming words to describe mom, these words below can be a great inspiration and the perfect gift to thank your mom and make her feel appreciated.
Words To Describe A Mother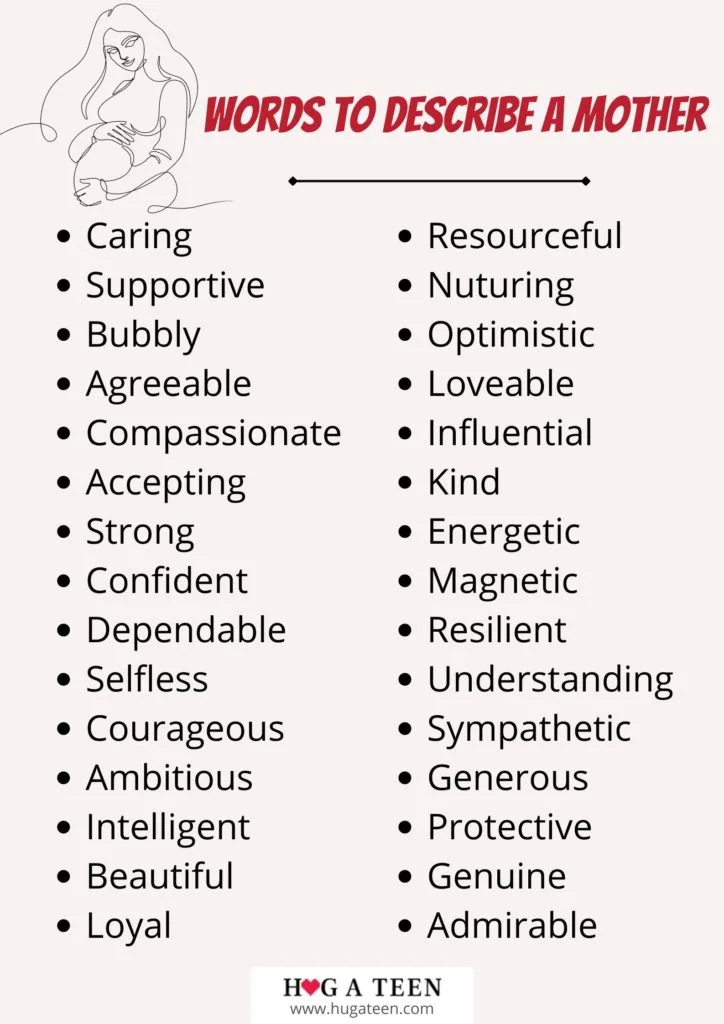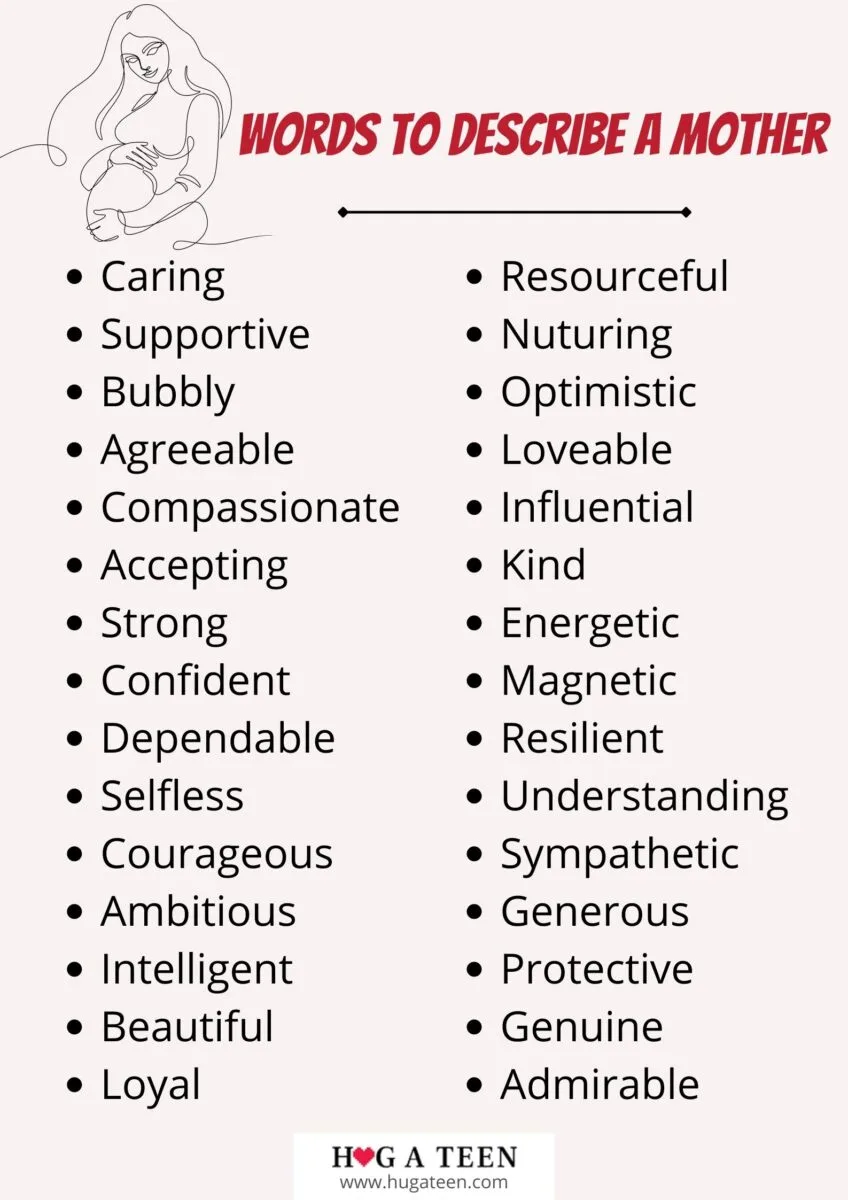 1. Caring
The word caring describes your mom as concerned about you and your well-being. Always seeks seeking to understand your needs and will offer extraordinary care to make you feel loved and appreciated.
E.g. Mom, you're caring nature is felt and appreciated by everyone in the family.
2. Supportive
When you use the word supportive to describe your mom, you describe her as someone always in your corner, regardless of the things you want to do and the path you want to take. A supportive mom listens and backs up their children's goals, aspirations, and dreams.
E.g. You have been supportive to me through school and life and have been with me every step of the way.
3. Bubbly
A bubbly mom is cheerful, happy, and warm-spirited. A bubbly mom engages in her children's fun ideas and fulfills several different roles without complaining for the sake of her family.
E.g. Mom, your bubbly personality is wonderful and infectious. Everyone that spends time with you enjoys it to the fullest.
4. Agreeable
An agreeable mom is ready to listen and agree to something her children need or have to say. If your mom is agreeable, you are not afraid to talk about sensitive matters or communicate your needs.
E.g. Mom, I love that you are agreeable and support my ideas. You listen to me and help me navigate my challenges without having to give up on my dreams.
5. Compassionate
Using the word compassionate to describe your mom means she takes time to listen to the concerns of others and help when she can. She has empathy and tries to understand people from a compassionate point rather than a judgemental point of view.
E.g. Mom, you teach us how to be compassionate with others, just as you are with everyone around you.
6. Accepting
Sometimes we don't become what our mons wish for us to be, but they still accept us and support us in everything we do. An accepting mom overlooks her dreams and aspirations for you and takes you for who you are.
E.g. Thank you, Mom, for accepting me as I am and supporting me in everything I do.
7. Strong
Moms are filled with so much strength and are the anchor of every family unit. When you describe your mom as strong, it means she has remained unshaken, despite going through challenges as a mom, career woman, wife, friend, etc.
E.g. You are a strong woman, and I am super proud of you for overcoming difficulties and remaining grounded.
8. Confident
A confident mom is not afraid of airing her opinion, showing up as her best self, and standing for her truth. Using the word to describe your mom means she has broken barriers placed on her as a mom or a woman to live unapologetically.
E.g. Your confidence is unshaken, and you teach me how to show up for myself and stand in my power every day.
9. Dependable
Moms will always be there when we need them. A dependable mom ready to care for children and their needs to see you happy and content.
E.g. I can depend on you for anything, and I know you will always show up for me when I need you.
10. Selfless
Selflessness comes naturally to moms, and even though it results in them foregoing their own needs for others, it is an admirable quality to have. A selfless mom will consider the needs of her children before she thinks of her own.
E.g. Mom, you are selfless to us, and everything you do for us does not go unnoticed. We recognize your sacrifices and appreciate your service.
11. Courageous
Sometimes, what is needed from a mom is to be courageous and face whatever challenges she has head-on. A courageous mom will look beyond her fears and do what she needs to do to see her children happy.
E.g. Mom, I admire your courage and how willing you are to beat your fears and be the best version of yourself.
12. Ambitious
An ambitious mom shows a strong desire to achieve her goals and succeed. She serves as an excellent example for her kids to go after their dreams, put in the work, and overcome the challenges in the process.
E.g. I have learned to be ambitious from seeing you living it and doing it.
13. Intelligent
Using the word intelligent to describe your mom means she has the capability to teach and impart skills and knowledge to others. An intelligent mom is valuable to her kids and always has something new to teach them.
E.g. I tap into your intelligence, mom. You are smart and make good, logical decisions for yourself and us.
14. Beautiful
It doesn't hurt to describe your mom's physical appearance; she is a beautiful woman. The word beautiful does not only describe outer beauty but also her spirit, soul, and heart. And, there is no standard of beauty when it comes to our moms; all of them are beautiful.
E.g. My mom is so beautiful; I cannot compare her beauty with anything else in this world.
15. Loyal
A loyal mom sticks by her family and supports them whenever they need her. She is committed to being present and offering unwavering love and support through the seasons of life. A loyal mom has her family's back and will be the rock to her family in the darkest times.
E.g. My mom is loyal, reliable, and always present.
16. Resourceful
Most of us believe that moms have solutions to every problem we face, and to some extent, they do. A resourceful mom will try her best to offer solutions and find ways to face challenges.
E.g. You are resourceful, and we appreciate you for always being there to guide us on how to solve our problems.
17. Nurturing
Your mom is there to guide you through the stages of life and has the skill set to support you and cater to your needs. She imparts knowledge and supports your development as you grow, helping you become the best version of yourself.
Eg. You have nurtured my love for sports and helped me grow my skills in things that I love to do.
18. Optimistic
Positivity is key to leading a happy life. If your mom is optimistic, she finds all the positive things in situations and doesn't sink into negative thoughts. She also hopes for good things to come and is confident they will come to pass.
E.g. My mom's optimism has helped me look at the brighter side of everything.
19. Loveable
When you say your mom is loveable, you describe her as someone deserving of love, not only because of who she is to you but also because of how she loves everyone around her.
E.g. My mom is loveable, her aura is attractive, and everyone that meets her loves her.
20. Influential
If your mom is influential, it means she impacts your life significantly. She influences your decisions and choices in life, and you lean on her advice in most things you do.
E.g. Mom, you are influential to me; and your achievements inspire me every day.
21. Kind
Describing your mom as kind means that she is friendly and has a charming and welcoming attitude. She is willing to help others and is courteous with her words. A kind mom is sensitive and doesn't use her children's insecurities or failures against them.
E.g. My mom is kind; she has a welcoming spirit and a warm heart.
22. Energetic
An energetic mom has a burst of energy and a positive vibe that she naturally exudes. She is cheerful and a fun person to engage in many activities with her family and friends. She is also willing to try new things and is not afraid of failing at physically-challenging tasks.
E.g. My mom is energetic, enjoys spending time outside, and does not tire from playing and having fun.
23. Magnetic
Someone with a magnetic personality pulls people towards them in the most natural way. Magnetic people do not have to do anything to attract others; they are easy to be around and have buzzing energy and a welcoming spirit.
E.g. My mom has a magnetic personality, and many people want to get closer to her.
24. Resilient
If your mom is resilient, it means she does not despair when faced with difficulties. She handles them head-on and focuses on being a problem solver. She can often deal with stress and offer solutions in stressful situations.
E.g. My mom's resilience inspires me to get through the tough days and stay strong.
25. Understanding
It is hard to be understood, but somehow moms have this down. If you consider your mom understanding, it means she creates a space for you to be and do what you want without questioning your choices.
E.g. Mom, the understanding you show me is beyond what words can explain. You are an amazing person, and I thank you for creating a safe space for me.
26. Sympathetic
Showing sympathy to others, especially during rough times, is a way to support them. A sympathetic mon will show concern and share in the feelings of her friends and family.
E.g. I have learned how sympathetic you are to your friends, which has taught me how I need to show up for my friends too.
27. Generous
We never have enough for ourselves, let alone for others, but a generous mom will always find something to give. Being generous does not only apply to giving things but also words, presence, and attention.
E.g. I am grateful for you. You are a generous person that always has something to give to the people she loves and cares about.
28. Protective
Moms' natural instinct is to protect their kids, and even though they do not have control over everything that happens to them, they always strive to keep them safe. A protective mom will ensure their kids' environment is safe and they are comfortable at all times.
E.g. My mom is protective, and even if it is annoying at times, I know she does it to keep me safe.
29. Genuine
Describing your mom as genuine means that she is honest, authentic, truthful, and sincere in how she lives and her relationships with other people. A genuine mom will say things as they are and will not beat around the bush trying to impress while losing her authenticity.
E.g. My mom is genuine in everything she says and does, a quality I admire and appreciate her for.
30. Admirable
An admirable mom has several positive traits that others wish to adopt. She is worth adoration, love, and respect.
E.g. My mom is admirable, in the way she behaves, in the things she does, and in the words she speaks.
Download all the words to describe mom in a FREE download here.
❤️ You might also like to read these Heart Touching I Miss You Mom Quotes From Daughter
Adjectives About Moms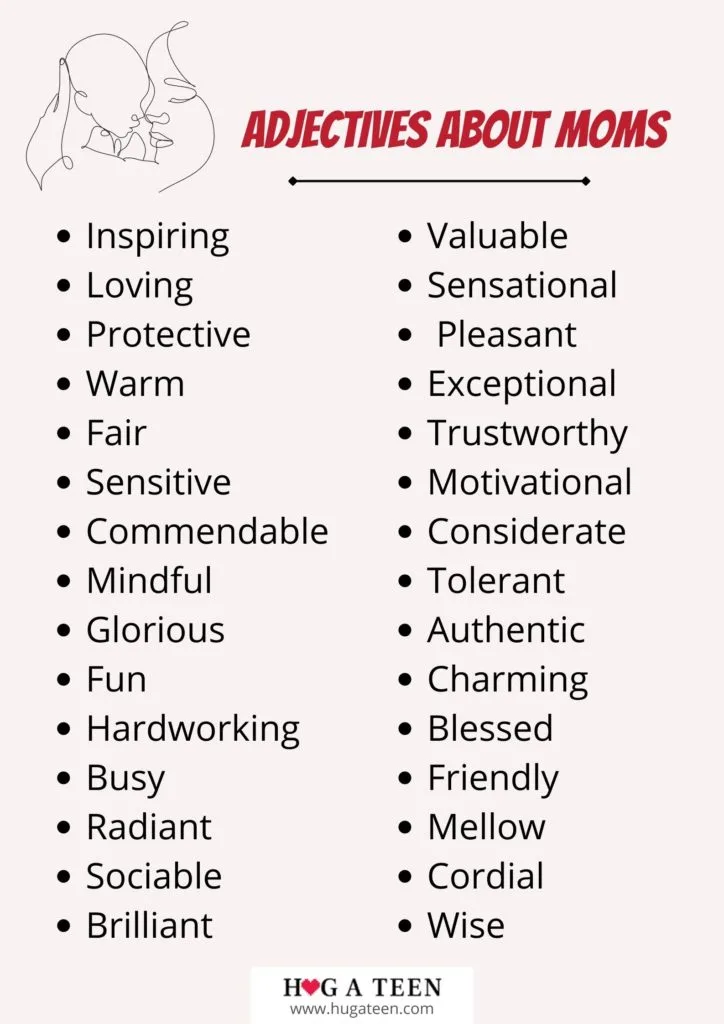 Inspiring
Loving
Protective
Warm
Fair
Sensitive
Commendable
Mindful
Glorious
Fun
Hardworking
Busy
Radiant
Sociable
Brilliant
Valuable
Sensational
Pleasant
Exceptional
Trustworthy
Motivational
Considerate
Tolerant
Authentic
Charming
Blessed
Friendly
Mellow
Cordial
Wise
Words To Describe A Mother's Love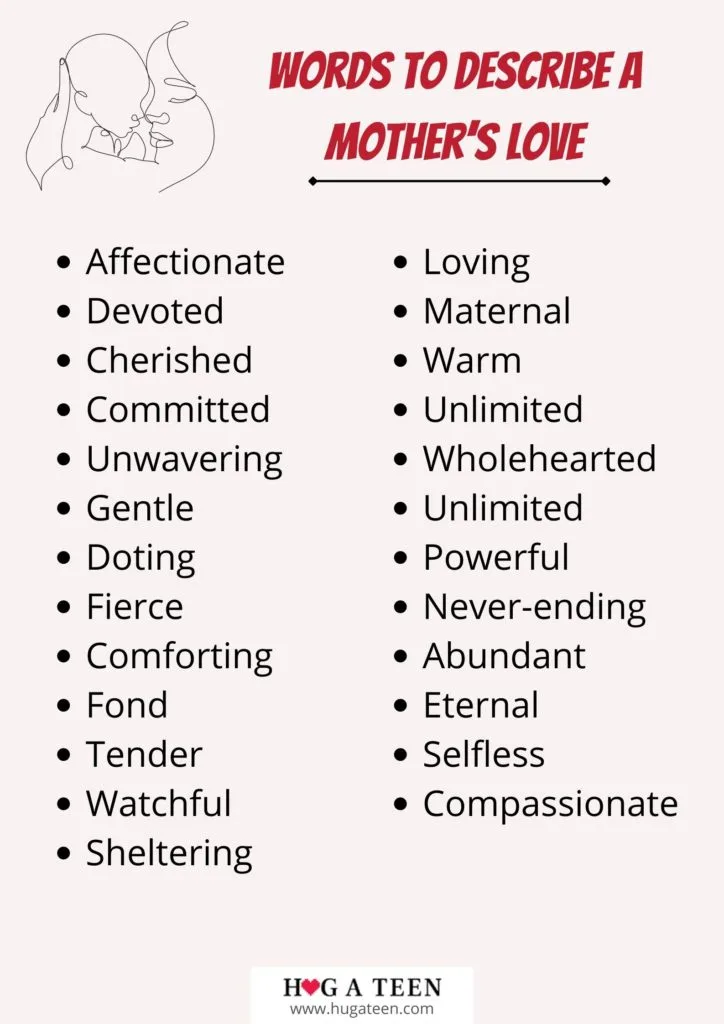 Affectionate
Devoted
Cherished
Committed
Unwavering
Gentle
Doting
Fierce
Comforting
Fond
Tender
Watchful
Sheltering
Loving
Maternal
Warm
Unlimited
Wholehearted
Unlimited
Powerful
Never-ending
Abundant
Eternal
Selfless
Compassionate
How To Describe My Mom Physically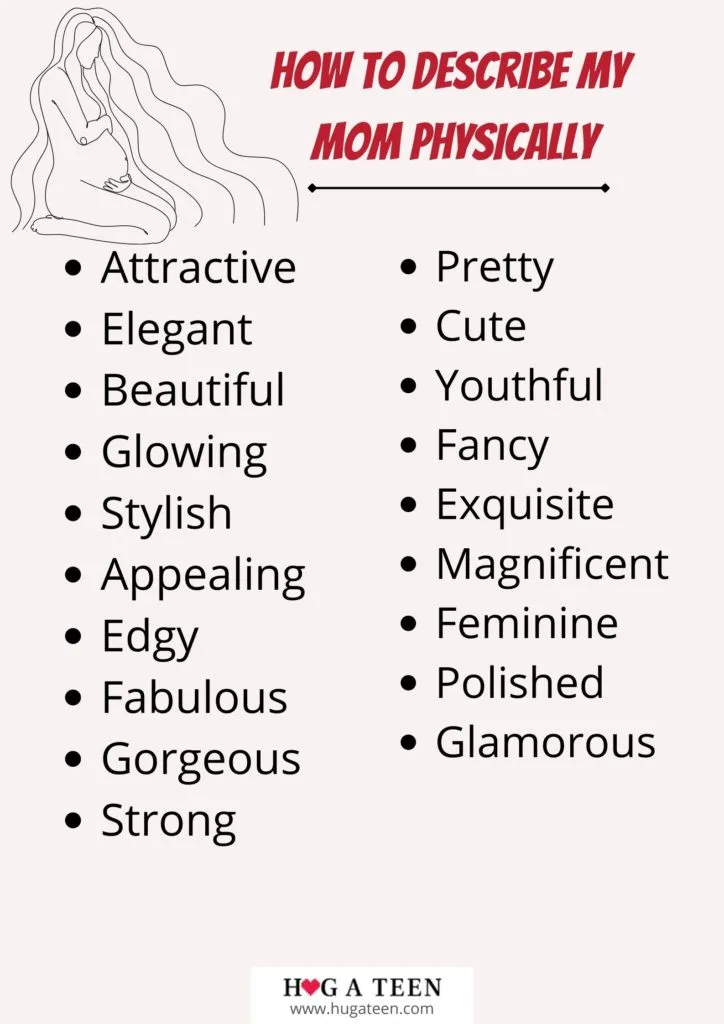 Attractive
Elegant
Beautiful
Glowing
Stylish
Appealing
Edgy
Fabulous
Gorgeous
Strong
Pretty
Cute
Youthful
Fancy
Exquisite
Magnificent
Feminine
Polished
Glamorous
Nice Words To Describe Your Mom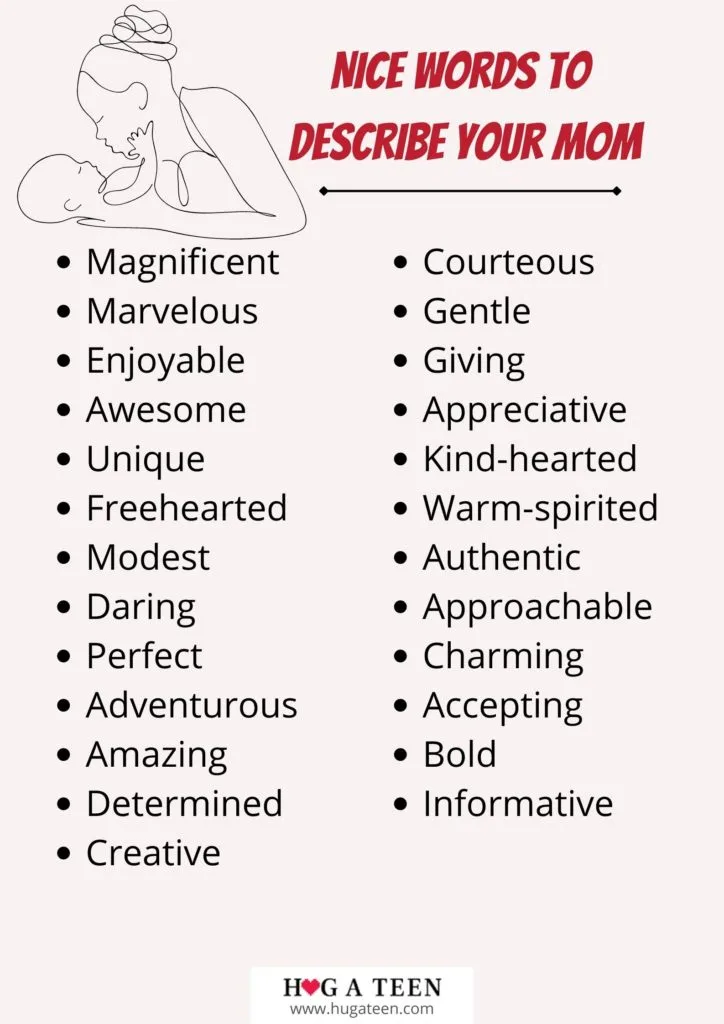 Magnificent
Marvelous
Enjoyable
Awesome
Unique
Freehearted
Modest
Daring
Perfect
Adventurous
Amazing
Determined
Creative
Courteous
Gentle
Giving
Appreciative
Kind-hearted
Warm-spirited
Authentic
Approachable
Charming
Accepting
Bold
Informative
Mother's Day Adjectives For Mom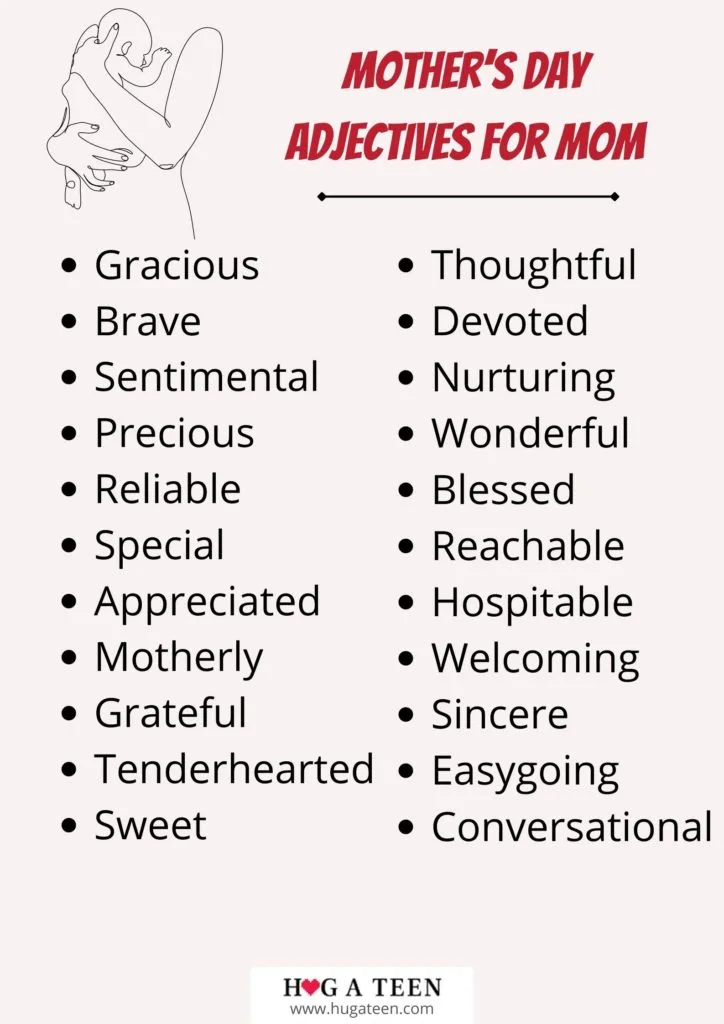 Gracious
Brave
Sentimental
Precious
Reliable
Special
Appreciated
Motherly
Grateful
Tenderhearted
Sweet
Thoughtful
Devoted
Nurturing
Wonderful
Blessed
Reachable
Hospitable
Welcoming
Sincere
Easygoing
Conversational
Positive Words To Describe A Mom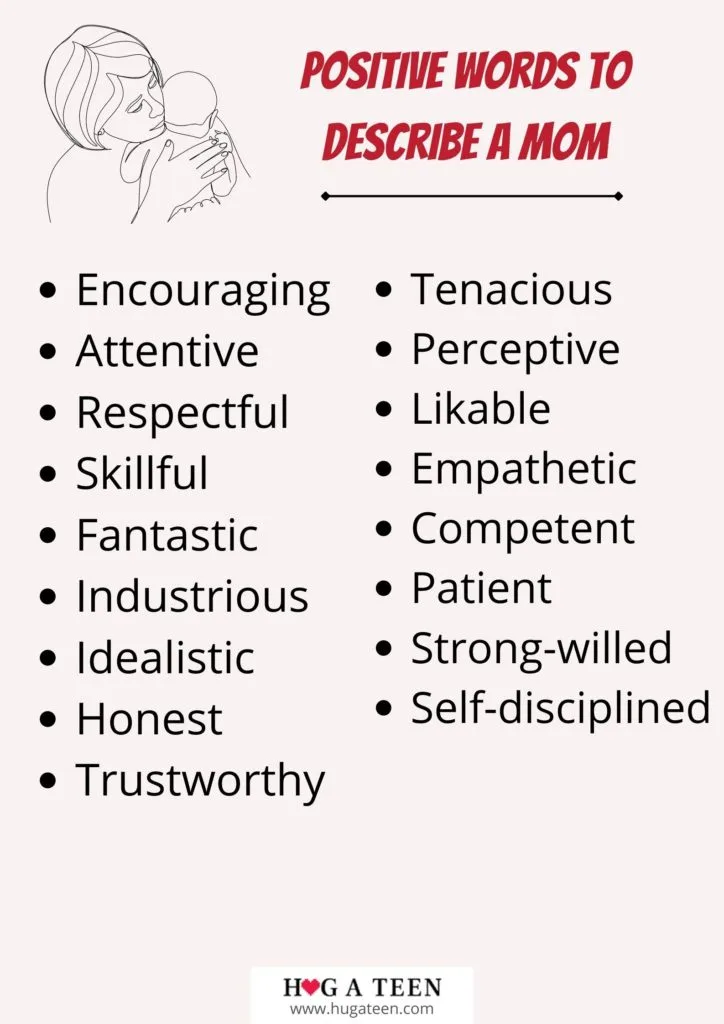 Encouraging
Attentive
Respectful
Skillful
Fantastic
Industrious
Idealistic
Honest
Trustworthy
Tenacious
Perceptive
Likable
Empathetic
Competent
Patient
Strong-willed
Self-disciplined
These words can be used to describe moms and mother figures in our lives. With all our life lessons, our mothers are usually part of our decisions and the path we choose. There's no gift like making your mom feel appreciated and loved. Choose the best words to describe your mom this Mother's day and any day you wish to let her know how much she means to you.
Looking for a unique way to honor the remarkable women in your life? Discover the beauty of Mother's Day challenge coins. Click to learn more.