Graduating from high school is a significant milestone in a young person's life, marking the end of an era and the beginning of a new, exciting chapter.
It's a time of celebration, reflection, and anticipation for what's to come. As such, throwing a memorable graduation party is a fantastic way to honor this important achievement. But where do you start with planning such an event?
Whether you're a parent, a relative, a friend tasked with organizing the party, or the graduate themselves, this article is here to help.
We've compiled a comprehensive list of high school graduation party ideas, covering everything from themes and locations to food, decorations, and activities.
Our aim is to inspire you and make the planning process as smooth and enjoyable as possible. So, let's dive in and start creating a celebration that perfectly encapsulates the graduate's personality, achievements, and dreams for the future.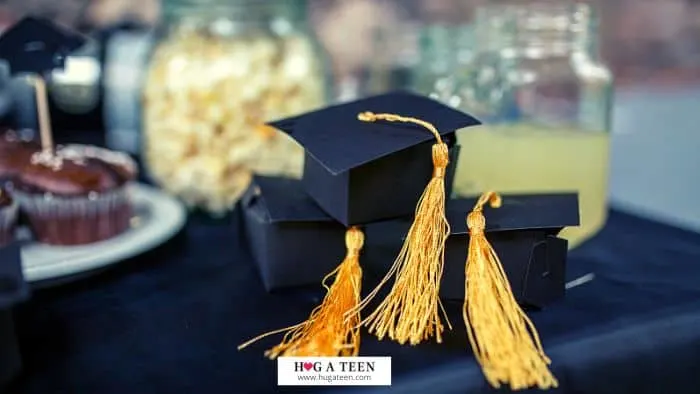 Planning the Perfect High School Graduation Party
After the graduation ceremony, it's time to enjoy the grad party. Here are some tips on how to plan the best graduation celebration and memorable party.
1. Discuss your teen's party preference
Firstly, it's crucial to understand your grad's preferences. After all, this party is to celebrate their achievements. Sit down with your teen and discuss their preferences for the party. Would they prefer a small gathering with close friends or a larger event with extended family and schoolmates? What about the theme of the party? Perhaps they'd like to incorporate their school colors, or maybe they have a unique theme in mind based on their interests or future plans.
2. Choose a theme
Choosing the right graduation party theme can set the tone for the entire party. Popular themes include school spirit or future aspirations, such as "Oh, the Places You'll Go!" Include a GRAD sign and balloons in their favorite colors to set the tone.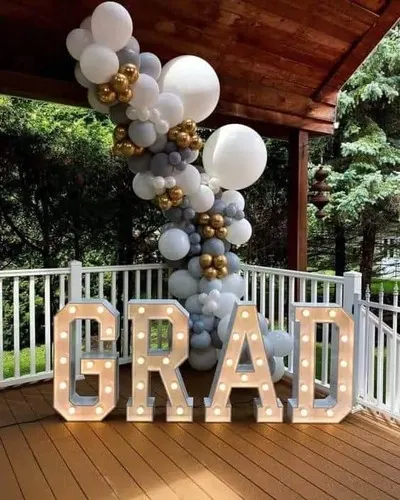 3. Decide on the location
The location of the party is another important factor to consider. The pros and cons of various locations should be weighed. For instance, hosting at home can be a cost-effective and intimate option, but it might not be feasible if you're planning a large gathering.
Alternatively, a local park or even the beach could provide a fun and spacious setting for the party.
4. Size and Guest List
Planning the guest list is another crucial step. Deciding on the size of the party will help determine who to invite. Remember to include friends, family, and potentially even teachers who have made a significant impact on your teen's high school journey.
5. Invitations
Finally, once you've nailed down the details, it's time to send out graduation party invitations. Whether you opt for traditional paper invitations or digital ones, make sure they reflect the theme of the party and provide all the necessary information.
🤓 Suggested reading: Senior High School Pranks: Unleashing Hilarious Havoc
Making the Graduation Party Memorable
Now that you've planned the basics of your high school graduation party, it's time to focus on the details that will make the event truly memorable.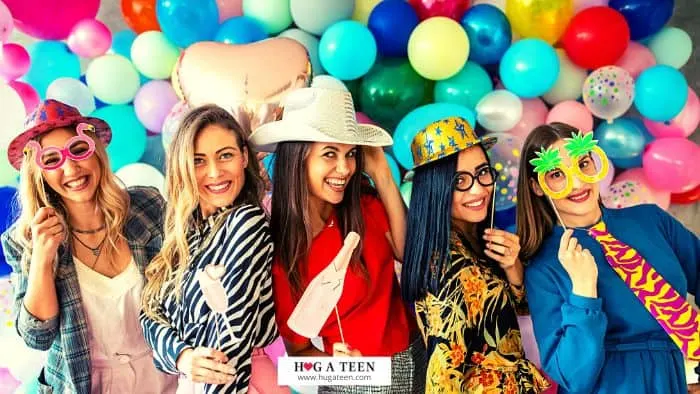 1. Decorating The Venue
Decorating the venue is one of the most exciting parts of party planning. Consider setting up a graduation backdrop or photo wall where guests can take pictures.
Incorporate your grad's school colors and photos from their high school years for a personal touch. Balloons, banners, and table decorations can also add to the festive atmosphere.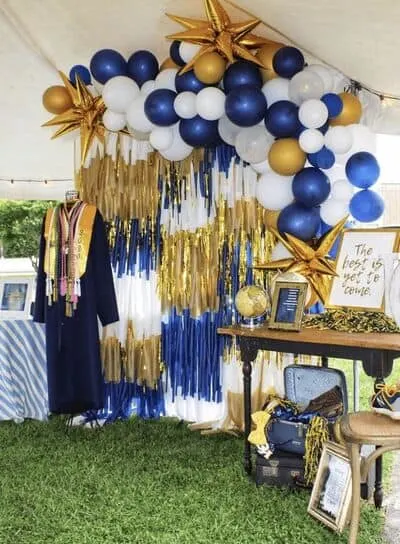 2. Graduation Party Activities
Next, think about the activities for the party. Games with prizes can be a big hit, especially if they're themed around graduation or the grad's future plans. A photo booth with props can provide fun and memorable snapshots of the event. If you have the space and resources, you might even consider planning a scavenger hunt or setting up a movie projection.
3. Graduation Food & Drinks
The menu is another crucial aspect of the party. Whether you're catering or cooking at home, consider choosing food and drinks that align with the theme of the party. For example, you could serve "diploma" roll-ups or "grad cap" sliders. Don't forget to include a variety of beverages, and consider setting up a special "mocktail" station for the grads.
Table centerpieces could be favorite photos of the high school graduate, vases spray painted in their school colors, grad cap and year cut out, or even flowers or balloons in their favorite color.
4. Music
Creating a memorable atmosphere goes beyond decorations and food. Consider the music playlist – perhaps your grad has some favorite tunes they'd like to include. Lighting can also significantly impact the mood of the party. As the party winds down, consider a special event like a sky lantern send-off or a surprise for the grad to make the night unforgettable.
5. Graduation Party Favors
Lastly, consider giving party favors as a thank-you to guests for celebrating this milestone with your family. These keepsake items could be something simple and personalized, like mini graduation cap keychains or custom-made cookies in the shape of your grad's year.
6. Graduation Gifts Station
Whether guests leave a card, a heartfelt message, or a gift, it's a great idea to have a gift table for guests to place their gifts. Place a guest book on the table so that everyone can leave a heartfelt message, and good luck wishes for the future.
🎓Suggested reading: High School Graduation Gift: How Much Money Should I Give?
High School Graduation Party Ideas
Here are some fun ideas for activities at a high school graduation party:
1. Photo Booth
Set up a photo booth with props related to graduation and the future plans of the graduates. A photo backdrop provides a fun activity and memorable keepsakes. Here are some photo booth ideas:
Photoshoot wall. Use streamers or paper flowers to decorate.
Create a balloon arch and add some balloon boxes on the side.
Buy or make an oversized Polaroid cardboard cutout for friends and family to take photos in. Use a Polaroid camera and stick them on a photo board.
Balloon frame photo booth. Use balloons in school colors or their favorite color to match the color scheme.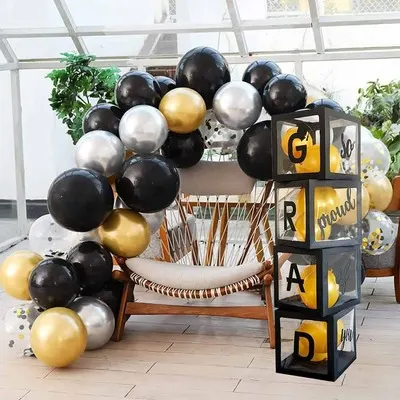 2. Memory Lane
Create a "walk down memory lane" with photos printed on poster boards, school projects, and other memorabilia from the graduate's school years. Seeing their eyes light up as they look through all their favorite memories will be worth the effort.
Another option is to create a memory clothesline, or a cool memory wreath, on which you can hang school photos and other fun items. Add some class pictures and senior pictures to include all their friends.
3. Guest Messages
Instead of the usual guest book, why not choose one of these more creative ideas:
Have a jar where guests can drop in written well-wishes, advice, or a school memory for the graduate to read later.
Have a stack of graduation wishes cards for party guests to write on.
Have a guest book poster for party guests to sign.
Ask guests to snap a Polaroid photo and write their message on it.
4. Graduation Caps Decoration
Provide materials for guests to decorate mini graduation caps. This can be a fun activity, and the decorated caps can serve as graduation party decorations or party favors.
🎓 You might want to have a look at these fun Graduation Cap Ideas
5. Karaoke
Rent a karaoke machine and let the graduates and guests sing their favorite tunes.
6. Video Montage
Create a video montage of the graduate's journey through high school to play during the party.
7. Graduation Party Game
Organize some graduation games that can be enjoyed by all age groups. These could include a trivia quiz about the graduate, a scavenger hunt, or classic outdoor games if the space allows. Graduation themed charades are another fun idea.
8. Themed Food and Drinks
Serve delicious food and drinks that are themed around graduation or the graduate's future plans. For example, you could serve "diploma" roll-ups or "grad cap" sliders. Be sure to add a dessert table or dessert buffet. Depending on your school grads' preference, you can choose any of the following:
Donut bar
Smores table
Ice cream bar
Candy bar
Chocolate fountain
Graduation cake
Donut board
🎓 You might want to have a look at these delicious Graduation Cake Ideas
9. Time Capsule
Have each guest bring something to put in a time capsule that the graduate will open in the future.
10. Dance-Off
If your crowd is up for it, organize a dance-off to some popular tunes. This can be a fun way to get everyone moving and laughing.
Remember, the most important thing is that the activities reflect the graduate's personality and interests.
Where To Have A Graduation Party
Choosing the perfect location for a graduation party can significantly enhance the celebration of this milestone event. Whether you're looking for a cozy at-home gathering or an adventurous outdoor party, the venue sets the tone for the festivities. Here's a list of diverse and exciting locations where you can host an unforgettable graduation party.
1. Park
A park is a popular place to host a graduation party. Guest can spread out in plenty of space, there can be games for the younger kids, and there are grills for cooking hot dogs and hamburgers.
2. Covered Pavilion
A covered pavilion lets you host the party rain or shine.
3. Restaurant
There won't be any table setting or cleanup to do, no catering to hire, and no staffing to worry about. It may only be necessary for parents to bring decorations and a cake.
4. Country Club
An outdoor graduation party at these places tends to be less of a headache for parents who can afford the expense than organizing the whole thing themselves.
5. Event Space
The cost of throwing a party in a venue will be higher than holding one at home or in a park. However, this option will save parents a lot of time and effort.
6. Backyard
Graduation parties held outside are a traditional concept and can be a more casual type of celebration. Even though outdoor events require more planning, including tracking the weather, it is a great opportunity to host an unforgettable graduation party.
🎓Suggested reading: Best Backyard Graduation Party Ideas
7. At Home
Saving money and being creative are the biggest advantages of a home graduation party. It is possible to throw a lavish graduation party at home even on the tightest budget. Your primary goal is to plan a celebration that your graduate, friends, and family will enjoy.
8. Local Music Venue
Is the graduate a music lover? Find out if a local music venue will rent out the space during the day.
9. Art Studio
For a graduate planning a career in art, the graduation party may be held at an art studio or a venue where people can create their own art, such as painting or pottery.
How To Celebrate High School Graduation Without A Party
Some graduates might not want a graduation party. Perhaps they were home-schooled or did online schooling, or they just didn't enjoy the high school experience. If this is the case, it's still important to celebrate your teen's achievements and let them know how proud you are of them finishing high school.
Here are some ideas on how to celebrate if your teen doesn't want a party:
1. Family Trip
The perfect way to reward them for their achievements would be to treat them to a family trip, which would allow them to bond with their families and thank them for being their strongest support system.
2. Concert
Concerts require no planning and are guaranteed to be enjoyable. You should buy them some good tickets if you can afford it. Any way they choose to do it, they'll be able to enjoy themselves and let loose.
3. Spa Day
A spa day is the best graduation party alternative for introverts or homebodies.
4. Weekend Getaway With Friends
Take your closest friends on a weekend getaway to celebrate your graduation. You have one more chance to make memories together before moving in different directions or pursuing different careers.
5. Shopping Spree
Shopping sprees are the perfect way to celebrate your achievements. Don't pass up this chance to get them something they've wanted or needed for a long time.
6. Have A Slumber Party
It's a nostalgic way to celebrate graduation. Take some time to hang out with your friends before the next chapter in your life begins. Wear pajamas, pop some popcorn, paint your nails, and just have a great time.
7. Intimate Dinner
It's not necessary to invite everyone you know to your dinner party, just the people you know and care about. It is important to ask yourself who you truly wish to be there.
8. Solo Vacation
The experience can be enjoyable and fulfilling at the same time. You can carry out fun activities during this solo vacation. Take this time to get to know yourself
FAQs for Planning a High School Graduation Party
In this section, we'll address some frequently asked questions about planning a high school graduation party.
1. How do you throw a fun graduation party?
Throwing a fun graduation party involves a combination of factors. Firstly, consider the preferences of the graduate – their favorite foods, music, and activities should be at the forefront of your planning.
Incorporate games and activities that will engage the guests, such as a photo booth or a scavenger hunt. Personalized decorations that reflect the grad's journey can also add a fun and unique touch to the party.
2. What are some graduation party ideas?
There are countless ways to celebrate a high school graduation. Some popular ideas include a themed party based on the grad's future college, career aspirations, or favorite hobbies. You could also consider a destination party at a favorite local park or beach.
3. What food to serve at a graduation party?
The food you serve at a graduation party can vary based on your grad's preferences and the theme of the party. Popular options include BBQ, tacos, or a buffet of the grad's favorite foods. Don't forget to include some themed treats, like "diploma" roll-ups or "grad cap" sliders.
4. How do you have a successful graduation party?
A successful graduation party is one where the graduate feels celebrated, and the guests enjoy themselves. This involves careful planning, from choosing a suitable location and theme to planning the menu and activities. Remember to involve the graduate in the planning process to ensure the party reflects their tastes and achievements.
In conclusion, planning a high school graduation party involves many details, but with these favorite graduation party ideas, and some careful planning, you can throw a memorable event that honors your teen's achievements and gives them a fantastic send-off to the next chapter of their life.