Your big day is just around the corner, and getting that grad cap personalized is an essential part of planning your graduation outfit. With an awesome graduation cap on your head, you would stand out from the crowd and your loved ones would find you more easily.
There are many graduation cap ideas available, but it can be overwhelming to choose one.
Whether you're looking for graduation cap ideas for high school or the best college graduation cap decoration ideas, you'll surely find something you'll love.
Cutouts, flowers, glitter, and other craft supplies can help you get creative. Graduation is a milestone that you need to celebrate, so you may go above and beyond with your cap design.
We put together this list of 40 graduation cap ideas to get you started. Every graduate is sure to find the right cap to match his or her personality among the funny, inspirational, artsy, or themed graduation cap decoration ideas.
🎓 You might also like to know:
How To Decorate Your Graduation Cap
Depending on the design you choose you will need several different craft supplies. The main items you will need to decorate your graduation cap are poster board, a glue gun, and glue sticks, as well as any decorating items like lettering, flowers, rhinestones, or paints that you wish to use.
Once you've chosen your words and design it's time to get creative.
Step 1: Trace around your grad cap with a pencil onto a sheet of poster board. This will be the base of your cap design.
Step 2: Cut out the square for the graduation cap. If you're using a glitter paper or color paper background then you can use this, if it's thick enough to hold your design elements or stick this onto the thicker poster board.
Step 3: Cut out a small hole for the center button. It should be smaller than the actual button so that it will hold the cut-out square in place.
Step 4: Sketch out your design. This could include which font to use for your letters and where to place them.
Step 5: Play around with any other design elements that you wish. This could include glitter paper, rhinestones, flower drawings, or painted elements. Don't stick them down yet, just place them on the paper and see how you'd like to decorate your grad cap.
Step 6: Now it's time to add all your decoration elements and stick them down with the glue gun.
Step 7: Once everything is dry, you can slide your decorated poster board square onto your grad cap.
Step 8: Check that your design is facing the right way round. You can do this by checking the inner cardboard sticker that shows the 'front of cap'. Or place it on your head and ask someone if it looks correct.
Step 9: Glue the poster board square to your grad cap.
Step 10: Place your cap on your head and move around – do this on the day before graduation – to ensure that none of your design elements are loose. Secure any loose items with your hot glue gun.
Step 11: It's time to graduate! Time to slay the day as you walk across the stage to receive your diploma and make a statement with the most stylish graduation cap design.
Step 12: You might want to preserve and display your graduation cap as a keepsake.
Here's a great video showing how to cut out and add elements to your graduation cap design:
Minimalist Graduation Cap Ideas
Whether it is a last-minute preparation or you simply want something simple, a minimalist design will never go out of style.
'I Did It' Easy Graduation Cap Design
UNO (University of Nebraska at Omaha)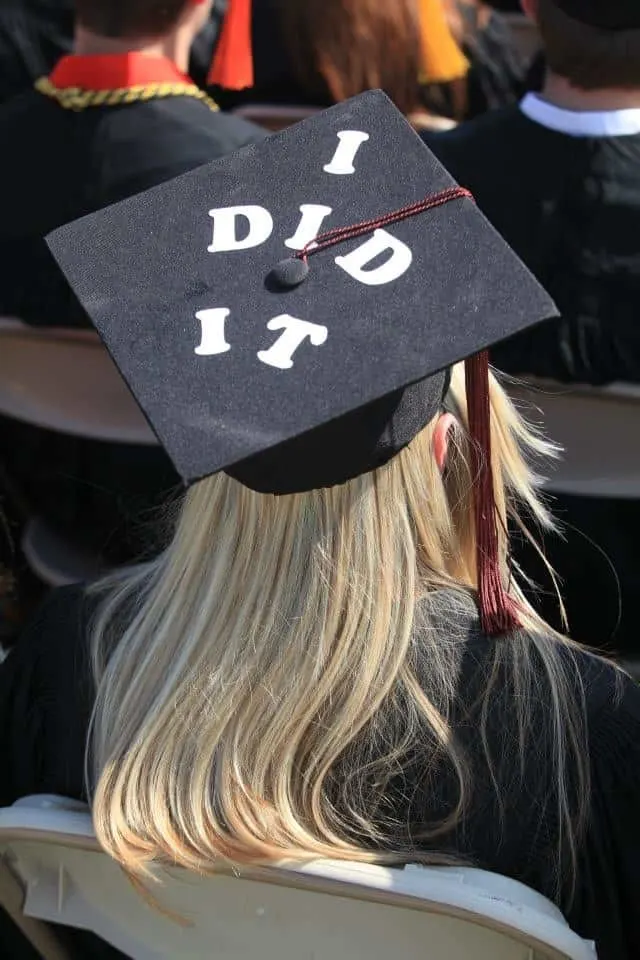 Make a bold statement full of pride with this design that screams You did it – and You did great!!
Minimalist Graduation Cap with Rhinestone Border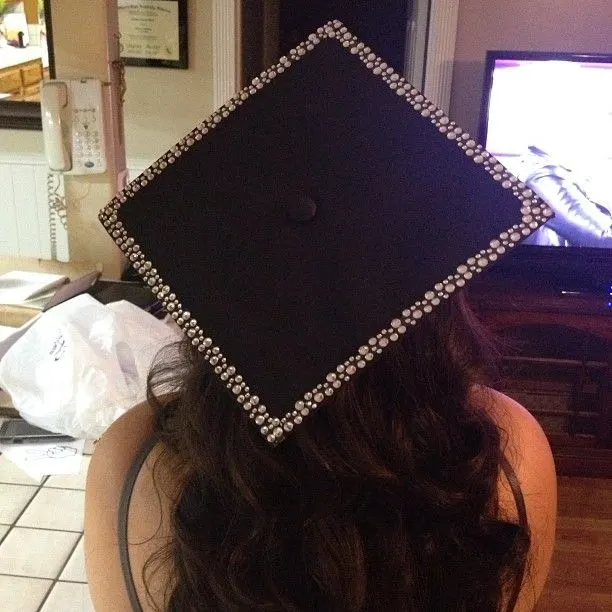 This embellished grad cap is enough to make it stand out with an elegant border that sure glimmers just as your mood on this special day.
'Four Years Later' Grad Cap Design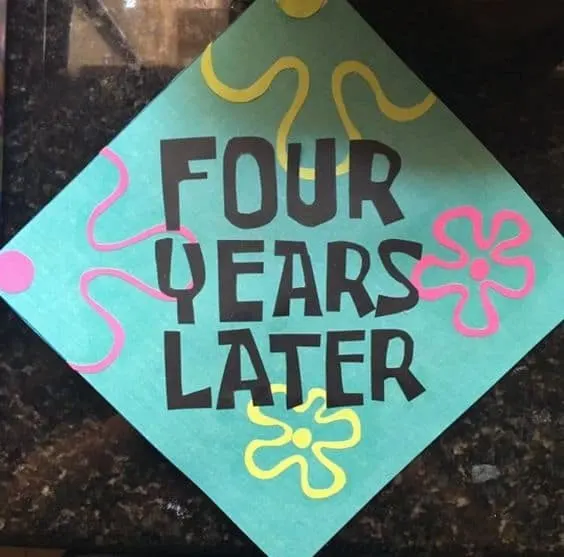 You can use this iconic line from Spongebob to describe a journey that took you four years. You've finally made it and we hope the wait was all worth it!
Dedication Graduation Caps
Honoring those who have inspired you throughout your journey is an act of love. Whether they are physically present or no longer around, don't miss the chance. Let them know how much they mean to you through your graduation cap.
'Mama, I Made It' – Grad Cap Design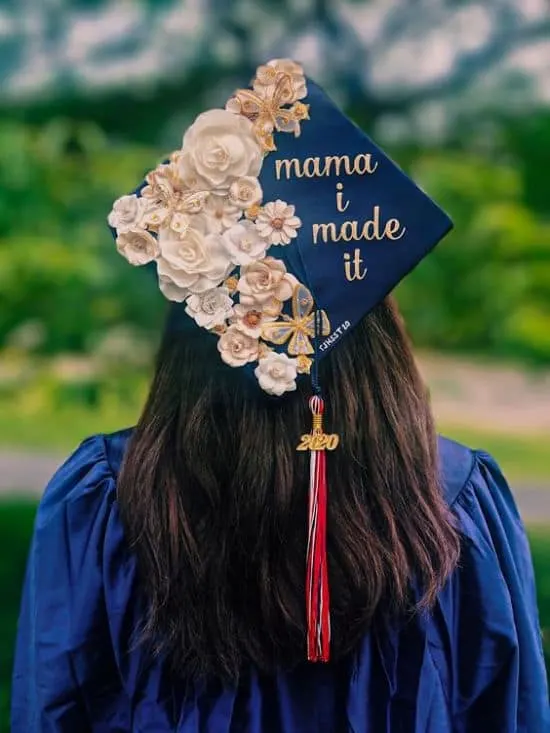 To that one person who constantly believed that you could make it. A well-crafted graduation cap will truly stand out as a way to show your love and appreciation.
Here's a video showing how to make a similar graduation cap:
'Mom Is Watching' Graduation Cap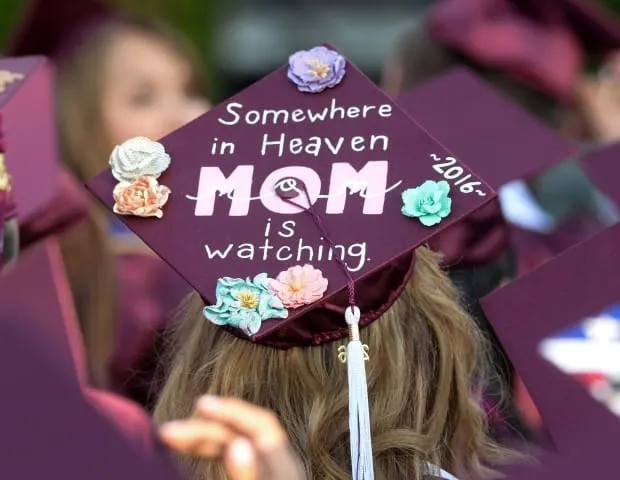 Your guiding light from above enabled you to overcome any obstacles and finally earn your degree. Make a graduation cap that honors the inspiration she gives all the way from heaven.
'Wish You Were Here' Dedication Grad Cap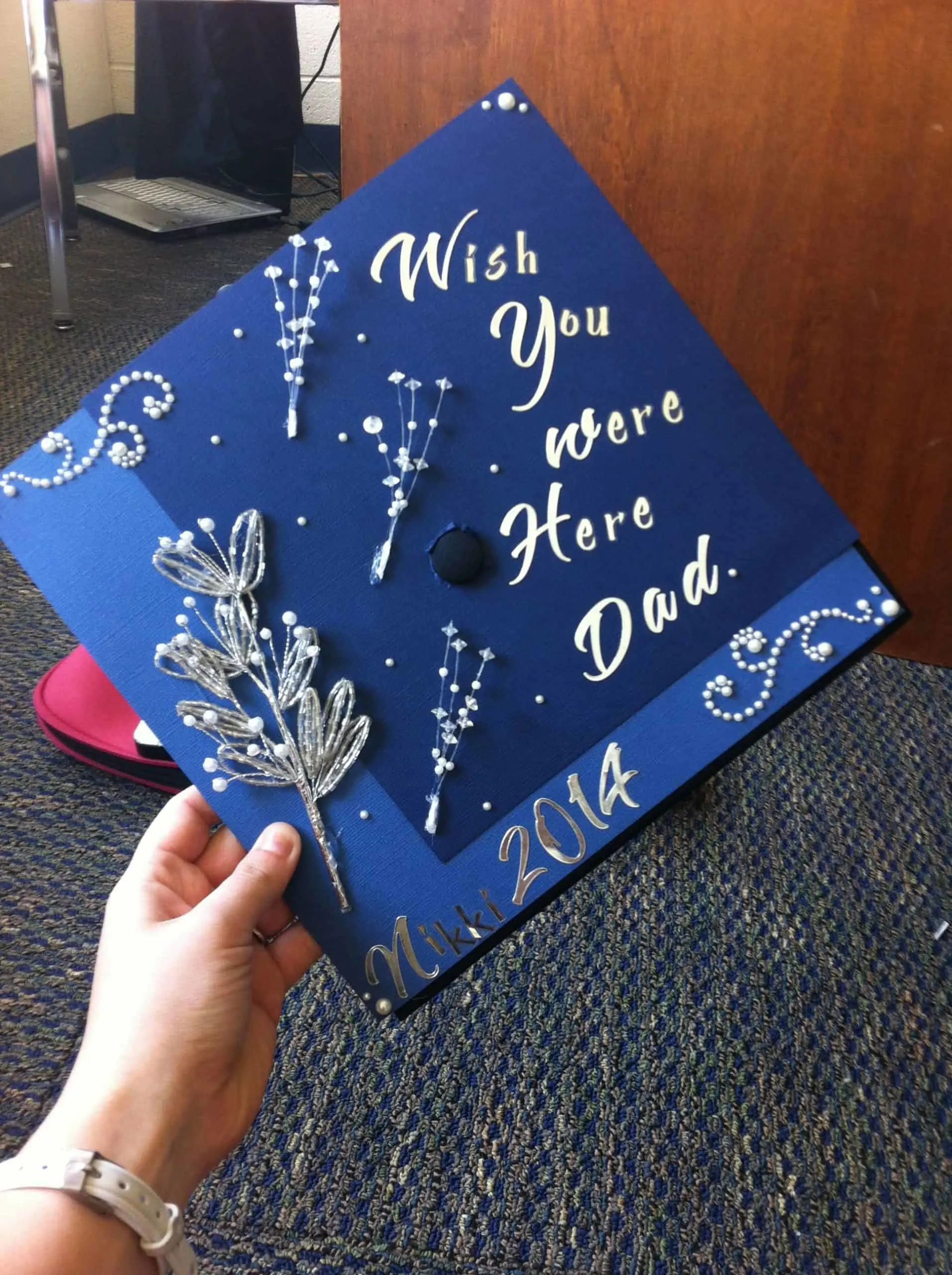 While some very significant people in our lives may no longer witness us receiving our diploma, we can always acknowledge their presence in our hearts with this thoughtful graduation cap.
Dedicated 'For Grandma' Grad Cap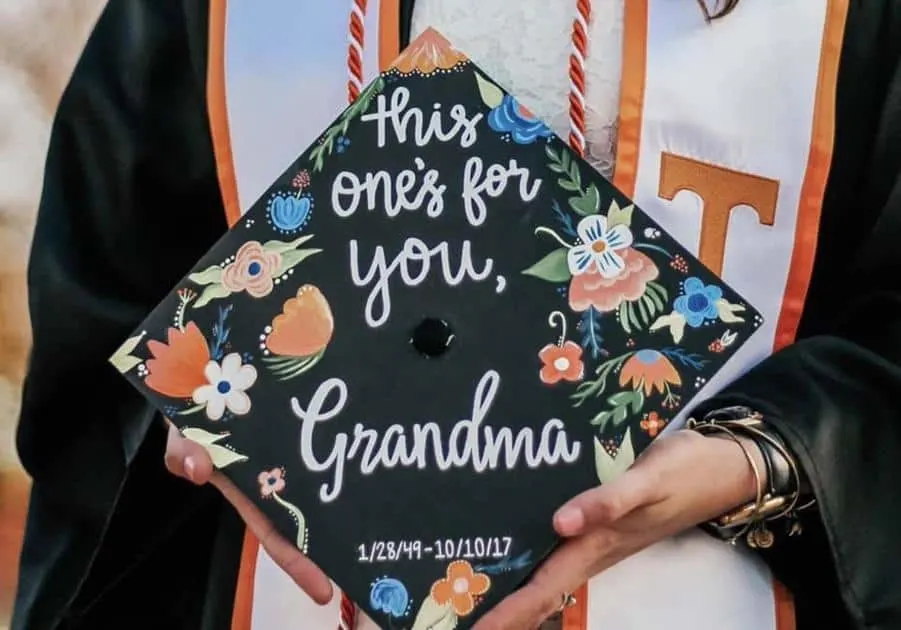 Some people honor their parents. Others honor their late grandmother. Make a graduation cap that highlights the meaningful times you've shared with your grandparents. A dedication graduation cap is truly meaningful and thoughtful.
Grad Cap Dedicated For Your Furry Best Friend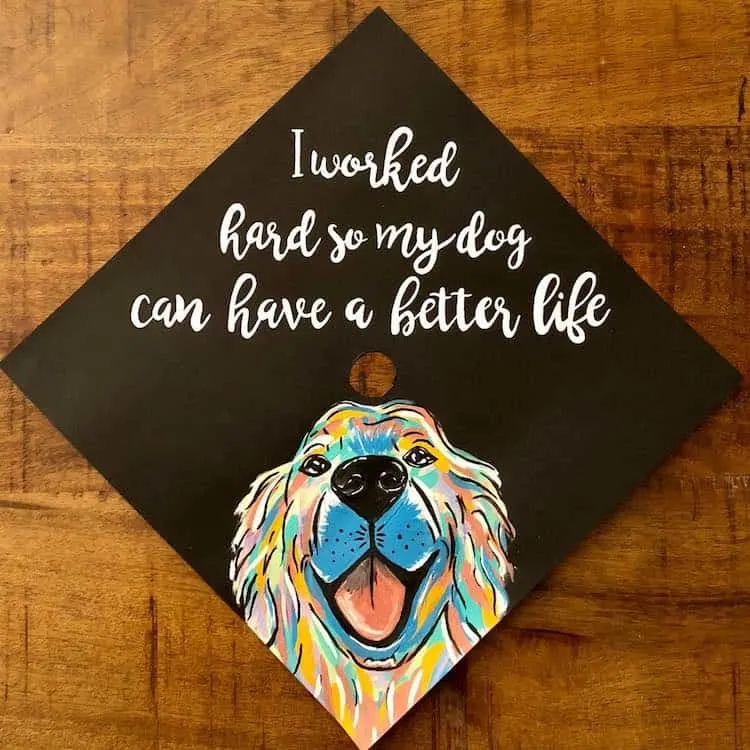 Here's a graduation cap idea for dog lovers. They're not just dogs. They're family. A grad cap design dedicated to your furry best friend is the most adorable way to honor your pet.
Themed Graduation Cap
Perhaps there's a movie or TV show you like, or a character you admire, or a cup of coffee you enjoy? Make a themed graduation cap to showcase your favorite thing. It doesn't have to be too fancy, it only needs to be significant to you.
Looney Toons-inspired Grad Cap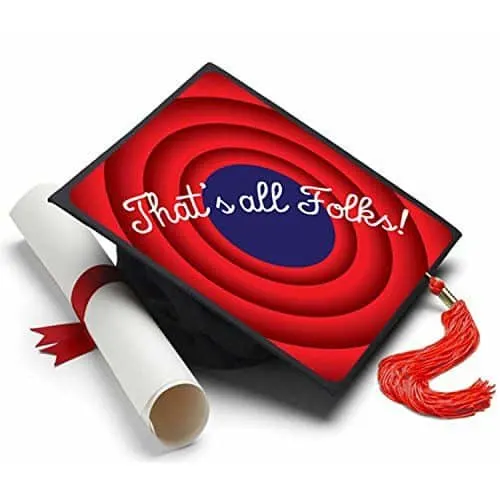 The famous line from the Looney Toons says everything you really wanted to say. That's all Folks! Nevertheless, graduation isn't the end, it's just the end of a chapter and the beginning of another part of your life.
Starbucks Themed Graduation Cap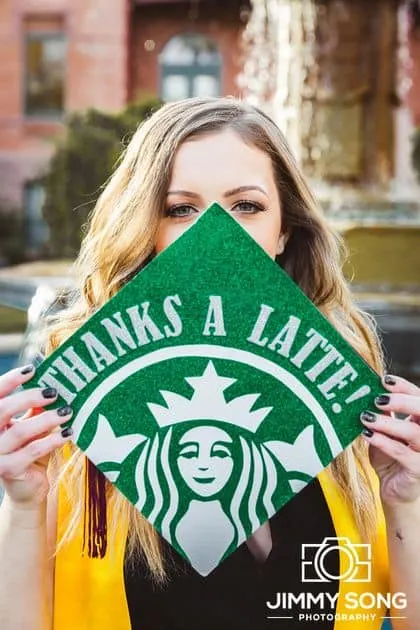 If you were fuelled by coffee all the way to your diploma, this graduation cap design is for you!
Apple Graduation Cap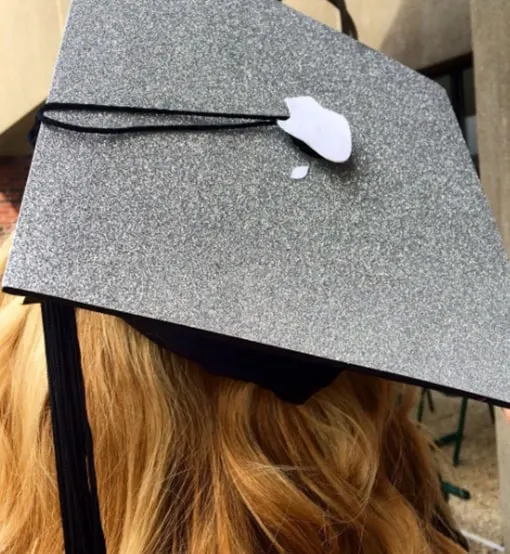 For all those times you pulled all-nighters for schoolwork on your laptop, recognize your go-to device on your graduation day.
Spongebob Themed Graduation Cap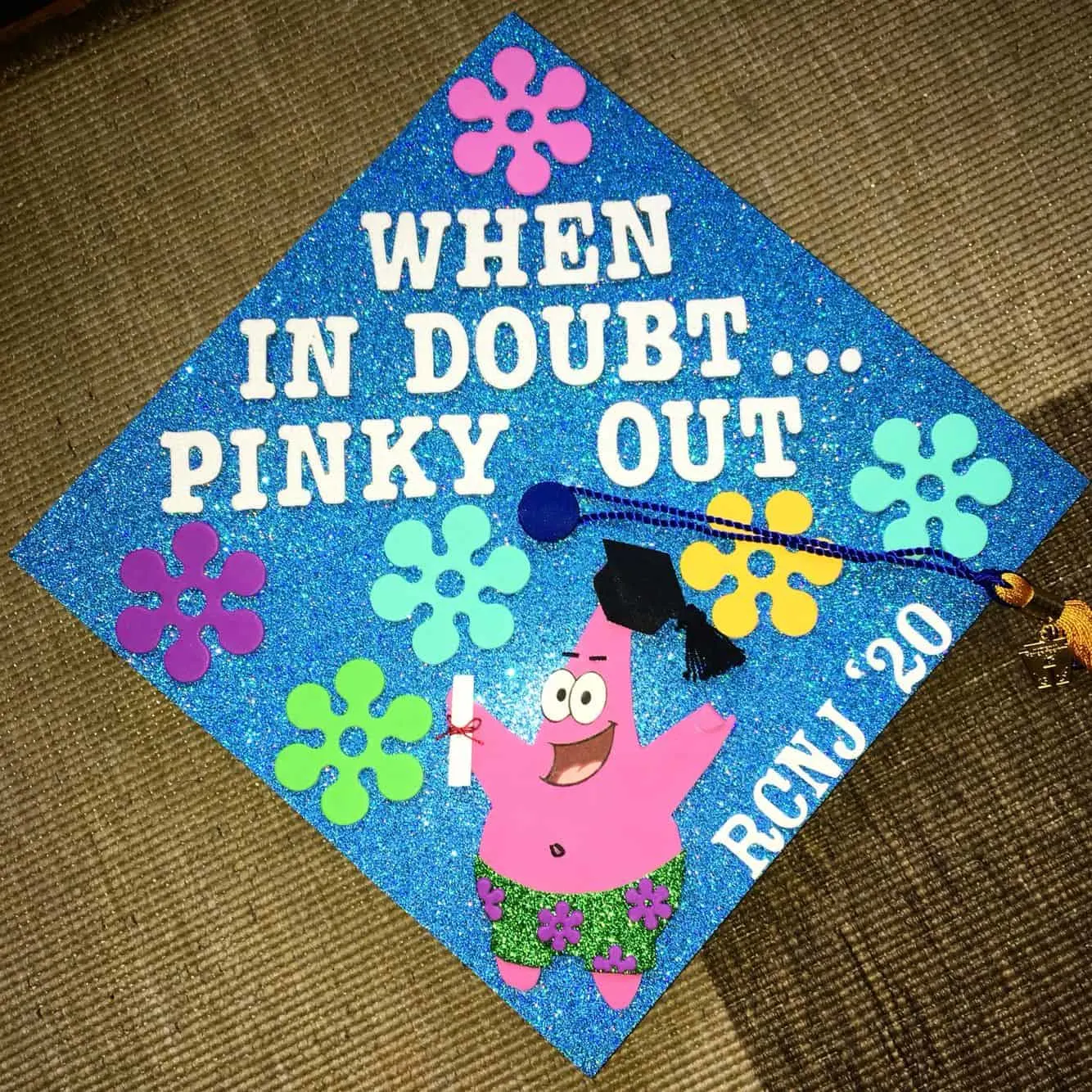 Another cute Spongebob graduation cap that not only looks cool but also gives off an optimistic vibe through its colorful and glittery design.
Hello Kitty Themed Graduation Cap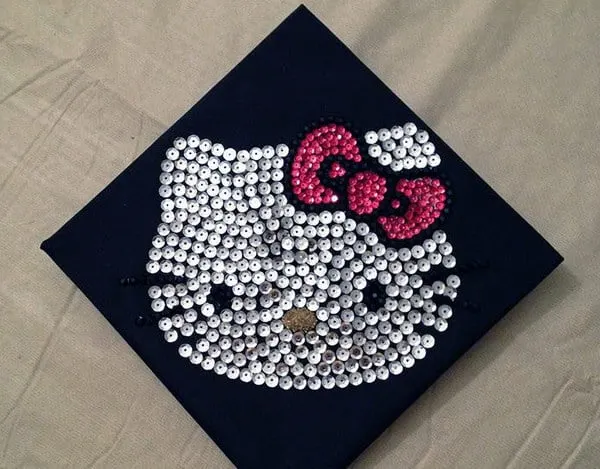 Featuring glimmering sequins made into Hello Kitty, this is a fancy design for fans of this well-loved Sanrio character.
Mean Girls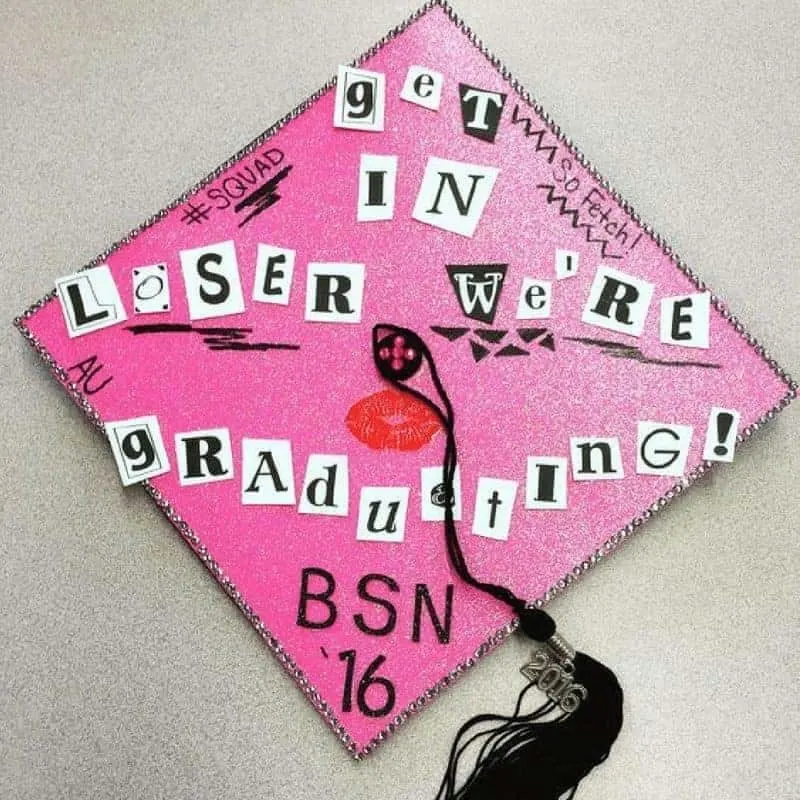 You're not being mean! You're just graduating! We hope you aren't one of those girls. Just a fan of this movie.
Friends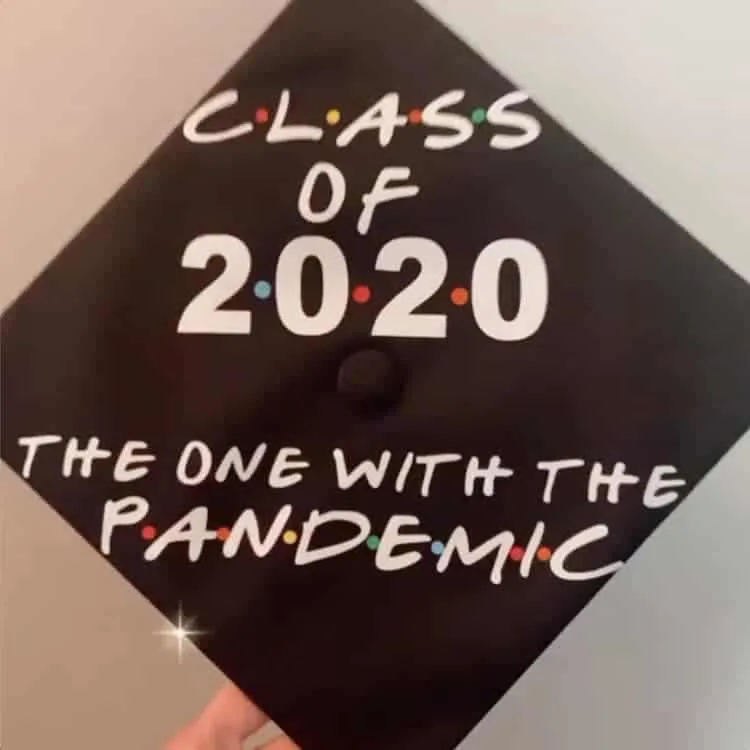 In this design, the Friends font style is used to emphasize the significance of making it through and graduating during a pandemic. With or without a pandemic, this is still one of the best grad cap designs.
A Grad Is Born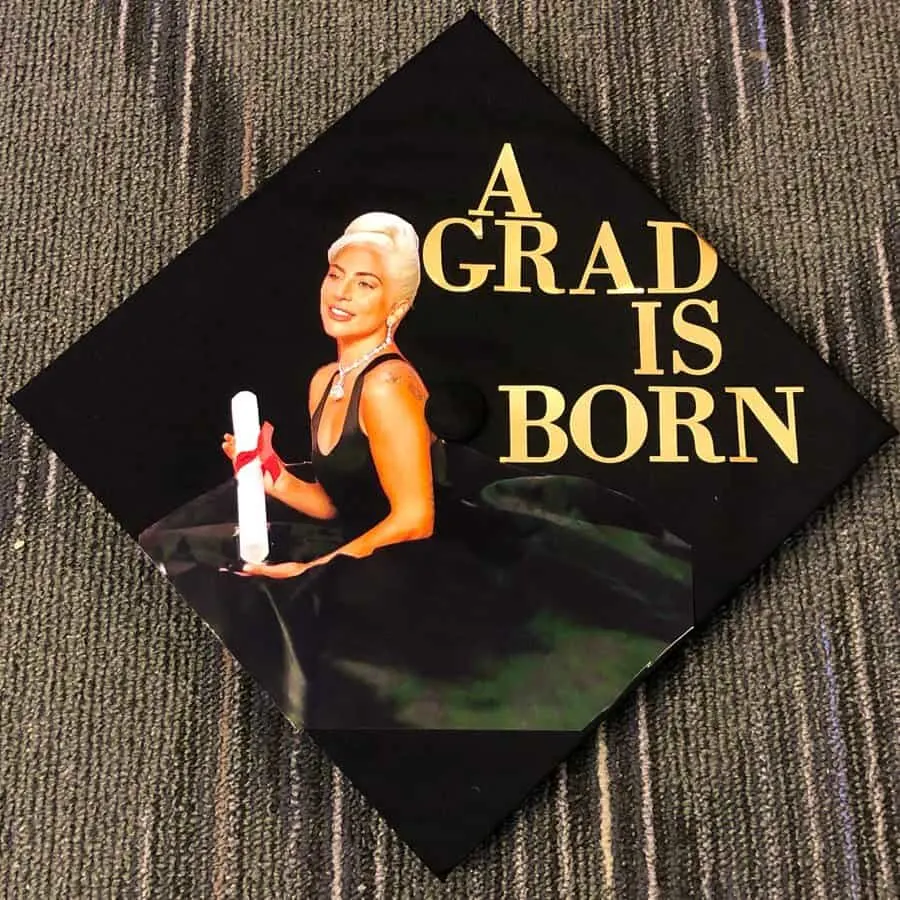 You don't have to be a fan of Lady Gaga to wear this witty graduation cap. It is already clever to use her movie title. But having her hold a diploma makes it all the more hilarious.
Graduation Cap Ideas With Bows
When it comes to your graduation cap, a bow can be an elegant accent if you don't want anything too grand. From beads to glitters, feel free to explore the design that fits your personality or the one that reflects your message.
Thank You Mom & Dad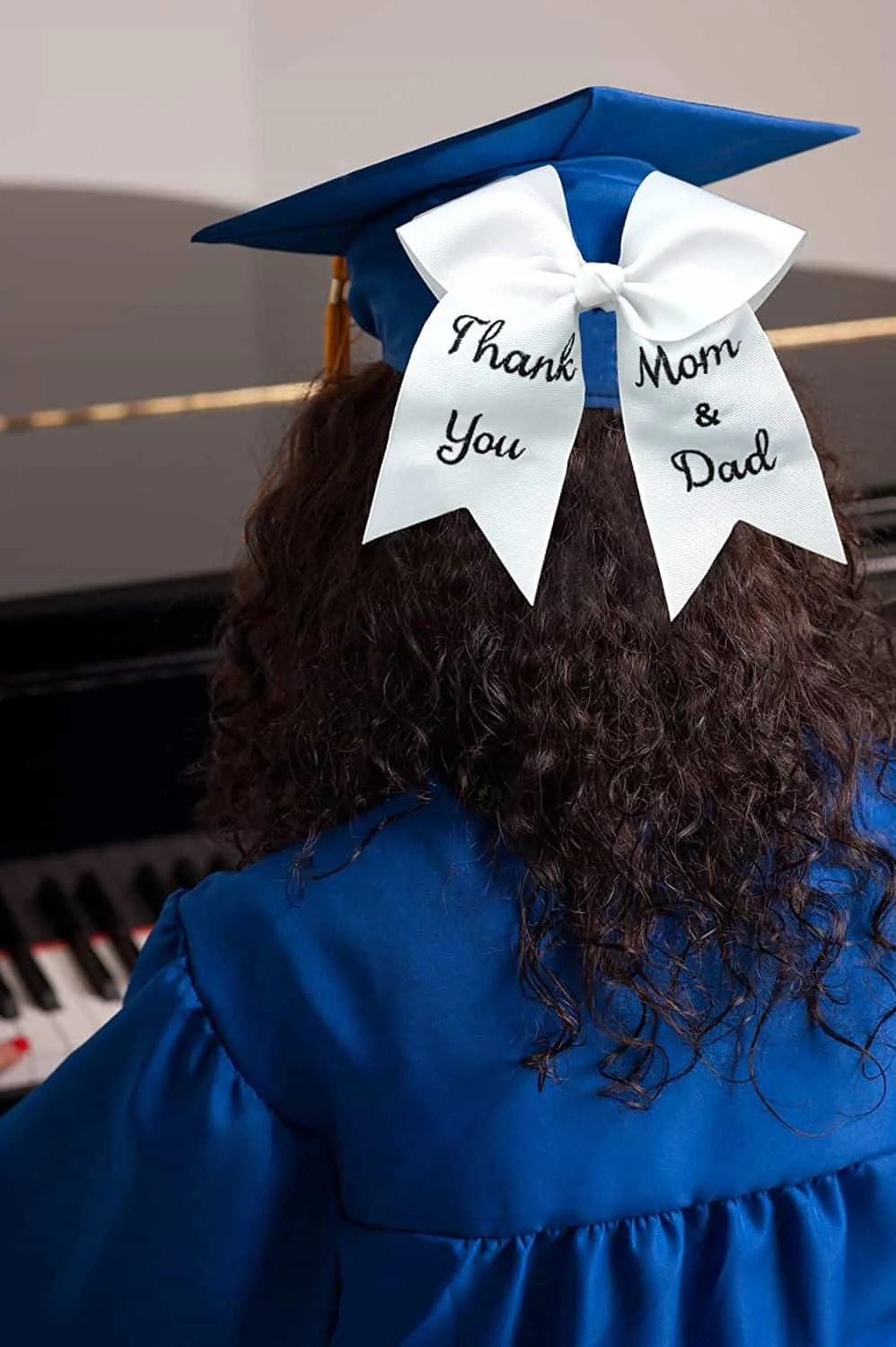 A graduation cap decorated with a thank you note with a large bow is sometimes all you need to express your gratitude to your parents. Make it more significant by choosing your school colors.
Beads & Bow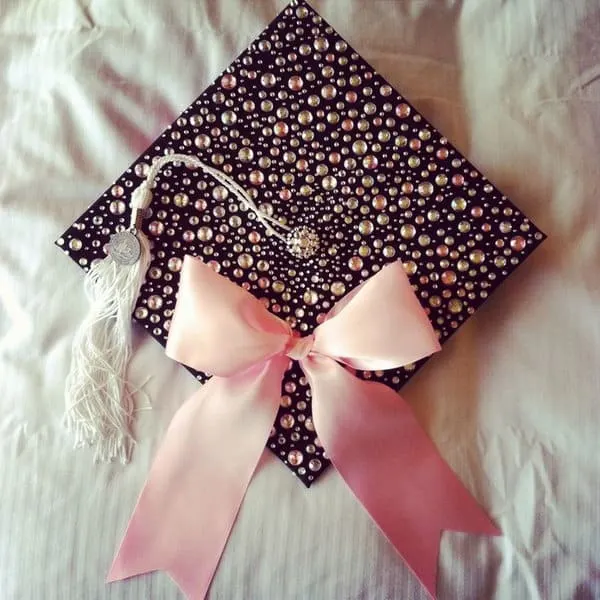 Celebrate your milestone with this stylish graduation cap decorated with all its sparkling beadings and a pink satin ribbon bow to make it even more beautiful.
Glitter Cap with Bow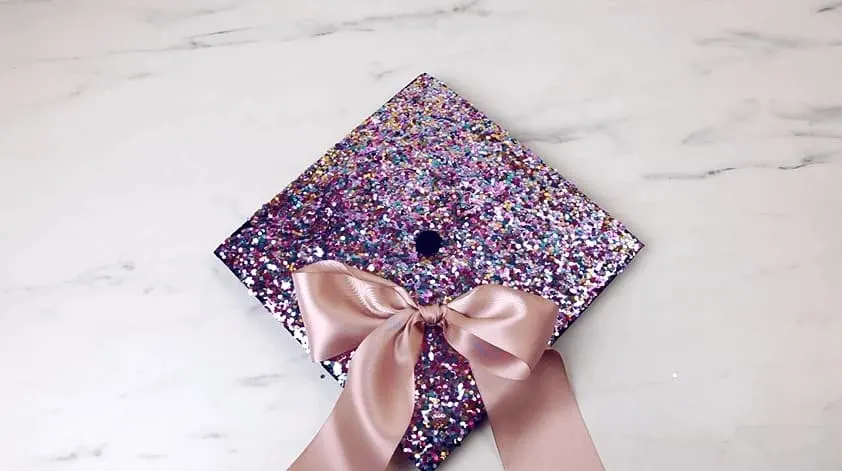 A graduation cap decorated with a metallic bow, plus a handful of glitters, is sure to make a statement!
Quote & Bow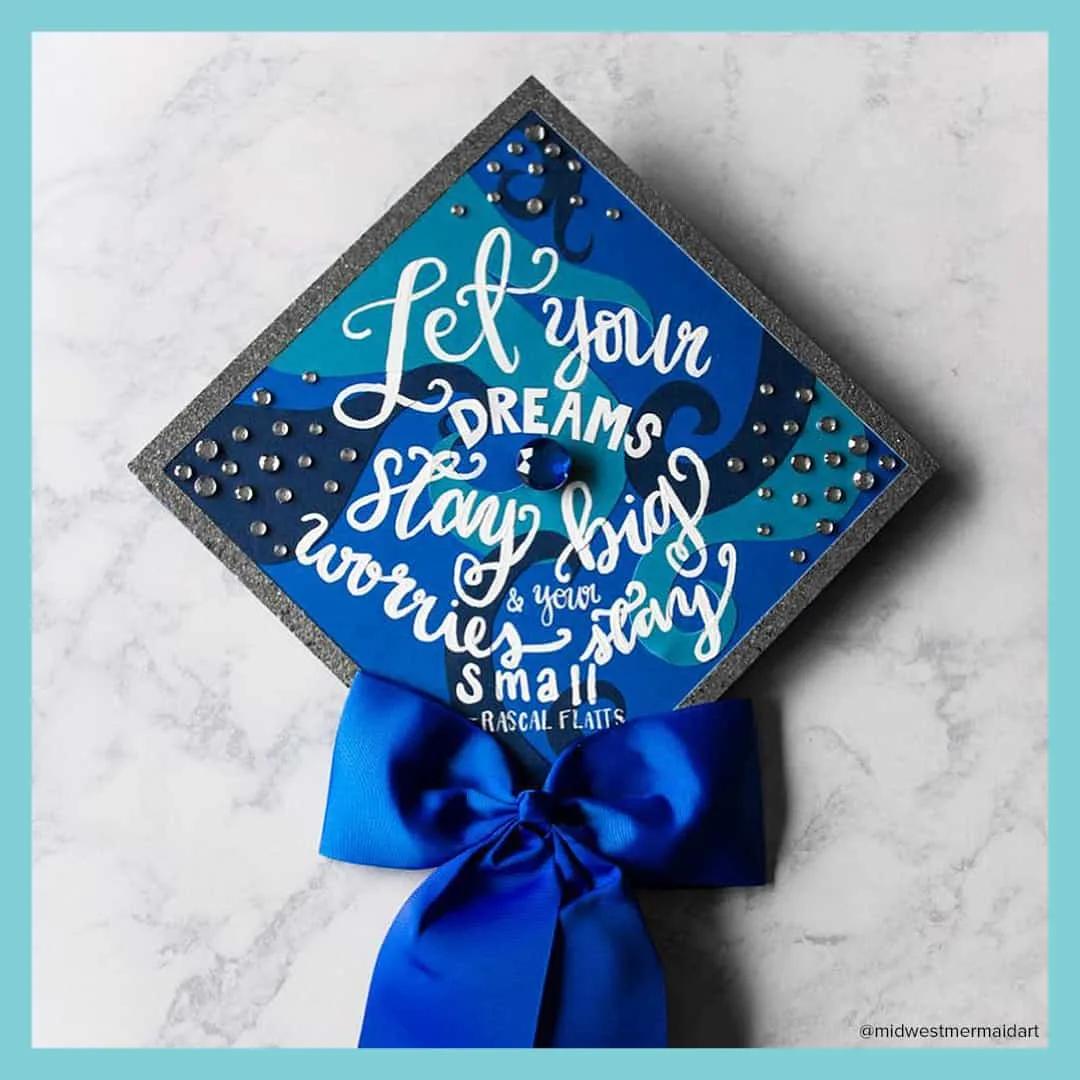 Graduating students who are country music lovers will appreciate this Rascal Flatts quote. You can make your cap personalized by using your favorite quote.
Pick the bow that complements your design. The color can be your school color or simply one of your favorite hues.
Inspirational Quotes Graduation Cap
Somewhere along the way, you found an inspirational quote that enabled you to cope with the ups and downs. Let's relive them once more with a graduation cap design that will inspire everyone who sees it.
Here are some graduation quotes for caps with amazing designs.
Caligraphy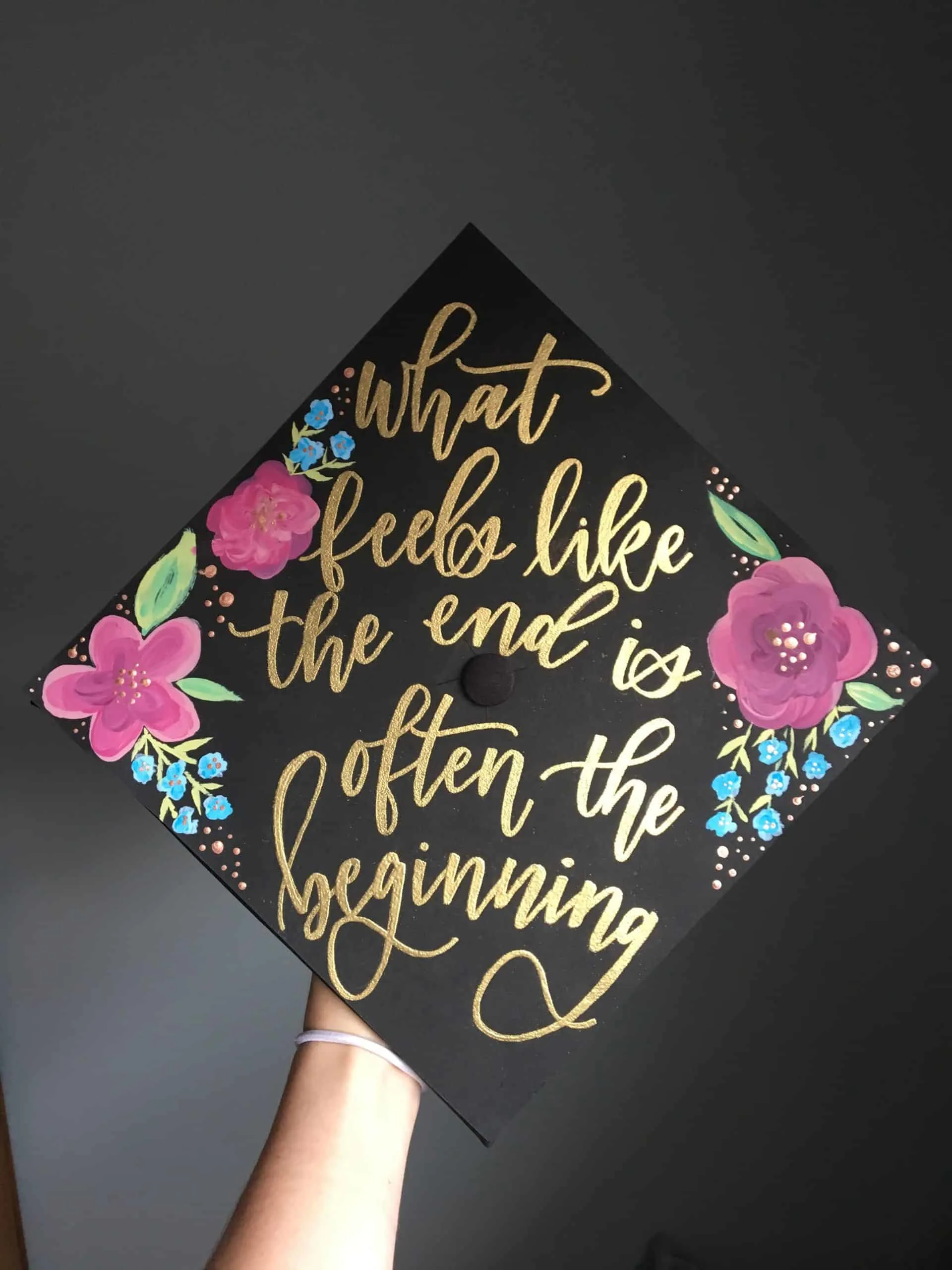 Gold on black is truly an elegant way to decorate a graduation cap. If you hand-paint flowers on each side, it will be even more stunning! Lastly, pick a quote that inspires you the most.
Quotes & Flowers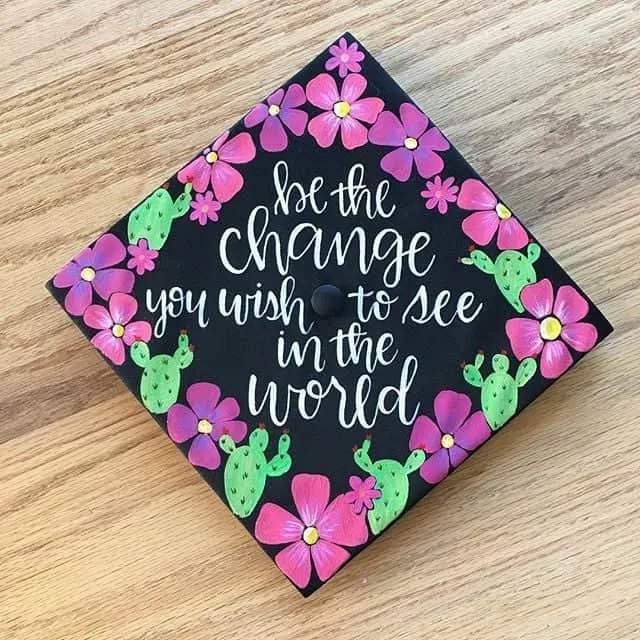 An inspirational quote is one of the best ideas for graduation cap decoration. Begin with a quote that you believe reflects what you should be after graduation. A border of your choice can be a complementary touch to the black and white design.
Disney Quote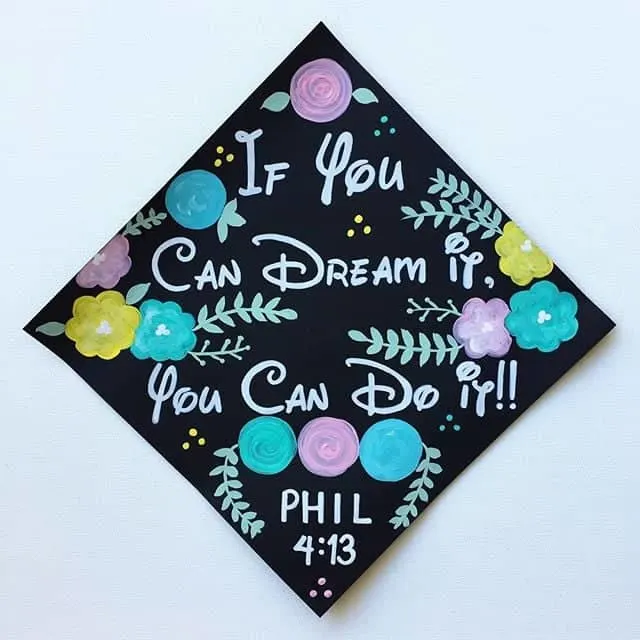 Disney quotes are often on point inspirational. If any of these motivated you throughout your journey, it would be a good place to start. Don't forget to use Disney's signature font too!
Handpainted Graduation Cap Ideas
Make your graduation cap a work of art by hand-painting your graduation statement. Let your cap be your canvas and showcase that artistic side.
Adventure Awaits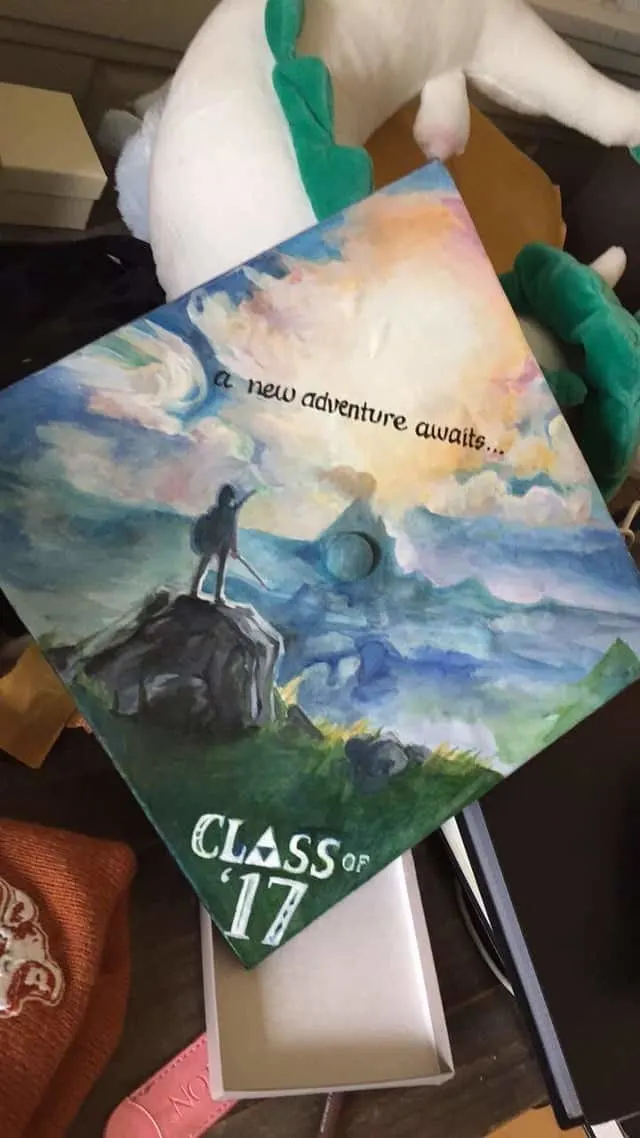 It can be a serious depiction of what lies ahead after graduation or whatever you imagined. Anything is possible.
Happy Little Graduate
You can create a stunning graduation cap that looks like someone painted it with beautiful scenery. Get creative!
Peter Pan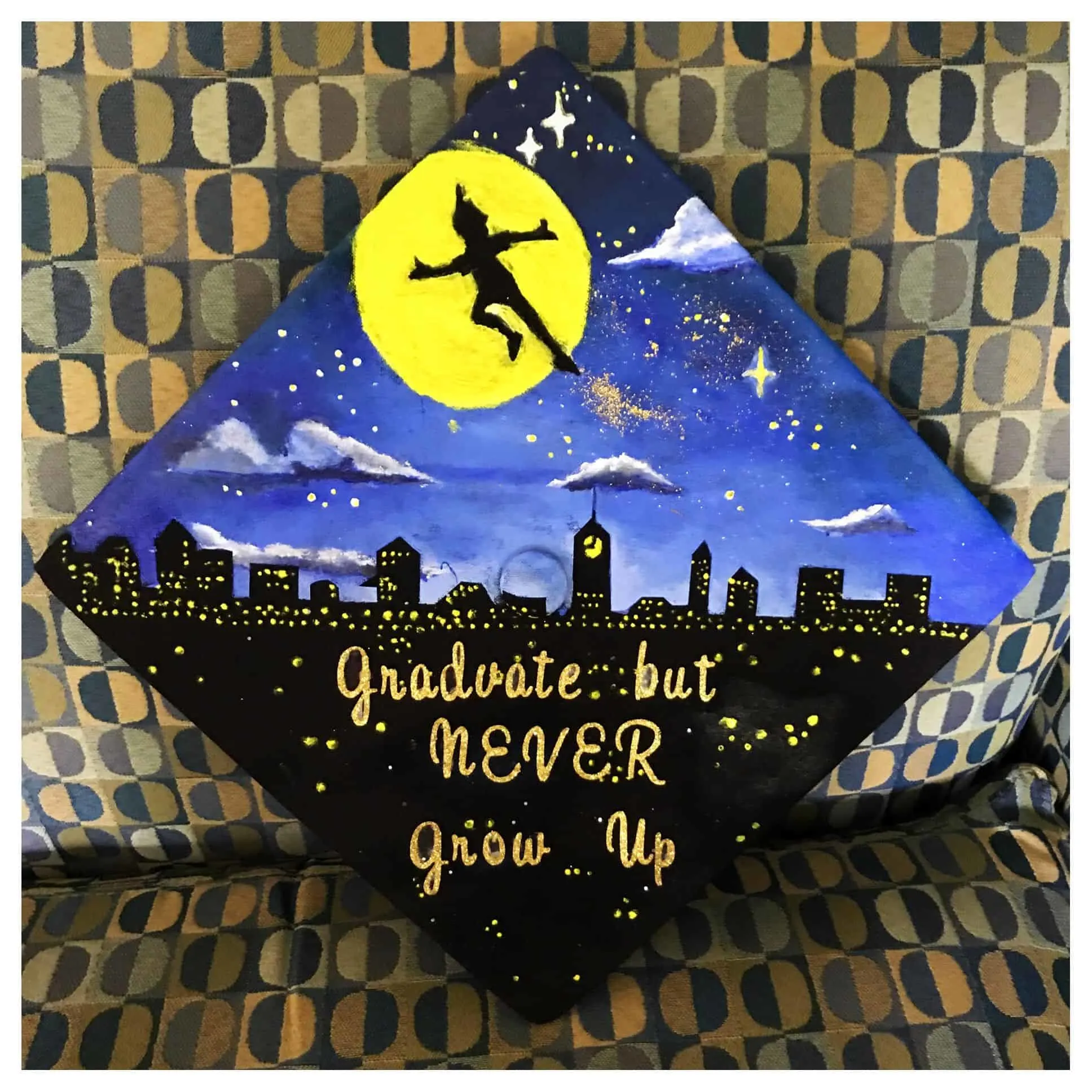 Make this hand-painted creation inspired by your favorite Peter Pan quote and you will certainly impress the crowd.
Goodbye Everyone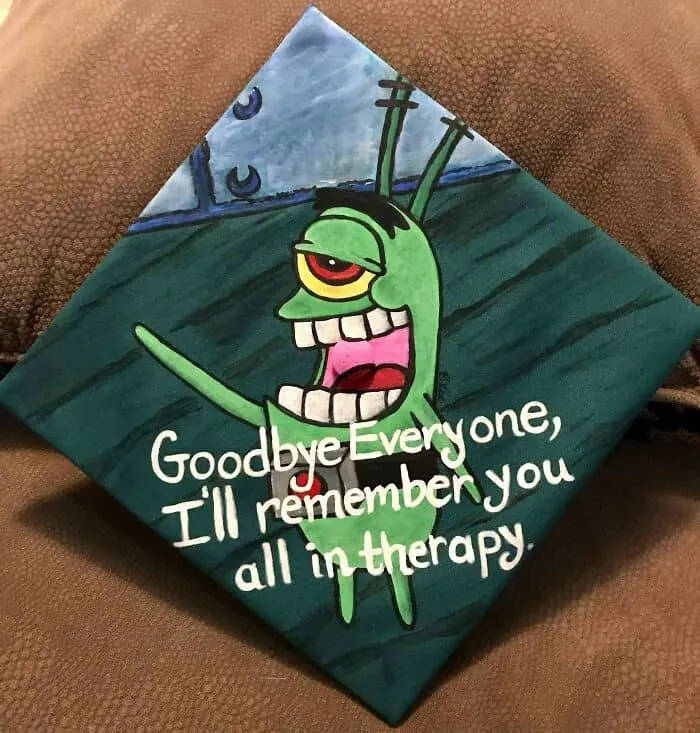 You are not restricted to painting dreamy or serious art on your graduation cap. Your hand-painted masterpiece can even be hilarious.
Funny Graduation Cap Ideas
It's often easier to express ourselves when we're just being funny. Adding a bit of humor to your graduation cap is perfectly acceptable. Ultimately, your cap makes a greater statement than your outfit.
Thanks Pizza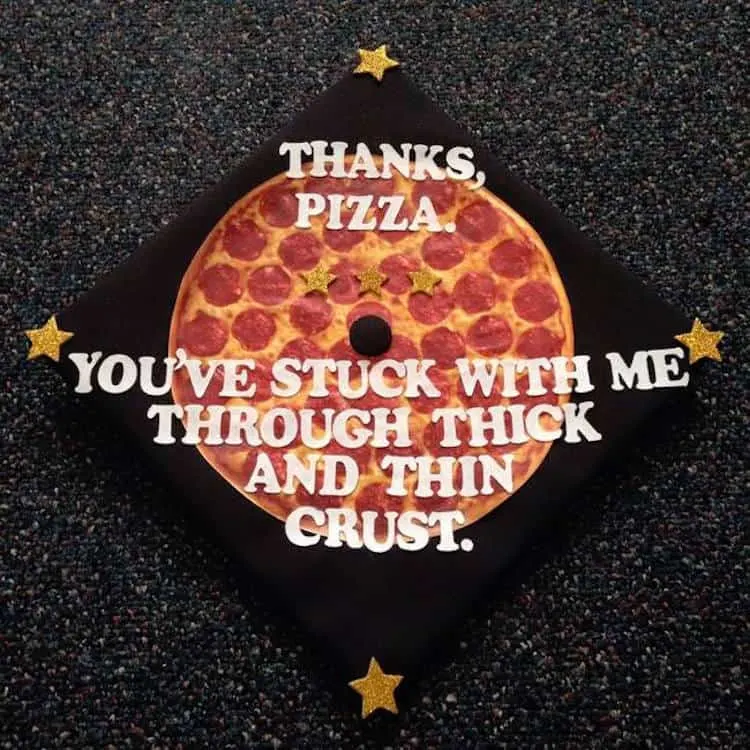 Pay homage to the one thing you couldn't live without! Thanks pizza graduation cap!
Last-Minute Graduation Cap Idea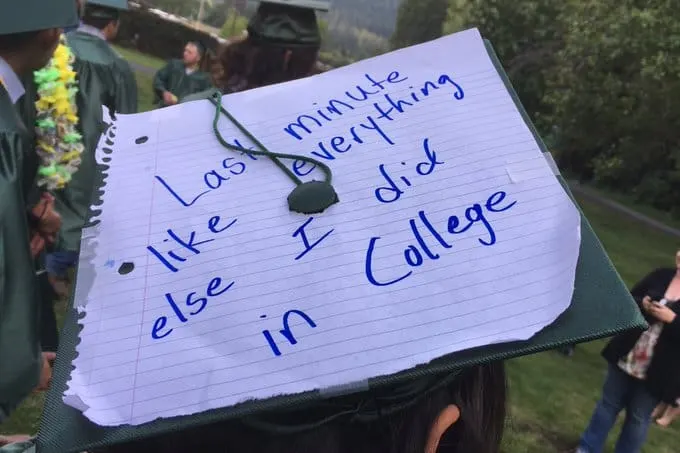 This BS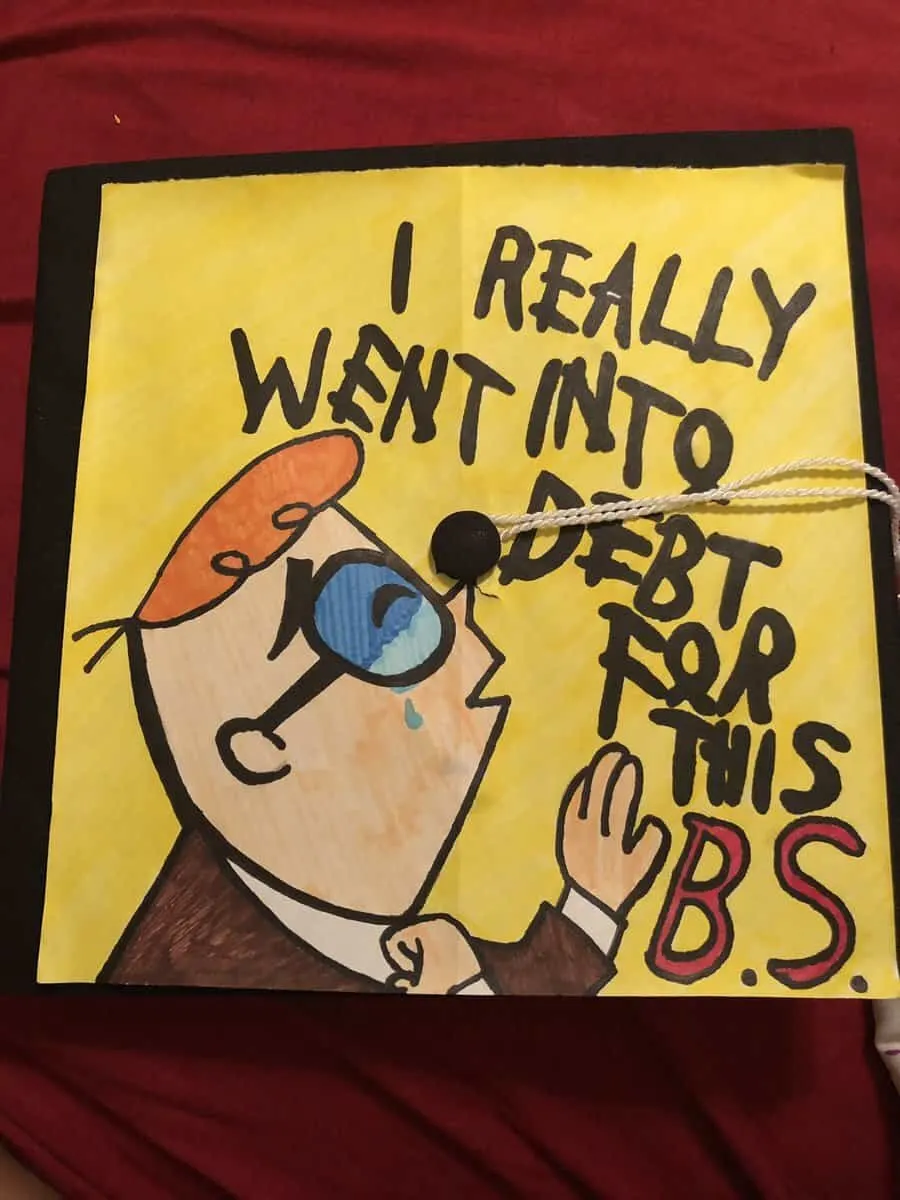 Dexter appears to be wondering if all of this is worth it. Your side of the story is different, however. We know the B.S is all worth it!
Game Of Loans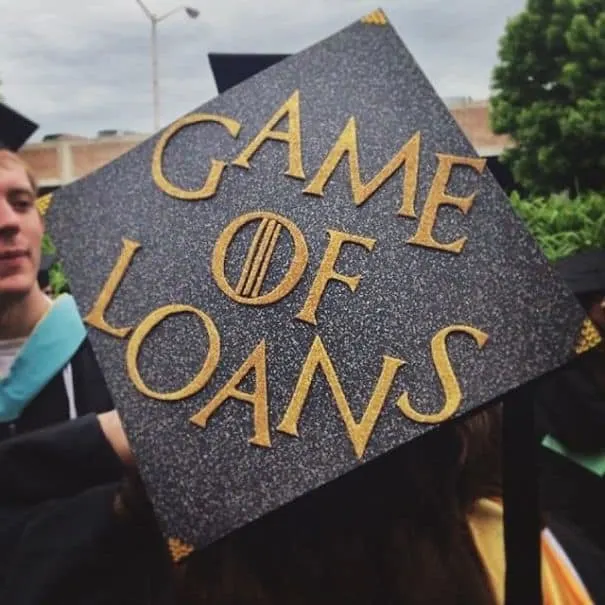 It's when your life has reached the point when you're ready to make fun of your own reality. Loans and all.
Clueless Graduation Cap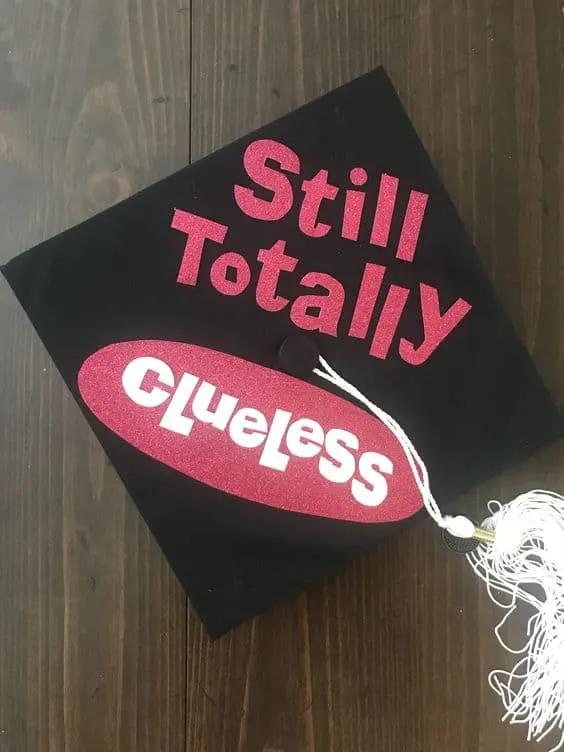 You definitely can't be totally clueless if you've graduated, but we get it, and it's totally funny!
Little Mermaid Graduation Cap Quote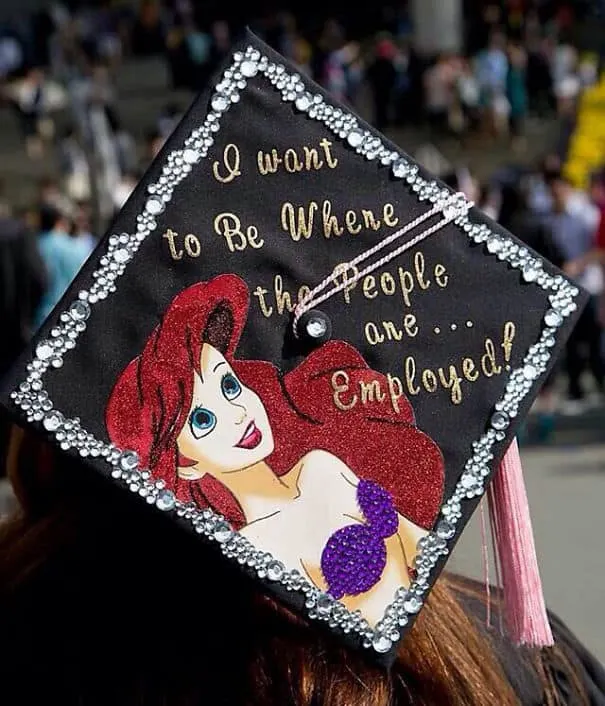 It's funny that someone remembered Ariel's iconic wish and added it to her cap. After all, that is every graduate's wish. Anyone hiring?
Graduation Time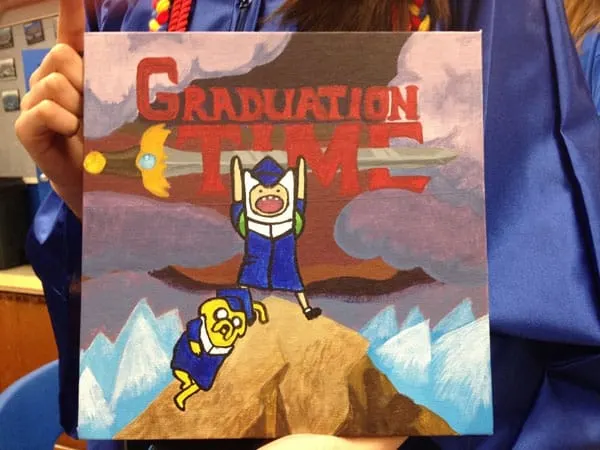 It takes a particularly creative and witty artist to depict Finn and Jake on an uphill climb wearing graduation gowns. The title Graduation Time was the giveaway.
Hello From The Other Side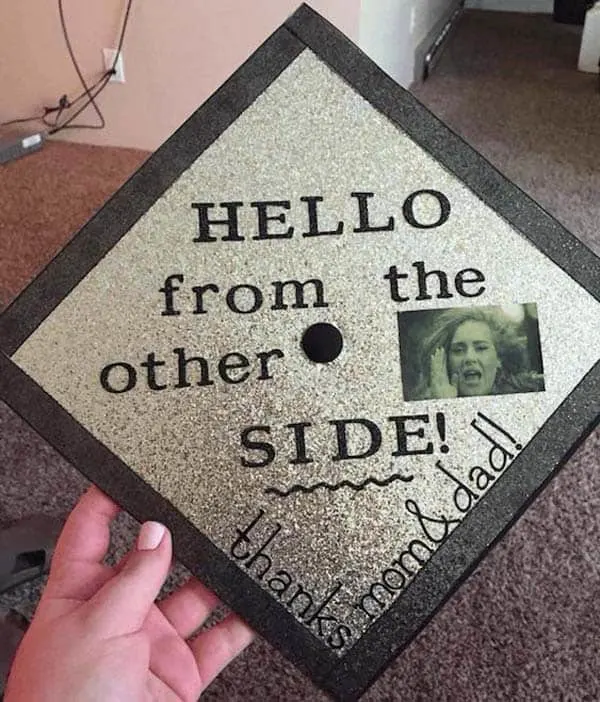 Don't forget to thank your parents for their help! Let Adele give them a huge shoutout for helping you succeed! You've made it through to the 'other side'.
Artsy Graduation Cap
Some days, we feel a bit extra. And now is the chance to get those creative juices flowing by designing a unique work of art through your cap to commemorate your graduation
Lego Graduation Cap
A graduation cap made of Lego bricks to represent all the significant events and experiences leading up to graduation. What a great idea! It takes quite an effort to pull this off, but it sure looks impressive.
'Because Of You I Can' Graduation Cap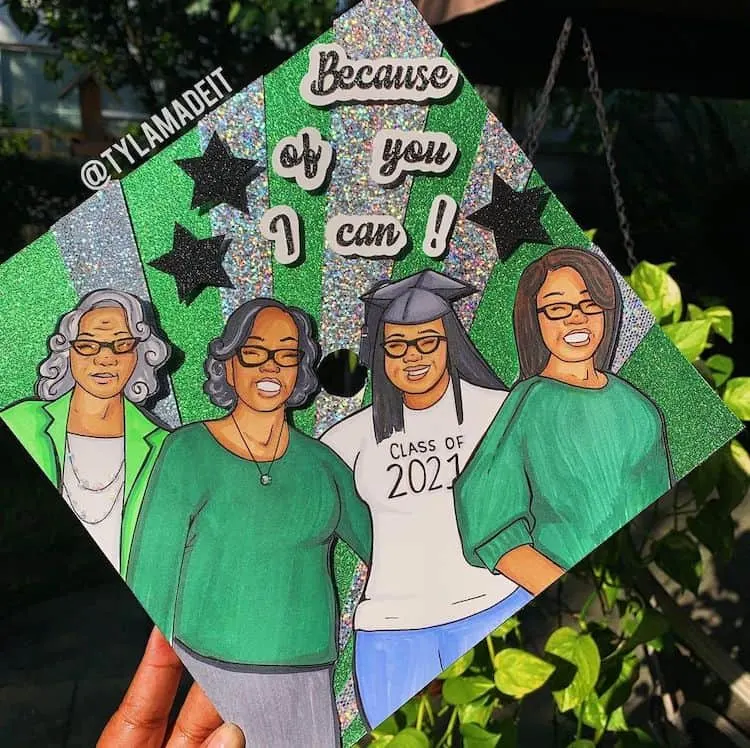 As a graduate, it's only right to thank those who stuck with you until the end. Making an illustration of them as your graduation cap design so you can show them off with pride is a thoughtful gesture.
Mini Flower Origami Graduation Cap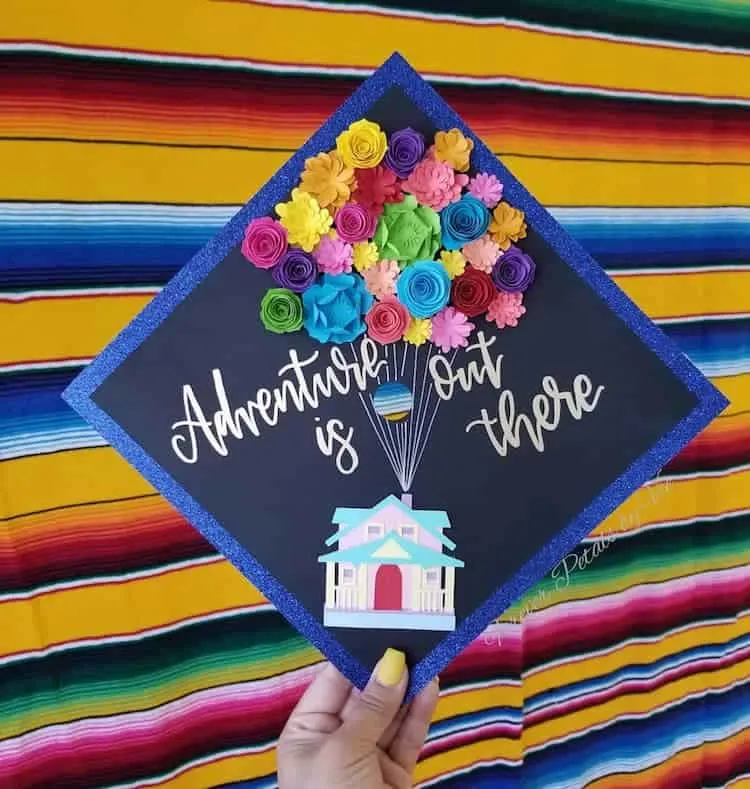 A quite detailed description of how a graduate envisions life after graduation. The artistic approach of creating mini origami flowers instead of balloons is really an awesome idea.
Superhero Graduation Cap
You're not a superhero. Yet, you managed to get through this without any superpowers! Let creativity be a strength you can show off on this special day. Getting a superhero-themed graduation cap is always a wonderful way to proudly announce your accomplishment!
Wonder Woman Grad Cap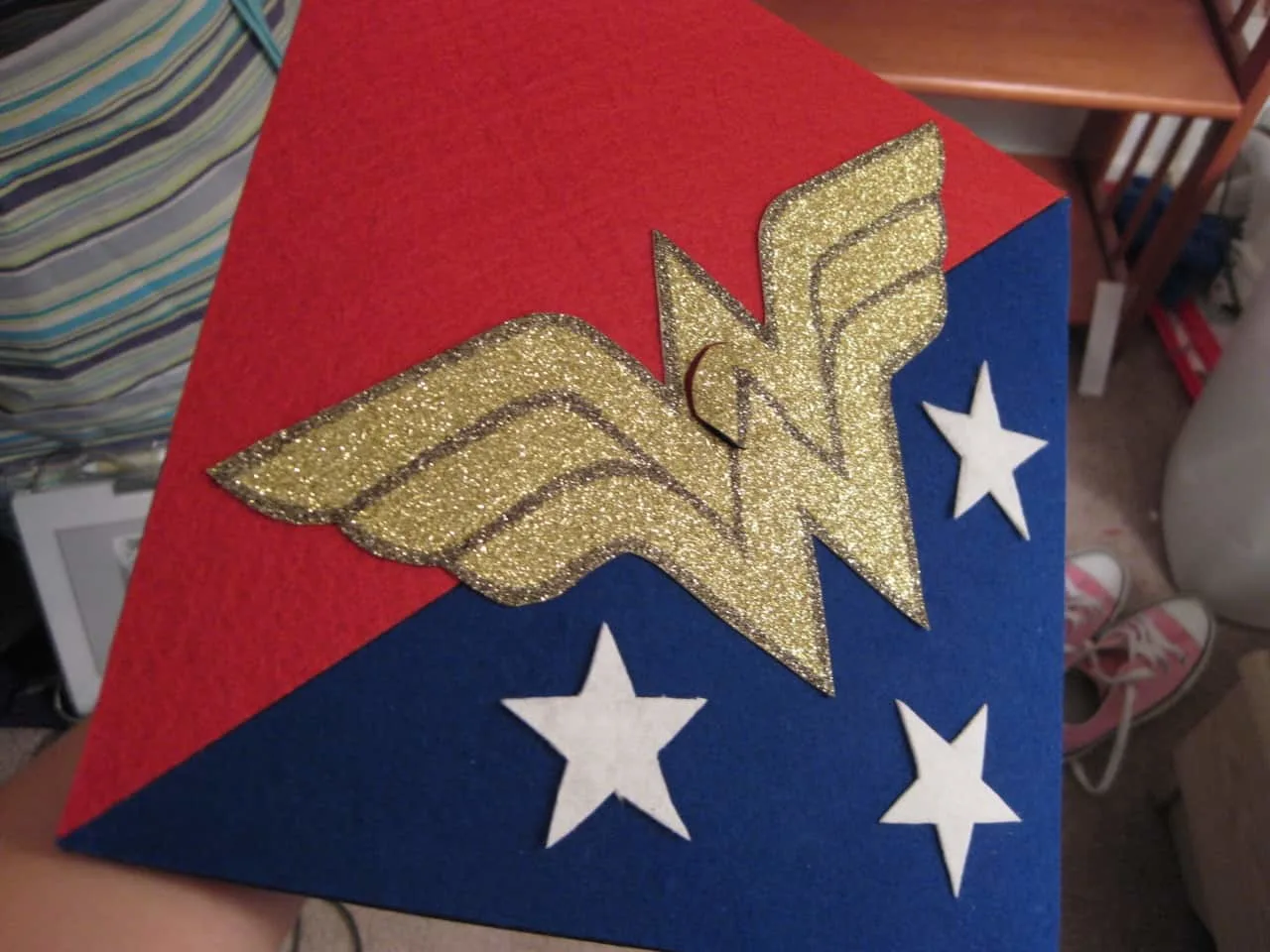 Stunning and mighty. Featuring a Wonder Woman theme, you'll be able to flaunt how you conquered all the obstacles on your way to this life goal.
Superman Grad Cap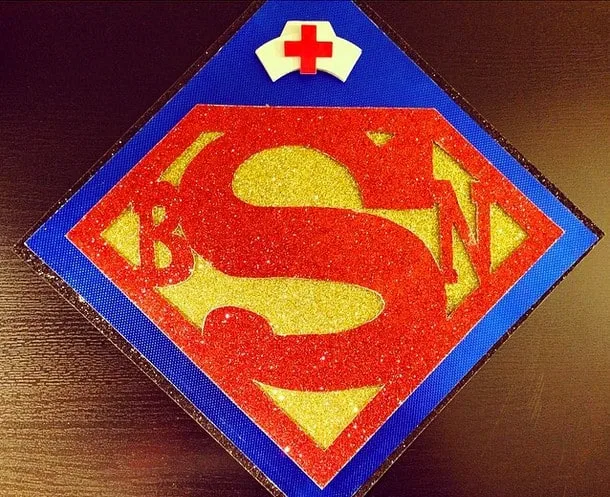 It's a graduation cap fit for future nurses. The striking design shows you're on your way to becoming an incredible nurse.
Captain America Grad Cap Design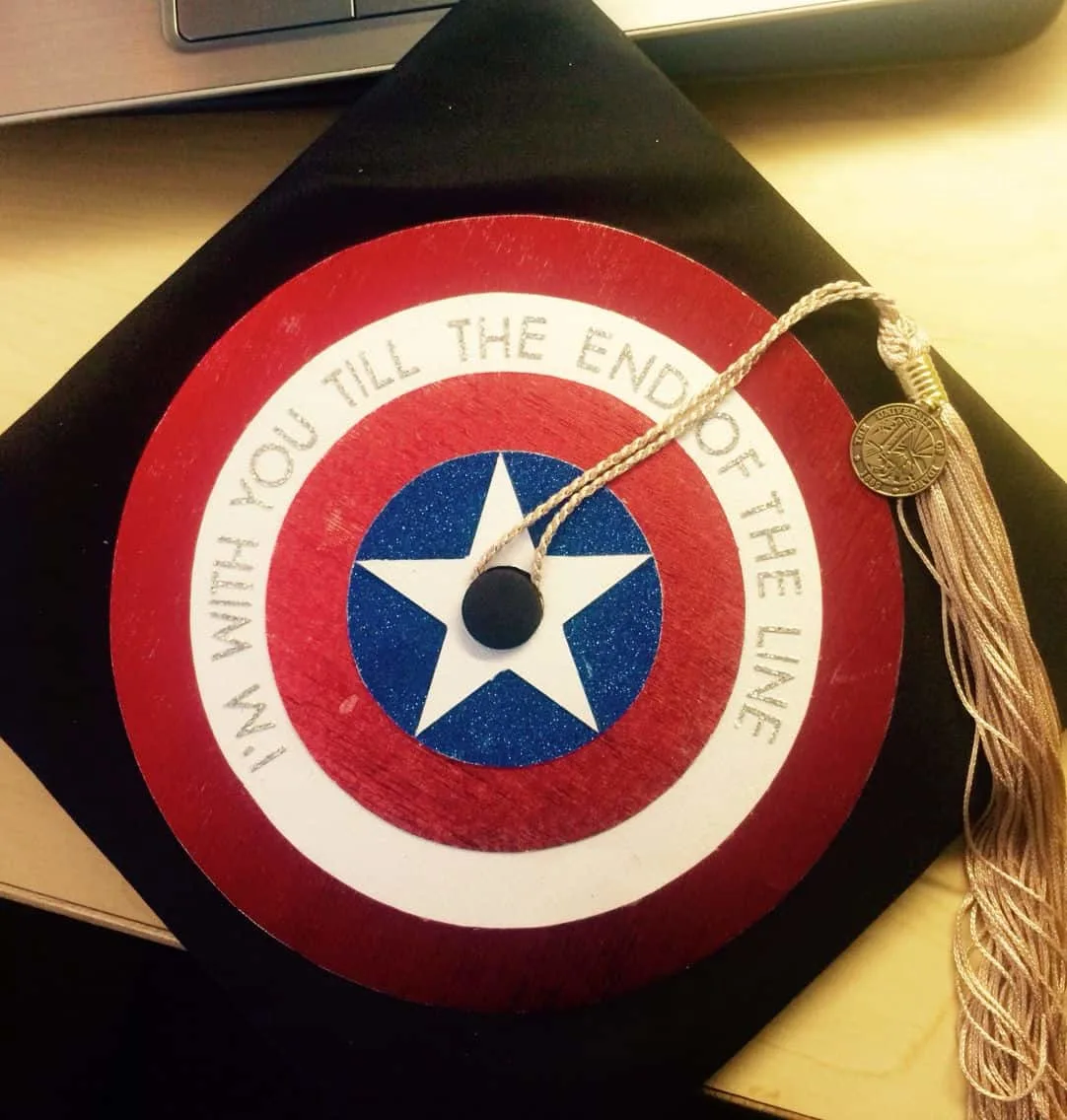 Let Captain America's shield represent this milestone as you've successfully conquered all the obstacles to get a degree. A powerful quote from the movie is reflected in the design that conveys how you survived!
Hopefully, you've found a cap idea, quote, or decorating style that you like from these graduation cap ideas.