Treehouses symbolize the carefree joy and freedom of youth.
A treehouse is a magical place where you can get closer to nature and escape from the world!
Is building a treehouse difficult?
The difficulty of building a treehouse will depend on the complexity of the build. However, if you have some basic building experience and you keep the design within your skillset then it shouldn't be too difficult.
Alternatively, consider outsourcing your build to professional treehouse builders.
In this article, you'll discover design ideas for inspiration and find some cool things to put inside a treehouse.
Let's get to it!
Cool Treehouse Design Ideas
Simple Treehouse Ideas
The video below shows you how to build a simple 8x8ft treehouse play structure.
The square platform is built around a tree and is supported by four 4×4″ posts.
Adding walls and a roof will roughly double your total weight, so I then suggest using 6×6″ posts.
This simple treehouse design is perfect for adding upgrades like a trapdoor, a rope ladder, a zip line, or an obstacle course.
The platform and supports are the most important part of any treehouse build.
The project below is slightly more complex because the 45-degree angle knee braces are attached to the tree for support.
The structural framing and decking for this project were planned using the "Build Your Kids a Treehouse" book by Black & Decker.
The video below shows you how to install a treehouse knee brace and bracket:
The treehouse below builds on these concepts by using two support types (vertical and knee brace), two levels, a trapdoor, a swing, a climbing net, and ladders.
DIY Treehouse Ideas
If you're planning to build your own treehouse then it's always a great idea to watch someone else do it first:
There are several things to consider when planning how to build a treehouse:
Choose the right tree
Check local laws and building restrictions
Talk to your neighbors
Check with your insurance agent if your treehouse is covered under your homeowner's policy
Choose your tree(s)
Choose your treehouse design
Decide on your support method(s)
Decide on an access method (standard ladder, rope ladder, staircase)
Build and secure the platform
Lay the deck and install railing
Optionally add walls, roof, door, windows, trapdoor, bridge, and accesssories.
If you're looking for step-by-step instructions then check out the 4 DIY treehouse projects below.
The first design requires two or three trees (or branches) in close proximity. It includes a knee braced platform, a tarp roof, a ladder with climbing holds, plus a bucket and pulley system.
The next design is built around a tree with two trunks and is supported by vertical pressure-treated 4 x 4 posts. The great thing about this treehouse is that very few nails or screws are required to build it.
For the next DIY treehouse project, the builder decided not to attach to any trees to reduce complexity in the build. This freestanding design is very sturdy and can be completed in a reasonable amount of time.
The last project is a deluxe DIY treehouse that also has a freestanding design so it can be built anywhere. The design plans include walls, roof cladding, windows, a door, a porch and ladder plus a lookout tower!
DIY Treehouse Tools
You can build a treehouse with relatively few tools so luckily you won't need a fully equipped workshop.
Save time on repetitive tasks by using power tools and measuring tools to stay accurate.
Below you'll find a list of tools required to get started.
Wireless Drill
Get a compact wireless drill that provides plenty of torque for driving 4″ screws and drilling ¾" bolt holes.
Circular Saw
A circular saw will save huge amounts of time cutting wood to size.
Clamps
Clamps can be used to quickly attach a piece to the work surface for cutting or to hold two pieces together for screwing or bolting.
Sawhorses
Folding heavy-duty sawhorses provide stability when making cuts.
Speed Square
A speed square will make sure your measurements and angles stay accurate so use a speed square to ensure everything joins at consistent 90-degree angles.
Laser Level
A laser level will ensure that beams are level.
Drill Bits
Ensure you have the appropriate drill bits to make bolt holes through beams and pilot holes in the tree for lag bolts.
Treehouse Ladder Ideas
You'll need to decide on an access method to add to your treehouse.
The options in order of complexity are:
rope ladder
standard ladder
staircase
Below is a quick video tutorial that shows an affordable and easy way to make a long-lasting rope ladder.
This is an extremely strong ladder that can take loads of abuse.
Plus it can be adjusted to precisely fit your treehouse project.
If you prefer saving some time then you might want to consider getting the rope ladder below:
If you're looking to create something more unique then have a look at the four side rope ladder below.
It can provide an awesome spiral "staircase" that provides an entrance to a "secret" trapdoor entrance for children to discover.
If you're looking for a more traditional gated entrance with a staircase ladder then watch the video tutorial below:
Treehouse Railing Ideas
Many treehouses have standard all-wood vertical railings.
However, the railings are where you can easily add quite a bit of character to your treehouse.
Below is a video tutorial that shows you how to create a strong braided rope railing.
You can also go with a more whimsical design with uneven boards, hessian sacks, and a "no entry" sign to complete the look.
Treehouse Roof Ideas
Adding a roof to your treehouse can definitely increase the complexity of your build but will also make it feel like a more finished product.
The tutorial below shows you how to make cuts on the rafters, install the rafters, install purlins, and finally install clear polycarbonate roofing.
If you're looking for a more professional-looking roof then you can create a gable roof with shingles. Shingles are rectangular pieces of roof covering that can be made of wood, often cedar wood which looks great on a treehouse!
Below is a more complex octagonal roof design with shingles:
Treehouse Door & Trapdoor Ideas
There are several options for creating a treehouse door.
You can create and fit a standard door as shown in the video below.
Make sure that the door is not too heavy and that the frame is strong enough to support it without twisting the frame.
Alternatively, you can create a sliding barn door entrance like the one shown below:
If you prefer not to make your own then you can get the Sliding Barn Door Hardware Kit below:
A "secret" trapdoor is always a novel and exciting way to enter a treehouse.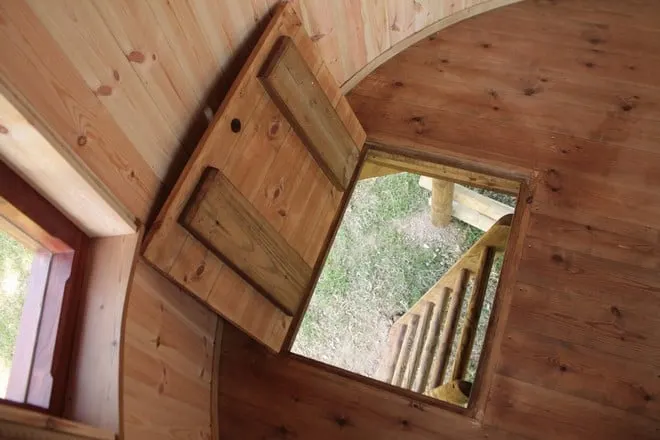 Below is a video tutorial that shows how to build your own treehouse trapdoor:
Treehouse Bridge Ideas
A suspension bridge is another way to add some character and adventure to your treehouse project.
Bridges can be used to connect two treehouses together or from any deck to a treehouse. You can also build a bridge from the ground to your treehouse.
Bridges can be made from a variety of materials, such as rope, chain, cable, wood, and steel.
In the video below they build a simple suspension bridge using two tree branches as supports:
Steel cables are used more commonly as support, along with a boarded walkway plus a netted rope railing:
If you're looking to get more ambitious with your suspension bridge project then watch how the professionals do it:
It is important to note that trees are not accustomed to resisting large lateral forces especially higher up in the tree.
This means that medium to large bridges should preferably have towers erected to support each side of the bridge.
Treehouse Deck & Porch Ideas
Adding a deck or porch to your treehouse allows you to extend your living area and bring you closer to nature.
A simple treehouse deck idea below: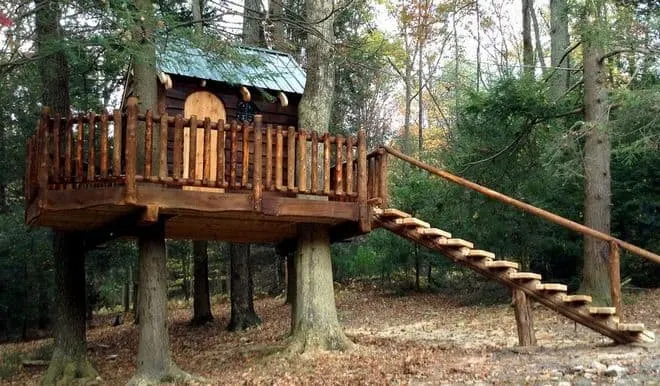 Below is a hexagonal treehouse with a porch that can be bought as a kit:
If you're looking for a wrap around deck that makes the most of the view then check out the treehouse tour below:
Treehouse Window Ideas
Windows are a great addition to any treehouse because they allow you to appreciate the natural beauty outside.
Windows can be quite easy to fit but should be assembled and fitted to a frame on the ground before attaching to the treehouse.
If you won't be living in the treehouse then you might want to add shuttered windows like the picture below:
If you'll be adding glass then you'll have to consider the glass type. Perspex is safer but it can scratch easily and will squeak if it rubs against anything like a branch. Double glazed panes will add extra insulation and are stronger but will increase your cost especially if you have large window panes.
You might want to consider a glass alternative called Lexan. Lexan is a polycarbonate resin thermoplastic that is cheaper than glass and 200x stronger. It is much more flexible than glass meaning that it is more likely to bend rather than shatter. Plus it insulates (hot and cold) better than glass.
The video below shows how to frame the walls and roof, and then add windows:
Themed Treehouse Ideas
If you're looking for some themed treehouse ideas for inspiration then have a look at the awesome treehouses below:
Pirate Ship Treehouse
This boat-shaped treehouse was designed by a retired Canadian engineer.
Pirate Shack Treehouse
This treehouse comes with various extras like a trapdoor, signage, crows nest, mast pole, rigging, weathered sail, tiki torches, ship wheel, telescope, and a pirate flag!
Tinker Bell Treehouse
This treehouse is every little girl's dream! It includes a working water wheel and pond, a large deck, plus interior lighting, and fairy tale furniture. It also includes bunk beds that sleep five kids.
"Tree Castle" Treehouse
This luxury double-story treehouse was built by professional treehouse builders, The Treehouse Guys. It is supported by 5 trees and can sleep up to four people at the same time. It includes two full bathrooms with heated tile floors, a 1000 sq ft wrap-around deck, and an outside shower with hot water. This amazing tree castle is definitely every treehouse lover's dream!
Ultimate Kids Fort Treehouse
This ultimate double-level kids treehouse includes 3 built-in trampolines, a tire swing, a slide, and a zip line.
Ideas For Inside Your Treehouse
Once your treehouse has been built then you'll need to decorate and make things comfortable!
Treehouse Decorating Ideas
The video below shows a kids playhouse interior decorating project that would be perfect for a treehouse:
Some of the extras that you might want to include to make things more homely and comfortable:
Pillows, Rugs & Blankets
Add a plush fluffy rug with some pillows and a glow-in-the-dark throw blanket for a fun effect at night.


Electric Lighting
Electric lighting will go a long way to add ambience in the evening and at night. Use waterproof solar powered LED lights for convenience – no cords required!


Wall Clock
Treehouse Accessories Ideas
There are loads of accessories that you can add to your treehouse to incorporate fun physical activities!
The video below gives a quick overview of the basic tools and techniques needed to add a zip line, climbing wall, and monkey bars.
Rope Swing
A rope swing is a classic kids' play accessory and is guaranteed to provide hours of fun and laughter.
There are several types of rope swings:
Disc seat (single rope or chain)
Wooden plank, or plastic belt (double rope or chain)
Bucket seat swing made with a car tire or molded plastic seat (double rope or chain)
Tire swings made with a full car tire (three ropes or chains)
Flying saucer swing (four ropes or chains)
Surfing swing made with a curved shape for standing and handles to hold on to
Spiral Tube Slide
A spiral tube slide is the most fun type of slide there is! It combines both fun and safety plus it's an awesome way to connect treehouse levels.
Zipline
A zipline will add an extra element of excitement and adventure to your treehouse.
Make sure that you have adequate space to install your zipline with at least 7 ft below and 5 ft on both sides.
Most yard ziplines end on the ground but you can build an extra platform to add to the zipline experience.
A braking system is required for riding slopes that are 3% or more but don't exceed a 6% swing slope.
Remember that safety is extremely important so ensure that supporting tree trunks or posts are at least 12″ in diameter.
Obstacle Course & Tree Climbing Kit
Hammock
Bucket & Pulley System
Pirate Ship Accessories
Younger kids will love these classic pirate accessories that'll add a sense of adventure to any treehouse.


Treehouse Extras
Add a few finishing touches to make your treehouse come to life!


Treehouse Furniture Ideas
There are many furniture items that you can add to make your treehouse more comfortable.
Below are some of the basics that you can add:
Stacking Chairs
Ottoman Storage Stool
Pillow Bed & Floor Lounger
Two Person Hammock
Swing Pod Chair
Frequently Asked Questions
In this article, we've covered many ideas for your treehouse build but you might still have some questions on your mind.
Below are some of the most commonly asked questions about building treehouses:
How much does it cost to build a nice treehouse?
A treehouse build can cost anywhere from $400 to $400,000, depending on whether you do it yourself or hire a professional company. A prefab kit can cost anywhere from $400 to $50,000 for the kit. The average kid's treehouse build ranges between $5,000 to $30,000. A professional build for a small adult treehouse can range from $10,000 to $80,000, while larger custom structures to live in can range from $80,000 to $500,000 or more. By adding a bathroom or kitchen you'll be in the $100,000+ range.
How do you make an inexpensive treehouse?
You can build a cheap treehouse by limiting the size and complexity of the build—draw up the plans yourself, use your own labor (do it yourself), and find inexpensive materials. If you employ a cost-saving mindset from start then you'll find many opportunities to save money on your treehouse.
What to know before building a treehouse?
Make sure that you plan properly before you start
Choose the correct size tree(s) and branches—strong hardwood trees are best
Don't damage the tree!
Use the correct bolts and screws to carry the load
Consider getting a professional to help with planning
Does a treehouse add value to a home?
A treehouse can definitely add value to your home especially if it adds value to the buyers. A livable treehouse is the most likely to add value especially if it comes fully equipped with a bathroom and kitchen.
What is the best tree for a treehouse?
The best trees for a treehouse are healthy, long-lived hardwood trees like oak and maple with load-bearing branches at least eight inches in diameter. Other suitable hardwood species that provide strong support for building a treehouse include apple, beech, hemlock, and cedar.
How do you build a treehouse without hurting the tree?
Pick a strong and healthy tree
Seal the tree after drilling using a tree wound sealer
Consider using treehouse attachment bolts to hold heavy loads in a live tree
Spread out the treehouse's weight and provide adequate support
Make the treehouse as light as possible
What should you not do when building a treehouse?
Don't skimp on your supporting beams—make sure that they're of suitable quality and size
Don't screw your beams directly into the tree, rather use treehouse attachment bolts with knee brace and bracket
Don't build too high up—this will allow for simpler and safer construction
Don't restrict your tree—allow it to sway in the wind without rubbing against the treehouse
Don't put any unnecessary bolts, screws, or nails into the tree
That's it for this treehouse idea roundup.
I hope you've enjoyed reading it as much as I enjoyed writing it!