Choosing gifts for blind teenagers can be overwhelming and confusing. Finding an appropriate present for someone who has lost sight can be a real challenge.
When shopping for gifts for blind people it helps to focus on the sense of touch, sound, and smell, instead of eye-catching visuals.
What Would You Gift A Blind Teenager?
Gifts that can make someone's day-to-day life a little easier are the best kind for someone who is blind.
Thanks to technological advancements, you can gift visually impaired teens a cool gift that will allow them to live more independently, and improve their quality of life.
When you have a blind or visually impaired friend or relative, the choice of suitable gifts can be limited. However, there are several options available. From the ordinary to the truly extraordinarily advanced, there are some amazing gifts for blind teenagers.
Listed below are some great gift ideas for the visually impaired. I hope you found this list helpful in choosing the perfect gifts for blind teenagers.
Tools and Equipment
Talking Time, Date & Alarm Clock Button
This button talking clock tells the time and date, and can also sound an alarm.
You can easily hear and adjust the speaker according to your preference.
It tells the time with only a press of a button. It also tells the date when pressed twice.
This clock will make the perfect gift for anyone with sight problems.
Click Pocket Money Brailler Gift
The Click Pocket Money Brailler lets blind or visually impaired users mark a bill's denomination in braille by inserting a bill's edge and squeezing the appropriate denomination.
It comes with a chain so that it can be worn as a keychain, lanyard, or placed in a wallet.
The product is ideal for blind people, as it restores some of their independence.
OrCam MyEye Pro Gift For The Blind
Here's another useful gift to add to this list.
OrCam MyEye enables people who are blind or visually impaired to access visual information, audibly.
This lightweight smart camera attaches to virtually any glasses frame.
The OrCam MyEye Pro can be activated by simply saying "HeyOrCam" followed by your desired action. It's that simple.
It can easily read texts from any printed material and digital screens.
It also has amazing face recognition technology and can be used to identify colors, products, and money as well.
Visuals such as text, faces, and products are instantly converted into audio and transmitted through a tiny built-in speaker, or through a Bluetooth device.
OrCam MyEye is used in over 40 countries and 20 languages.
VIP3000 Talking Thermostat
Consider making your home more accessible to an impaired person.
The temperature inside the house can be adjusted using a VIP Talking Thermostat.
This thermostat is straightforward to use for both heating and air conditioning.
Information is provided in a clear and understandable voice.
Each button is large enough to be distinguished from the others, and the manual describes where and how each works.
Bump Dots for Visually Impaired People
This product is essential for people with impaired vision.
The assortment of shapes and sizes help identify various items for the visually impaired.
You can use these bump dots for many marking needs, such as on computer keyboards, telephones, appliance controls, switches, and buttons.
With this adhesive, you can mark and use controls for small kitchen appliances, like a microwave and washing machines.
These Bump Dots, which adhere to flat surfaces and still work as controls, could easily be adapted for the blind and enabled them to continue using them with confidence.
Liquid Level Indicator For Blind People
Developed to assist visually impaired individuals by monitoring the amount or level of liquid in a cup or mug without overfilling, a liquid indicator monitors the fluid level in a cup or mug.
The user is alerted when the liquid level reaches the lip of the cup.
The liquid level indicator comes with batteries.
Bluetooth Tracker, Keys Finder, and Item Locator
Those with or without visual impairments can benefit from this tool.
Keep track of keys, backpacks, athletic gear, or anything else you value and need to keep track of regularly with the powerful Pro tracker.
You can even put it in your pet's collar! You'll enjoy peace of mind knowing you can find anything by opening the free Tile app and tapping Find.
Tile supports Amazon Alexa, Google Assistant, Xfinity, and Siri.
Braille Labeler For Blind Teenagers
The Braille Labeler is easy to use.
It is an essential item for work, school, or home and would make an excellent gift for someone who's visually impaired
Each letter has a raised edge, and the tape can be cut to size.
This labeler produces both Braille letters and numbers.
English Atomic Talking Watch For Blind Teens
An independent teen with visual impairment can benefit from this watch.
They can adjust the band to fit a small wrist, and the large button on top is easy to find and use.
Also, it is lightweight, so you barely even notice it is there.
Toys & Fun Games
YJ Blind Cube
Teens with vision impairments can solve the cube because of the texture difference!
Brain teasers and puzzles are suitable activities for teens to develop their sense of space and memory and teach them to resolve complex problems.
You can give your kids this as a gift to challenge their mental abilities.
Braille Playing Cards For Blind People
This set of Braille Playing Cards features braille with the suit and card number only on one corner.
Those with low vision or blindness who prefer a more discrete card have an excellent choice in these cards.
They are made from plastic, which makes them durable as well.
Now your blind teen can play all the fun card games with their friends and family as well.
Braille and Low Vision Monopoly
The cards are extra large-sized with braille and large print. The size is approximately 20 inches.
It is easy to identify all spaces and locations quickly, with the unique overlay molded into a square game board.
Each of the game spaces features in braille and large print, so everyone – including the visually impaired can participate.
This is another great gift for any visually impaired teen as they can now play fun board games with their friend and family as well.
Dominos with Raised Dots Blind Toys
Dominoes are a fantastic family game, so a domino with raised dots would make a huge hit.
Even the visually impaired could join the fun!
The dominoes are sturdy with little metal beads embedded into them, making it easy to feel the numbers.
Tactile Checkers Set – Gift For Blind People
Checkers can now be played together by both visually impaired and sighted players.
On the board, the white squares are raised above the black ones.
Each square has a hole and each checker has a pet underneath that fits into the appropriate square on the board. This allows the blind player to feel around the board without the pieces sliding.
As for the plastic checkers, the white pieces have a large dot on the top, and, of course, the kings are twice as large as the pawns.
And again, you don't have to know Braille to play this game!
Fidget Toys For The Blind
All kids love sensory toys as they can relieve stress and anxiety and have a calming effect while still being fun.
This 40 piece fidget toy set has several tactile toys that make great gifts for a blind teenager.
Not only are they calming but they offer great hand therapy for boys and girls.
Tactile 4-In-A-Row Game Gift For The Blind
Kids love playing 4-in-a-row so why not gift a blind teen this game to play with family and friends.
All you need to do is to play 4 disks in a row (vertically, horizontally, or diagonally) to win.
These tactile disks make this game blind-accessible, as one set of disks has holes drilled in them for easy identification by touch.
UNO Braille Card Game For Blind People
This family favorite card game is now available with braille on every card. How awesome is that!
Uno makes a great gift for any kid 7 years and older.
Raised Line Art and Braille Color & Paint Art Book
For the creative teen who loves art, the coloring book has raised line art and braille to assist the blind child with coloring.
Learning Tools
Wood Braille Alphabet and Number Educational Board
The Braille Alphabet and Number Educational Board feature laser-engraved dots and letters, so you won't have to worry about them fading away.
Suitable for both the visually impaired and the sighted. An excellent tool for learning braille.
Braille Writing Slate Kit For Blind Teenagers
This is a high-quality tool that students can use when they are learning Braille for the first time.
These braille writing objects were lightweight, functional, and of high quality. The price was also reasonable.
Braille Display – Gift Idea For Blind Teens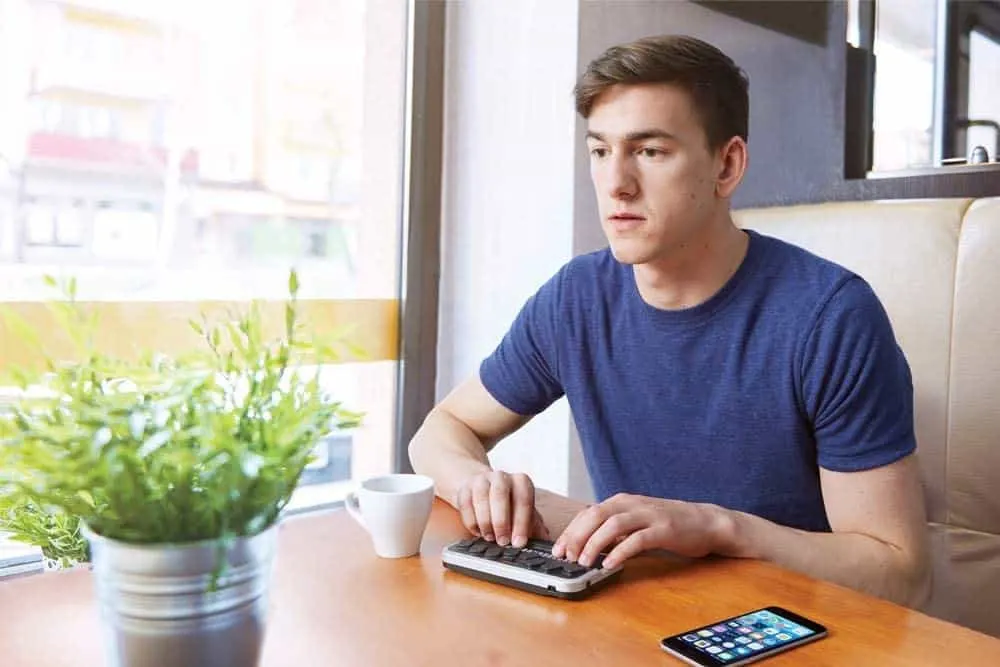 A vision-impaired professional or student needs a mobile device that keeps them connected and productive on the go in today's fast-paced world.
This braille display is the smallest available and is designed to be efficient and ergonomic without compromising comfort. Stay on track wherever you are.
Audio Books
There are audiobooks and audiobook players for blind people of all ages.
For teen audiobooks, I suggest checking the young adult best sellers list. This is most likely to give you an idea of what your peers are reading.
When you know that your teenager enjoys science fiction, mystery, romance, or any other genre, you can choose a book based on that.
If I Stay
The Girl Who Drank the Moon
Lies Girls Believe: And the Truth that Sets Them Free
Fragranced Gifts
Lavender Body Butter and Hand Cream
All girls love things that smell wonderful and what's better than the smell of lavender to soothe the soul and moisturize your skin.
Ariana Grande Ari Eau de Parfum Spray
Even though most teens prefer deodorant if your teenage daughter loves Ariana Grande's music she might also like to try her perfume.
Aromatherapy Shower Steamers
Place an aromatherapy shower steamer in the corner of the shower and enjoy the benefits of aromatherapy and the amazing fragrances from the essential oils.
This set has 6 shower steamers with Lavender, Watermelon, Grapefruit, Menthol & Eucalyptus, Vanilla & Sweet Orange, and Peppermint essential oils.
Perfect gift for blind teenage boys and girls alike.
Burt's Bees Gift Set
This lovely gift set from Burt's Bees includes Deep Cleansing Cream, Hand Salve, Body Lotion, Foot Cream & Lip Balm.
I hope you've found these gift suggestions for blind teenagers helpful and that you'll find something perfect.