When it becomes time for your child to start using a deodorant, you may have some concerns.
The main concern is that children can sometimes develop a skin sensitivity from the deodorant that they use which can end up causing rashes.
Luckily, there are many natural deodorants for kids that are safe for tweens and teens to use.
These deodorants use only natural ingredients and are free of aluminum, sulfates, and parabens.
When Do Kids Need Deodorant?
Have you suddenly noticed that your teen smells different?
My son was the first to notice that he had developed body odor.
We actually had a bit of a laugh at first as he told me that he thought that our washing machine was not working properly, as he kept smelling something, and eventually realized that the smell was coming from him, and not just his clothes.
The first thing to discuss with your teen when they start puberty is of course good hygiene. They will need to wash more often and make sure to wash their clothes more frequently as well.
However, there will still be times when they will want to have something extra to make them smell a bit nicer.
My son asked if I could get him some deodorant, but when I was in the shop, I had no idea what to get him.
Should I get a deodorant or antiperspirant? Would it be okay for him to use an adult deodorant, or should I find something specifically for kids?
So I did some research and decided to get him a natural deodorant instead of an antiperspirant.
I thought it would be useful for other parents and wanted to share the best deodorants for kids that I could find with you here.
Please note that I'm not a doctor but have read many articles on the subject, and have linked to medical sites that have done extensive research on several products.
Natural Deodorants For Boys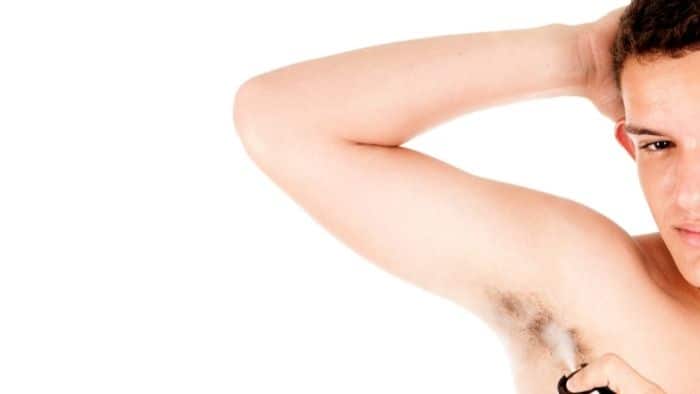 Choosing a fragrance is such a personal experience, so it's a bit difficult to divide the fragrances into boys & girls, but there is usually a general preference for more floral fragrances for girls.
Obviously, boys and girls can use any scent they prefer so have a look and let them decide which deodorant and scent they might prefer.
Level Up was specifically made for growing boys who are not yet ready to buy a product designed for adults.
Made for teens combining naturally sourced ingredients with a scientifically safe Ocean Fresh fragrance that works.
Clinically tested for boys 8+ and specifically formulated for young, sensitive skin, Level Up is 100% Non-Toxic.
Level Up contains NO aluminum, NO parabens & NO alcohol.
It contains organic deoplex to neutralize the odor-causing bacteria, and natural tapioca starch to absorb wetness.
Cruelty-free: not tested on animals, and vegan.
Junior Varsity Naturals' Kids Deodorant for Boys is simple, effective, natural, and safe for kids.
It goes on clear and won't leave a white residue behind.
Scent: Citrus Sport.
Free of Propylene Gylocol, Aluminum, Parabens.
Ingredients: Glycerin, Sodium Stearate, Deionized water, Coconut oil, Sodium Bicarbonate, Citrus extract, Alantan.
The boy version of Not My Mama's deodorant, the 'Game Over' roll-on for boys has a clean spice scent.
Free of all the nasties and a great deodorant for any boy to start using when the need arises.
Natural Deodorants For Girls
Fresh Kidz Natural Roll-On Deodorant 24 Hour Protection – Girls "Pink"
This deodorant range is specially designed for pre-teen and teenage girls with young sensitive skin.
Dermatologically tested and suitable for all skin types, it does not mark or stain clothing and doesn't block pores.
Fresh Kidz is available in a range of natural, fresh, and clean fragrances for both boys and girls.
Unisex: Unscented – Green
Boys: Blue
All-natural ingredients with no harmful chemicals (aluminum, parabens, alcohol, and harsh sulfates.
Cruelty-free: not tested on animals, and vegan.
This roll-on deodorant specifically made for girls has a fresh honeydew scent.
Safe for sensitive skin and contains no parabens, sulfates, phthalates, silicone, synthetic fragrance, or dyes.
Doesn't mark or stain clothing.
Not My Mama's natural deodorant for tween and teen girls comes in four scents – Minty Fresh, Lavender (Hang Out), Sweet Citrus (Pool Party), Honeysuckle
These roll-on deodorants are non-toxic and free of aluminum, parabens, phthalates, synthetic fragrances, alcohol, and propylene Gylocol.
The effective odor-fighting ingredients include magnesium hydroxide, diatomaceous earth, probiotics, and baking soda, and natural fragrances.
Natural Unisex Deodorants
TBH is an unscented deodorant made with natural ingredients in the USA for boys and girls.
TBH aluminum-free deodorant for kids & tweens helps neutralize odors & absorb wetness without harsh chemicals, parabens, and phthalates.
Contains natural ingredients including charcoal, arrowroot powder, coconut oil, and witch hazel.
Tom's of Maine Wicked Cool! Natural Deodorant for Kids is an aluminum-free deodorant created just for kids.
Boys and girls can enjoy up to 24 hours of odor protection without any of those artificial ingredients.
Tom's of Maine deodorant is vegan with no artificial fragrances or preservatives and is not tested on animals.
Comes in the following fragrances: Freestyle & Summer Fun.
Fresh Kidz Natural Roll-On Deodorant 24 Hour Protection is unscented for boys & girls (Green).
Fresh Kidz has a range of natural, fresh, and clean fragrances for both boys (blue) and girls (pink).
All-natural ingredients with no harmful chemicals (aluminum, parabens, alcohol, and harsh sulfates.
Cruelty-free: not tested on animals, and vegan.
Pretty Frank (used to be Primal Pit Paste) makes deodorant sticks and paste in a jar for women, men, and teens.
Their deodorants are baking soda free using magnesium hydroxide and zinc to gently neutralize odor and organic arrowroot to absorb sweat.
Pretty Frank deodorants come in the following fragrances: Lavender, Charcoal Seaside, Woodlands, Unscented, Coconut Lime, Orange Vanilla, Jasmine.
Free of aluminum, paraben, toxin, and petroleum.
Ingredients: Organic Arrowroot Powder, Organic Coconut Oil, Magnesium Hydroxide, Zinc Oxide, and Non-GMO Vitamin E (sourced 100% from sunflowers).
Cruelty-free: not tested on animals, gluten-free, vegan, non-GMO.
The safe ingredients make this a great natural deodorant for kids and people with sensitive skin.
Native's deodorant sticks are made without aluminum, parabens, phthalates, and talc.
Native deodorants come in a range of natural scents for boys & girls: Lavender & Rose, Coconut & Vanilla, Citrus & Herbal Musk, Blackberry & Plum, Blood Orange & Clove, Apple & Honeysuckle, Pear & Linden Blossom, Eucalyptus & Mint, Aloe & Eucalyptus, Vanilla & Rose, Yuzu & Orange, Charcoal & Unscented.
For sensitive skin, they offer Cucumber & Mint, Apricot & White Peach, Cypress & Basil Leaf.
Cruelty-Free: not tested on animals.
Dirty Kids offers a certified organic kid's deodorant stick for boys & girls.
Dirty Kids products are vegan, Non-Toxic, Non-GMO & free of Aluminum, Propylene Gylocol, Sulfates, Gluten, Soy, and Parabens.
Dirty Kids deodorant sticks come in Forest, Lavender, and Pure scents.
Natural children's deodorant with a fresh gender-neutral scent that's great for boys and girls.
This deodorant stick is free of alcohol, aluminum, parabens, SLS, and artificial colors.
The Kids 100% natural organic roll-on is great for any first-time deodorant user.
It comes in three different scents: Original, Orange & Extra Sensitive Skin
Probably one of the most natural deodorants for first-time users, this roll-on is free of all the nasties and is guaranteed to not contain any carcinogens or toxic substances.
They say that "Our deodorants are made of healthy natural ingredients you could EAT".
This roll-on applies clear, non-greasy with no residue. It is hypoallergenic, PH balanced and dermatologist-tested as safe.
Fresh Monster Natural Deodorant for Kids and Teens is hypoallergenic with a fun Gummy Burst scent.
This all-natural deodorant is formulated for tween and teens and is free of aluminum, parabens, triclosan, phthalates, or other harsh chemicals and irritants.
Instead, they use baking soda, tapioca starch, shea butter, and coconut oil, with a fun unique scent perfect for both boys and girls.
Crystal Essence has created a mineral deodorant stick that is free of anything toxic and is cruelty-free as well.
It is a powerful, single-ingredient mineral stick that eliminates and blocks odor without containing harmful or harsh chemicals, offering long-lasting, natural mineral protection.
This stick does not leave your skin feeling sticky or oily and does not stain your clothes.
At What Age Can A Child Start Using Deodorant?
It's not really about age, but about puberty. When your child starts puberty he or she might start developing a distinct body odor, especially after sports.
According to the CDC (Centers for Disease Control and Prevention) for girls puberty can start between the ages of 9 and 13 and for boys between 10 and 15.
However, some children can start getting body odor earlier, so it really depends when they notice a change in their body odor and want to mask the smell.
What's The Difference Between A Deodorant And An Antiperspirant?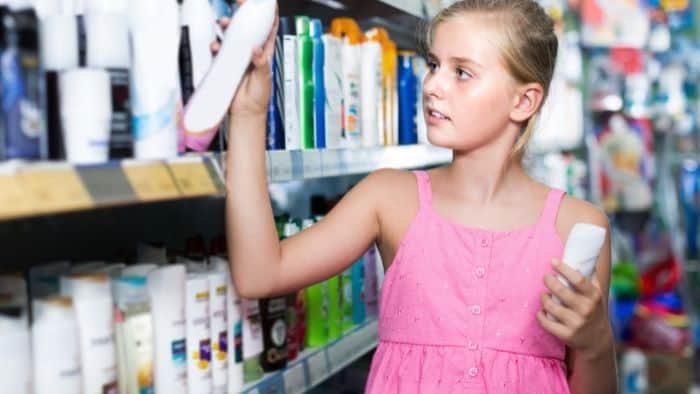 Even though we often use these terms interchangeably, there is actually a difference between a deodorant and an antiperspirant.
A deodorant gets rid of body odor caused by sweat, while antiperspirants stop you from perspiring.
According to Medbroadcast sweat is wet, but has no scent. Sweat only stinks due to bacteria that live on or under our skin.
Some people sweat profusely but don't necessarily smell bad. Therefore antiperspirants are designed to stop your sweating, and deodorants are made to mask the stink caused by bacteria.
There has been some talk that using an antiperspirant could have potentially harmful side effects, as it basically blocks your pores to stop them from releasing sweat.
Antiperspirants contain aluminum which basically either constricts or blocks your sweat glands so that you don't perspire.
Even though there needs to be a lot more research done to find out if there are real health risks associated with using antiperspirants, I decided that I'd rather look at using deodorant instead.
Kids don't really sweat that much, but they might be embarrassed by their new body odor and just want to mask the smell.
I just felt it safer to start with something more gentle like a deodorant.
Deodorants don't contain ingredients that stop sweating, so they do not prevent perspiration, they only control body odor.
Which Deodorants Are Safe For Kids?
I wanted to find a deodorant that was safe and gentle for my son, that didn't contain aluminum, parabens, or other similar ingredients, but still helped him control his body odor.
It can take 2 weeks for natural deodorants to take effect but they are a better alternative than those containing harsh chemicals.
Ingredients That Are Beneficial In Natural Deodorants
Charcoal to absorb wetness and draw toxins out from underarms.
Coconut oil neutralizes body odor by getting rid of the odor-causing bacteria as well as hydrates the skin.
Arrowroot powder helps absorb moisture without causing irritation.
Ingredients To Avoid in Deodorants
Aluminum
Sulfates
Parabens
Alcohol (Propylene Gylocol) as this might irritate sensitive skin
Phthalates
How To Apply A Natural Stick Deodorant?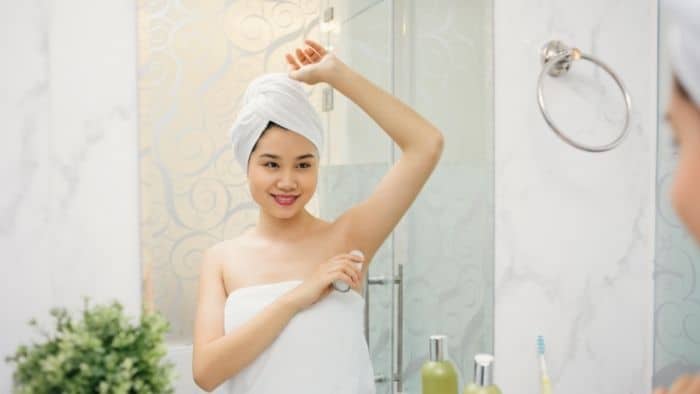 First, you need to wash your underarms really well with soap as you need to get rid of any bacteria that might be causing the body odor.
Deodorant sticks soften when in contact with your skin.
If it's hard hold the stick up against your armpit or warm it up under your arm before applying.
Gently apply a small amount to your underarms
Before reapplying, make sure you wash it off thoroughly.
Should I Test The Deodorant First?
Although naturally derived deodorants are safe, certain ingredients can still cause allergies in children.
Your child may be sensitive to an ingredient in a deodorant just as they are to one in an antiperspirant.
It's best to test the product on a tiny bit of your children's body, perhaps on the back of their hand or forearm, before letting them use it on their underarms.
If you notice redness, a rash, or itching, it may be an allergic reaction.
If no reaction occurs, it's likely safe for your child to apply a larger amount under their arms.
What If A Natural Deodorant Doesn't Work?
If your child's natural deodorant does not work right away, give it a few days and let his or her body adjust to the product.
If a natural deodorant still doesn't have the desired effect, then you might need to look at a different deodorant or an antiperspirant.
Mitchum seems to be the 'Go To' antiperspirant for many teens if natural deodorants alone don't cut it.
Can Teens Use Adult Deodorants Or Antiperspirants?
Yes, teens can use adult products but it's probably best to try a natural deodorant first and test a few different products.
If these don't work on masking their body odor then an antiperspirant might be needed.
Key Takeaways
A deodorant gets rid of body odor caused by sweat, while antiperspirants stop you from perspiring.
The biggest concern for children using deodorant is simply that it can cause skin sensitivity and can even cause a rash on the body.
Remember to always test any product on a small area of skin (hand or forearm) first, to check if they might have an allergic reaction to any of the ingredients.
There are many natural deodorants made for boys and girls now that are great for first-time users.
Remember to only apply natural deodorants to clean skin and to wash off thoroughly before reapplying.
If a natural deodorant does not work, then you might need to look at using an antiperspirant.