Moving out of your parents house is a significant milestone, and you should prepare carefully for this life-changing event.
From getting your new place to sorting out your finances, this article dives deep into how to move out of your parents house and what you'll need to do.

Make Sure You're Ready To Move Out
Moving out of your parents house is a big deal, so you need to be sure you are ready to do it.
Consider all the reasons you want to move out of your parent's home and the challenges you'll face.
You will need to go house hunting, get a place, fund your lifestyle, and build a life on your own.
This means that you'll need to be ready to take on some personal growth.
Plus you'll need to make strides to ensure you can meet your immediate financial needs.
Here are some of the questions you can ask yourself before you decide to move out:
Are you adaptable to change?
Are you financially ready to meet your needs?
Do you want to build independence and explore friendships that are not possible living in your parents' home?
Are the boundaries your parents have set limiting you?
Are you mentally ready to live by yourself?
Do you have a support system to guide you through the process?
If any of the following are true, you might want to reconsider your move:
Your need to move out has been heavily influenced by peer pressure from your friends
You'll barely be able to afford your needs when living on your own
Family friction or an argument is a significant reason for the move
Ideally, you should ensure that you can start independently and be comfortable enough not to move back home.
If you prefer a video summary of the main points in the article then check out the video below:
[VIDEO] How to Move out of Your Parent's House in 12 Easy Steps
Discuss With Your Parents
Talk to your parents about why you want to move.
They'll most likely listen to you and support you, especially if you are old enough to live alone.
Additionally, they'll advise you on how to go about the process and help where they can.
You want to ensure your parents know where you intend to move to and how you'll survive on your own.
This way, you'll know that you have their help and support regardless of the circumstances.
Also, they can step in if you need help or welcome you back home if necessary.
Get A Job
Moving out of home is expensive, and the recurring monthly expenses add up quickly.
Apply to jobs that can earn you a steady income to live by yourself.
Consider all the expenses you'll have when looking for a job.
Your salary will need to cover all your basic needs and ideally have some leftover cash for savings and emergencies each month.
If your salary is not enough then you might want to find a good side hustle.
Read more about good side hustles for teens or consider one of these summer jobs for teens.
Common job options for teens include babysitting, yard work and dog sitting.
Find out more about how much you can earn for each below:
How Much Do You Pay A Teenager To Babysit
How Much To Pay A Teenager For Yard Work
How Much To Pay A Teenage Dog Sitter
Ask For A Raise
If you already have a job, the best way to make a little extra is by asking for a raise.
Some extra cash will always come in handy to cover unexpected expenses.
The extra money can also come in handy to cover bills or go into your savings account.
Before you ask for a raise, make sure to add extra value at work. Look for areas in your job or company that offer career growth opportunities.
It'll be even better if your superior or boss notices the extra effort you put into your work tasks.
Keep track of your extra effort and results, then show them to your boss when negotiating the raise.
If you can find proof of higher salaries for the same position at other companies, this will further help your argument.
A job offer from another company at a higher rate is the ultimate bargaining chip!
Start Saving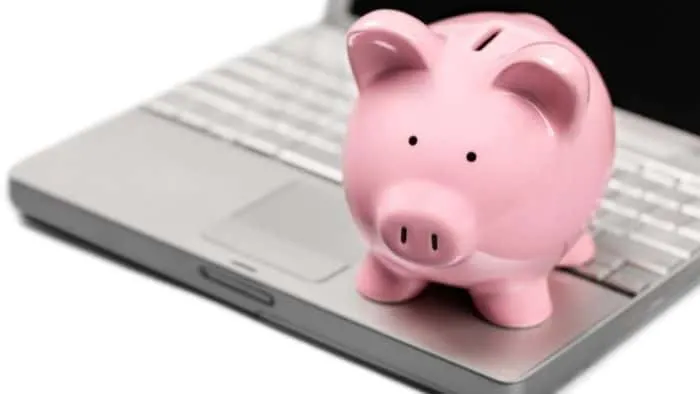 Setting some money aside is vital, as you might need to supplement your regular income and sort out some unexpected expenses.
Save a significant part of your monthly income and be consistent month by month.
A simple way to start saving is to follow the 50/30/20 rule.
50% on living expenses — mortgage, rent, transport, groceries etc.
30% on your wants and lifestyle — entertainment, takeout, gym etc.
20% on debt and savings.
If you're living at home, your expenses will be lower, allowing you to save more.
The best way to save is to get a fixed-savings account to deposit some money and lock it away for some time.
Alternatively, you can get a standing order for the bank to deduct a specific amount of money as soon as it hits your account.
You should start saving long before your move-out date.
The moving process will demand a lot of money, from a security deposit, your first month's rent, out-of-pocket expenses, basic utility costs, etc.
Have An Emergency Fund
Regardless of how much you plan your finances and budget, you'll encounter unexpected costs.
Unforeseen expenses are why an emergency fund is vital to help you meet irregular costs that may not be within your regular budget.
An emergency fund can help you stay within your living expenses even when unexpected things arise.
Ideally, you should save at least three to six months of living expenses.
Your living expenses might include monthly rent, essential food items, transportation costs, mortgage costs, and debt payments.
Setting up an emergency fund is easy.
You simply need a high-yielding savings account that you can dedicate to your unexpected expenses.
Then create an automatic transfer from your main account so that every time your salary payment hits your account, a percentage gets sent to your emergency fund account.
Establish A Good Credit Score
A good credit score can come in handy to help you buy a house, secure a rental or get a loan to facilitate your move.
Nowadays, many landlords and property managers conduct credit checks on prospective tenants when reviewing your rental application.
The landlord can determine whether a potential renter makes timely payments by examining the applicant's credit history.
The minimum qualifying credit score for apartment rentals is typically 620. However, the required credit score will depend on the apartment and the city or area.
Here are a few steps you can take to build your credit score.
Get a secured credit card.
Establish a relationship with a bank through a savings or checking account.
Pay your bills on time & never make late payments!
Pay all outstanding loans and debts diligently.
Pay down your credit card debt as early as possible—high outstanding balances are bad!
Increase your credit card limit but keep your balance low.
Become an authorized user on a family member or friend's credit card & piggyback off their credit to establish your credit history.
Here is how to ensure your credit score remains error-free:
Review your credit report and check for errors.
Dispute the errors with the credit agency that reported the issue.
Ask to have paid off negative entries removed from your credit report.
Keep a record of communications and any other relevant information.
Find A Place To Rent
Start looking for a new place in an area you like.
Where you work or study will play a significant role in your chosen location.
If you stay close to work or school, you'll be more likely to pay higher rental prices.
The further away you stay, the more you can save on rent, but you'll also spend more on transportation.
You'll also need to consider the rental amenities such as:
Parking or Garage
Bike Storage
Internet
Patio or Balcony space
Swimming Pool
Community Garden
Barbecue Area
Security
Extra Storage
Laundry Facilities
Consider if you'll have easy access to:
Restaurants
Grocery Stores
Outdoor Activities
Movie Theaters
Parks.
You'll also need to pick the type of apartment or house you want.
Do you want a condo, a townhouse, or a loft apartment?
Do you want to buy a fixer-upper, or must it be ready to move in?
Narrow down to the specifics during the apartment hunt.
Find A Roommate To Help Pay Rent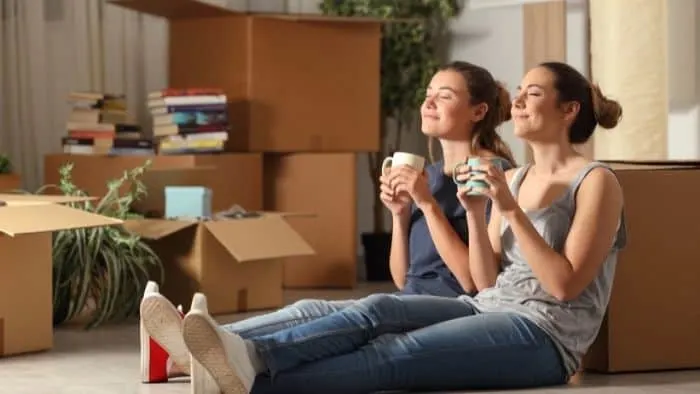 When you first move out of your parents' home, the costs can be challenging to manage by yourself.
Most people that move out of their parents' homes find roommates to help pay monthly rent and other monthly expenses.
When looking for a roommate, make sure it is someone you know or have lived with before.
If not, make sure the roommate you choose matches your standards as far as lifestyle, cleanliness, and responsibility.
Discuss with your roommate how you will manage the bills.
Which bills will you share? Who will handle what? How much will each of you need to contribute to run the house?
You'll be surprised at how much you can save by sharing with a roommate.
🤓 You might also enjoy reading: Questions To Ask Potential College Roommates
Create A Monthly Budget
Keeping a budget is the best way to track variable expenses.
List all the costs you foresee and estimate an amount for each item.
You need to have two budgets; one for the moving process and another for your living expenses once you move.
The moving budget can include:
Transportation costs
Security deposit
First month's rent
Additional deposits
The living expenses budget can include:
Rental payments
Utility bills (electricity, water, gas, sewage, trash & recycling)
Food costs
Transportation costs (car, bus, subway, or rail)
School & education costs
Car payments
Student loans
Insurance (car & medical)
Emergency savings
Gym membership
Internet
Mobile phone
Streaming services
Other subscriptions
Entertainment costs
Clothing
Gifts
Travel
Create a realistic budget by carefully reviewing your spending habits.
Save Up For Rental Deposit
Most apartments for rent require at least a month's rent and a security deposit when you sign the apartment lease.
Some will need a few months of rent and a security deposit which can be an excessive amount that may be challenging to raise all at once.
If you have a pet, some landlords may require a pet deposit.
Once you have an idea of the area you want to live in, use the average rent price to determine how much you need to set aside.
Start saving up for your rental deposit long before you move.
Calculate Moving Expenses
Moving is not easy, and many costs will arise.
Stay in control of costs by making a list with a cost for each item.
If you are moving by yourself, you might need to purchase packing essentials such as cardboard boxes, plastic bins, bubble wrap, packing paper, tape, etc.
You'll also need to arrange transport and pay for gas.
If you're using a moving company, then many factors affect moving cost:
Size of move
Travel fees
Packing services
Add-on services, e.g., disassembling and reassembling furniture, or moving of specialty items
Moving supplies
Moving date
Moving insurance
The cost to move a one-bedroom apartment locally ranges from $200-$500 for a 3-5 hour move.
The cost to move a two-bedroom apartment locally ranges from $375-$750 for a 5-6 hour move.
The average cost of a local household move is $1,250.
Set A Date To Move
What date will be the most suitable for your move?
Ideally, you should move when you have a few days off after the move to settle into your new apartment or home.
You'll need enough time to unpack and set up your home before starting work or classes again.
A weekend move might sound like a great idea, but peak times cost much more than a week-day, off-season move.
The same applies to the end or beginning of the month because most leases end over this period.
Typically the winter months have fewer people interested in moving, so you might find some landlords that offer move-in specials over this period.
See if you can arrange a few days off work or study to move and settle in. As long as you give notice early enough, you should be good to go.
Also, are you going to move by yourself? Do you have family or friends to help? Are you hiring movers to take up the job?
Make sure that your moving helpers are available on the dates you require.
Create A Moving Checklist
A moving checklist comes in handy to ensure you have all your apartment essentials ready.
If you're unable to take certain items from home, make a note to buy them before moving.
Here is a simple moving checklist you can use.
| | |
| --- | --- |
| Bed & bedding | Bed frame, mattress, sheets, pillows, comforter, duvet covers, pillowcases, etc |
| Clothing storage | Hangers, baskets, dressers, storage racks |
| House furniture | Sofa, chairs, coffee table, side tables, TV stand, etc. |
| Bathroom essentials | Paper towel, towels, shower curtain, plunger, hand soap, body washes, shampoos. |
| Kitchen utensils | Trashbags, food, cookware, cutlery, plates and cups, appliances, pantry racks, storage containers, etc. |
| Laundry essentials | Laundry baskets, laundry detergents, drying rack, etc. |
| Cleaning supplies | Floor cleaning agents, surface cleaners, disinfectants, anti-septic cleaners, cleaning sponges, brushes, brooms, etc. |
| Extra items | Padlocks and keys, lease documents, etc. |
Decide On Furniture & Appliances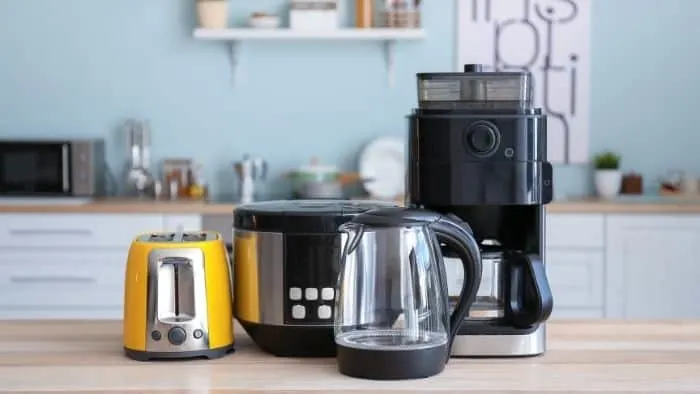 Furniture and appliances can cost a considerable chunk of money when moving out of your parents' home.
You need to decide on the essential items and how much each item will cost.
Considering all the moving costs, you may not afford them all at once.
Start with only the essentials and get the rest as you save up and can afford them.
First, you'll need a bed frame and a mattress to ensure you have a comfortable place to sleep.
Essential pieces of furniture you'll need are a sofa, a table, and a storage cabinet.
If your apartment doesn't come with all the appliances, you might need to buy these yourself.
The essential items include:
stove
oven
microwave
refrigerator
kettle
Note that you can boil water in a microwave. Find out: How Long To Boil Water In Microwave
You'll also want to ensure that all your glassware is microwave-safe. Find out: Can You Microwave Glass? (And How To Test If It's Microwave Safe!)
Getting a coffee machine can be a wise investment if you enjoy coffee. It'll cost less to make coffee at home than buying coffee at a coffee shop every day.
Options for quick meals include a blender if you enjoy smoothies, a toaster, or an electric sandwich maker.
Hire Movers or Ask Friends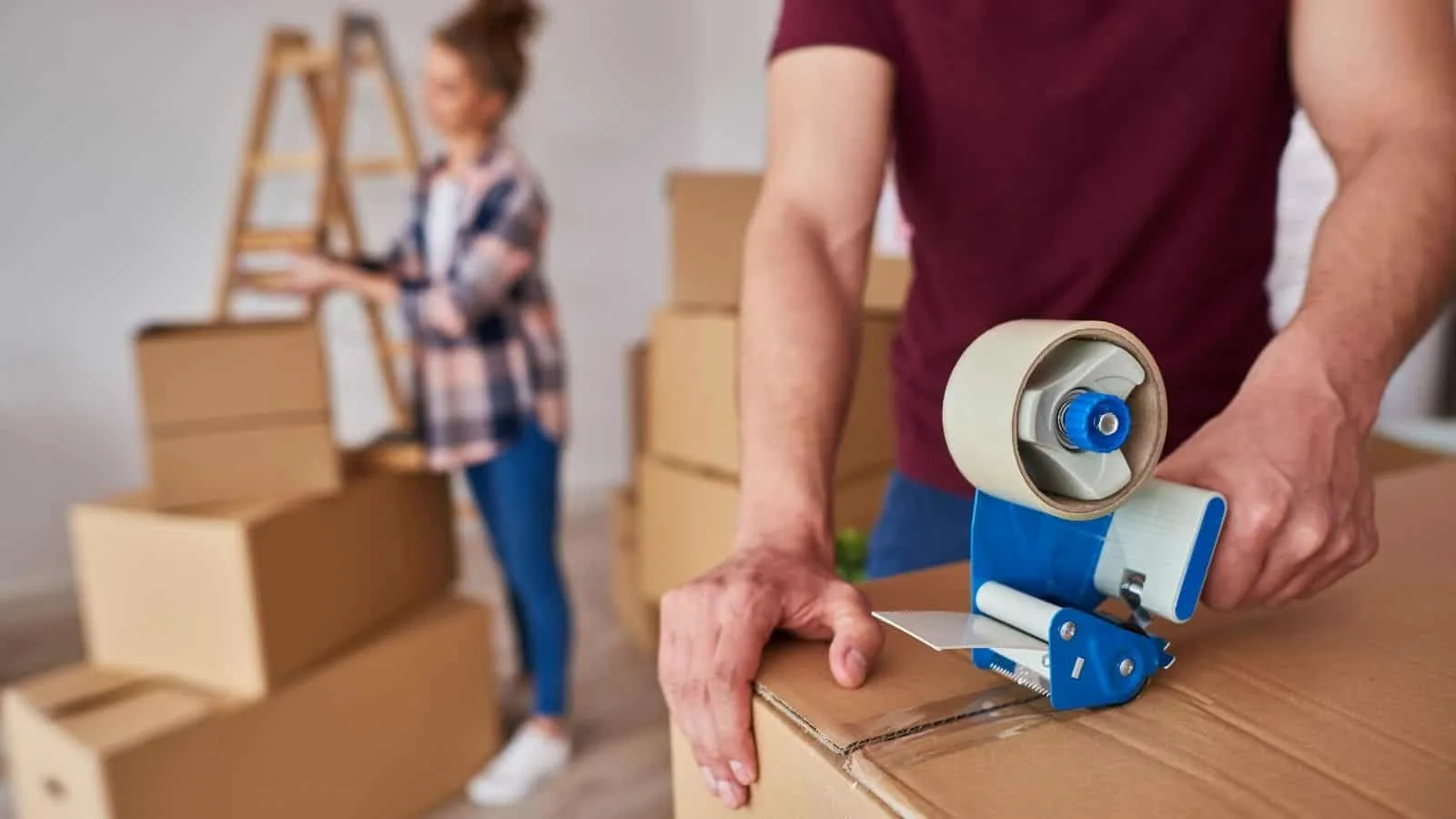 Moving by yourself is highly stressful and can be a harrowing experience.
Unless you have very little to move, ask either friends or professionals to assist with the move.
If you enlist friends or family to help with a DIY move, you'll most likely need to rent a moving truck — you can try one of the options below:
You'll also need to get moving boxes and supplies — try the company below:
They also offer moving supplies such as:
Mattress bags
Soft covers
Bubble wrap
Packing paper
Stretch wrap
If you need some extra help with the move, consider hiring movers.
Labor-only movers will only help with loading and unloading the rental truck.
Going this route will be less expensive than hiring full-service movers.
If you have the budget, you can go the full-service moving route.
They'll do most of the work to get you settled into your apartment in no time.
You'll spend a significant amount of money, but you'll have peace of mind and a much less stressful move.
Set Up New Utility Accounts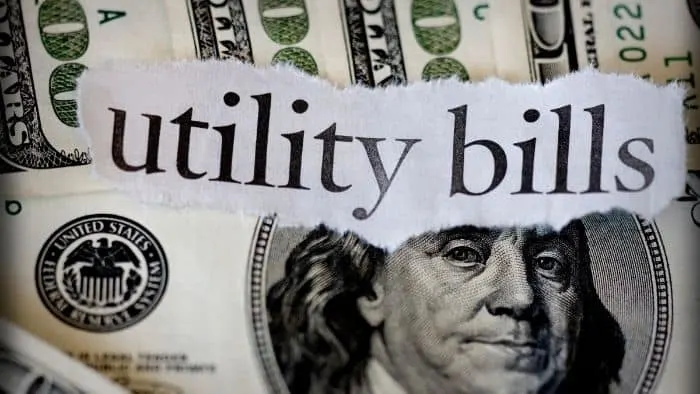 Once you move, you'll be responsible for paying your utilities. (Read more about average utility costs.)
You'll need to set up new utility accounts in your name, which means your credit score will also come into play.
A utility company may require an initial deposit if you're a new customer.
Below are some of the most common utility accounts:
Electricity
Water
Gas
Sewage
Trash & recycling
Internet
Cable
Call the utility companies to set up installations well before your move-in date.
Also, make sure that you confirm with the leasing office that you can access your apartment on the dates you set up the utility installations.
The goal is to ensure all the utilities and completely set up and functional before you move.
Forward Mail To New Address
Before you move, you'll want to update your address with your bank, credit card companies, and any other companies or services that send you mail via post.
Next, you'll want to forward your mail from the post office to your new address.
Luckily this is easy to do.
Simply fill out a change of address form on the USPS website: https://www.usps.com/manage/forward.htm
Lastly, send an email to your friends and family to let them know about your new address.
Stock Up On Kitchen Utensils, Toiletries & Cleaning Supplies
After you've moved in, you'll have a better idea of the things you're missing.
Typically, you'll find that you're missing some kitchen utensils, toiletries & cleaning supplies.
You'll need a set of plates, cutlery, cups, pots, and pans in the kitchen.
Ensure you have towels, shower gel/soap, bath sponge, shampoo, soap dispenser, toothbrush holder, and toilet paper in the bathroom.
Cleaning supplies will also come in handy; get a set for both kitchen and bathroom.
Keeping your place clean is quite a task!
So get the best tools to help make your cleaning chores easier.
Go Grocery Shopping
Once you've moved in, go grocery shopping and stock up on food essentials.
You'll need a mix of fresh and long-lasting goods.
Fresh food essentials include bread, fruits, vegetables, meats, and dairy.
Frozen foods come in handy often, so consider stocking up your freezer.
Frozen food essentials include fruits, vegetables, pizza, burgers, chicken nuggets, french fries, and ice cream.
Boxed and canned goods will stay safe to eat for a long time.
Boxed food essentials include breakfast cereal, rice, and pasta.
Canned food essentials include pasta sauce, soup, beans, and tuna.
Great snacks to have on hand include popcorn, nuts, and crackers.
Get just enough for a week or two, and refine your shopping list as you get a better idea of what you consume more frequently.
Learn How To Adult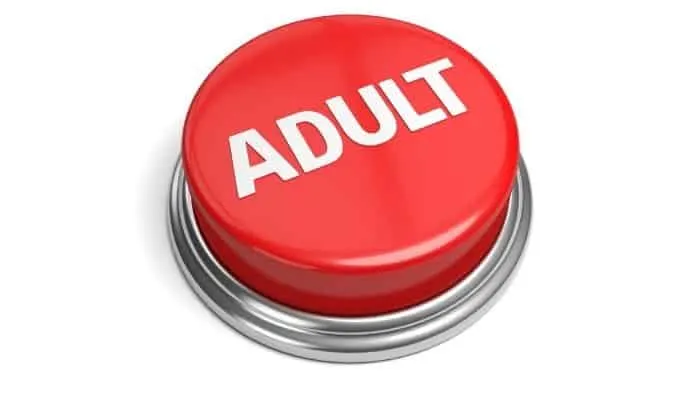 Moving out of your parent's home and 'adulting' takes careful planning and consideration.
You may be surprised at how much you need to learn to survive on your own.
When you're living at home you still have the opportunity to learn a lot from your parents on a daily basis.
Since your parents have been adulting for many years they'll most likely be a valuable resource in helping you navigate your new adult life.
Offer to help if there are chores that need to be done.
Examples include unclogging the toilet, fitting a showerhead, changing light bulbs, putting together furniture, you can learn all these are things before you leave your parents' house.
Ask your parents to explain their monthly admin tasks to you, and ask for tips and shortcuts that might help you save time.
Another thing you need to learn is how to manage your financial situation.
If you cannot manage your money wisely, you'll soon find yourself in financial trouble.
Learn how to save, how to set up an emergency fund, and how to stick to your budget.
While living alone, you will be responsible for everything you do.
So you'll need to learn how to cook, do laundry, shop, and sort out bills.
You'll find yourself in the deep end having to do all the 'behind the scenes' tasks your parents have been taking care of for you for so many years.
Take the time to learn these skills and don't be shy to ask for help from older friends and family if you feel stuck.