Babysitting is a challenging yet fulfilling career, whether you are doing it full-time or as a side hustle. One of the main issues babysitters and aspiring babysitters grapple with is the appropriate number of children they are allowed to babysit.
This post will discuss the correct number (according to the laws) of kids you can babysit without a license and answer some common questions about babysitting.
How Many Kids Can You Babysit Without A License?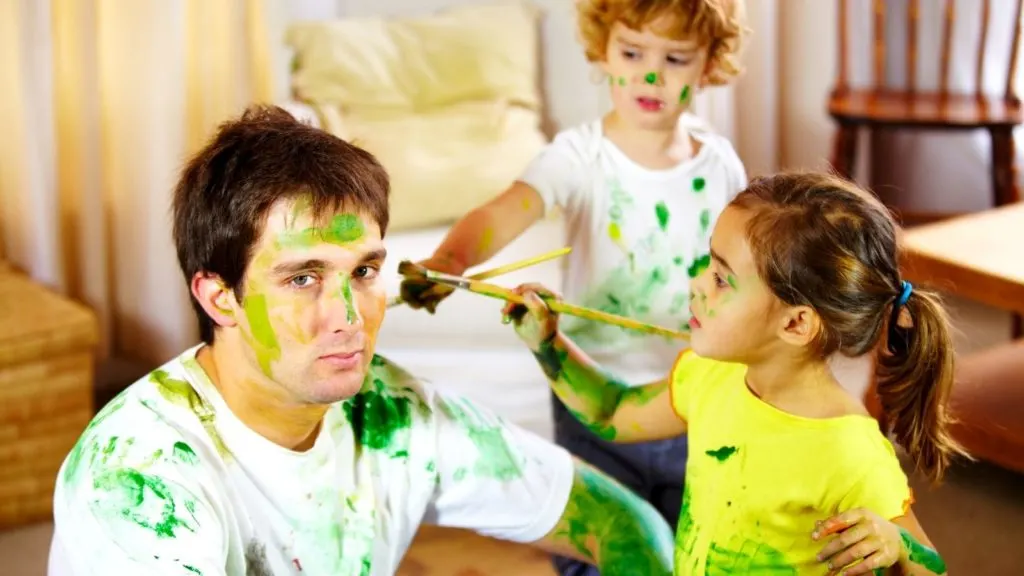 In the US, the number of kids you can babysit without a license varies from state to state.
Note that a child is someone 11 years or younger for licensing purposes. Children 12 and over do not count towards the number of kids counted for licensing requirements.
It's also important to know that you do not need child care licensing to babysit children you're related to or children from one family. The laws state that as long as the kids are your own, from a single family or relatives, the number you can take care of will not be regulated.
Some states allow certain child care providers (such as babysitters) to be exempt from child care licensing laws. These providers are usually relatives of the children they care for, care for only a small number of children, or operate only a few hours a day.
Other examples of child care that do not require licensure:
• Care provided in a child's own home
• Care that operates less than three hours a day
If you add unrelated children and reach the threshold for regulation in your state, you will need a license to babysit them. In most states, you will need an assistant to take care of more than eight kids.
You can find national and state information about child care licensing regulations and requirements on the National Database of Child Care Licensing Regulations website.
About a third of states require you to have a license, even if you babysit just one child in your own home on a regular basis.
However, in the majority of states, you can babysit several children (from 2 to 6 children at once) without a license, but with certain conditions.
These conditions vary from state to state but often take into account the ages of children. For example one of the children must be at least six years of age, and a second child should have started going to kindergarten. Also, if you are taking care of six kids or more, no more than two of them should be infants.
In some states, you will need a license if you're providing care for more than three or four hours per day.
In most states, there is no age requirement for babysitting, and there are few guidelines for how old children should be before they are left home alone.
There are different forms of child care and thousands of babysitters in the United States who babysit without a license or don't understand the laws on the threshold for getting a license.
Unlike daycare facilities or Child Care Centers, there aren't as many laws on how babysitters should operate and the number of kids they should take care of. However, if you're providing supervision to children and you're not license-exempt you could be breaking the law.
While taking care of kids can be exciting, it could also lead to issues with law enforcement. For instance, if you are taking care of too many kids by yourself, there could be injuries or damage to property when you get overwhelmed. The issuance of babysitting licenses ensures the prevention of such scenarios, enabling babysitters and kids to be safe.
The only limit on unlicensed babysitting or daycare in Canada is the number of children you can watch. You can only care for up to five children under the age of six, including your own children. As soon as you add an additional child you are no longer license-exempt. Moreover, you aren't allowed to care for more than two children younger than two at a time.
Licensing Threshold By State
In each state, you are allowed to care for up to a certain number of unrelated children without being licensed. However, you will be expected to obtain a license from the Department of Human Services if you are offering care and supervision for more than the stipulated amount of unrelated children for three (3) or more hours per day.
You can view the licensing threshold by state in the table below:
| US States | Number of Children In Child Care That Require A License |
| --- | --- |
| Alabama | 1 |
| Alaska | 5 |
| Arizona | 5 |
| Arkansas | 6 |
| California | 2 |
| Colorado | 2 |
| Connecticut | 1 |
| Delaware | 1 |
| District Of Columbia | 1 |
| Florida | 2 |
| Georgia | 3 |
| Hawaii | 3 |
| Idaho | 7 |
| Illinois | 4 |
| Indiana | 6 |
| Iowa | 6 |
| Kansas | 1 |
| Kentucky | 4 |
| Louisiana | 7 |
| Maine | 3 |
| Maryland | 1 |
| Massachusetts | 1 |
| Michigan | 1 |
| Minnesota | 2 |
| Mississippi | 6 |
| Missouri | 5 |
| Montana | 3 |
| Nebraska | 4 |
| Nevada | 5 |
| New Hampshire | 4 |
| New Jersey | 6 |
| New Mexico | 5 |
| New York | 3 |
| North Carolina | 3 |
| North Dakota | 6 |
| Ohio | 7 |
| Oklahoma | 1 |
| Oregon | 4 |
| Pennsylvania | 4 |
| Rhode Island | 4 |
| South Carolina | 2 |
| South Dakota | 13 |
| Tennessee | 5 |
| Texas | 4 |
| Utah | 5 |
| Vermont | 3 |
| Virginia | 6 |
| Washington | 1 |
| West Virginia | 4 |
| Wisconsin | 4 |
| Wyoming | 3 |
You can find more information on the threshold of licensed family child care here.
Things To Consider When Babysitting Without A License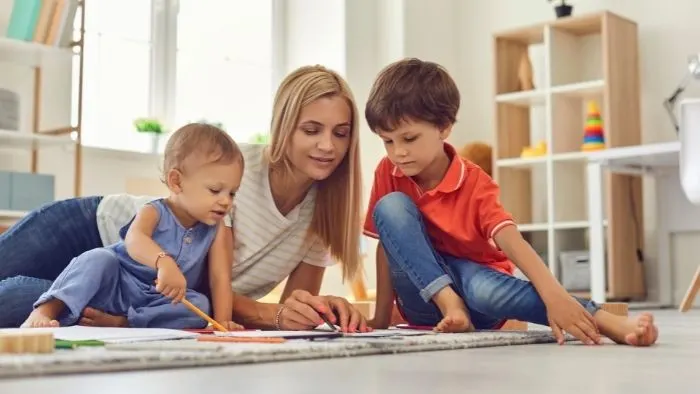 Since babysitting requires only basic child care skills, there aren't many laws regarding babysitters' qualifications. However, there are a few things that you should consider when babysitting without a license.
The first thing you should keep in mind when babysitting without a license is the number of kids you are allowed to babysit. Different states have different numbers, so check with your state's department of social welfare.
Remember, the fact that you can babysit without a child care license doesn't mean you don't need qualifications.
Although there is a difference between the level of training a daycare worker has compared to a babysitter, there are some basic childcare skills that anyone looking after children should have.
Here are some essential training requirements you may need to be able to provide good care and earn the trust of clients:
First Aid Skills
A good babysitter should have basic first aid skills. When an injury happens, you should provide first aid if the kid is in danger before taking them to a health practitioner. For instance, if a kid is choking, you won't have the time to rush them to a nearby hospital.
Understanding Kids' Behaviors
You probably have some experience babysitting your own siblings or a relative's. This doesn't mean you have enough experience to take care of kids from other families. Doing a child care training course will help you better understand taking care of and meeting kids' needs.
You cannot take care of a toddler or infant the same way you would a school-going child.
Child care training will help you understand how to deal with children of various age groups. In addition, it equips you with the skills required to take care of special needs children.
Preventing Accidents
Occasionally, accidents happen when taking care of kids. Although they are rare, it is important that a babysitter takes accident prevention measures. Simple things such as leaving a kid in a room alone for too long may lead to accidents or injuries. So, the childcare provider has to be alert at all times to ensure kids are safe.
How To Get A Babysitting License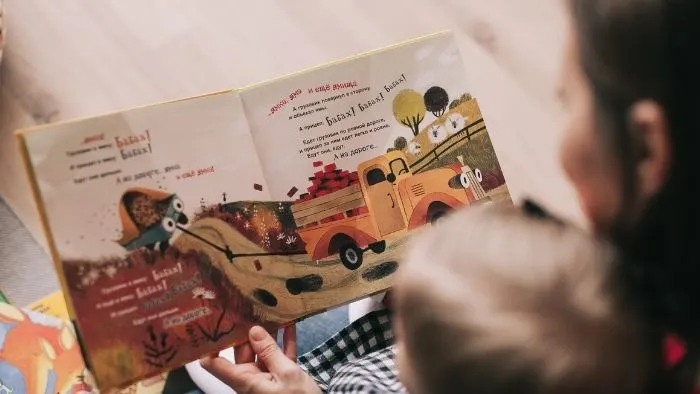 Having a babysitting license enables you to not only gain the trust of potential clients but also keep kids safe. Organizations like Red Cross and St. John Ambulance offer babysitting classes and certifications in the US.
Here are the common types of child care certificates provided by the American Red Cross:
1. Babysitting Basics – This course helps children 11 and older acquire the skills to become great babysitters. Some areas covered while doing this course include how to act during an emergency, handle certain kids' behaviors, and choose fun activities for children in care. Babysitting Basics provides the confidence needed for successful babysitting. It takes around 4 hours to complete the course and do a final exam. Upon completion, you will receive a certificate that you can print.
🤓 Suggested reading: Fun Babysitting Games, Activities & Ideas
2. Babysitters Training – The next training after doing Babysitting Basics. This in-person child care training course is for 11-15-year-olds. While doing the course, some skills you will learn include basic first aid procedures, safety tips, building childcare homes, and helping kids behave well.
3. Advanced Child Care – This online course equips trainees with safety, professionalism, leadership, holding and feeding, and child discipline skills. Usually, certification is not provided for an Advanced Child Care course.
After completing your training, you will have the basic necessary certification and skills to run a successful babysitting business. It is recommended that you also take a First Aid and CPR/AED course to help you learn more and be in a better position to offer help to kids during emergencies.
Note that Red Cross offers digital certificates which you can share and download anywhere, anytime. The certificates contain unique QR codes and IDs, making it easier for potential employers to check their validity.
You can contact the Department of Social Services and get a family care home license. You will need to attend an orientation and be familiar with all family child care home licensing laws and regulations.
Related Babysitting Questions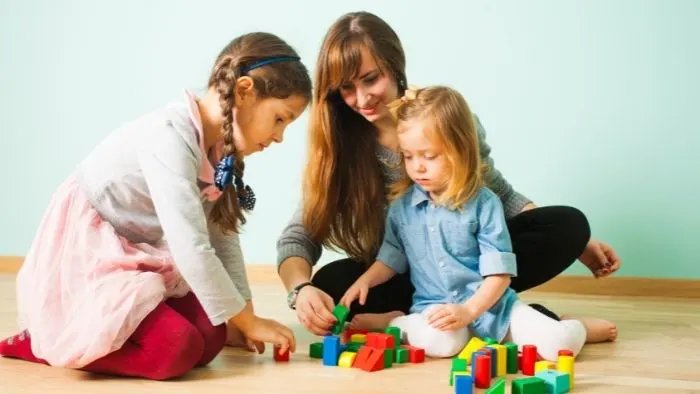 At What Age Can A Child Babysit?
Children can start babysitting from the age of 11. That is the minimum age that they can take the Red Cross babysitting course.
Children between 11 and 14 years of age can start babysitting their siblings, depending on how mature they are.
However, it's recommended to wait till kids are in their mid or late teens to babysit children outside the family.
Teens should be at least 16 to babysit their siblings alone overnight.
Ensure that the babysitting kids have the basic skills just like professional babysitters.
Can I Babysit Kids In My Home?
Babysitting in your home is legal. However, there may be some restrictions on babysitting from your home compared to traditional babysitting at another family's home. Some states will not allow people to babysit out of their own homes if they do not have the necessary certifications. Check with your state to see the licensure requirements.
Can I Babysit Kids In A Location Other Than A Private Home?
You can babysit kids in other locations other than private homes. However, you will need a license to take care of kids in other locations in many states. Check with the local child welfare regulations to determine whether you are legally allowed to take care of kids away from their homes.
What Happens If You Care For A Child Without A License?
You can take care of a child without a license as long as you adhere to the number of children allowed stated by the laws in your state. If children in care exceed a specific number in most states, you will need certification. So, you can babysit a kid without a license but always ensure you are following the laws.
How Old Can You Be To Watch Your Siblings?
There is no legal age for babysitting your siblings. However, children should be at least 11 or 12 to look after younger siblings for a short amount of time. Remember that you're still responsible for your children's well-being if you leave them with anyone under 16. You shouldn't leave your children alone overnight unless your oldest child is at least 16.