Finding the right bra size for your teenager can be daunting, especially if your first time shopping for one. Like other parts of the body, breasts vary in size depending on factors such as age, weight, and genetics.
What Is The Average Bra Size For A Teenager?
The average bra size for a teenager can vary depending on various factors, including genetics, body weight, and overall development. While there is no one-size-fits-all answer, studies suggest that the average bra size for teenage girls in the United States is around a 34B.
A teenage girl's average bra size is tough to calculate because puberty can occur at different times. While some girls can start developing breasts from age 8, older teens might be without any signs of breast development. The only way to figure out the right size is by taking measurements of the bust and the rib cage.
At age 8, 25% of girls are already developing breast tissue. At the same time, other girls might be 12 or 13 without any signs of breast development. Most women will have fully developed adult breasts by their early 20's. A teen can be wearing an 'adult' bra while many of her peers are still in training bras or don't even wear a bra.
This article will delve deep into the most appropriate bra sizes by age and how the sizes vary in different countries. We will also answer some of the buzzing questions around this topic.
Breast Development Stages
Prepubescent stage: This stage starts from age eight and goes to 12 years. At this stage, only the tip of the nipple is elevated. Because every woman's body is different, the range varies. You don't need a bra for support at this stage, so a training bra, triangle bra, or bralette is fine.
Early Puberty: A year or so later, the breast bud forms; that's why the stage of development is known as "budding." The areola expands and gets a bit larger. Training bras can still be helpful, but you can also start looking into the smallest bra sizes, such as AA or A.
Puberty: Once your teen has started puberty, she will start getting larger breasts with a further widening of the areola. Now it's time to start measuring her chest and bust in order to buy the correct cup and bra size and get the proper support.
Young Adult: Most women will have fully developed adult breasts by their early 20's. Your bra size can still change in her lifetime due to hormonal fluctuations (pregnancy or menopause) as well as weight changes. Many women tend to wear the wrong size bra, so it's always a good idea to have your bra measurements retaken every few years to ensure you're wearing the correct bra size.
The Average Bra Size by Age: 12 to 18 Years Old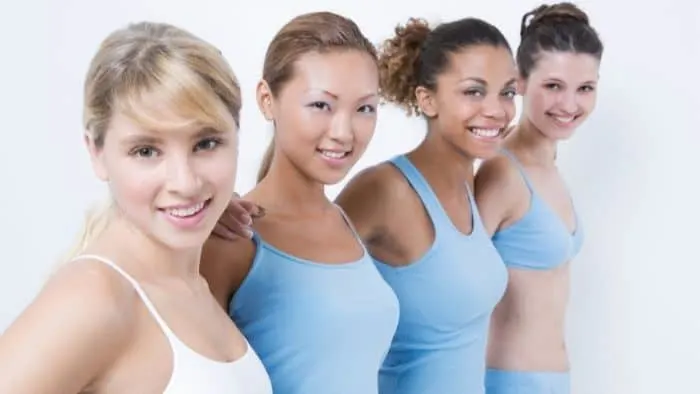 Bra sizes change as your teenager grows; therefore, it is not a one-size-fits-all situation. But, you can find an appropriate size for specific ages for a start, then figure out the exact true size for your girl.
The Average Bra Size For A 12-Year Old
Your 12-year old could wear a bra size in the 32 range. When it comes to the average cup size, most 12-year olds fit into an A or B cup comfortably.
12-year olds wearing an A cup might quickly move to a B cup as they're developing quickly at this age.
The Average Bra Size For A 13-Year Old
At 13, your teenager will fall under the A cup if she is of smaller stature or a B cup if she is a little bigger than her peers. Another thing to consider is that if puberty started earlier for your teenager, they might fit a bigger bra at 13 than those whose puberty started later.
Generally, a 13-year old girl will fit into a size between 32A and 34B. A few will get a comfortable bra in size 34C, especially if they developed earlier or are heavier than their peers.
It is important to note that the size can change within their 13th year depending on how fast they develop.
The Average Bra Size For A 14-Year-Old
Teenagers around 14 will fit into a B cup bra comfortably. But like others, the right size will depend on the weight, general stature, and rate of development during puberty. Therefore, some can still fit into an A cup while others stretch to a C cup.
At 14, your teenager is at the peak of development; therefore, the bra size can change quickly before hitting their 15th year. This is why it is important to get the right size by calculating the band and the bust measurement.
The Average Bra Size For A 15-Year Old
It is common for 15-years olds to have big breasts, stretching to cup DD, but most of them fall in the B and C cups. If your 15-year old teenager is petite, she may still fit a cup A, but the band size may change as the months go by.
Again, there is no standard breast size of a 15 year girl, as many factors play a role. But as a guide, stick to the A cup if your teen has a small stature, B if she is of average weight and height, and C if she is generally bigger than girls her age.
The band can go from as small as 30 and as big as 36 for 15-years old. So the only way to get the right size is to measure the band and the bust. Equally, trying a few teen bras within this range can help you get the best fitting bra for your 15-year old.
The Average Bra Size For A 16-Year Old
16-year-old teenagers fall in various sizes when it comes to bras. They can fit as small as 30A bras to as big as 36D bras. The exact size will depend on the chest size and the size of the breasts.
Teens in the 30A size are usually more petite in size, and in most cases, their development starts later into puberty. Some remain in the smaller sizes for years, while others last just a few months, depending on their development rate.
It is normal for a 16-year old teen to fit into a D-cup bra. These generally have fuller breasts requiring a more accommodative cup for a comfortable fit. Depending on the teen's weight, the band size can be as small as 30 or as big as 36.
The Average Bra Size For A 17-Year Old
At 17, your teen girl is almost fully developed; therefore, their breast may have reached the average breast size. The most common bra size for 17-year old girls is a C-cup.
The breasts at this age are fuller; however, some may still have smaller boobs that fit in A-cup and B-cup bra sizes. On the same note, some girls may fit into E-cup and F-cup bras, especially if they developed earlier and are generally heavier.
The Average Bra Size For An 18-Year Old
Girls at 18 will fall under bra sizes between 32 to 36. The cup can range from a B-cup for petite girls to an F-cup for plumper ones.
The best way to find a properly fitting bra for your 18-year old is to get measurements at the store. Your girl may have a relatively smaller band, but her breasts may be fuller, requiring a bigger cup for a comfortable fit.
The Average Breast Size for Age Chart
As mentioned, weight plays a significant role in the size of breasts. But, it is not directly related to the size of bra one wears. Some girls will weigh more than others but still wear smaller bras than their petite counterparts.
Here is a teenage bra size chart describing the range of breast sizes for age. You can use this chart to get an idea of where your teen lies, helping you to choose a more appropriate bra.
Remember that measuring your band and bust size is the best way to calculate what your teen's bra size should be. A well-fitting bra can prevent breast discomfort, back pain, and shoulder pain.
Teenage Bra Size Chart
| Age | Average Teen Bra Size |
| --- | --- |
| 12 years | 30A – 32B |
| 13 years | 32A – 34B |
| 14 years | 32B – 34C |
| 15 years | 34B – 36D |
| 16 years | 34B – 36D |
| 17 years | 34B -36 DD |
| 18 years | 34C – 36-F |
How Do I Find The Right Bra Size?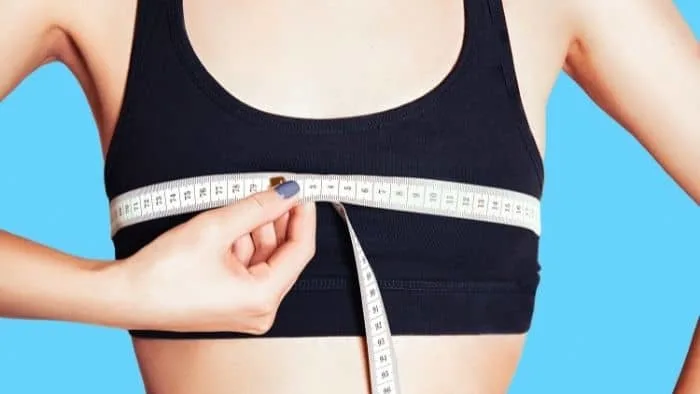 How To Measure Bra Size For A Teenager
The right bra must be of the correct band size and cup size.
To determine your overall breast size, you will need three different measurements, including:
length around your torso – under your breasts (band)
length across your breasts (bust)
overall breast volume (cup)
How To Measure Your Band Size
To get the band size, use a cloth measuring tape under your breasts, on the ribs, and wrap it all around. When you get the number, add 5 inches to it to determine your band size.
For example, if you get 27 inches, add 5 inches to get 32. This is the band size of the bra you should get. If your measurement ends up being an odd number, go up the next even number as bra sizes come in even-numbered bands.
How To Measure Your Bust Size
Next, you need to measure the fullest part of your breasts, wrapping the tape measure around you. While doing this, make sure your arms are pointing down in a relaxed position.
When measuring for band size, do not pull the measuring tape too firmly; the tape should be untwisted and should have contact with the teen's body all the way around but should not be tight.
The number you will get will determine the correct cup size of your bra.
How To Calculate Your Cup Size
The bust line measurement will be higher than the band measurement. The cup size will be the difference between the two measurements. For example, if your bust line is 34 inches and your band measurement is 32, your cup size will be 2, which is a B cup.
Here is a guide for determining the cup size:
AA cup: ½ inch
A cup: 1 inch
B cup: 2 Inches
C cup: 3 Inches
D cup: 4 inches
It is also important to note that bra cups actually have more volume the higher the band size, which means that the cup of a 38D bra will appear a little larger and roomier than that of a 36D bra.
Please note that cup and band sizes vary around the world, as well as by brand. Measuring and trying on different bras is really the best way to determine your correct size.
You can use a bra size calculator for teens once you've measured your band and bust size.
This video shows you how to measure your bust and band size to calculate your bra size correctly:
What Determines Breast Size?
Breast size in teenagers is determined by a combination of factors, including genetics, hormones, and body weight.
Age determines breast size, as very young teens start to develop breasts.
Genetics plays a major role, as breast size tends to run in families.
Hormones, specifically estrogen and progesterone, are also key determinants, as they stimulate breast growth during puberty.
Body weight can also affect breast size, as breasts are made up of fatty tissue.
Breast shape will also have an impact on the correct bra cup size.
However, it's important to note that breast size can vary greatly among teenagers and is not necessarily an indication of overall health or development.
It's also important for teenagers to wear properly fitting bras to ensure comfort and support during this period of breast growth.
What Is The Best Bra For Teenagers?
Finding the best bras for teenagers will most likely mean trying on many different types of bras to start. Taking some time to try on different bras is essential since different teenage bra brands and bra styles fit differently.
As your teenage daughter goes through puberty, she will most likely wear different types of teen bras, appropriate by age and breast size.
Training bras
Training bras don't have cup sizes or under-wiring, so they're much more comfortable and perfect as a starter bra. They don't offer much support, but they help get your teen used to wearing a bra and can make her feel more confident as it covers up her chest area.
Training bras can be called crop top bras or slip-on bras.
Here are some examples:
Bleuet Training Bras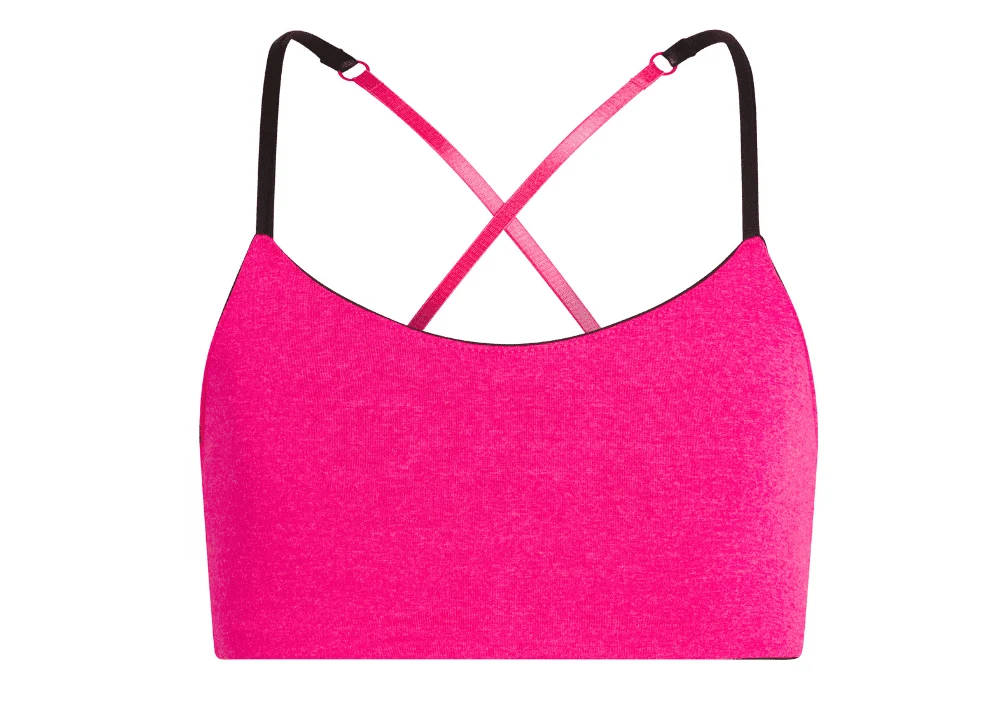 Alyce Intimates Girls Cotton Cropped Cami Training Bra
Fitted bras
Once your breasts start developing beyond 'budding,' you might want to start getting a fitted bra that will offer you more support.
There are many different options when it comes to fitted bras, from simple cotton bras to lace bralettes, balconette bras, plunge bras, padded bras, push-up bras, and underwire bras.
Warner's Women's Easy Does It No Dig Wire-Free Bra
Bali Women's One Smooth U Ultra Light Illusion Neckline Underwire Bra
Women's Lace Push Up Balconette Underwire Unlined
Sports Bras
Many teens will probably need a sports bra as well. Sports bras are tighter and hold your boobs closer to your chest to minimize movement while playing sport.
Fruit of the Loom Women's Spaghetti Strap Cotton Pullover Sports Bra
Racerback Sports Bras for Women
Watch this useful video that demonstrates teenage bra fit issues and when it comes to shopping for your first bra:
The Average Bra Size for Teenagers in the US
Most teenagers in the US can fit into bras between 30A to 36B. Some may lean towards the smaller bras with A cups, while others may fit into as big as 36DD sizes.
The Average Bra Size for Teenagers in Canada
Most Canadian teenagers fit into the B and C cup bra sizes. The average band size can be as small as 28 and as big as 36 for teens in Canada.
The Average Bra Size for Teenagers in Australia
The average breast size for teens in Australia is between an A cup and a B cup for younger teens between 12 and 13 years old. Older teens beyond 15 years fit in the C cup, although some may fit better in D-cup bras.
The Average Bra Size for Teenagers in the UK
Teenagers in the UK wear bras between 30 A to 34 C. Those between 10 and 11 years old fit in the 30A size, while older ones above 13 fit in sizes between 34A to 36C. The average bra size UK for 16 year olds and older is 36D, which has increased significantly (from 34 B) in the last few years.
Research notes that this may be due to weight gain, increased Body Mass Index, as well as surveys including breast implants and breast augmentation surgeries.
The Average Bra Size for Teenagers In China
The most common size for teens in china is between 32A and 34C. Most Chinese teens are petite; therefore, the sizes can go as small as 30A. But many others fit into the bigger bra sizes between 34B and 36D.
Frequently Asked Questions About Bra Size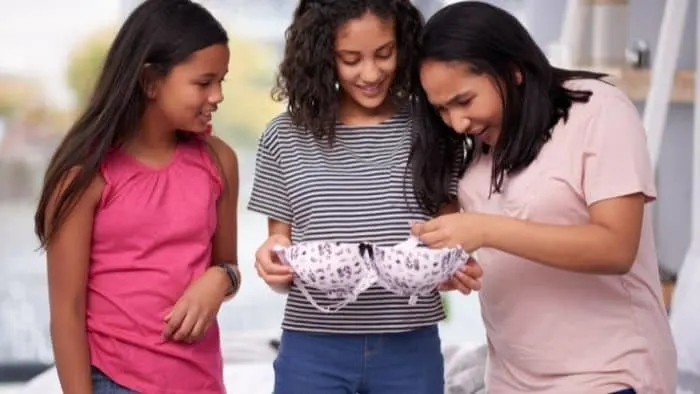 What is the Smallest Bra Size?
The smallest bra size is cup AAA. This size is not common; therefore, most bra designing companies do not make them.
What is the Biggest Bra Size?
The biggest bra size is cup O, slightly bigger than N. The difference between the bust line and the chest measurement is between 14 to 15 inches.
Will My Breast Size Change?
Your breasts will go through changes as your body develops. Your breasts size may fluctuate throughout the month, depending on where you are in your menstrual cycle. Some people experience swelling of breasts closer to menstruation, which is normal.
As you grow older, your breasts will increase in size, but that is dependent on how quickly you develop and whether or not you add weight.
What Does the Letter in Bra Size Mean?
The letter in Bra size means the cup. The cup is the difference between the bustline and chest circumference measurement, usually in inch increments.
What Does the Number in Bra Size Mean?
The number in bra size means the band measurements, which is the chest measurements plus 5 inches. The number in bra size comes in even numbers; so, if the chest measurements plus 5 inches do not add up to an even number, you round off to the following even number.
Average Bra Size For Teens Conclusion
This guide can come in handy to find the average size bra for your teenage daughter. However, you may need to get your teen measured as various factors can play a role in the size of breasts besides age.
If you want to know what size your teen's bra should be, measure her band and bust size. Having a bra that fits correctly can help prevent breast discomfort, back pain, and shoulder pain.