You may have received plenty of gift cards, and even though gift cards are thoughtful, not all may be useful for you or anyone in your family.
If you have gift cards that you do not intend to use, read on to learn if you can return gift cards and what else you can do with your unwanted cards.
Looking for the best gift cards? Then check out this guide: 45 Best Gift Cards For Teens & Tweens
Can You Return Gift Cards?
Gift cards are generally not returnable. Once they are purchased, all sales are considered final. Stores that allow you to return gift cards will require a receipt and will usually only refund the amount back to the original payment method, which is typically the credit or debit card used to purchase the gift card.
You need to check with the issuer about their return policy, as every merchant or retailer will have a specific return policy for gift cards.
It is best to ask the issuer about their return policy for gift cards before requesting a refund.
Retailers with a return policy on gift cards have different approaches to return terms.
Most retailers will ask for the original receipt, which you can obtain from the person that gave you the gift card.
Some might only refund to the original payment method, i.e., this might be to the credit card used to buy the gift card.
Some only give you a percentage of the gift card's value.
Some retailers will only give you store credit to use for future purchases.
Retailers in certain states are required by law to refund the balance owing on a gift card if it is below a certain amount ($10-$1).
Another way they can allow you to return gift cards is by giving you in-store credit. This works well if your gift card's expiry date is approaching.
Unfortunately, most stores do not allow refunds for goods purchased using a gift card. So if you try this tactic, confirm if their return and refund policy allows this.
Check the retailer's website to find out if you can return a physical gift card. If you can't find the information there, try Google.
If you have any questions about the retailer's gift card policies, you can contact customer service. Each retailer has different approaches when it comes to gift cards and gift returns. Alternatively, you can contact the customer service number on the back of the card to request a refund.
You might also enjoy reading How To Say "Thank You" For An Unexpected Gift
Can You Return Gift Cards With Receipt?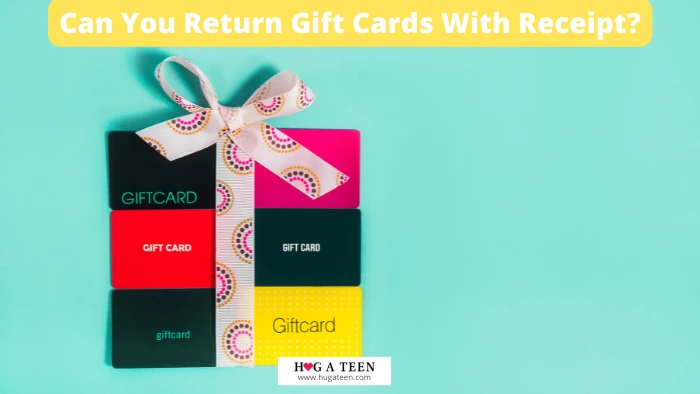 A gift card cannot be returned in most cases, even with a receipt. All sales are considered final once a gift card has been purchased. If a store does refund a gift card, it will return the value to the original method of payment, which is often the credit or debit card used to purchase the gift card.
Alternatively, you might be able to get store credit, or at larger stores like Target, you might be able to swap out the card for a Target gift card, which is essentially store credit.
Can You Return Gift Cards To Costco?
Costco sells two different types of cards, a Costco Shop Card as well as Third Party Gift Cards. Unless otherwise required by law, balances cannot be applied to accounts or redeemed for cash.
Can You Return Gift Cards To Target?
You cannot return gift cards to target; their return policy does not allow the return or refund of gift cards unless stated by law. If the refund is supported by law in the United States, the gift card holder must provide a receipt to verify it for a refund. This includes Target GiftCards, Specialty gift cards, and pre-paid gift cards. The benefit of a Target gift card is that card funds do not expire.
Can You Return Gift Cards To Walmart?
You cannot return a Walmart gift card. Walmart's gift card policy does not allow returning and refunding gift cards. In addition, Walmart does not allow the replacement of cards, whether or not they are bought at the store.
Can you return Apple gift cards to Walmart?
You cannot return Apple gift cards to Walmart, as their refund and return policy does not allow the return of gift cards, including an Apple gift card. Walmart can only allow you to return Apple gift cards if the law requires them to do so, only if a small amount remains on the card, and only in certain states. Both plastic and eGift Cards are subject to this policy.
Can you return Visa gift cards to Walmart?
You can return Visa gift cards to Walmart, but you can only get the refund as a credit to your card instead of a cash refund.
Can You Return Gift Cards To Amazon?
You cannot return Amazon gift cards as their policy does not list them as eligible items allowed for refunds or returns. The only time Amazon can enable a refund of gift cards is if required by the law. Also, Amazon is not responsible for damaged, lost, or stolen gift cards.
Can You Return Gift Cards To Sephora?
Sephora gift cards, including ecards, are non-refundable. Once you get a gift card from Sephora, you cannot redeem it for cash. All their gift cards are final and only redeemable for products in-store or online.
Can you return Xbox gift cards?
You can return Xbox gift cards as long as it is unused and still within the return policy timeframe. If you purchased the gift card as a digital gift, you could request a refund on their returns page. If the card were bought from a store, you would need to visit the specific store it was purchased from for a refund.
Can You Return Gift Cards To Kroger?
You cannot return gift cards to Kroger. Kroger's gift card return policy clearly states that gift cards cannot be exchanged for cash unless the law requires them.
Can You Return Gift Cards To Macy's?
You can return gift cards to Macy's; however, the full value must be on the card to get a refund. All you need to do is take the gift card and the receipt to a Macy's near you and ask for a refund. The card amount will be credited to the buyer's original payment mode.
Can You Return Gift Cards To Gamestop?
GameStop does not allow gift card returns. Their return policy states that all gift cards are not returnable and cannot be redeemed or exchanged for cash, credit, or check. They can only refund if the law requires them to exchange a card for money.
Can You Return Gift Cards To Best Buy?
You cannot return gift cards to Best Buy in exchange for cash. But, they allow customers to return items they have purchased using gift cards.
Can You Return Gift Cards To CVS?
You cannot return gift cards to CVS for exchange with others or get a refund of the amount on the card. Additionally, CVS does not allow customers to return some of their products, especially personal care products for health and safety concerns.
Can You Return Gift Cards To Publix?
You cannot return Publix gift cards to exchange with money unless required by law. Their policy states that gift cards, once bought, cannot be returned to redeem for cash; however, customers can shop any merchandise within the store.
States That Require Cash Refunds on Gift Cards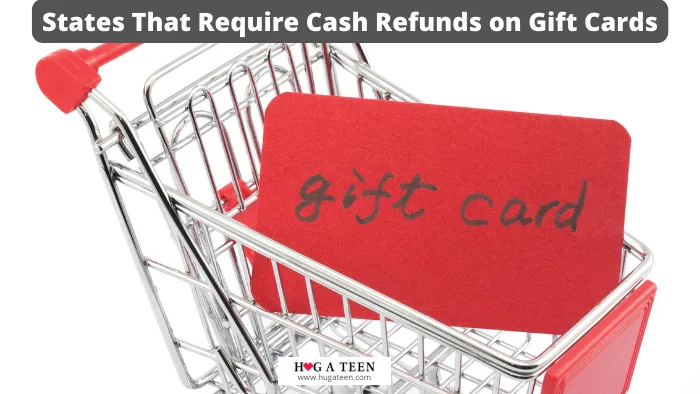 Twelve states and territories in the U.S. have laws regarding cash redemption of gift cards. These are Colorado, Maine, Massachusetts, Montana, New Jersey, Puerto Rico, Washington, Oregon, Rhode Island, Vermont, Connecticut, and California.
California is the most generous of the eleven states, allowing gift cardholders to redeem cards valued under $10. This means any gift card worth less than $10 can be redeemed for cash.
States like Colorado, Maine, Massachusetts, New Jersey, Montana, Oregon, Puerto Rico, and Washington have laws that allow gift cardholders to redeem cards worth less than $5. Some laws have exceptions and caveats but generally will enable people to redeem their under $5 cards.
Rhode Island and Vermont will refund cards with balance limits of $1. In states without laws governing the refund of gift cards, store policies run the show. Even so, states with laws on gift card refunds can still offer refunds if they wish to do so.
| State | Max Amount |
| --- | --- |
| California | < $10 |
| Colorado | < $5 |
| Maine | < $5 |
| Massachusetts | < $5 |
| Montana | < $5 |
| New Jersey | < $5 |
| Oregon | < $5 |
| Puerto Rico | < $5 |
| Washington | < $5 |
| Connecticut | < $3 |
| Rhode Island | < $1 |
| Vermont | < $1 |
What Can You Do With Unwanted Gift Cards?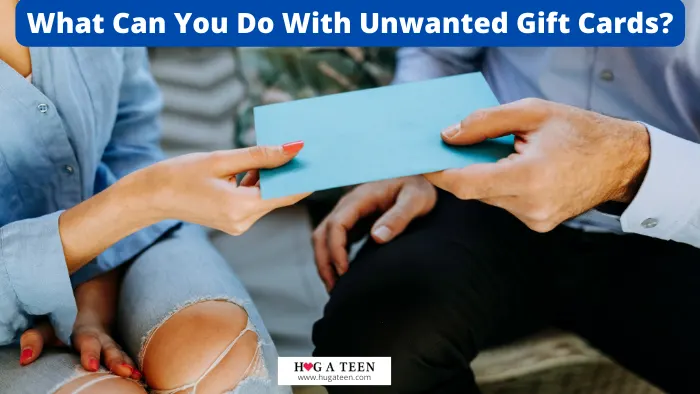 Gift cards are thoughtful gifts, but what happens if you do not want the ones you get? Not to worry, there are several ways to do away with your unwanted gift cards without returning them to the buyer. Even though you might not be able to return a gift card, they still offer great flexibility for recipients in other ways. Here are some other things you can do with unwanted gift cards:
Sell Your Gift Cards Online
You can sell gift cards online and better use the cash you get from that. Here are some of the best places to sell your gift cards online.
Gift Card Granny
Gift Card Granny provides a platform where you can sell your unwanted cards online in a seamless and straightforward process. You need to enter the gift card brand, and Gift Card Granny will pop up prompts for the specific brands they accept.
Next, you will need to add the gift card balance. The good thing is that Gift Card Granny allows you to sell gift cards you have used partially. You can then check out Gift Card Granny's offers on the specific brand.
You can then compare payments from different partners and select the best offer. You will also review the payment methods you can use to sell at this stage. Most partners pay via Paypal or check; you will get your money via the payment method.
GiftDeals
GiftDeals is a gift card marketplace where users can buy or sell gift cards. GiftDeals offers two services; Prepaid2Cash and Cardswapper, where you can sell your gift cards.
Prepaid2Cash is an app available for both android and IOS users. It is designed specifically for redeeming prepaid cards for cash before they expire. The app requires you to scan the card, where you have to hold it within the predetermined frame for scanning.
The app then asks for the bank account where you would like the money deposited. You can choose the bank account of your prepaid card or add a new one. The deposit will automatically reflect anywhere between 4 to 7 business days in your account.
If you use CardSwapper, the process is more straightforward and takes a shorter time to get your money. You only need to enter your gift card, then the app verifies your card with hundreds of retailers and sends you money to your PayPal account within 48 hours.
CardCash
CardCash allows you to sell your gift cards by giving you a variety of offers to choose from. The process is simple and takes a short time to complete. All you need to do is select an offer for your gift card, submit your card, let CardCash verify your card, and get paid.
When uploading your card details, you only need to add the store name and the balance on your card. CardCash will run it through their database to give you offers that you can choose from.
The good thing is that you can get cash paid via check, ACH, or Paypal. You could also trade your card with others on the site to get what you love and get an additional 10% more.
Gift Card Spread
Gift Card Spread is a gift selling platform that allows users to trade in their gift cards for cash without fees and in a short period. The selling process is simple; you only need to make an offer and wait for a response from Gift Card Spread.
You must also set up your payment method and submit your card information. Gift Card Spread will verify your card and pay you via your payment method.
The good thing with Gift Card Spread is that you can name your offer, allowing you to sell your cards at reasonable prices and make the most use of them.
Other popular platforms include WalletHub and Raise.
Sell Gift Cards On Social Media
Social media can be a great place to sell unwanted gift cards. Someone in your social media communities will likely find your gift cards more valuable than they are to you. You only need to create a post with details of the card and how much you are selling it for.
Great places to sell are Craiglist, where you can post many gift cards at a time and create a sale post. You could also post on Facebook Marketplace, where many Facebook users camp to find deals on various products and services.
To maximize the possibility of selling your gift cards on social media, share your sale post on Facebook buy and sell groups. These have many members, and you might find interested parties from sharing to such groups.
Exchange Gift Cards With People You Know
You might not want the gift cards you have, probably because you do not like the store or have no interest in the kind of products you could get from the store. But that does not mean your card is useless and cannot be of value.
How about you exchange your card with people you know. Your friends, family, colleagues, and schoolmates might find your gift cards useful. They might have gift cards they do not want, which you could exchange with yours.
The good thing about exchanging gift cards is that no money is involved, and both parties get valuable gift cards to redeem for items they like. It might not always work, but it is worth trying, especially if you know what people in your circle like.
For example, if your friend is into beauty and makeup and you have a Sephora gift card, they would find it more valuable than their Xbox gift card they care less about. If you like gaming, the Xbox gift card will be more beneficial to you, and you can exchange it for the beauty one.
Use The Gift Card To Buy Items You Can Resell
If you have tried to sell your gift card with no luck and cannot find someone to exchange it with, you can use it to buy items that you can resell. Of course, this process is lengthy and trial and error, as people may or may not be interested in your products.
But, it is worth trying if you have a gift card worth a valuable amount of money. Use your card to buy items on clearance and maximize the possibility of making profits once you resell.
For example, if you have a $100 Target gift card, use it to buy items on clearance; let's say a rach that retails for $5 but usually would go for $15. But the rack and resell it for $10. Post ads on Craiglist, Facebook Marketplace, and Facebook group.
Take pictures with your phone and create an ad with details of the product. Remember to note what it retails for to attract more willing buyers. If you manage to sell all your racks, your $100 gift card will give you $200, making a 100% profit.
The good thing about this approach is that people love deals and buy anything at a discounted rate, even without verifying the market rates. You can make products; however, there is a chance that you might get stuck with a product if you do not sell.
Regift To Someone You Know
Sometimes the hassle of trying to sell, exchanging your card, or buying products to resell can be overwhelming. While you might want to get the most value out of your card, sometimes the cards don't play in your favor.
But you do not have to keep your unwanted gift cards, yet someone in your circle can find a use for them. You can regift it to a friend or someone else you think will find valuable items in the store your gift card is from.
Donate Your Gift Card To Charity
Your card might not be helpful to you, but it can make a change as a donation to charity. Platforms such as Charity Certificates come in handy to help you donate your unused gift cards.
They collect gift cards and match them to appropriate charities from their pool of over 1,000 charities. After donation, you will receive a tax receipt for the card's value or any unused balance of your card, which is a useful direct tax benefit.
Turn Gift Cards Into Airline Miles
If you have many unwanted gift cards, you could turn them into airline miles. You need to create an account with a platform that offers these exchanges to access the award miles from your gift cards.
MileagePlus comes in handy to turn your gift cards into airline miles. You only need to select a retailer from their pool of over 100 retailers. Then enter the gift card information, after which MileagePlus will convert the value into award miles.
They will then deposit the award miles into your MileagePlus account, which you can accumulate and redeem for flights. The good thing is that you can preview the number of award miles before you submit your gift cards for exchange.
You get the total value remaining on your card in miles, and there is no limit to the number of gift cards you can exchange. As long as your gift cards have a minimum balance of $15, you can exchange them for miles. Miles take about five business days to reflect on your account.
So, can you return gift cards? The answer depends on your state, the retailer, and how much you have left on the gift card when you wish to return it. A retailer may refund the full amount to the original paying method or offer an in-store credit, giving you an amount equal to the money on the card. Luckily, there are many other ways to exchange an unwanted gift card for something you prefer.