A 19th birthday is a special milestone for many young adults, marking the end of their teenage years and the beginning of adulthood. Celebrating this important occasion with friends and family is a great way to make memories that will last a lifetime.
However, planning a 19th birthday party can be a daunting task, especially when it comes to choosing the perfect theme and decorations. Fortunately, there are plenty of fun and creative ideas that can help make a 19th birthday party an unforgettable experience.
In this article, we will explore some of the best 19th birthday themes and decoration ideas that are sure to delight any young adult on their special day. From classic party themes to unique and trendy ideas, there is something for everyone to make their 19th birthday celebration one to remember.
🎉 You might also enjoy reading:
19th Birthday Themes & Ideas
If you choose to have a traditional party at home, you might want to splash out and add a theme to make it more impactful. There are so many amazing themes to choose from.
Have a look at some birthday theme ideas below that you could incorporate for your 19th birthday party.
1. Hawaiian Luau Party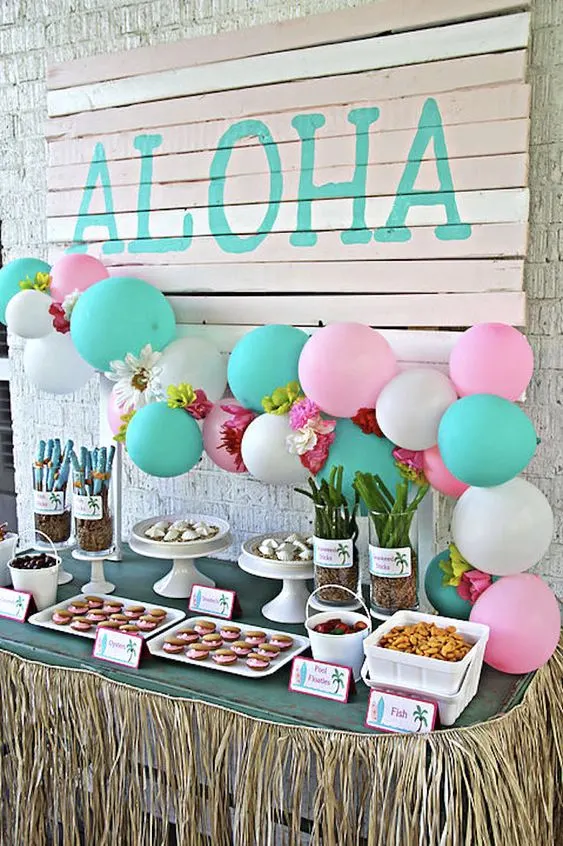 Think about the tropics, where the beach is filled with palm trees and coconuts. Add the Hawaiian mocktails and decorate the venue with this in mind.
2. Vegas Casino Party
Rent card tables with slot machines and set them up for the birthday. Have fake dollar bills that guests can trade for casino chips. Stay on a theme by having the colors down to white, black, and red. For food, have soda, fish, nachos, and chips.
3. Old Hollywood
Light up the venue with posters of your favorite celebrities. Create a wall of fame with a spread of cookies and red-velvet cupcakes as snacks.
4. Stars and Moon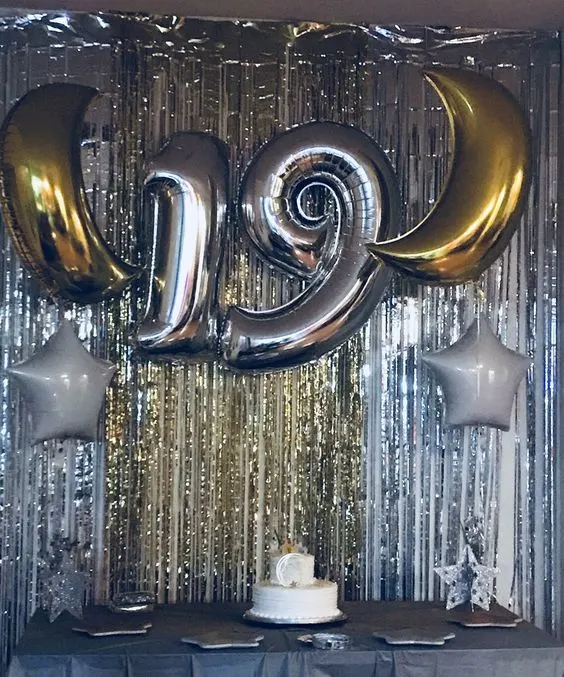 Decorate the venue with stars and moon-shaped balloons and decorate cookies and cupcakes with star and moon shapes. Use a shiny backdrop and light up the platform to match a night under the stars and moon. Silver and gold colors are ideal for this theme.
5. Mexican Fiesta
This theme reminisces the Mexican festival, with a dance floor, Mexican music, and Mexican food to wrap it all up.
6. Murder Mystery
Host your own murder mystery party. Purchase a game or create your own script for the mysterious murder. Have the party outfits match the roles, where suspects and sleuths can wear thriller costumes.
7. The Emoji Party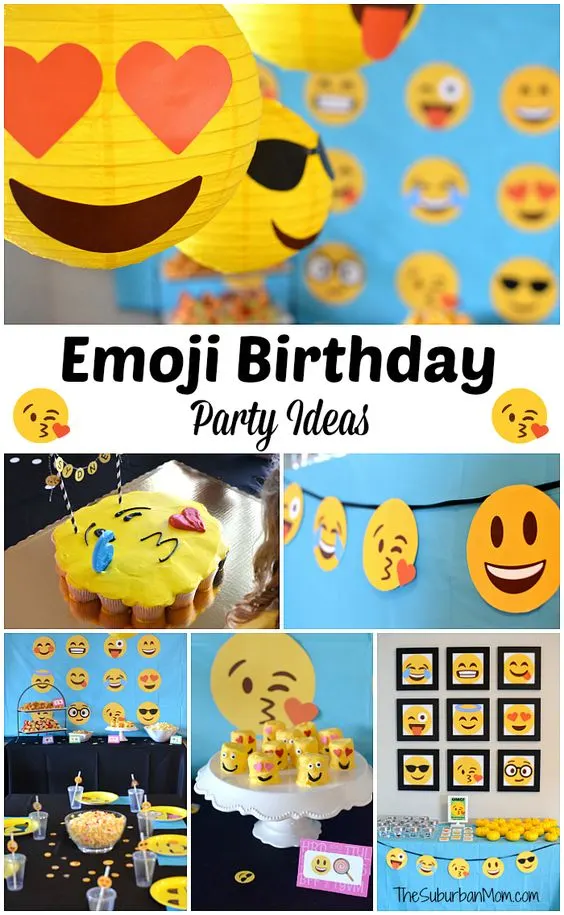 Decorate the venue with emoji-themed decor and incorporate the same in cupcakes, cookies, and other treats. Have emoji-themed cups and plates, and for extra spice, print emojis on t-shirts and have an emoji-filled backdrop for photos.
8. Lord of the Rings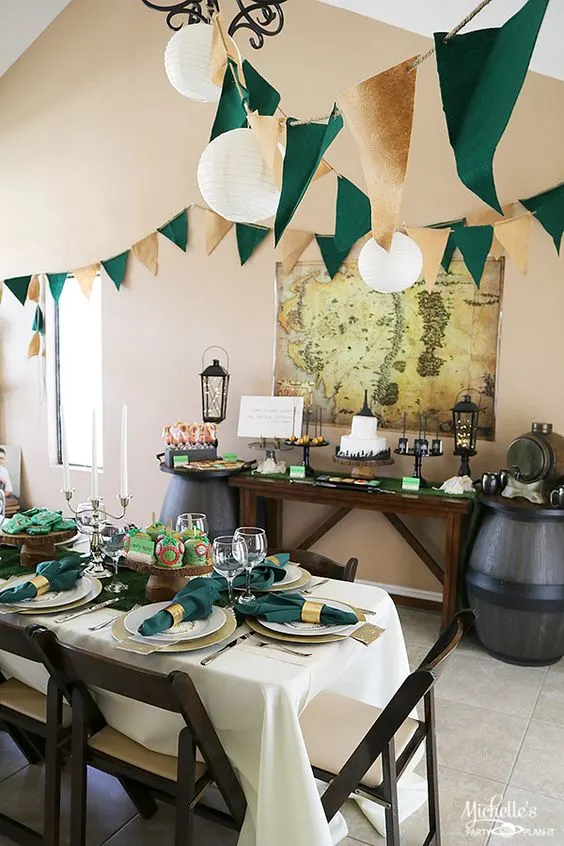 Get inspired by the style Lord of the Rings brings with food, party decor, and games. Have a Shire tablescape, an aged barrel drink dispenser, and a chai tea table. Spice this up with a Lord of the Rings Desser table to complete the theme.
9. Masquerade Party
A masquerade party can be an interesting idea where it can be hard to tell who is who. It works perfectly for evening birthday parties. Guests can dress up in suits and dresses, complete with masquerade masks.
10. James Bond 007 Party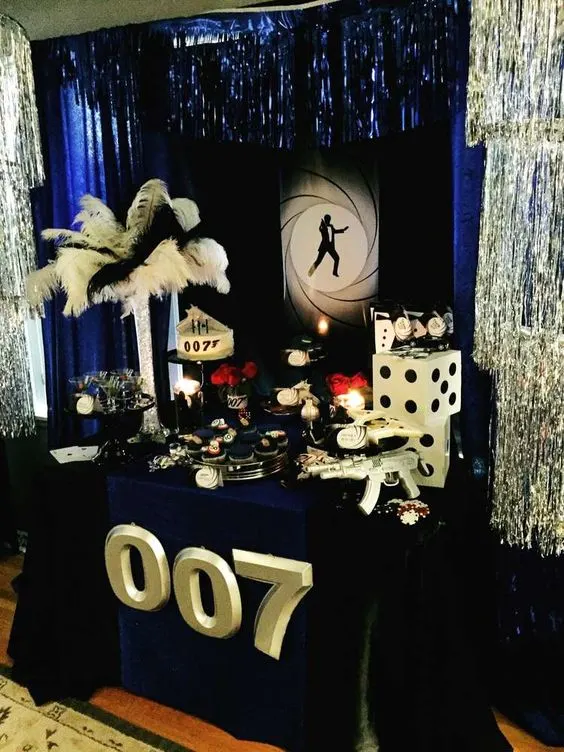 Have guests come in James Bond costumes and ask them to get creative with their looks. Find vintage movie posters and film stills for decorations and add water guns as centerpieces. Do not forget James Bond music to complete the theme.
11. Neon Lights Theme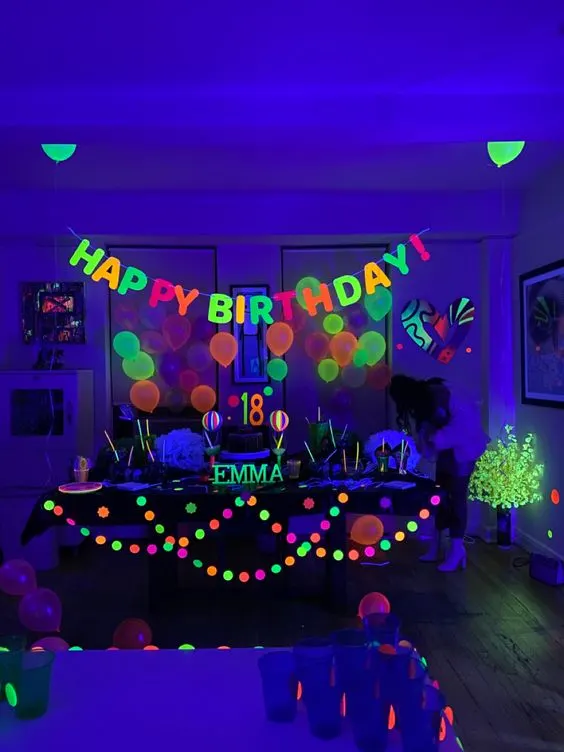 Neon lights create a great vibe that makes for a fun theme. Bring the club to the party with UV or black lights, balloon lights, and enormous neon signs.
12. Bollywood Theme
If you are looking for an elegant, flashy theme for your 19th birthday, a Bollywood theme will do you justice. The glittering decor, bohemian jewelry, red carpet, a photo backdrop, and Bollywood songs will bring life to the party.
13. Fear Factor Birthday Theme
This theme will have everyone laughing in fear and amusement with the funny photos the guests will take. You can add games and challenges to spice up the party and keep the guests engaged.
14. Music Festival Theme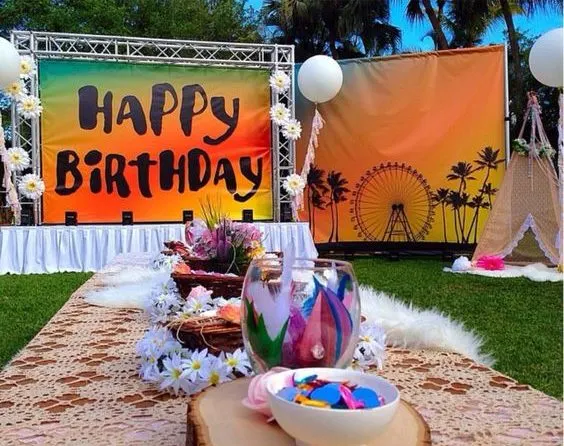 If you enjoy music and love to go to festivals, you can also bring this to your birthday party. Set up a large screen and have a projector to show live performances of your favorite bands. Spice this up with fun lighting, funky face paints, glow sticks, and temporary metallic henna tattoos.
15. Coachella theme
Bring in the flower crowns, inflatables chairs, and flashy rhinestone temporary tattoos for a fun-filled birthday party. Have a killer dance playlist featuring music from past and present Coachella headliners.
19th Birthday Decoration Ideas
While choosing the perfect theme and activities is important, the right decorations can really set the tone and create a festive atmosphere. Whether you're planning a small gathering or a big blowout, there are countless 19th-birthday decoration ideas to help bring your vision to life. I've shared some fun birthday decorating ideas that will transform your home quickly and easily. From simple and budget-friendly ideas to more elaborate and luxurious options, we've got you covered with everything you need to make your 19th birthday celebration one to remember.
1. Birthday Number Balloon Backdrop
Buy big birthday number balloons and add regular ones to the backdrop. Depending on the birthday party's theme, you can add flowers and other decorations.
Rose Gold Happy 19th Birthday Balloon Number
Rose Gold 19th Birthday Party Set
39 Piece Set Includes:
Happy Birthday banner
Rose gold fringe curtain
Gold star banner
40-inch foil 19 number balloons
18 inch rose gold foil star x 4
10pcs confetti balloons
10pcs rose gold balloons
10pcs pink balloons
5pcs rose gold tassels pom poms
33 ft ribbon x 2
2. Fairy Lights and Balloons Decorations
Fairy lights work well with most birthday decorations, especially if you have your party late in the evening or at night. These fireworks outdoor fairy lights, together with balloons and other hanging decors, make a perfect backdrop for photos.
Fairy Lights
8 Pcs Firework Fairy Lights
Fairy Lights
8 firework fairy lights
Flexible starburst light wires
8 modes
LED copper lights
Battery operated with remote
Waterproof outdoor fairy lights
3. Neon Happy Birthday Sign
Neon lights against a flower backdrop make a beautiful setup for the party. You can get muted neon lights for a toned-down theme or go all out and fill the setup with bright neon colors, especially for an evening party.
Happy Birthday Neon Sign
Large Happy Birthday Neon Sign on Transparent Acrylic Base
Bright Happy Birthday LED Sign
Made of 12V high brightness soft LED
Thick quality transparent acrylic base
Easy to set up
4. Balloon Arch Ring Decor
The balloon arch ring has become a popular decor idea for birthdays, thanks to the versatility it provides with the colors, shapes, and sizes of balloons. The ring is a great idea if you like balloon setups for birthdays.
Balloon Arch
Rose Gold Balloon Garland Arch Kit
126 Pieces Rose Gold Birthday Balloon Garland Kit
40 x 12 inch rose gold balloons
30 x 12 inch pink balloons
10 x 12 inch gold balloons
10 x 12 inch confetti balloons
30 x 7 inch pink balloons
16 ft ballon strip
Balloon tie tool
32 ft balloon ribbon
100pcs dot glue
5. Glow in the Dark Party Decor
Get glow-in-the-dark decorative pieces and set them up in your venue. You can hang some from the ceilings, on snacks tables, and around the chairs for a balanced setup.
Glow Party Neon Party Supply Set
Glow In the Dark Neon Party Set
Neon Party Set
25 pieces of 12 inch neon latex balloons
A 157 inch neon light paper wreath
6 pieces of 16.4 ft ultraviolet black photosensitive tapes
6. Marble and Blush Decoration
Marble decor has been a trend, and with the right color combination, it makes a perfect backdrop for a birthday. Mix and match the colors and have hints of marble on snacks and cake to balance it all.
Grey Gold Marble Texture Round Backdrop
Grey Gold Marble Texture Round Backdrop
7x7ft Themed Birthday Background
Professional polyester fabric
Durable, soft, vivid color, lightweight
Can be washed and reused
7. Outdoor Picnic Decorations
A picnic birthday in the summer is always a good plan. Find a few colors and match them together with flowers and placemats. A balloon or flower garlard can come in handy for extra styling.
Outdoor Picnic Decorations
Huge Lace Teepee Tent for Adults
Large Lace Tent
87 inches high, 70 inches deep, and 76 inches wide
The teepee can fit 4 adults
15 pine poles
10 connecting pipe sleeves
1 portable canvas bag
Instruction manual
8. Under the Stars
An under-the-stars birthday party with fairy lights and candles is a creative decor idea for a birthday. A long table with a muted setup and a few flowers will complete the look.