Hey Dudes are trendy, fashionable shoes that provide a wide variety of comfortable, lightweight footwear. It is important to know how to tie them correctly in order to enjoy all their benefits.
Below, you will learn how to tighten Hey Dude shoes and get answers to questions about the comfort of these beloved shoes.
How To Tighten Hey Dude Shoes
Hey Dudes come in full sizes and are not offered in half sizes. So if you usually wear half sizes, it's advisable to choose the next size up for the best fit.
Hey Dudes have a standard width and a rounded toe-box, so your toes have a little more room than a typical tennis shoe.
If you find that these are a bit loose, there are several ways to tighten them.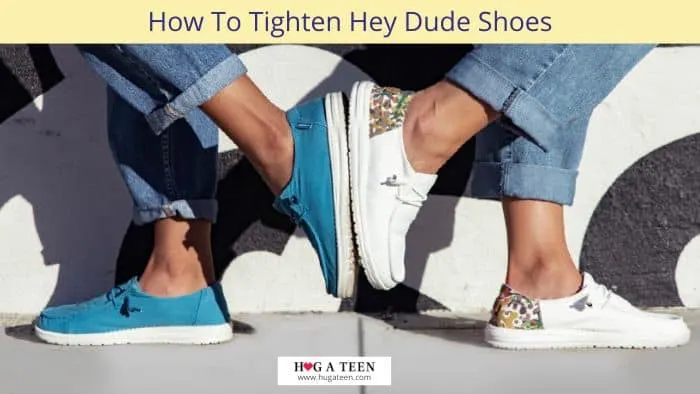 1. Reposition The Knot On The Laces
The best way to adjust the tightness of your Hey Dude shoes is to reposition the knots on the laces.
Step 1: Untie the shoe's knots on both sides.
Step 2: Adjust the tension by pulling the laces.
Step 3: Secure each lace in your desired position with a new knot close to the eyelet.
Here's a video demonstrating how easy it is to reposition the knot on the laces:
Pro Tips:
1. If you struggle to loosen the knots, try pushing the knot through the end to get it undone.
2. If you don't like the longer laces sticking out, you can cut them (and burn the tips), or you can use the lace hack mentioned below.
2. Lace Hack
If your Hey Dudes have toggles over the knots, and you don't want the laces flapping loose, you can try this lace hack by Gary Noble.
Step 1: Put your shoes on your feet
Step 2: Pull the laces tighter.
Step 3: Thread each lace through the front lace.
Step 4: Move them along the side of the shoe with the toggle facing forward.
This will give your shoes a tighter feel and look as well.
Watch Gary demonstrate in his video below:
3. Loop The Laces
If your Hey Dudes have a toggle over the knot, you can tighten them by threading them over each other in the middle of the shoe.
Step 1: Stretch out the elastic laces as you pull them.
Step 2: Loop one lace under, and the other should come to the top. You don't need to tie a knot, as the toggles will keep the shoe tight enough. It will feel comfortable, and make sure the shoes fit snuggly without slipping off.
You can watch how to do this in the video below:
4. Wear Socks
Although it might not be cool to wear socks with your Hey Dudes, wearing pair of socks will make your shoes fit more snugly on your feet.
You should note that you may want to size down in the Wally and Wendy Hey Dude styles since they are made of woven cotton and will stretch out.
📢 Suggested Read: Do You Wear Socks With Hey Dudes? [Answered]
5. Size Down
If you find that you don't like the loose fit of your Hey Dude shoes or that they have stretched after wearing them for a while, you could consider sizing down when buying your next pair of Hey Dudes.
Tightening your Hey Dudes will help if:
Your shoes have stretched.
You have narrow feet.
You prefer a snug fit.
You usually wear a half-size smaller.
6. Machine Wash Warm
Hey Dudes are machine washable, but you're supposed to wash your shoes in cold water. So you could try washing them in warm water as they might shrink slightly. But we warned that this would be permanent, so only do this if they're really too wide and you can't adjust the laces enough for a comfortable fit.
You should still avoid drying them in direct sunlight as this could affect the color of the shoe.
Always opt to buy a shoe that fits well without the need for tightening. Sizing tips are provided on the company's website. A favorite pair of shoes should provide perfect comfort, be it a boat shoe or classical, traditional shoes.
📢 Suggested Read: How To Wear Hey Dude Shoes (Tips & Outfit Suggestions)
How To Tie Hey Dude Shoes
Hey Dude shoes are specifically designed so that you don't have to tie the laces as you would with traditional sports shoes. However, the elastic laces give you more tightening options than you would have with a typical loafer.
If you find that your Hey Dude shoes are too loose, there are several ways that you can tie the laces to make them fit more snugly.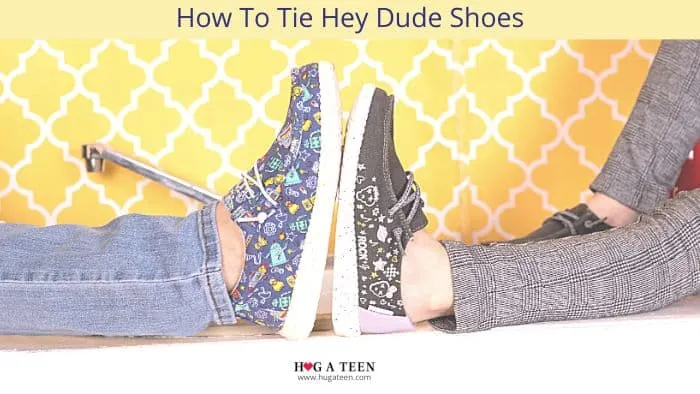 Have a look at the following Hey Dude shoes lacing options:
1. Single Knot Method
One of Hey Dude Shoe's lacing options is the single knot method. You start by loosening the knots on the laces. Pull the laces tighter for a comfortable fit, and then place a new knot next to each eyelet. Essentially, this should match the shoe's original tying design, which is a loose-fitting shoe.
2. Cross Over Looped Laces
After putting your shoes on, pull the laces slightly. Take the ends of one lace and tuck it under the front lace. Do the same with the other lace to achieve uniformity and neatness.
3. Loops On The Sides
You can slightly modify the above method. Once you have put on your shoes, pull the lace on the side until it stops by the knot. Take the end part of the excess lace and tuck it under the side lace. Do the same with the other lace on the other side. You can watch this lace hack by Gary Noble in the video above.
It's best to avoid the usual loop, bow, or double knot method of tying your Hey Dude shoes, as this is not part of the specific design of the shoe and won't look good.
Always remember not to tie the laces too tight, but just enough like a regular shoe.
Related Hey Dude Questions
Do you tie the laces on Hey Dude shoes?
Women's Misty, Wendy, and Polly and Men's Wally, Paul, Jack, and Walsh HEYDUDE shoes are popular because they don't require daily laces tying. Easy-on lace fit allows you to slip them on without worrying about tying laces.
However, you can tighten the laces on Hey Dude shoes if you want a more snug fit. They are, however, designed for a loose, comfortable fit despite some having double laces.
You can also purchase a smaller size if you prefer your shoes tighter. Ideal shoes should always give excellent comfort.
Are Hey Dudes supposed to be loose?
Hey Dudes are supposed to be loose. The design allows for a loose fit, which can be adjusted. They were originally designed to provide a loose, comfortable fit as compared to other traditional canvas shoes. They are meant to be everyday walking shoes to fit true to size.
Some designs can become looser with wear. If you have narrow feet, you might want to consider going for a smaller shoe size as opposed to the size of your everyday shoes, especially if you wear half sizes. Being lightweight shoes, they might feel loose when compared to regular shoes.
For customers needing a half size, HeyDudes typically suggests sizing up for men's styles and sizing down for women's styles. So, if you happen to wear a size 9.5 in men's, they recommend a size 10, and if you wear a size 8.5 in women's, they recommend a size 8.
Those with wide widths are best if you need Hey Dude shoes to wear for long hours. Because the longer you are on your feet, the chances are they will swell. With the swelling, you start feeling too snug, which gets tighter as the hours go by.
Are Hey Dudes supposed to be snug?
Hey Dudes are not supposed to be too snug. If you need a more snug fit, tighten the laces to get the desired fit. Some popular styles stretch easily to match the shape of your feet. They also have replaceable memory foam-based footbeds for more comfort.
They can be tight but not too tight to make you feel uncomfortable walking in them. Your toes should fit well without touching the front of the shoe. The forefoot should be a little loose and a little snug in the mid-foot area and hind foot.
Shoes for women are usually streamlined and snugger in terms of fitting. Those designed for men are wider. Any casual-style shoe should be snug without being uncomfortable. This way, you avoid shoe bites and blisters.
A shoe that is too tight might hurt your feet. If you prefer a more snug-fitting option, consider getting comfy shoes that are loose enough so as not to limit motion. A stretch-style shoe is best since it stretches to fit the size of your feet.
Are Hey Dudes wide or narrow?
Hey Dudes are medium width, with a wider rounded toe-box. The fit depends on their different styles and sizes and how your feet naturally take shape in them. That said, people with wider feet find that they fit well, are not too snug, and are comfortably loose.
If you have a wider foot type and looking for long-wear comfortable shoes, Hey Dudes may be your best option. However, the shoes have to be just the right size, not too small and not too big for your feet.
On the same note, if you have slender feet and are looking for narrower types of shoes, you need to select a smaller pair. They will eventually stretch to fit you due to their elasticated fiber. Through a bit of trial and error, you will get a size that fits you perfectly.
Are Hey Dudes comfortable to wear all day?
Hey Dudes are comfortable to wear all day, thanks to their lightweight, breathable nature and ultra-soft sole technology. They are a great pair of walking shoes and come in handy as an everyday pair for school, work, or errands.
Hey Dude offers a selection of insoles that go well with the shoes' standard colors. These insoles contribute to the comfort of the shoes, providing cushioning to protect your feet from shock all day.
However, for a comfortable fit, you need to ensure you get the right fit. Additionally, the shoes should offer ankle and arch support. Well-fitting casual shoes also last longer as they will not be strained by your feet.
Conclusion
A common question is, 'How to tighten Hey Dude shoes?' While this comfortable slip-on shoe is designed to have a loose fit, the elastic laces are adjustable by simply moving the knot closer to the eyelet. Follow these steps to have comfortable, well-fitting shoes in no time.
I hope you enjoyed this article on the amazing shoe brand Hey Dude and how to tighten them.