Whether you want to call it boho or bohemian, this chic style follows unconventional principles and is all about mixing and layering different textures, patterns, colors, and furniture styles. From modern and trendy to rustic and vintage, bohemian room decor can add character, personality, and whimsical charm to any teenage girl's bedroom.
Cozy boho bedroom decor allows you to combine meaningful objects and repurpose old items, to create a space that embodies your personality and reflects your unique interests.
For inspiration when designing your room, to express your personality and look mystical and cute, here are the best boho bedroom decor ideas to help you create the perfect space for you.
What Does Boho Mean?
Boho is short for bohemian. According to Wikipedia "Bohemianism is the practice of an unconventional lifestyle, and involves musical, artistic, literary, or spiritual pursuits. In this context, Bohemians may be wanderers or adventurers."
In this context, boho style uses unconventional decor design rules and encourages an eclectic mix of patterns, colors, and textures, to create a layered, personalized look.
Stylish Boho-Chic
Check out this beautiful bedroom design with a feminine touch and a bohemian vibe.
The fringe chandelier is gorgeous and I love the accent wall! From the statement wall with its brilliant pops of color to the gray and light color scheme, the feminine touches, plus all the attention to detail, the space looks so chic.
This is a favorite teenage girl bedroom idea that your daughter is sure to love!
Suggested Supplies:
Modern Boho
Modern bohemian bedroom style calls for a clean, fresh, white room with a pop of bright color on your wall, as the backdrop for wood, rugs, and textiles.
Whether your flooring is hardwood, laminate, tile, or carpet, adding some rugs will add a cozy, bohemian feel.
Don't forget to add throw pillows and make them a focal point of your bedroom. Your pillows are indeed the cherry on top of your bed, so choose some throw pillows that you absolutely love!
Another chick room idea teenage girls will love.
Suggested Supplies:
Cozy Bohemian
This boho interior features crisp white walls, curtains, and furniture contrasting with warm medium-toned linens and furniture.
Rattan ceiling lights, macrame plant hangers, lots of plants, and a patterned rug have been used to decorate the room.
Suggested Supplies:
Fairy Lights and Macramé
Fairy lights add the perfect finishing touch to any boho bedroom. This is an affordable way to create the most relaxing atmosphere.
Small fairy lights come with an almost entirely invisible wire, which you can find in a variety of shapes and sizes as well.
Macramé is also pretty much a bohemian staple, so take advantage of this to decorate your walls.
Suggested Supplies:
Grey & White
Bohemian bedroom designs are easier to achieve than you might think.
Using a simple color scheme still has the power to make a powerful statement.
Grey and white pieces create a gorgeous contrast with each other.
Modern metal black pieces add a contemporary touch to the white comforter and ceiling swing.
Suggested Supplies:
Rattan Accents
Bohemian style bedding and shiplap walls bring boho style to this bedroom.
The rattan side tables with statement table lamps aesthetically complement the high ceilings.
Blue-green on the bedding adds a splash of color to the room and enhances the minimal accessories.
Suggested Supplies:
Tapestries for Wall Decor
Creating a centerpiece on your wall, like this beautiful tapestry, is an easy way to achieve a bohemian look.
The centerpiece makes a focal point in the room around which you can bring together the other decor elements.
Simply adding a tapestry to your bedroom can transform it into a whole new look!
Suggested Supplies:
Whimsical Bedroom
Boho-inspired fabrics and elements influenced by nature complete this bohemian bedroom.
Canopy beds are a stylish addition to any bedroom. Lightweight fabric on this canopy provides a space with a fresh, airy feel and sophistication.
The white color scheme creates a calming atmosphere.
Suggested Supplies:
Wooden Headboard & Earth Tone Fabrics
An intricately designed sunrise pattern highlights the beautiful design of this handmade rattan headboard, adding a casual boho vibe to any bedroom.
It is the room's focal point and adds warmth and character, and I adore its natural wood-look finish.
Suggested Supplies:
Hanging Plants and Tassel Chandelier
Wall decorations in this bohemian room include hanging plants with macrame ropes.
You could pair it with a tufted chandelier to make your room look more dynamic and appealing.
I like how it complements the semicircular mirror hanging over the bed and how it adds loads of personality.
To give the room an atmosphere of warmth, add a bohemian-style rug.
Suggested Supplies:
Country Style Boho
This room inspired by natural elements and muted colors gives you all the feels of nature.
It has a natural, relaxed atmosphere. Bohemian girls who love barefoot comfort will be glad to have this type of room.
Suggested Supplies:
Tribal Prints
Boho style features bright colors and patterns mixed with ethnic elements, such as tribal and geometric prints.
A throw blanket and rug complement white walls in vibrant colors.
The rest of the room is kept simple to let the tribal patterns be the focal point.
Suggested Supplies:
Tropical Boho Style
Someone with a relaxed, eclectic sense of style would enjoy tropical boho!
This style combines several different elements to create an aesthetic that's distinctive and vibrant.
Creatives and free spirits will love it.
Suggested Supplies:

Textured Area Rug
Modern boho bedrooms are perfect for styling with rugs.
It provides a focal point to the room, framing the bed and drawing everything else's attention to it.
The rug's neutral color palette highlights this contemporary bedroom.
The red accents on the bed and walls add warmth and harmony to this boho-inspired bedroom.
Suggested Supplies:
Neutral Colors
Black and white textiles are used in a variety of patterns in this relaxing boho-style room.
Decorative pieces include a vintage chest of drawers painted black and cream, a vintage lamp with a wicker base, a rust-colored pillow to add excitement, colorful art, and a quirky metal arrow above the bed.
The black and white color scheme add elegance that feels inviting and make you feel more at home.
Suggested Supplies:
Macrame Hammock
Who would not love to hang out in this stunning macramé hammock hung from a simple, rustic-wood loft bed in this bright Bohemian bedroom?
It's a Boho dream come true!
Suggested Supplies:
Moon Phase Wall Decor
Bohemian bedrooms and other types of rooms are often inspired by the stars and the cosmos.
Adding a moon phase wall hanging to a bare wall in your bedroom would be a great way to add a decorative element.
Your boho-themed decor will look stunning with this elegant piece.
Suggested Supplies:
A Decorative Rose Vine Garland
When you're working with a limited budget, faux plants and vines are a great way to achieve a boho look in your bedroom.
The tasseled bedding proves that white teen bohemian bedding need not be dull and minimal.
This gorgeous bohemian bedroom features leather and wood accents, creating a stylish and effortless look.
Suggested Supplies:
Pom Poms
Make your room more colorful by adding some pom poms.
A bold and bright pop of color in this room makes the room dynamic, from the pom-pom pillow on the bed to the string hanging from the bed frame and plant holder.
Suggested Supplies:
Wooden Framed Bunk Bed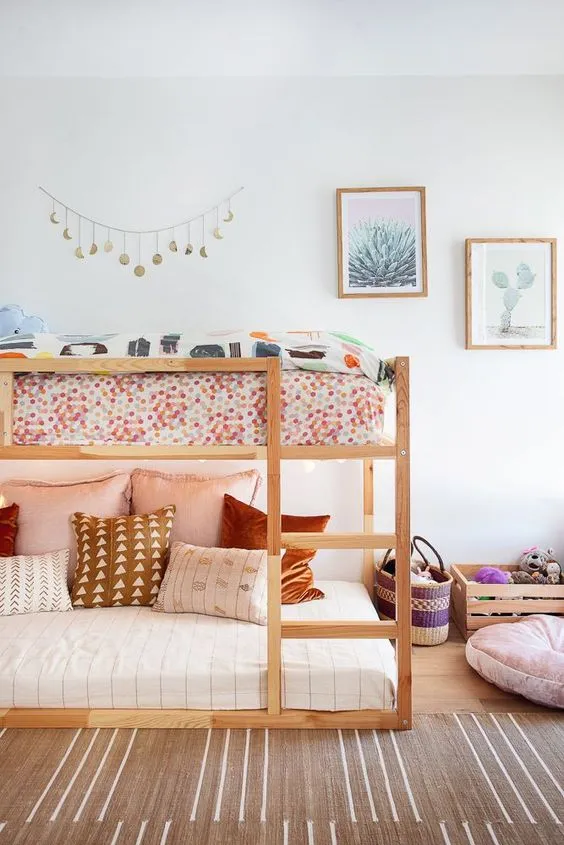 This minimalist boho-style bedroom features a clean wooden bunk bed with a simple wooden frame.
As well as being stylish and fun, this loft-style bedroom is also very space-efficient, allowing your teen to invite friends for a sleepover.
Suggested Supplies:
Black and White Boho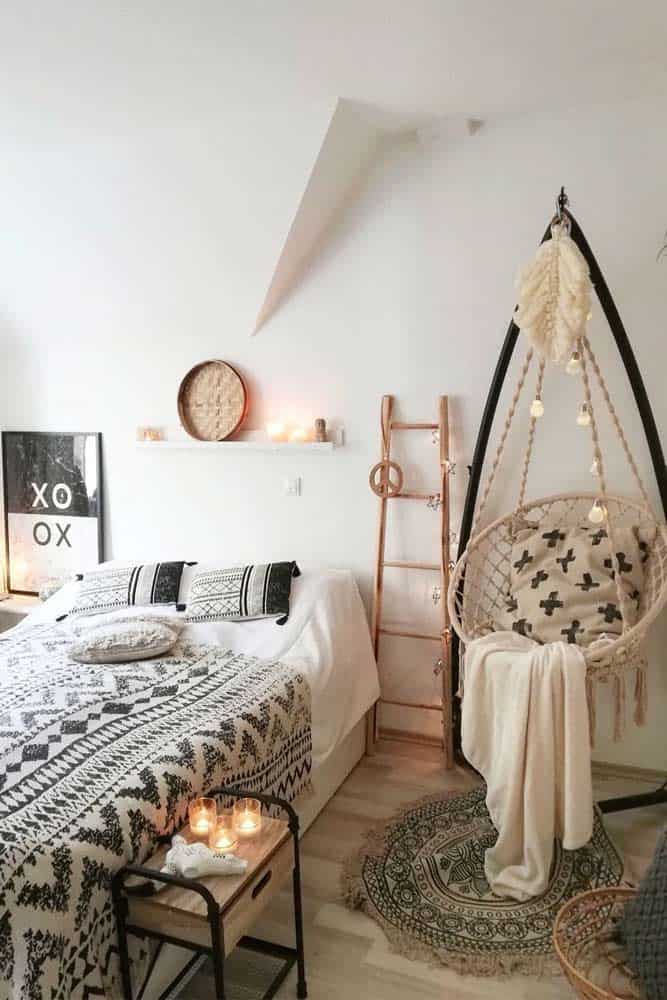 Keep your black and white boho bedroom feeling airy by adding some white linens and other bright white pieces.
Your teen will appreciate it if you let her feel make her room as comfortable as possible whilst expressing her personality too.
Suggested Supplies:
Modern Boho
Muted tones are more relaxing to the eye when designing a bedroom.
A neutral boho teen bedding set is a perfect way to create a blissful, boho girl's room.
By layering bright pillows and throws, you will be able to add a pop of color to your room.
Suggested Supplies:
Dark Accent Wall
Dark accent walls add depth to any room, helping all the other colors in this bedroom stand out.
Navy-blue walls extend the space, appearing more prominent, and drawing attention to the wooden bed frame and white blanket.
Both the turquoise seat and patterned rug make the room appear more dynamic.
Suggested Supplies:
Dreamcatcher
Dreamcatchers are a great way to bring bohemian style into your room.
Combining a purple tone with a sweet pink adds just a touch of color to any boho room decor.
Suggested Supplies:
Upcycled Wood
Do you like the rustic decor in your home?
This bedroom, with its upcycled wood piece on the wall and the neutral shades and textures accenting every nook, gives off an inviting bohemian vibe.
Suggested Supplies:
I hope you've enjoyed looking through all these inspirational boho-inspired bedroom ideas for teens. There are so many cozy boho bedroom decor ideas to choose from. Hopefully, you've found your favorite.