Finding the ideal yard and garden care service can be tricky and expensive.
Maybe your child or teen would like to take on the task, or perhaps you know a teenager in the neighborhood willing to take on yard work.
But now the big question is: how much to pay a teenager for yard work?
In September 2023, the average hourly rate to pay a teenager for yard work in the United States is $10 – $15 an hour. If you pay a flat rate per job, offer $25 for mowing, weeding, and edging a large lawn. You can pay $15 for trimming bushes and $10 for clearing debris. Set a rate and be ready to haggle.
Several other factors might influence precisely how much you decide to pay a teenager for yard work.
This article will discuss the main factors determining how much to pay a teenager for yard work.
Factors Affecting How Much To Pay A Teenager For Yardwork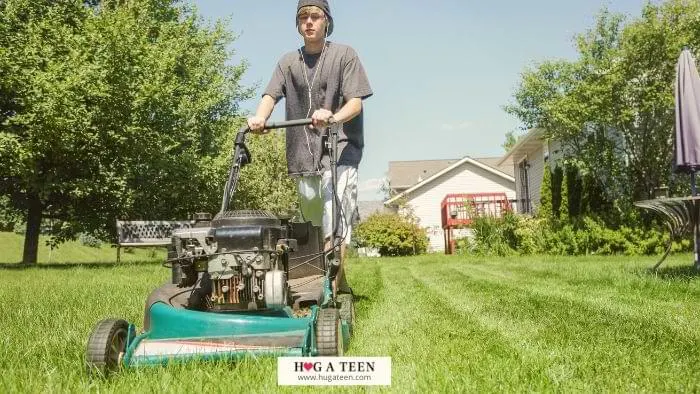 Paying Per Hour, Per Week, Or Per Task
If you pay per hour, or per week, then your teen can choose to slack off and earn more for the privilege.
If you pay per task, then you don't run the risk of overpaying for the service.
So, generally speaking, you are better protected by paying for the job and not the hours.
If your teen takes longer than expected, then you're not out anything extra.
Also, if they work super hard and finish under the time you accounted for, you can congratulate them on their strong work ethic and possibly add a tip for a job well done.
🤓 Suggested reading: Can A 13 Year Old Have A Debit Card?
Age Of The Teen
Rates for yard work can vary depending on the age of the teenager.
As a rule of thumb, the older the teen, the higher the rate.
Older teens (15-18 years old) will get higher pay than younger teens because:
Older teens have more job opportunities that offer a regular wage. So you'll have to match the pay they might get paid by other part-time jobs.
They might have gained experience by helping their parents with yard work or working other yard work jobs.
They might be operating a real business and paying taxes.
They might have expenses to take care of, such as transport, tools, phone, etc.
They're more likely to set financial goals and manage their income to grow financially.
Younger teens (10-14 years old) have fewer responsibilities and are more likely to take yard work jobs to earn pocket money and have some fun. So they will be more willing to accept lower pay.
The young man below is only 11 years old and he explains how he makes $200 per month with 8 customers:
Experience In Yard Work
Some teenagers have a few years of experience under their belts and can supply references to support their resume.
When teens have more yard work experience, they'll know how to get the job done quickly and effectively.
Typically, you'll pay a teenager a higher fee for yard work if they have some past work experience.
If you have a teenager who has worked for you for a while, then keep them loyal and motivated by giving them a raise.
Offer an extra $0.50 – $1 an hour if they have been with you for about six months to 1 year.
The Yard Work Services Offered
What are the specific tasks the teen can handle?
Generally, you can break yard work down into the following tasks:
Lawn Mowing
Lawn Edging / Trimming
Lawn Weeding
Adding Fertilizer
Trimming Hedges & Bushes
Raking Leaves
Removing Leaves From Rain Gutters
Cleaning Flower Beds
Tilling Flower Beds
Spreading Mulch, Compost, or Fertilizer
Clearing & Packing Garden Debris Into Bags
Removing & Disposing Of Garden Debris
The more tasks the teen can take on, the more you should pay them.
Scope Of Yard Work
When deciding on a fair rate, consider how difficult the job might be.
If you've done the job yourself before then, you should know roughly how long each task should take.
If your lawn is out of control with high grass or lots of weeds, then it might take several hours to mow, weed and bag the garden debris.
Size Of The Yard & Lawn
The total pay will depend on how extensive your yard is, regardless of its state.
More extensive lawns will take longer to mow and weed, and the time required will also depend on the tools available.
Note that terrain that includes slopes or tricky edges might make mowing the lawn more difficult and increase the rate.
Type Of Lawn
Some types of grass grow faster than others while other grasses are unusually thick and take longer to mow.
Also, weeds tend to make a lawn look untidy faster than a uniformly planted one.
In other words, the type of lawn you have might influence the charge for mowing lawns.
Frequency Of Visits
If you have an ongoing agreement, you might be able to negotiate a lower rate.
However, note that a lawn takes more time and effort to maintain when you cut the grass and remove weeds less frequently.
In other words, if the visits are less frequent, then the lawn will require more work, and the more you should expect to pay.
Tools & Equipment
If your teen can provide the tools and equipment to get the job done, they'll require a higher rate.
In this case, they're more likely to be operating as a professional business, including maintenance costs on the equipment.
The better their equipment, the higher their mowing cost will be.
However, most teens will just be starting and require that you provide the necessary tools for the job.
If you're looking for a light & easy to manage lawn power tool for your teen then have a look below:
Best Lawn Tool For Teens
BLACK+DECKER 3-in-1 Mower, Trimmer and Edger
Lightweight and easy to use

A cordless weed whacker with a wheeled base — no blade, just the nylon whacker cord

The trimmer cord feeds itself without having to bump it

Switch from mowing to trimming by just stepping on the lever

Ideal property size 750 square feet

Includes 2x 20V Lithium-Ion Batteries included (for extended run time)
Area Or Location Of Property
The amount of money you pay for yard work will differ from one city or suburb to the next.
Some areas, especially those near major cities and towns, attract higher pay for yard work.
You might also notice that pricing for a lawn care service provider in warmer Southern regions is cheaper when compared to colder Northern areas.
The price difference is because the lawn maintenance business is more stable in warmer climates where the grass needs cutting year-round.
So having a teenager deliver your lawn maintenance services might be an effective solution to this dilemma if you live in a cooler climate.
How Much To Pay A Teenager For Yard Work
Yard work tasks will require different rates depending on the scope and level of complexity required.
The average hourly wage to pay a teenager for yard work in the United States is $10 – $15 an hour.
Note that professionals charge at least $60 per hour or $100 for the average lawn or average size yard.
So by employing a teenager, you'll be saving money but potentially also have to deal with additional training and management issues.
The provision of equipment and tools might also be a factor you must consider in the price.
How Much To Pay A Teenager For Mowing The Lawn
A fair price for mowing a lawn for teenagers is $10 – $15 per hour. The cost for lawn services can be lower or higher depending on if the teen uses your equipment to mow the lawn. Also, teens might expect a higher rate if the job includes edging and trimming shrubs.
Additionally, the cost of lawn mowing will also depend on the size of the lawn and how long it will take to mow.
How Much To Pay A Teenager To Pull Weeds
Pay teens 10 cents per weed, depending on their age. Start by paying 1 cent per weed, 5 cents if they do a good job, slowly increase to 10 cents per weed. If they are consistent and hardworking, you can pay $10 – $15 per hour, especially if the garden is extensive and full of weeds.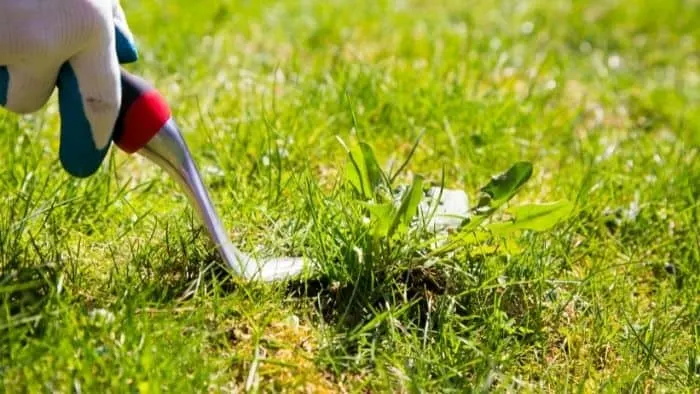 How Much To Pay A Teenager To Till A Garden
Pay teens $10 – $15 an hour to till a garden and do general yard work. The rate can go up to $15 per hour, mainly if teens use their tools and equipment.
The rate you pay a teenager to till a garden will increase if they're adding fertilizer or compost to the garden. The rate could also be higher if the garden is new, requiring more effort to get it ready.
How Much to Pay A Teenager For Leaf Removal
Pay teens $5 per bag or $10 – $15 per hour to rake leaves. Alternatively, you can pay $10 to $15 per hour if you have an expansive yard. The rate might be affected by whether or not you provide a leaf blower.
How Much to Pay A Teenager To Clean Leaves From Rain Gutters
Pay teens $10 – $15 an hour to clean leaves from rain gutters. If your gutters have not been cleaned in some time, this may increase the price. Other factors that can influence price include how many stories your home has, the size and length of the gutters, and if any repairs are required.
FAQs
How much do lawn care professionals charge?
Lawn care companies charge $40 – $60 an hour; however, the majority charge at least $60 per hour, or 1 dollar per minute of grass cutting. The cost of lawn mowing can be between $75 – $145, with an average cost of $100 per lawn.
How do I get the best value for money from my lawn guy?
Ensure you communicate your expectations from the beginning to ensure your lawn guy understands your requirements. Also, it would be helpful to monitor their progress regularly and give clear feedback throughout the process.
How do you price yard work?
Consider the lawn size and the specific tasks you need to be completed. Also, consider the necessary equipment and whether you will need to hire some or use what your lawn guy has. The best way to price yard work is by setting an hourly rate for each task done.
Should I tip my lawn guy?
You can tip your lawn guy if you feel they did an excellent job or did more than expected. If you have major yard work, consider adding a few bucks to the total rate as a tip. The tip can be anywhere between 5-20% extra money paid on top of the agreed rate for yard work.
How should I pay my teen lawn guy?
Consider paying your teen lawn guy in cash or via bank transfer, if they have a bank account. If you pay them with a check then this will involve extra complexity for the minor who must first get the check endorsed before they can cash the check. Find out more: How To Endorse A Check For A Minor
Conclusion
Hopefully, you now have enough information to figure out how much to pay a teenager for yard work.
Always consider the minimum wage that they might earn elsewhere as a starting point.
Then evaluate the teen's skills, and provide the necessary tools and guidance.
To ensure you get the most out of your teen gardener, monitor the job and give regular feedback.
Basic lawn care services provide the perfect job to keep your teen busy and out of trouble in summer and during the school semester!