What Are Mom Jeans?
The term 'mom jeans' refers to women's high-waisted jeans that have the waist above the belly button and are loose-fitting, often with excess material around the crotch and legs. Initially baggy around the thighs, they then become more tapered at the leg, so they don't appear as baggy in general. Hems are often rolled up and fall just above the ankle. Long back pockets give the impression that the bum is longer and flatter.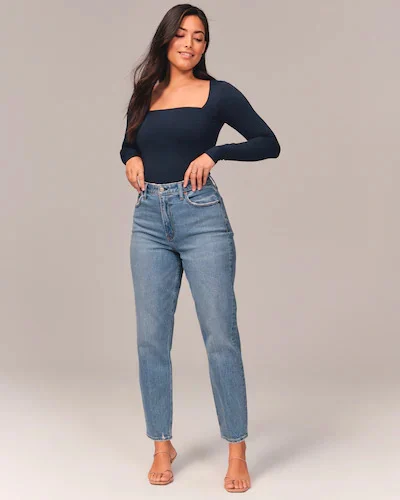 Why are they called Mom jeans?
Mom jeans are a loose-fitting style of jeans that was widely popular until the 1990s; therefore, this type of jeans was considered by younger generations as something only their mothers would wear. Mom jeans is a mildly derogatory term, though in a light-hearted, humorous manner. Mom jeans might seem old-fashioned; however, they do always seem to make a come-back with several alternative styles, colors, and a wide variety of options available.
Mom Jeans vs. Boyfriend Jeans
The height of the waist and the cut of the legs make mom and boyfriend jeans very different. Mom jeans have a high waist, while boyfriend jeans usually have a low waist. Mom jeans usually have narrow tapered legs from below the knee, whereas boyfriend jeans have straight legs that don't narrow below the knee.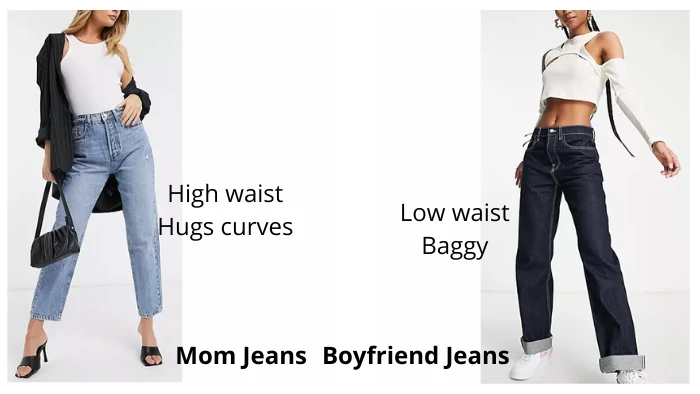 Dad Jeans vs. Mom Jeans
The main difference between mom jeans and dad jeans is that although they have the same loose, comfortable feel as mom jeans, they're more straight-cut and have fewer curves. Mom jeans have tapered legs and come in ankle-length, whereas dad jeans have straight legs and can come in full inseams or ankle lengths.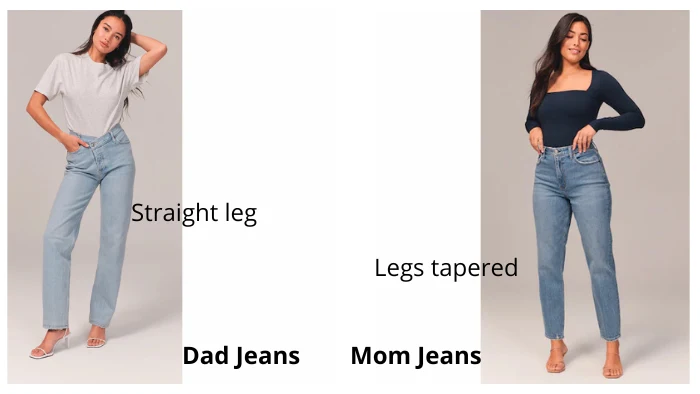 Mom Jeans vs. Straight Jeans
Mom jeans have slightly tapered legs (like skinny jeans), whereas straight jeans have straight legs. Several different waist styles are available with straight-leg jeans, including high waists and low-cut waists. Mom jeans, on the other hand, always have a very high waist. Mom jeans also usually have a baggier cut in the seat and thigh compared to straight jeans. Unlike mom jeans, which shape to fit curved bodies, straight jeans tend to look boxy and rectangular.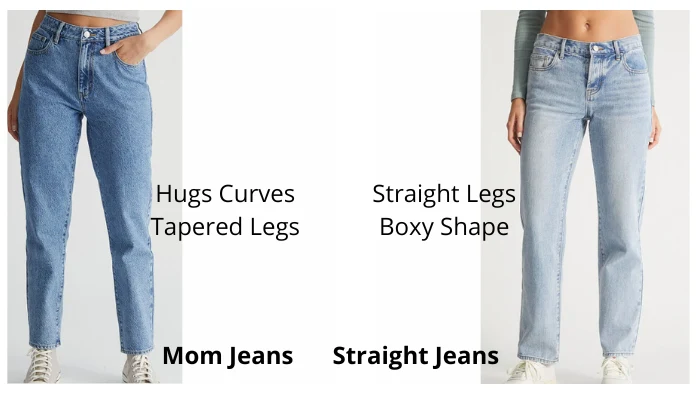 Watch how these ladies wear their mom jeans in the video below:
How To Style Mom Jeans
80s Inspired Mom Jeans
An '80s-inspired outfit is the best way to mimic Princess Diana's style. You can put together a cute vintage look with mom jeans – wear them with a cream sweater, chunky boots, and a small black bag. If you want a sporty look, go with an oversized athletic T-shirt, sneakers, and a blazer.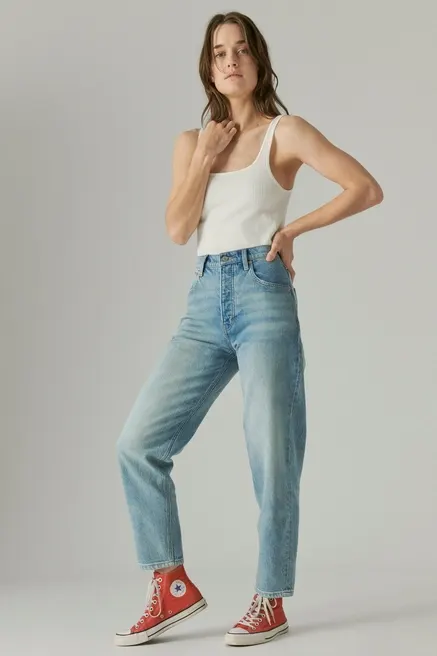 90s Inspired Mom Jean
Relive the '90s with these stylish jeans. Mom jeans are an iconic piece of clothing that looks great with retro flair. Choose from oversized printed T-shirts to chunky turtlenecks to pair them with.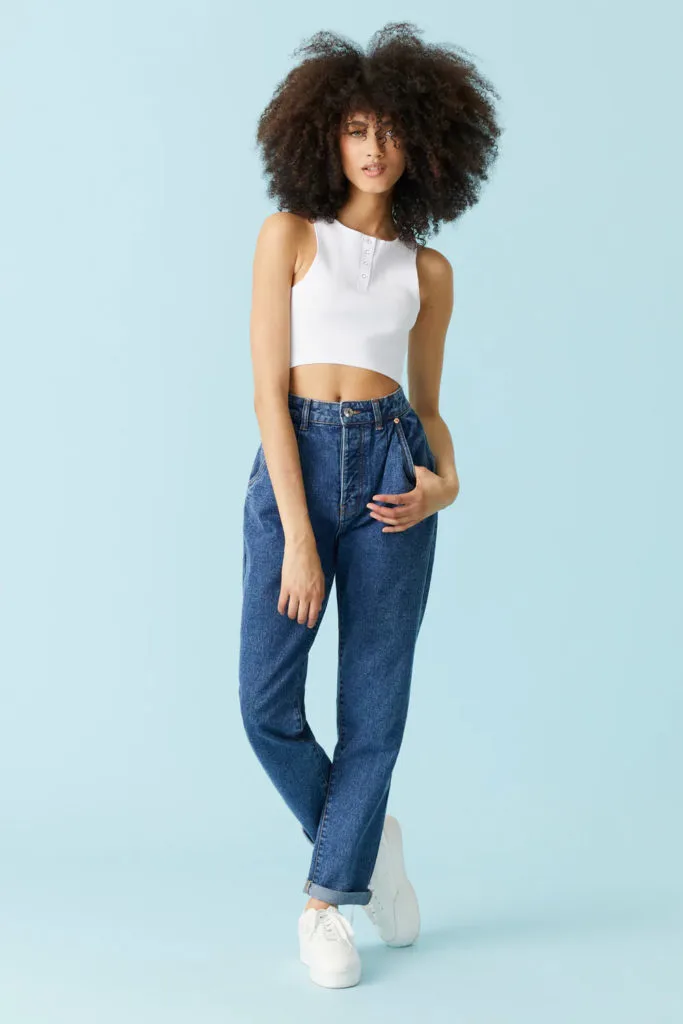 Acid Wash Mom Jeans
If you enjoy being adventurous, acid wash mom jeans are a great choice. They're comfortable and versatile pieces that you can pair with almost anything, whether it's an oversized jumper or a plain white T-shirt. Finish the look with strappy heels for an ultra-chic look.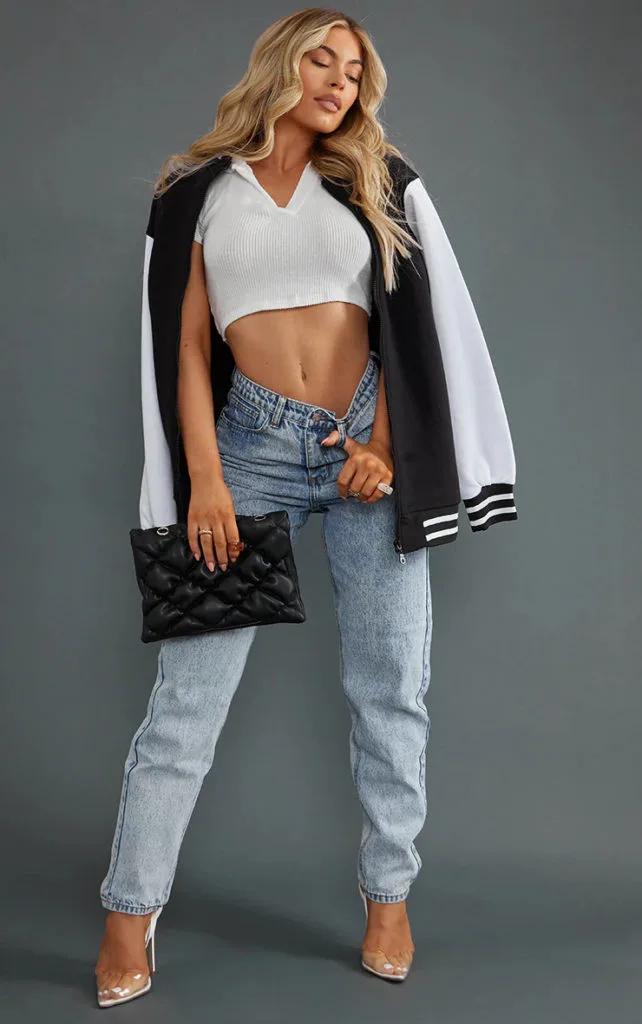 Ripped Mom Jeans
Take the traditional mom jeans and give them a little edge with rips. The small tears to the big rips will instantly add a cool factor to any outfit. This casual fashion staple can be found in all styles of jeans.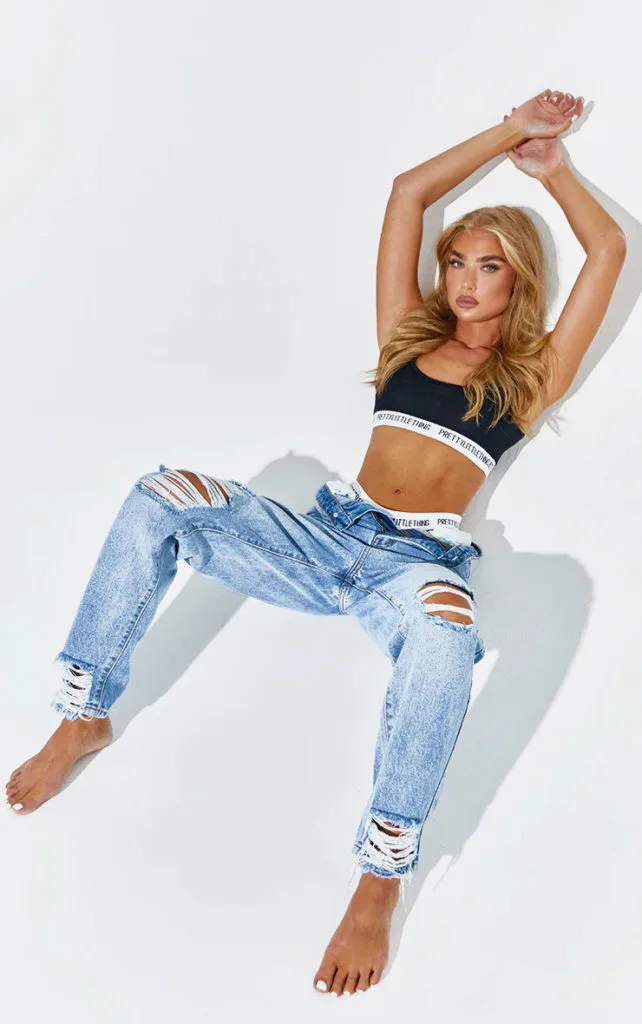 Baggy Mom Jeans
Baggy styles are one of the most comfortable pairs of jeans you'll ever own. Pair them with a tight top and oversized jacket to complete the look. A heel lengthens your legs and creates a streamlined appearance while maintaining proportions.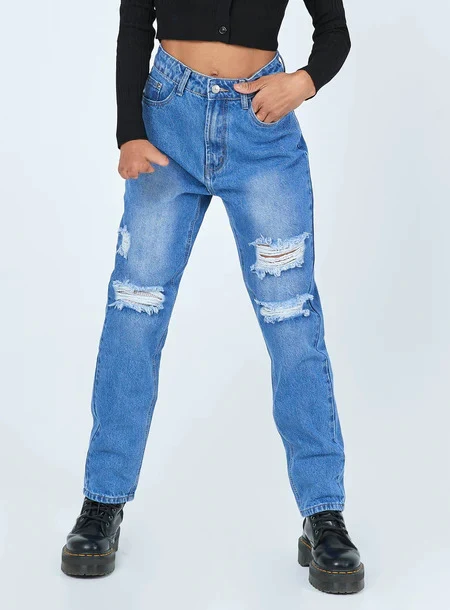 Black Mom Jeans
Black denim looks great with any outfit and suits a variety of occasions. Make it work-appropriate with a white button-down and mules, or turn it into a stylish ensemble with a leather jacket and boots.
Blue Mom Jeans
A classic pair of blue mom jeans can be dressed down if you're looking for a laid-back look. Add a frilly black T-shirt for a modern twist to your everyday look or a leotard and belt to slim you down. To dress up, add a crop jacket and heels.
Light Blue Mom Jeans
A pair of light blue mom jeans will add a fresh and summery touch to your casual ensemble. If you want an '80s vibe, team it with an oversized blazer and a white T-shirt. Or add a chunky bright sweater and sneakers for a cute look.