Vans and Converse and popular classic American footwear brands with similar construction.
For many years, the Converse Chuck Taylor has been the go-to sneaker for hip kids. But in the last few years, Vans Authentics has seen a meteoric rise in popularity, with nods from stars like Justin Bieber and Kristen Stewart.
Although these timeless shoes were manufactured first in the United States, they have become a common shoe option across the globe.
So which is the better brand for the modern-day hipster? Let's take a closer look at the Vans vs Converse debate.
Are Vans Better Than Converse?
The timeless Vans and Converse sneaker styles have created an endless debate. Both offer a rich heritage and a variety of classic silhouettes. Both brands are committed to creating high-quality sneakers.
The pros and cons of each shoe have spurred a variety of discussions on social media and online. Although both types of shoes are very popular, there are some key differences between Converse and Vans.
In this article, we'll compare and contrast these two brands and discuss their benefits and drawbacks.
Hopefully, you'll be able to find a pair that suits your style.
Vans Pros & Cons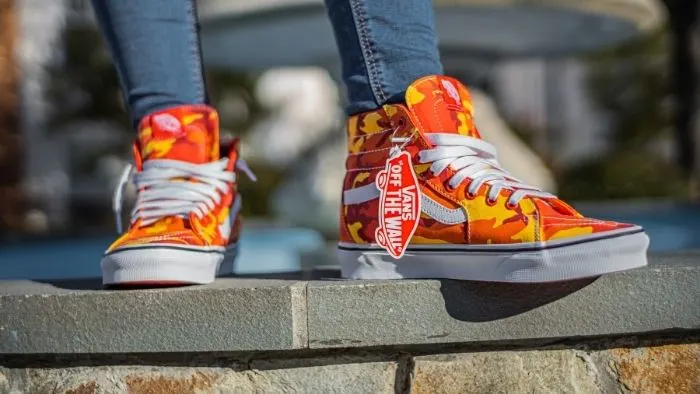 Let's take a look at Vans' pros and cons:
Vans Pros
They're versatile
Versatility is one of the strongest points of Vans. The shoes' rubber soles provide excellent grip, making them perfect for engaging in casual or sporting activities. Vans offers high tops, low tops, and slip-ons.
Come in various styles and colors
Vans come in a wide array of styles, so you can always find a pair that suits your taste. The different styles make them great for sports and casual wear. Vans collaborates with leading lifestyle brands to design styles for various functions. Today, the brand's success can be attributed to the popularity of athleisure and the resurgence of retro styles.
Here are some styles to give you an idea of what they look like:
VANS #44: The Authentic
Their first model, Vans #44, now known as the Authentic, was their first big hit. They set the standard for their future products with the rugged style and sticky rubber sole.
VANS #44
Features:
Classic Authentic Sneaker
Canvas Fabric
Rubber Sole
Padded Insole
Laced
Round Toe
VANS #36 Old School Low-top
In 1977 the Vans #36 Old Skool debuted the Vans side stripe and "Off the Wall" logo. These shoes included leather panels that made them more durable. The distinctive van stripe became an iconic design element.
VANS #36
Features:
Old School Low-Top Sneaker
Suede
Rubber Sole
Padded Insole
Laced
Round Toe
Side Stripe
Off The Wall Logo
VANS #98 Classic Slip-On
Vans Classic slip-on is one of the most iconic athletic shoes worn by skaters, surfers, and BMX riders.
VANS #98
Features:
Old School Low-Top Sneaker
Canvas
Rubber Sole
Padded Insole
Slip-on
Round Toe
Checkerboard
.
VANS #38 Sk8-Hi
These Vans Sk8-Hi shoes were introduced in 1978 that showed the recognizable white side stripe. The higher padded ankle border shielded skateboarders' ankles and was a huge hit.
VANS #38
Features:
High-Top Sneaker
Suede
Waffle Rubber Sole
Padded Insole
Laced
Round Toe
Side Stripe
Off The Wall Logo
Comfortable
Vans are comfortable shoes. You can wear Vans for a couple of hours without worrying about blisters or discomfort because of their thin fabric. Another reason they are comfortable is that they are wider than Converse shoes and provide more room for your feet.
Durable
Vans were designed to withstand the wear and tear caused by skateboarding and can last longer than Converse, especially if they are well taken care of.
Vans Cons
No arch support
You may feel a little discomfort when wearing a new pair of Vans because of the lack of arch support caused by thin insoles. This makes it a bad fit for people with flat feet.
Not compatible with some outfits
One of the most important things people look at when buying a pair of shoes is if they will match their outfits. Vans were originally made for skaters, so they aren't great for pairing with formal outfits.
Converse Pros & Cons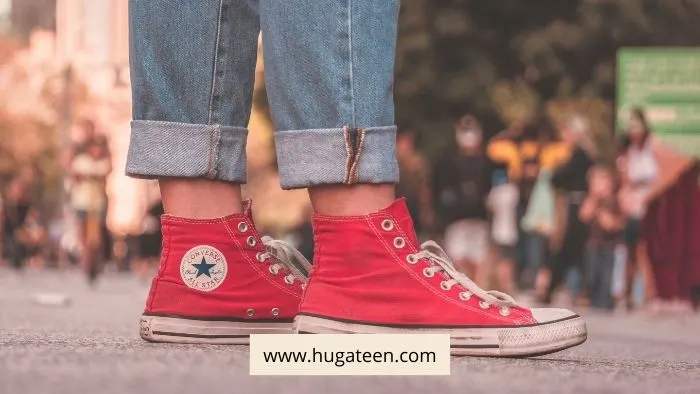 Converse shoes were initially promoted as sportswear. Here are some converse pros and cons:
Converse Pros
Wardrobe-friendly
Compared to Vans, Converse shoes are more flexible when mixing and matching various outfits.
You can wear them with a sundress, t-shirt & skinny jeans, or a miniskirt and they'll look great.
This makes it a great option for engaging in many different activities or attending events.
Come in various styles
You can choose from either the high tops or low tops. Also, the iconic Converse shoes come in a wide variety of patterns and colors.
Designers are usually coming up with more unique designs, so you can always find a pair that you like.
Below are some of the most popular Converse sneaker styles:
Converse All Star High Top Sneaker
Features:
High-Top Sneaker
Canvas
Rubber Sole
Ortholite Insole
Laced
Round Toe Cap
All Star Logo
Converse All Star Low Top Sneaker
Features:
Low-Top Sneaker
Canvas
Rubber Sole
Ortholite Insole
Laced
Round Toe Cap
All Star Logo
Converse Cons
Difficult to clean
You will find it difficult to clean your Converse shoes because they are typically rougher than Vans. The shoes usually require a lot of scrubbing, especially if they have accumulated a lot of dirt. So if you buy a pair of attractive Converse shoes, keep this in mind.
Narrow
Converse shoes' construction makes them narrower than many shoe brands. Most people usually have no problem with this, but those with wide feet may feel discomfort, especially when walking long distances in Converse shoes.
Difficult to put on and take off
Because they're quite narrow, it can sometimes to difficult to take them on and off. You might need to loosen the top few lases each time.
Vans VS Converse Sizing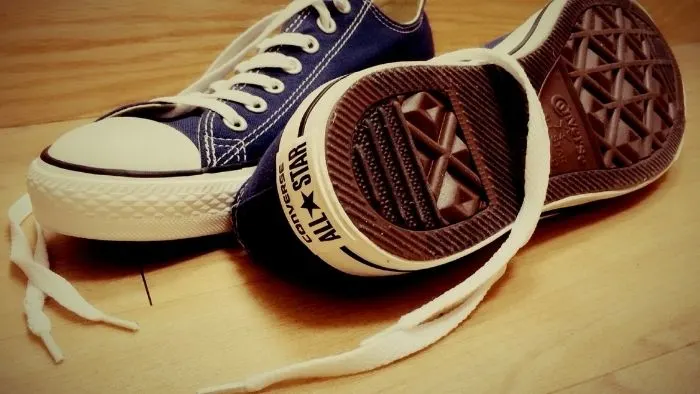 Sizing is a vital feature to consider when buying shoes.
There are no sizing problems with Vans so stay true to size when buying a pair.
On the other hand, Converse shoes tend to run half a size bigger, so when purchasing, ensure you go for half a size or a size down.
To confirm this, put Vans Authentic Lows and Converse Chuck Taylor side by side: you will notice that the Chucks are longer.
You can size up on both Converse and Vans shoes if you have wide feet. This will give your feet more space and ensure comfort when wearing or breaking them in.
Both sneakers mold to the shape of your feet, so the best way of breaking them in is to wear them often.
Vans VS Converse Comfort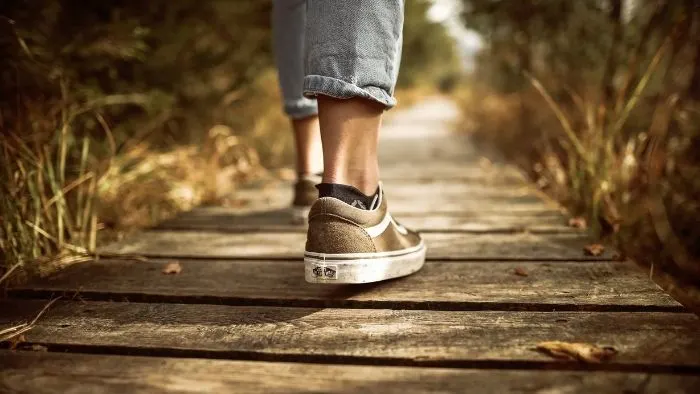 Converse shoes were made with athletics in mind, so when you wear them, they tend to mold to the shape of your feet and feel more comfortable. Another important thing to note is that Nike owns the Converse brand, so its insoles are designed to provide extra cushioning and stability like other Nike models.
The downside of Converse footwear is that they are narrow. This is normally not a problem for most people once they are broken in, but this feature can cause discomfort to some people with wide feet.
Vans classic slip-ons are functional shoes if you are looking for everyday wear. The minimalistic Vans slip-ons are laceless, and the front of the shoe is wide, providing enough room for your toes. A downside of Vans is that the fabric is thinner, but they are comfortable lightweight shoes.
However, Vans' insoles are thin, and the shoes do not provide adequate arch support, especially if you plan to walk in them for many hours. They do now offer new premium ComfyCush sublimes, which provide more padding and arch support.
Some people feel Converse shoes are comfortable, while others swear by Vans – it's up to you to decide.
Vans VS Converse For Durability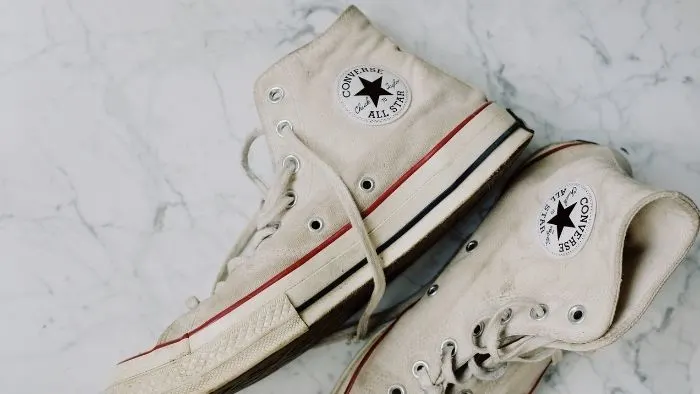 Vans are more durable because the shoes were initially made for skateboarding. Skateboarding is a sport that requires durable shoes with grippy outsoles. Skating tricks such as backslides and kickflips can cause regular shoes to wear out quickly.
The original Converse shoes were made for athletics and were promoted by basketball player Chuck Taylor from the early 1920s. So, Chuck Taylor's All-Star sneakers were originally built to last on the hard basketball courts. Today, big brands such as Nike have other shoe brands for sports. Today's Converse shoes have lightweight soles that are not great at withstanding wear and tear. So, if you are looking for a more durable option, choose Vans.
Vans VS Converse For Quality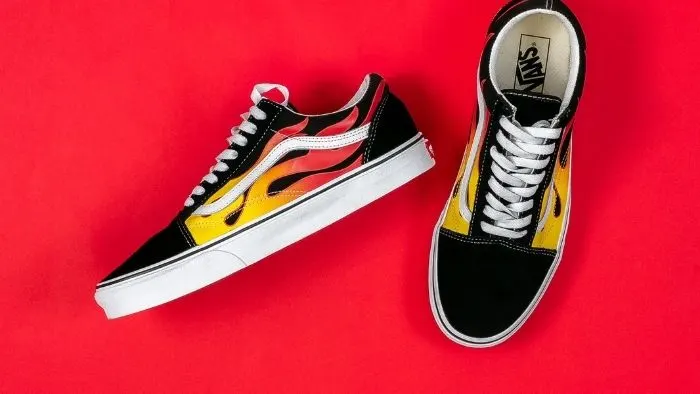 Converse and Vans both offer great quality shoes. You can choose the same style of shoes repeatedly and get the same quality every time.
Both brands offer different styles, some that have a thicker canvas, better cushioning, higher rubber foxing, and uppers made from various materials.
When it comes to quality, the Vans Pro styles are extra sturdy and the most durable of all the Vans styles.
The Converse Chuck 70 has a thicker canvas and greater durability than other Converse styles.
Vans were initially made for skateboarders and have a thick waffle design rubber sole that provides excellent grip. Vans are made with a flexible canvas or suede upper. They're also designed to be weather resistant.
Converse shoes are made from a slightly thicker and more rough canvas allowing the shoes to withstand a bit more wear. However, they're not water-resistant, so they get wet quickly.
Both should typically last about 18 months if worn casually for walking on a daily basis.
Vans VS Converse For Lifting
Both Vans and Converse can be great for lifting weights in the gym for recreational lifters.
With a 0mm heel-to-toe drop, the foot is flat on the ground, which helps balance and stability.
Additionally, they offer relatively stable soles, which are great for lifting weights. As a result of their flatter soles, the foot has more room to splay and spread out to better grip the floor, potentially improving stability.
However, Van's insoles are not as sturdy as All-Stars'. This makes Converse shoes the better option for lifters. It's why you will find more lifters wearing their Chuck Taylors in the gym.
Note that both shoes provide great stability while lifting. It's difficult to say which is the best – if you want to compare, you can try lifting with both shoe brands to see which one you prefer.
Vans VS Converse For Skating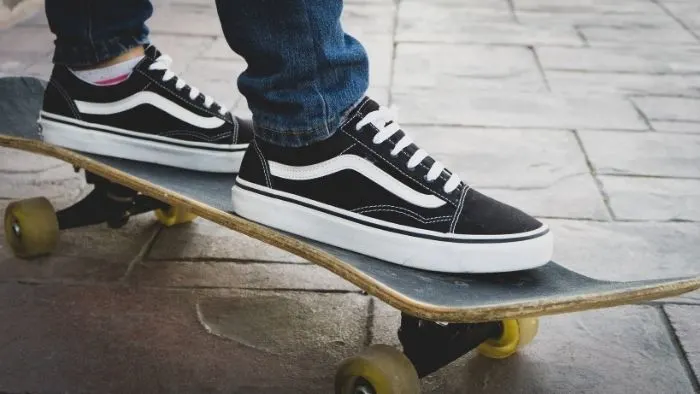 Skating is a sport that requires great shoes for one to execute tricks effortlessly. A skating shoe needs to be flexible, durable, and lightweight. It should also be grippy to enable a skater to stay on the board. Vans were made specifically for skateboarders. They have excellent grip, cushioned insoles, flexibility, and durability – all the characteristics required of a good skating shoe.
Converse All-Stars started as a sturdy shoe to be used by basketball players. People used to skate barefoot to emulate the feel of surfing, so when they needed skating shoes, the Converse Chucks were chosen as they gave them a similar degree of control.
They were the preferred skating footwear until Vans were introduced to skaters in 1966. In 2009, Converse introduced Converse CONS, a shoe line designed for skating.
Vans are probably best for skateboarding, but Converse shoes also make a great option – it's up to you to decide which you like best.
Vans vs Converse Related Questions
How do Converse fit compared to Vans?
Converse sneakers typically run half a size bigger than Vans, so you should go half a size down when purchasing a pair. Converse All-Stars run half a size bigger probably because of their thin and narrow construction.
On the other hand, Vans fit true to size, so you should stick to your usual sneaker size.
Do Converse run bigger than Vans?
Converse run half a size bigger than Vans. If you place Sk8-His and Chuck Taylors side by side, you will notice that the Chucks are longer. So, when purchasing Chuck Taylor All-Stars, always ensure you go half a size down, so the shoe fits snugly. Vans fit true to size.
Are Vans and Converse the same?
Vans and Converse are all American shoe brands with canvas uppers, rubber soles and made with the same vulcanization process. The production of Vans started in 1966, and the shoes became skateboarders' favorite, while Converse started in 1908 and were initially made for basketball players. They both offer high-tops and low-tops styles.
Should I get Converse or Vans?
You can get either Converse or Vans, depending on your needs.
Converse are sturdy, have a versatile look, can be great for various activities, and match different fashion styles.
Vans, on the other hand, are designed to be durable, flexible, and comfortable. If you are into skateboarding, a pair of Vans would be a better option.
Many teens prefer the Converse high tops and the Vans low tops, as well as the Vans slip-ons.
Are Vans or Converse better for your feet?
Vans are comfortable because they are wider than Converse shoes and offer a good grip. However, they have thin insoles and don't offer arch support.
On the other hand, Chucks are thin and narrow but mold to your feet's shape when worn in. Converse shoes are not ideal for people with wide feet.
Do Vans or Converse look better?
Both Vans and Converse look great.
Both Converse and Vans shoes offer high-tops and low-tops in various colors and patterns.
Some teens prefer the look of the Converse high tops to the Vans padded collar on their sneakers.
However, the Vans low tops are often preferred over the black low-top Converse sneakers, as these are more narrow and can make your feet look long.
Go with the shoe brand that matches your sense of style the most.
What is the difference between Vans and Converse?
Converse shoes are thin and narrow and usually run half a size bigger than Vans.
While Converse Chuck Taylor All-Stars are narrow, they will adjust to your feet's shape if you wear them for a while. Because Converse high-tops are quite narrow, they can sometimes be hard to put on. You might have to loosen the top lases each time you want to take them on and off.
Vans are wider but have thin insoles that don't provide arch support. The soles do offer a good grip. Vans also offer slip-ons with no lases, which many teens love as they're so quick and easy to put on. Vans also offer a suede option for their shoes rather than just canvas.
Does Converse own Vans?
Converse does not own vans. Vans started as a family-owned shoe brand in 1966 by two brothers, Paul and Jim Van Doren. Years later, Vans became part of the VF Corporation, but the family controls part of the brand.
The Converse shoe brand is now owned by Nike and has some features found in other Nike sneakers.
Is it okay to wear Converse to the gym?
Converse Chucks are great for wearing in the gym because of their flat soles. Shoes with bigger heels or extra cushioning are unsuitable for doing some gym exercises as you need to maintain your natural balance. Converse shoes provide the stability needed to do lifts and other gym workouts.
Is Converse still popular?
Converse All-Star shoes have been popular for decades. This iconic brand started as a basketball shoe but today comes in various style options and patterns and can be used for various activities. This timeless shoe brand is still loved, especially by teens and young adults.
Can you run with Vans?
Vans are not ideal for running. Vans shoes are typically not designed to offer adequate support needed when running. Most Vans models are great for walking or skateboarding. You are better off going with specialized running shoes.