Private schools are tough to get into. They require lots of applications, interviews, essays, and tests.
One important aspect of the private school admissions process is the interview that many schools require. But how do you prepare for these interviews? What should you expect? This post will cover everything you need to know about preparing for a private school interview.
Practicing possible interview questions they might ask you during a private school admissions interview is one of the best ways to prepare.
And since most schools will ask you about more than your extracurricular activities, I'll also share with you the top 18 most common private school interview questions, with suggested answers.
Private School Interview Questions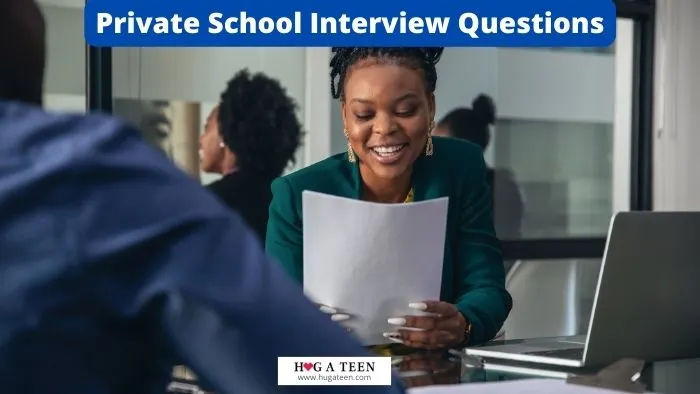 The admission process to a private school has several essential steps, and one of the most important is the personal interview that school students have to go through.
It will be helpful if you can find out as much information as possible from the school's admissions team about what format the interview will take. What is the application process, how long will the interview last, where will it take place, how many people will be asking questions, can your parents attend, etc.?
Some prospective students are interviewed separately, while some have their parents present. It must be possible to have the interview face to face or virtually via Zoom or Skype.
This might be a student's first-ever interview, so it's good to be prepared. Research as much as possible on their website, and speak to current students and their parents.
It's essential not to over-rehears and come across as being fed the answers, but understanding what the process is and the questions they're likely to ask will definitely help you.
Remember to practice making eye contact, shaking hands, maintaining correct posture, and speaking clearly.
Private High School Interview Questions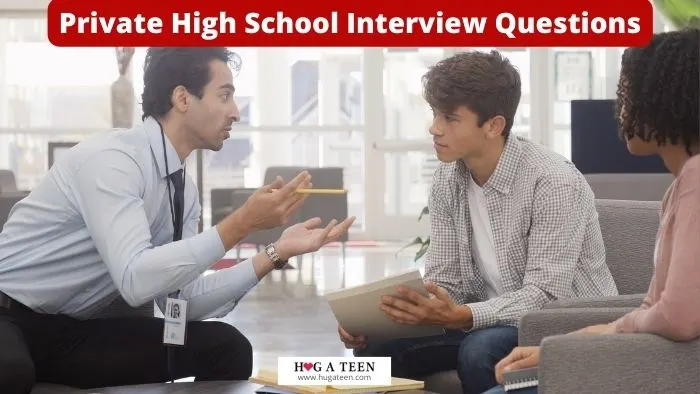 In this section, you will find an outline of some of the most common questions you're likely to get asked by an admissions officer in charge of admissions in private high school admissions interviews. Knowing the best way to accurately answer these questions will help ensure that you are ready for your private high school admission interview.
1. Tell Me About Yourself
This question can be more challenging than you think. There's so much one could talk about, so where do you start, and what do you focus on?
Remember that the admission officer genuinely wants to know more about you but mainly concerning how you would fit into their school.
They want to get to know you. What you say can be as important as how you say it. Be confident and talk about what grade you're in, and what you enjoy doing outside of school.
You don't have to go on and on. Just have a few interesting things that you can mention.
2. What Are Your Strengths?
This is one of the most common private high school interview questions that you're likely to get. Think about what your teachers have said about your strengths in the classroom or on the sports field in previous teacher meetings. Perhaps you always finish your work on time? Is your work always neat and well presented? Do you get on with everyone? Do you participate in class and offer valuable contributions?
It's good to try and have a few strengths in mind that cover various parts of your life and interests. Consider your academic strengths, extracurricular, leadership positions, as well as personal strengths.
Think of some instances when you utilized some of the strengths you mentioned.
3. Tell Me About Your Weaknesses
Another situation where you would find this common interview question is during a job interview. It's a very challenging question because you have to answer the question as honestly as possible without putting yourself or your personality in a negative light.
The best way to answer this question is by discussing something real you would like to work on. Discuss the specific ways and methods you've started working towards achieving your goal.
Perhaps you're quite shy, but you have actively tried to participate more in class. Or you're not great at team sports but have joined the soccer team and have committed to attending every practice.
Always use real examples and ways in which you're trying to overcome your weaknesses.
4. How Do You Like To Spend Your Free Time?
This is another straightforward question that could trap you if you're not careful with your answers. It's easy to chat about how you enjoy playing video games and hanging out with your friends, but also think about what the interviewer would likely want to hear.
What are your interests outside of school? Do you enjoy hiking with family or surfing with friends? Perhaps you've always enjoyed building things and have a collection of match-stick airplanes you made with your grandfather.
Discuss any interesting extracurricular activities or hobbies that you enjoy. It can be as simple as mountain biking or as involved as being an active Scout leader looking after your own patrol and community service projects that you've been involved in.
5. What Extracurricular Activities Do You Do?
It's essential to research what extracurricular activities this school offers that you would be interested in doing.
Perhaps you already enjoy a particular sport they offer; then you can mention that you'd be excited to continue that.
Or, they may offer something completely new, which you cannot do at your current school, and you can say that you'd be keen to try this new activity at their school.
6. How Do You Handle Stress?
This is one question that gives you the chance to not just explain how you handle stress but also to show off your problem-solving skills. Every one of us usually undergoes stress, so your private high school interviewer wants to specifically know how you've handled a stressful situation in the past.
Giving a specific example of when you handled stress is one of your best approaches. Think about a certain period when you were stressed out by an assignment or a class subject and tell how you positively handled it. Remember to focus on yourself and talk about your own skills rather than talking about how you worked with a teacher or, say, a tutor.
7. How Would You Describe Yourself?
This question is very similar to "tell me about yourself." However, an interviewer might ask you to discuss yourself in broader terms. Ensure that your answer to this question is also clear and concise.
Here, instead of saying the grade you're in and talking about what you love about school, start by talking about your strengths. If you feel the need to mention your weakness, pivot it towards a positive angle by focusing on how you are working on yourself. You can also talk about what you love, but remember to do that minimally.
8. What Is Your Favorite Subject?
There are very high chances that you will be asked this question during your private high school interview. Remember that there is no wrong answer to this question. However, you should not simply answer with the subject name, but be prepared to explain why the subject you choose is your favorite subject and the reasons that you find the topic interesting. Remember to use specific examples as much as you can too.
9. What Would You Do If A Student Asked To Copy Your Homework?
Although you might want to help out a friend in a pinch, in the long run, letting them copy your homework won't help them and can get you into trouble. The interviewer wants to see if you'd be able to stand up for yourself and say "No" to something that you know is wrong. Perhaps you feel that if there's a legitimate reason and it's a one-time thing, then you don't mind helping them. You could suggest helping them with their work, rather than letting them copy yours.
Private Middle School Interview Questions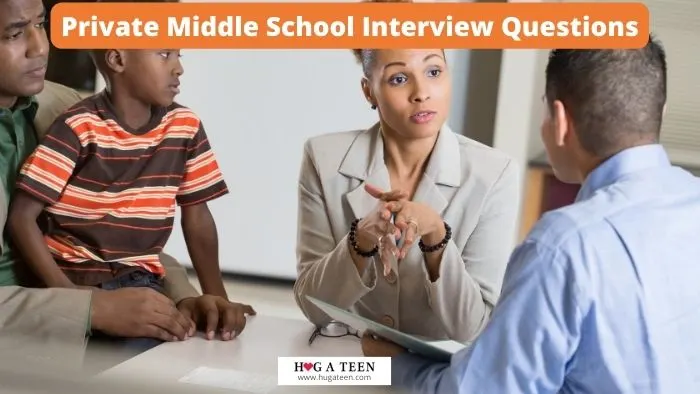 Getting into a private middle school can involve a thorough process, and being interviewed might be part of it. Here are possible interview practice questions you may encounter during your private middle school interview.
10. Tell Me About Your Family
Here, the interviewer is not just asking about you; they want to know about your family. However, this doesn't mean that the interviewer wants you to describe every family member in your household or all about your extended family. What the interviewer wants to know are the ways in which your family members have had an impact on you. You can answer this question by describing some of the activities you carry out or engage in with your family that you love and enjoy.
11. What Do You Do Together As A Family?
Keep it simple and talk about things that you enjoy doing together. You might enjoy movie night every Saturday, attend church, or always sit down to dinner together. Perhaps you enjoy hiking in the holidays, or your family might love going for a walk on the beach and getting ice cream.
You can talk about some of the important family traditions or celebrations you share, as well as special holidays you've had visiting other family members who might live far away.
You can also mention if you're close to your grandparents and how often you see each other. The interviewer is interested in seeing what your family dynamics look like and whether your family would be a good fit and have similar interests to the other families at the school.
12. How Do You Manage Conflict?
You're likely to encounter this question when interviewing to get into a private middle school. It is always best to have a specific example in mind about a time when you've managed conflicts at school.
Remember that the interviewer isn't interested in the intricate details of the conflict but in seeing how you managed the situation. They want to know if you remained calm, did you think logically about the situation, and came up with a solution that benefited everyone.
The interviewer simply wants to know how you resolved the issue and when. You can describe how you helped your peers resolve a fight or a time when you offended someone and found a way to make peace with them. Try to be thoughtful and specific.
13. Which Subject Is The Most Challenging For You?
When answering this question, try to approach it from the same angle as you would have if you were asked to talk about your weaknesses.
As much as you can, be honest, but don't be negative about the subject, the teachers, or your ability to pass the subject. Avoid the use of "hate," "silly," or "suck at" when trying to describe the class. Admit to the interviewer that you recognize that you need to work harder in this subject, but also pinpoint that you're learning how to do better and are beginning to engage in ways that make learning the subject more enjoyable.
You might be interested in reading Study Hacks & Tips for Exams That Work
14. What Book Are You Currently Reading?
Don't overthink this. You don't have to come up with an example of a deep or complicated book. Instead, talk about a book or series of books that you really enjoyed. They want to see that you enjoy reading and are an engaged learner. Too many kids only play video games and don't read anymore.
If you have a favorite book that you would love to talk about and can speak passionately of, that is good, but you do not need to think about a book that perfectly describes the person you are. Just talking about a book that you've recently read can tell your interviewer how much of an engaged learner you are.
15. Describe A Project You Enjoyed Working On
This is another question where having thought about the answer will help you deliver a short and concise response. Think about a project you enjoyed and did well on. Briefly explain what the project entailed and discuss what you did and why you enjoyed it. Was it the subject, the team you worked with, or the process?
16. How Did You Find Online Schooling During Covid?
You can give a brief answer as to why you did or did not enjoy it. There is no correct answer, but explaining why you feel this way is important.
Perhaps you didn't enjoy it because you missed seeing your friends during recess. Alternatively, you might have enjoyed being able to work more autonomously and getting your work done quickly with no distraction in class.
Feel free to discuss the pros and cons of online school.
What Questions Do Private Schools Ask Parents?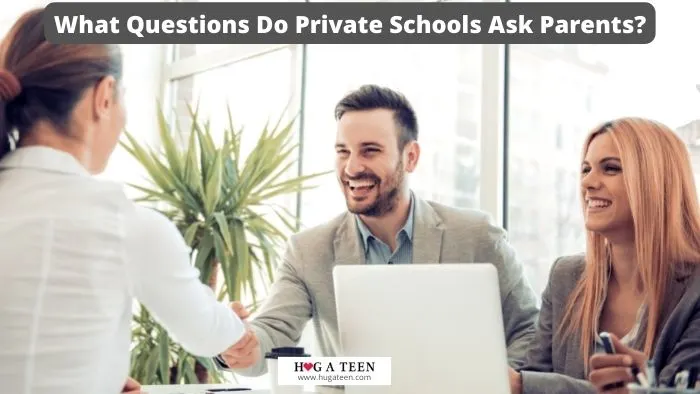 17. What Other Schools Have You Considered?
Private schools sometimes want to learn from parents the other schools they might have considered for their child. Knowing the other schools, you have considered as a parent can help them understand their competitive position. They can sometimes ask if you've met with those schools yet, and what you liked or felt the schools were missing.
Some private schools that desire genuine relationships can sometimes recommend other schools for you to visit based on your answers.
18. What Are Your Plans For The Education Of Your Child?
The school is simply asking what are the most important factors to you when it comes to educating your child. They'll also sometimes ask how you see that changing when your child gets into their school. This will help them find out if you want to make their school permanent and open up conversations for higher degree education.
Your child might need more stimulation in class or more assistance. Be honest with what you're looking for. Some schools are known for pushing for the highest academic achievements, while others focus on inclusivity and ensuring a healthy and happy high school experience.
Based on your answers, they will be able to tell if your vision matches their approach to education, school environment, and admissions decisions.
Questions To Ask A Private School During An Interview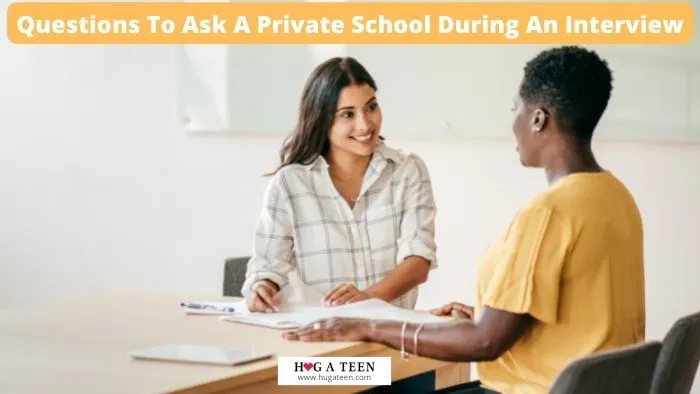 After you have been interviewed, your interviewer will probably ask if you want to ask them any questions. Therefore, it's essential for you to have some questions in mind, both general and specific questions, so that you will be able to prove to your interviewer that you're genuinely interested in attending their school.
Apart from that, asking your own questions will also give you an avenue to learn more about the school, which is equally essential.
1. What Is The Philosophy And Vision Of Your School?
You must find out about the vision and philosophy of the school because you will want to ensure that theirs is consistent with your values and educational beliefs.
A school's philosophy is not only reflected in the mission statement of the school but also in how classes are run and subjects taught.
It's therefore crucial that you understand how it is translated into the curriculum, teaching, learning, and student life. What is the school's educational philosophy? Do they promote a hands-on approach to learning, are there many projects where teamwork is expected, how many projects they need to complete, and how much homework can be expected?
2. What Is The Cost Of Tuition, And What Does It Include?
This is a question that parents can ask. They will probably have looked online and found what the tuition fees are; however, it might not have highlighted what this cost includes. The tuition fees that private schools charge vary widely. In the US, they charge an average of $11,000 annually.
Also, there may be some costs that have not been included in the tuition. You would need to know this. Some schools require that you pay extra for textbooks, extracurricular activities, food, field trips, uniforms, etc.
If you're interested in financial aid, then this is an appropriate opportunity to discuss if this is something they offer.
3. What Are Your Class Sizes?
The quality of education you have access to can be affected by the size of the class. One major perk you get from private schools is that their class sizes are smaller and have lower student-to-teacher ratios. This can encourage effective class management, differentiated instruction, and a higher level of personalized attention that students have access to.
However, not all private schools make these their priorities. It is therefore vital that you ask, so you know what to expect.
4. What Extracurricular Activities Are Available To Students?
You might be able to find the answers to this online, but it's always good to ask, especially if you're interested in a specific activity like Chess or Drama, which might not be highlighted on their website. You can ask how many teams they have, how well they generally do in inter-school matches, and which clubs and sports are the most popular.
5. What Are The Next Steps?
At the end of the interview, you might like to find out what you need to do next, how long each process might take, and if they need anything else from you. It shows the interviewer that you're serious about your application and that you're looking forward to hearing from them as soon as possible.
How Do You Prepare For Private School Admission Interviews?
Here are tips on how you prepare for a private school admission interview:
1. Research The School
If you want to attend a private school, ensure you get all the basic information that you should have before you go for the interview. Most of this information is readily available online, and they will help you know the questions you still want to ask and how to navigate the interview.
2. Prepare For The Interview
As already stated above, preparation is important. Practice some typical private high or middle school interview questions, such as those in this article. You can also check if the school you're interviewing for has specific interview questions they ask and plan on how to answer them.
3. Dress Appropriately
When going for the interview, dress appropriately. The way you show your appearance can tell if you're the kind of student they're looking for or not. Look on their website if they have a dress code.
4. Be Engaged
Show that you're interested by sitting up straight, making eye contact and answering the questions meaningfully, and not just one word answers.
Watch this insightful video on How To Prepare for Your Private School interview:
What To Wear To Private School Parent Interview
Ensure you dress appropriately for a private school interview. You need to show up looking neat, clean and well put together. Apart from showing respect, you would also help to show that you care. Never wear an attire that is revealing, ripped jeans, or even dirty clothes. Try to put some thought into your outfit.
The best practice is to wear the school's dress code. This can vary from school to school. Boys could wear a pair of slacks or neat jeans with a collared shirt. Try to stay away from slogan t-shirts. Girls can wear a modest skirt or dress.
Related Private School Questions
Why Do Private Schools Have A Better Education?
Private schools (or independent schools) are privately owned and funded by the tuition that students pay to attend. As such, these schools have more resources to offer more academic opportunities.
Private schools are known for their ability to provide a stronger foundation for education. Educators in a private school prioritize thorough explanations of important concepts across all academic disciplines.
Smaller classes also allow dedicated teachers to spend more time with individual students and ensure meaningful learning takes place for every child.
Private school students receive an enriched curriculum with an individually tailored approach that focuses on each child's strengths and weaknesses.
This careful attention given to children's foundational skills and excellent education for students helps them get higher acceptance into Universities.
How Much Does A Private School Cost?
On a national average, it costs about $11,979 per year or more for you to afford private school tuition. The average tuition for private elementary school is about $11,004 per year, and private high school requires an average of $15,552 per year.
It costs about $291,404 to attend private school from kindergarten to high school.
Understand the interview process
Identify issues with your interview style
Tips on how to answer tough questions
Helpful for all interview situations
Conclusion
The admissions process to getting into a private high school or a private middle school can be long. When applying to prospective schools, you will need to fill in forms, possibly submit a student essay, write exams and undergo interviews.
The interview, however, does not have to be nerve-racking. You just need to know the questions the interviewer is likely to ask and answer them to the best of your ability.
Having a list of commonly asked questions that you can practice is vital to ensure you're prepared and relaxed at the interview.
Have a list of questions you'd like to ask your interviewer and be sure to dress appropriately.
Lastly, don't forget to send a 'Thank you' email after your interview, thanking them for taking the time to answer your questions, and why you're excited to hopefully join their school.