Interested in making your own bracelets?
Having the ability to make something that you can wear and keep forever makes DIY jewelry projects so much fun.
You can never have too many bangles on your wrists, and handmade ones are the best way to express yourself.
Explore this list of 45 cool and creative bracelets you can make right now. Choose your favorite from this stunning collection of colorful, simple, elegant, easy-to-make, and fun DIY bracelets I've put together for you!
You'll want to wear them often since they're such cute additions to your jewelry collection.
DIY Crochet Bracelet
Making a unique handmade gift for someone is the perfect way to show them how much you care about them.
Crocheted bracelets make a great gift for friends and family members. Any outfit will look great with this DIY project.
DIY Elegant White Beads Bracelet
Stylish and easy to make, these bracelets are perfect for any occasion.
Make your own beautiful beaded or pearl jewelry without spending a fortune!
This elegant white bracelet crafted out of faux pearls was my favorite so far.


DIY Wire Wrapped Bangles
Making these bangles is super easy.
The look of light gold can actually be achieved by using an extremely light copper wire.
Wire jewelry is rather easy to make if you know how to wrap and shape the wire properly and is really inexpensive. You can make several bangles from just a coil of wire.
DIY Painted Wood Bangle Bracelet
It couldn't be easier to make this pretty painted wood bracelet, and it's perfect for springtime!
I love having a statement jewelry piece, and what better way than a chunky bracelet to showcase some artwork?
Considering that you only need a few materials, you can really make tons of them!
DIY Floral Resin Bracelet
Incorporating florals into your daily routine will complement the warm weather and get you in the mood for spring.
Simple materials encased in clear resin are all it takes to make this beautiful DIY bracelet.
DIY Multi-Stranded Bracelet
Cord is an excellent material to use for necklaces and even bracelets – it's easy to string beads with larger holes, and because it's soft and flexible, it's a great way to wear jewelry.
DIY Leather and Pearl Bracelet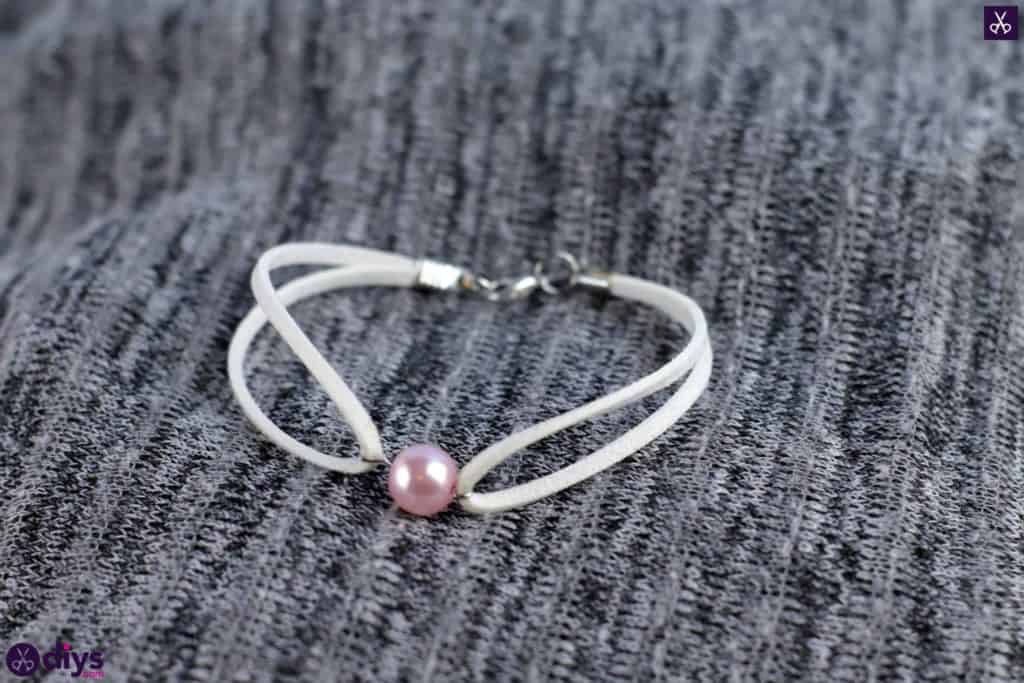 Here's another easy DIY project for you.
You can easily experiment with cord colors or types of beads to suit your taste.
DIY Nautical Rope Bracelet
Bring some sea-faring flair to your style with these vibrant bracelets.
Adding a nautical touch to your wardrobe without spending a fortune or owning a boat is easy with these DIY projects.
These nautical rope bracelets are super easy to make and come in a variety of shapes.
DIY Beaded Tassel Bracelet
The tassel trend appears to be here to stay and doesn't look like it will ever go out of style.
Stocking stuffers like these would be perfect for the holidays.
Make them in the colors that you like and the sizes that suit you with this easy DIY bracelet tutorial.
DIY Braided Clay Bracelet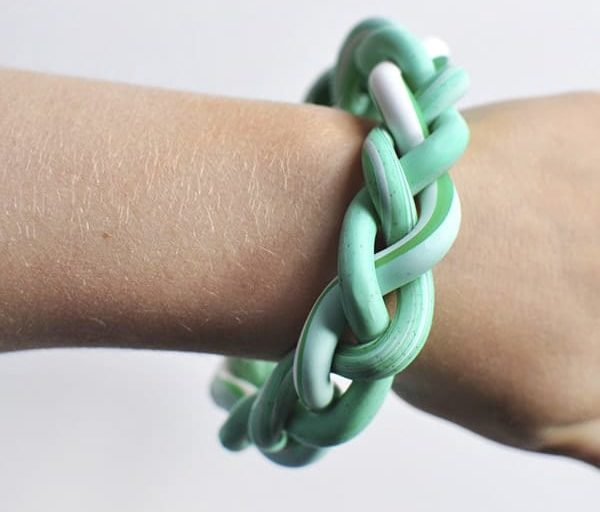 A few simple steps will let you make a stunning DIY clay bracelet.
A polymer clay bracelet with twisted strands gives this DIY jewelry accessory a trendy look. It will look great with casual outfits.
One of those handmade jewelry projects that you will not want to take off once you complete it!
DIY Leather Bracelet
This DIY is so cool! This tutorial is simple enough that I've made several myself!
Your friends will appreciate them if you make it for them.
We've found some colorful freshwater pearls that will help get you started.


DIY Stone Wire Wrapped Bangle Bracelet
How about making wire-wrapped bracelets?
This tutorial will show you how to make a wire-wrapped bracelet from golden wire and some gemstone beads.
They will surely make a big impression.
DIY Hardware Store Bracelet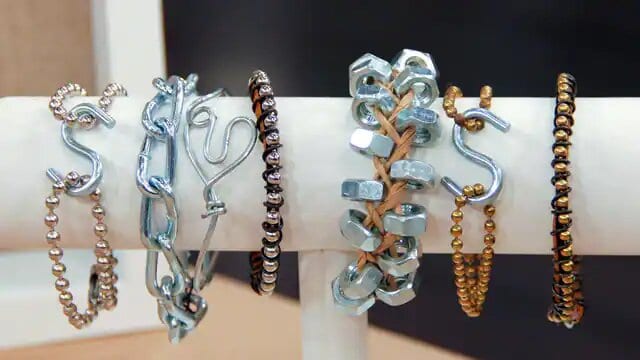 Create your own industrial-style bracelets using some simple materials.
Start experimenting by browsing the aisles at your hardware store for supplies.
DIY Bracelet Knot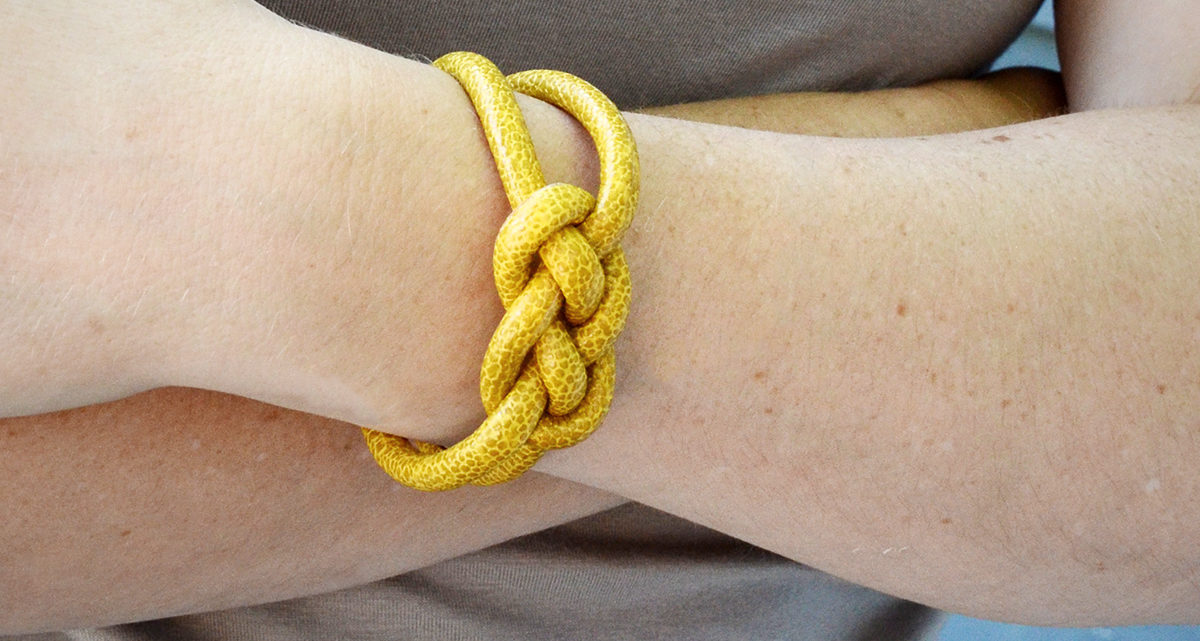 In recent years, nautical style clothes and accessories, coupled with knotted jewelry, have become very trendy.
Make a simple leather rope bracelet that is easy to use with magnetic clasps.
DIY Fishtail Braids Bracelet
A friendship bracelet is always a good idea, right?
A delicate friendship bracelet made with fishtail braids looks amazing layered with chunkier pieces.
Choose threads in colors that stand out or match your outfits.
DIY Braided Thread and Rhinestone Bracelet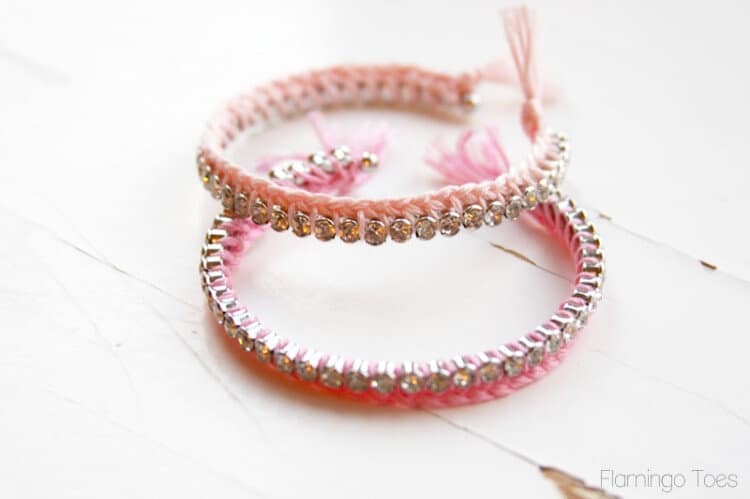 A rather quick and easy DIY is all it takes to show our wrists some love.
With just a few strands of embroidery floss and pretty rhinestone bracelets, you could make a fun and quick game accessory. It's braiding time!
DIY Chevron Pastel Friendship Bracelet
Who doesn't love making friendship bracelets? A friendship bracelet in the chevron style has a timeless appeal.
A V-shaped design can be made from two to six colors with multiple strands.
Try these with different colors to make a lasting impression.
DIY Half Hitch Knots Bracelet
A half hitch knot friendship bracelet is another easy pattern.
Friendship bracelets just got a whole lot better with this colorful statement piece.
DIY Beaded Bracelet
Simple bracelets can be easily made by stringing beads on a piece of cord, choosing charms, and adding a clasp.
Even though there are countless variations of this simple design, beaded bracelets never seem to go out of style.


DIY Beaded Daisy Chain Bracelet
The process of making your own jewelry is one of the most enjoyable DIY projects you can do.
It may seem complex to make daisy chains from seed beads, but honestly, it's really easy!
It doesn't matter what style of beads you choose for beaded bracelets. Happy crafting!
DIY Braid Triple Paracord Bracelet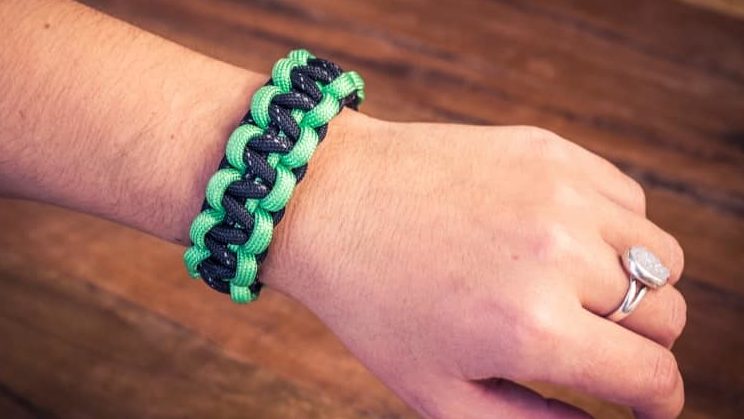 Paracord strings provide numerous benefits including the ability to braid them into bracelets, belts, and decorations.
Make an easy friendship bracelet using different colors of cord.
This tutorial will teach you how to make paracord bracelets for beginners.
DIY Heart Friendship Bracelets
Let's make our very own friendship bracelets!
The advantage of embroidery string bracelets is that they are always in style.
These are similar to the simple and classic friendship bracelets… with hearts!
DIY Macrame Rhinestone Bracelets
If you're looking for a great project for tweens/teens, then this is definitely for you!
Rhinestones and hemp go well together.
It's so easy to customize that you'll never be satisfied with just one.


DIY Wire Bracelet
Wire bracelets are beautiful because they can be made simple and minimal.
A wire bracelet may look elegant and delicate, but it can be made more interesting by adding some tassels.
These cord end caps are our favorite for making these DIY bracelets.
You might need to use glue for the tassels, in which case, check out this post – How Long Does Super Glue Take To Dry?
DIY Sea Glass Bracelets
Are you collecting sea glass but not sure what to do with it?
You can easily turn your treasures into something you can wear daily or give as a special gift.
Just a little creativity will do!
DIY Elastic Bracelets
Despite trend changes, elastic bracelets remain popular due to their versatility.
In addition, these bracelets are inexpensive and easy to make.
When creating a bohemian outfit, one way is to layer elastic bracelets.
DIY Charm Bracelet
Charm bracelets allow you to show off your unique style and creative symbolism.
Making your own bracelet is easy if you use the right tools and supplies.


DIY Charm Bangle Bracelets
Stackable charm bracelets are a great addition to any arm party.
You can also customize your charms based on your hobbies and travels!
A charm bracelet is an easy and fun way to customize your look (and make an outfit different).
DIY Color Block Stone Bracelet
In just minutes, you can make this unique and adorable color block stone bracelet using this easy DIY project.
This bold, geometric-shaped piece is sure to enhance your outfit with a bit of flair.
DIY Button Bracelets
This easy Button Bracelet project would make a wonderful gift for a teen or a beloved friend!
These are super easy to make and so fun. With just a few materials, you can make this pretty and easy bracelet.
DIY Slip Knot Braided Bracelets
When it comes to braiding, there are endless possibilities, and when it comes to making a bracelet.
Here's a DIY that'll show you how to braid slip knot bracelets.
If you like wearing light accessories that have the feel of not even existing, you'll appreciate this.
DIY Woven Yarn Bangles Bracelets
There are endless possibilities with these simple crafts. You can create multiple designs by experimenting with different yarn colors and weave patterns.
The bangles look great worn together as a stack, so choose several colors to mix and match.
DIY Gold Tube Bracelets
Customize these DIY bracelets according to your tastes.
You can try gold or silver beads and different cords to make these more varied.


DIY Zipper Bracelets
This tutorial demonstrates how to make DIY zipper bracelets.
I love featuring jewelry projects that are fun and unconventional.
This project is very versatile because you can use any zipper to make it.
DIY Summer Bracelets
The summertime is a great time to wear colorful clothes and accessories.
With tanned skin and a happy mood, bright colors look great.
n terms of braiding materials, the possibilities are endless.
DIY Boho Wrap Bracelets
Boho wrap bracelets are more complicated to make than stringing beads on a cord, but it's definitely worth putting in the time to learn how to make them.
DIY String Friendship Bracelets
String bracelets are not only fun and easy to make, but they also come in a variety of styles.
Your new string bracelet will be ready in no time with some fun colored thread and a little effort!
DIY Ribbon Pearl Bracelets
You can customize this Ribbon Bracelet by choosing different colors to fit your wardrobe.
The craft stores have a great selection of ribbons. Add some pearls and you're done!
Girls of all ages will enjoy wearing this kind of bracelet
DIY Super Easy Shoelace Bracelets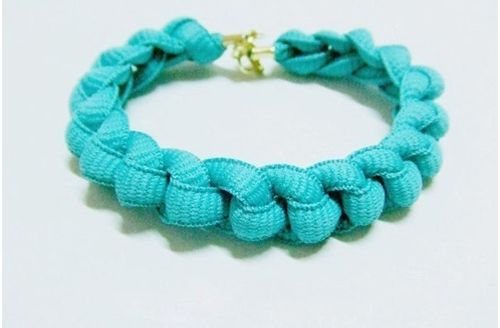 Do you know that you can make a bracelet from your shoelaces?
Re-purposing and re-styling old stuff can be done in no time at all.
This quick and easy DIY will make you a colorful bracelet on a budget!
DIY Safety Pin Sequin Bracelet
I hope you will give this super easy DIY a try!
I am definitely going to make some more bracelets to stack. Simple and fast to do. Don't limit yourself to just one!
DIY Chain And Rhinestone Bracelet
Making bracelets is not only fun but they can also be given as gifts.
This DIY bracelet is sure to add some sparkle to your day.
The bracelet is great both for wearing alone and stacking with others. You can add some rhinestone earrings too.
A stunning combination of metals, I love it.
DIY Woven Chain Bracelet
Weaved chain bracelets come in many forms.
Though it takes some practice and patience at first, they are fun and easy to make.
I love how well all of the colors blend together! The perfect addition to your jewelry collection!
DIY T-shirt Bracelets
One of my favorite new projects is an eco-friendly t-shirt bracelet.
This is a simple DIY craft that teens can do independently.
Match it with some DIY fabric earrings to show off your own style.
DIY Hex Nut Diamond Bracelet
Here's another stunning DIY piece of jewelry.
I love how they paired the industrial look of the hex nuts with a delicate purple shade.
Definitely a statement piece!
DIY Vintage Button Bracelet
Would you like to give your teens a fun craft project to do?
Create button bracelets! You can do it with teens and it's cute enough to give as a homemade gift.
To string the buttons, you will only need some cord and a variety of buttons.
Also, a little bit of imagination never hurts!