Now that all the hard work and effort toward graduating has paid off, it's finally time to celebrate!
Become your own party planner to save money and have fun at the same time.
If you're busy organizing a graduation party for your child, these party food ideas are perfect for you. From easy finger food appetizers to salads, pasta, mocktails, and the most decadent desserts, we've rounded up the best graduation party food ideas to plan the perfect graduation party!
Finger Foods & Dips
Graduation parties tend to be a little bit more casual in nature, with friends and family popping in and out. Finger food appetizers are definitely a must-have, allowing you to mingle while your guests help themselves with tasty treats.
Loaded Cheese Ball Bites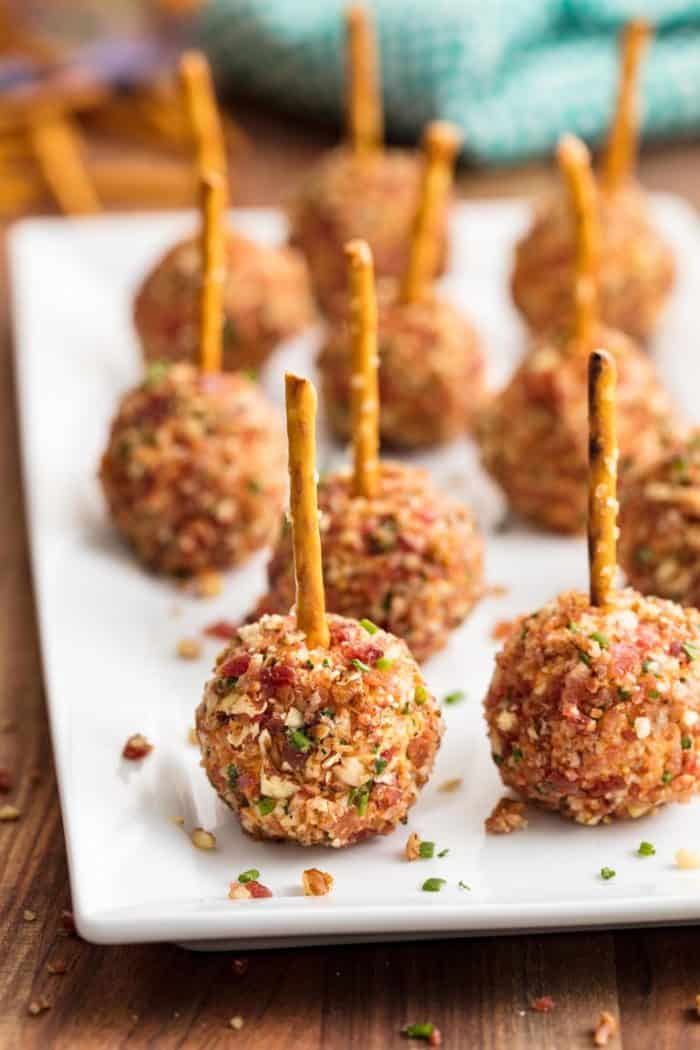 We make a lot of appetizers to serve at parties, and this one is always a hit.
A cheese ball filled with every amazing flavor known to man is impossible to resist, right?
Not only are these perfectly sized, but they also have an incredible flavor.
Find out: What Type Of Cheese Does Chipotle Use?
Muffin-Tin Lasagnas
This recipe doesn't require pre-cooking pasta or layering complicated ingredients in a pan.
You can make these delicious muffin-tin mini lasagnas with the usual ingredients but wonton wrappers instead of pasta, providing you with a delightfully crunchy version of everyone's favorite layered pasta dish.
These freeze very well too, but you'll probably not have any leftovers after your graduation party.
Caprese Salad Bites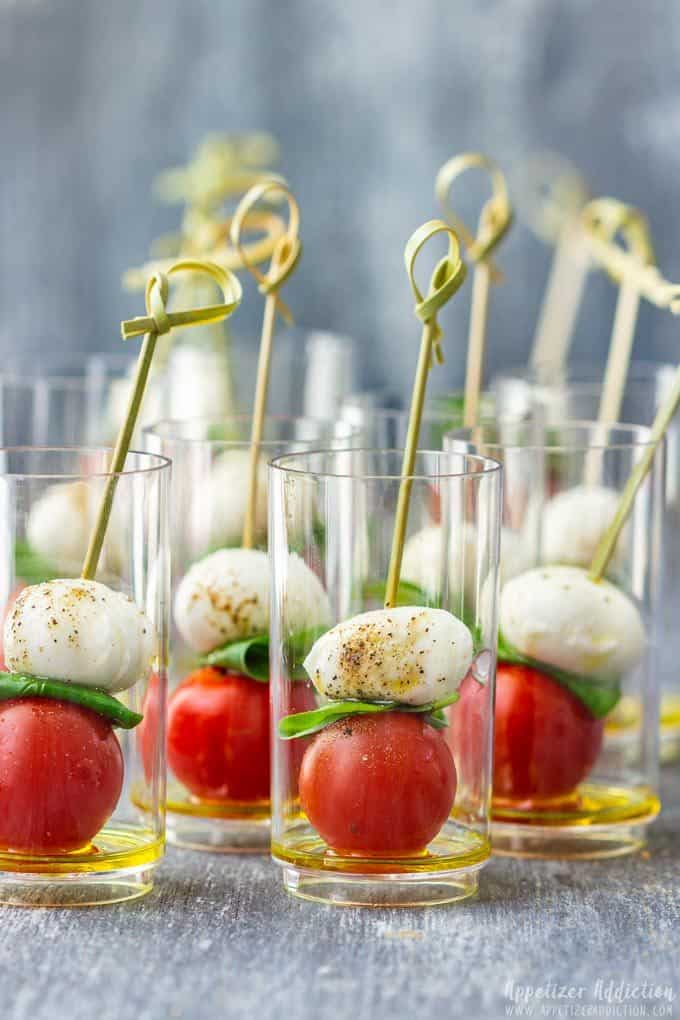 A tasty appetizer that you can prepare in minutes! Easy-to-make and crowd-pleaser Caprese salad bites are a big hit at graduation parties.
These refreshing bites are brushed with olive oil, secured with a stick, and served in mini glasses.
It is perfect for those short on time who want to impress their guests with an amazing appetizer.
Replace the bamboo sticks with graduation hat sticks for the perfect finishing touch.
Instant Pot Buffalo Wings
This recipe is simplified and it makes good use of the Instant Pot. Before being browned to perfection, the wings are briefly cooked in the Instant Pot.
Depending on your preference, you can make the sauce mixture spicy or mild. Cayenne pepper may be omitted or you may choose to add more for more heat. Tomato sauce can be substituted for some of the hot sauce to make the wings milder.
You can serve the chicken wings with celery sticks and blue cheese or ranch dressing as dipping sauces.
Crab Artichoke Dip
At any party, we feel a hot and cheesy dip is a must-have.
This is a classy graduation party treat that takes less than 35 minutes to prepare – that's very short considering the skillet bakes for the longest chunk of time.
Crispy Baked Wontons
Making these tasty little wontons is so much fun.
Plus, they're baked instead of fried, which makes them even better.
It's packed with flavor, and the main ingredients include pork, turkey, water chestnuts, onion, and low-sodium soy sauce.
A sweet and sour sauce goes well with this dish.
Chicken Parm Wings
These garlic-parmesan oven-crisped wings have an incredibly flavorful kick without requiring any deep-frying.
This alternative to a traditional, sauced Buffalo wing is coated in parmesan cheese.
Serve these golden wings with marinara dip. With their succulent savory, crispy skin, these wings will be a graduation day classic.
Meat Loaf Miniatures
One of those dishes you should definitely serve for your next graduation party.
No chopping is required for this recipe, so it's easy to prepare a large batch for hungry teens.
The bite-size portions are perfect for any graduation party food ideas.
Jalapeño Cream Cheese Stuffed Mushrooms
This Jalapeno Cream Cheese Stuffed Mushroom is a delicious vegetarian option for your graduation party guests.
Baked baby Portobello caps are filled with an addictive blend of cream cheese, white cheddar, jalapenos, and garlic, and garnished with (optional) toasted panko breadcrumbs.
Prep the day before if needed to make this delicious graduation party appetizer!
Classic Crab Cakes
Made with mainly pantry and refrigerator ingredients, this light seafood favorite comes together in a matter of minutes.
A blend of other ingredients intensifies the crabmeat's sweet and mild flavor.
Perfect graduation party finger food ideas.
BBQ Bacon Wrapped Shrimp
Enjoy these delicious shrimp as an appetizer at your graduation party!
Bacon makes this shrimp recipe a hit each and every time.
A few simple ingredients make up the BBQ glaze on the shrimp: barbecue sauce, mustard, honey, and Worcestershire sauce.
You can get the most delicious bacon-wrapped shrimp ever in three easy steps!
Grilled Pineapple Ham Kabobs
A deliciously tropical dish, grilled pineapple ham kabobs are full of flavor.
It takes less than five minutes to assemble the skewers, and no more than five minutes to grill.
For extra sweetness, reserve some pineapple juice to drizzle over the kabobs while grilling.
These kabobs can be served as mouthwatering finger food with honey mustard dipping sauce at your graduation party.
Crispy Sriracha Chicken Spring Rolls
Crisp on the outside, these rolls are filled with a creamy chicken and vegetable mixture and sriracha sauce.
Although they take some time to make, they are worth the effort, and you can freeze them and just fry them on the day of your graduation party
These rolls have a slight kick from the sriracha, they are not too spicy.
A side dip of sweet chili sauce is a nice finishing touch.
Chicken Parm Sliders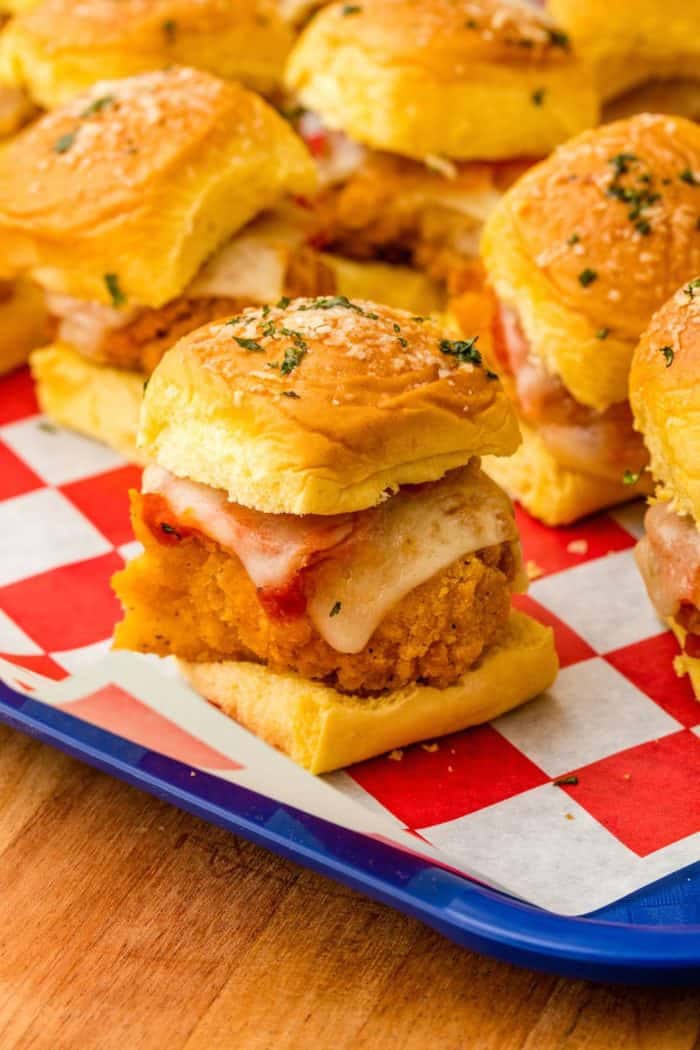 Tender and tasty chicken parmigiana sandwiched in a soft bun.
Who can say no? There's no way you can have just one!
Baked Pimiento Cheese Dip
The Baked Pimiento Cheese Dip might be one of the cheesiest dips ever. It's stuffed with cheddar cheese and cream cheese. Cayenne pepper gives it a little kick.
This warm, creamy dip can be served with vegetable sticks, tortillas chips, or pita bread.
Don't forget your graduation party decorations for extra grad party appeal!
Graduation Meals
Although finger foods are great graduation party food ideas, you might want to food your guests something a bit more substantial. We've found some easy graduation party food recipes that will surely make your party a success.
Chicken Crescent Wreath
The wreaths are a great way to encase your desired fillings in flaky pastry and look amazingly impressive, despite being rather simple to make.
Make sure to serve extra cheese dressing on the side to serve this shareable ring to a large group.
Its festive appearance makes this crescent wreath perfect for parties. Its classic flavors make it suitable for any occasion.
Spicy Meat and Cheese Stromboli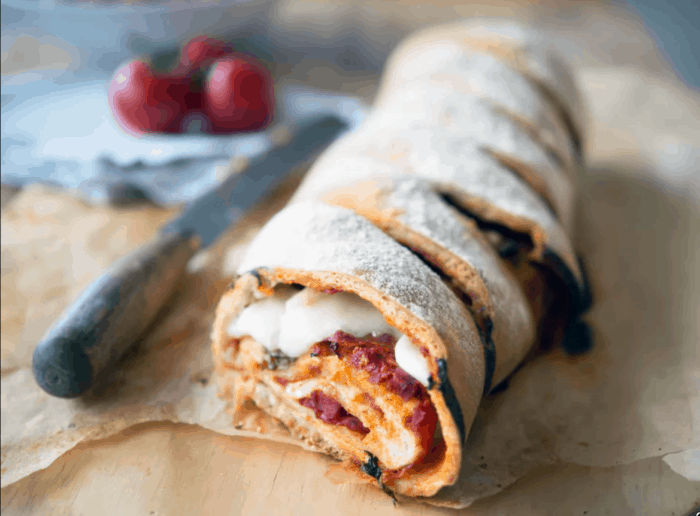 Stromboli looks like pizza at first but turns out to be more of a savory roll.
These are baked with the sauce as part of the filling.
Cold cut meats and mozzarella are the traditional ingredients in stromboli, but you can fill your stromboli with anything you desire. Spice it up with veggies, more meat, cheese, and herbs.
BBQ Chicken Skillet Pizza
The smoky pizza is bizarrely satisfying thanks to the barbecue sauce, which takes the place of marinara.
It's an oddly satisfying combination of BBQ sauce, red onion, chives, and ranch dressing, the condiment that makes this pizza truly unique.
For ease of preparation at home, bake the pizza in a skillet.
Zucchini Pizza Casserole
One of the easiest gluten-free dishes to prepare, this casserole-meets-pizza dish is pretty crowd-pleasing.
The classic additions: sauce, cheese, beef, and bell pepper are placed on top of a layer of shredded zucchini and cheese base.
The perfect graduation party food for carb-conscious guests.
Mushroom Asparagus Quiche
A creamy quiche filled with soft asparagus pieces is beautifully colored and flavorful.
Your party guests will be left wanting more after tasting this delicious medley of asparagus, mushrooms, and onions.
Great vegetarian graduation party food addition.
Giant Party Sub
This makes a great party sandwich for hungry guests.
You can create your sub with any combination of ham, turkey, roast beef, and cheese.
Garnish with lettuce, tomato, onion, mustard, and mayo.
That's what a crowd-pleaser is all about.
Giant Party Cheeseburger
Grilling 12 burgers isn't as fun as making this giant cheeseburger, that your guests can share!
This burger is packed with flavor.
Slice into wedges and serve hot with French fries.
Pasta & Salads
Chicken, Spinach, and Artichoke Pasta
This recipe is a pasta version of a popular spinach and artichoke dip.
A creamy homemade Alfredo sauce ensures the chicken breast is moist and juicy.
It is generously coated in silky cheese.
Deli- Style Pasta Salad
This pasta salad is well-balanced and absolutely delicious.
The savory salami pairs well with the mild provolone cheese. In addition to the sweetness of the tomatoes and the salty olives enhance the flavor of the dish.
All tossed with colorful pasta and a zesty dressing.
You can serve this as a side dish, but it is filling enough to be a light main dish.
Tomato, Avocado, Cucumber, and Chick Pea Salad
This is a refreshing salad that is filled with different flavors. Fresh herbs and lemon go so well together, and it really brings out the flavors of the fresh veggies.
Scoop some salad into cups to create easy-to-eat salad options at your graduation party.
Loaded Potato Salad
A hearty and delicious salad made with potatoes and tossed with bacon, shredded cheese, sour cream, and seasoned with herbs.
A garnish of green onions and shredded cheese completes this dish.
This potato salad has excellent texture and flavor, making it a perfect festive side dish.
Broccoli Salad Supreme
A quick side dish made from a surprising combination of grapes and broccoli.
The sweet snappy bite of the grapes complements the crispy raw broccoli and onion, while the creamy dressing and toasted almonds pull it all together.
The easy recipe makes for a delicious side dish at any party.
Deserts
Funfetti Graduation Cupcakes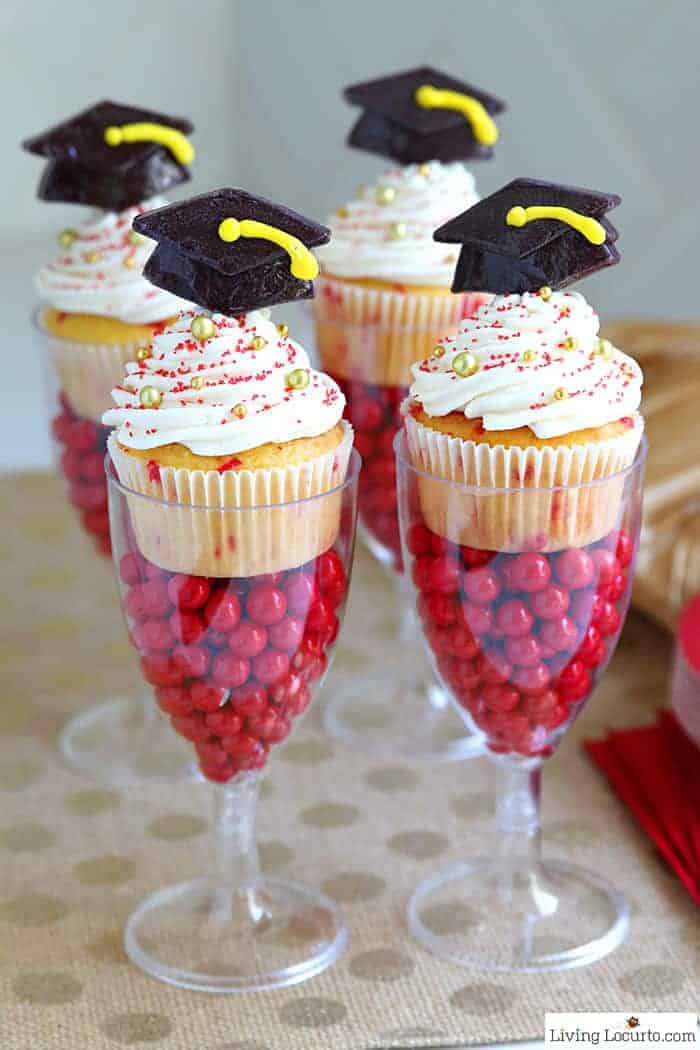 Include your school spirit in your dessert with these Funfetti graduation cupcakes!
The cupcakes are topped with white buttercream icing, sprinkles, and a black mortarboard lollipop.
These cupcakes are made even more adorable when served in small plastic wine glasses filled with candies in the colors of the graduate's school.
Graduation Cut-Out Cookies
A wide variety of colleges and colors to choose from makes them a wonderful addition to graduation dessert tables.
If you like decorating cookies like a pro, here's an idea to get you started.
In case you don't want to make these cookies yourself, you can get them ready-made right on Etsy!
Graduation Letter Cake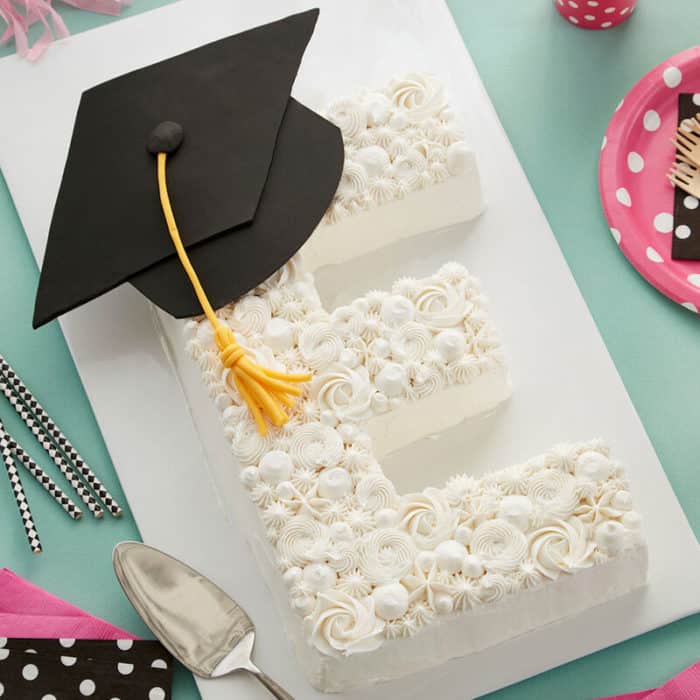 Ditch the boring graduation cake for something a little more creative!
Featuring a fun grad cap on top, this letter cake is so festive and classy. A Letter Graduation Cake is an ideal way to wish your graduate luck.
It's easy to customize this cake with any letter you want. The featured cake uses plain white icing, but you could decorate it with your graduate school colors as well.
Find your favorite graduation cake toppers HERE!
Graduation Sheet Cake
Although grocery store cakes are an easy option for a casual graduation party, a homemade treat can add a special touch. The perfect dessert that combines buttercream, sheet cake, and school spirit.
Your graduation cake corners can be decorated with edible diplomas made from rolled cookies and the school colors of your graduate can be displayed with food coloring.
Or get these black and gold glitter graduation party decorations to complete your cake.
Fruit Parfaits in a Champagne Glass
Since so many people are leaning toward healthier options and avoiding sugary desserts, this healthy fruit parfait is a classy and gorgeous alternative.
If the champagne glasses are a bit too formal, mix and match different glasses for a more casual look.
S'mores Icebox Cake
This classic campfire treat is transformed into a cool party dessert with layers of graham crackers, chocolate pudding, and torched marshmallow topping.
Graham crackers are allowed to soak up the cream as the dessert rests in the freezer or refrigerator. Because of the texture and feel of the ingredients, it truly makes this dessert taste like a cake.
If you're feeding a crowd or making ahead, you can cut out portions and serve as an after-dinner treat.
Don't forget to add your favorite graduation party decor to top it off!
Frozen Cheesecake On A Stick
Everyone loves cheesecake but have you ever tried frozen cheesecake?
Because it's frozen, it has more bite than the typical creamy texture of this dessert. Cheesecake is made first, and the slices of frozen cheesecake are dipped in chocolate.
There are endless topping options, you can use chopped nuts, Golden Oreos, freeze-dried strawberries, and various graduation sprinkles.
Definitely one of our favorite graduation party food ideas on this list.
Banana Trifle
A tasty yet elegant dessert that's perfect to serve at a graduation party.
A delicious dessert like this Banana Pudding Trifle combines layers of bananas with pudding and homemade whipped cream.
This recipe makes a large batch of banana pudding in a few minutes – ideal for parties.
Banana Split Lasagna
This delicious Banana Split Lasagna features five layers, each with its own unique taste.
Because there's no baking involved in this dessert lasagna recipe, it's incredibly easy to make.
These layers combine all of your favorite banana split flavors (banana, strawberries, pineapple, and chocolate, for example).
A make-ahead layered dessert can be prepared the night before your graduation party.
This sweet recipe is a guaranteed crowd-pleaser!
Summery Strawberry Pie
Take full advantage of perfect summer berries with this no-bake, no-cook strawberry pie.
Strawberry puree and fresh strawberries are gently held together in a graham cracker crust.
Absolutely mouth-watering graduation party desert idea to add to your list.
Peanut Butter Custard Blast
This is definitely our favorite and most decadent graduation party dessert.
Real whipped cream and homemade custard filling make this dessert divine.
Make the crust and peanut butter custard ahead of time and refrigerate overnight.
Top with whipped cream, salted peanuts, peanut butter candies, and chocolate drizzle before serving in individual mini dessert glasses.
Blueberries and Cream Coffee Cake
Easy to make, and packed with flavor. With all the holiday gatherings around the corner, this blueberry coffee cake is a must-make recipe.
It's one of the easiest and tastiest coffee cakes you'll ever have.
Strawberry-Lemonade Cake
Using real strawberry puree and freshly squeezed lemon juice, this Strawberry Lemonade Cake is a sweet and refreshing dessert that's perfect for summer!
Layers of tender lemon cake are spread with a tangy Strawberry-Lemonade Jam.
Topping it off is a dreamy Strawberry Frosting made with fresh strawberries and a little bit of pink food coloring.
This deliciously moist strawberry cake will be a huge hit at your graduation party.
Sour Cream Pound Cake
An indulgent pound cake, sour cream pound cakes are rich, tender, and buttery.
The best part about this cake is that it provides a variety in both flavor, taste, and texture, making it the perfect dessert every time.
Make your pound cake special by topping it with different flavors, such as peaches and pecans, apples and walnuts, cherries and almonds, or pineapple and macadamia nuts.
Don't forget your graduation cake decorations to round it off.
No Bake Key Lime Cheesecake
You won't believe how easy this Key Lime Cheesecake is to make.
It's a no-bake dessert that's perfect for your next party.
It's sweet, tangy, creamy, and delightfully luscious!
Sweeten your party with this light and fruity dessert!
Double Chocolate Almond Cheesecake
This dessert is sure to delight your guests. It is as aesthetically pleasing as it is gastronomically satisfying to eat Double Chocolate-Almond Cheesecake.
This cheesecake is easy to make, but it's definitely not easy to wait to eat it!
Strawberry Pretzel Dessert
With these easy-to-create Strawberry Pretzel Dessert Squares, you will find layer after layer of tasty goodness.
This dessert will be a crowd-pleaser at any graduation party.
The salty pretzels contrast beautifully with the sweet strawberry and cream cheese filling.
Summer can't get better than this Strawberry Pretzel dessert.
Ice Cream Sundae Cupcakes
These dense funfetti cupcakes with extra-rich vanilla buttercream, are designed to resemble ice cream sundaes!
Top your cupcakes with vanilla ice cream, chocolate sauce, sprinkles, whipped cream, and cherries to make them look like ice cream sundaes.
Drinks
Vintage Lemonade
You'll reminisce about the 1800s when you try this lemonade recipe. The old-fashioned way to enjoy lemonade, a refreshingly cold and tangy drink.
Swap the umbrella for a graduation hat centerpiece stick to complete your graduation-themed party.
Baby Bellini Drink
You can prepare a nonalcoholic version of the Bellini for your graduate students while offering the adult version to others.
Alternatively, it can also be made with peach juice or puree in place of the nectar or using ginger ale in place of champagne.
Iced Raspberry Tea
Summertime events are even better with homemade iced raspberry tea.
This drink just seems more refreshing because of the raspberry flavor.
Natural zero-calorie sweeteners easily substitute for sugar in diets that limit sugar consumption.
Lemon and fresh raspberries garnish this refreshing drink or top it with a sprig of mint.
Watermelon Lemonade
It's so easy to make this watermelon lemonade. Simply combine some watermelon, lemons, sugar, and flavored sparkling water.
To puree the watermelon, blend the chopped watermelon in a blender until it is smooth. Alternatively, you can strain the watermelon using a fine-mesh strainer, but this is not necessary.
Pro-tip: freeze watermelon chunks to replace ice cubes.
Planter's Punch
You can serve this nonalcoholic punch recipe at graduation parties because it is fruity, fun, and nonalcoholic.
Tropical fruit juices dominate the flavor of this drink, which is also sweetened with a little grenadine.
Add some stemless cherries or lime slices to add more flavor and color.