A trend among today's teens is to create their rings or refashion their old rings into trendy new ones.
Whether you're going minimalist with a wire wrap ring or edgy with a handmade leather ring, these simple DIY rings can be made in less than an hour or even in minutes. These simple and beautiful ideas will enhance your entire look, and you can try them right away!
Though it may seem complex, it isn't as difficult as it looks. You'll need just a little encouragement and some creativity to get started.
DIY Twisted Knot Wire Rings
This tutorial will teach you how to make a gorgeous twisted wire ring.
These DIY rings are straightforward and customizable for all ring sizes.
These spiral knot accessories are super cute and perfect for any occasion.
DIY Beaded Wire Rings
Besides being a great everyday ring, this DIY beaded wire ring also makes a great gift.
Get creative with some cute seed beads and craft wire!


DIY Filigree Wire Rings
These DIY cute filigree wire rings with mother of pearl beads are surprisingly simple to make and are perfect for the absolute beginner jewelry maker!
DIY Resin Glitter Ring
Making jewelry out of resin has become a popular trend.
You can easily make DIY rings from resin since the material is inexpensive and easy to work with.
These rings make great gifts as well.
DIY Wire Wrapped Gemstone Rings
You can create some fantastic and unique designs with wire wrapping, which is why it's so popular.
Use sea glass or rough amethyst stones for these awesome DIY wire wrap rings.
Creating a simple ring with wire-wrapping can be done in a matter of minutes.


DIY Enamelled Rings
An elegant statement ring is my favorite type of jewelry.
It's possible that people could be fooled into thinking you're a jewelry designer if you make these.
It's another fascinating DIY project, and they look so luxurious too!
DIY Elastic Ring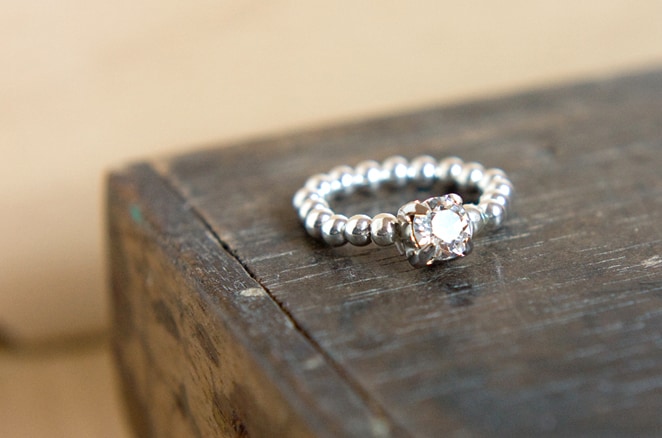 Making jewelry with stretch cords has the advantage of being easily customizable for all ring sizes.
This is another easy DIY project with a cute design that you'll love!
DIY Wire Ring with Leather Tassels
You can easily make these DIY wire rings at home, and they are perfect for beginners!
Wear several of them at once for a boho-layered look by making them in different sizes.
You can separate the layers of wire in the back for a larger presence on your finger, or you can keep them tightly wound for a more delicate appearance.
If you're using glue to fasten the leather tassels, then you might be interested in reading How Long Does Super Glue Take To Dry?
DIY Wire Heart Ring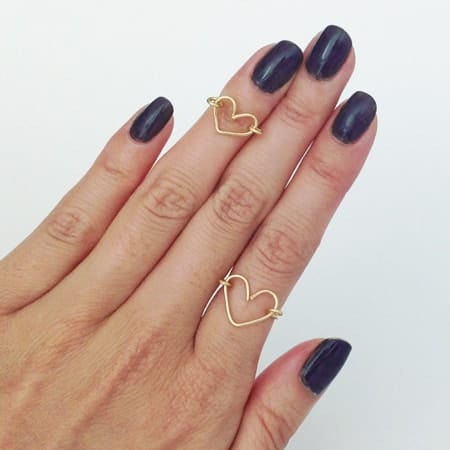 DIY rings are so cool, I love them. They made it look pretty easy to make, and it would make an excellent gift.
What a great project! I like how simple and straightforward it is!
DIY Open Back Bezel Rings with Resin
Making these resin rings are easier than you think.
You can purchase the open-backed bezel rings and fill these with resin.
Add some glitter or gems for style and color versatility.
You might have a hard time convincing people that you made this yourself!


DIY Pearl Ring
Pearls accentuate any outfit, whether it's a sophisticated dress or ripped jeans.
This gorgeous DIY pearl ring design is the perfect blend of timeless elegance and modern appeal.
A cute little craft that you will love making and wearing.
DIY Faux Granite Rings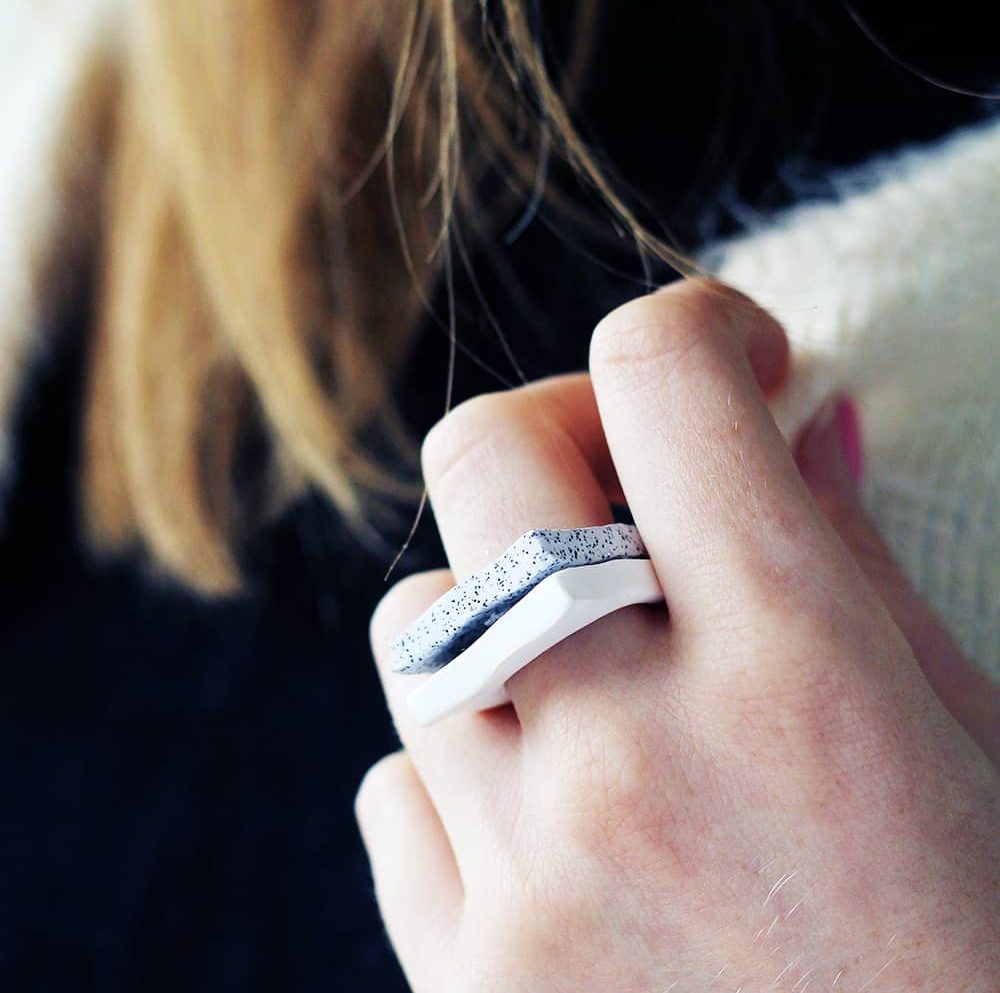 The versatility of polymer clay makes it ideal for creating a range of surface textures and effects.
I'm sharing another wonderful DIY project with you. The same technique can be used to make earrings and necklaces.


DIY Beaded Stackable Rings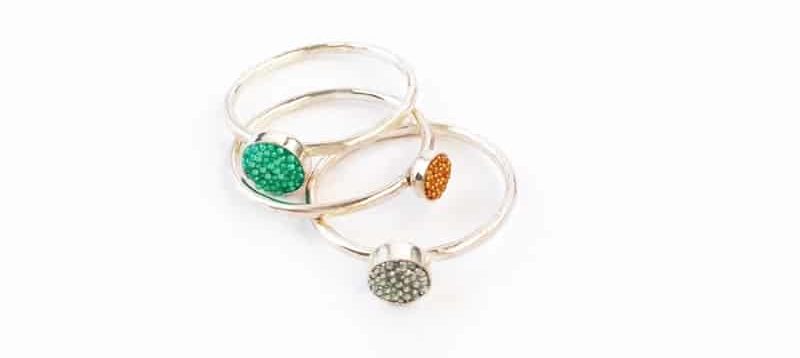 Are you looking for an easy yet stylish project? Learn how to stack beaded rings with this tutorial!
You can easily spruce up your ring collection with this DIY using microbeads.
These make great gifts too!
DIY Wooden Rings
Perhaps you have some beautiful scrap wood lying around and thought it would make a beautiful accessory.
Here is a guide to creating a simple but pretty wooden ring. Very pleased with the way the rings turned out!
DIY Button Rings
What if you could make a piece of jewelry from buttons? If you have some beautiful buttons lying around, now it's time to put them to use!
DIY Faux Druzy Cocktail Ring
Druzy is a sparkling effect created when tiny crystals are layered closely over a colored mineral.
You can use Mod Podge and glass glitter to recreate the look.
Create a stunning ring with this technique in no time!
DIY Chevron Knuckle Ring
Here's an easy project you can whip up with just a few wires.
Simple and affordable, this knuckle ring will look great on your finger!
Follow this easy tutorial to create your version.
DIY Beaded Flower Ring
Almost any outfit can be enhanced by these DIY beaded flower rings, and they make excellent gifts too!
Take on the challenge of making this adorable DIY project with craft wire and pliers.
DIY Stiff Ribbon Bow Rings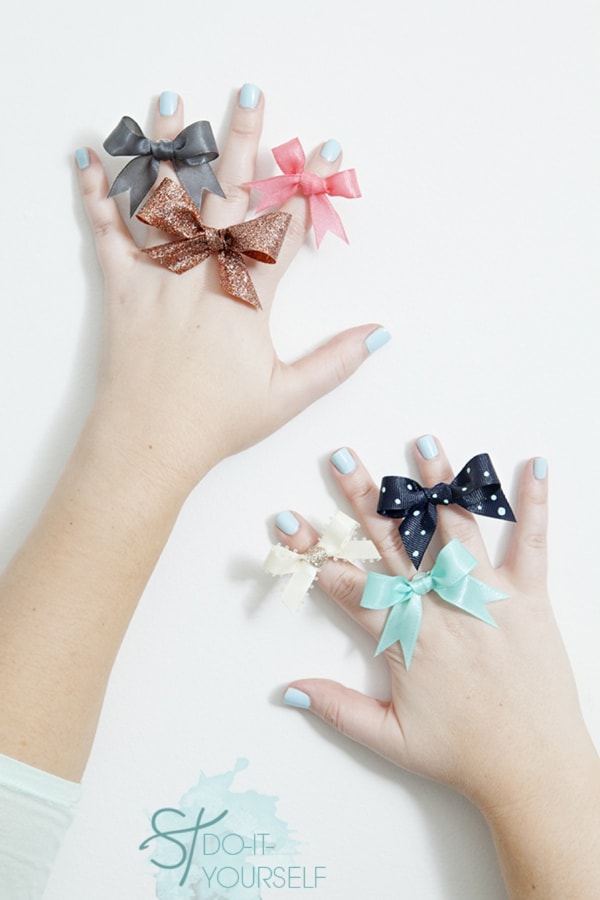 Make your hands look fancy with these super fun ribbon rings!
A great combination of cuteness and simplicity! Any ribbon would work for these!
DIY Statement Ring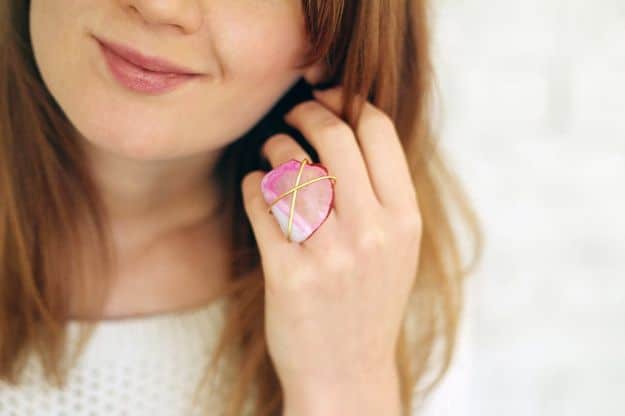 Large statement rings are my favorite, especially when they feature oversize, natural gemstones.
With this easy DIY Statement Ring, we'll make it in no more than 5 minutes.
Make some serious bling from any loose stones in your rock collection.
DIY Tube Rings
The tube rings are so easy to make that you will have more than you can use within minutes.
There are many different and beautiful DIY rings that you can make from polymer clay. The possibilities are endless.
DIY Leather Ring
You shouldn't miss out on DIY leather rings if you want to own gorgeous handmade fashion accessories.
Handmade leather rings have an edgy and stylish flair.
Enjoy your crafting!
DIY Neon Felt Ring
Looking for a fun, colorful project? Here's a cute DIY project to check out.
Colorful and vibrant, it'll add some summer vibes!
DIY Wrapped Peach Aventurine Ring
I love how cute and easy this DIY ring is! Play around with different sizes and colors for your bead and wire, and you will always have a different ring. I can't wait to give it a try!
DIY Swirly Double-Heart Ring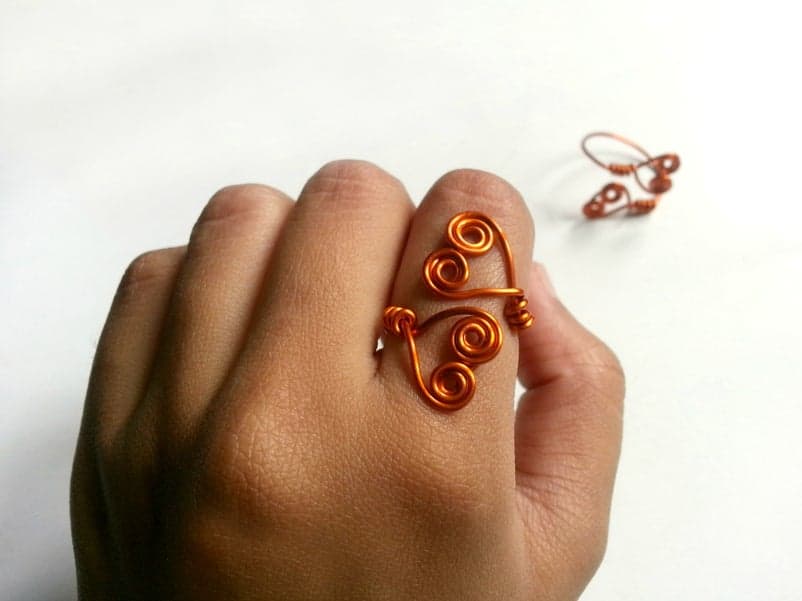 Following these instructions is pretty simple. Once you get the hang of working with wire, you will be making all sorts of fun wire jewelry in no time!
Simply adorable! I love the swirly and cute look of this ring.
DIY Golden Stone Ring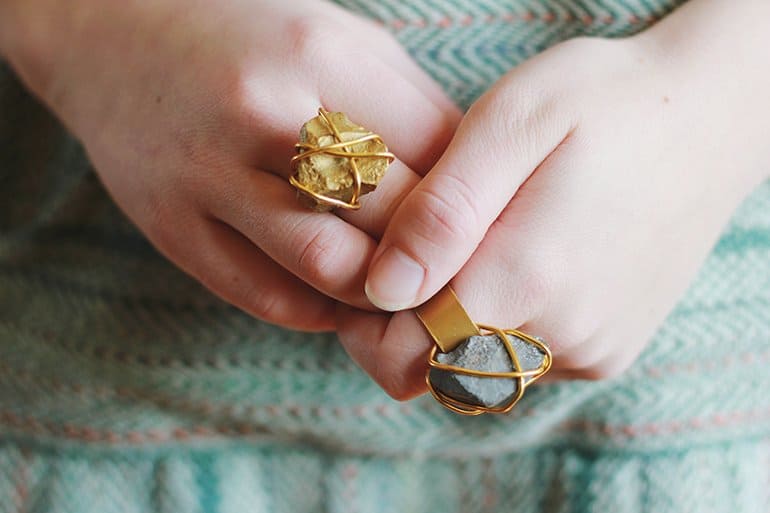 Statement rings are my favorite, especially if they're unique.
The best way to ensure it's special is to create it yourself. Create a stunning DIY ring with just a few supplies.
Copper wire and other colors of stone would look great with this too!
DIY Wire Bow Ring
Easy to make, these DIY projects are extremely adorable.
Simple yet very appealing! It is such a sweet and dainty piece of jewelry!
An excellent addition to any outfit.
DIY Crystal Quartz Rings
Nothing sets you apart more than a powerful statement piece, whether you are drawn to crystals for their healing properties or love their ethereal beauty.
You can now accessorize your closet with new Haute-crafted accessories that match every outfit.


DIY Bling Wrapped Hammered Ring
Stackable but capable of standing alone, Hammered Rings are an excellent option.
Fun, stylish, and funky at the same time, but also elegant if you add pearls.
DIY Delicate Beaded Ring
This tutorial will show you how to make a delicate beaded ring.
These beads make some fantastic rings, and they are relatively easy to make.
Bring your materials together, and let's get started. It's super easy!
DIY Peyote Stitch Rings
You can create a ring using the basics of peyote stitch! You can create one in 15 minutes once you get the hang of it. It's highly addictive.
DIY Flower Cabochon Rings
What's not to love about cabochon rings? The idea is so cute, and it's very easy to do!
The rings turned out beautiful.
For an added touch of summer flair, pair it with your summer hat and floral dress!
DIY Dainty Rings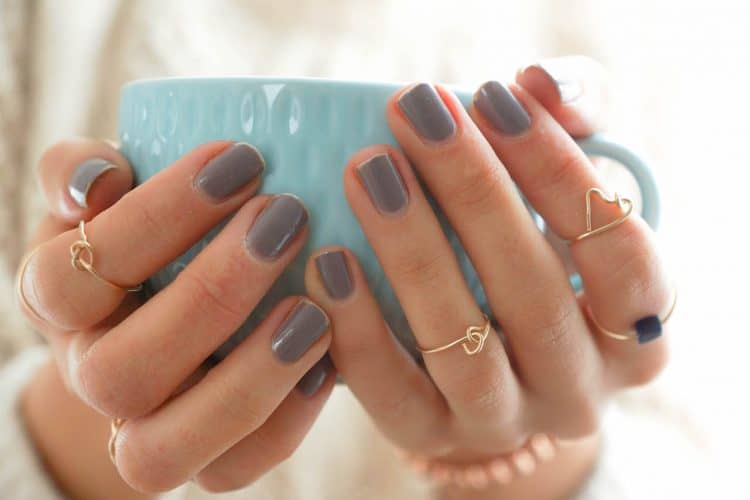 What's not to love about stacking wire rings? These adorable wire rings are super easy to make, you'll be gifting some to friends for sure.
All you need is some semi hard wire and you can even add some cut stones as well.
DIY Delicate Feather Rings
I love how delicate these are! There is something very attractive about using fluttering feathers as finger decorations.
That's so creative! Match with your own DIY Feather Earrings to complete the look.
DIY Colorful Czech Beaded Rings
For those who enjoy colorful accessories, here is a DIY project just for you.
A bit more time-consuming and definitely and more advanced.
Experiment with color shades and design in order to create something elaborate or more limited.
Be as imaginative as you like!
DIY Resin Sprinkle Rings
Jewelry made from resin is easy to make and can be customized to fit any style.
Use epoxy resin kit and jewelry-making techniques to make resin jewelry filled with sprinkles for Sprinkles birthday party favors.
These are inexpensive to make, and you can make a lot of them for the materials cost!


DIY Dream Ring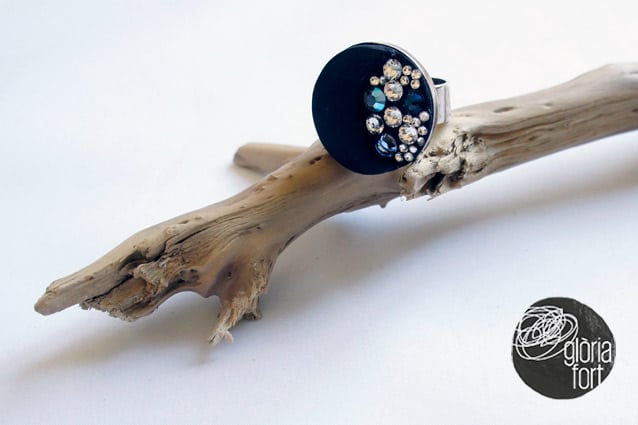 We can create many different types of jewelry and crafts from polymer clay, which is an extremely versatile material.
The design of the DREAM ring incorporates Swarovski brilliants of different sizes and colors embedded in clay to create this design that depicts the moon in its fourth crescent over a curled sky scattered with sparkling rhinestones.
DIY Neon Painted Stone Rings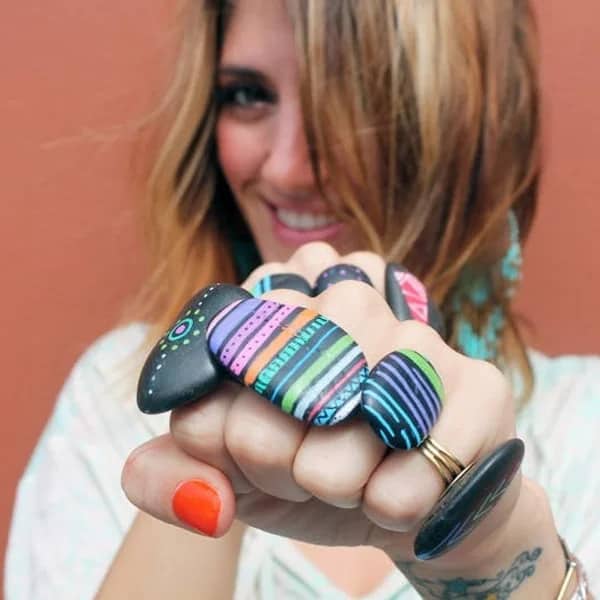 Nature-inspired rings with large, colorful stones are all the rage right now.
This colorful DIY painted stone ring is easy to do and a striking addition to any collection.


DIY Eight Petal Flower Bead Ring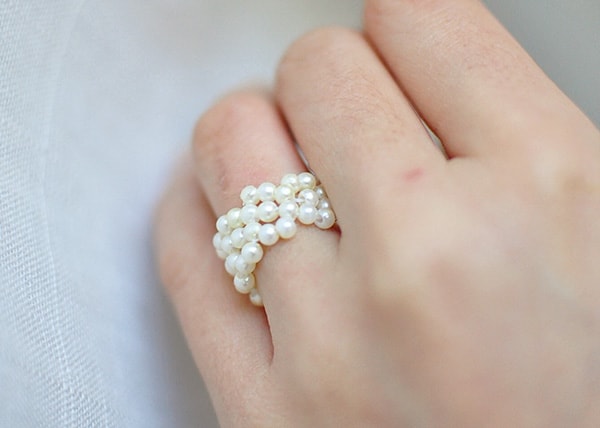 If you love jewelry, then what better way to grow your collection than making it yourself.
Beaded pearls can be used to create DIY projects such as rings, earrings, and bracelets of any kind.
DIY Adjustable Wire Spiral Ring
Simple wire, a few basic tools, and a little muscle make this adjustable spiral ring simple to make.
Wire wrap loops are one of the most basic building blocks of using wire in jewelry making.
If you are new to using wire in jewelry creation, this post will help you get started. Isn't it pretty?