Are you a fan of unique jewelry?
The easiest way to dress up any outfit is with earrings. They provide a subtle touch of style without too much effort.
Simple but effective, they're a great accessory to attract attention!
However, having an earring addiction can get expensive!
Perhaps you've seen some cute earrings at shops but couldn't afford to buy them?
Then these DIY earring tutorials are perfect for you!
They're affordable, fun, and easy enough for any beginner to make at home.
Whether you're looking for something formal or playful, this DIY tutorial roundup has something for you.
Let's get creative!
DIY Multicolor Tassel Earrings
Tassel earrings are both cute and stylish, and you can make them yourself for about a dollar per pair.
You can make these tassels with any color thread of your choice, there are so many color options available.
If you're new to DIY jewelry making, this is a great project for you, as it's a super-easy tutorial.
DIY Pom Pom Earrings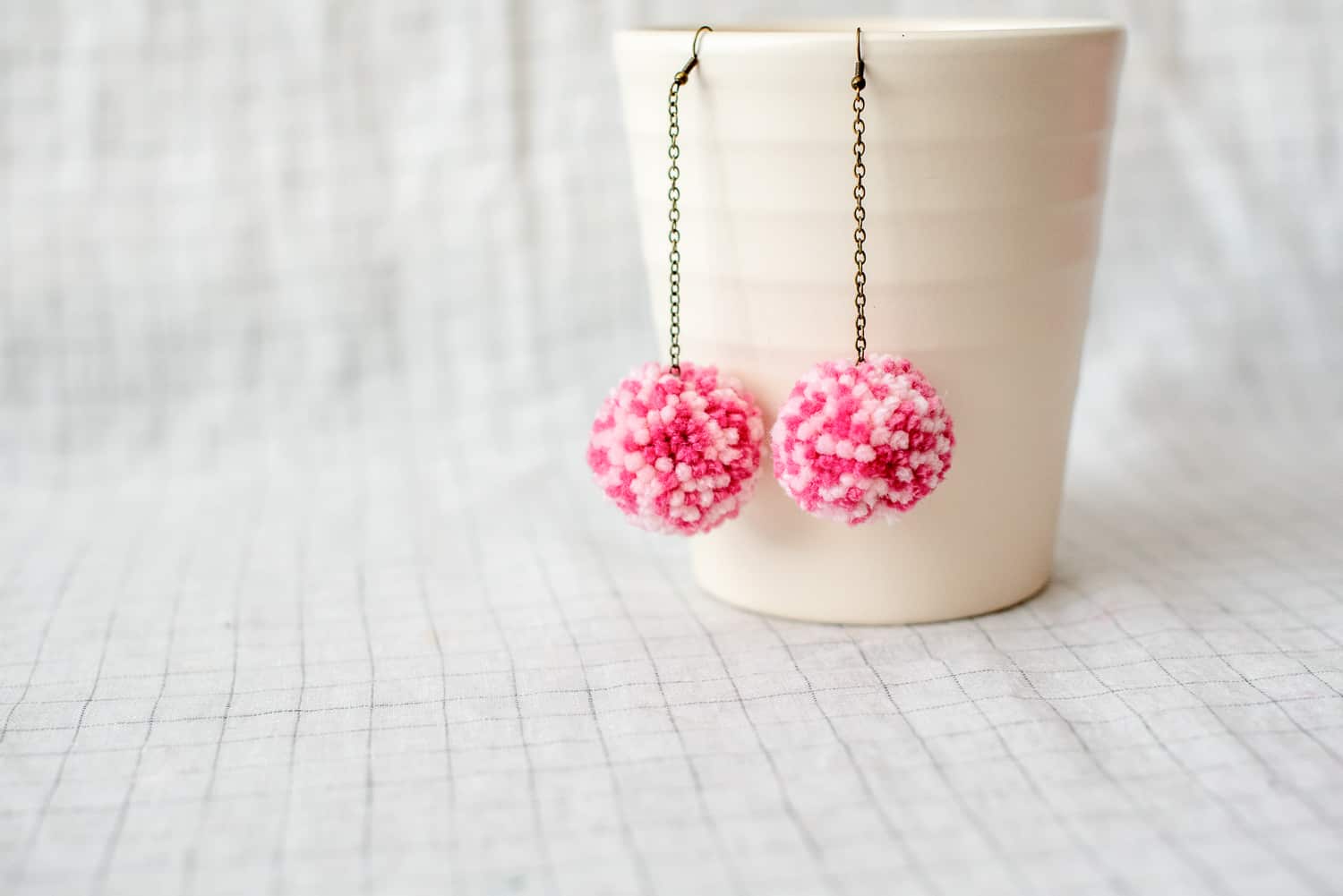 There's something about spring weather that makes whimsical accessories fun to wear.
You will need a pom-pom maker and some chunky yarn.
Isn't that easy? This is such a great idea for DIY dangle earrings and looks really cool.
DIY Raw Stone Earrings
Here's another simple earring idea to show off to your friends!
The colors and patterns in the stones are absolutely stunning.
Grab yourself some stones and follow the DIY tutorial to make your own!
DIY Beaded Hoop Earrings
Add some tiny beads to your classic hoop earrings to dress them up!
Make several different color options, so you can wear the one that goes with your outfit.
DIY Rhinestone Chain Earrings
With a few rhinestones and chains, you can create this cute pair of homemade earrings that is perfect for parties and dinner dates.
DIY Bobby Pin Earrings
These Bobby pin earrings are the ideal solution for those last-minute creative homemade earrings, and in case you need a pin to hold your hair back, just slip one off an earring and you're set!
DIY Half Moon Tassel Earrings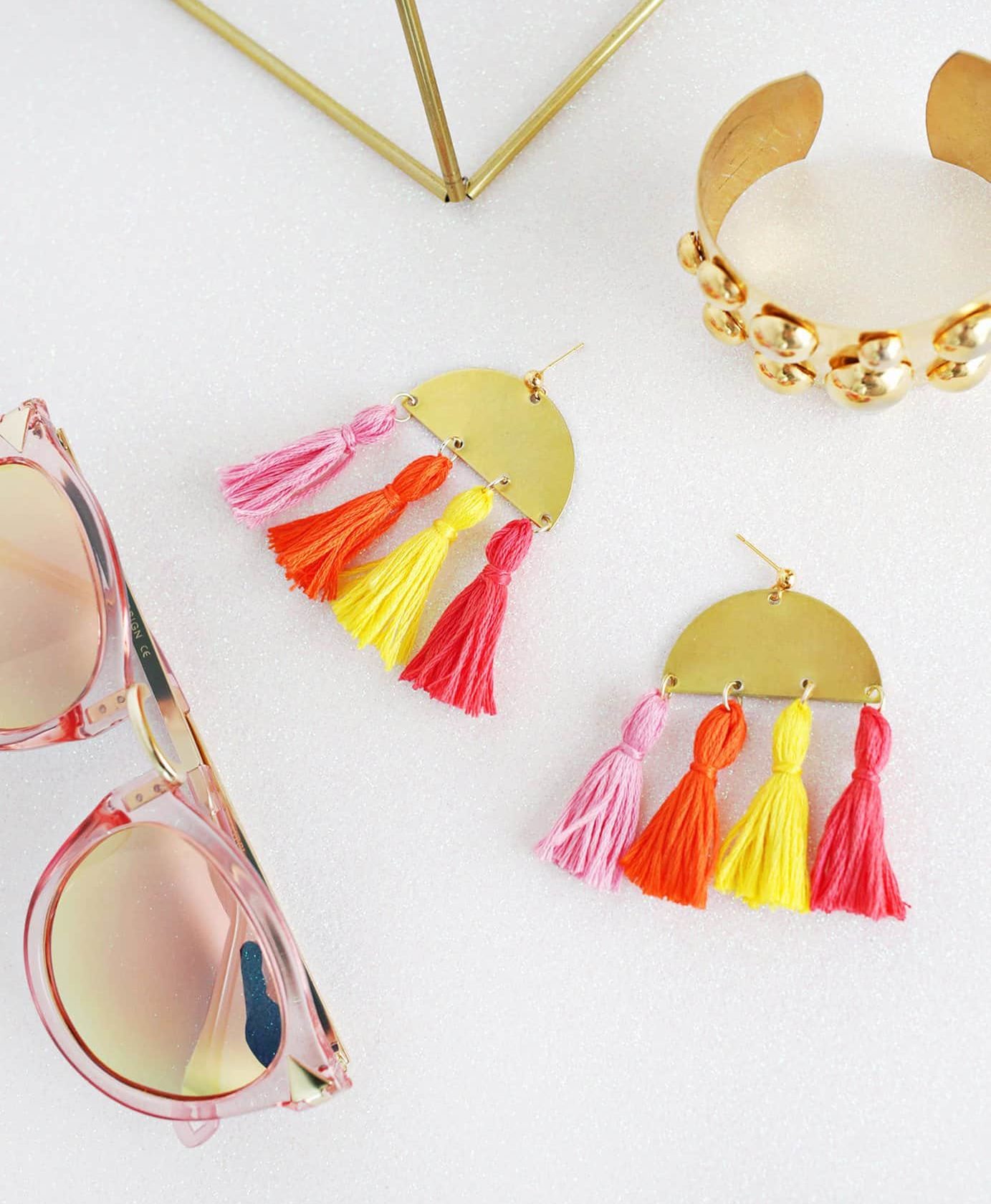 Add a stylish touch to your summer dress with these lovely metal moon and tassel-made earrings.
Tassels are a great way to add fun to any summer ensemble, especially earrings with a beachy vibe.
You can customize your tassels by choosing the colors that are best for your wardrobe.
DIY Wood Veneer Leaf Earrings
These wooden earrings made from wood veneer give off a nice look and go great with any outfit.
Make your own fashionable and custom earrings at home. Happy Crafting!
DIY Feather Earrings
Feathers make any outfit interesting and trendy.
They look great even with plain tees and jeans.
Get the BOHO vibes with these DIY feather earrings.
DIY Brass Monstera Leaf Earrings
Here's to all those plant ladies out there! These DIY Monstera split leaves make great earrings.
I love the plant theme, but you can create several different wire wrap designs. Match with DIY Wire Wrapped Bangles for a complete set.
DIY Ear Cuff Earrings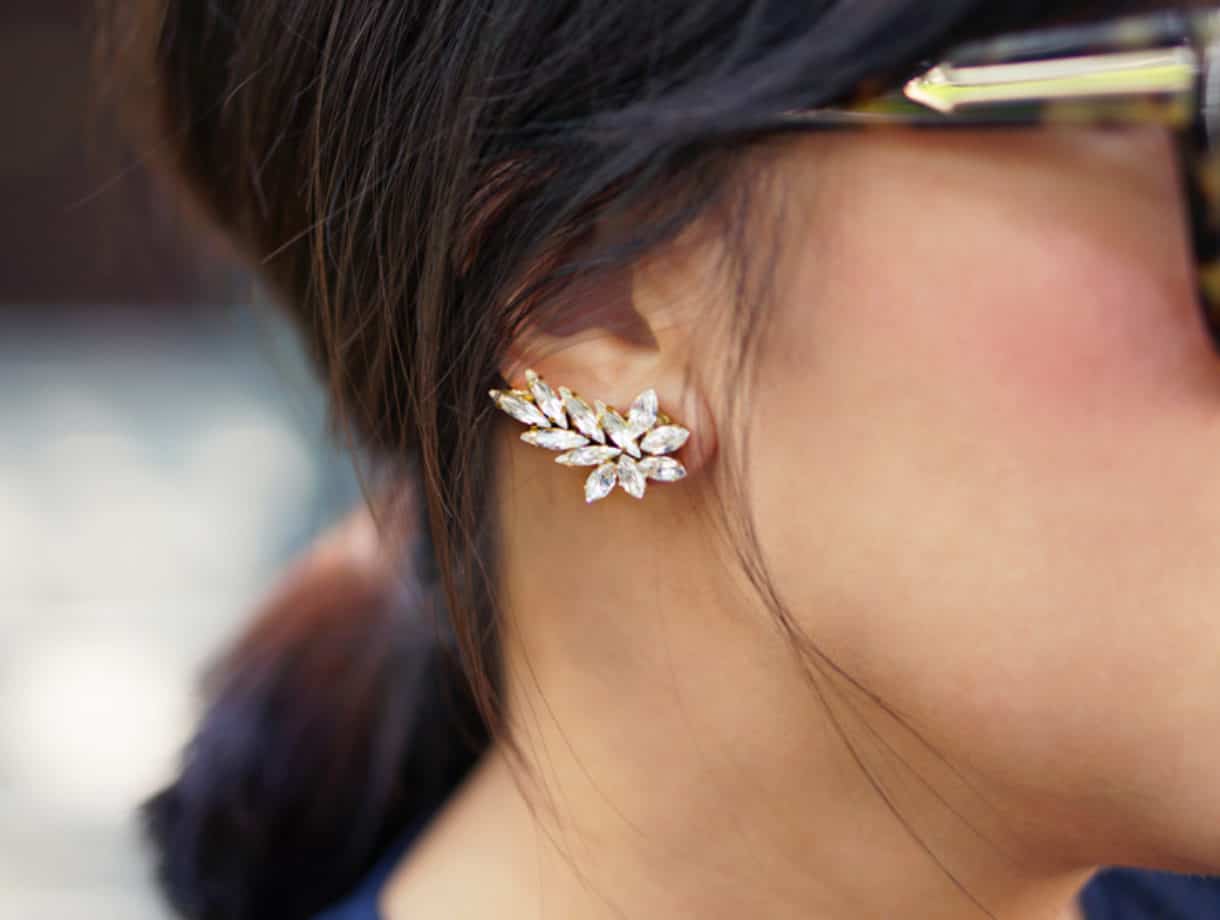 These elegant and classy Rhinestone earrings are an easy, but pretty way to make yourself feel like a princess!
While you're at it, why not embellish your shoes too with this fun DIY Shoe Clips tutorial.
DIY Pom Pom Hoop Earrings
If you are looking for quick and easy DIY earrings to wear, these Pom Pom Earrings are for you!
You can adjust the sizes and colors of the pom-poms as well as the earring wires for a more subtle or louder look.
DIY Boho Turquoise Dangle Earrings
Have you always liked stones and gems as embellishments for your jewelry?
Whether you're looking to work with genuine stones or simply collect beads that represent your favorite, here's one for all turquoise lovers out there!
We love the way they finished off the look neatly and simply by adding silver disc beads.
DIY Macrame Earrings
You can easily make these macrame earrings with string and knots.
It is an easy project that is perfect for beginners.
Follow along to make this macrame tutorial for easy macrame earrings.
DIY Mermaid Boho Earrings
You can create these gorgeous mermaid boho earrings in minutes using just a few simple supplies!
I love how reflective they turned out, and they look great with a casual outfit.
DIY Fabric Feather Earrings
You will only need two pieces of t-shirt material to create the feathers.
Trim the edges to give a feathery feel. Use different colors of fabric to add some accent.
Isn't that easy?
DIY Faux Labradorite Geo Earrings
This elegant DIY earring looks like you bought it from a limited edition line.
Super easy to make, and so easy to customize.
DIY Ethnic Beaded Earrings
This bright jewelry will go well with a cute casual white dress or a floor-length summer dress, or even with a simple white T-shirt and jeans.
Besides, ethnic styles are always on-trend and great for any age.
DIY Geometric Origami Earrings
This easy craft project will help you create your own pair of origami earrings.
They make a nice gift for friends or loved ones who enjoy origami.
They are also very lightweight.
Paper with a different color or pattern on each side of the squares works best for these origami pinwheels.
DIY Tassel Hoop Earrings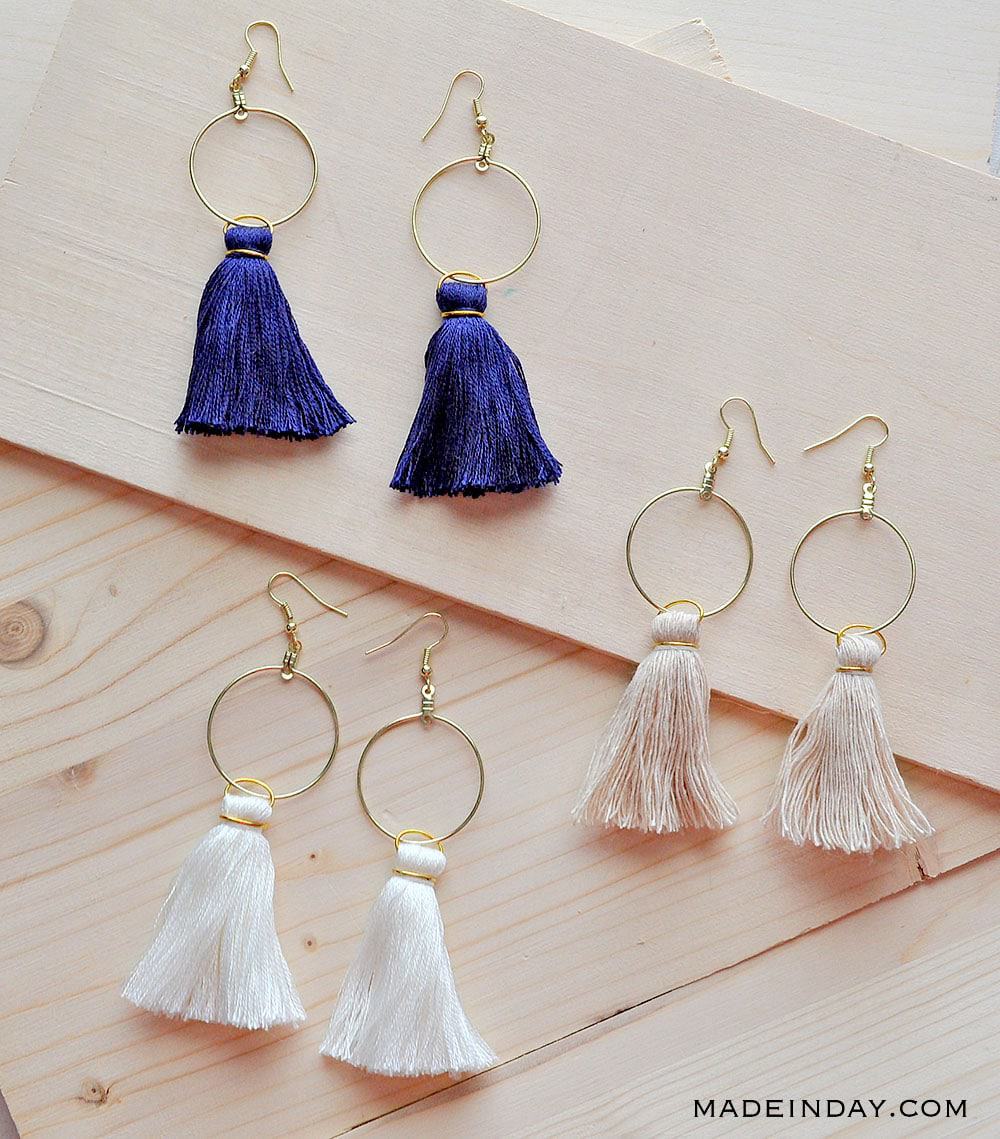 Tassels add a touch of sophistication to classic hoops.
Easy earrings patterns like this one are easy to customize, so you can match them to your favorite outfits.
An easy way to dress up DIY jewelry quickly, and they are very easy earrings to make.
DIY Polka Dot Clay Dangle Earrings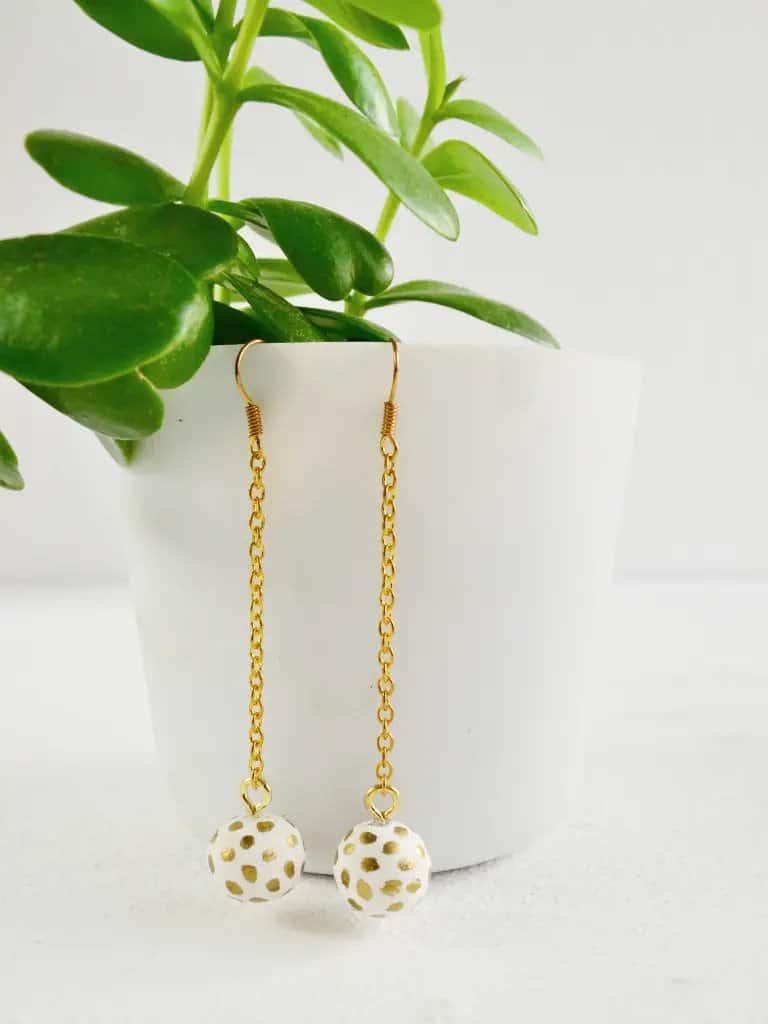 Create lovely balls or beads using baked clay and use gold sharpie polka dots to decorate them!
Add lengths of gold chain to finish it. Adapt a pair of dangle earrings for your own style.
DIY Trapeze Earrings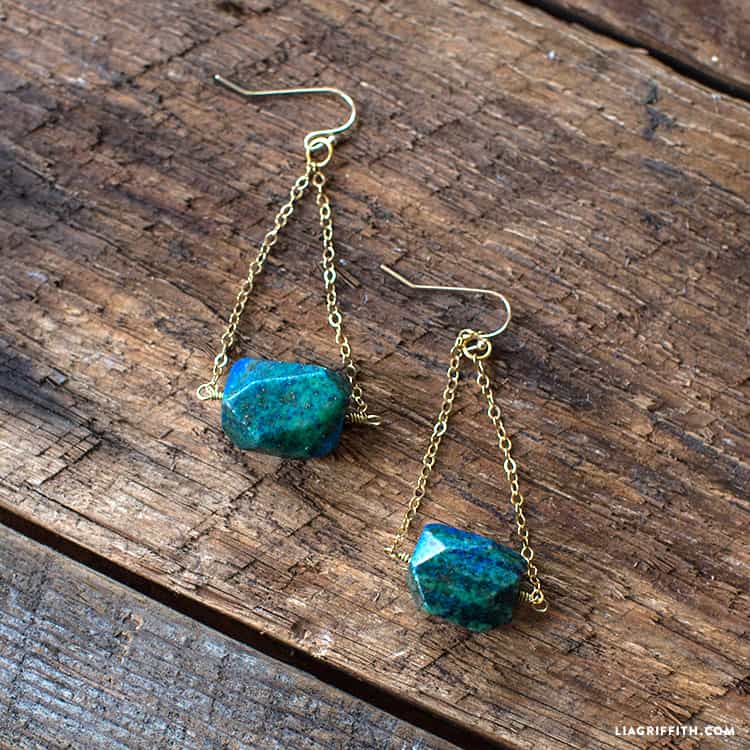 An outfit can be made more interesting with these DIY earrings.
Trapeze earrings can take on a variety of shapes and designs – some are more interesting than others, some are simple, and some are even statement earrings.
One of the best ways to add some unique style to any outfit is by creating your own jewelry.
These particular earrings are simply stunning and very easy to craft.
DIY Wood Beaded Hoop Earrings
There is just something so natural about the look of natural wood beads.
The soft pastels look best when combined with bright colors.
In just a few minutes, you can create these wood beaded hoops.
A summer wardrobe staple, they are a must-have.
It's easy to create a pair of earrings for yourself, and then gift more to friends – you'll love the result!
DIY Beaded Earrings
Beads are the easiest kind of material to find and are very popular with everyone.
Your jewelry collection must include boho-style earrings with colorful beaded hoop details, whether it's a festival or not!
DIY Polymer Clay Earrings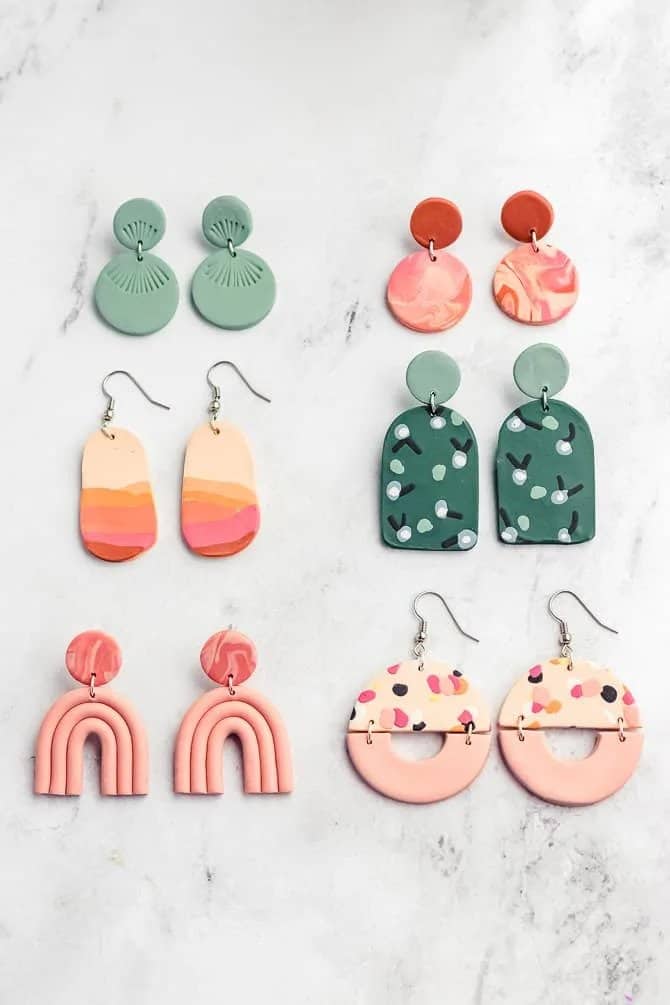 The process of making polymer clay earrings is very simple.
These popular and trendy designs are sure to get you noticed.
Color and design options include different patterns like modern marble, floral and botanical patterns, abstract landscapes, and arch shapes.
Polymer clay is a great option for clay jewelry like this because it's easily accessible and very simple to use.
It becomes hard after baking while remaining light overall. This makes it perfect for jewelry like DIY earrings.
DIY Anthropologie-Inspired Diamond Arrow Earrings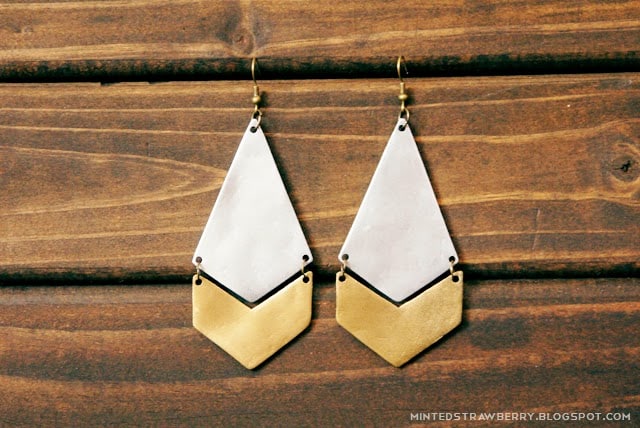 You love Anthropologie's style, don't you? It is a favorite store for many people!
DIY-ers will surely be happy to see this DIY project.
You just need a bit of patience, but it will truly be worth it when you see the great results!
DIY Teardrop Wire Earrings
These earrings are fun and easy to make once you learn the basic skills of wire-wrapping.
Is gold not your thing? Silver looks great too!
You don't like sparkly beads? Briolettes that are more subtle work well!
No matter how big or small your teardrop, customize them as much as you like!
DIY Scalloped Hoop Earrings
Fashion and accessories alike have been adorned with scalloped edges.
This detail adds a feminine, flirty, sweet feel to any piece.
It's easy to incorporate the trend with a pair of hoops!
You can make these in various colors and patterns.
DIY Terrazzo Earrings
Adding a bit of pattern and color to any outfit, while using up your scrap clay, is easy with this Terrazzo Earring DIY. They can dress up any outfit almost instantly. The end results are absolutely stunning!
DIY Crochet Fringe Earrings
A new pair of DIY earrings that can be completed with your crochet hook is here!
You may want to consider crocheting this project if you have some crocheting skills.
I love how easy it is to make these fun and colorful accessories, and so much fun to wear!
DIY Embroidery Thread Wrapped Hoop Earrings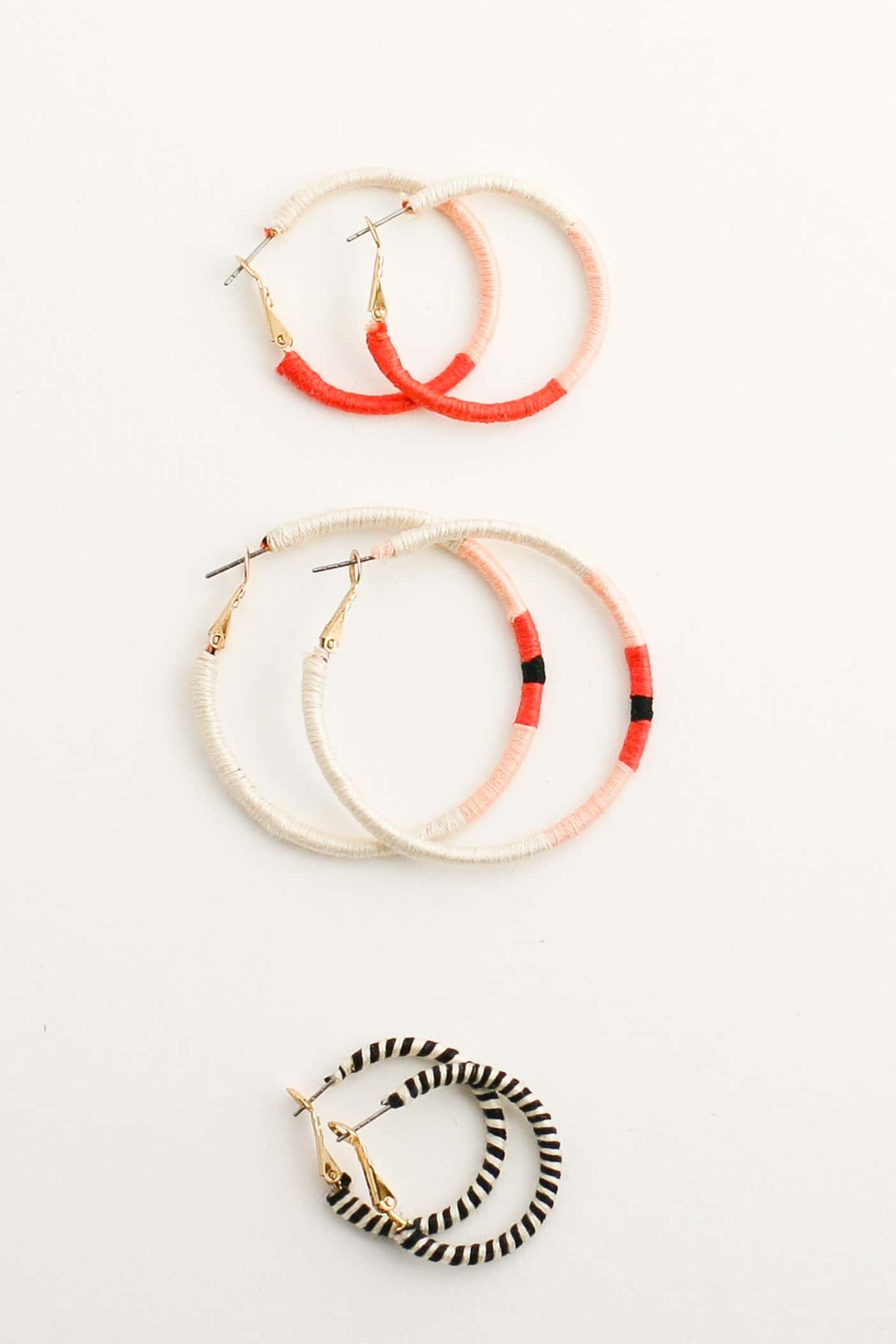 It is so easy to make earrings with hoops, yet they make such a fun addition to your wardrobe.
Every pair of DIY earring hoops can be customized to your liking and made in just the size you'd like!
So much fun to make! Happy Hooping!
DIY Brass Fringe Earrings
Have you always wanted to make DIY jewelry that involves thread work, but you just haven't yet come up with a design you like?
You'll be inspired to make more than one pair with these stunning earrings with just the right tools!
DIY Crystal Glass Beaded Earrings
Are you familiar with wire flower earrings?
In this example, you can make these gorgeous earrings using only a few materials.
Don't worry, it's actually easier to make than it looks.
DIY Pearl Hoop Earrings
Pearl hoop earrings make a wonderful addition to any wardrobe, and they are very easy to make with only a few jewelry-making tools.
Easy and inexpensive to make, these pearl hoop earrings make a great DIY gift for Christmas or birthdays.
You might like our DIY Ribbon Pearl Bracelets as well.
DIY Macrame Earrings
As macrame earrings are so unique aesthetically, it is likely your friends and family will think you purchased them from a boutique instead of making them yourself.
It is possible to make these in so many ways. Macrame earrings can also be embellished with beads or seashells.
Making earrings has never been so much fun!
DIY Acrylic Earrings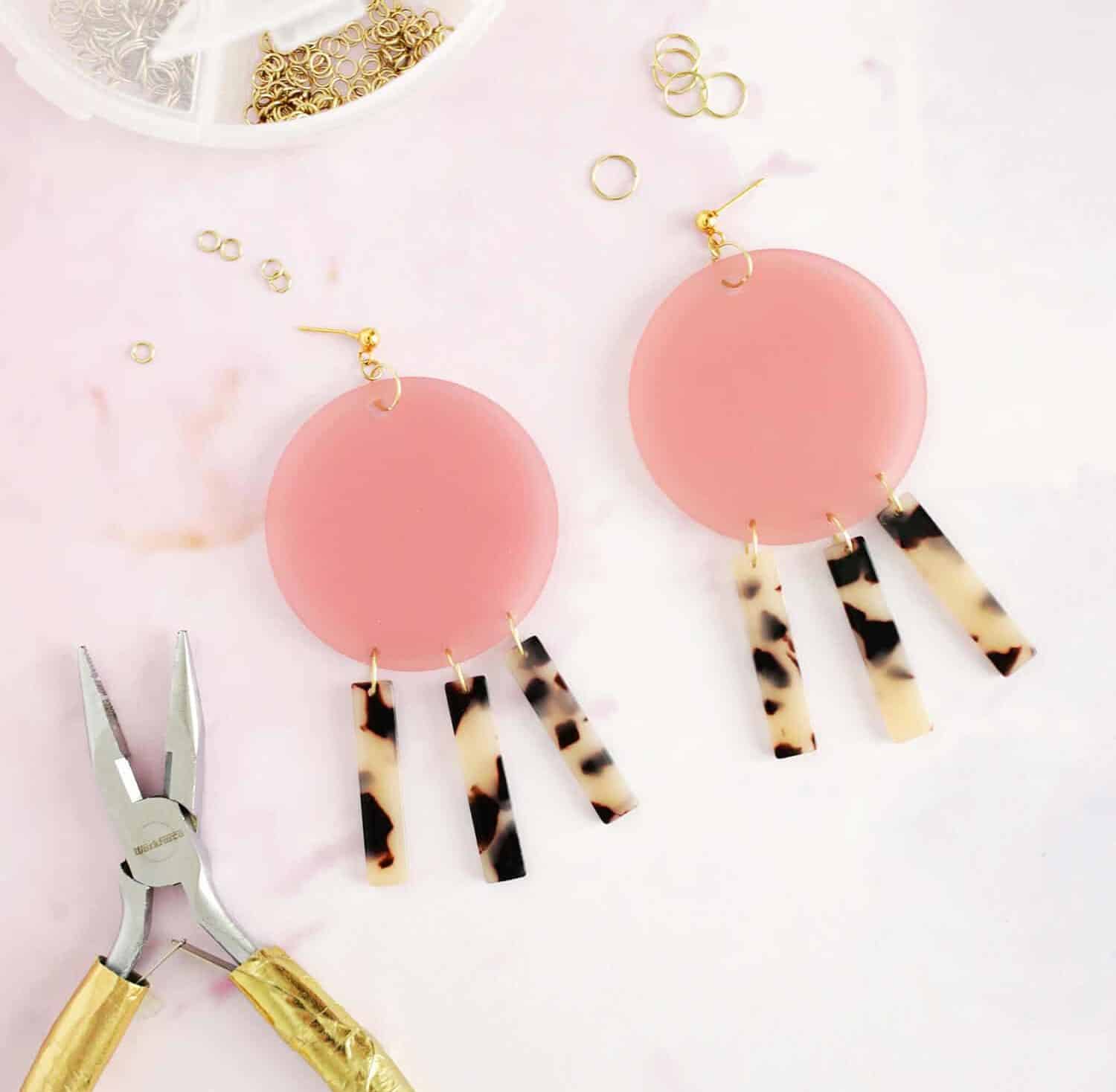 What if you could make adorable earrings in less than 10 minutes?
There's something incredibly rewarding about making custom earrings that becomes a piece that you'll often wear.
The earrings add a pop of color and pattern to any outfit whether you wear them with an updo or with your hair down.
DIY Resin Earrings
You can make these resin earrings from scratch in just a few minutes, and it's such an easy project.
These earrings were made with silicone molds, resin, and colorants, confetti, clay sprinkles, and glitter.
You should definitely try it!
DIY Chandelier Earrings
Making chandelier earrings is an excellent solution for anyone looking for unique beaded earring designs.
A simple design with a glamorous flair.
They are also easily customizable, which is a plus.
These dangle earrings will surely upgrade any outfit.
DIY Grapevine Earrings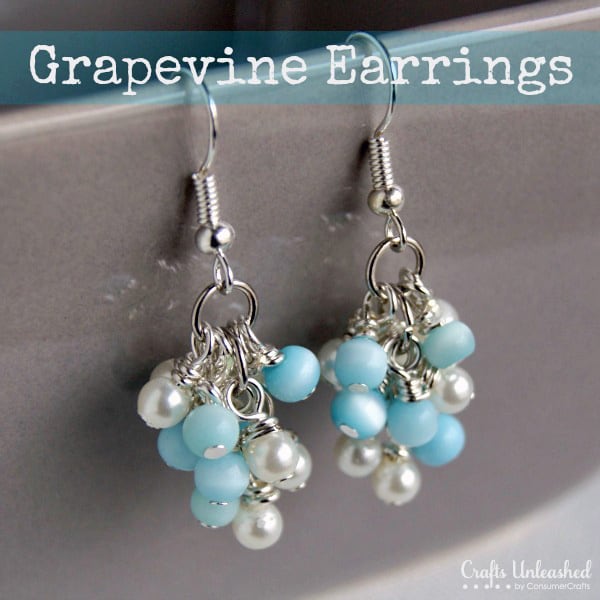 Make these DIY earrings your own by choosing different colors or different sizes of beads, just like any good jewelry project!
It only takes under twenty minutes to make these stunning earrings with beads.
For those who want to practice wire-wrapping, this is a great project for beginners.
Also, you can decide on the color and style of beads.
DIY Wood Burned Earrings
If you've been wondering how to make earrings like these DIY wood-burned earrings, then this tutorial is for you.
You can make these in less than 30 minutes at home for the same quality as what you will find in a trendy boutique.
You will need a wood-burning craft tool for these DIY earrings.
You can give away your handmade earrings as gifts, or wear them yourself to show them off!
DIY Charm Earrings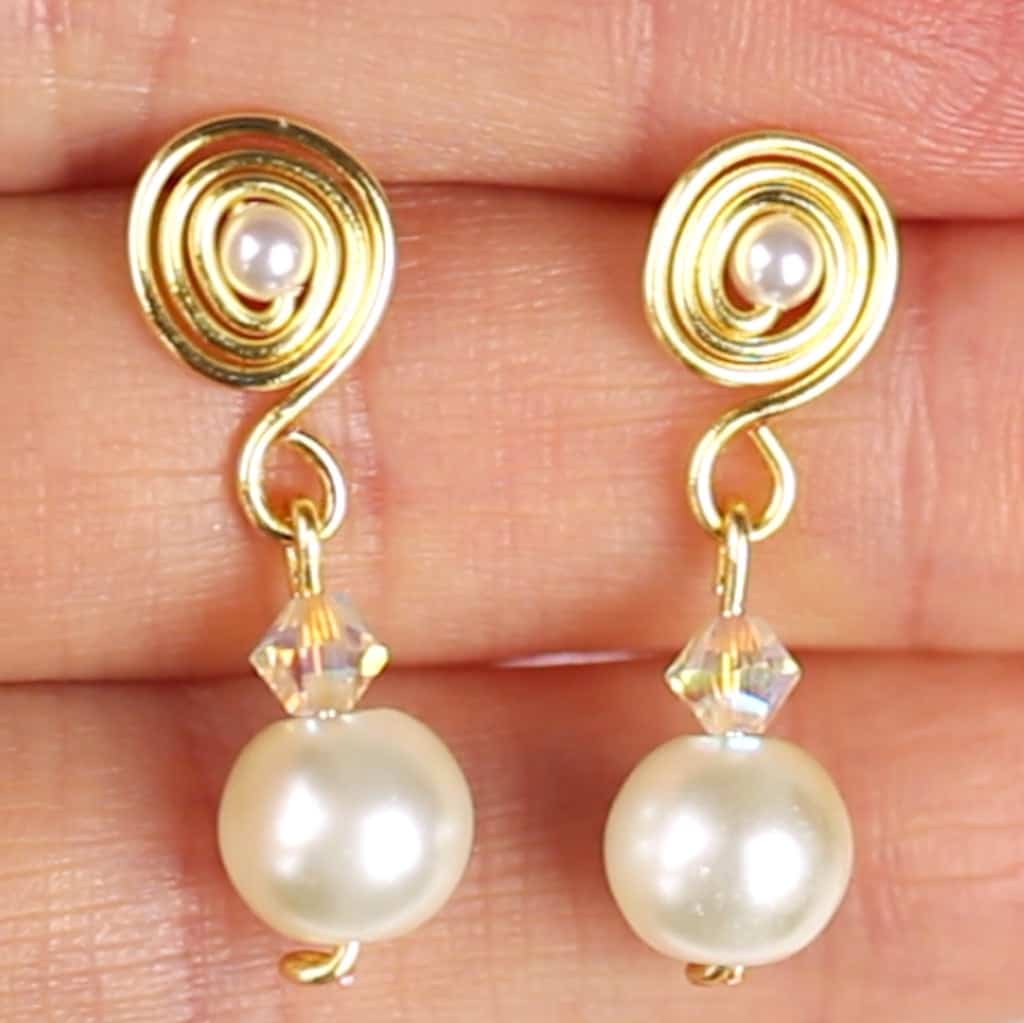 Learn how to make earrings for all your friends by simply swapping out the beads.
They take less than 5 minutes to make and are easy to change to suit your mood or outfit!
DIY Beachy Wooden Earrings
Do you need an accessory to complete your summer look?
This easy DIY Beachy Wooden Earrings project is fun to make, and really simple to do!
Choose whichever size and color wooden beads you like best and get started.
Your friends will compliment you each time you wear them.
DIY Beachy Boho Beaded Hoops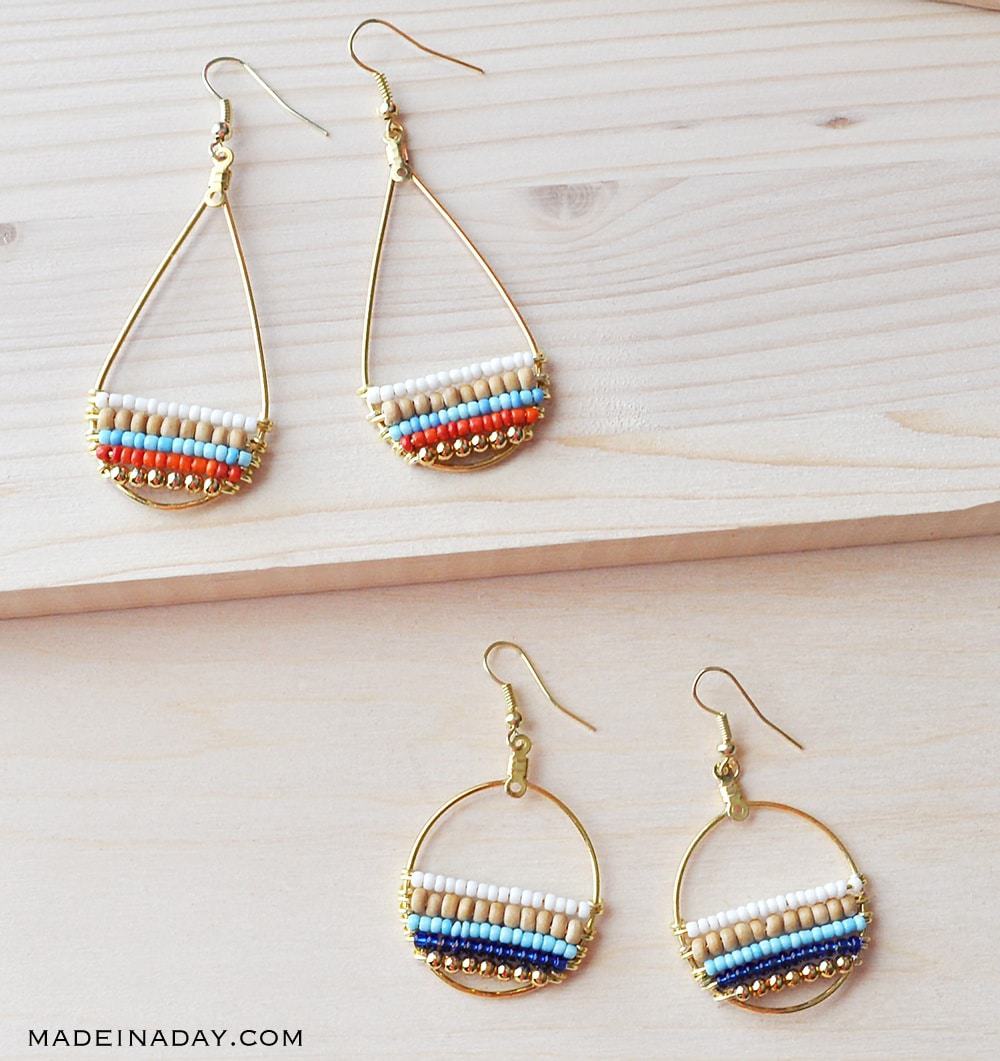 Here's another DIY thing you can recreate without spending a fortune.
Make a statement in your summer wardrobe with these beaded drop earrings.
The cool thing about them is that they are incredibly simple to make.
Now, let's learn how to make these DIY earrings with beads and create something trendy!
DIY Brass Bead & Tassel Earrings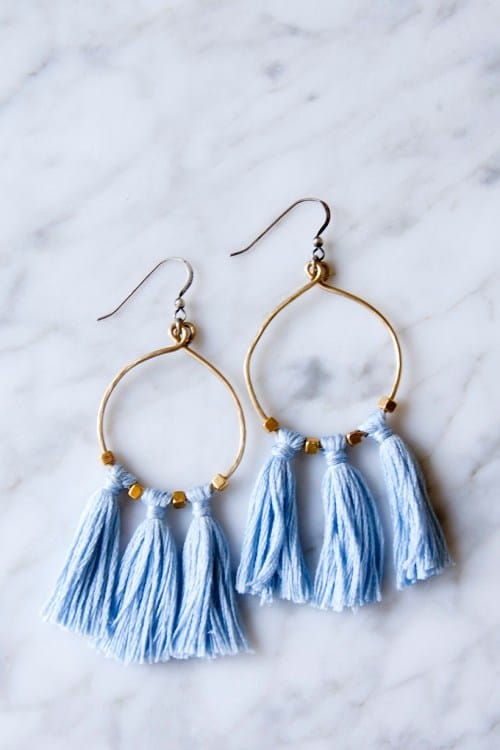 You can make them in any color you want as embroidery thread comes in a huge variety of colors and is super cheap.
Choosing colors was difficult, but a nice shade of blue never fails.
DIY Faux Agate Earrings
If you prefer wearing simple jewelry, these earrings are for you!
Made with polymer clay this is a fairly quick and easy way to dress up, won't cost much, and will look nice.
It's awesome how each pair is so unique!
Frequently Asked Questions
How Do You Make Homemade Earrings?
To make earrings as a beginner you will need the basic tools and any beads or other embellishments that you'd like to use. Follow the easy DIY earring tutorials and you'll have made your own homemade earring accessories in no time.
Is It Easy to Make Your Own Earrings?
If you have quality tools, making earrings at home is actually quite easy and a lot of fun.
You will need the following tools:
Flat-nosed pliers

Round-nosed pliers

Chain-nosed pliers

Crimping tool

Wire cutters
You can source affordable options online or in your local craft shop
What do you need to make your own earrings?

Apart from your basic jewelry-making tools, you will need the following items to make your own earrings at home.
Hooks for earrings.

Headpins.

Thin wire.

Jump rings.

Any kind of embellishments you'd like to add to your earrings, such as beads, charms, or jewels.

An adhesive or glue gun.

Alcohol for cleaning.
You might be interested in reading How Long Does Super Glue Take To Dry?
What Can I Make Earrings Out Of?
You can use almost anything to make earrings. Look around your home and inspiration will find you. You can use beads, charms, yarn, jewels, gemstones, rhinestones, metal, wood, paper, leather, feathers, material, shells, clay, and even bobbypins.